5 Most Sustainable Eco Lodges in Arizona
From solar-powered cabins on the Grand Canyon's rim to remote desert hideaways, Arizona's eco-lodges showcase innovative approaches to hospitality while preserving the Earth.
In this article, we'll explore these eco-friendly accommodations with sustainable practices and unique amenities. Whether you're an outdoor enthusiast seeking adventure or a nature lover in search of serenity, these lodges inspire a more responsible way of exploring Arizona.
What are eco-lodges?
Eco-lodges are accommodations in undisturbed, remote natural areas where both construction and operation have the lowest impact possible on the environment. They are not only part of the local community, but they are active participants in protecting nature and culturally sensitive areas.
Arizona Eco-lodges
Here is a map to see where these five eco-lodges are located:
Sky Ranch Lodge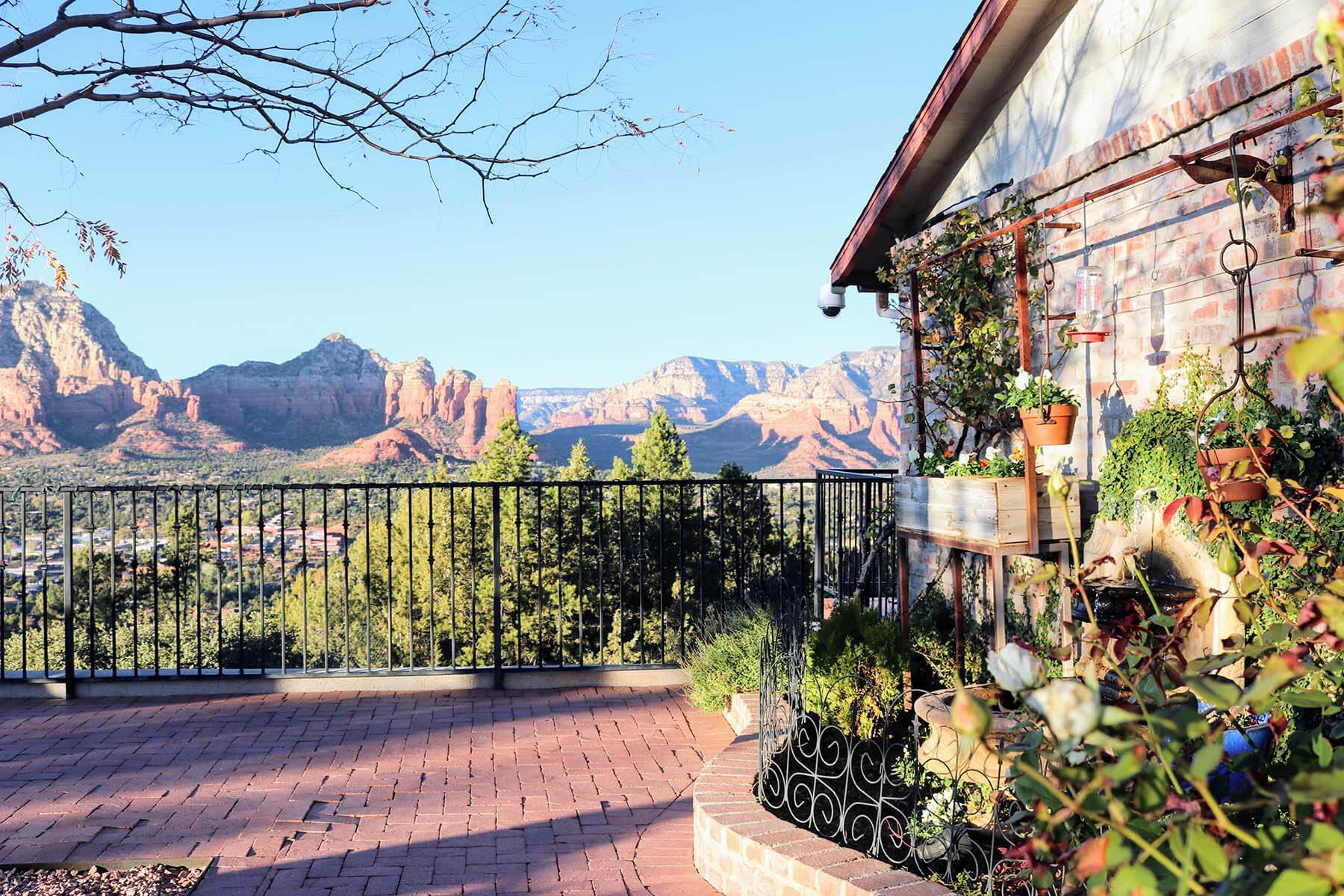 The Sky Ranch Lodge is located against the stunning backdrop of the red rocks in Sedona, Arizona, where guests can enjoy the breathtaking views from their rooms. The sky-high property boasts sophisticated historic architecture but is one of the greenest eco-lodges in the area.
The lodge has heated saltwater pools, a fireplace and pet-friendly rooms, and state-of-the-art amenities, but despite all these features, the eco-lodge stays true to its promise of a fuel-efficient property. The lodging uses 100% renewable electricity and has won several sustainability awards for its efforts.
The lodge is just a few steps from the infamous Sedona hiking trails, helicopter tours, and the Sedona airport.
Wander Camp Grand Canyon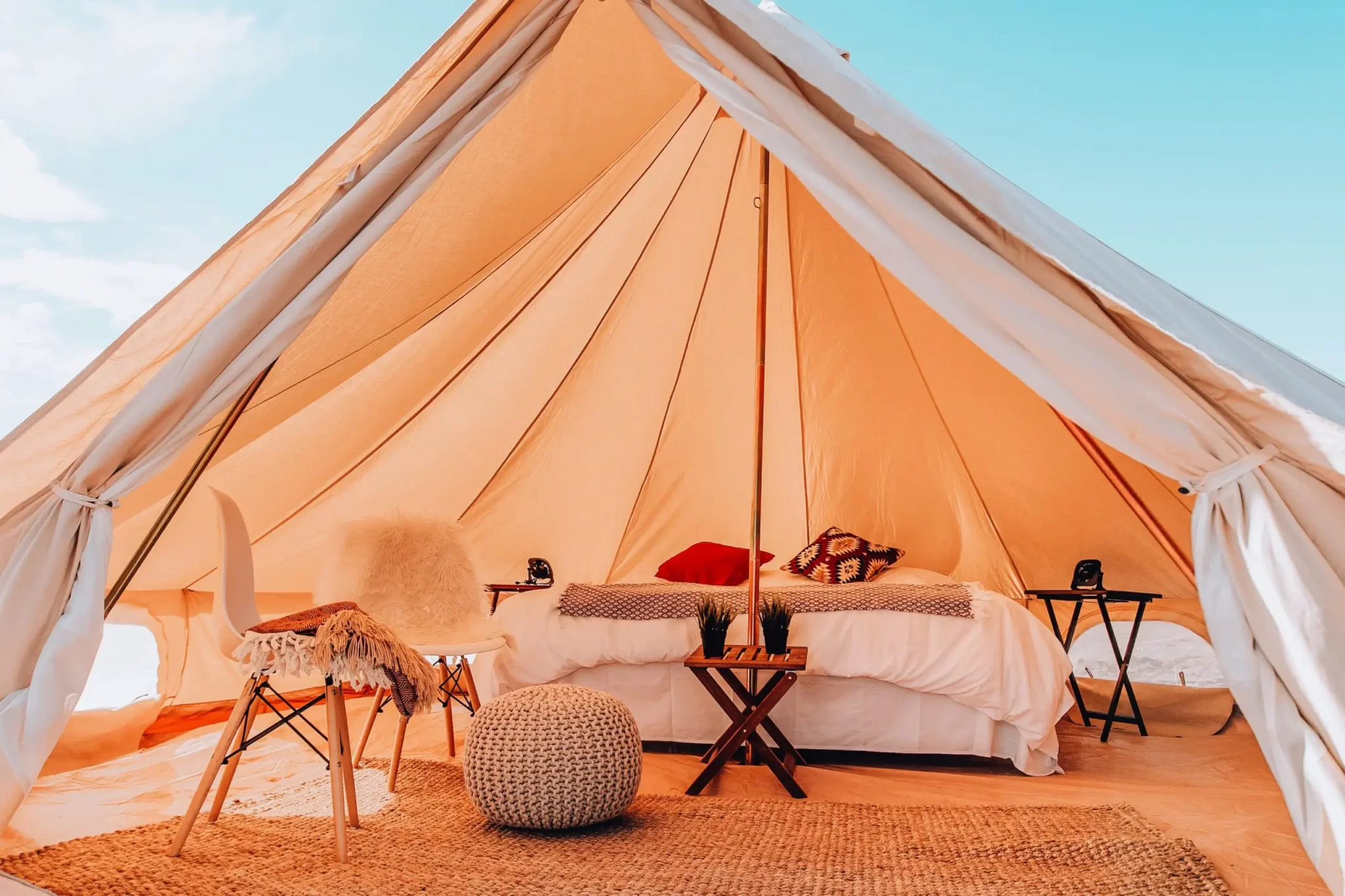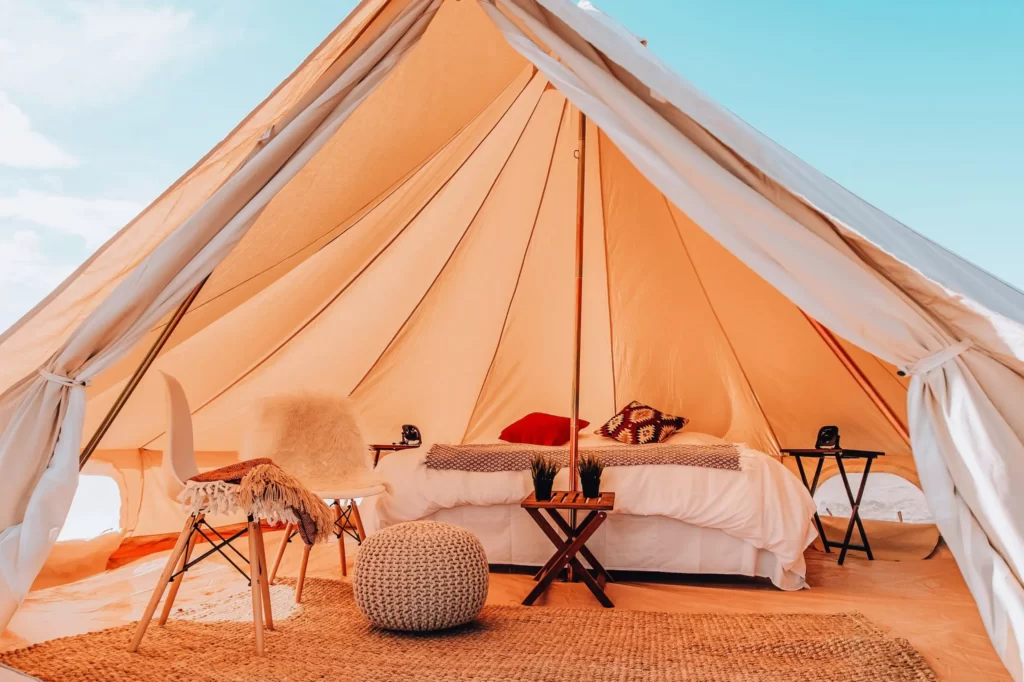 Pinned into the jagged terrain of Arizona, Wander Camp opens up to panoramic views of the Grand Canyon and allows visitors to enjoy one of nature's wonders from up close.
Wander camp features a series of glamping yurts across the campsite to offer the perfect combination of seclusion and intermingling. Each yurt has comfortable bedding and basic amenities, although the campsite is completely off-the-grid.
Showers, flushing toilets, picnic areas, campfire areas, stargazing sights, and adventure concierge are just some of the facilities at Wander Camp. The glamping site uses solar-powered lanterns, fans, and USB outlets.
Grand Canyon Headquarters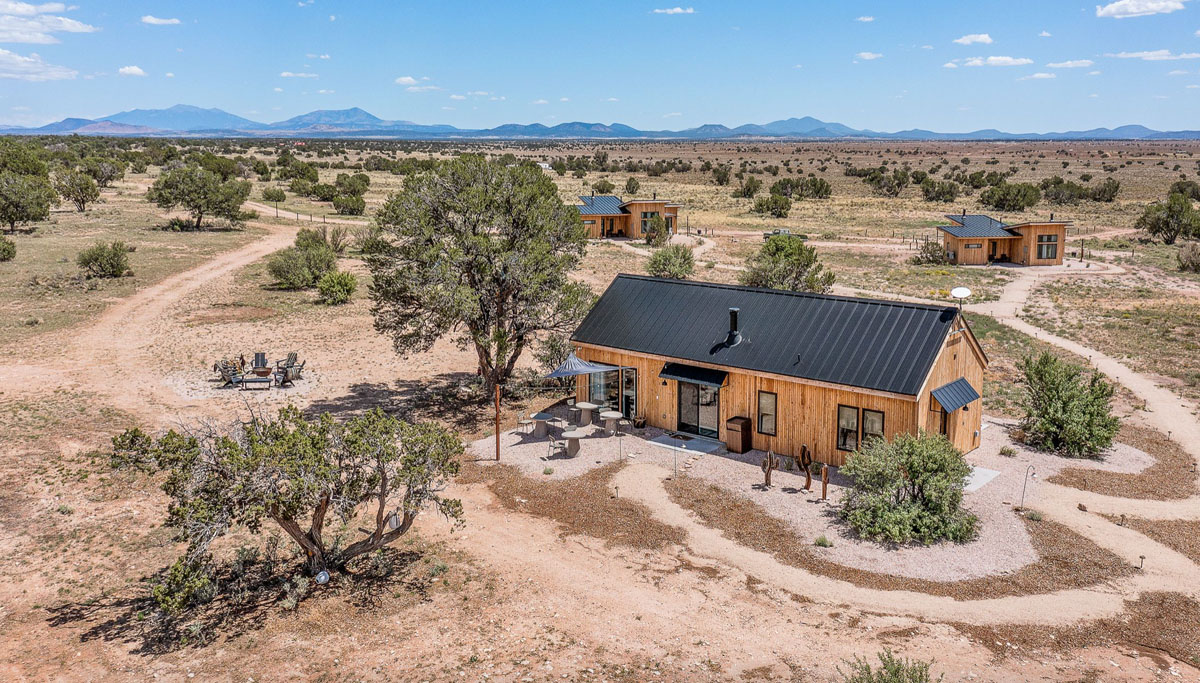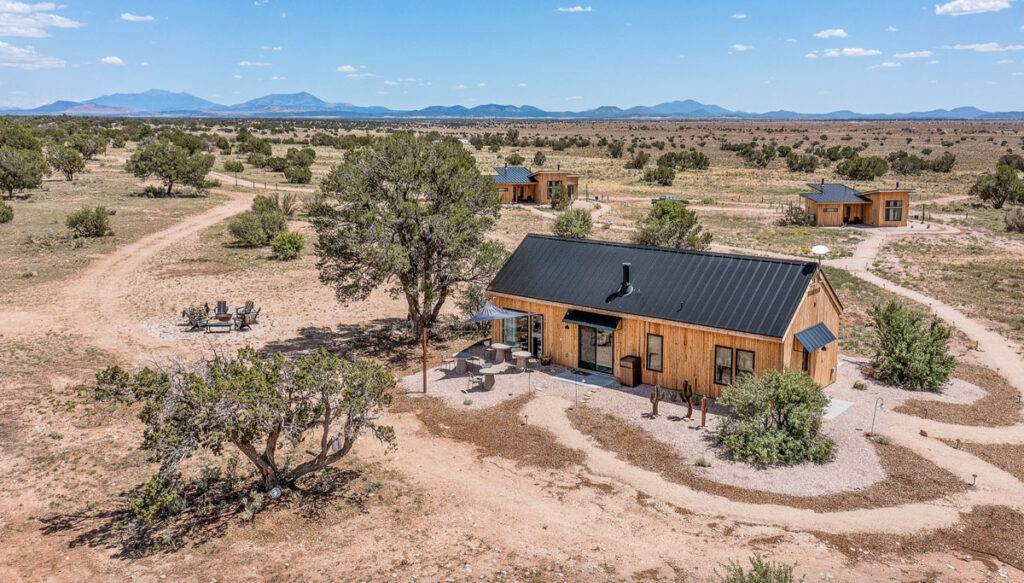 Grand Canyon Headquarters offers casitas to book. Each casita has a kitchenette, a fully-functional bathroom, a private patio, and a mini air-conditioner.
It is located a little distance from Arizona's most popular site, offering a quick recluse from the exhausting adventures on the Grand Canyon. Lodgers staying at GCH can enjoy a luxurious stay and even customize their experience thanks to the accessible amenities at the casitas.
GCH offers eco-friendly bath basics, hot water, WiFi, and room-darkening shades. Despite all these wonderful amenities, Grand Canyon Headquarters is eco-friendly and uses solar energy and light and water-saving systems.
Shash Dine Eco Retreat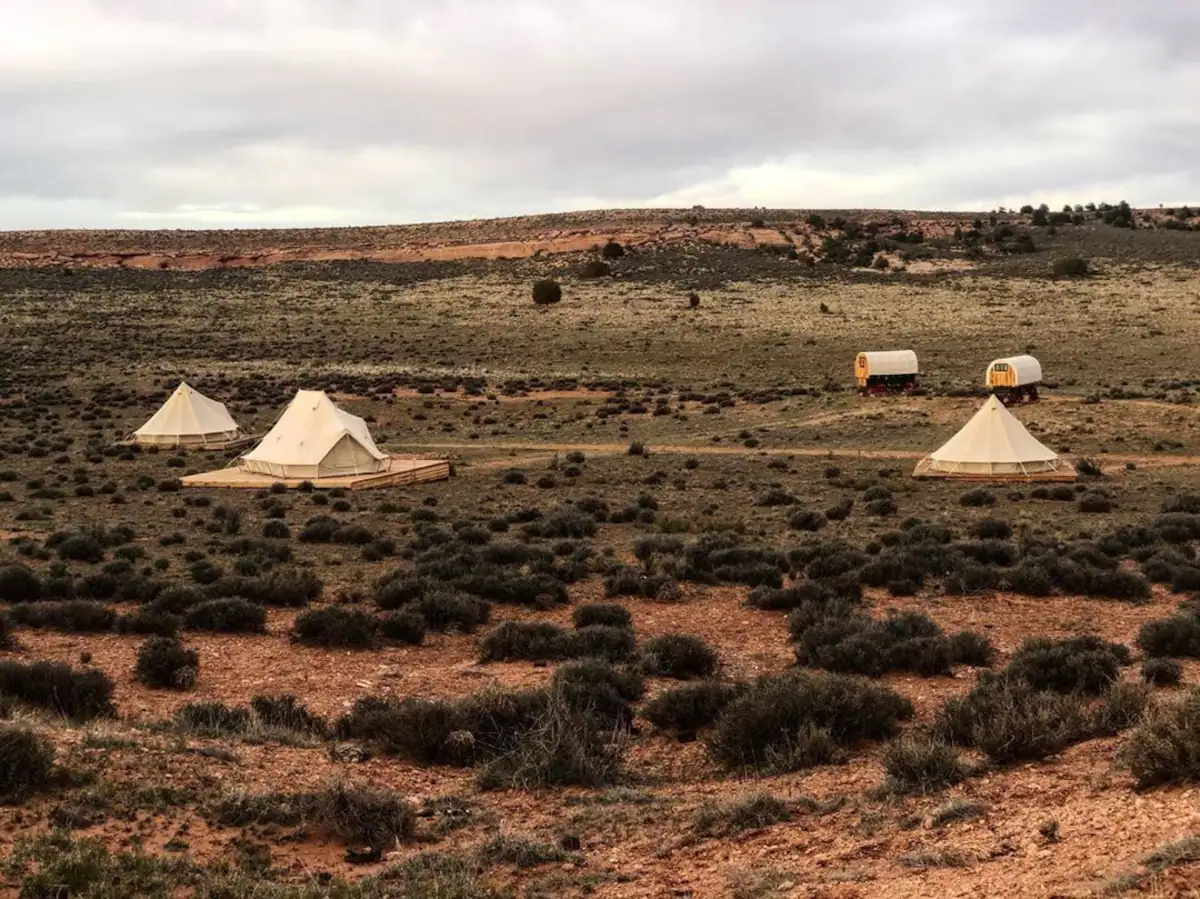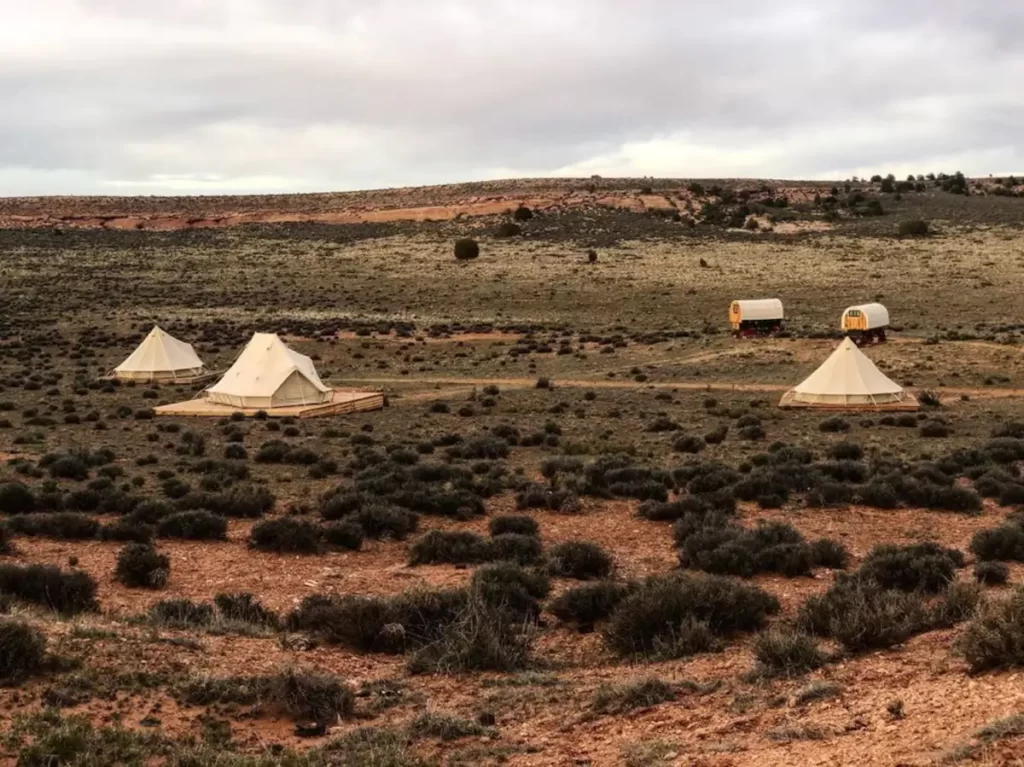 An eclectic destination ranch in Arizona, Shash Dine eco-retreat offers glamping facilities under the starry sky. Its glamping site accommodates tents and tent suites and two separate wagons. There is also a small cabin onsite.
Each glamping pod comprises comfortable bedding, hand towels, toiletries, books, games, and a wood-burning stove. Shash Dine Eco retreat offers breathtaking tours of the Arizonian wilderness and serves breakfast with seasonal fruits. The glamping resort allows guests to soak in the sun during the day and sleep under the stars.
The resort uses candle lanterns, fresh-filtered water, and solar systems to stay sustainable.
Castle Hot Springs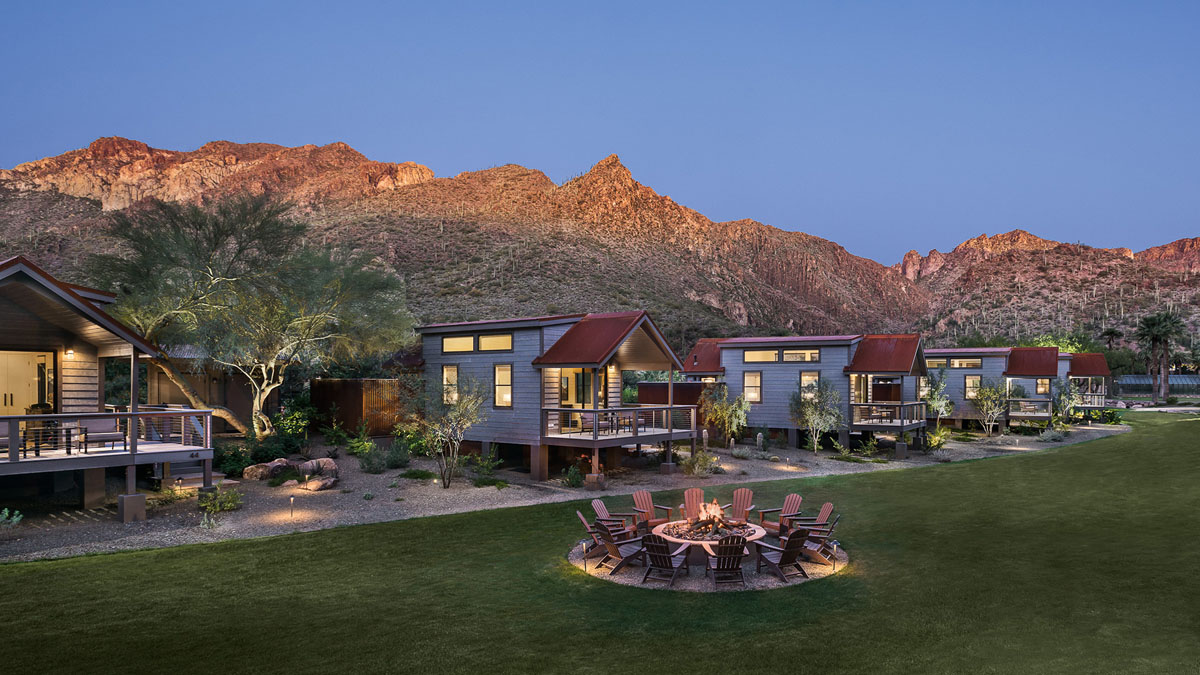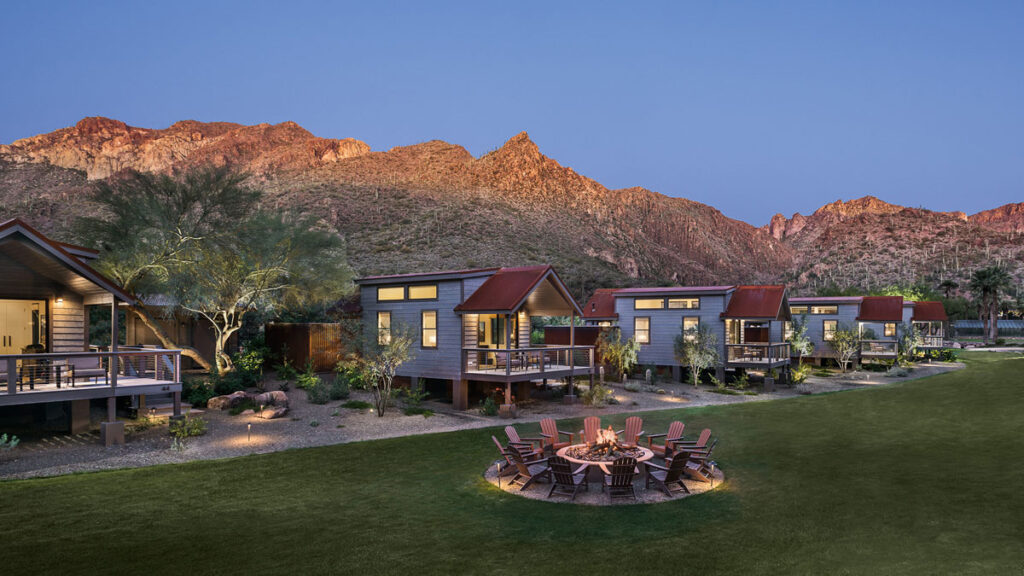 Castle Hot Springs offers a 360 view of the Arizonian Hills. It provides luxurious accommodations such as rooms and suites, but guests can also book onsite bungalows, cabins, and cottages.
The independent accommodation is equipped to offer an immersive experience and a nearby wellness spa retreat for relaxation. Natural hot springs are among visitors' favorite spots, although adventurous activities like desert soaking, hiking, and guided archery also share the attention.
The resort is accessible and all-inclusive. It uses renewable energy, integrated pest management, and drip irrigation techniques. It also minimizes waste by actively composting all green waste.
It is approx. an hour's drive from Phoenix, Arizona, and there are plenty of free things to do there. From free museum days to outdoor adventures.
BROWSE THROUGH our directory for the most sustainable eco-lodges around the world if you want to experience something unique, authentic, and exciting.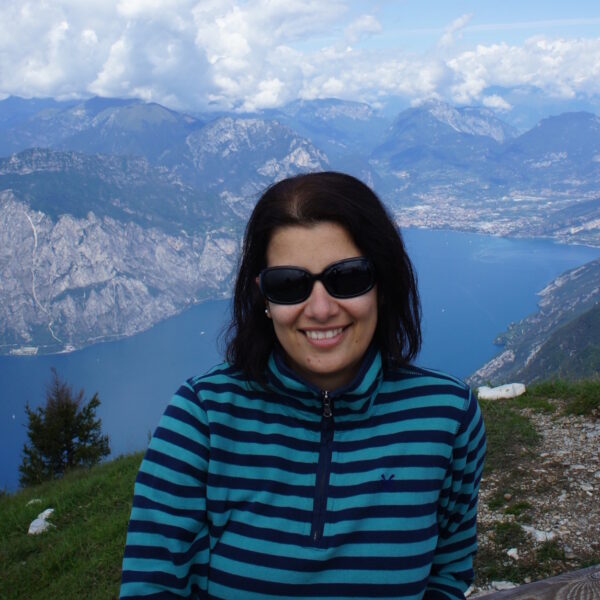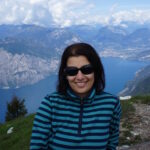 Emese Maczko is a travel blogger behind Eco Lodges Anywhere. Having explored several destinations around Europe, the US, Indonesia, and Australia, and resided in Germany, the United Kingdom, and Luxembourg, Emese possesses a keen understanding of diverse cultures and an appreciation for the beauty of each destination she visits. She advocates for sustainable travel and ecotourism.