Bellavista Lodge is a sustainable eco-lodge located deep in the cloud forest of Northwestern Ecuador, just two hours from Ecuador's capital Quito. Situated within its own 400-hectare (four square km, 1000 acre) reserve, Bellavista receives visitors from all over the world, and offers naturalist and birding hikes deep into the forest, for observation of flora and fauna, and also down to a hidden waterfall.
In 2019, Bellavista Reserve became the first officially recognized Private Protected Area in Ecuador, becoming part of Ecuador's National System of Protected Areas (SNAP). This protects the forest forever against deforestation, hunting, and the most important for our planet at this time, mining. Tandayapa Valley is today an area that holds more healthy forest and habitat for an amazing diversity of species than it did 30 years ago. A story not easily repeated in most parts of our planet.
Bellavista offers comfortable lodging with its own individual style, and all rooms have a great view into or over the surrounding forest, and to the mountains beyond. They provide comfort and high quality services that might be considered hard to find in a remote area like the Tandayapa Valley. They receive groups, families, couples, and individuals, many of whom take advantage of their transport-inclusive packages from Quito City or Quito Airport.
Their story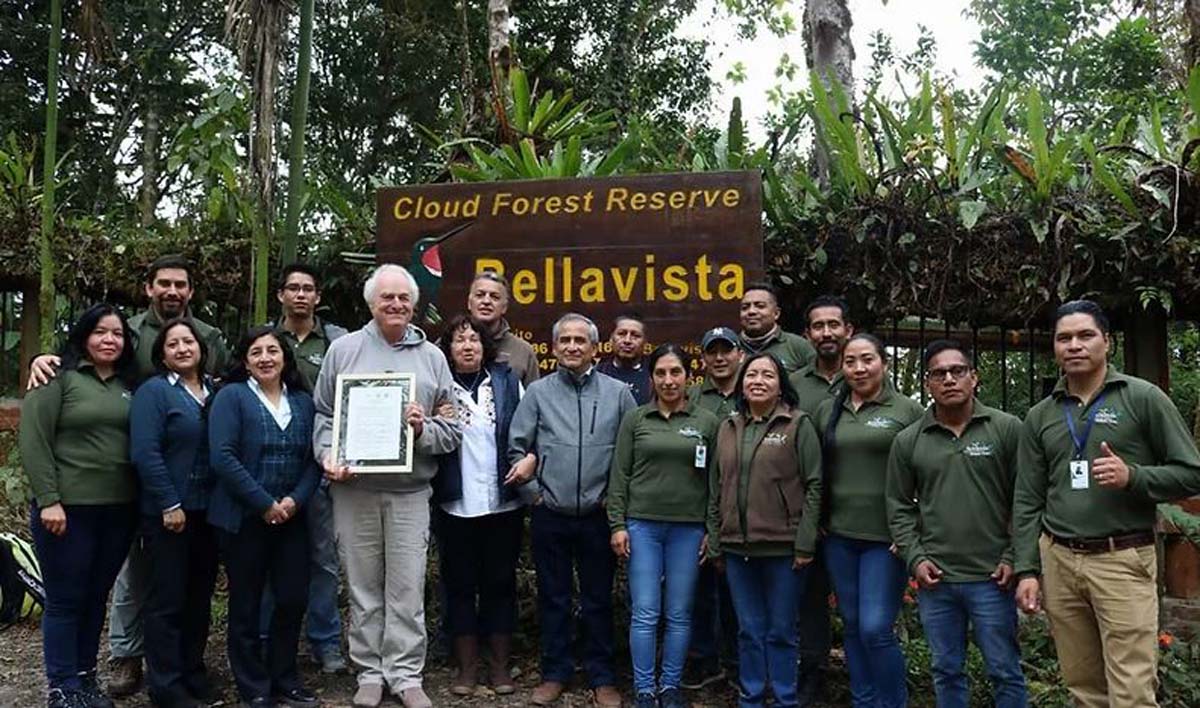 The lodge owners, Richard Parsons and Gloria Nicholls, bought the first piece of land, 57 hectares (about 130 acres) in 1991. The decision to buy was made at first because they wanted to protect a small piece of land, and have a place to come on the weekends, away from the city where their work was at that time based. It was late in 1993 that they decided that the best plan to be able to protect the land and its forest, and indeed eventually to be able to live at Bellavista, was to build a lodge.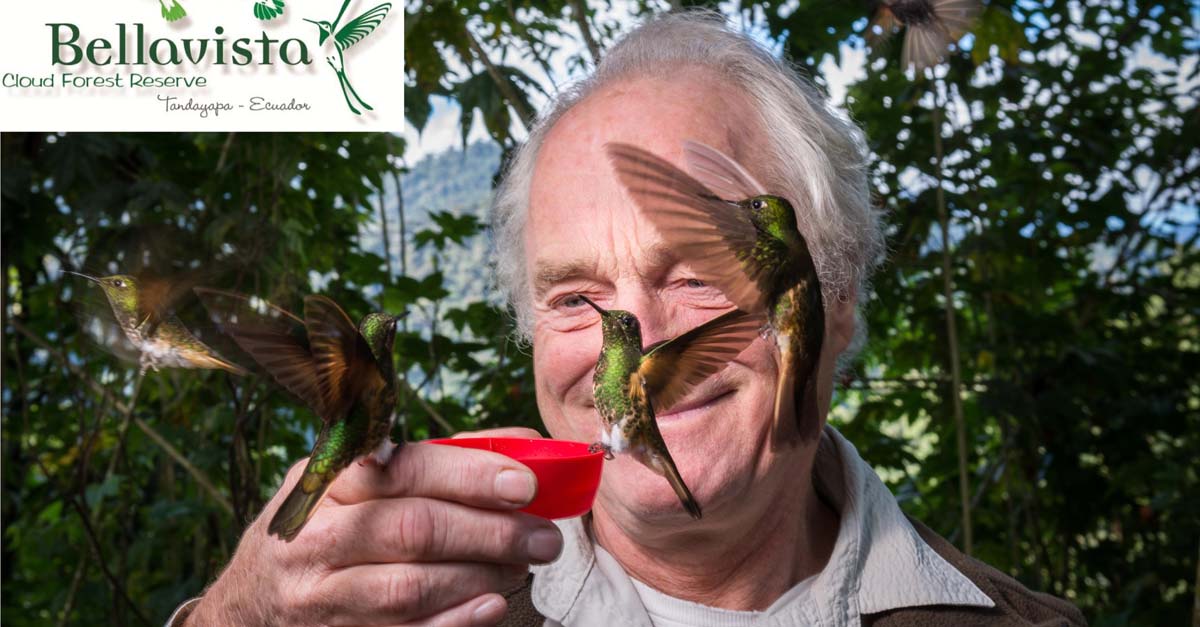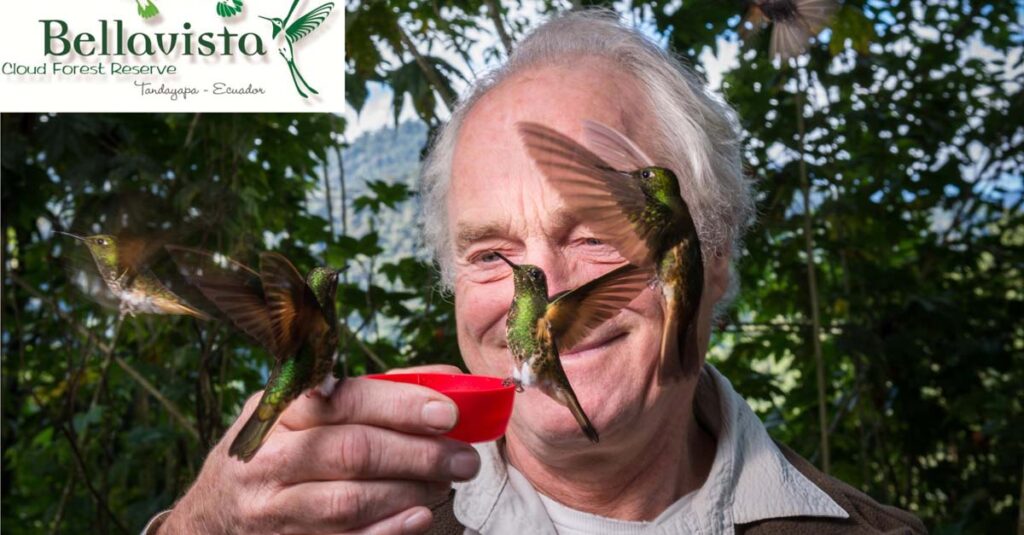 The lodge opened in May 1995, with a geodesic dome, and has expanded from there with other types of architectural concepts. At the same time, they also bought new pieces of land from neighbors who decided to sell.
The goal today is to improve the quality of the lodging, always with deep conviction of the importance of long-term sustainability. Where neighboring land becomes available, their goal is to help negotiations so that other people and organizations keen to protect land, can become part of a dedicated group of people who wish to see the forest of Tandayapa Valley intact and protected forever. Read more about them here.
Sustainability actions
Lowest impact construction and operation
This lodge is in a subtropical rainforest, known as a cloud forest. They are in the nucleus zone of the UNESCO-declared Andean Choco of Pichincha Biosphere Reserve and part of the "Corredor del Oso" that protects the Andean Spectacled Bear in their region.
Out of the 400-hectare protected area, the construction took up less than half a hectare, so minimal impact.
The construction used many local materials, notably bamboo, wood, and recently, natural brick.
Over the 30+ years that they have owned the land, natural reforestation as well as some directed tree planting has allowed recuperation and reforestation of areas that were previously fields.
High level of energy efficiency
Wind and solar energy are very inefficient in a cloud forest environment. However, the electricity they use is generated by 100% hydro.
LED bulbs and motion sensors are used to minimize electricity needs.
Pioneer in waste management
Greywater is separated from black water (sewage). All greywater is cleaned via a pumice stone filtration system, and returned clean to the environment.
They have a composting system that creates compost used for growing vegetables, outside from the Lodge.
Paper, plastic, glass bottles, and all other trash are taken to a recycling facility in Pomasqui near Quito, where the money generated allows a nursery for underprivileged children to function.
They do not use plastic cutlery, nor pre-package small containers of toiletries.
When bringing in quantities of food from a supermarket, they use cardboard boxes or reusable plastic bags.
Fully organic and chemical-free operation
They use 100% biodegradable products.
They buy ingredients locally and offer vegan and vegetarian options in all meals.
Actively protects nature and community
They have an ongoing climate change project with the water organization FONAC, who are also involved in an ongoing, reforestation of a more recently purchased part of our land that only more recently stopped having an impact from cattle.
Bellavista has become an unofficial training academy for naturalist and birding guides, who later work in different areas of Ecuador, as travel and birding operators. Many of these young people are from local communities, providing options to work in a sustainable environment in their native region, without feeling the obligation to search for work in the big city.
They employ largely people from the local town of Nanegalito, others from Quito.
Bellavista offers tours to wildlife and birding locations in the immediate region of Northwestern Ecuador, working with many small-scale local entrepreneurs, with the goal of helping improve the local economy.
They also receive student groups from Ecuador and across the planet, opening the forest to discover new species, which is a certainty rather than a probability.
Most Popular Activities near Bellavista Lodge
Birdwatching (hummingbird observation)
Nature walks
Hiking
Waterfalls
Orchids
Features