Tucked into the Laurentian Mountains, Nature's Harmony is an all-season eco-lodge for guests looking for the off-grid experience. Everyday life melts away as guests disconnect to reconnect. Simple pleasures reign here, with a plethora of nature-based activities for your enjoyment.
Nature's Harmony overlooks the mountains in Mattawa, Ontario Canada. With endless expanses, guests can breathe free. This lodge offers everything, with four-season outdoor activities from biking and hiking to snowshoeing and back-country skiing. In the summer, swim, canoe, or kayak in Bang's Bay. In the winter, zoom down the rolling hills in tubes and sleds.
Whether you are looking for adventure or a cozy family getaway, Nature's Harmony offers you a perfect place to reconnect. With no light or noise pollution, guests will see the night sky in all its glory, whilst listening to the stillness of nature. Make memories that will last a lifetime.
Their story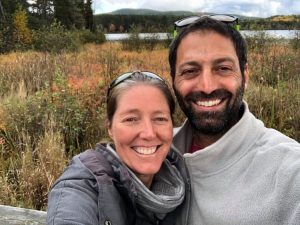 Native Canadian Jen and Israelite Tzach are the proud owners of Nature's Harmony. They run the camping lodge with the company of their family and beautiful Siberian Husky. The family touch is evident in everything at Nature's Harmony.
Tzach and Jen met as travelers in Cambodia. After a year of solo traveling, they reunited and got married in 2006. Travel was a life-changing experience for them both, and they became interested in sharing this adventure with others. In 2004, an idea for an eco-friendly hotel sprang up. They wanted to share their eco-philosophy with others, and eventually, they settled on Mattawa in Northern Ontario.
In 2006, the chance to buy a property in Mattawa opened up, and with no regrets, they purchased the land that would become Nature's Harmony. Many years later, Jen and Tzach have built a life and family around their dream. They love to share the beauty of the landscape, the rich culture, and the philosophy of sustainability with their guests.
Nature's Harmony offers a secluded getaway in Canada's lesser-traveled wilderness. In this rugged yurt glamping site, feel alone in the world, with a seemingly endless expanse of sky and land. This eco-lodge provides you with a getaway to enjoy nature, with no fear of destroying what makes it so special. Read more about them here.
Sustainability actions
Lowest impact construction and operation
Log cabins and yurts serve as guest cabins. They are small and do not ruin the seemingly never-ending expanse of forests on the property.
The cabins and yurt tents do not have running water or electricity, reducing the impact on the environment.
Highest level of energy efficiency
With little electricity, and no cell service or internet, energy consumption is minimal.
The main lodge is completely off-grid, relying on solar and wind energy. There is a backup propane generator if needed.
Simple steps are taken to reduce energy, allowing the lodge to remain 100% off-the-grid and carbon-neutral.
There are three communal showers on the property. These eco-showers draw water from above, which has been heated by the sun.
Pioneer in waste management
As the entire lodge is off-grid and separated from the nearest town, all waste has to be minimized and dealt with on-site if possible.
Guest toilets are composting toilets.
Water comes from a natural spring nearby.
Aims to have a fully organic and chemical-free operation
Nature's Harmony functions as a camping resort rather than a full-service hotel, so guests cook and clean for themselves.
Most materials provided are natural and chemical-free.
Actively protects nature and community
Jen and Tzach's mission is to show guests the power of nature. By living simply, guests can experience the true beauty of nature without the distractions of modern life. Jen and Tzach hope all their guests will bring this experience with them for the rest of their lives, remembering what is truly important.
Most popular activities near Nature's Harmony
Hiking
Kayaking, canoeing, and SUPs
Berry picking
Wildlife viewing
Backcountry skiing
Skating
Kicksledding
Snow tubing
Best time to visit Nature's Harmony
The lodge operates all year round. Each accommodation has a wood stove, so visitors feel comfortable at any time.
May to September is perfect for discovering nature since the forest is lush and full of life, but summer is the busiest.
If you love winter sports, visit Ontario, Canada, from December to March. April may be too late if you want the best snow to ski.
Features