Antbear Eco-Lodge is in the vast foothills of the Drakensberg Mountains of Kwazulu Natal, near Giant's Castle in South Africa. From the lodge, you will see the rolling hills and mountains of the Drakensberg region. This rural and economically depressed area was declared a world heritage site both naturally and culturally in 2000.
Secluded and private, you will find a luxury cave accommodation, built under a rock with sliding glass doors opening to a wooden deck with hammock chairs and panoramic mountain views. These mountains are a major source of water for the entire province and are valued as such. 
A pet-friendly home away from home, these suites offer private fenced gardens. This Lodge offers one of the most comfortable climates in the world, making it suitable for digital nomads looking for a place away from the hustle and bustle.
Their story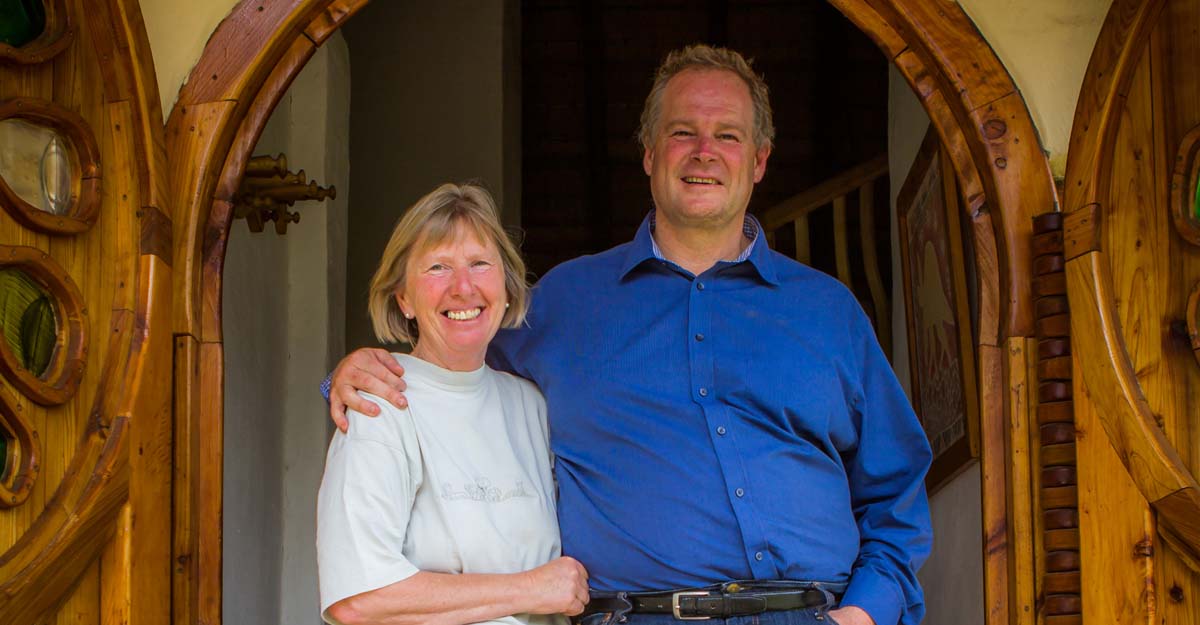 Andrew and Conny (pictured above) are the faces behind the lodge, moving from Germany to South Africa in 2000 looking for a slower-paced life and more rural way of living. The couple realized their dreams of living a sustainable lifestyle and that resulted in the development of sharing that dream with their guests at Antbear.
Thriving on learning new things and doing what's best in the environment they have created some great concepts, like straw buildings and the luxury cave guests can choose for their accommodation. Woodworking and weaving grass are some traditional arts in the area, and you will find that showcased throughout the hotel, with many items made with materials sourced right here.
The vision at Antbear is to provide fair working conditions, wages, distribution of benefits, ethical business, respect for human rights, culture, and the environment while providing responsible tourism. Read more about them here.
Sustainability actions
Lowest impact construction and operation
From the first construction of Antbear Lodge, sustainability and the impact to the environment have been top of mind. The initial building was

made of straw bales

, an alternative building method that could be sourced with low impact materials. Andrew and Conny learned how to cut thatch, and this was used as roofing materials for the building. The main costs of construction were the labor, which was kept in the

local community

.
Continuous upgrades have been made to the property, building with

sun dried bricks, rammer earth, cob

, and other locally sourced stone from the farm.
The lodge was built with design in mind, with a beautiful aesthetic, to become one with nature around it. The furniture you find in the lodge is all hand carved giving it a unique character and with minimal costs to import furniture.
Highest level of energy efficiency
Water is pumped throughout the resort using

solar power

, and the work is ongoing to replace the bulk of the electrical geysers to solar.
The goal of Antbear is to move to full LED bulbs and low energy appliances as part of the reduction phase. After this, they hope to move completely off-grid to become fully sustainable.
Pioneer in waste management
Water is managed based on consumption; bathrooms are equipped with flow restricting shower heads.

Water is being sourced from a natural spring

, making the lodge 100% self-reliant when it comes to their water needs. Water is stored underground, and all water leaving the resort is fed through septic tanks and filtered using a

reed bed system to clean the grey water

before returning it to the environment. This is just some of the ways they look to save energy and take care of the environment.
Products containing single use plastics,

soft plastic or polystyrene are avoided at all costs

, however, can sometimes be un-avoided. Antbear Lodge takes care to ensure that these materials do not litter nature, and with no access to a municipal dump, these products are burned. The Lodge feels that even if they did have access, that would just pass their problem onto another company.
All metal, hard plastic, and glass materials are sorted and taken to a local

recycle

facility where they are compensated for their efforts.
Aims to have a fully organic and chemical-free operation
Biodegradable products

are used everywhere possible, to reduce impacts to the environment.
They have a beautiful garden on the premises, which is all

organically grown

.

Food is locally sourced

, and they offer a full selection of vegan and vegetarian options.
The farmhouse on site provides the restaurant with chickens, eggs, and cows for milk to accompany the organic vegetable garden. The baked goods and dairy products are unlike anything else, with fresh baked artisan breads and yogurts and cheeses made fresh too. Anything that is not grown at the Lodge, is sourced locally, or as a final resort from the local supermarket.
Antbear Lodge does not support commercial catering or logistical services. They think and act fresh, green, and local, always.
Actively protects nature and community
Conservation and being responsible stewards for nature are close to the heart of Antbear. They have worked over the years to help

remove alien invader plants

, but species like wattle, hawthorn and American bramble are an ongoing battle.
The relationship with the local community helps to keep

poaching to a minimum

, leaving the wildlife for all to enjoy.
They are currently in works with a local farm, to create a culture restaurant together with a

vulture hide

where people looking to photograph these animals can get even closer. Monies from this initiative will be put towards culture conservation efforts.
Antbear Lodge is close to the community and encourages the support of local culture in tourism. They

host rock art tours, home stays, and even hammock camp

where a local villager will tell you the Ancient African stories. By creating a monetization for these events, you can support the local culture and ensure it stays for generations to come. They educate guests to show respect towards these cultural activities. You will leave here knowing more about sustainable tourism, and the culture of the beautiful Drakensberg Mountains.
Most Popular Activities near Antbear Lodge
Horse Trails
Animal Farm
Stargazing in a Hammock Camp
Hiking and Mountain Biking
Slackpacking
Hot Air Ballooning
Woodworking Lessons
Best time to visit Antbear Lodge
If you want to catch the annual migration of sardines, one of the most spectacular marine event in the area, you should think about visiting them between May and July.
If you want to spot Big 5, dry season aka winter would be the best choice when they are gather around waterholes and the bushes are thinner.
Features