Big 5 Animals in Africa – Where To See Them?
The term "Big Five" originally referred to the five most difficult and dangerous animals in Africa to hunt on foot. This term was coined by big-game hunters and included the lion, leopard, rhinoceros, elephant, and buffalo. The concept was not based on the size of the animals, but rather on the danger and challenges involved in hunting them.
Over time, the term "Big Five" has been adopted by safari and wildlife operators to promote wildlife tourism in Africa. It has become a popular checklist for safari-goers who hope to go on a big five safari and visit African wildlife reserves.
The exact origin of who first coined the term is not well-documented, but it is deeply rooted in the early 20th-century hunting traditions of African safaris.
This article shows you information about the big five animals of Africa with facts and data on where you can actually see them. Many recent studies reported estimated population numbers which can give you a better understanding of what to expect to see on a safari tour in Africa.
READ ON – Ethical safari tours in South Africa
Map of Africa Big 5
The below map shows the concentration of Africa's iconic Big Five animals – the lion, leopard, rhinoceros, elephant, and buffalo. It serves as a unique visual guide to understanding where these magnificent creatures are found across the continent. The color gradient represents the variety of the Big Five present in each area, with darker shades indicating higher diversity.
Spotting the Big Five animals in Africa in one place can be difficult, as each of these iconic animals tends to congregate in different regions. While a country may be home to all five species, the largest populations of each are often found in distinct areas. As a result, some animals may be readily visible in certain regions, while others remain elusive due to their smaller local populations.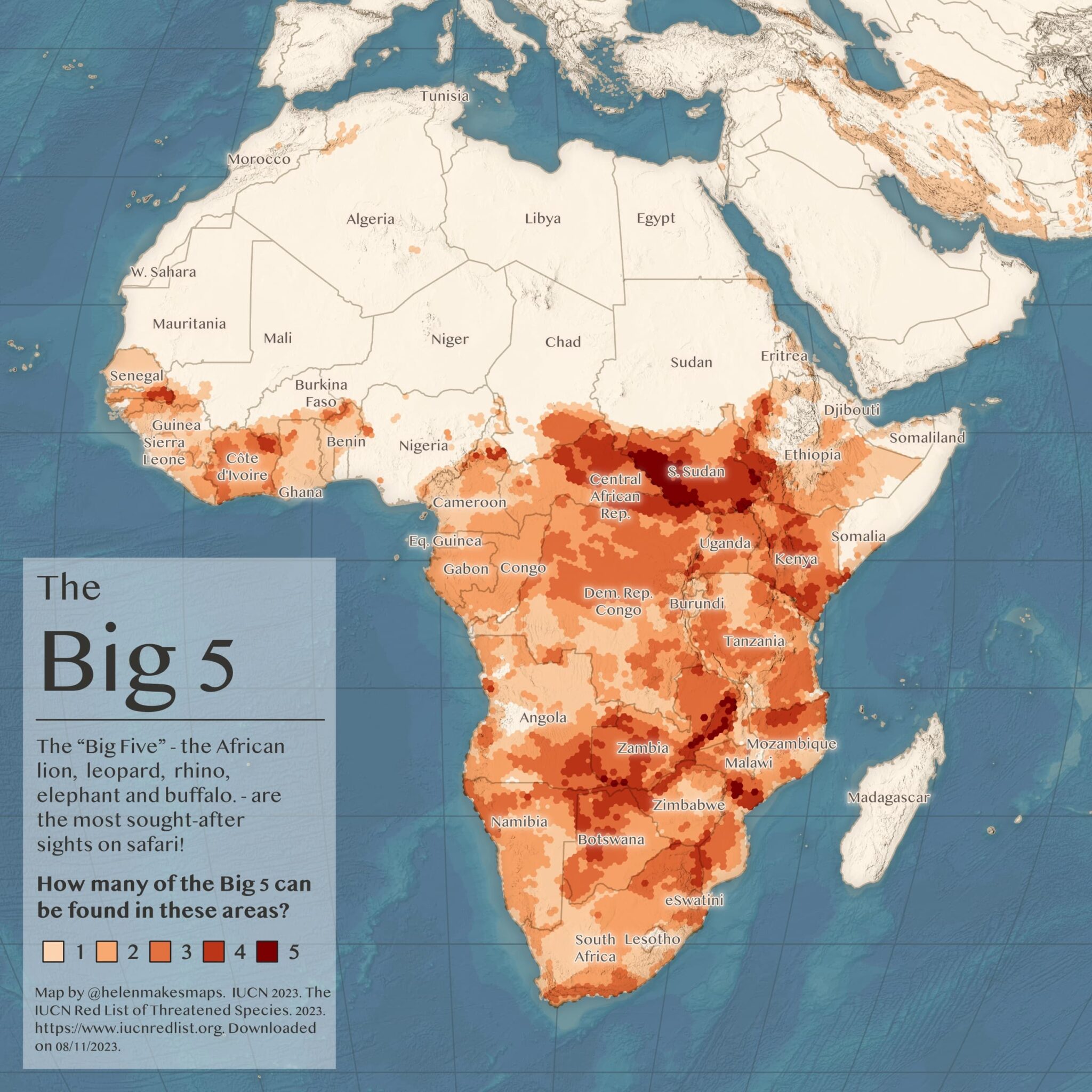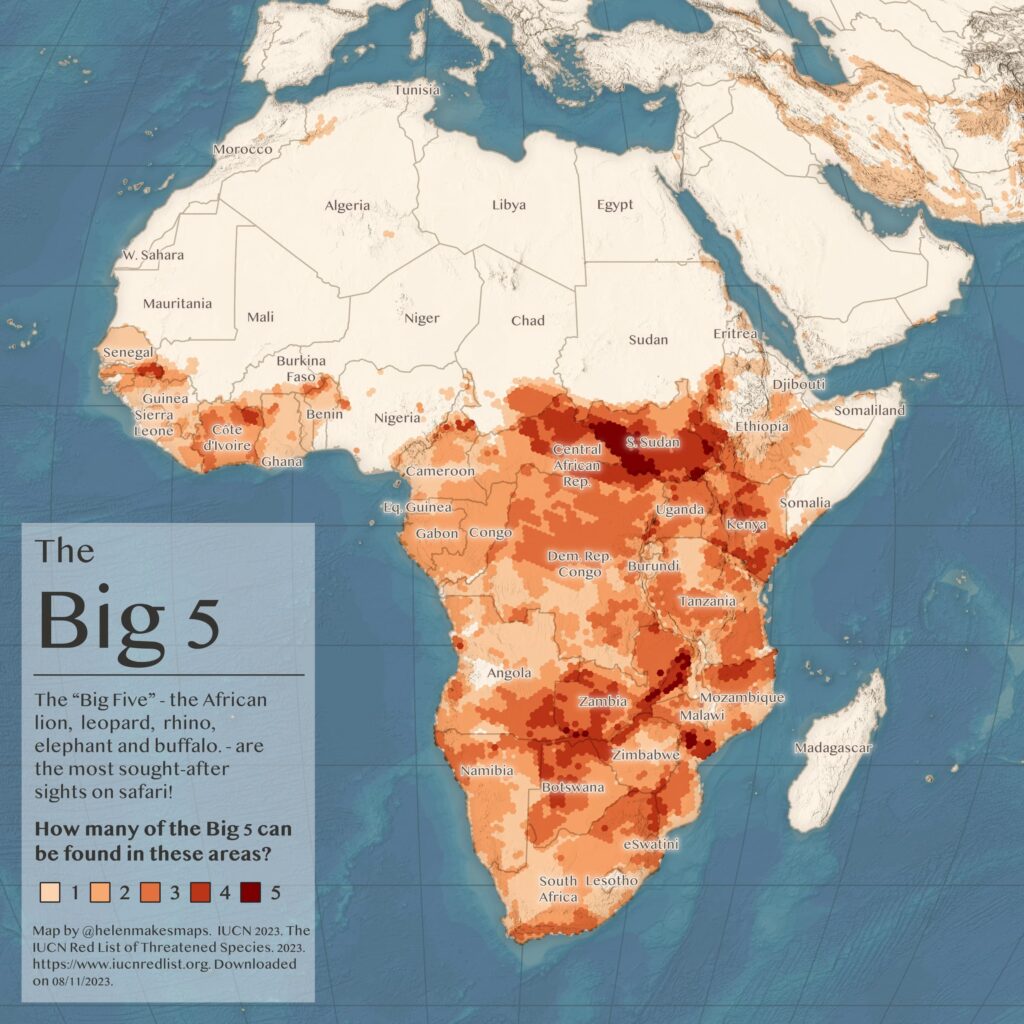 Lions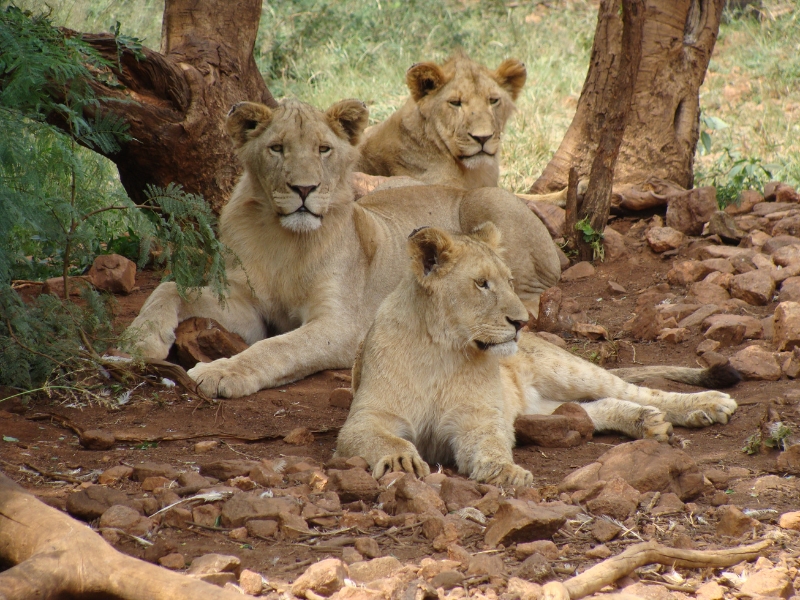 The first of Big 5 Africa are the lions. They are listed as "Vulnerable" on the International Union for Conservation of Nature's (IUCN) Red List of Threatened Species. A 2023 study by Oxford University estimates that the total population of wild lions in Africa ranges between 20,000 and 25,000, spread across 25 countries. Nearly half of these countries have populations of fewer than 250 lions, and eight countries are home to just a single wild lion pride.
Tanzania is home to the largest population of lions, with approximately 14,000, according to recent estimates. In comparison, South Africa and Botswana each have about 3,000 lions, while Kenya and Zambia have populations of around 2,500.
If you want to choose a travel to a destination where you can watch lions in their natural habitat, you should look for safaris in Tanzania. BornWild is an eco-tour company that organizes tours while being involved heavily in lion conservation projects.
Rhinoceros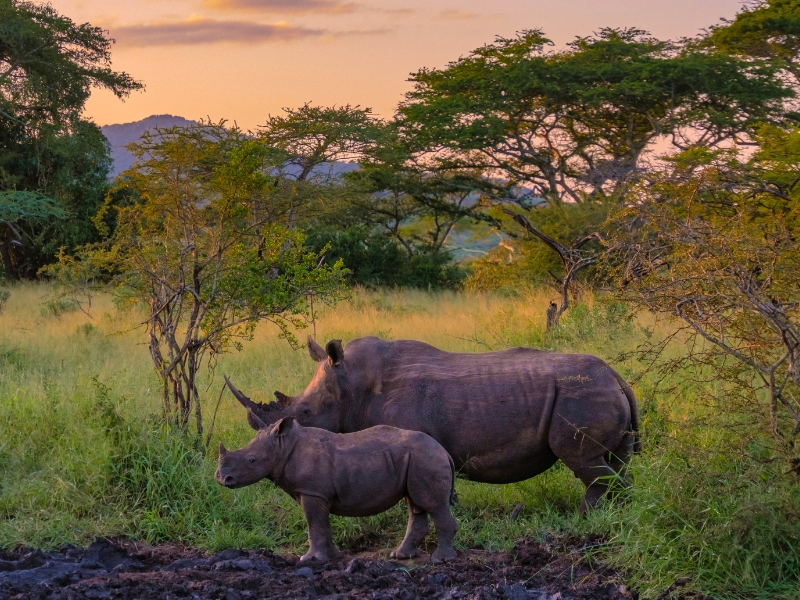 The next of the Big Five are the rhinoceros. There are three rhino species in Africa: black rhinos, northern white rhinos, and southern white rhinos. From 1960 to 1995, large-scale poaching led to a dramatic 98% decline in their numbers. By the end of 2023, the total rhino population was only 23,290 on the continent.
More than 70% of Africa's rhinos are southern white rhinos, yet they are classified as "Near Threatened" on the IUCN's Red List of Threatened Species. The majority of this population, about 12,968, is found in South Africa. Other countries with significant populations include Namibia with 1,416, Kenya with 873, Zimbabwe with 417, and Botswana with 242. In other countries, the population totals less than 100.
Currently, northern white rhinos are on the brink of extinction. At one point, only two females were left, who were under constant armed protection in Kenya's Ol Pejeta Conservancy. However, as of September 2023, thanks to significant efforts by the BioRescue Consortium, the population has increased to 29.
Black rhinoceros are estimated to number nearly 6,487 and remain critically endangered species. However, thanks to intensive conservation efforts, their numbers are on the rise. In South Africa, there are approximately 2,056 black rhinos, followed by Namibia with 2,196, Kenya with 968, Zimbabwe with 616, and Tanzania with 212.
Leopard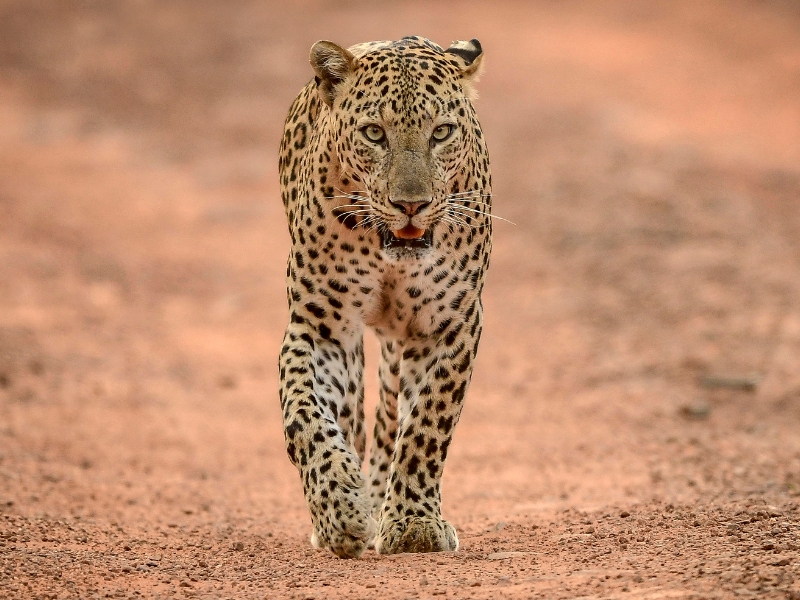 Leopards are also part of the Africa Big 5. It is commonly cited that there are more than 700,000 leopards in Africa, but experts reported this number to be flawed. Still, leopards are listed as "Vulnerable" on the IUCN's Red List of Threatened Species with their numbers in Africa declining by 48–67% in the past century.
South Africa boasts the largest leopard population, concentrated in four core regions: the western and southeastern coasts of the Western and Eastern Cape Provinces; the interior of KwaZulu-Natal Province; Kruger National Park and the interior regions of Limpopo, Mpumalanga, and North West Provinces; and a northern area encompassing the Kgalagadi Transfrontier Park and adjacent parts of the Northern Cape and North West Province.
While Angola, Zambia, Mozambique, and Zimbabwe also have significant leopard populations, their numbers are expected to decrease as their habitats shrink. North Africa has only one notably small population in Egypt's Elba National Park.
Buffalo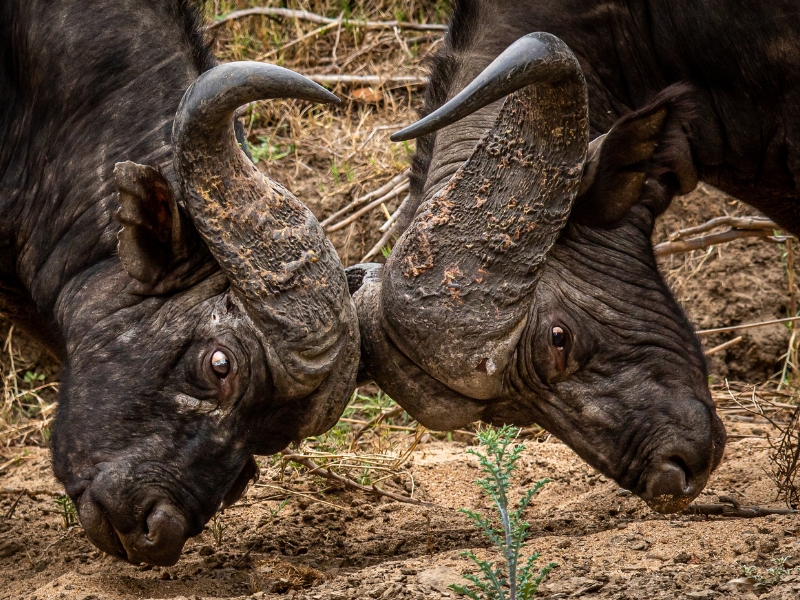 The next Big 5 animal is the buffalo. According to the African Wildlife Foundation, there are 4 buffalo species in Africa and 75% of their total population now lives in protected areas.
Despite their population in Africa is estimated to amount to 400,000, their numbers are decreasing. Hence they are listed as "Near Threatened" on ICUN's Red List. So where can you actually see each species? While experts say it is hard to estimate their exact numbers based on ICUN's analysis there are the most common areas they can be found.
Savanna Buffalo (Syncerus caffer caffer) also known as the Cape buffalo: This is the most common and widespread subspecies. It is found in a variety of habitats in countries across East and Southern Africa. Key countries include Tanzania, Kenya, Uganda, South Africa, Botswana, Zimbabwe, Zambia, and Mozambique.
West African Savanna Buffalo (Syncerus caffer brachyceros): Countries with notable populations include Benin, Burkina Faso, Niger, Ivory Coast, and Senegal. The populations in this region have shown contrasting trends, with some areas experiencing declines.
Central African Savanna Buffalo (Syncerus caffer aequinoctialis): Significant populations are in Central African Republic, Democratic Republic of the Congo, and South Sudan. The numbers in this region have been particularly affected by several factors.
Forest Buffalo (Syncerus caffer nanus): The forest buffalo is smaller and is found in the rainforests of Central and West Africa. However, precise figures for their populations are not readily available. Countries where they are known to be common include Cameroon, Gabon, and the Republic of Congo.
Elephant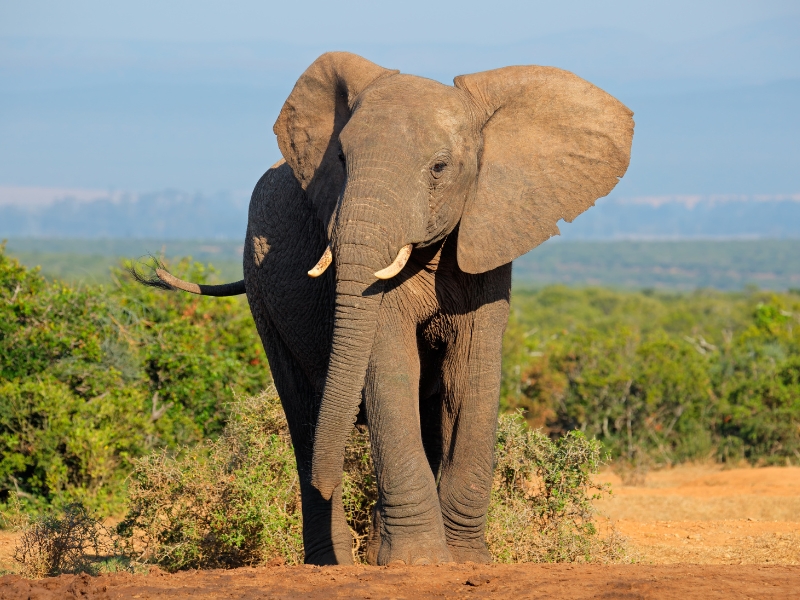 The last one of the African Big 5 is the elephant. This gentle giant is the largest land mammal with two sub-species: the African Savannah Elephant and the African Forest Elephant. According to an estimate from 2016, their total number was 415,428 living in herds across the African continent.
More than 50% of African Savannah Elephants live in the world's largest conservation area called Kavango Zambezi Transfrontier Conservation Area (KAZA), which includes Angola, Botswana, Namibia, Zambia, and Zimbabwe. In an unprecedented first-ever aerial survey conducted by KAZA in 2022, resulted in positive outcome and showed a population of 227,900, which is an increase by 7% compared to the 2016 data.
South Africa's total wild population is estimated at approximately 44,326 in 2020 with the Kruger National Park (KNP) leading it with an estimated elephant population of 31,527.
IUCN reported that African Forest Elephants primarily live in the central African range, with 72% of their population in Gabon and the Republic of Congo.
Is South Africa the best place to see the Africa Big Five?
South Africa is a prime habitat for several of the Big Five animals, each with significant populations across various regions of the country. Moreover, there are plenty of other South African animals you can see that reside near them if you choose this location as your next safari adventure.
The nation is home to approximately 3,000 lions, primarily found in protected areas.
South Africa also boasts the largest leopard population in Africa, concentrated in diverse habitats including the Western and Eastern Cape Provinces, KwaZulu-Natal Province, and the northern regions near the Kgalagadi Transfrontier Park.
In terms of rhinos, South Africa holds the majority of the continent's population, with over 70% of Africa's rhinos residing there. This includes around 12,968 southern white rhinos and approximately 2,056 black rhinos.
South Africa has a significant population of Savanna Buffalos estimated to be around 30,000 at the end of the 20th century.
Last, but not least there are said to be 44,326 wild elephants roaming the land in South Africa.
FAQs
Where is the largest lion population in Africa?
Tanzania hosts the continent's largest lion population, estimated at around 14,000. But there are other territories with a significant number of prides.
Where is the largest leopard population in Africa?
South Africa is home to the largest population of leopards, particularly in regions like the Kruger National Park and the KwaZulu-Natal Province.
Where is the largest buffalo population in Africa?
The Savanna Buffalo, the most common buffalo subspecies, has its largest populations in East and Southern Africa, with countries like Tanzania and South Africa having significant numbers.
Where is the largest rhino population in Africa?
South Africa leads in rhino populations, with the majority of both southern white and black rhinos found there.
Where is the largest elephant population in Africa?
The Kavango Zambezi Transfrontier Conservation Area, spanning Angola, Botswana, Namibia, Zambia, and Zimbabwe, has the highest concentration of African Savannah Elephants.
Where to Stay in Africa
For those seeking to experience Africa's majestic wildlife, eco-lodges offer a sustainable way to stay close to nature. These lodges prioritize environmental conservation, allowing visitors to immerse themselves in the natural habitat of the Big Five while supporting eco-friendly tourism practices that contribute to the preservation of these magnificent species.
Safari lodges in South Africa are usually situated inside game reserves like Kruger National Park, Sabi Sand Game Reserve, Hluhluwe–Imfolozi Park, or Addo Elephant National Park. They not only offer a close-to-nature experience they all play a crucial role in wildlife conservation.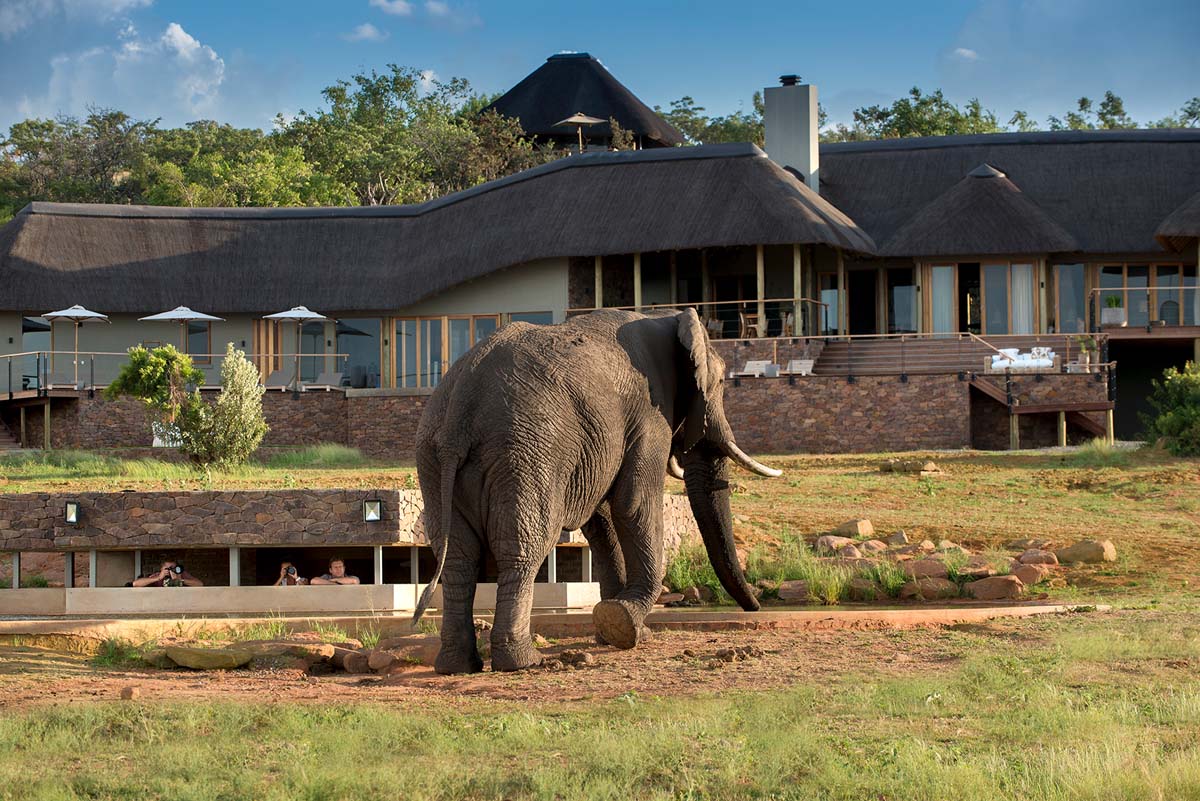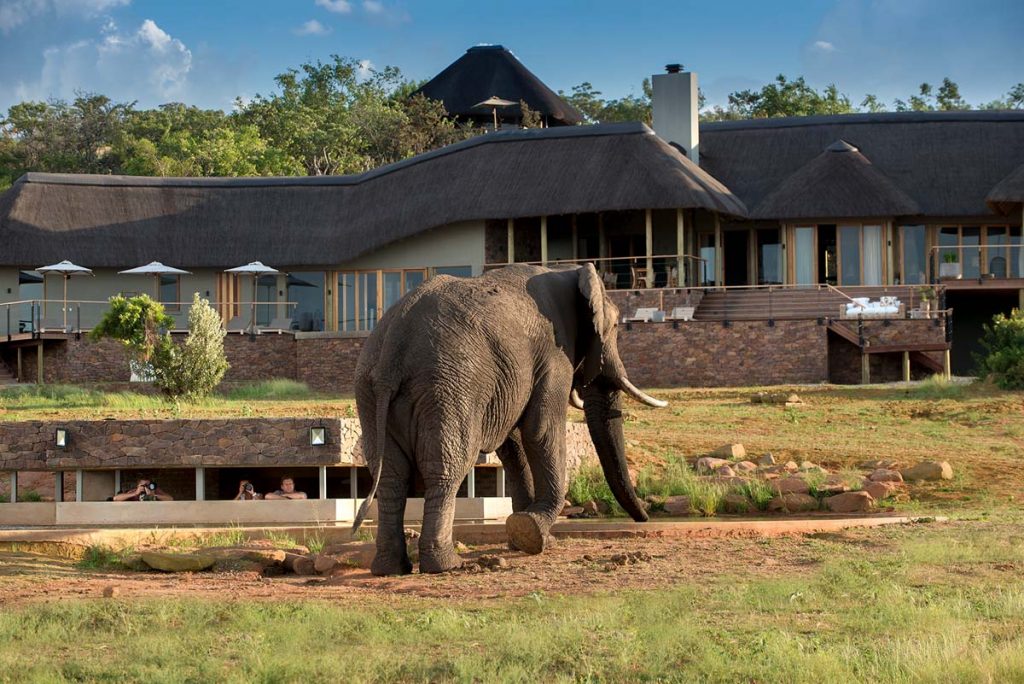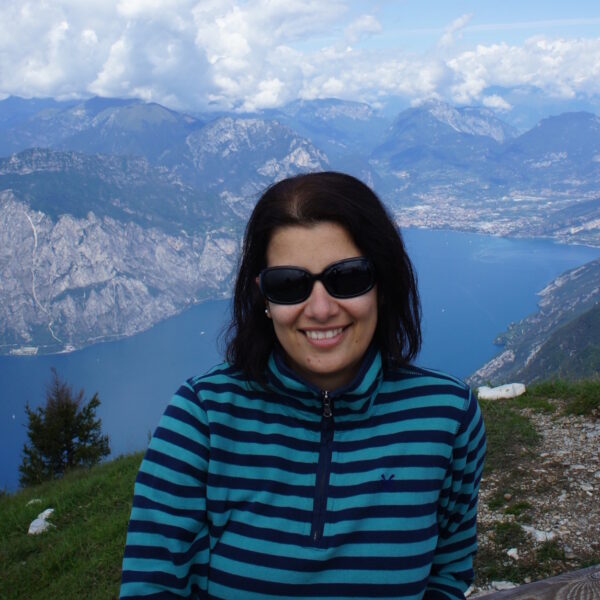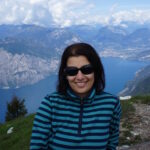 Emese Maczko is a travel blogger behind Eco Lodges Anywhere. Having explored several destinations around Europe, the US, Indonesia, and Australia, and resided in Germany, the United Kingdom, and Luxembourg, Emese possesses a keen understanding of diverse cultures and an appreciation for the beauty of each destination she visits. She advocates for sustainable travel and ecotourism.