28 South African Animals You Can Actually See
Offering an illustrious glimpse into one of the most explored yet almost untouched areas of the world, South Africa is a hot spot for tourists and naturalists alike. Almost every tourist visiting South Africa wants to explore its majestic wildlife, but first-timers don't know what to do.
Unfortunately, poor planning or lack of information can often lead to a disappointing trip, and many fall for empty promises about wildlife viewing. If you're hoping to prevent this when you head out to South Africa, you'll need a detailed guide.
Must-See South African Animals
You must remember many animals in South Africa are exclusive to the country, so you won't find them anywhere else. This dramatically increases the significance of animals, many of which fall for poacher traps. This means you must respect the animals you see, don't interact with them unless instructed by a professional safari guide, and don't damage the environment.
It's equally important to remember that many of these animals can be elusive, so you might have to stick around for a few hours if you want to see them all. Let's move on to the list of 28 South African animals you can actually see when you head out on a safari tour.
READ ON – Ethical safari tours in South Africa
The numbers near all names are estimations reported by the International Union for Conservation of Nature (IUCN).
Leopards – unknown, at most 25,000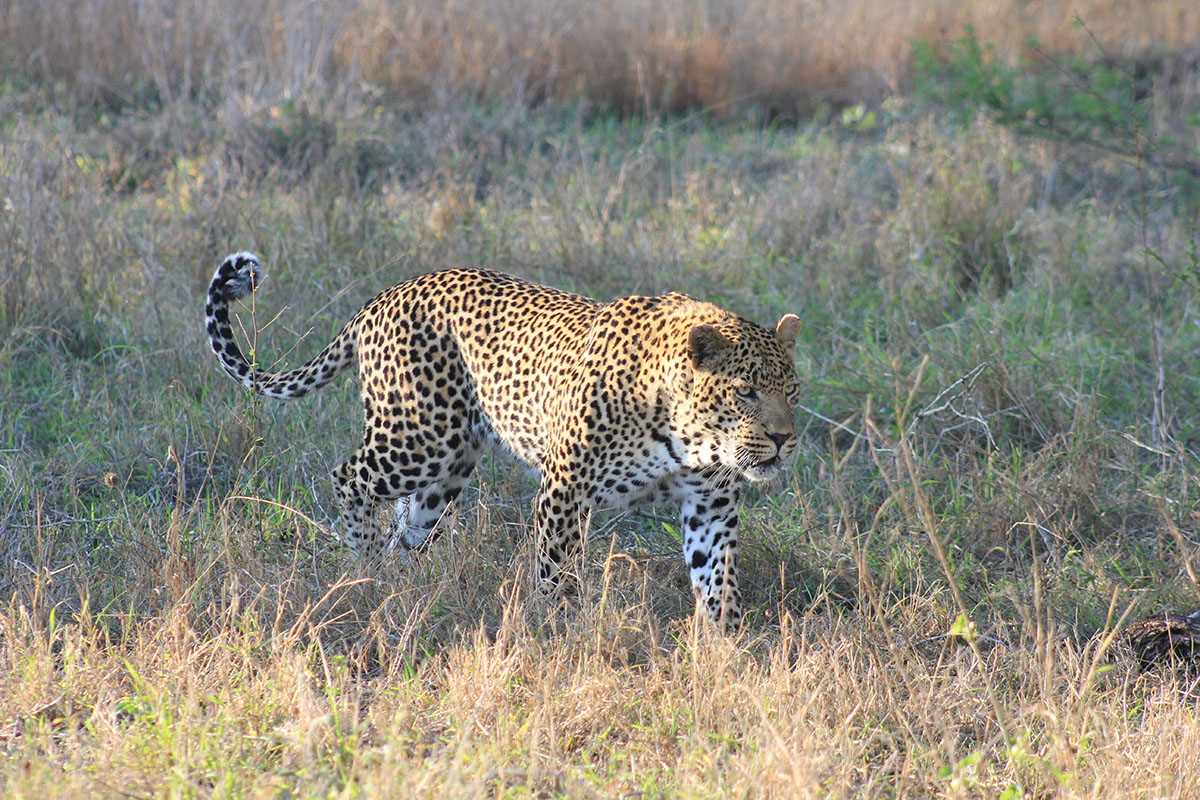 Those hoping to see leopards must remain alert and still at all costs because these elusive creatures are masters of camouflage and won't stand out from the yellowish grassland. You'll only spot a leopard when it emerges from its hiding spot to pounce on a prey. Watching this will show you why it's included in the Big Five.
South African leopards are highly territorial, so it's best to keep your distance and stick to the safari guide. Although South African leopards tend to avoid tourists, they can easily switch stances, so it's best not to intimidate or willfully stick out.
"We didn't expect to see a leopard on our South Africa safari; after all, they're rather elusive creatures. Yet by our second day in Sabi Sand Private Game Reserve, we'd already encountered two and felt so privileged! The park is known for its thriving leopard population, and the guides go out of their way to make sightings happen", says Heather Cole, a travel blogger from Conversant Traveller.
Buffalo – 30,000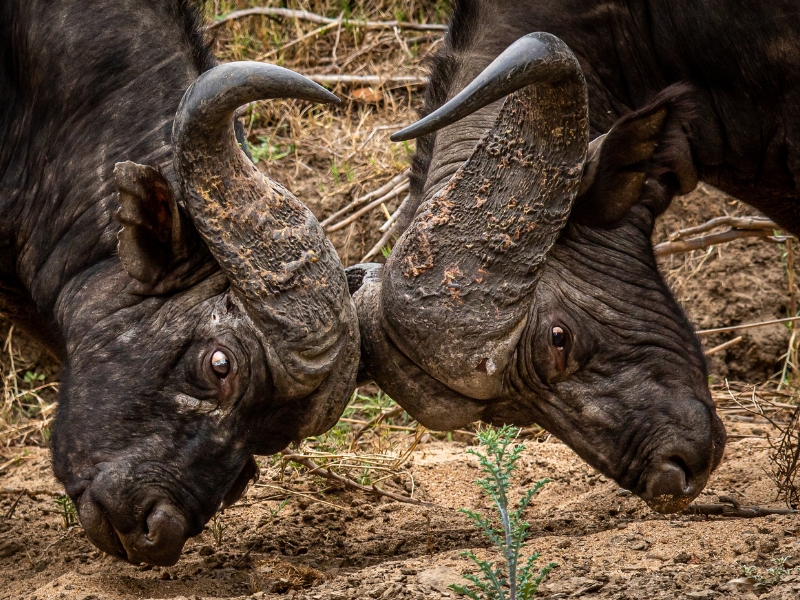 Another member of the Big Five, buffalos in South Africa, are a sight to behold. Their sheer size makes them intimidating, but their habit of traveling in large herds makes them terrifying. Buffalos are highly territorial and have an intense herd instinct; coming close to even one will attract hundreds, so it's best to stay low.
"We spent a week at Zulu Nyala Game Lodge – Hluhluwe. It was amazing and we had already seen elephants, zebras and giraffes. We had to take a day trip to Tembe Elephant Park to find what evaded us – Water Buffalo (one of the Big-5). They were roaming freely in Tembe Park in the KwaZulu-Natal region of South Africa. It was an unforgettable trip", says Margarita Ibbott, a travel writer on Wealth of Geeks and DownshiftingPRO.com
Lions – 3,000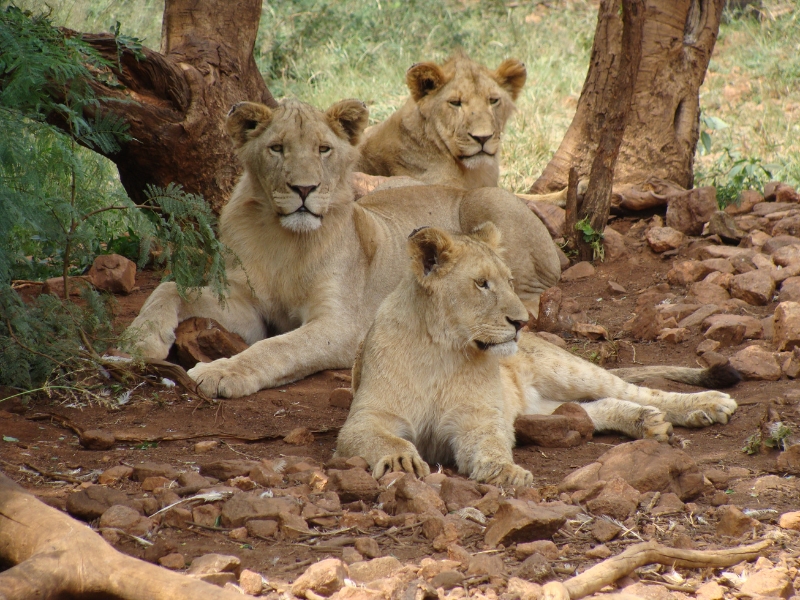 Easily the top creature in the Big Five, lions are the most iconic animal in South Africa. Their sheer size and intense gaze make them a formidable foe, but a single roar can chill you to your bone. Interestingly, a South African lion's roar can be heard up to 5 miles (8 km), so most tourists can figure out if they're close to a sighting.
Most South African lions are used to being observed by tourists, so they tend to lay low and relax. However, hunting times and mating seasons make them aggressive, so it's best to follow the safari guide intently.
"One of the most remarkable experiences you can have at Kgalagadi Transfrontier Park is seeing lions. Of the 350 lions that live at Kgalagadi, we managed to see 9 in two days, including three young male lions feeding off an eland they took down moments prior to sunrise. Every lion we saw was right beside the road or within 100 feet. To maximize your chances of seeing lions, be sure to head off before sunrise because they are most active at dawn. Bring binoculars too because they blend in well with the desert environment", says Sarah Camp, a travel blogger from In Search of Sarah.
Elephants – 44,000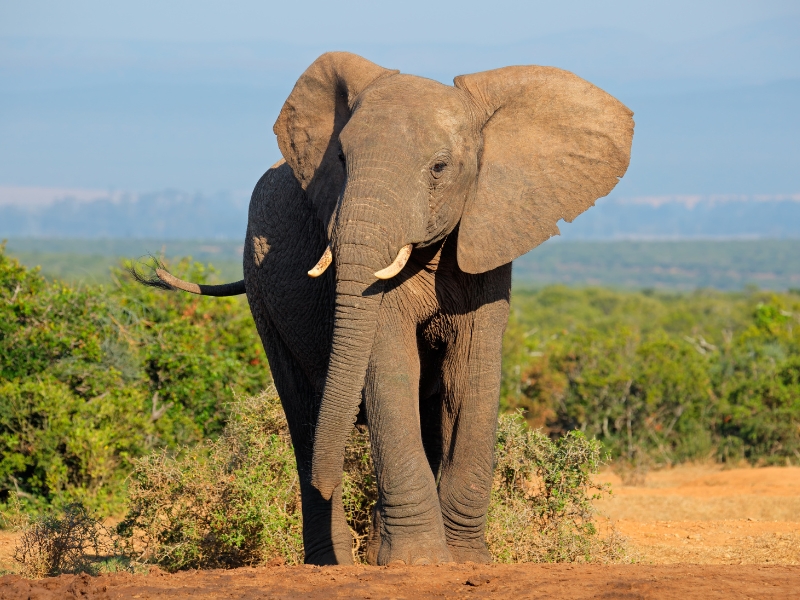 Calm and gentle, this Big Five animal casually saunters and is relatively unphased by tourists. Luckily, most African elephants are cheerful and friendly and even approach tourists. However, you mustn't interact with elephants without a tour guide present. Elephants are gentle, but depending on the circumstances, they might dip into their wild instincts.
Male elephants approaching adolescence are unusually aggressive, so they take out their anger on other elephants, animals, and even humans. Mother elephants are equally ferocious, especially when their babies are small, so it's best to keep close to your safari guide. Kruger National Park and Addo Elephant National Park are notably famous for watching elephants.
"We had the pleasure of seeing lots of Elephants both in Mjejane Game Reserve and also in Kruger National Park. They actually came right to the fence of our backyard in Mjejane! It was absolutely amazing to see them so close! The baby elephants were real show offs and really put on a show and dance for us. On one game drive in Mjejane, a baby elephant stopped in the middle of the road in front of our vehicle and danced around, until he was pushed back into the herd by his big brother. Elephants are something you will definitely get to see if you visit Mjejane or Kruger and they did not disappoint!" – Bett, travel blooger at Couple Travel The World.
Rhinos – 15,000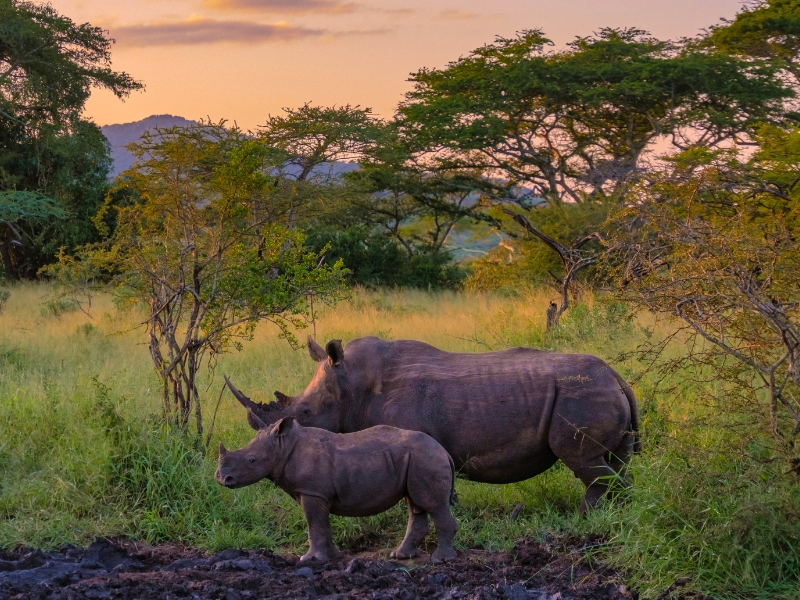 A monstrous figure made even more intimidating by the sharp horn; rhinos are among the strongest South African animals. Their intense gaze and aggressive personalities make them a standing threat to anyone.
Rhinos are highly territorial and easily agitated, which isn't the best combination. This duo of behaviors is why rhinos casually charge toward anyone they consider a threat.
Amazingly, rhinos have poor eyesight, so many might be tempted to get a closer look. But this makes them even more dangerous; rhinos won't care who stands in their way, so they're ruthless.
Sabi Sands Game Reserve, Kruger National Park, and Hluhluwe-iMfolozi Park (Kwazulu-Natal) are the popular spots to see this African big five.
Dolphins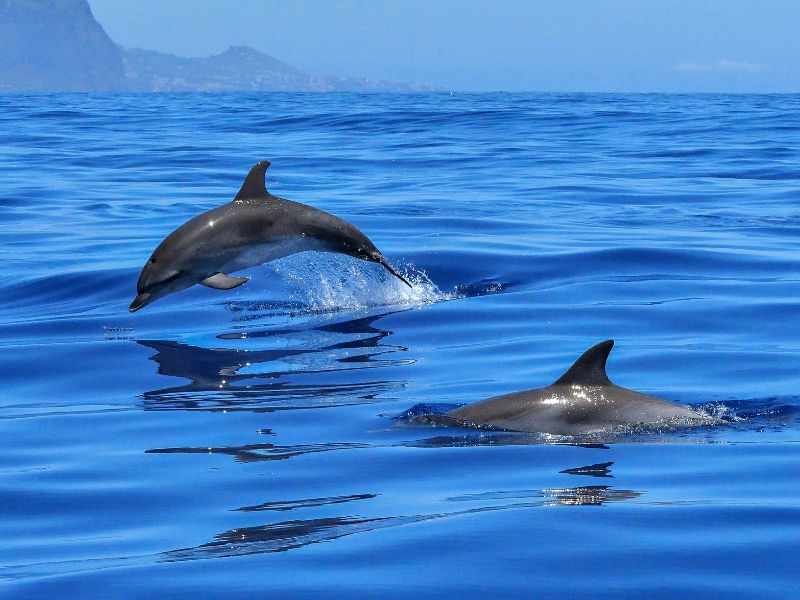 One of the most social animals in the world, dolphins are a true delight to see. Their cheerful attitude and friendliness to strangers make diving experiences worth the trip.
South African dolphins are fascinating creatures; it is obvious these dolphins are used to stealing the spotlight, so they'll eagerly approach tourists and even ask for snout rubs.
However, it's best to maintain your distance unless advised by a tour guide because dolphins are incredibly clever, so they can take advantage of humans. Many dolphins become aggressive when agitated, and some can get too playful, resulting in unexpected injuries.
You can spot dolphins in Cape Town, Port Elizabeth, Hermanus and Plettenberg Bay.
Great white sharks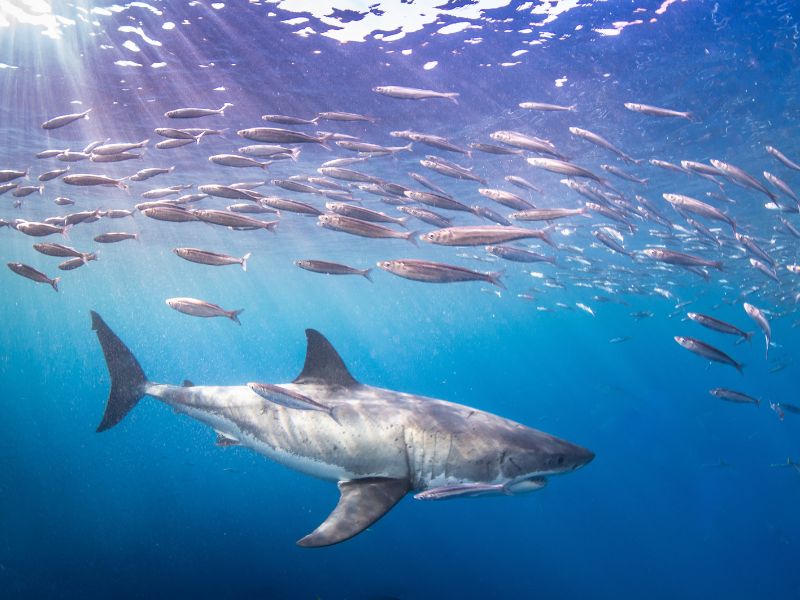 An intimidating row of teeth, a ghastly personality, and a tenacity to destroy anything that disrupts their peace, great whites are a majestic beast that invites you to witness their bravado.
While seeing great whites may not be everyone's cup of tea, marine enthusiasts and adventure seekers might dive into South African waters for a glimpse. South African waters teem with these creatures, so sightings will be easy.
Don't startle the sharks and stick to what your diving instructor teaches you because great whites only need a moment to turn on visitors.
Seal Island and False Bay (near Cape Town) and Dyer Island (near Gansbaai) are amazing spots to see the great whites.
Aardvark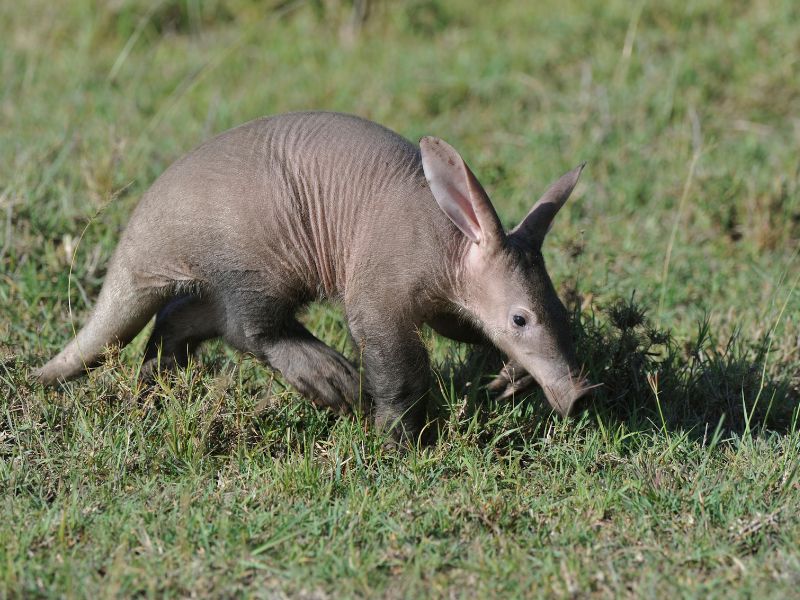 When the sun starts to set, tourists might see a small creature scuttling through the dark. This might be the elusive aardvark, an adorable animal that only appears when it's time to eat.
Aardvark are nocturnal, so they spend most of their day huddled in their burrows. Some aardvark might be visible during the day, but it's a rare sight.
A unique feature that sets aardvarks apart from other animals is their generosity; aardvarks are burrowing animals, so they dig new burrows daily. Other smaller rodents will inhabit these burrows when the aardvark leaves. It's genuinely an exciting sight to see.
Aardvarks can be spotted in Tswalu Kalahari Reserve, Benfontein Nature Reserve, and Samara Karoo Reserve (northern and eastern Cape).
Turtles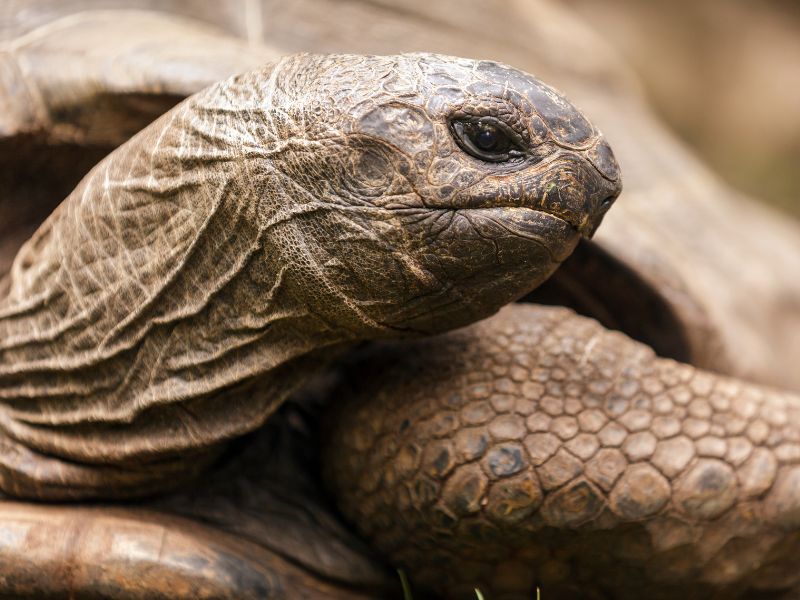 Animal enthusiasts find South African turtles a particularly amazing sight because their relaxing demeanor and gorgeous features emit a soothing aura.
Most of these turtles are friendly, so they'll warm up to tourists, but it's essential to give them space.
South African turtles are specifically found close to Cape Town, but they spend most of their lives underwater and only emerge to lay eggs. This is why tourists hoping to see them must dive into the pristine waters, but it'll be worth the effort.
St. Lucia Wetland Park, Cape Vidal, Sodwana Bay, and Kosi Bay (Kwazulu-Natal) are great sites to spot turtles.
African wild dogs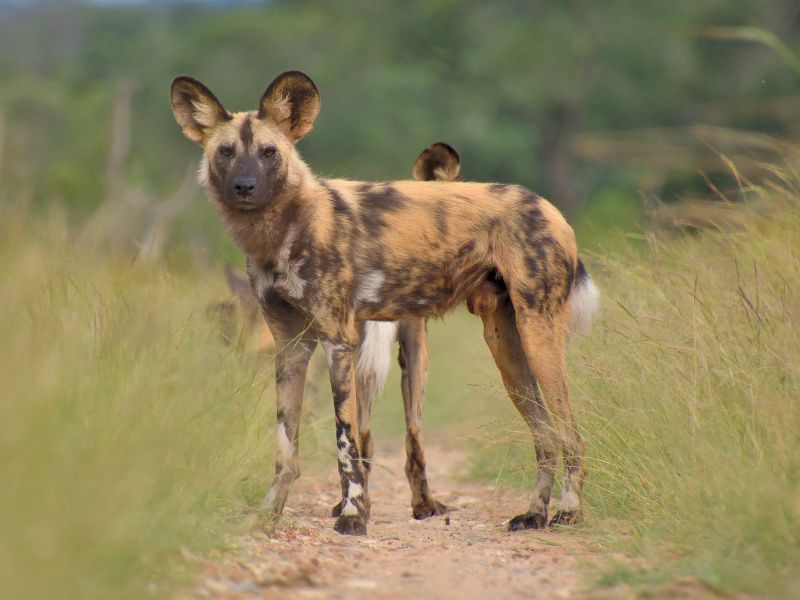 One of the strongest hunters in South African savannahs, African wild dogs emerge together as a pack and continue to follow a strict hierarchy until their last breath.
This is just a testament to their loyalty and characteristics tourists will easily spot because of their willingness to help the elderly of the pack.
But don't take their kindness for an all-inclusive experience because these ferocious animals can tear up their prey in minutes. It's best to keep away from these howling beings.
Watch these beasts at Kruger National Park, Venetia Limpopo Reserve (Okavango Delta), and Madikwe Game Reserve.
Zebras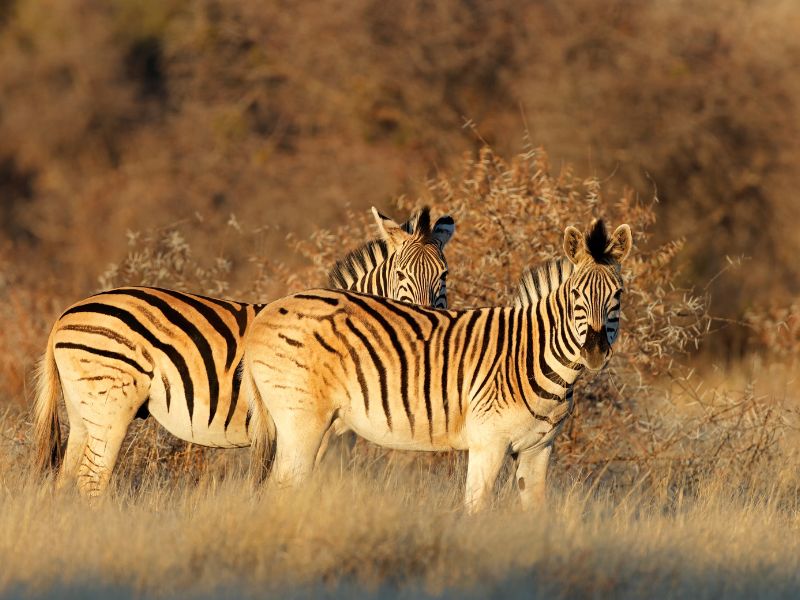 Many tourists visiting South Africa are stunned by seeing the herds of zebras because, unlike the ones kept in zoos, wild zebras are aggressive and unfriendly to strangers.
These striped animals stand out quickly, so they're often the center of attention, both by man and other animals. This makes them one of the few animals that might give you a gory outlook into the wild.
But tourists seeing zebras from afar don't find them too intimidating because, thankfully, they don't mess with humans. It's equally important to respect their boundaries and let them be wild.
Kruger National Park and Addo Elephant National Park (Port Elizabeth) are two of the major sites to spot zebras in South Africa.
Blue crane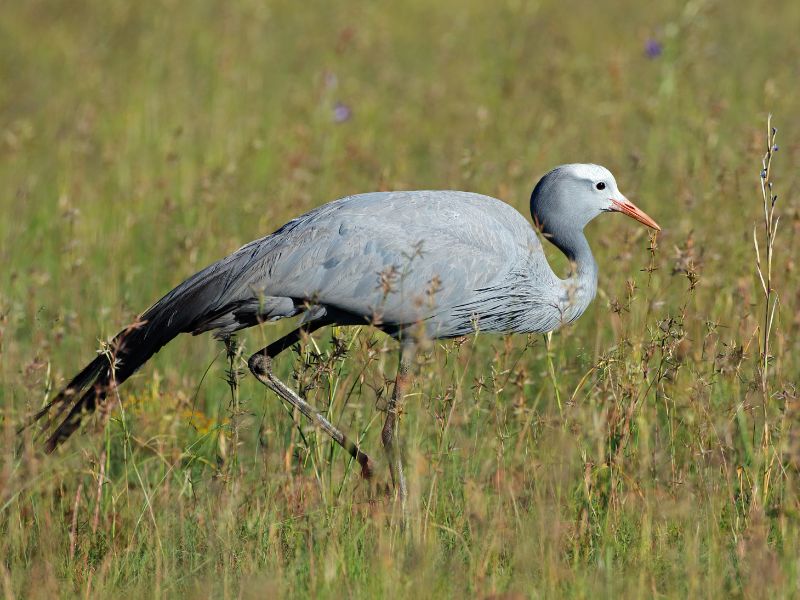 The Blue crane is South Africa's national bird, and its majestic appearance makes it worthwhile every camera shot. Their slender necks and smooth plumage delight animal lovers, who can't help but adore these birds.
Blue cranes are incredibly captivating when wooing a female partner; their courtship involves an attractive dance and displays of strength like high leaps and nosedives.
Blue cranes can easily be frightened despite being an iconic sight for tourists, so it's best to stay calm. Engaging in disruptive behavior could affect a blue crane's courtship.
You can find blue cranes in the Western Cape.
Bontebok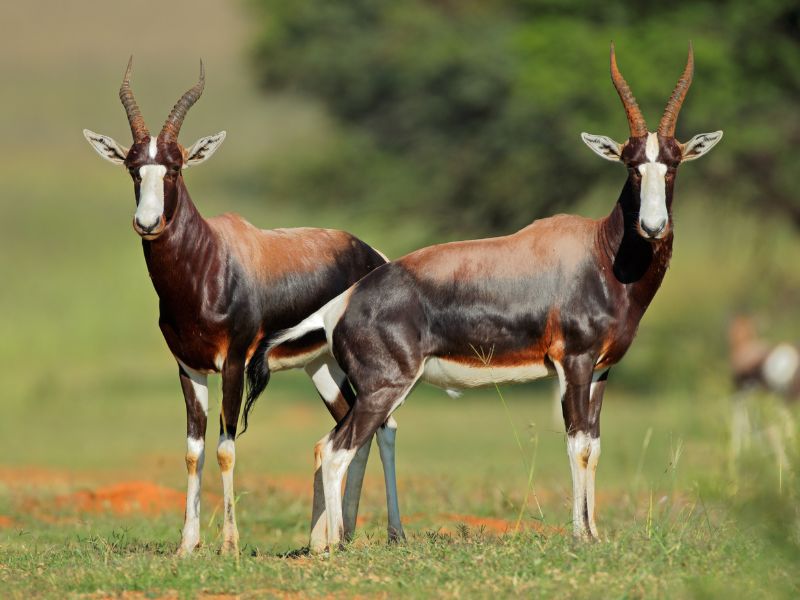 An antelope species endemic to South Africa, bontebok is highly recognizable because of a bright white pattern covering its face and lower parts of its limbs. The bontebok's unique appearance and general rarity make it one of the most exciting and intriguing animal sightings.
Unfortunately, bontebok is close to extinction because of poachers. This is why every tourist must keep their distance and avoid any behavior that could startle the bontebok or make it an easy target for other wildlife.
Bontebok National Park (Swellendam) and De Hoop Nature Reserve (Western Cape) are popular locations to see the bonteboks.
Cape grysbok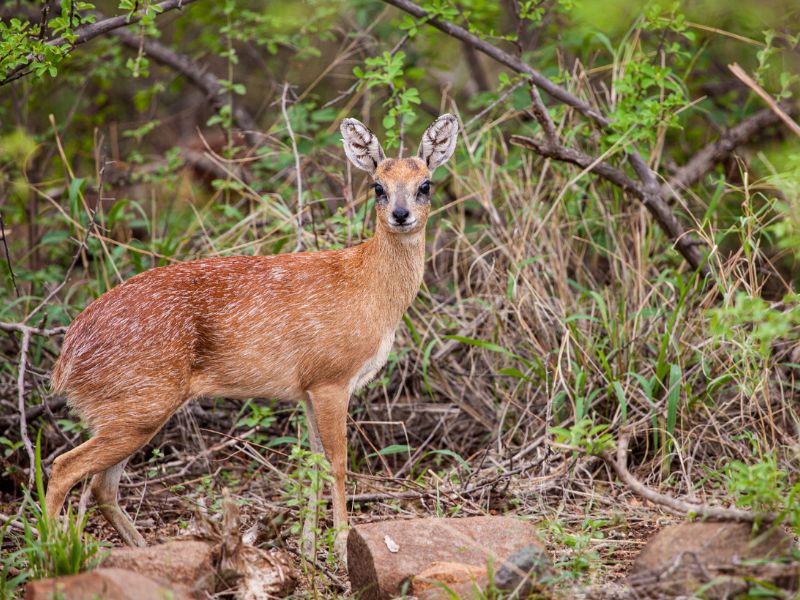 Tourists experience an intense urge to pet the Cape Grysbok, but you must fight this urge because the animal is easily scared and is an easy catch for predators.
The Cape or grysbok is a type of antelope endemic to South Africa. What makes it unique is its small size; it stands around 20-21" at the shoulder, so they're often mistaken for small boars or similar animals.
It doesn't help that the Cape Grysbok is intensely adorable, but the creatures are timid and don't like approaching strangers, so witness them from afar.
East and West Cape are two amazing locations to find cape grysboks.
Eastern Cape kudu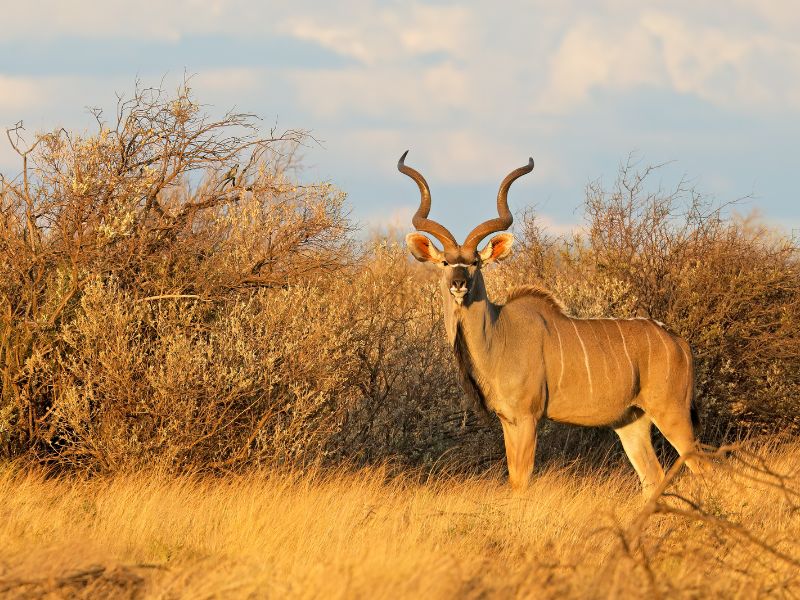 Its curved horns bear witness to an elegance no one would expect from South African animals; the Eastern Cape kudu is one of the country's most desired animals.
Coincidentally, the eastern Cape kudu is also one of the most elusive creatures, making sightings even more special and worthwhile. Sightings are so unique the animal has been called the Grey ghost because its grey-brown hide easily camouflages.
You can find cape kudu in Eastern Cape and Addo Elephant National Park.
Horseshoe bat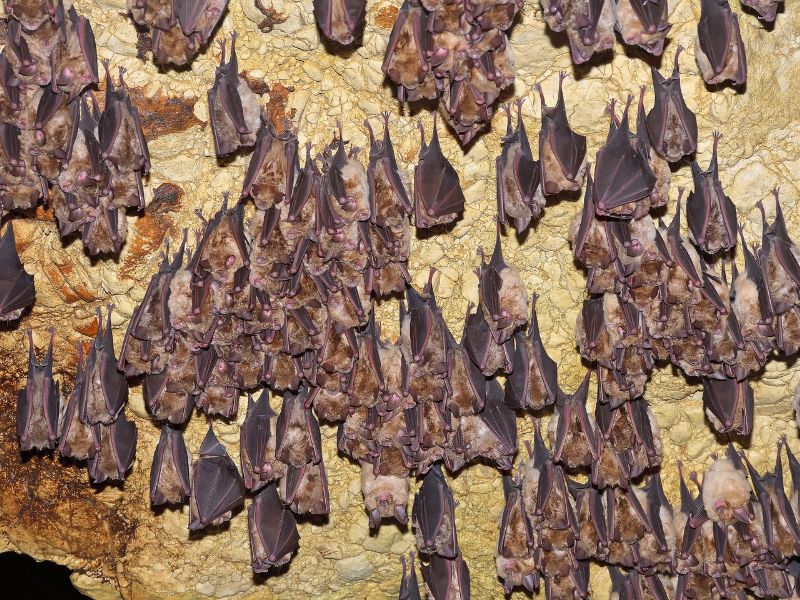 This might be one of the most unusual species, but their presence makes for an exciting cave exploration. This South African animal isn't visible during safaris but cave exploration activities, so they're more catered toward naturalists and thrill-seekers.
Seeing caves teeming with hundreds of horseshoe bats is difficult to put into words, but tourists are strictly advised to stick to their tour guide's instructions and watch silently.
Northern areas of South Africa are majorly populated with horseshoe bats.
African jacana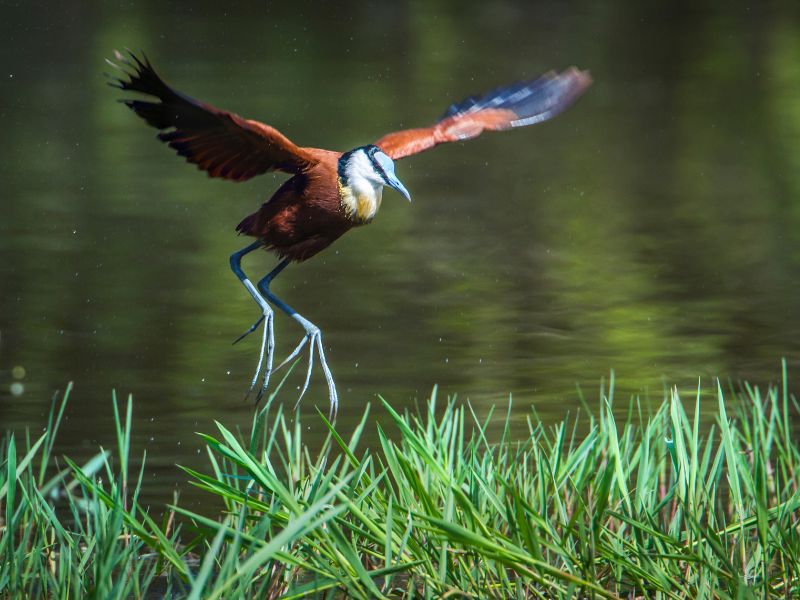 An exciting sight for bird lovers, African jacana is one of the most beautiful creatures that roam South Africa.
You might be confused at first because many African jacanas seem to have four or more legs, but it's a clever tactic to protect their young. Adult jacanas hide their chicks under their plumage, protecting them against predators and harsh wings. Of course, this makes for an amusing insight into the defenses of wild animals. Mating season brings colorful displays and wings flapping, so it's worth every minute.
Kruger National Park features the crowds of African jacanas.
Nile crocodile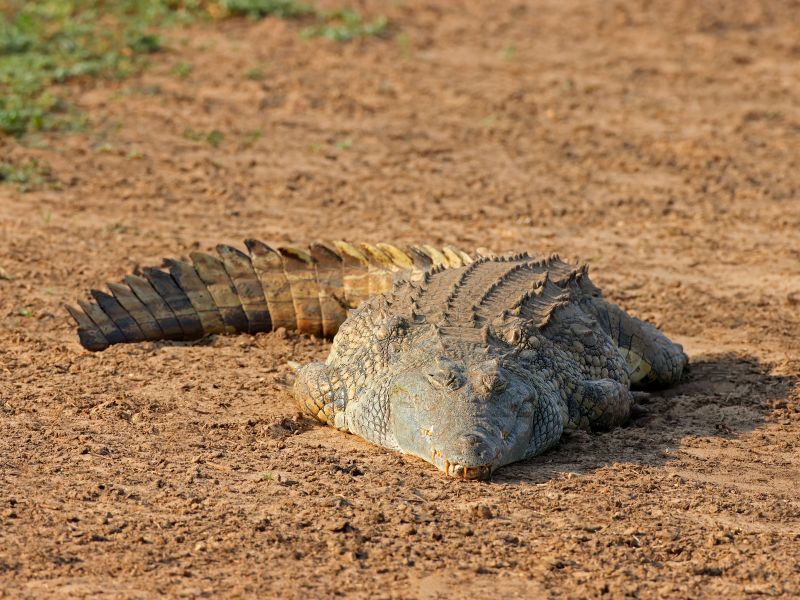 Often the epicenter of some of the most intense and exhilarating safaris, the Nile crocodile emerges in the blink of an eye to capture its prey.
Amazingly, most tourists can't even tell the Nile crocodile is resting in the water because, despite their sheer size, these reptiles are masters of patience and staying still. You'll only know there's a crocodile when it sees prey, and by then, it's often too late for the poor animal.
This is why many delight in witnessing the Nile crocodile fend off major animals and even predators like lions and leopards. The realization that there's always a bigger predator is awe-inspiring.
These beasts can be spotted in Kruger National Park and iSimangaliso Wetland Park (Kwazulu-Natal).
Springbok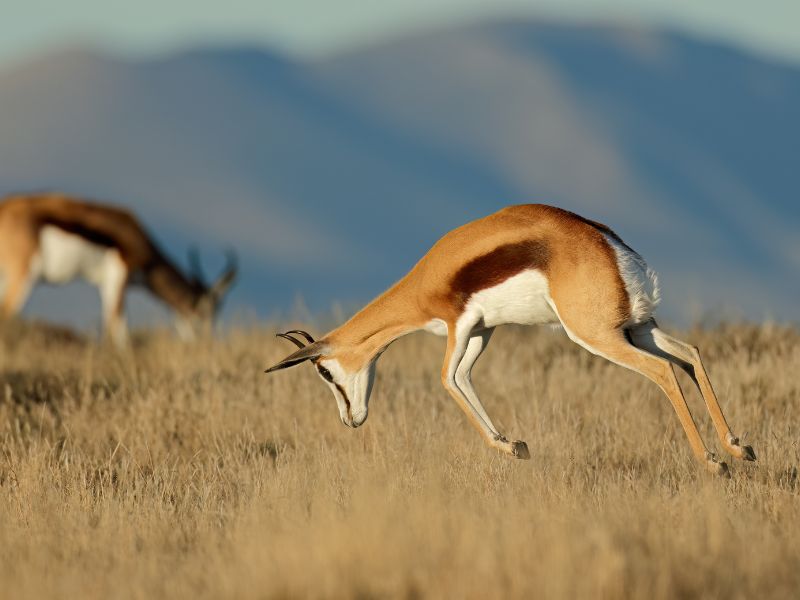 Another antelope, Springboks, is a confident species, despite almost always getting into the clutches of wild predators.
Their unique appearance makes them a sight to behold, but there's one special thing about them: pronking. Pronking is a defense strategy; springboks can leap multiple times into the air, allowing them to escape from sharp claws at the last minute. But sometimes, springboks pronk to show off; it's prevalent during mating season.
You can find the springboks in Kgalagadi Transfrontier Park and other areas of the Northern Cape.
Cheetahs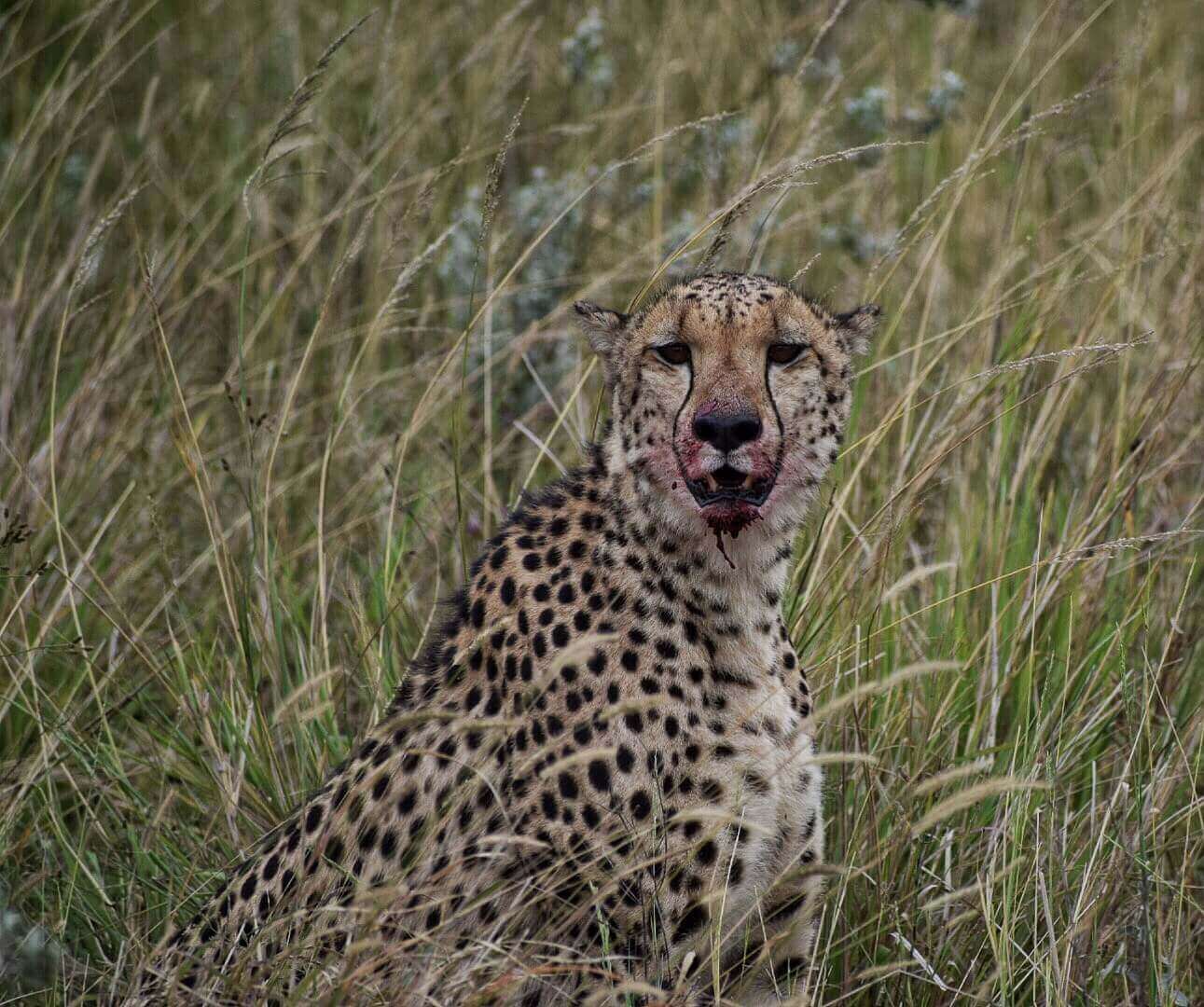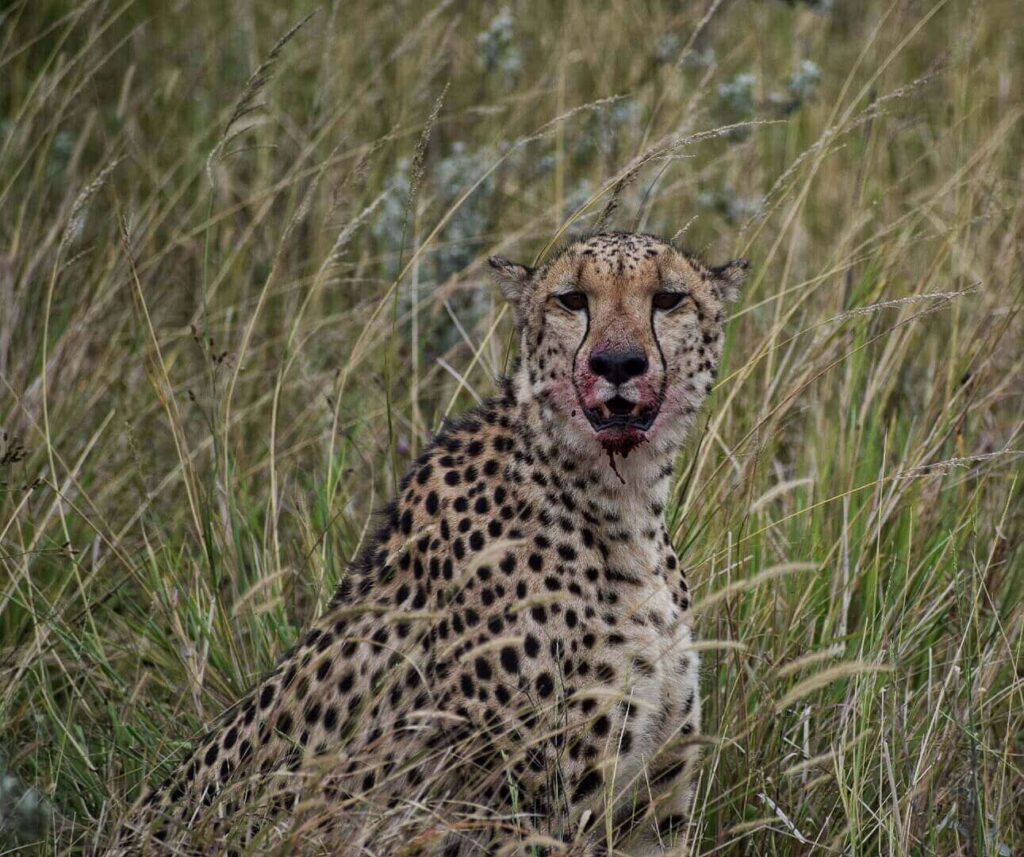 Cheetahs are found in the southern part of Africa. They have slender bodies, long legs, and sleek structures with distinctive spotted coats. They are famous for their fast speed, which can exceed 60 miles per hour, making them among the fastest animals in the world. Unfortunately, the cheetahs are facing numerous challenges, including habitat loss, which has greatly reduced their numbers.
"There are many places to visit South Africa, but Phinda Game Reserve in South Africa offered us an unforgettable experience. One morning we had spent hours looking for elephants but could hardly locate any. We were about to give up when the ranger got word that there were two cheetahs nearby. And we got to witness how these stealthy cheetahs hunted a lone impala. It was a thrilling display of nature's raw beauty and the unpredictability of wildlife. It was a mix of awe and poignant realization of nature's cycle." says Claudia Travani, a travel blogger from My Adventures Across The World.
Jackals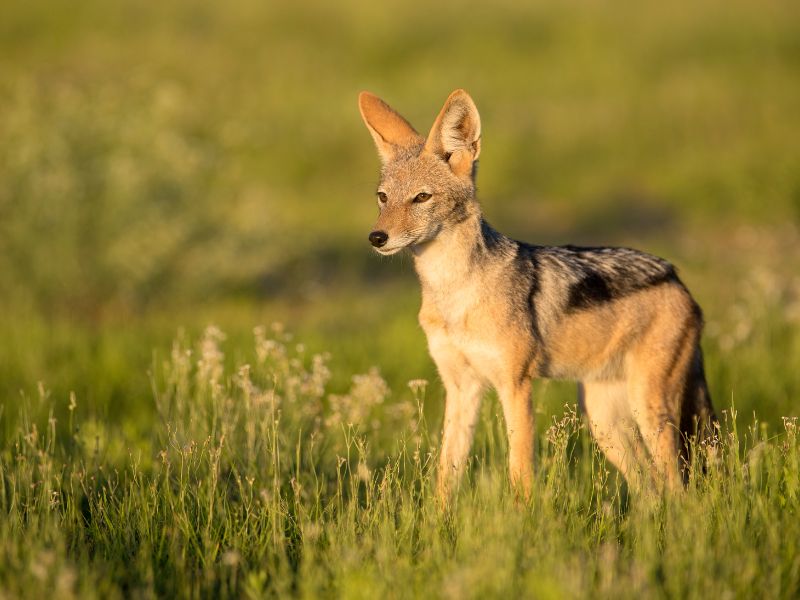 South African Jackals are found throughout the region, from the Cape to the savannas of Kruger Park.
They are distinguished by their diet and feeding habits and their silver-black fur.
You can hear more than you can spot them, and their haunting calls fill the night as they communicate with their mates or pack. The jackals are adaptable to a range of habitats, and they play a critical role in the ecosystem of South Africa.
"Jackals can be harder to find but are by no means a rarity. If you're hoping to spot one of these animals in the parks of South Africa, you won't be disappointed," says Deborah Hendrick, a travel blogger from Introvert with Itchy Feet.
Vultures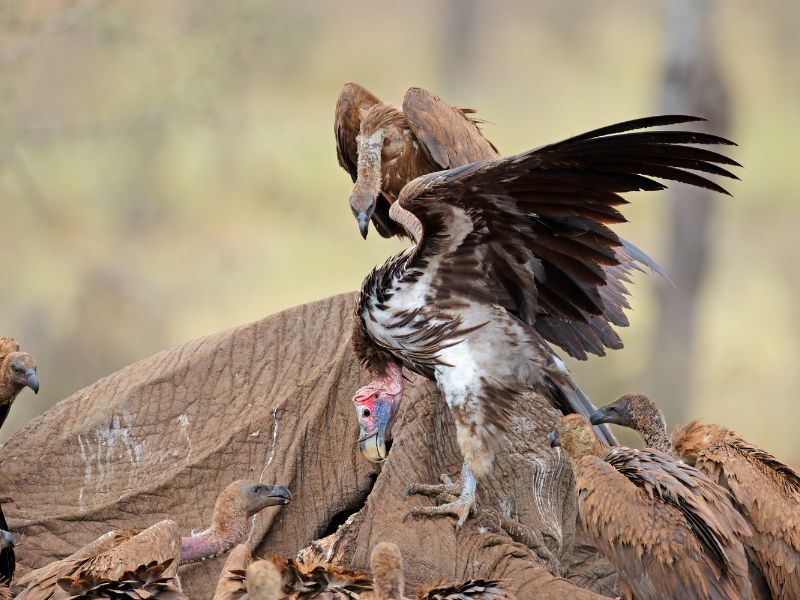 Vultures are large, powerful birds with broad wings and keen eyesight. They are often seen soaring high in the sky, scanning the land for dead animals to feed on.
Species like the Cape Vulture and the Lappet-faced Vulture play a vital role in preventing the spread of disease by consuming dead animal matter. Their numbers, however, are declining due to habitat loss and poisoning, making conservation efforts to save them increasingly important.
"Keep a lookout for vultures. They can often be spotted perched in groups, especially in dead trees. It's an exciting and spooky site, and a surprisingly common one. The scavengers can also be spotted waiting their turns after an animal has been taken down by predators. They will take what's left," says Deborah Hendrick, a travel blogger from Introvert with Itchy Feet.
Nyala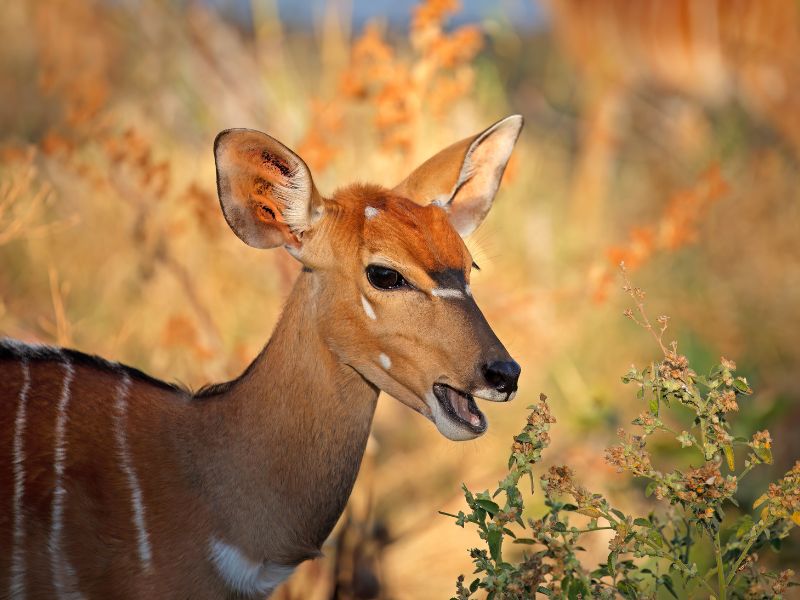 Male Nyalas have a striking look with their dark-brown coats adorned with white stripes and long, spiraled horns, while female nyalas have reddish-brown fur without horns, making them one of the most sexually attractive animals.
Nyalas are often spotted in reserves like Kruger National Park and Hluhluwe–Imfolozi Park, feeding on leaves, fruits, and flowers. Their shy nature and attractive look make them a sight to watch for wildlife enthusiasts.
"Spending time in one of South Africa's national parks is a sure path to some unforgettable wildlife sightings. Nyala especially are always plentiful and easy to find. These beautiful antelope are native to southern Africa, and can be spotted feeding on grass and leaves wherever you might be. Spotting their spiral horns and hearing their distinctive bark is always a thrill," says Deborah Hendrick, a travel blogger from Introvert with Itchy Feet.
Penguins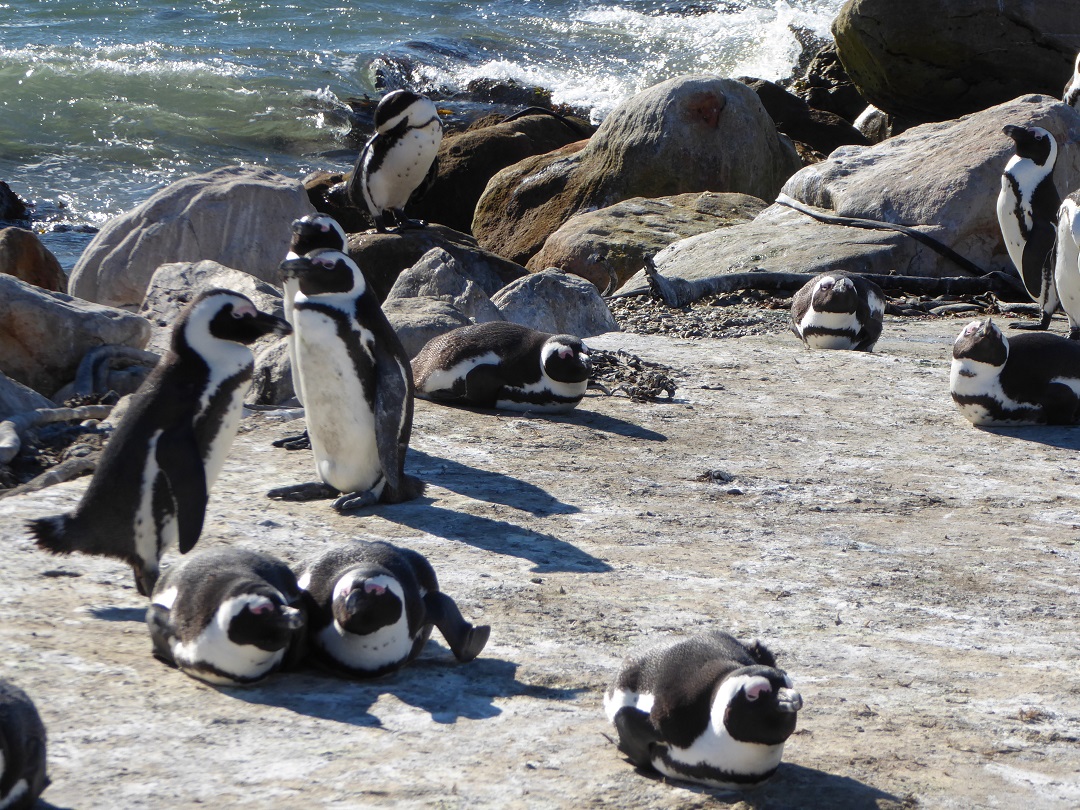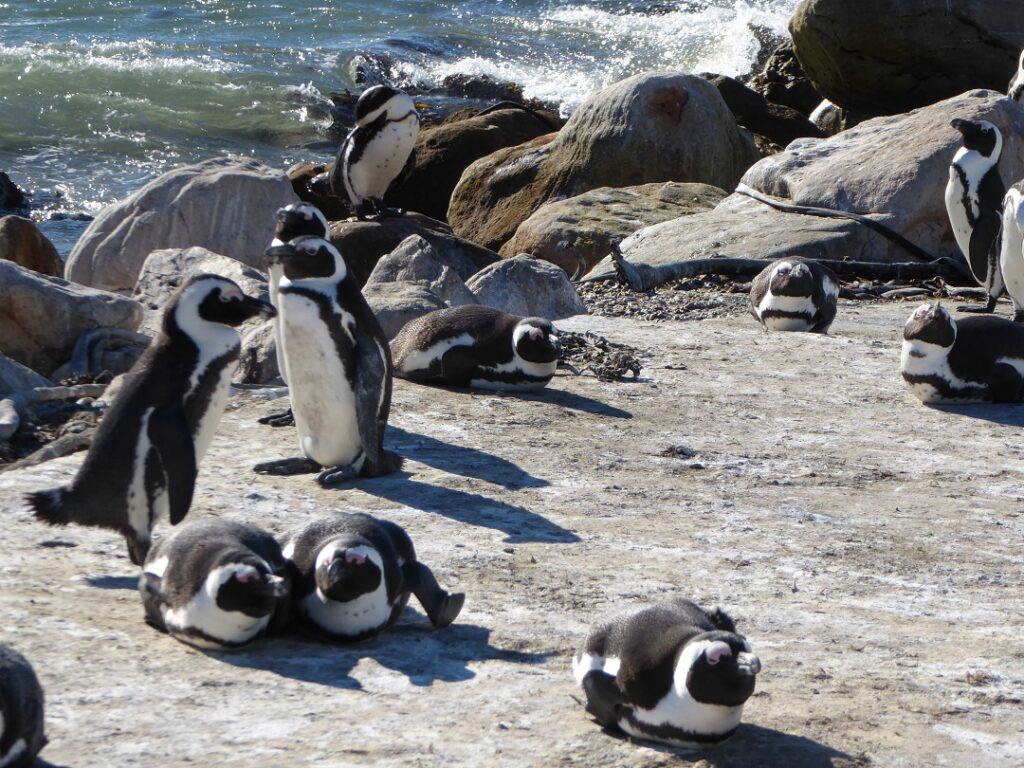 African penguins are easily identifiable by their black-and-white plumage and playful characteristics. They are known for their braying call, resembling that of a donkey, and their unique waddling gait, which may appear awkward and make them more prone to falls.
Unfortunately, African penguins are an endangered species due to habitat destruction, with conservation efforts in place to protect their decreasing numbers.
"The African Penguin, also known as the Cape Penguin is one of the easiest animals to see in South Africa. The two best places to see these flightless birds are at Betty's Bay on the Garden Route or Boulder Beach in Simon's Town, both accessible from Cape Town. I recommend seeing the penguins at Betty's Bay as you can get closer views of them from a boardwalk, without disturbing their natural habitat, and can enjoy the experience with less tourists around," says Melanie Seneviratne, a travel blogger from The World Travel Girl.
Hippos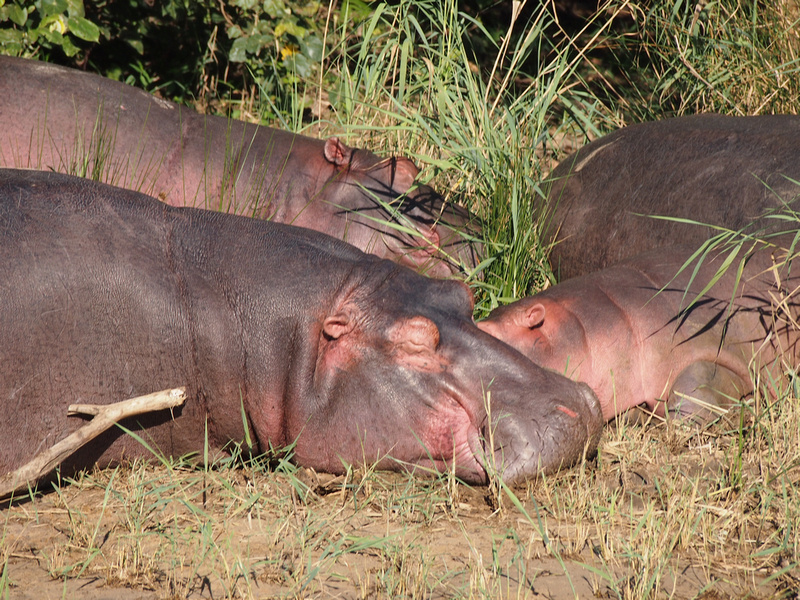 South African hippos reside in the tranquil rivers and lakes of places like the iSimangaliso Wetland Park along the coast of South Africa's KwaZulu-Natal Province.
With their barrel-shaped torsos and enormous size, hippos spend much of their time in the water to keep their massive bodies cool under the blazing African sun. Despite their friendly appearance, they are one of the most dangerous animals in Africa.
Conservation areas in South Africa play a vital role in maintaining the ecological balance of their population.
"When it comes to seeing wildlife in South Africa, I hadn't considered seeing hippos in the wild. The largest hippopotamus population in South Africa can be seen at iSimangaliso Wetland Park around Lake St. Lucia, and they are easy to view from the small (but sturdy) boats that cruise through the wetlands. I found that the boat cruise added variety to animal viewing after having been on a land safari," says James Clark, a travel blogger from Nomadic Notes.
Giraffes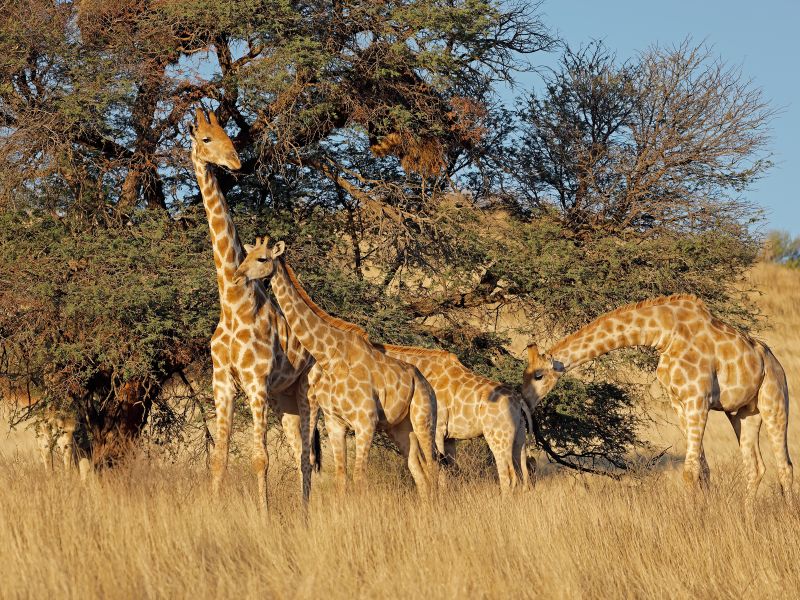 Giraffes are an important part of the South African landscape, most prominently seen in the Kruger National Park. With their long necks and thin legs, they roam the open woodlands, looking through the treetops that few other animals can reach.
Giraffes are social animals and have a peaceful demeanor, which, along with their height, gives them a broad view of the plains, making them excellent at spotting predators from afar.
"As my safari jeep crawled slowly to the peak of the hill, I waited in anticipation to see what might be gathered in the valley below. And there they were, a tower of around 20 giraffes, both adults and babies grazing on the leaves of the acacia trees. This was a dream come true for me and without realising the impact it was having on me, I started to cry. Tears ran down my face as I watched these graceful giraffes at ease in their natural environment, far away from the compound of a zoo which is the only place I had ever seen a giraffe before visiting Amakhala Safari Reserve in South Africa. They were aware of our presence and turned their heads in unison to glance at the visitors up on the hill, before resuming their feast – it was a magical moment. After this encounter I had several more, including an up-close giraffe experience during a safari walking tour. They are the most beautiful creatures and one that I am humbled to have seen in South Africa," says Angela Price, a travel blogger from Where Angie Wanders.
Ostriches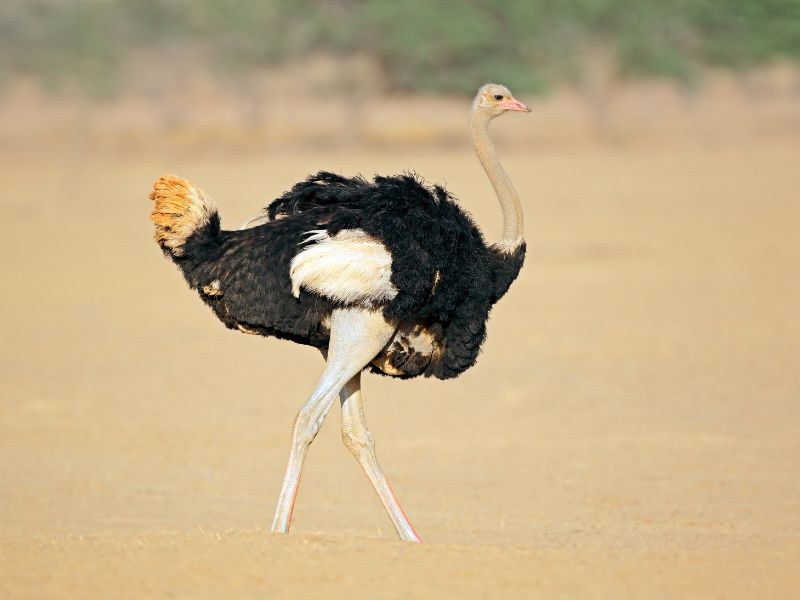 Ostriches are the world's largest birds that are found in abundance in the diverse landscapes of South Africa. They are known for their remarkable speed and can sprint up to 70 km/h. This gives them an opportunity to run away from their predators as fast as they can. Ostriches can be seen particularly in protected areas like the Addo Elephant National Park, where they contribute to the region's biodiversity.
"We had two unexpected encounters with ostriches in South Africa. The first was outside our vacation rental, which was located on the outskirts of Kruger National Park. The host had advised us to steer clear of any ostriches we see as there was a male ostrich in search of a mate in the area, which made it unpredictable. We had just started a walking tour from the vacation rental when the guide spotted *the* ostrich. The second encounter was at the Cape of Good Hope, where we spotted an ostrich just strolling along the waterfront from a distance. Both our encounters with ostriches were unexpected and very memorable," says Hanit Gyani, a travel blogger from Gotta Love New York.
Hyenas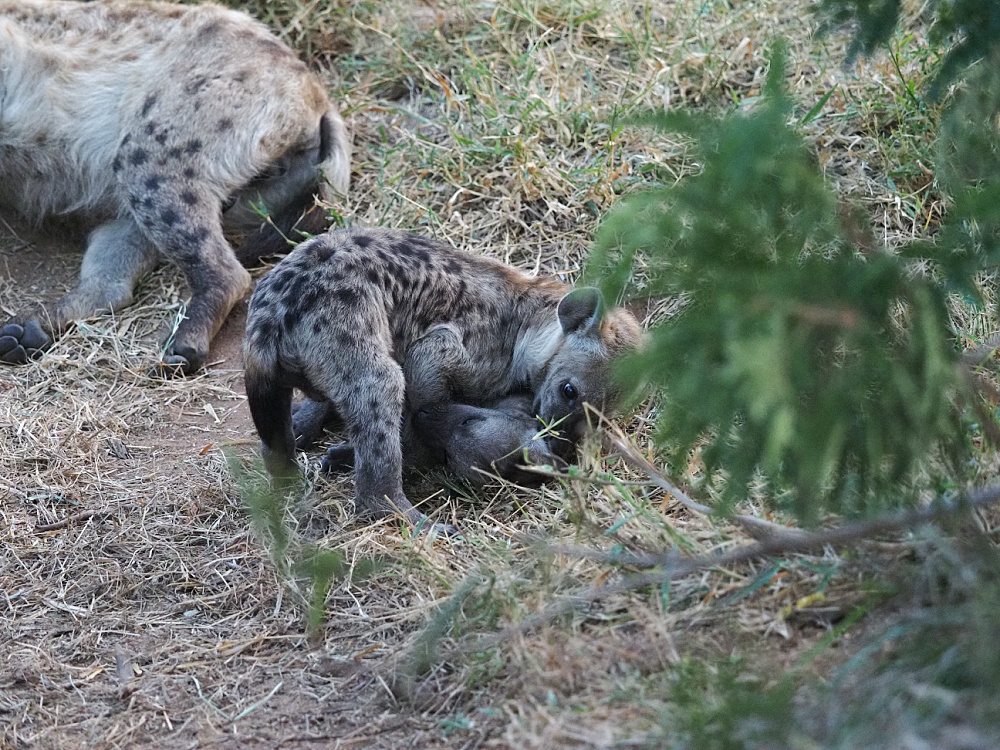 South African hyenas are found in savannah and grassland regions like Kruger National Park. Hyenas are excellent hunters known for their powerful jaws and haunting voices that can sound eerily like human laughter.
"It took us more than 30 hours to reach Kruger National Park from our home in Australia. Was it worth it? Absolutely! We were blown away by the variety of animals we saw in their natural habitat. One of the most memorable sightings was of a family of hyenas and their cubs. Two of the cubs were playing together while a third was snuggling up to mum. The obvious love they had for each other was heartwarming and such a privilege to see." says Audrey Chalmers, a travel blogger from Victoria Uncovered.
Best Places to See in South Africa
Kruger National Park
Kruger National Park is one of the world's popular wildlife reserves, known for its diversity of animals. It is home to some of the exotic species of Africa, such as elephants, lions, leopards, cheetahs, rhinos, buffalo, giraffes, hippos, and zebra.
"I spent 5 days driving around Kruger National Park in South Africa and saw around 50 species. One of my favorite road encounters is whenever a herd of elephants crosses the road. The zebras were not very easy to spot because their white stripes got dusty, and they started to blend with the dry savannah environment. The ultimate moment for me was when I overlooked a river, and there was a crocodile and a hippotamus just a few meters from one another. I watched for a while to see if they were friendly or foe. Luckily, they both seem happy to enjoy this little oasis in such a dry area of the park. I recommend you rent a car and drive independently to increase your chances of seeing more animals. Amongst the Big Five, the only one I didn't get to see was a leopard up close", says Mary Charie, a travel blogger from Two Week Traveller.
Sabi Sands
The Sabi Sands Game Reserve is known for offering a more exclusive safari experience, including close encounters with leopards. There is a 50-kilometer unfenced boundary between Sabi Sands and Kruger National Park, allowing animals to roam freely between the two areas.
"We stayed at a resort in Sabi Sands and opted for a guided safari experience. The ability to see a wider variety of wildlife and also go off-roads with a ranger and a tracker is worth the additional cost. Also, you feel safer in an open-air jeep, and the ranger ensured we were close enough to the animals without taking undue risks. We got to see all the big 5 and also rare animals such as wild dogs and the white rhinos, which are almost extinct. The elephants and the Cape buffalo are definitely dangerous, and it's best to have an experienced guide with you", says John Dealbreuin, a personal finance expert who spends his early retirement days traveling to exotic destinations and penning down his journeys online.
Cape Town
Cape Town is known for the iconic Table Mountain, the Cape Peninsula, and is a hub for outdoor activities such as hiking, biking, surfing, paragliding, and, most importantly, the game reserve safari.
"On my safari tour to one of the game reserves in Cape Town, I spotted lions, rhinos, elephants, and African buffalo as expected – four of the Big Five. Leopards, though, were hard to find. Despite this, I enjoyed my distant interaction with zebras, giraffes, springbucks, and hippos. My guide was knowledgeable, sharing insights into the animals' behaviors. We observed them roaming freely, except for the lions, which were separated for other animals' safety. While the experience is not as rich as in Kruger National Park, and there is not much wildlife, it's still a great way to experience safari on a budget", says Hannah Stephenson, a travel blogger from The Cape Town Blog.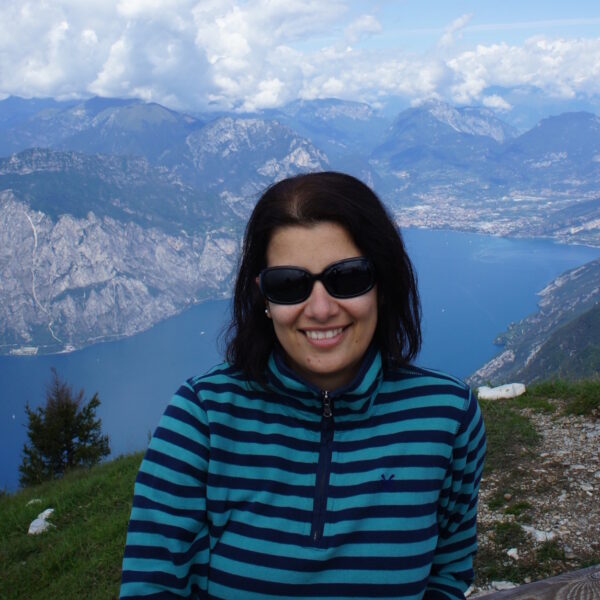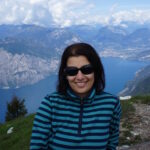 Emese Maczko is a travel blogger behind Eco Lodges Anywhere. Having explored several destinations around Europe, the US, Indonesia, and Australia, and resided in Germany, the United Kingdom, and Luxembourg, Emese possesses a keen understanding of diverse cultures and an appreciation for the beauty of each destination she visits. She advocates for sustainable travel and ecotourism.