Situated in the heart of the Waterberg Mountains in Limpopo Province, South Africa, enjoy the unique combination of luxury and nature at Mhondoro lodge. Surrounded by plains, vegetated mountains, rivers, and forests, this eco-lodge offers the perfect perch to enjoy the African wilderness. The most beautiful Boekenhout forest stands scattered like soldiers a few hundred meters in front of the Lodge just past the waterhole hide and plains.
Mhondoro Lodge has all the activities you could desire, including Big 5 Safari drives, walking safaris, kid's programs, star-gazing, and an all-natural spa. Experience the culmination of luxury and nature in this unforgettable setting. Don't miss the Waterhole Hide, an underground tunnel that offers guests a safe viewing platform to water wildlife up close.
Ride through the Welgevonden Game Reserve to the Lodge, watching the animals graze as you arrive at your destination. Mhondoro Safari Lodge & Villa offers 5-star, fully inclusive accommodation. Options range from luxury poolside suites to exclusive private villas, with amenities like a gift shop, a fully-equipped gym, saltwater pools, and a spa.
Their story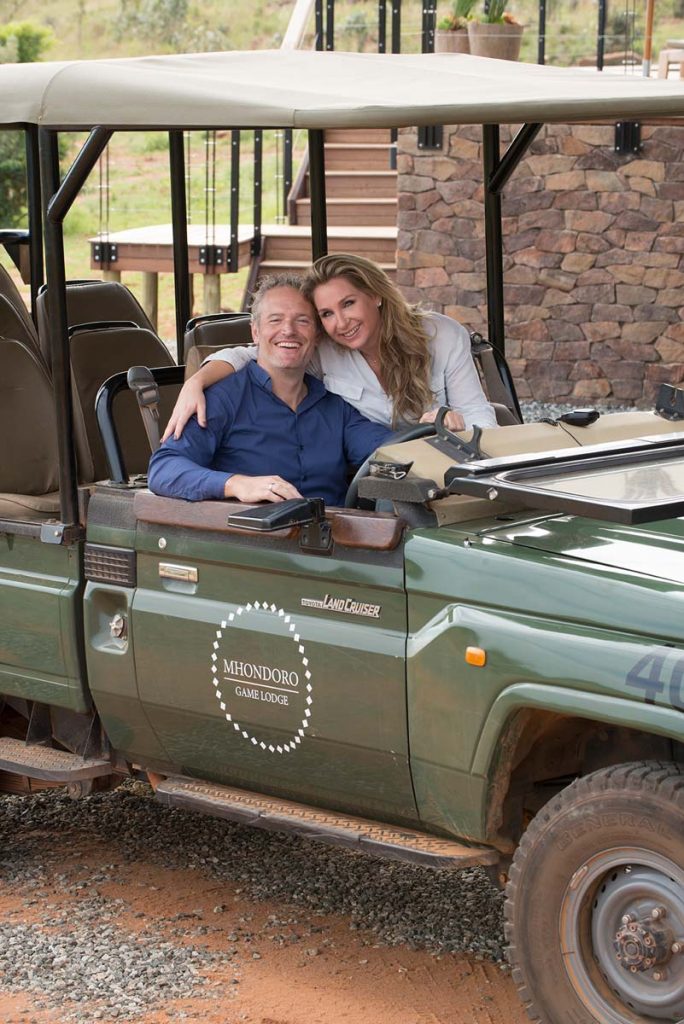 Frank and Myriam Vogel (pictured above) set out to create a one-of-a-kind luxury safari retreat. They wanted to ensure that they could offer their guests the best setting to experience the beauty of South Africa.
The Lodge has been on a journey of sustainability for a number of years. They learned that achieving sustainability goals takes sacrifice and a change of not only mind but also heart. The Mhondoro Spirit has come true to this while the journey to achieve recognition as an eco-lodge continues. The Vogels envisioned a safari product situated in the heart of Waterberg Mountains to be a second home. They wanted their guests to experience excellent service while meeting their sustainable goals.
Like any journey, striving for sustainability has its own challenges— much like solving a tricky business problem! There is the discovery phase, followed by dreaming, research, and then detailed planning to action those ideas into a tangible reality. There is a saying "conservation without money is conversation…" At Mhondoro, they believe in finding a balance that is good for the environment and remains sustainable over a longer period of time.
Over the years, Mhondoro has reduced single-use plastics by nearly 100%. Water use was reduced, as well as the use of wood and firelighters, and harmful cleaning products were replaced with products that place probiotics back into the environment after cleaning. Mhondoro's next challenge is the sustainable use of land for food security where growing takes place organically following ethically re-generative methods. Read more about them here.
Sustainability actions
Lowest impact construction and operation
The Lodge was

built on a break, set on a high rising ridge

. Much care was taken to not divert the water on the property. Simple but effective catchment tunnels were built that captures water flowing through the rocks in the rain season. This water is pumped on the same route it would have flowed if the Lodge was not there.
The same concept was applied in building the water hide tunnel. Catchment tunnels were incorporated allowing the tunnels not to fill with water which is then pumped out into the waterhole at the end of the 65-meter tunnel.
Highest level of energy efficiency
Mhondoro has

600 solar panels

to power the lodge.
The Lodge is completely

off the grid and self-sufficient

.
Pioneer in waste management
Greywater is naturally processed

and given back to the earth. This is a maintenance-free system without any harsh chemicals. Natural bacteria in the earth clean the water.
Welgevonden Game Reserve enforces the separation of rubbish into paper, plastic, tins, and wet waste. This waste is disposed of at a

local recycling plant

.
Mhondoro's biggest action to

reduce single-use plastic

is its 'no plastic water bottle' initiative which was started more than 4 years ago. As a safari lodge, guests would consume up to 50 single-use plastic water bottles per day. Mhondoro stopped purchasing plastic bottled water altogether more than 4 years ago already, by installing a

state-of-the-art water purification system

onsite, and giving each guest a personalized stainless steel water bottle upon arrival.
Mhondoro also uses paper straws, plastic-free toiletries, reusable kitchenware, and all waste is separated and disposed of correctly.
Wet waste is turned into

compost

and worked back into the gardens. All fresh kitchen trimmings like fruit and vegetable peels are fed to the chickens as an added nutrition.
Aims to have a fully organic and chemical-free operation
Only

environmentally friendly chemicals

are used on all surfaces. They use cleaning products that attempt to make the environment healthier than before. No harsh chemical compounds are used, only probiotic liquids that are safe for the skin, eyes, and any surfaces it is used on.
In 2020 approximately

30% of vegetables used were organically grown

on a small farm. The farm was over-grazed and underutilized for decades.

New regenerative techniques

are being applied to allow for smaller footprint use. Keep an eye out for the Mhondoro Organic Farms which will become a new welcome area and entrance for the more conscientious traveler who appreciates seeing organic and regenerative concepts applied to everyday farming activities and tasks.
Actively protects nature and community
The Mhondoro Farms will attempt to

restore the environment

back to the state it would have been 100 years ago while finding a balance between

sustainable farming

and ecological accuracy. Alien plants are removed, encroached bush from overgrazing are thinned out, and rivers and streams are restored to allow for the natural flow of rain from the Waterberg Mountain ranges.
A team of local men and women were taught valuable skills and employed to assist in restoring the farm to a balanced sustainable system. In striving for better ecological balance, employment was created. Although in the beginning stages, a few promising individuals have been identified who may take on more responsibility and even run a future section of the business.
Most Popular Activities near Mhondoro Safari Lodge & Villa
Big 5 Safari Game Drives
Walking Safari's with our qualified walking guides
Kids 'program' done by our guides like 'bug hunting' etc, to entertain the little ones 
A spa treatment by one of our experienced therapists using 100% natural RAIN products
Stargazing with our telescope
Best time to visit Mhondoro Safari Lodge & Villa
If you want to spot Big 5, dry season aka winter between May and September would be the best choice when they are gather around waterholes and the bushes are thinner.
Features