Stay in South Africa's last unexplored wetland wilderness at Kosi Forest Lodge. Part of the Isibindi Lodge network, the Kosi Forest Lodge offers an immersive, luxurious experience in a biologically diverse wetland. Watch birds, track sea turtles or coast through the wetlands by canoe. There is no shortage of unique experiences to enjoy.
Conscious of the privilege of being situated within the iSimangaliso Wetland Park, South Africa's first World Heritage Site, Kosi Forest Lodge was built in an eco-conscious way, using nature as their guide. Tent-style thatched forest rooms sit under wide milkwood trees, with careful attention to blending into the pristine sand forest environment.
250 kilometers from Richards Bay airport, this lodge is deep in the Kosi lake system. Experience the African wilderness in tent-like forest rooms equipped with internet, mosquito nets, and a private deck. You can even shower under the stars, with the reed-screened outdoor bathrooms.
Their story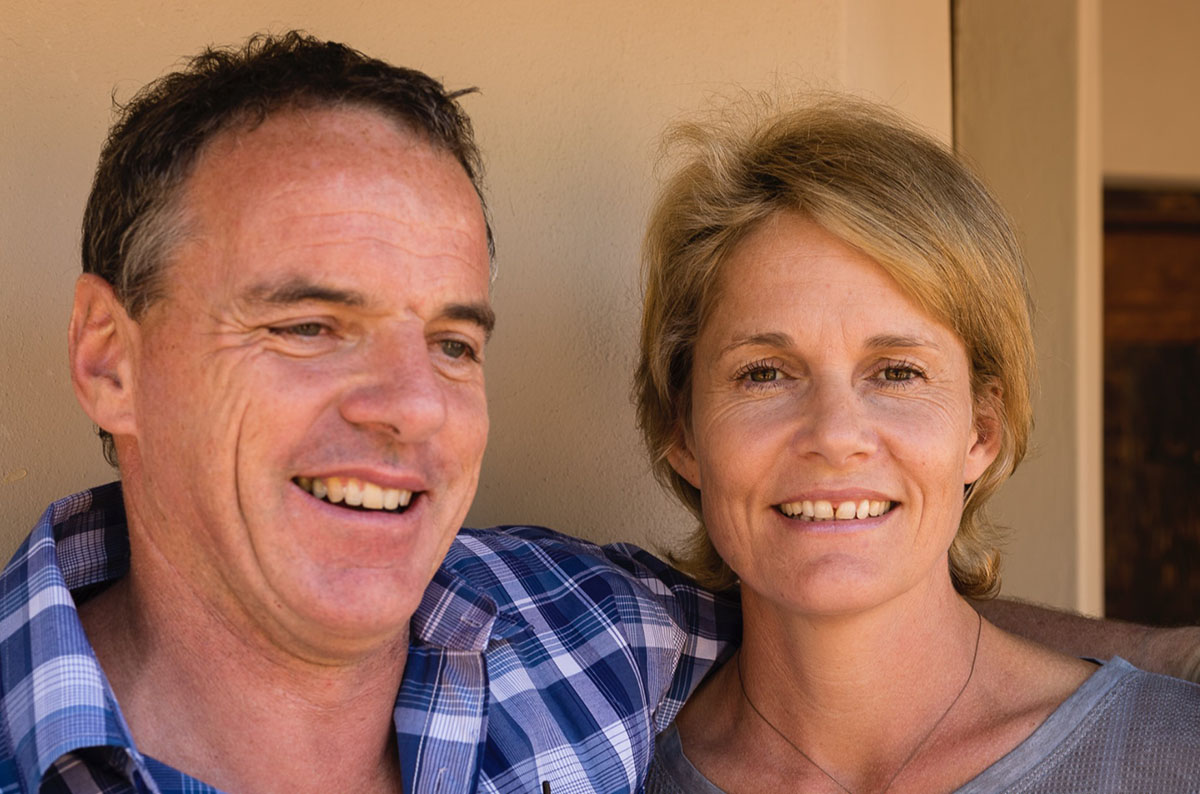 Kosi Forest Lodge is part of the Isibindi Africa Lodges, a group of hotels and lodges that preserve and protect the African wilderness and the planet. Founders Brett and Paige Gehren (pictured above) both have a background in conservation. They established one of South Africa's first lodges in a protected wilderness sanctuary. Their commitment to nature and the local community is reflected in every one of their projects.
The Isibindi Africa lodges are a network of lodges in world-renowned protected wilderness areas including Rhino Ridge Safari Lodge. Isibindi prioritizes the local communities and works to partner with them. They are motivated to educate visitors in conservation, inspiring all who come to care for nature. They respect the ancestral lands of the locals while educating newcomers on all the land has to offer. Isibindi Africa Lodges run on the 6 core values of community development, respect, integrity, courage, love, and fun.
Kosi Forest Lodge sits within the Kosi Lake system, home to hippos, crocodiles, birds, butterflies, and turtles. The rich biodiversity warrants respect, which you can revel in while staying at the Lodge. Kosi Forest Lodge brings eco-conscious luxury to eco-tourism.
Guests have a wide range of activities to choose from, all of which are educational and enriching. For the adventurous, safaris, snorkeling, and fishing are all available. Venture out of the park and see even more of what Africa has to offer. Kosi Forest Lodge offers all guests a new way to see and connect to nature. Read more about them here.
Sustainability actions
Lowest impact construction and operation
Rooms are

built on wooden stilts

, which do not cause damage to the surrounding area.
The rooms were constructed with natural materials, like thatch, canvas, and reeds.
All interior spaces are designed to emphasize the natural setting, rather than distract from it.
High level of energy efficiency
50%

of Kosi Forest Lodge's power comes from

solar.

Kosi Forest uses LED lights but prefers candles for ambiance and comfort.
The Kosi Forest Lodge encourages guests to reduce their impact by limiting water use whenever they can.
Pioneer in waste management
Greywater is purified

in reed beds, then returned to nature.
The local recycling plant is limited, so Kosi offers their

cleaned and sorted recyclables to the local community

, who can make profits from the collected materials.
As of January 2017, Isibindi Africa Lodges

no longer use single-use plastic

. Paper over plastic, reusable containers, and alternative materials are used to replace what was once plastic.
Fully organic and chemical-free operation
Kosi Forest Lodge uses environmentally-friendly cleaning products.
All food is local, from no more than 200 kilometers away.
They also

grow

a selection of

organic vegetables

at the lodge.
Actively protects nature and community
Kosi Lodge is part of the

Isibindi Foundation

. Established in 2019, the Isibindi Foundation uses tourism to support rural communities. The foundation invests in community development and local conservation efforts.
Kosi Lodge donates cycad saplings to the Mnyayiza community for their greening project.

100% of the staff

at Kosi Forest Lodge are

locals

, including the General Manager who started at Kosi by digging foundations for the lodge.
Most Popular Activities near Kosi Forest Lodge
Boat trips on the lakes
Snorkeling and sea kayaking
Turtle tracking
Forest walk
Bird watching
Fishing
4×4 safari
Best time to visit Kosi Forest Lodge
If you want to catch the turtle breeding, visit this eco lodge between November and January.
They also recommend visiting them between March and June as the weather is the best during these months.
Features