Orca Island Cabins offers unique accommodations that are located either on a private island or nearby shoreline property in Humpy Cove, within Resurrection Bay. They are located 9 miles southeast of Seward in Alaska and are only a short drive away from Anchorage. 
They offer guests stylish accommodation in yurt cabins, with Alaskan wildlife and marine life right outside your door. You can sit back, relax and observe wildlife from your very own private deck in one of the most sustainable eco-lodges in Alaska.
Their story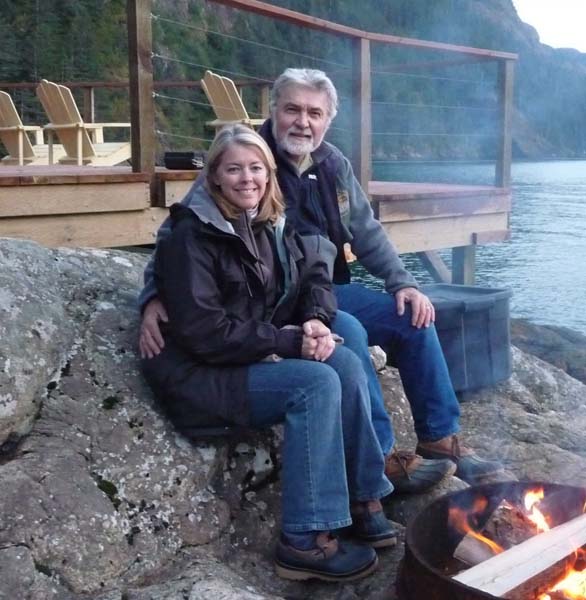 Orca Island Cabins are owned by Dennis and Susan Swiderski, who have operated the business since 2004.
Previously they operated a B&B in Anchorage, and then a scenic wildlife viewing and charter cruise business in Seward. They also managed the Kenai Fjords Salmon Bake and Lodge on Fox Island.
In 1996, they decided to move to Seward permanently, after falling in love with its beauty, small-town atmosphere and of course the wildlife.
The Orca Island Cabins were created for guests to enjoy Alaskan wildlife and marine life right outside their doors. They are in the prime location for the best in Alaska whale watching, fishing, hiking and kayaking if you want to get up close and personal with marine life. Read more about them here.
Sustainability actions
Low impact construction and operation
To avoid or minimise any adverse impact on the local environment, the yurts are environmentally friendly.
The number of yurts on the island was limited to maximise privacy for guests and to avoid overbuilding.
This was to preserve the natural attributes of the Island and have minimal impact on the temperate rainforest in the area.
High level of energy efficiency
There is only limited electricity available on the island and that is sourced from solar power.
Propane is the fuel that heats the cabin heaters, hot water and on-demand water heaters, as well as the barbeques.
For their water system, potable water is transported to the island from the Seward Small Boat Harbour.
Each yurt also contains a bathroom with a compost toilet to reduce waste.
Pioneer in waste management
Portable water is provided in each rental unit, so guests are encouraged not to bring any additional water.
Fully organic and chemical-free operation
There is no restaurant near the cabins, so guests need to bring their own food. Each cabin is fully fitted with a dining area, kitchen and barbeque so they can have a true "glamping" experience.
Actively protects nature and community
To promote sustainable tourism, Orca Island Cabins introduce their guests to the "Leave No Trace" policies and practices.
Since their guests take part in several recreational activities, they are instructed on how to avoid or minimise their impact on the natural landscape.
Most Popular Activities near Orca Island Cabins
Go on a wildlife-watching cruise
Visit Exit Glacier
Hike one of the many surrounding trails
Go on a cruise through Kenai Fjords National Park
Take a boat to Holgate Glacier
Explore Resurrection Bay
Sea kayaking
Best time to visit Orca Island Cabins
It is simply impossible to predict when the best Alaska weather will be experienced in any given year. Each Alaska summer seems uniquely different from the others.
The operating season at Orca Island Cabins is from May 5 to September 20 and we have experienced optimum weather (warm and sunny days) and colder/rainy/windy days at various times during all five months.
Features