14 Most Sustainable Eco-Lodges in Alaska
Off to Alaska and looking for the best ecolodges? Alaska is gorgeous perhaps one of the most beautiful states of the United States. It is filled with lush, green forests, snowy mountains, and scenic fjords. Of course, Alaska is also where you can stargaze and see the Northern Lights. Because it is blessed by nature, Alaska has resorted to going green and has a growing number of ecolodges.
What are eco-lodges?
Eco-lodges are accommodations in undisturbed, remote natural areas where both construction and operation have the lowest impact possible on the environment. They are not only part of the local community, but they are active participants in protecting nature and culturally sensitive areas.
BROWSE THROUGH our directory for the most sustainable eco-lodges worldwide to experience something unique, authentic, and exciting.
Alaska BearCamp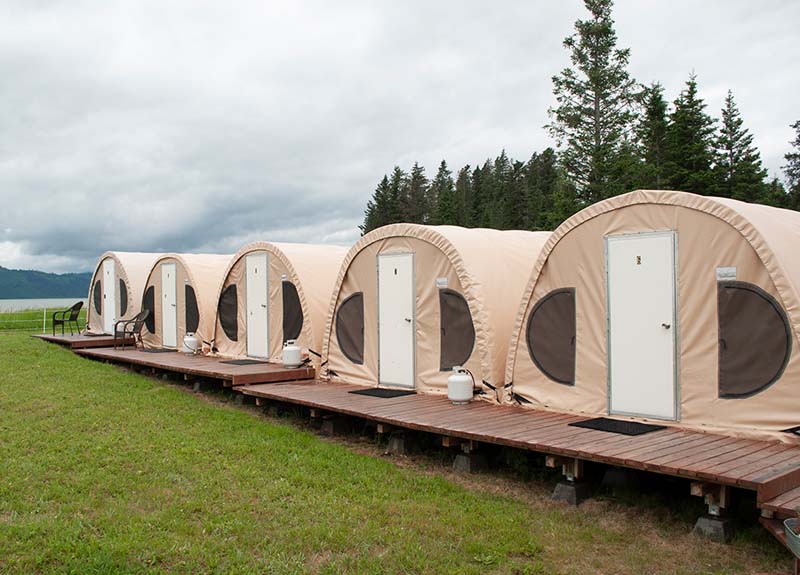 The Alaska BearCamp is a premier camp that offers visitors the chance to stay close to nature. As clear from the name, the BearCamp is the prime place to stay if you're up for a few sights of Grizzly bears and the like.
Recently coming under the ownership of Natural Habitat Adventures, the Alaska BearCamp has taken green initiatives and is prepared to wow its guests. Situated in a private section of the Lake Clark National Park, one of the eight amazing Alaska national parks, it is the perfect combination of nature and luxury. The BearCamp offers a splendid campsite erected with mighty tents; each tent is furnished with two beds, which are joined together to make one king bed. The tents are extremely safe and comfortable; they're lined with a solid door and have a hardwood floor.
The BearCamp is quite sustainable. All lighting is powered through solar energy. All food is organic and freshly prepared from locally-sourced ingredients. The hardwood floor in the tents is heated by propane. It's simply an amazing stay!
Boreal Journeys Alaska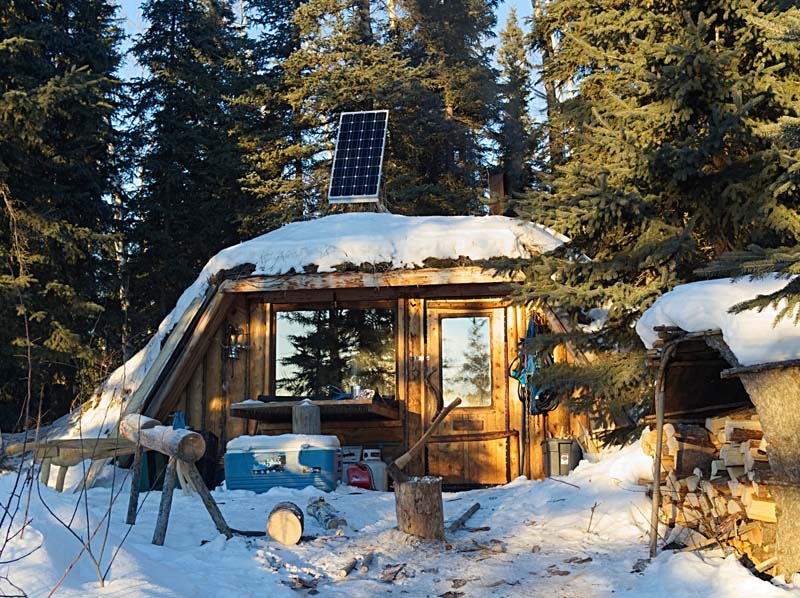 If you're looking for an authentic Alaskan experience, then all you need to do is take a look at Boreal Journeys Alaska. It gives tourists a chance to spend their time in the snowy forests of Alaska from the comfort of their luxurious rooms.
At Boreal Journeys Alaska, you can choose to stay in cabins or tents. It curates everything according to what you like, so you're in for a lot of fun. The cabins are located on the Tanana River and look to the beautiful starry sky, whereas the winter camps offer erected tents near the cabin.
Of course, being as deep in the wilderness as Boreal Journeys Alaska asks for a certain level of precaution and care. The lodge tries to minimize environmental disruption by hosting only private groups of 1-4 people at a time to avoid rushing. It also grows its own food and hunts and fishes for sustenance. Interestingly, the camps were sewn, and Boreal Journeys itself built the cabins. The gear used in hunting and fishing is made from local and indigenous materials only.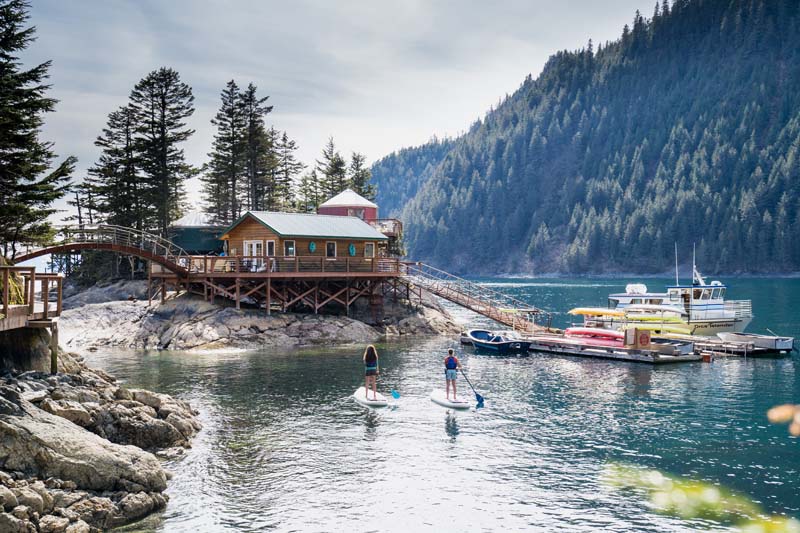 One of the most scenic glamping you'll ever experience is possible at Orca Island Cabins in Seward, Alaska. It is a rental lodge where guests can stay on private property in Humpy Cove, Resurrection Bay. This eco-lodge is nestled in a scenic wilderness. The cabins stand against a dramatic background of thick trees and mountains and overlook the dark blue waves of the Kenai Fjords.
Guests have the privilege of staying in beautiful yurts, each offering a distinct view. Perhaps you'd like to spend your time in your waterfront cabin, which has direct access to the water, or you'd like to head over to the public area and socialize for a bit. Whatever you decide to do, Orca Island Cabins is bound to satisfy you.
The yurts are styled brilliantly and were constructed with sustainability in mind. All power to these cabins comes from solar power. They are comfortably heated through propane and the same propane is used in the kitchens and bathrooms. Since the cabins lie near water, they don't have to go through extensive procedures to chemically treat it and get the water directly from the site. If you've been looking for an eco-glamping spot, Orca Island Cabins is where you go!
Camp Denali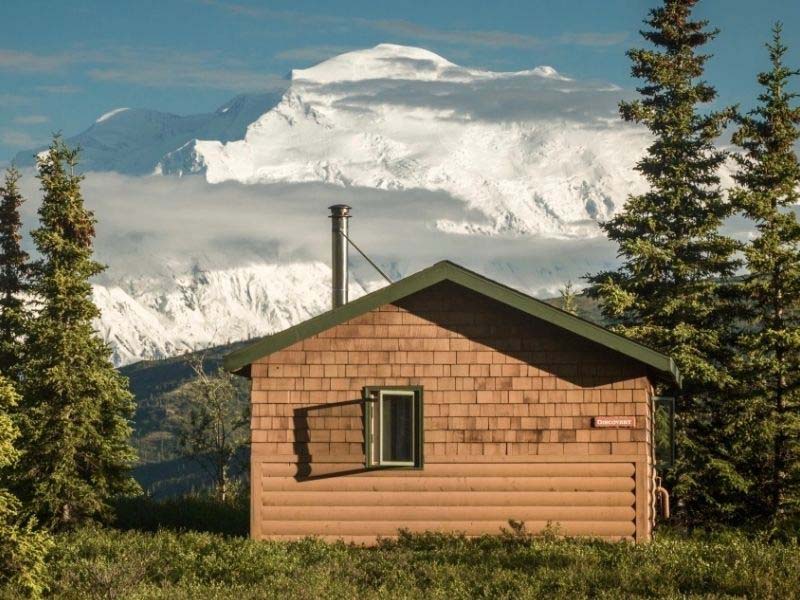 A cute traveler's lodge in Alaska, Camp Denali sits along a scenic lake in the heart of the idyllic Denali National Park, one of the eight amazing Alaska national parks. Camp Denali is the only accommodation that sits within the National Park, which means this is literally the only chance you'll have to experience the park from close.
This eco-lodge features 19 cabins open to picturesque views of the tundra and the forest. All cabins are hand-crafted and constructed using sustainable building materials. Each cabin features comfortable bedding sewn by the staff and a wood stove for warmth.
Because the camp is completely off-the-grid, all cabins use propane lamps to light and source drinking water from a nearby spigot. A little distance from the cabins is a dining room, a shower facility, and a common seating area. It also uses renewable energy and a recently installed solar system. Camp Denali is the perfect place for anyone who's hoping for a rustic, down-to-earth, and eco-friendly experience.
Chena Hot Springs Resort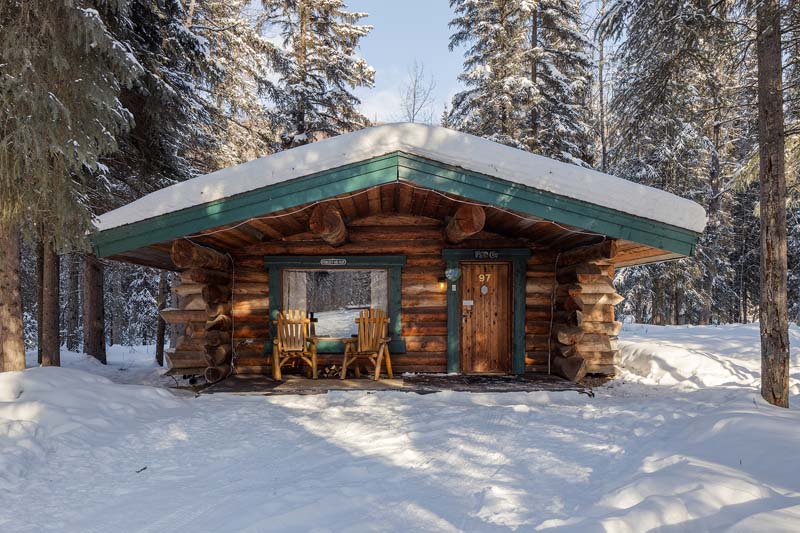 In Fairbanks, you'll find the Chena Hot Springs Resort, a 3-star eco-resort that offers guests comfortable and flexible packages. Guests can choose between staying in RV sites, campsites, yurts, cabins, and the resort's own family suites, Fox Rooms, and Moose Lodge.
It offers an enriching experience that allows visitors to immerse themselves in nature while they have a cozy bed to call home. One of the most beautiful and awaited experiences at the Chena Hot Springs Resort is stargazing at the Northern Lights after a day spent in the natural hot springs. It is truly an amazing place to be.
Since it is so in touch with nature, it offers an extremely sustainable and energy-friendly stay. Firstly, the resort uses geothermal energy to run itself. Because the resort sits within a close range of the Hot Springs, it sources its power from the springs themselves. It also sources its food organically and even has its own, private little farm. It also partakes in projects to look for alternative fuels and is an active participant in conservation programs.
Tebay Lodge
For those who are looking to explore the cold Alaskan winter, Tebay Lodge comes as a comfortable and warm lifesaver. This eco-lodge is located within the Wrangell-St. Elias National Park but amazingly pre-dates it as it has been sitting among the snowy mountains of Alaska before the park was erected!
Today, the lodge features incredible homesteads and yurts, perfect for families. The log cabin accommodates two twin or one king-size bed, perfect for couples who want a little privacy. The yurts can accommodate seven people, with the larger yurt accommodating 4 and the smaller accommodating three people. Both the cabins and yurt are furnished with cozy furniture and come with relaxing amenities. It also has a hand-crafted cedar sauna, perfect for a tiring day.
Tebay Lodge runs on solar power and has a backup efficiency generator for when the sun doesn't shine. The lodge is completely off-the-grid, which is why you won't find cellular signals or cell phones anywhere. The bathrooms use compost toilets in outhouses. Every step they take ensures that the lodge tries to keep its carbon footprint to a minimum!
Tutka Bay Lodge
A gorgeous lodge in Homer, Tutka Bay Lodge by Within the Wild promises guests an intimate and adventurous time. From bird-watching, and river rafting to tide pooling and Iditarod race viewing, the Tutka Bay Lodge is perfect for naturalists and adventure-seekers. You can even take culinary lessons at the lodge! The basecamp main lodge is a shared area for guests where they can connect over appetizers and games before dinner.
All lodges are equipped with the finest–but eco-friendly and comfortable–furniture and come as a homey delight. The Tutka Bay Lodge has a rich heritage of Alaskan fishing communities and Native settlers, Alutiiq-Sugpiaq, which is why it pays homage to its traditions and culture. The lodge is off-the-grid, with the only electricity being powered through sustainable means. Because it is extremely close to water, it doesn't need to settle with an extravagant system and can simply rely on snow for the winters.
Winterlake Lodge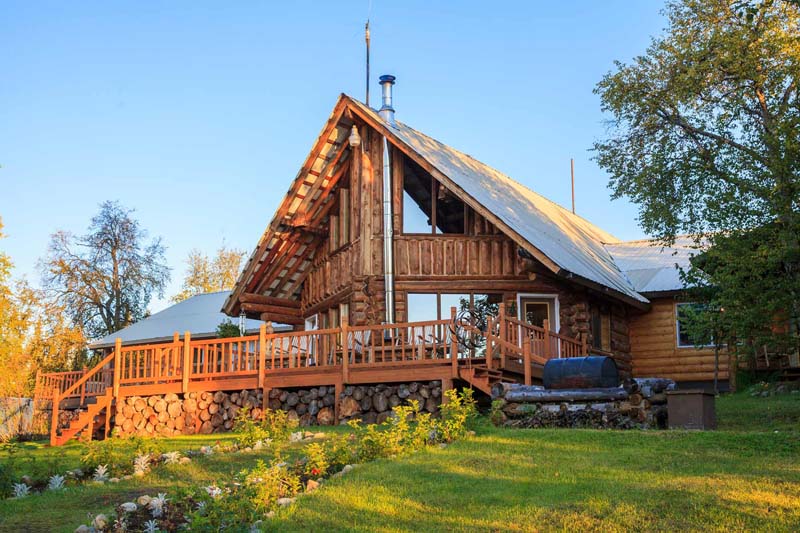 Another wonderful lodge by Within the Wild is the Winterlake Lodge, which sits just at the entrance of Alaska Range and is a gateway to an ancient Alaskan valley. For those who are hoping to explore the Iditarod Trail, the Winterlake Lodge is the ideal choice because it lies right across the trail.
The lodge has a gorgeous basecamp for guests to mingle over aperitifs and guitar tunes, and each of the rooms is furnished with the coziest furniture and bedding. Popular activities include watching the race at the Iditarod Trail, hiking, bird-watching, and more!
Ultima Thule Lodge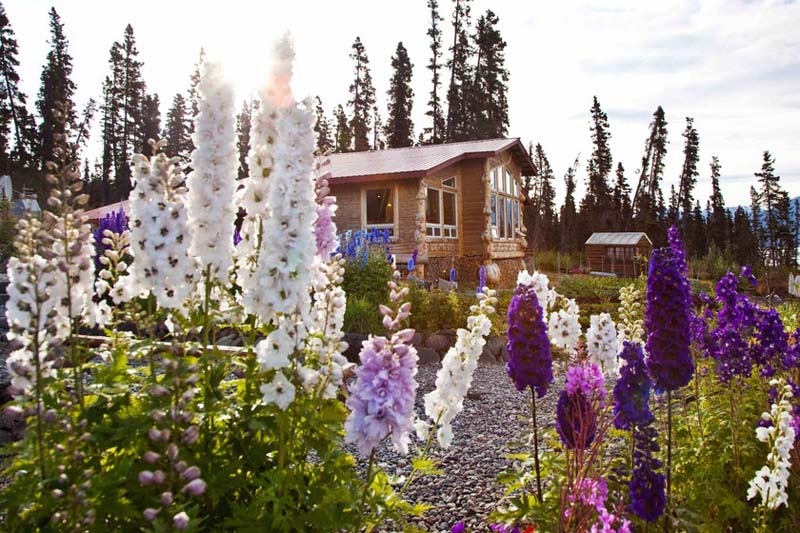 A picturesque lodge in Anchorage, the Ultima Thule Lodge is perfect for people who want to experience real and raw Alaska. This eco-lodge is situated on an isolated portion of Alaska and is termed the "land beyond" by the many travelers and adventurists who have stayed there. Rooms have soft bedding and snug furniture, and the lodge has a wood-fired sauna for visitors to relax.
The main lodge is where guests can mingle and taste some of the chef's finest cuisine, all prepared organically from its own herb and vegetable garden. All produce is fresh, and you can fish and game for food. The lodge is eco-friendly and runs on sustainable and renewable energy.
Ridgewood Wilderness Lodge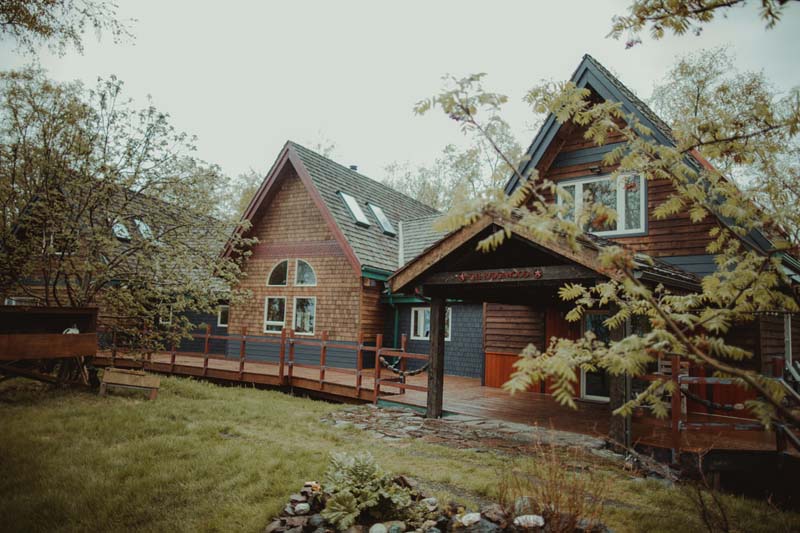 At the Ridgewood Wilderness Lodge, you'll be experiencing Alaska's prime; from glaciers, oceans, mountains, and wildlife, all that Alaska has to offer comes at your service. This eco-lodge in Alaska is a timber-made cabin in Halibut Cove, just along the Kachemak Bay State Park. The rooms are extremely homey, comfortable, and chic. Guests love to spend the day sipping hot coffee while taking a look out the windows.
If you're an adventurous fellow, you can always rely on Ridgewood's ecotourism (bear-viewing, wildlife tours) or head for kayaking and fishing. Because the lodge stands on Halibut Cove, it has taken a green initiative and earned a 4-leaf green rating. All food is organic, and the lodge practices energy and water conservation. It also partakes in environmental cleaning.
Iniakuk Lake Wilderness Lodge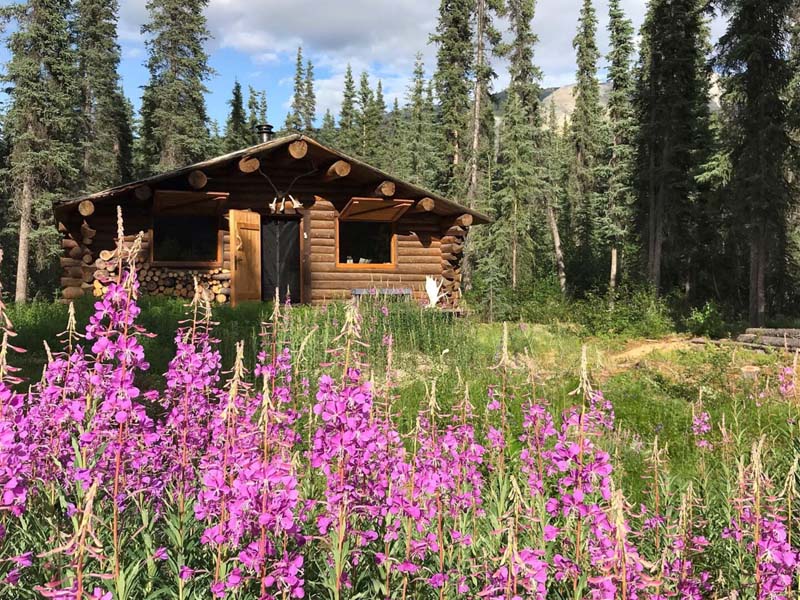 Exclusive, luxurious, and heavenly, the Iniakuk Lake Wilderness Lodge gives you the isolated adventure of which you've been dreaming. At Iniakuk, you will have to fly in because the lodge is completely isolated and sectioned off in a little corner, north of Fairbanks.
The lodge was built by hand and has been there since 1974. It has been serving guests for over 40 years. You can fish, hike, camp, canoe, float, and bird-watch at this legendary destination. At night, you can get a glimpse of the majestic northern lights. The lodge is completely eco-friendly and perfect for a romantic eco-tourist dream.
Kantishna Roadhouse
The Kantishna Roadhouse is a Backcountry resort where tourists can spend time in dreamy wooden cabins in Denali Park. The cabins are either a duplex or a four-plex. Each comes with a cute porch, two full beds or queen-sized beds, and a private, fully-functional bathroom. The beds are lined with warm quilts to ensure each visitor is cozy. Of course, the Kantishna Roadhouse is eco-friendly; the cabins were built with a sustainable design in mind, and the lodge practices sustainability.
Kenai River Lodge
The Kenai River Lodge by the Great Alaska Adventures is one of the most popular lodges in Alaska, and you're about to find out why. Situated on the confluence of the Moose River and the Kenai River, the Kenai River Lodge is a gorgeous homestead that has been surprising guests for years. It overlooks the breathtaking Kenai River with the backdrop of the spectacular Kenai Mountains, a view you'll love to see.
This eco-lodge has simple rooms, but each has styled with contemporary elegance; with king or queen-sized beds, the rooms have a private, fully-functional bath and a cozy, little fireplace. The lodge has direct access to the rivers and wildlife.
Map of these 14 eco-lodges in Alaska
As you can see, there are plenty of unique and beautiful eco-lodges in Alaska, and you will be spoiled for choice if you are searching for a sustainable holiday. 
BROWSE THROUGH our directory for the most sustainable eco-lodges around the world if you want to experience something unique, authentic, and exciting.