13 Most Sustainable Eco-Lodges in British Columbia
In British Columbia, you're greeted with an extremely idyllic setting; getting to see a scenic Pacific coastline running along the dramatic backdrop of breath-taking mountain ranges is just one of your average days in the province. And of course, the mighty Canadian province is crawling with mother nature's gift; from bear watching and whale watching to trailing glacier-carved peaks, British Columbia is a naturalist's dream.
But that's also why it becomes extremely important to go green; with a sensitive environment that nurtures nature, British Columbia has to take a healthy initiative, so no harm comes along with its ecology. And that's why you'll see several hotels and lodges determining themselves to the three R's. If you're up for a trip to go there and want to do your part, then here are the most unique and best eco-lodges in British Columbia:
What are eco-lodges?
Eco-lodges are accommodations in undisturbed, remote natural areas where both construction and operation have the lowest impact possible on the environment. They are not only part of the local community, but they are active participants in protecting nature and culturally sensitive areas.
BROWSE THROUGH our directory for the most sustainable eco-lodges worldwide to experience something unique, authentic, and exciting.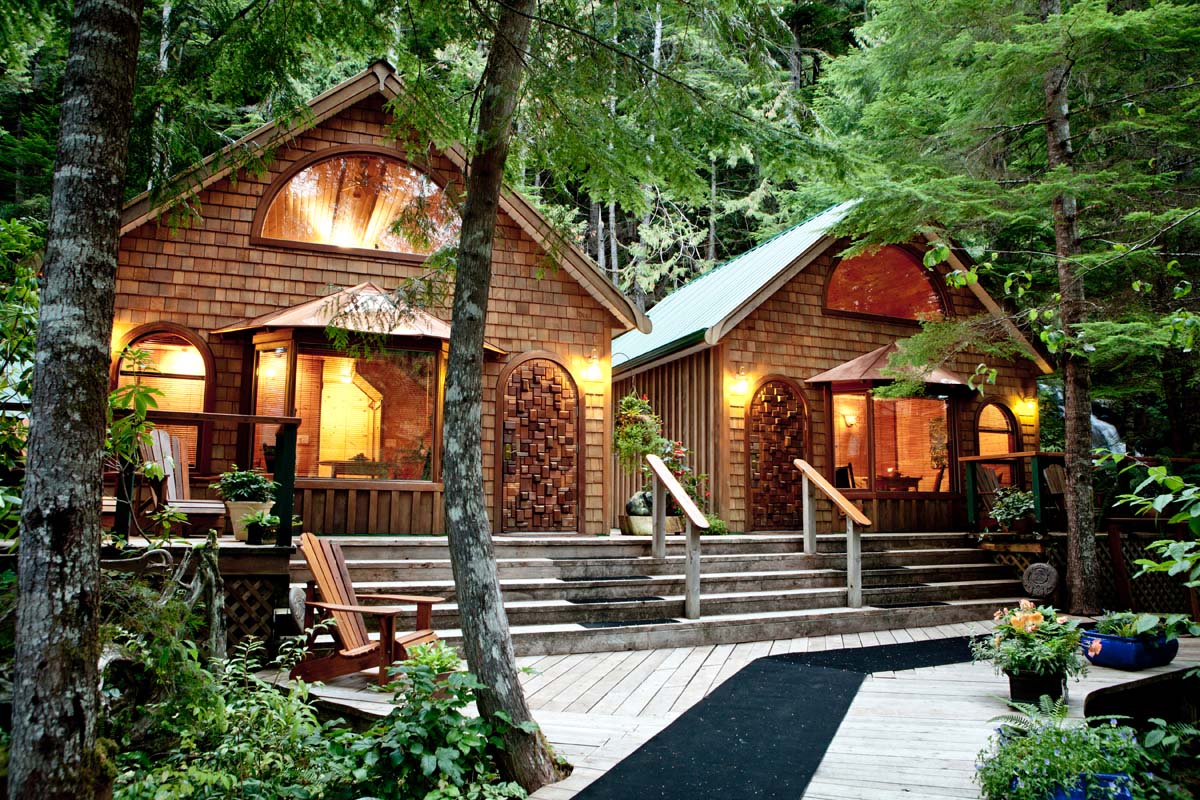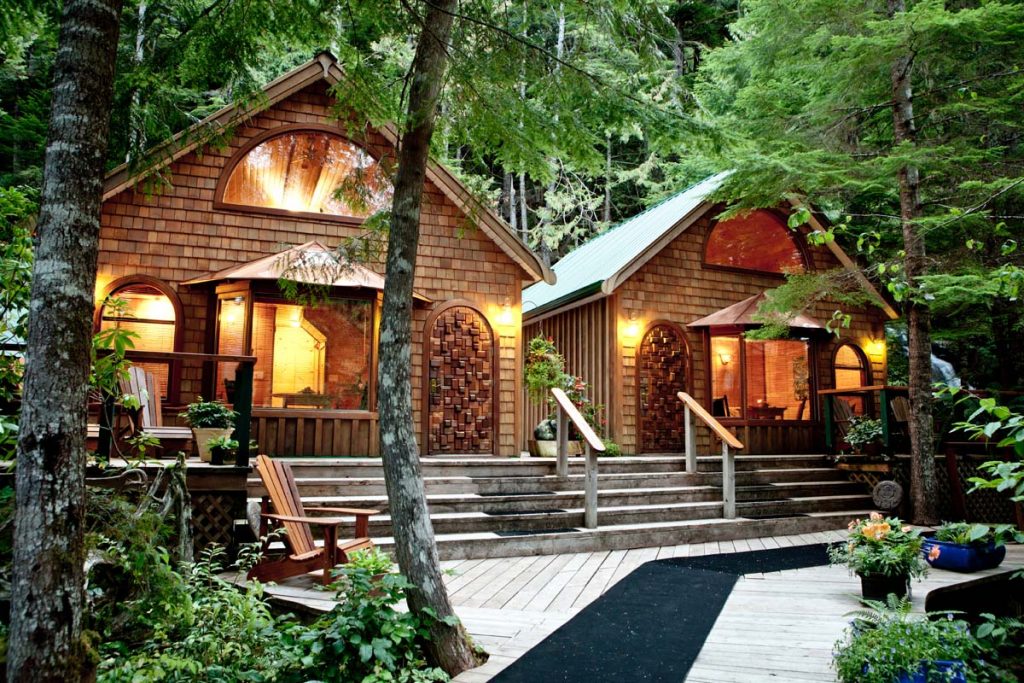 A 4-star hotel, Nimmo Bay Wilderness Resort is located in Mackenzie Sound, near Mount Waddington on the Little Nimmo Bay. For anyone who's hoping for an immersive stay that's enriched with nature, it is the place to go.
Staying at the Nimmo Bay Wilderness Resort allows you to become one with nature; the Great Bear Rainforest will surround you on one side, and the cerulean lake on the other. This makes it the perfect place to capture all the photographs you'll want because, let's be honest, the views are nothing short of stunning.
Its promise of sustainability goes back a few years, when it installed a Pelton wheel hydroelectric system in 1982, which used water melted from snow to power the house. All cabins are intertidal and hidden well between the trees, so you're truly isolated. Of course, with all these practices, Nimmo Resort has looked towards several green initiatives and is the perfect place to go.
Tweedsmuir Park Lodge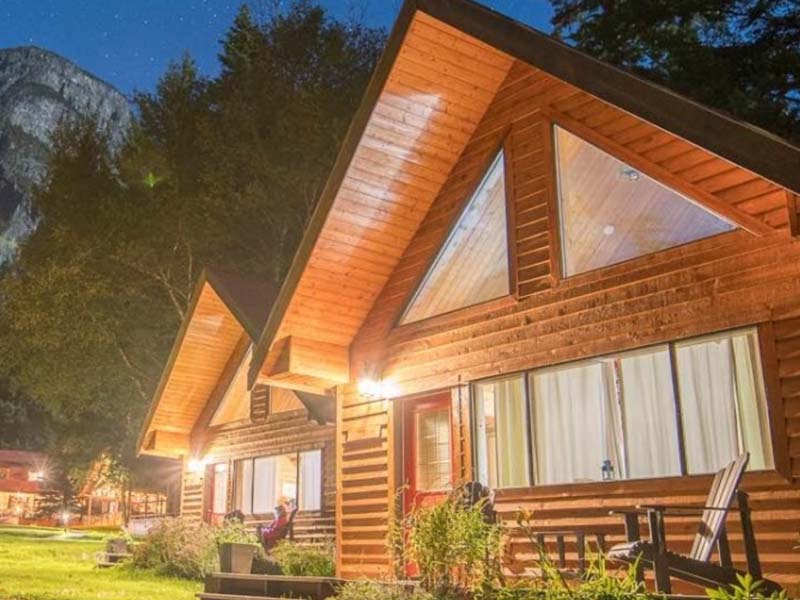 Tweedsmuir Park Lodge is not the place for the faint-hearted; the 3-star lodge is where adventurists head to bear watch, specifically grizzly bears. If you or your kids are fascinated with bears and would like to become their paw-ls, then Tweedsmuir Park Lodge is your perfect fit. This eco-lodge offers more kinds of nature activities like fishing, hiking, and bird watching.
And how does Tweedsmuir Park Lodge commit to the community and the ecosystem? It regularly partakes in recycling, composts all leftovers, and has its own waste management system to recycle water. It also supplies guests with environmentally friendly soaps and cleaning supplies, and all the water at the lodge comes from a mountain well. That's not all. It also builds bat houses and uses non-motorized boats only.
Siwash Lake Wilderness Resort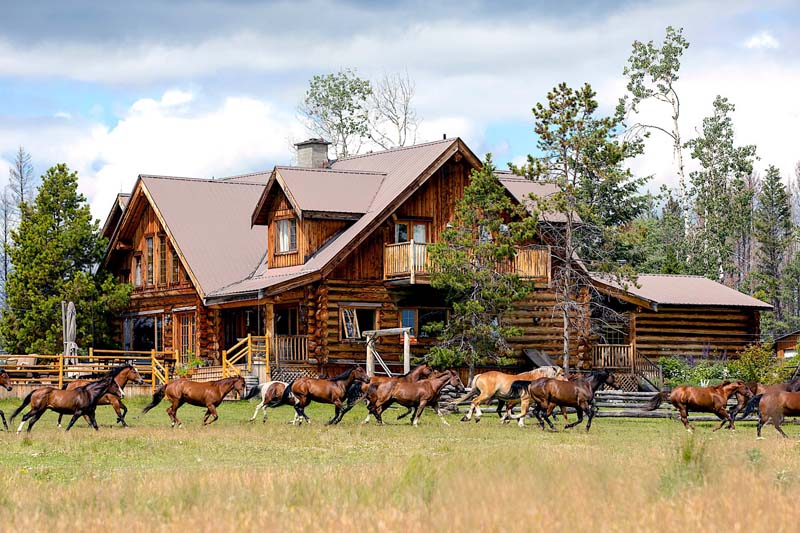 Imagine spending your days in a luxury tent where you're able to be one with nature but also from the comfort of a soft bed. Imagine sleeping below twinkling stars and waking to the morning birds, who sweetly chirp from nearby trees. No, you're not dreaming; this is the stay guests experience at the Siwash Lake Wilderness Resort.
British Columbia's proud luxury eco-resort, the Siwash Lake Wilderness Resort, is truly the most ideal place to stay. The resort offers guests the choice of staying in a luxurious suite from their main Ranch House or a rustic Cariboo log barn. If guests want to experience nature truly, they can glamp at the resort's Star Camp, a stellar tent where you can stargaze all night.
Amazingly, the resort keeps its hold on sustainability by using a photovoltaic power system, using wood-burning furnaces to heat the lodge, and employing biodegradable cleaning products only. The resort uses a greywater system to recycle water and composts all leftovers of its organic food.
Chilko Experience Wilderness Resort
Chilko Experience is a luxury eco-lodge in Cariboo and houses guests in beautiful log houses. Each log house is situated deep within the forest, at a safe distance from each other. So if you're not fond of mingling with the other guests, you'll be perfectly isolated.
These log homes are built from timber and are designed sustainably. From central heating systems to healthy technologies, you'll find the log homes completely eco-friendly. The Chilko Experience Wilderness Resort is completely off-the-grid and uses solar panels to power through. The resort sources its water from a nearby well and does not need any purification.
You will find a luxury hot tub; rest assured; it's heated by firewood and does not require additional chemicals. It even has its own greenhouse, which caters to organic fruits and vegetables, which are then used in cooking.
Cabana Desolation Eco-Resort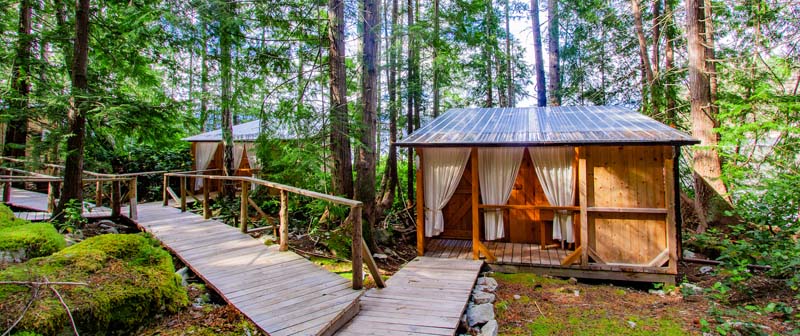 Situated on Kinghorn Island stands the Cabana Desolation Eco-Resort, a perfect combination of eco-friendliness and luxury. It offers cabana-style accommodations, with each cabana furnished with wooden and environment-friendly furniture. The cabanas are equipped with cozy throws, Canadian wool blankets, and sheepskin, which allows its guests to relax.
It also features sustainably harvested building materials and has even used recycled materials in construction. It serves locally grown and harvested, organic food and uses renewable energy to power itself. Additionally, it reduces consumption and has a sustainable water system. The eco-lodge ensures sustainability by offering guests eco-friendly tourist activities.
Clayoquot Wilderness Lodge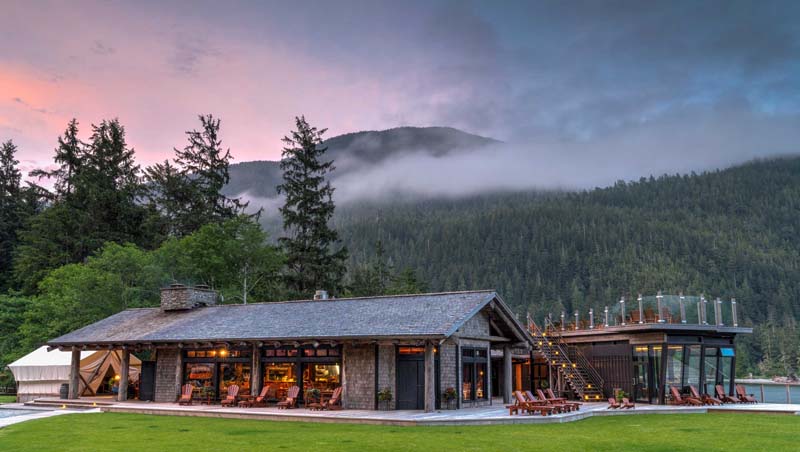 Clayoquot Wilderness Lodge is located on the Clayoquot Sound and offers guests the chance to stay connected with nature through a veil of luxury. It has five types of lodges to stay at: Rainforest Deluxe, Rainforest Ensuite, Waterfront Deluxe, Waterfront Ensuite, and the Hillside Family Resort.
A stay at the Clayoquot Wilderness Lodge gives you breathtaking views of mountains and a gushing fjord. Guests frequent the resort and engage in activities like fishing, canyoning, and hiking.
The eco-lodge promises sustainability by ensuring the use of plastic is kept to a minimum by using steel and glass utensils and vessels and has an organic culinary program that sources food locally. It also partakes in conservation and has helped the declining wild salmon population to rise.
Ocean House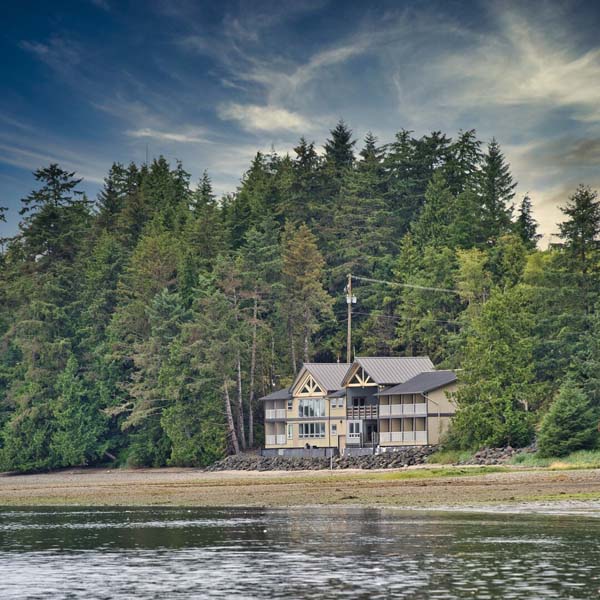 Ocean House by Haida Tourism in Old Masset, British Columbia, is a beautiful floating eco-lodge that takes you to the remotest edge of Haida Gwaii. The Ocean House can accommodate 28 guests in up to 14 rooms and floats on Graham Island's pristine water.
Ocean House enlists the help of the local community and sources all its organic food locally. Because it is situated on the water, it does not need to source its water from environmentally unhealthy procedures and takes caution not to disturb the ecosystem.
Although the eco-lodge is temporarily closed, you can plan to go there once it opens in its new land-based destination, New Town.
Spirit Bear Lodge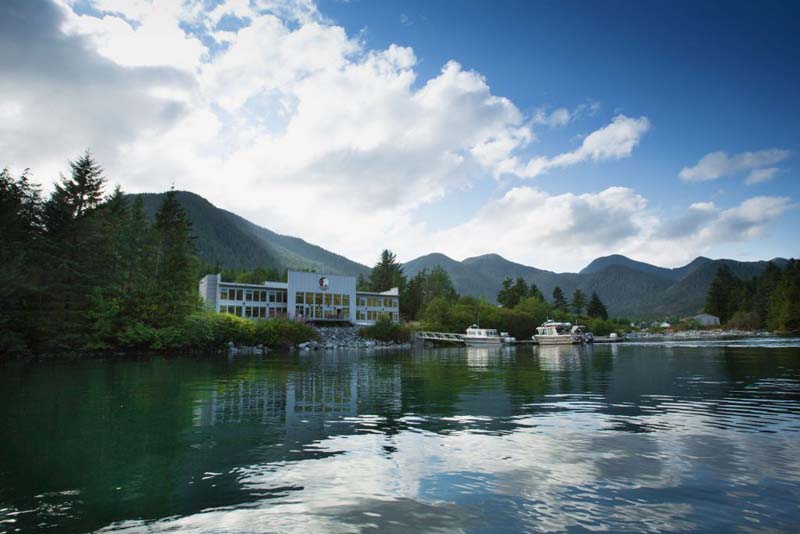 Deep in the Great Bear Rainforest of British Columbia, you'll find the Spirit Bear Lodge, which promises guests an adventurous stay. Take a look at the gorgeous sceneries that bless it and learn about the interesting culture. From spending your time listening to the rainforest speak to taking a nature trail that allows you to greet the wildlife, the Spirit Bear Lodge is one experience you'll never forget. Where else would you go bear-watching in Canada to catch a glimpse of the famous spirit bears?
The lodge is situated just on the bank of the stream of river, which runs along the Great Bear Rainforest. It is located in front of the mountains, so you'll always have a beautiful view to wake up to and a breathtaking place to sleep.
Of course, the Spirit Bear Lodge maintains sustainability through various practices; it has an eco-friendly architectural design that pays homage to its ancestral traditions and is furnished with modern but comfortable and eco-friendly furniture. The lodge actively partakes in the conservation of the forest and has accomplished several United Nations Sustainable Development Goals.
Haida House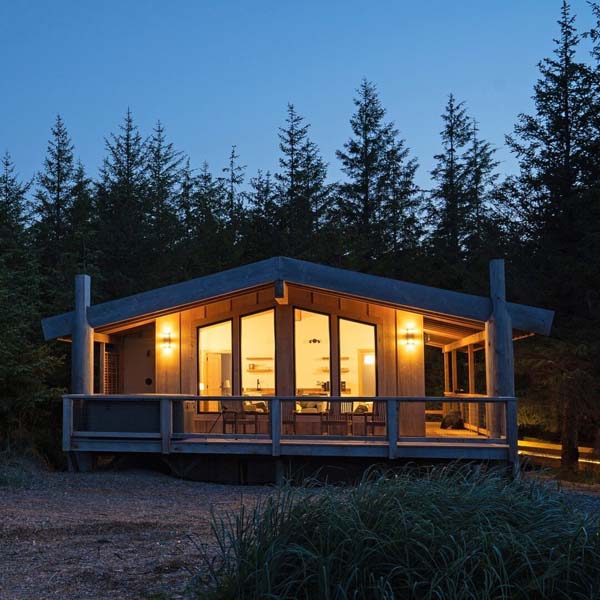 Haida House is another Haida Gwaii lodge by Haida Tourism that brings guests to an isolated section of Graham Island. Like its acquaintance, Haida House also offers guests a stay that's nestled deep into the trees and overlooks the serene bank of Tlell River.
The oceanfront cabin offers guests eco-friendly adventures like hiking, beach exploration, spotting wildlife, and nature walks in the rainforest. Guests can stay at the Haida House, which accommodates 22 guests in up to 10 rooms.
Haida Tourism promises an eco-friendly stay by welcoming the local community in providing service and sourcing all its food organically. Apart from these eco-friendly practices, Haida House also employs sustainable energy to run.
Great Bear Lodge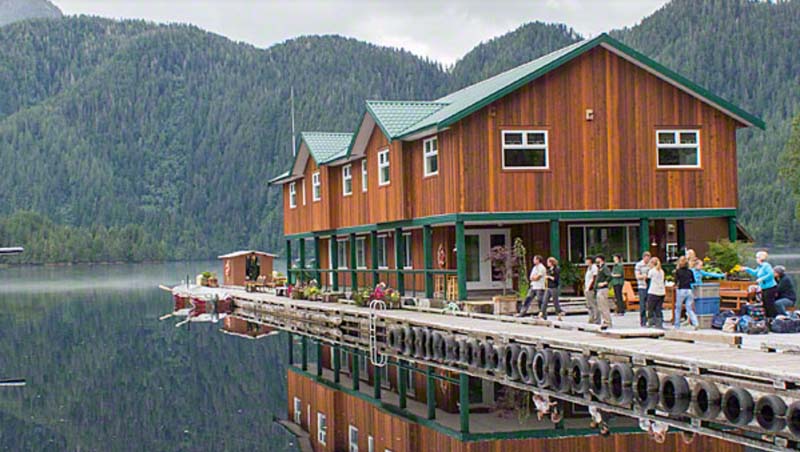 The Great Bear Lodge is another stunning but floating eco-lodge that is situated on the bank of Hardy Bay in the Great Bear Rainforest. It is rated 3 stars and is the perfect place for anyone who's hoping for some peace and quiet.
The Great Bear Lodge is most famous for its Grizzly Bear viewing program and invites hundreds of adventurists and naturalists yearly.
The lodges are simple and elegant, offering guests rustic accommodation. Each bedroom has an ensuite, fully-functional bathroom and is equipped with all the amenities you'll need. The eco-lodge runs sustainably through wind and solar power and commits to low-impact tourism.
Wickaninnish Inn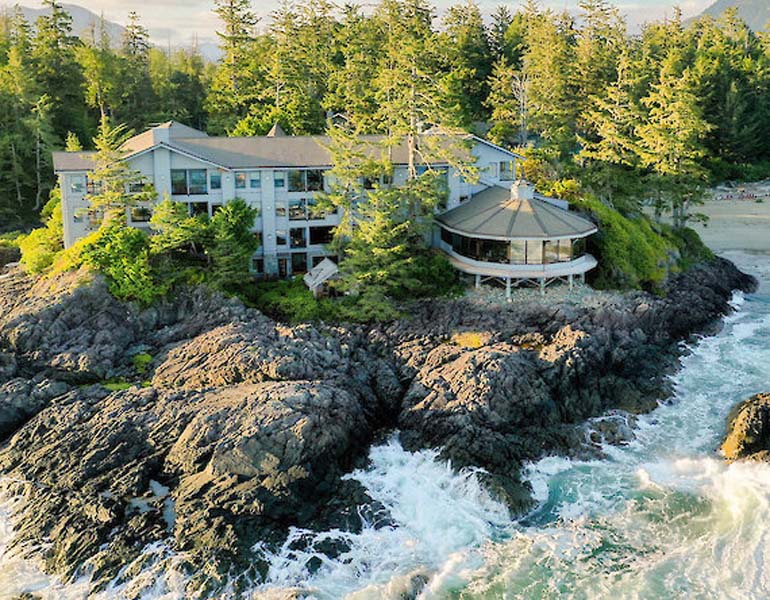 Wickaninnish Inn brings you rustic elegance and natural 5-star luxury, which simply deserves your attention. The inn is an interactive property that offers guests lush deluxe rooms and brilliant packages. It is perfect for anyone who's a nature lover but wants a glamorous stay.
The Inn has a rich heritage and pays homage to its traditions and environment by taking a clean, green initiative. It was built on land with natural underbrush and only used cedar which was bound to be taken down.
All food is prepared organically and sourced locally, and it employs eco-responsible practices. All organic leftovers are composted, and the inn has its own waste management system. It also uses high-efficiency Viessmann boilers to reduce its carbon footprint, so relax those shoulders and start to plan your visit there.
Wya Point Resort's Eco-Yurt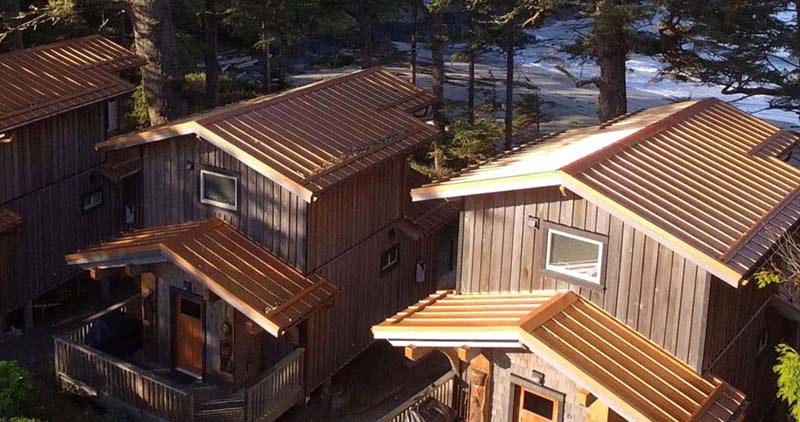 The Wya Point Resort is a dainty, cute eco-lodge that offers guests brilliant packages and a chance to come close to nature. While it offers guests lodges and RV Campsites, perhaps the most eco-friendly and in touch with nature is its Yurt, which comes in variations of its own. You can stay in the Hummingbird Yurt, which is a common choice among honeymooners, or go for a small or large yurt, depending on who you're coming with.
It is completely off-the-grid, so you'll have to make bookings online because you won't find any reception on-site. All yurts are pet-friendly, so you won't have to leave your furry pal behind! Wya Point also features a sustainable design, whether it be lodges, campsites, or yurts in a secluded area. The lodges source all building materials locally and use low-energy LED lighting, low-flush toilets, and showers to reduce consumption. 
Nipika Mountain Resort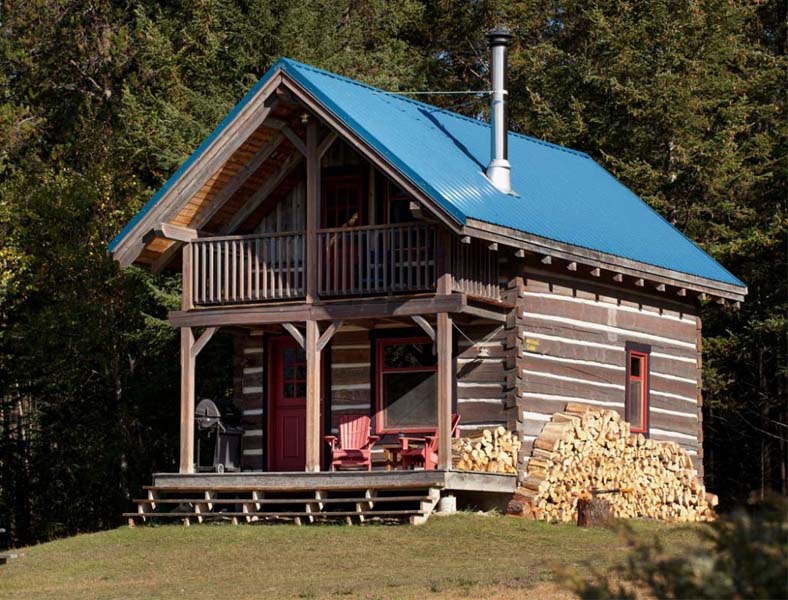 If you've been looking for a Christmas-y eco-lodge, the Nipika Mountain Resort is where your search ends. Snuggled between cozy trees, the Nipika Mountain Resort has a "cabin in the wood" aesthetic.
This Canadian eco-lodge is completely off-the-grid and sources all its power from the sun. In addition to using solar power, it burns dead wood to keep guests warm and comfortable. The water is also sourced locally and does not need any chemical purification systems. Nipika Mountain Resort is perfect for families who are frustrated with Zoom and electronic devices. Come to British Columbia and take a much-deserved vacation.
Map of these 13 eco-Lodges in British Columbia
As you can see, there are plenty of unique and beautiful eco-lodges in British Columbia, and you will be spoiled for choice if you are searching for a sustainable holiday. 
BROWSE THROUGH our directory for the most sustainable eco-lodges around the world if you want to experience something unique, authentic, and exciting.