12 Most Sustainable Eco-Lodges in France
France is a popular European destination, and it's no wonder with its beautiful beaches, tasty cuisine, and its capital city Paris – 'the city of love'. This country has an array of eco-friendly accommodations ranging from treetop cabins to floating huts. When it comes to sustainability, we know how important it is to find a lodge that aims to reduce its eco-footprint and take care of the environment. That's why we've researched to find you the most unique eco-lodges in France.
What are eco-lodges?
Eco-lodges are accommodations in undisturbed, remote natural areas where both construction and operation have the lowest impact possible on the environment. They are not only part of the local community, but they are active participants in protecting nature and culturally sensitive areas.
La Gree Des Landes Eco-hotel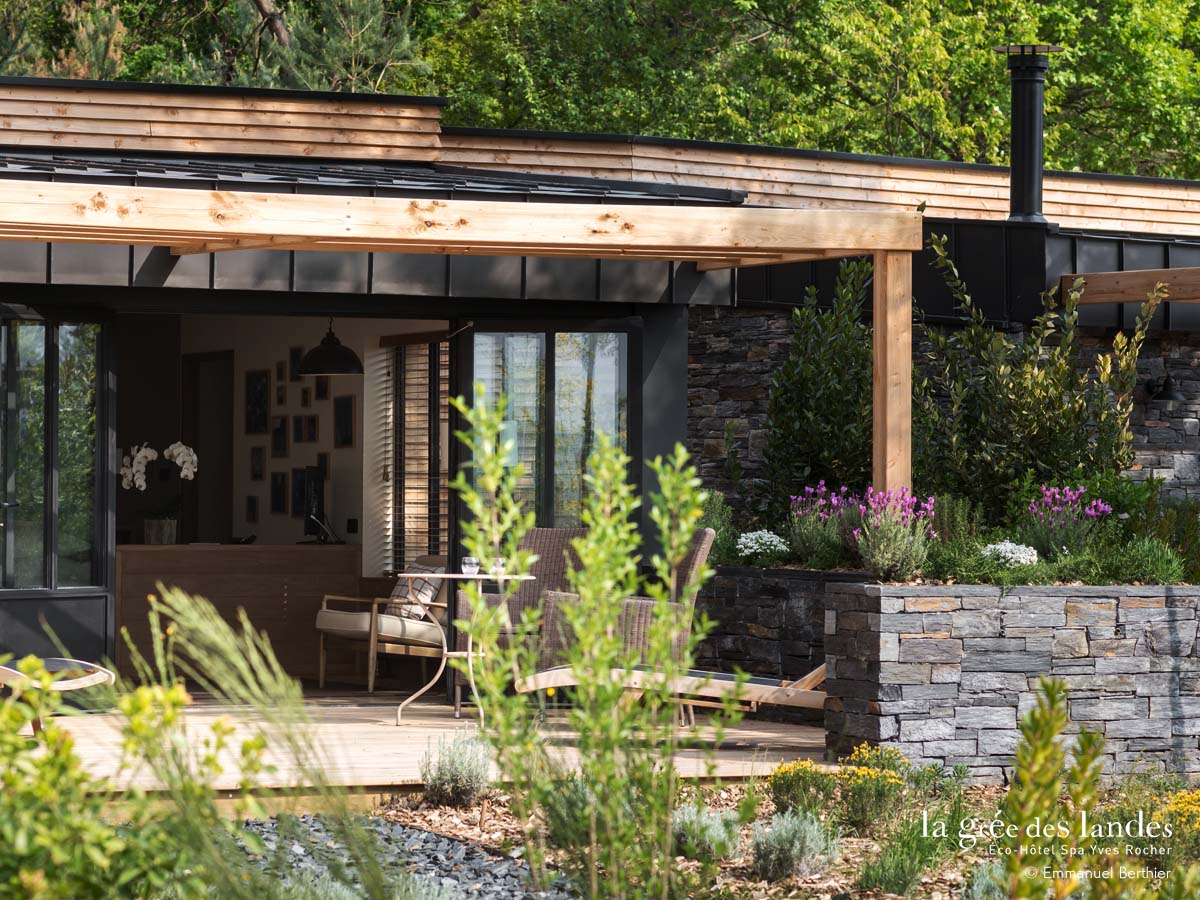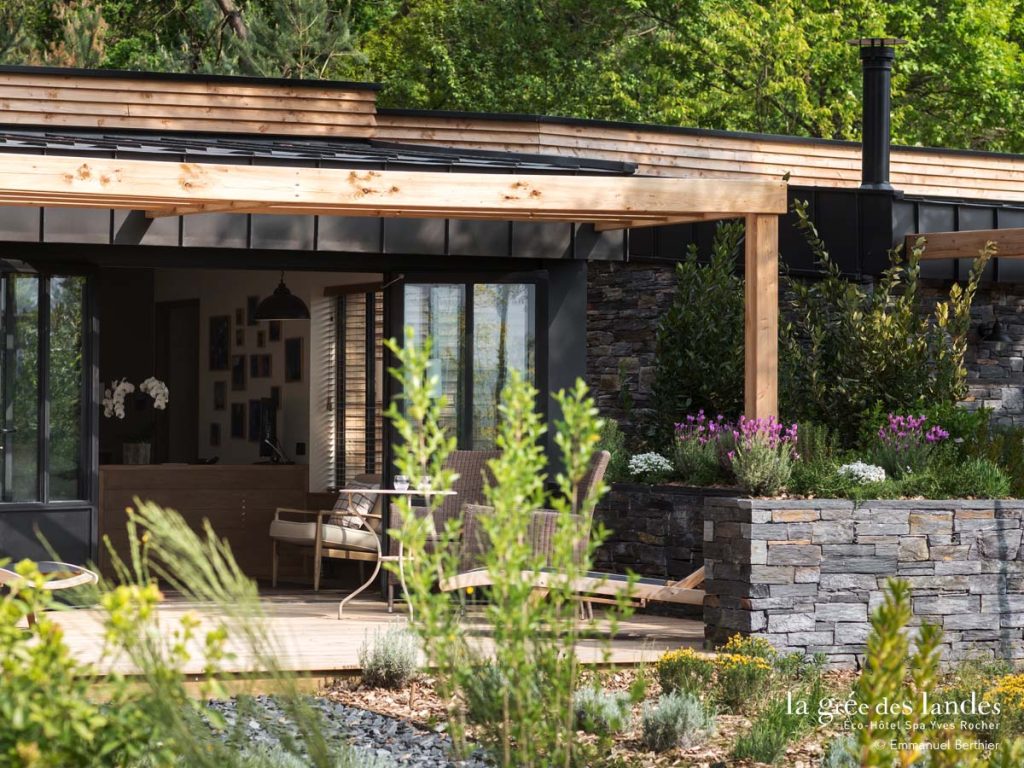 The La Gree Des Landes Eco-hotel is a 4* hotel situated in the heart of Brittany. It's the first-ever 100% eco-designed hotel, and the environment is at the forefront of everything they do. There are many measures in place at the hotel in terms of sustainability, including a wood boiler, photovoltaic panels, and rainwater harvesting. They also have green roofs, and bat nesting boxes to support nature. 
In total, there are 28 ecological rooms, 1 prestige suite, 3 plant suites, and a cabin. Not only that but there are wellness coaches available at the hotel who can help you with a personalized program. This can range from yoga to sophrology! La Gree Des Landes also has an organic restaurant on-site.
Grand Lacs Coucoo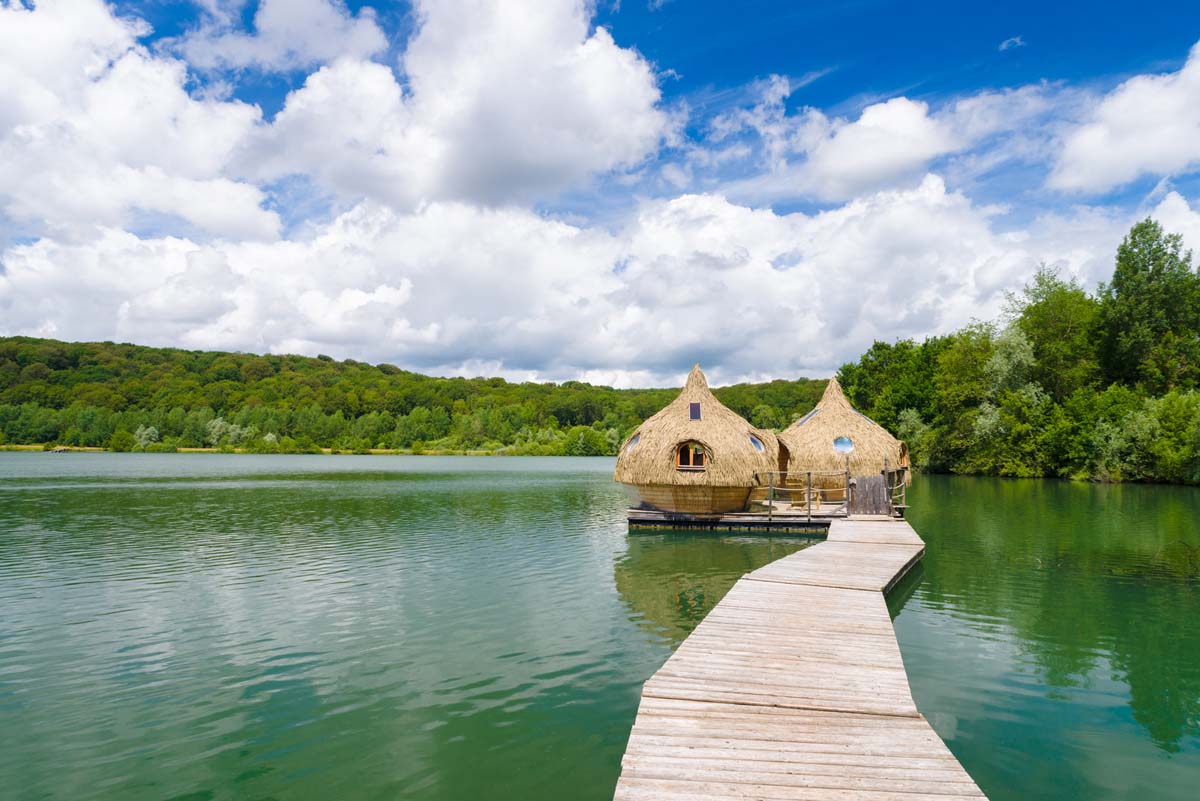 Grand Lacs Coucoo is one of the unique eco-lodges in France. The complex consists of cabins that are perched above the water or in trees, and are designed with the environment in mind. To be more sustainable, the huts have been designed without electricity, and they are equipped with a small reserve of water. Ecological cleaning products are also used; they source products locally when possible.
Whether you decide to choose a hut on the treetops, or perched on the water, we can guarantee you'll have the experience of a lifetime. You'll also find plenty of things to do in the area, including walking, cycling, and even tree climbing!
L'Orri de Planes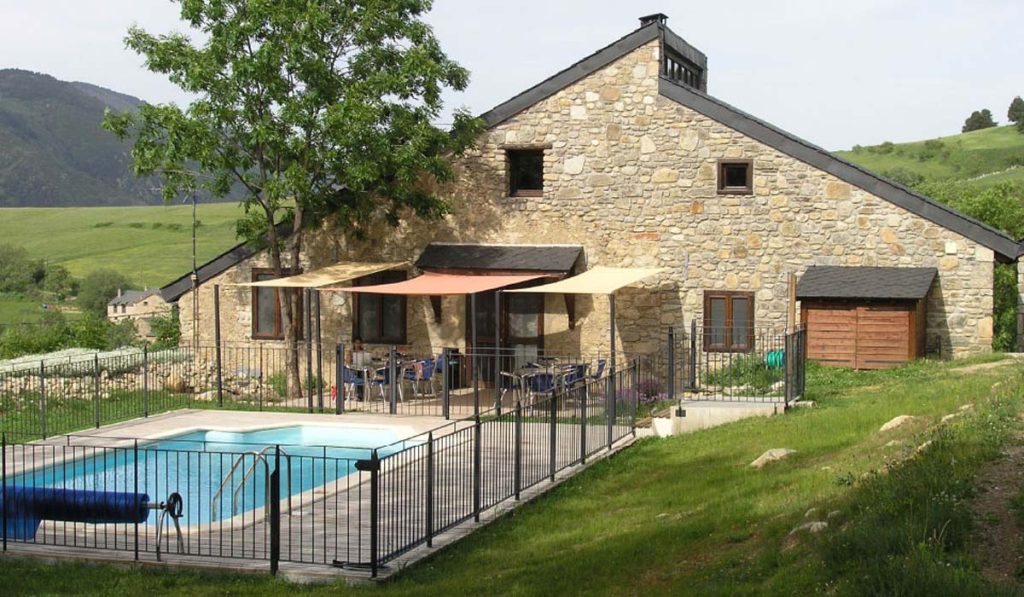 L'Orri de Planes is a prime example of eco-friendly tourism. This 300-year-old farmhouse was transformed into an eco-lodge that runs off solar energy, uses measures to reduce water consumption, and of course, has recycling procedures in place. In terms of food, they chose products that are sourced locally and are organic. 
When it comes to lodging, there are three different options – the guesthouse, the bunkhouse, and the eco-yurts. You can also choose to camp here too! With its stunning scenery, hiking trails, and native wildlife, this is a popular spot for hikers and nature lovers. It's the perfect place to relax and escape the hustle and bustle of daily life.
Vit Tel Ta Nature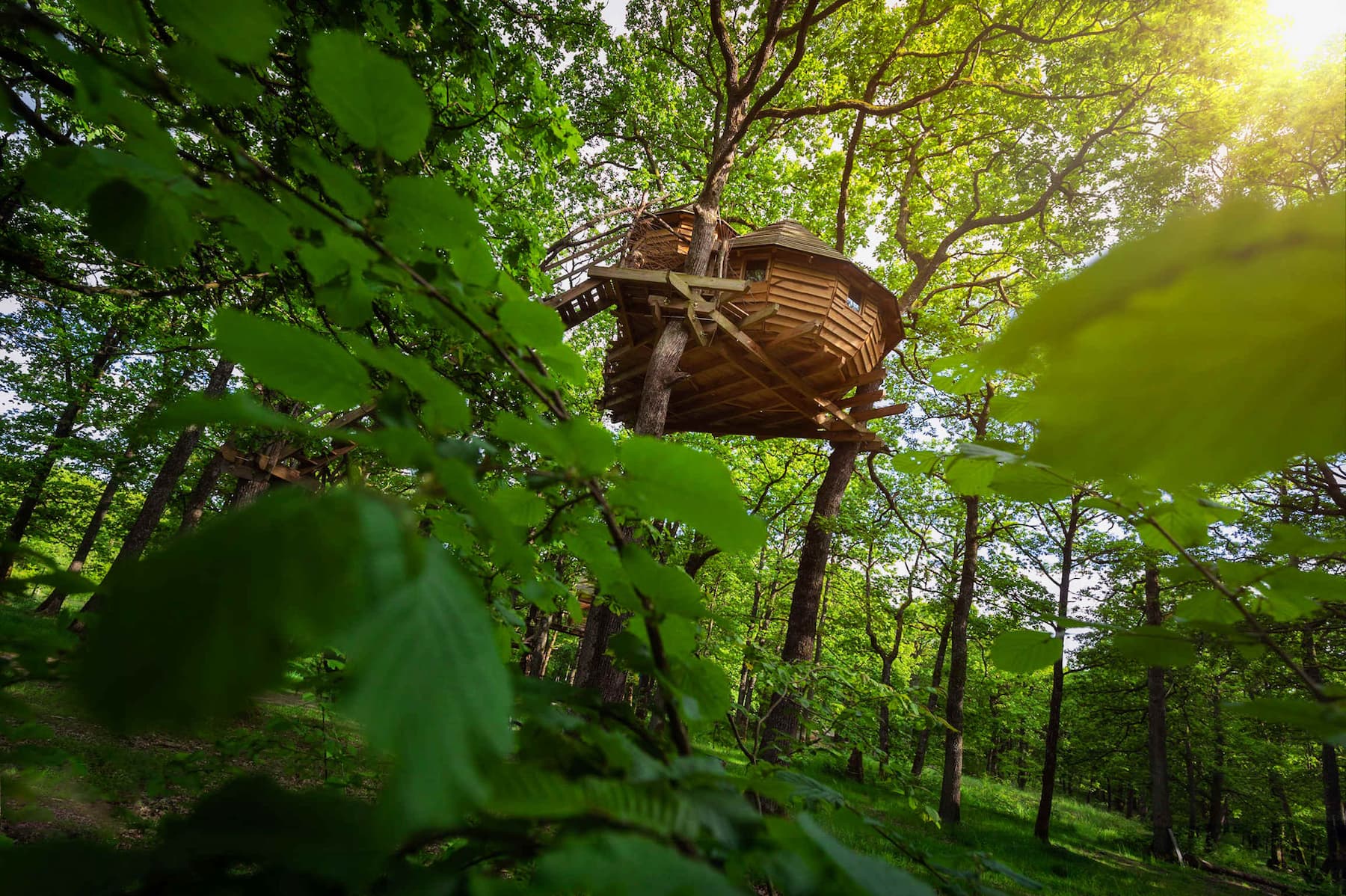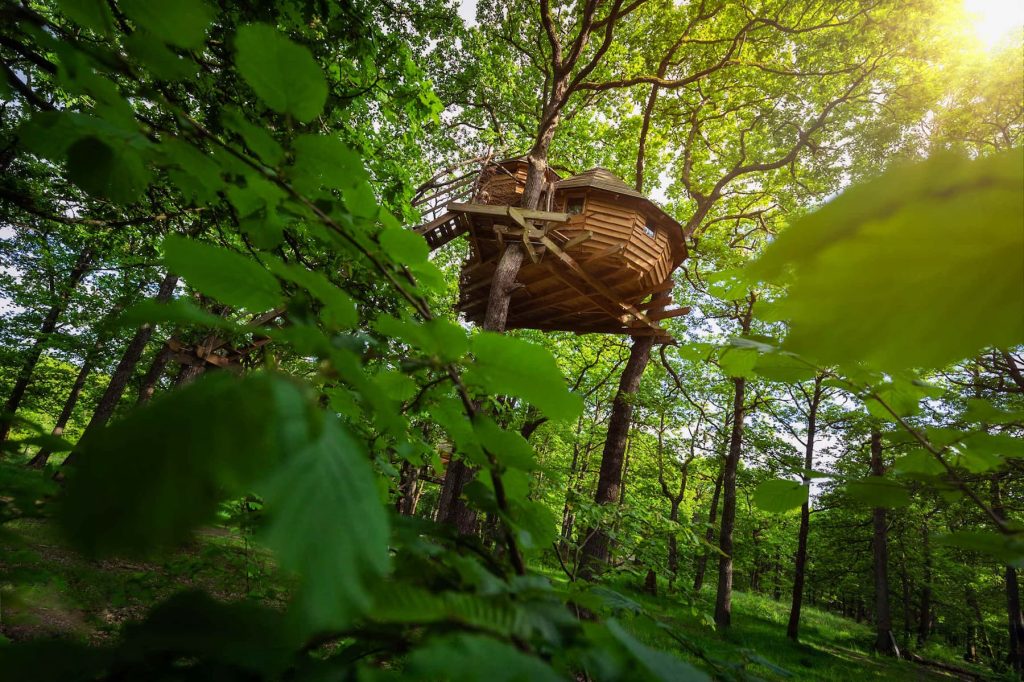 Vit Tel Ta Nature gives guests the perfect opportunity to be at one with nature, as they are situated within a forest. They power as much of their energy as possible by solar and wind, and treat their own wastewater. This eco-lodge also has a 'zero pesticide' policy and plants trees to offset its carbon footprint further. 
If you're looking for unique eco-lodges in France, Vit Tel Ta Nature is the place! They have cabins situated in the trees, and on the ground, so you have the choice of either. However, one of the things that set Vit Tel Ta Nature apart from the rest is its experiences. They offer nature walks, yoga classes, and the chance to get up close and personal with some of their farm animals.
Wild Eco Retreats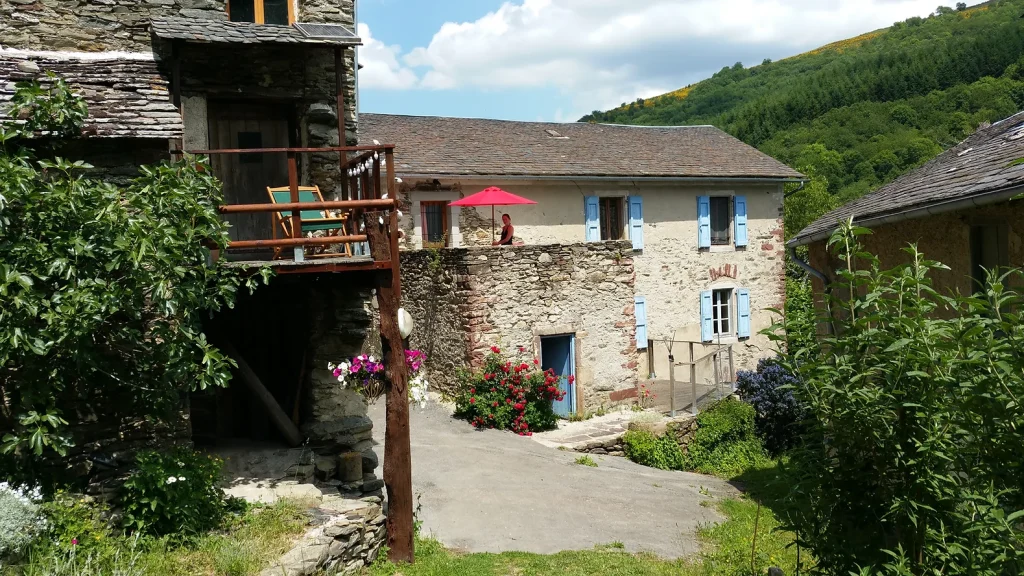 Wild Eco Retreats is the perfect hideaway, as it's situated deep within one of France's scenic valleys with more than 35 hectares of forest. Their water is sourced from a spring up in the hills, and the heating is either wood-fired or solar-powered. All electricity is fully solar-powered, and now they produce more than they can consume.
There are two eco-cottages on-site, and bell tents available in the summer if you fancy a bit of glamping! Wild Eco Retreats offer the ultimate sustainable holiday with an outdoor hot tub, a wood-fired pizza oven, and an outdoor pool. Other popular activities include hiking, mountain biking, and stargazing, as the area has no light pollution.
La Belle Verte Eco Lodge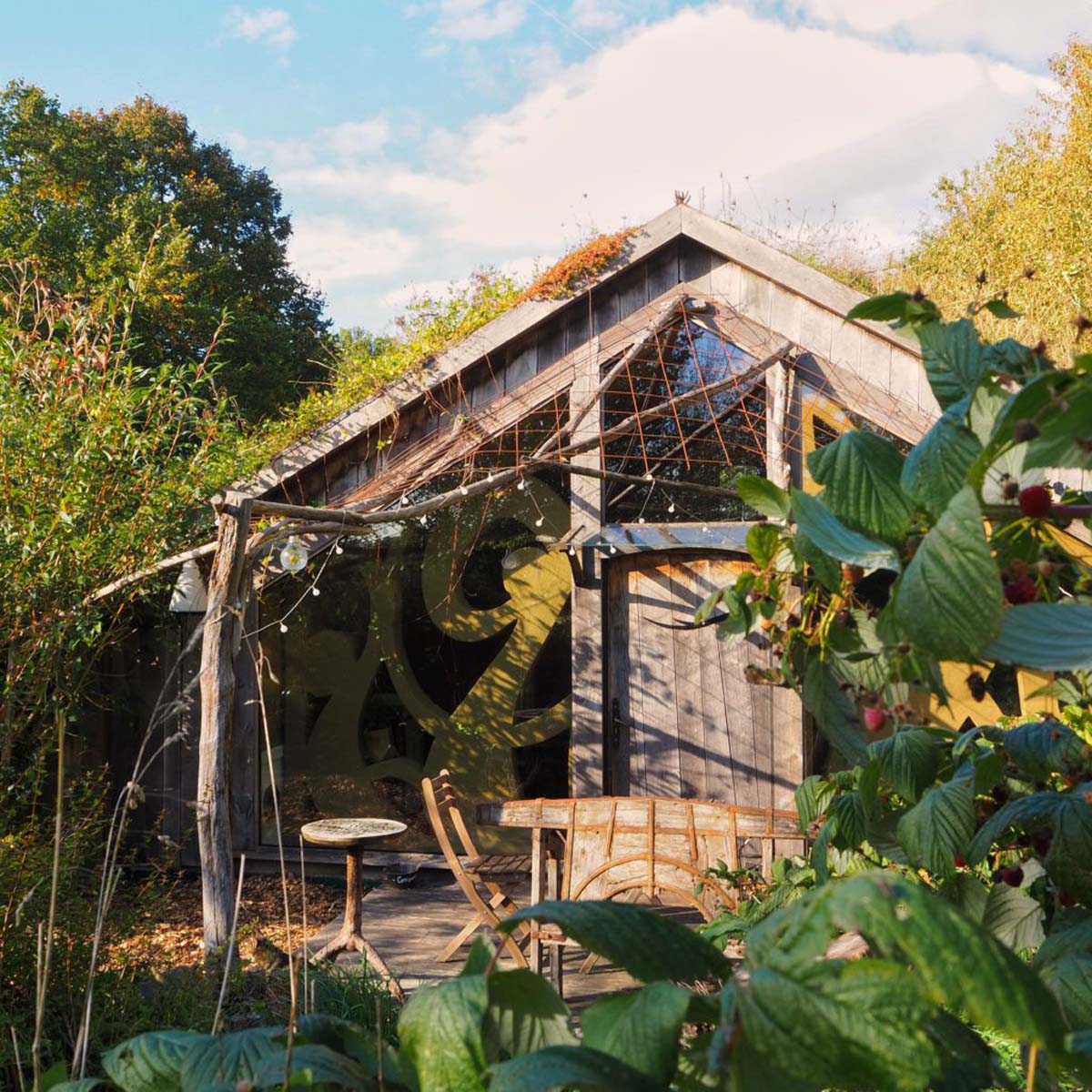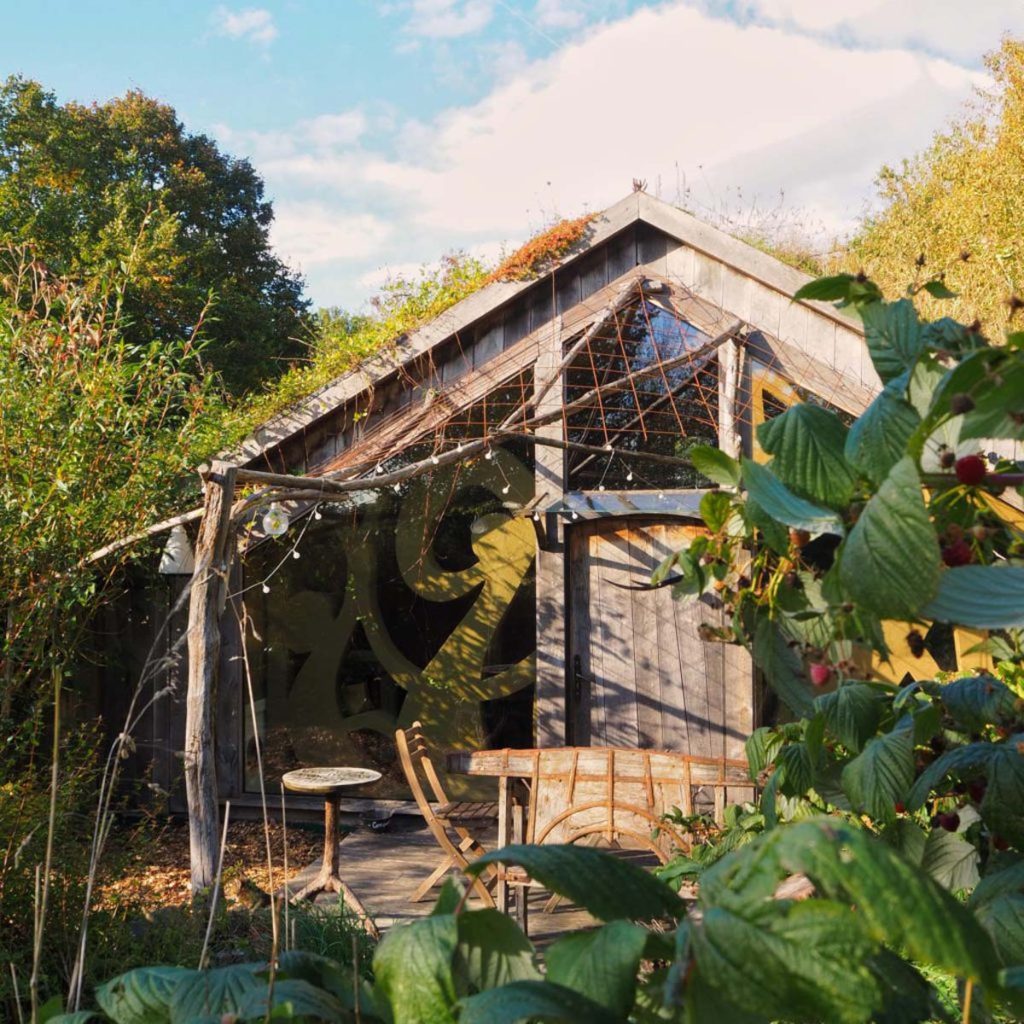 La Belle Verte Eco Lodge takes sustainability very seriously and is always looking to reduce its carbon footprint. All their huts are built from eco-responsible materials, contain dry toilets to reduce water usage, and are powered by solar. A wood pellet boiler provides heating, and they use ecological cleaning products.
La Belle Verte has four different types of accommodation – two eco-lodges, an eco-cottage, and a tiny house. It's the ultimate destination to relax, but it doesn't stop there! Why not treat yourself to some wellness experiences like a massage, a Nordic bath, yoga classes, meditation, or cooking lessons? There is also an eco-garden available to explore, and bikes that can be hired for free!
Terragora Lodges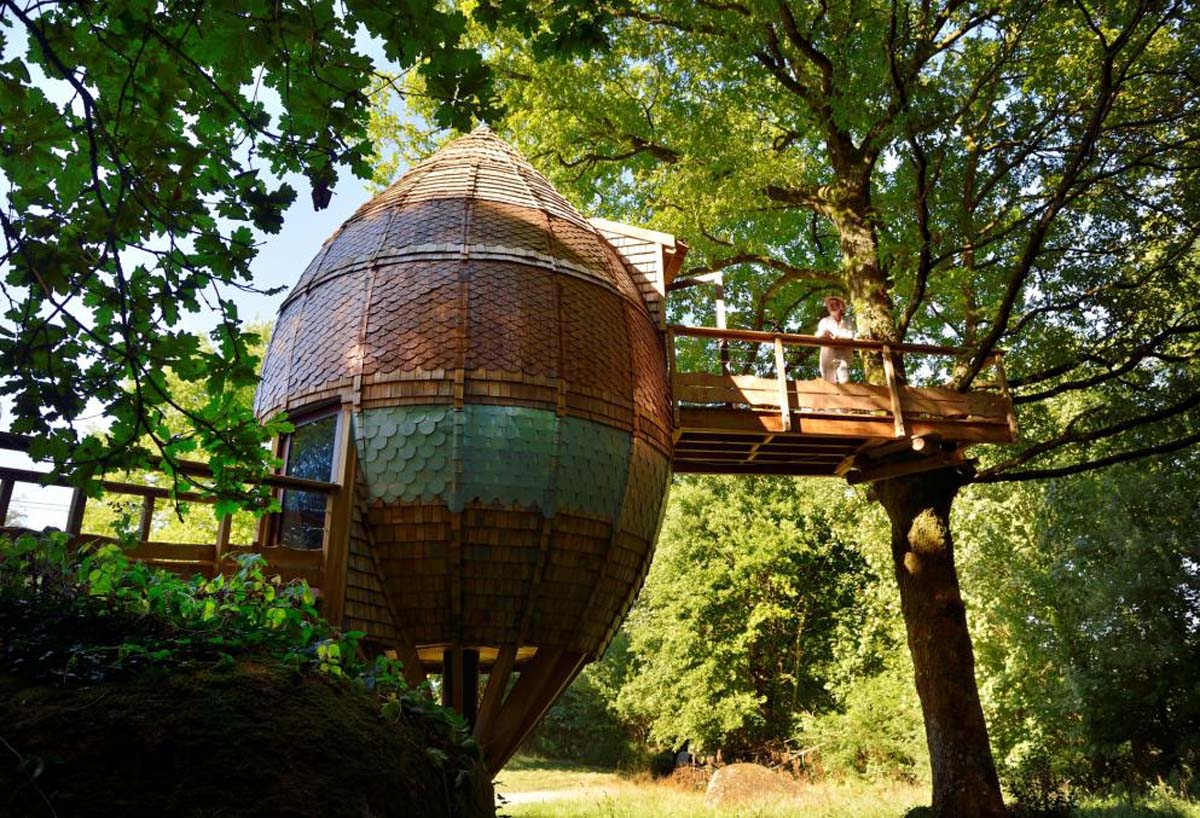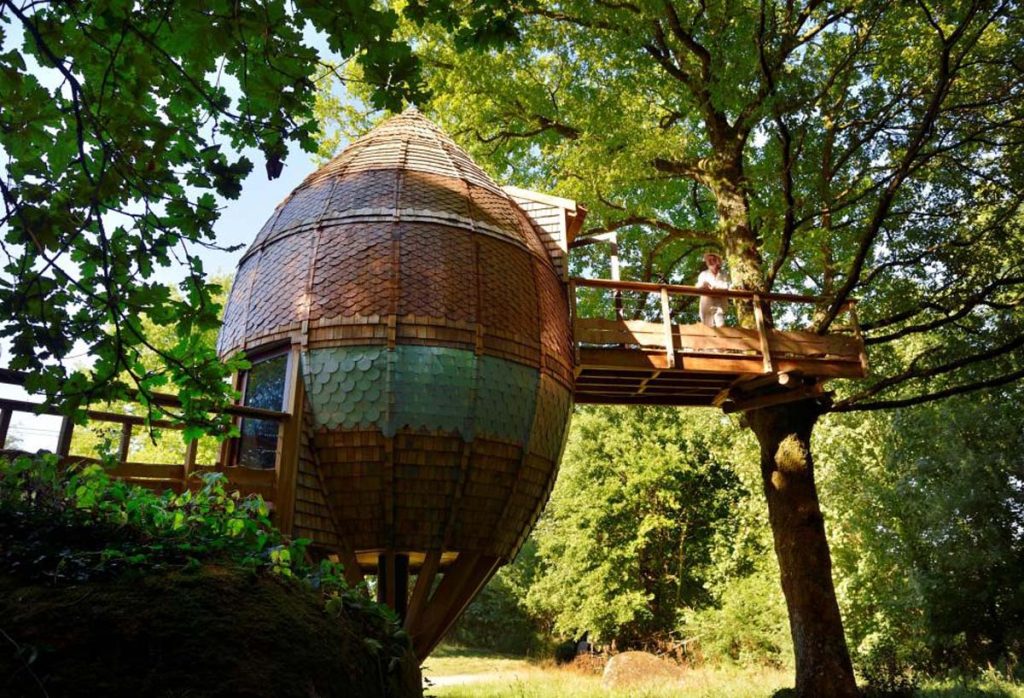 Terragora Lodges are dedicated to living with nature and preserving it at all costs. To help maintain this goal, 95% of the building materials used are natural and include wooden frames and wood wool insulation. Their hot water is powered by solar, and they have wood-powered heating. However, they have an electric backup just in case to ensure guests are comfortable! 
Terragora Lodges have several cabins and lodges to choose from. One of the wooden lodges is even situated high up in the trees! There is also a bar and restaurant on-site that isn't just for food and drink. It's used as a place to bring guests together, so they can relax and get to know each other. If you're looking for a unique French lodge, this is the place!
Auberge des VoyaJoueurs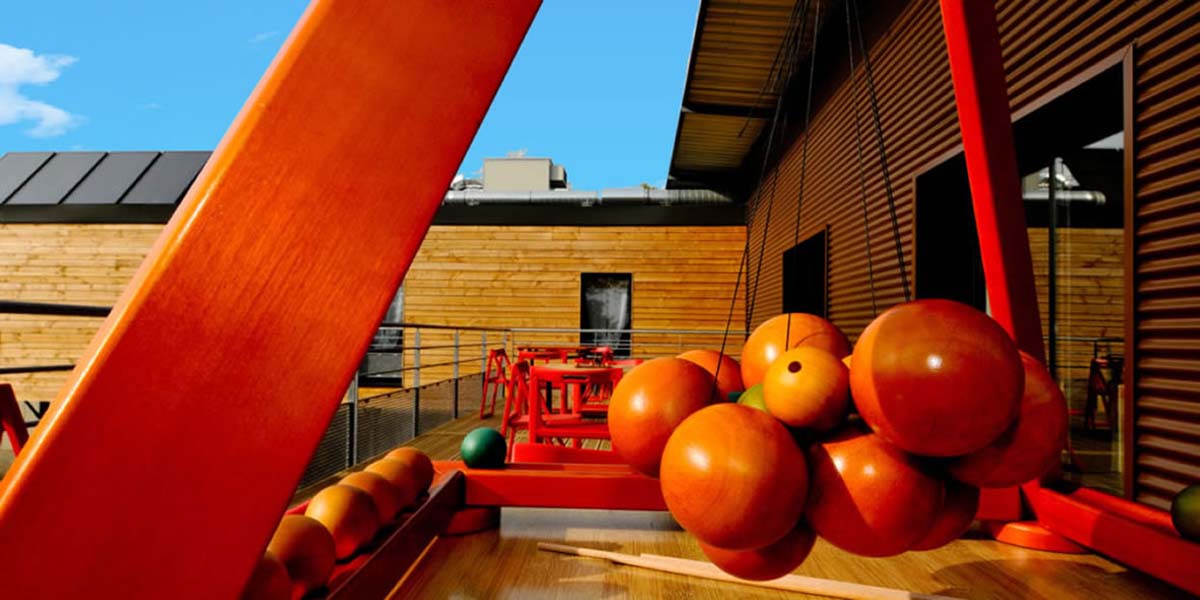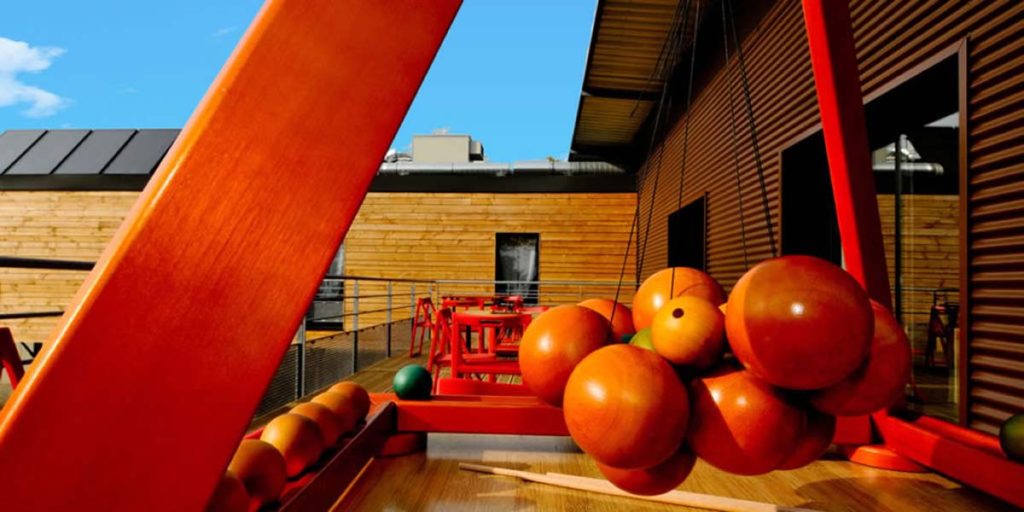 Auberge des VoyaJoueurs is an eco-hotel that consumes seven times less energy than other establishments of the same size. They have a combined solar aerothermal heating system, 100% natural bedding, and some furniture is made from recycled materials. They also limit waste, and use eco-friendly cleaning products! 
If you're looking for a gaming eco-hotel, you've found the right place! Auberge des VoyaJoueurs is a unique concept and has over 800 games from continents all over the world. You'll find a variety of board, agility, and supersized games, so there is something for everyone. There are three game areas at your disposal, and the supersized games are a huge hit!
Cap' Cabane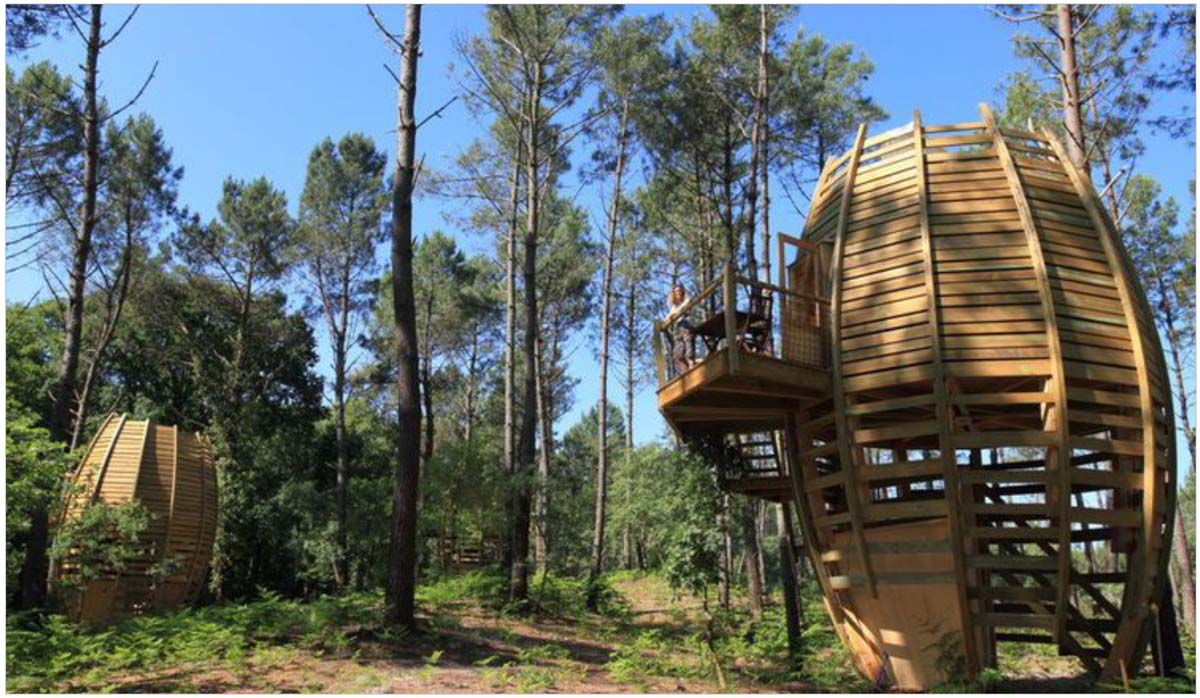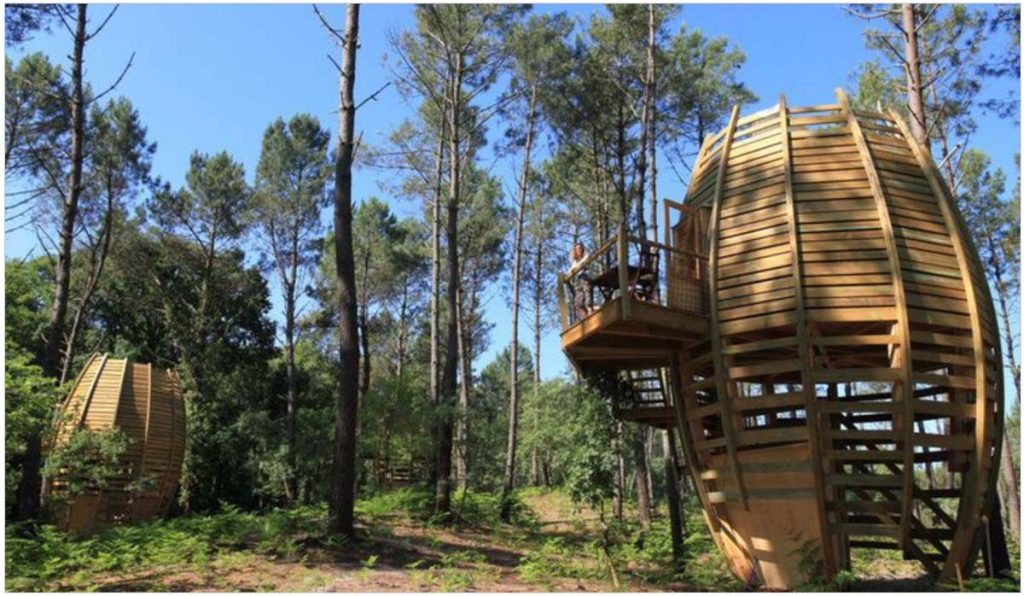 Cap' Cabane has 13 eco-cabins that have been constructed with sustainable building materials, and have an efficient water management system. They are also powered by renewable energy and have a waste management system that includes composting. To help preserve the environment, they only offer wifi in selected areas, to avoid frequency waves, and most of their food is prepared with local, organic, and seasonal products. 
Cap' Cabane has plenty of activities available to keep the whole family entertained. This includes a ping pong table, games room, classes, workshops, and orienteering. In the evenings, sometimes you'll be treated to concerts and storytelling. There is also a natural swimming pool on-site, which is equipped with an ecological and natural filtration system.
Village Flottant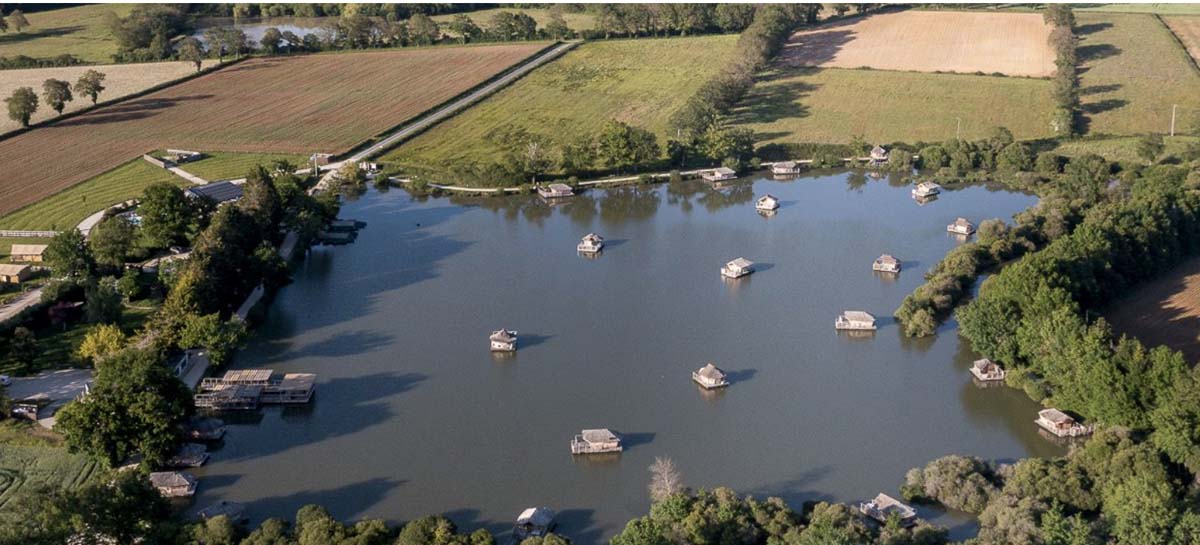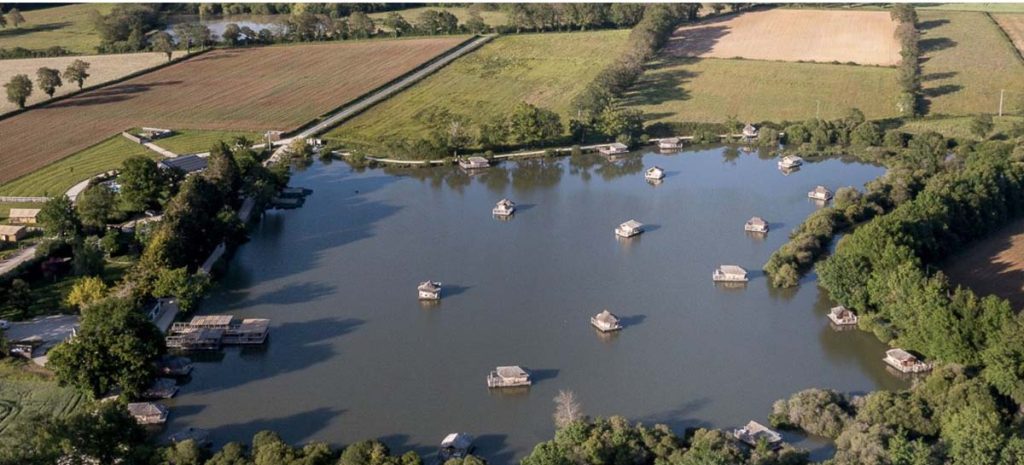 Village Flottant is committed to helping the environment by using dry toilets in each hut, using LED lighting, and eliminating non-biodegradable toilet paper. However, they also play a big part in protecting the local flora and fauna. They continually get the site assessed to show how they're affecting the local environment and have even removed some huts to give wildlife more space. 
If you're looking for unusual accommodation, Village Flottant is the place to go! They have a variety of places to stay, including safari tents and African-style huts, but the unique has to be the floating huts! They are situated on a natural lake, and are the perfect way to enjoy the scenery, discover nature, and even fish if you want to!
Natural Surf Lodge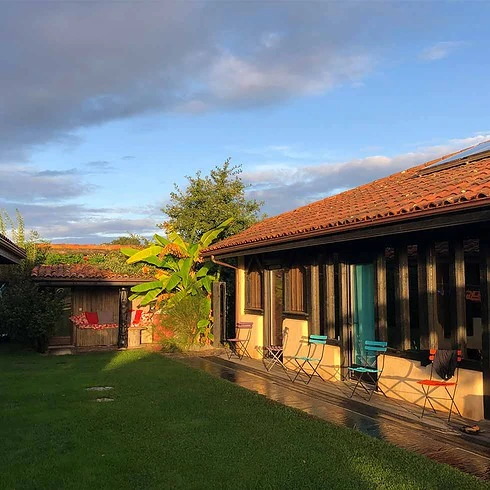 The Natural Surf Lodge has been renovated using natural and sustainable materials, and works hard to recycle and reuse anything they can. The water is heated by solar energy, and they also compost their waste to enrich the soil. The van that drives you to the surf spots has even been fitted with a filter that limits CO2 emissions. 
This eco-surf camp is the place to stay if you've always wanted to try your hand at surfing! If you can carpool to the lodge with other guests, you'll also get a 10% discount. They offer the ultimate surfing experience with plenty of lessons and great coaches!
Marmotte Mountain Eco Lodge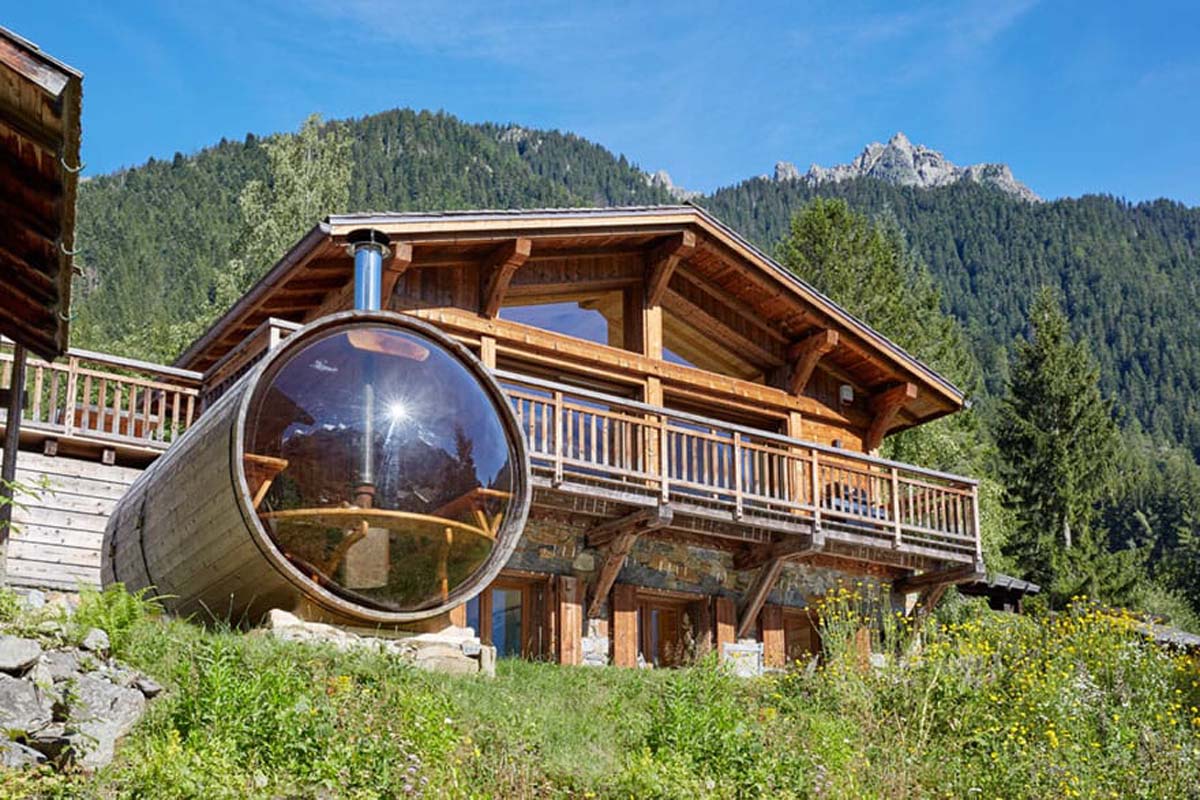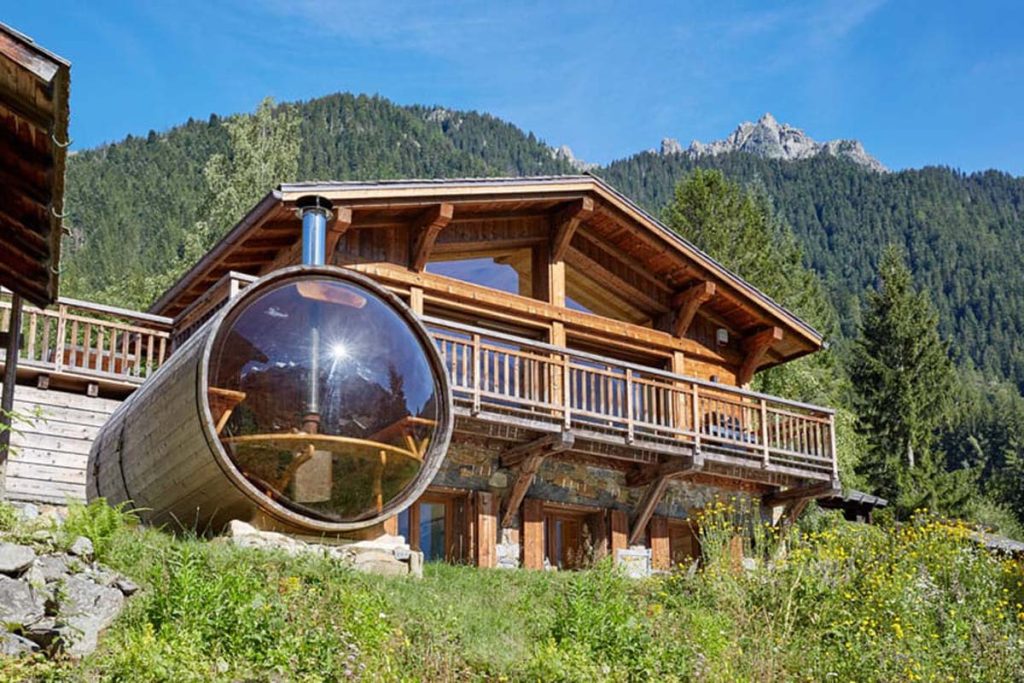 The Marmotte Mountain Eco Lodge is situated in the heart of the French Alps. It's a luxury ski chalet that has been built with green technology and is fully self-sufficient. It uses advanced renewable energy systems, including geothermal, solar, and thermal energy, for heat, power, and electricity. 
As well as skiing lessons, there are plenty of other activities to get involved in within the area. However, the highlight of Marmotte Mountain Eco Lodge simply has to be the views. From the lodge, you'll get unparalleled views of Chamonix Valley. Trust us, you won't want to leave!
Map of the most sustainable eco-lodges in France
As you can see, there are plenty of incredible eco-lodges in France. Whether you're looking to immerse yourself in the environment, go on a family retreat, or simply holiday more sustainably – you'll have lots of choices!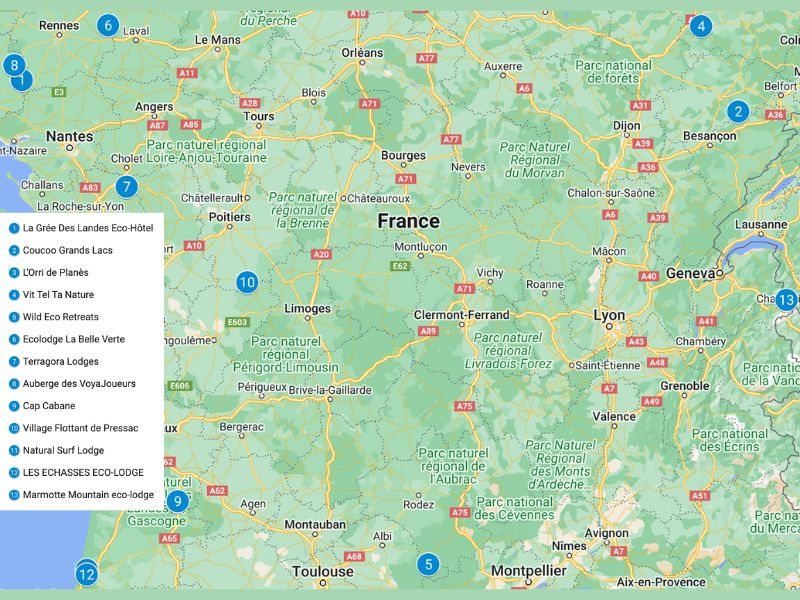 BROWSE THROUGH our directory for the most sustainable eco-lodges around the world if you want to experience something unique, authentic, and exciting.
More eco-lodges in other regions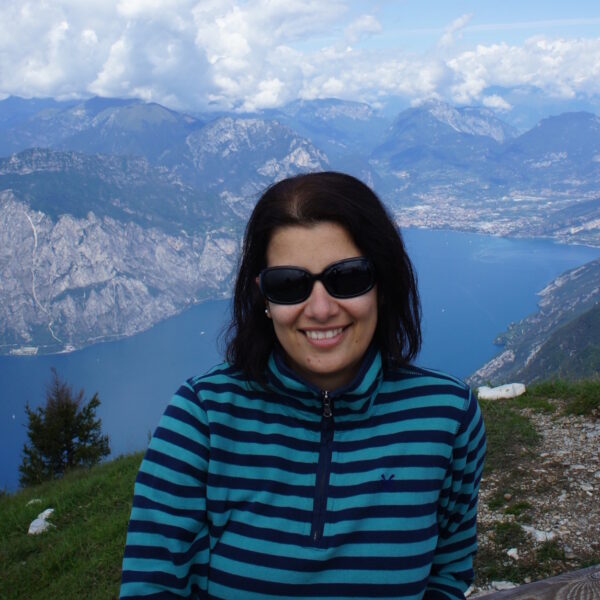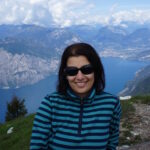 Emese Maczko is a travel blogger behind Eco Lodges Anywhere. Having explored several destinations around Europe, the US, Indonesia, and Australia, and resided in Germany, the United Kingdom, and Luxembourg, Emese possesses a keen understanding of diverse cultures and an appreciation for the beauty of each destination she visits. She advocates for sustainable travel and ecotourism.