15 Luxury Eco Lodges in Australia
If there are a few places on Earth that are simply brimming with wildlife and nature, one of them is definitely Australia, the gorgeous Land Down Under. If you're headed there and looking for luxury eco-lodges in Australia that will allow you to connect with nature with the royal experience of a five-star hotel, you should take a look at our top picks.
What are eco-lodges?
Eco-lodges are accommodations in undisturbed, remote natural areas where both construction and operation have the lowest impact possible on the environment. They are not only part of the local community, but they are active participants in protecting nature and culturally sensitive areas.
BROWSE THROUGH our directory for the most sustainable eco-lodges worldwide to experience something unique, authentic, and exciting.
Elysian Luxury Eco Island Retreat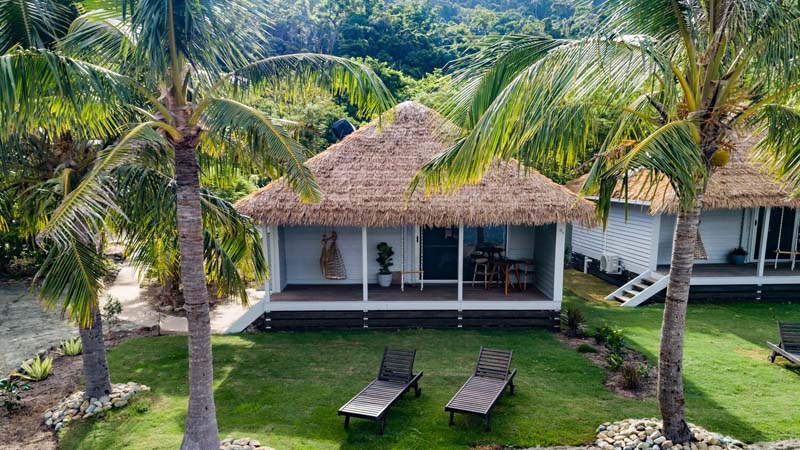 On the Whitsunday Islands, the Elysian Retreat is a secluded luxury lodge that pampers and treats you like royalty. The Australian rainforest surrounds it and overlooks the magnificent Great Barrier Reef.
This retreat is perfect for anyone who wants to experience Whitsunday Island but through a veil of luxury as it offers a private oceanfront villa furnished with luxury furniture and equipped with outdoor hammocks, en-suite showers, and high cathedral ceilings.
Elysian Retreat is also sustainable, designed ecologically, and it is one of the first solar-powered resorts near the Great Barrier Reef. It features organic and biodegradable products only. In short, this is your chance to experience eco-friendly heaven.
On Lord Howe Island is the Capella Lodge, an exquisite Australian eco-lodge that brings you the experience of a lifetime. It is nestled on the foot of Mount Lidgbird and Mount Gower, giving you one of the island's most breathtaking views.
Capella Lodge is the ideal place for wanderers and free spirits. It has a contemporary, spacious design that pays homage to its natural roots. Take a romantic cruise along the island and come back to Capella for a relaxing spa. The lodge has nine intimate suites, all adorned in comfortable and lush styles.
This luxury eco-lodge is also brilliantly doing its part in environmental protection. It uses solar energy to run and recycles and composts. It also keeps a low capacity to reduce traffic to the island, preserving natural harmony.
Kestrel Nest EcoNest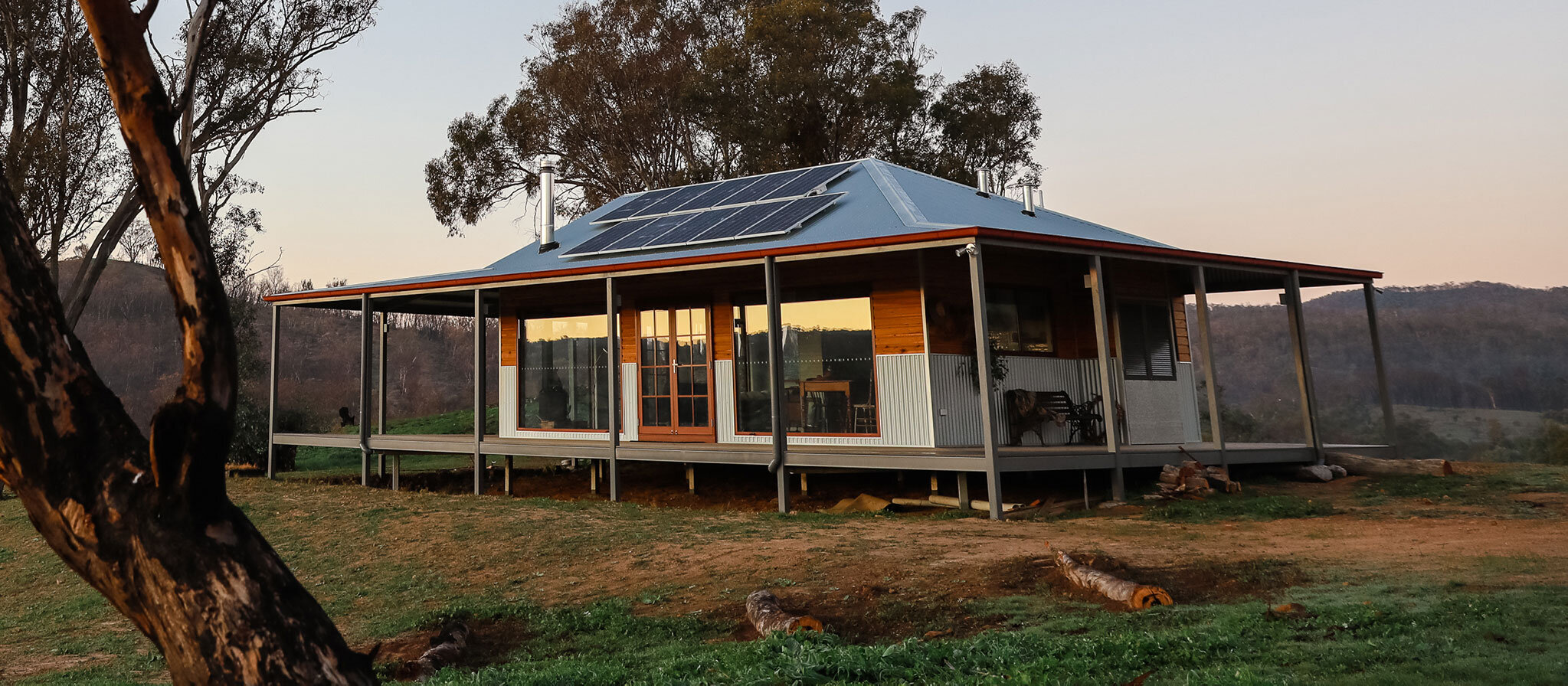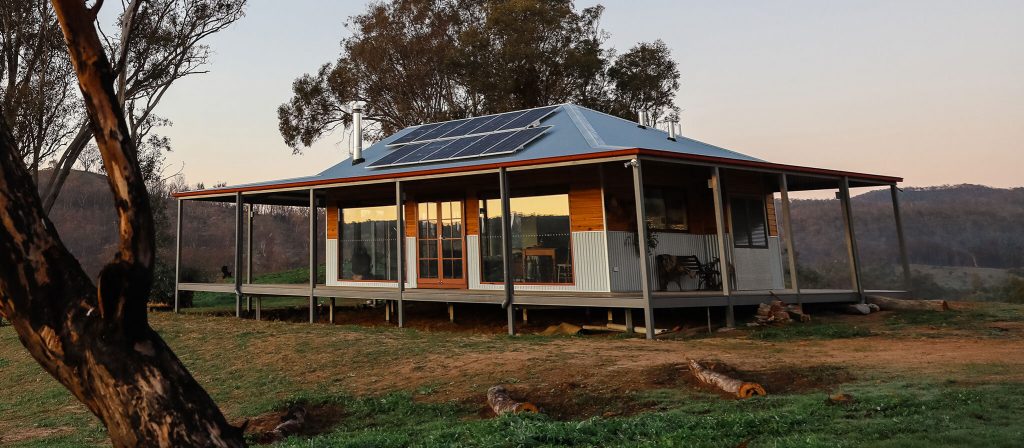 The Kestrel Nest EcoNest by Highfield Farm & Woodland is an eco-hut that's completely off-the-grid and offline. Suited for small families and couples, it is located in rolling farmland near the Snowy Mountains Highway and overlooks a rocky mountain stream.
This eco-hut provides the perfect chance to experience the rustic wild from the comfort of a luxurious room. It is equipped with every luxurious amenity possible and is tucked in a private little enclosure. It also has a fully-equipped kitchen and is lined with double-glazed windows, which allow guests to see breathtaking views.
The luxury eco-lodge has introduced many sustainable practices like running on solar panels or providing only organic farm-fresh food. It also comes with a wood fireplace and an outdoor fire pit. For adventure lovers, this is the ideal spot.
Free Spirit Pods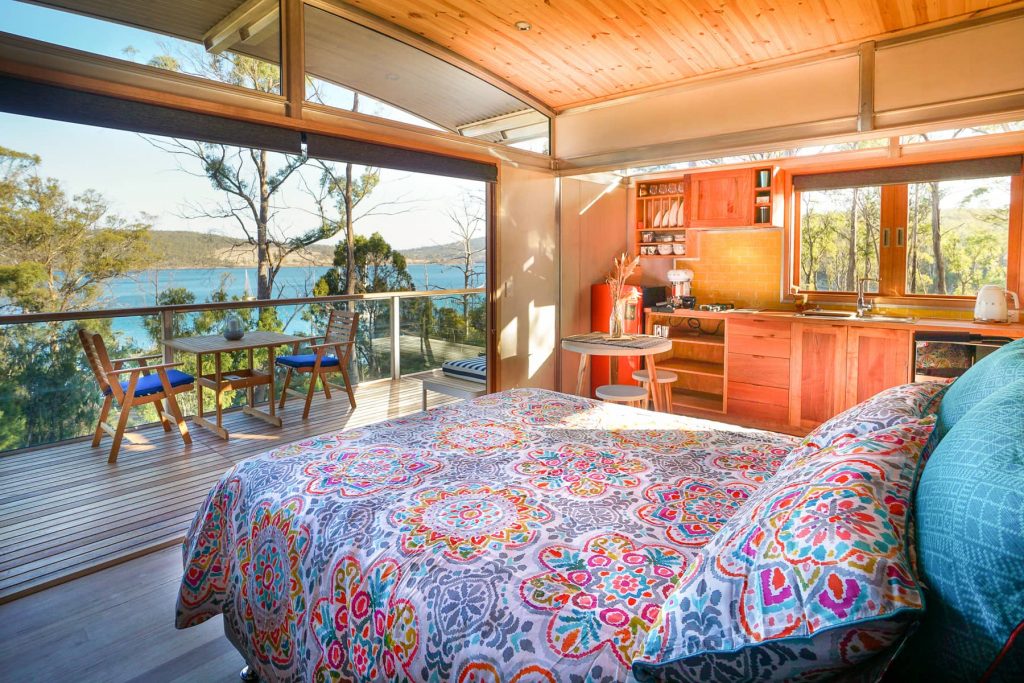 Take a shot at living the ultimate retreat at the Free Spirit Pods, where gorgeous waterfront pods await your arrival. They come styled with comfort and luxury. So, you're always in unending bliss. Located in Quarantine Bay, Free Spirit Pods is at a convenient distance from the Quarantine Station National Park, which means you're bound to spot a few wild animals and beautiful birds.
The eco-pods are handcrafted from timber and are furnished with comfortable and chic eco-friendly furniture. Because it is so close to the national park, Free Spirit Pods are eco-friendly. They run on renewable energy and practice sustainable goals.
Diamond Waters Treehouse Retreat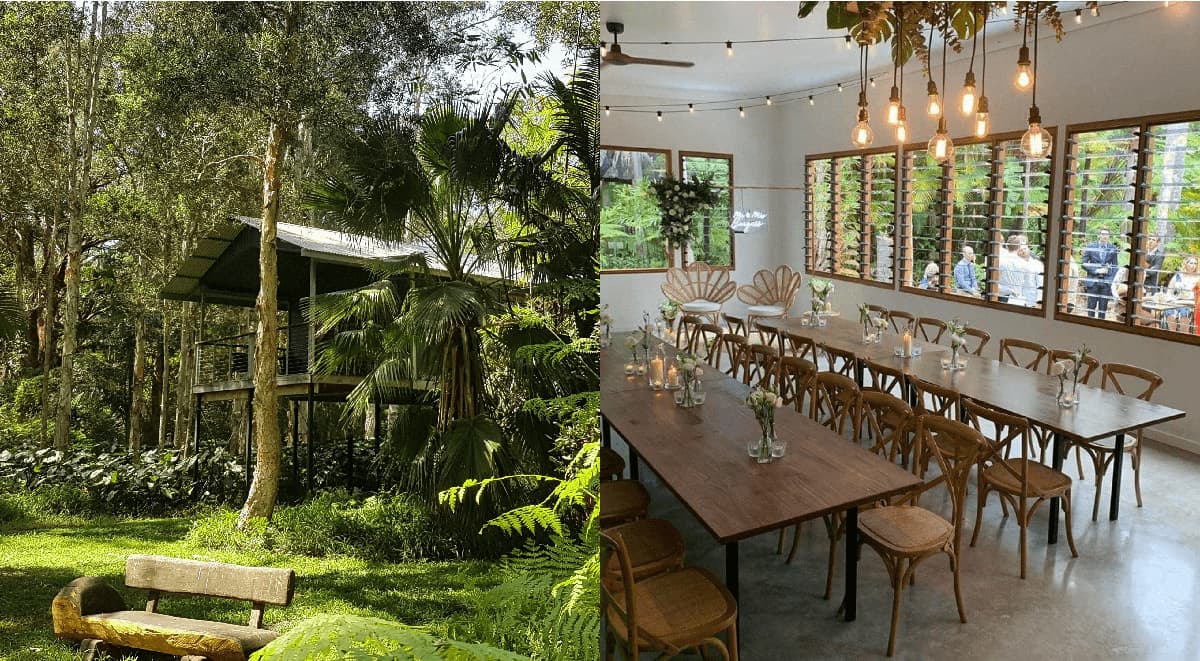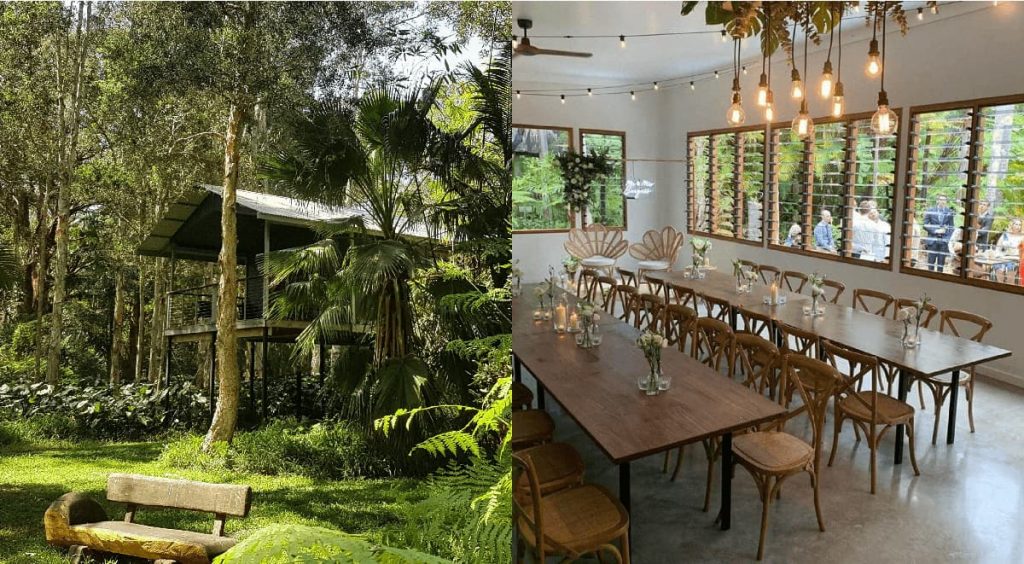 Diamond Waters Treehouse Retreat is a luxury eco-lodge in Australia that is literally surrounded by trees in the midst of Diamond Head in NSW. From the outside, these tree houses perfectly blend in with the environment, but from the inside, you'll hardly believe that this luxurious spot is sitting in a rustic environment.
The treehouses were handcrafted, and featured furniture made from sustainable building materials. The property has a cool café, a kitchen garden, and extensive gardens, open for exploration. This Australian luxury eco-lodge is eco-friendly accommodation with sustainable designs and self-sufficient infrastructure and encourages biodegradable products, recycling, energy, and water conservation.
Ecopia Retreat
This Australian luxury eco-lodge is so mesmerizing, you'll have a demanding time believing it's true. Ecopia Retreat lies on a private wildlife sanctuary on Kangaroo Island and is the perfect place for anyone who's looking to reconnect with nature.
It has three luxury lodges available for booking and invites you on a journey filled with laughter, wine, and adventure. It also pays homage to aboriginal and indigenous communities as well as it practices sustainability, and strongly ensures its guests keep a minimal ecological footprint.
The Ridge House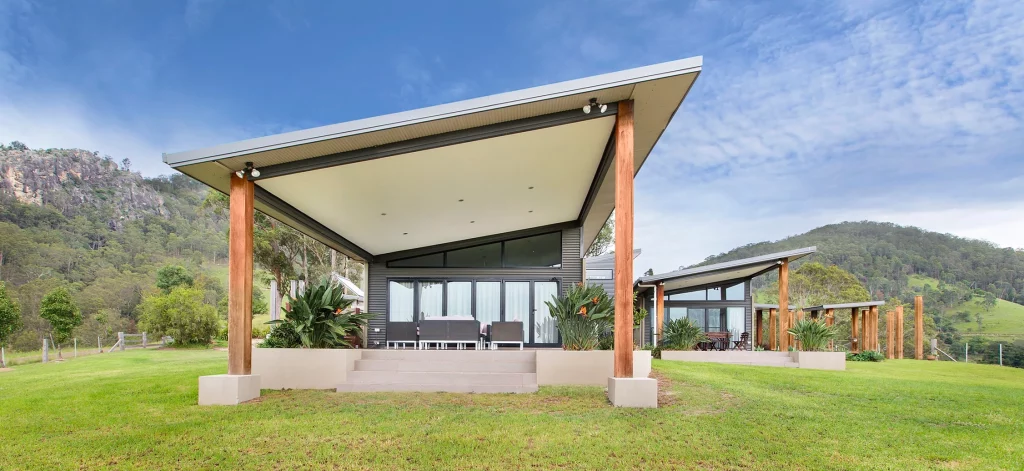 The Ridge in Gloucester is a modern and sustainable accommodation that allows visitors to immerse themselves in nature and enjoy an amazing vacation. Enriched with creativity, the Ridge offers two types of accommodations. The Ridge House is a contemporary house with 5 bedrooms and 2 pavilions. Whereas the Ridge Eco-Cabin has one bedroom and is completely sustainable.
It is planning on increasing its sustainability. The eco-cabin is powered with solar energy, has an efficient eco-friendly design, a water self-sufficient system, and a fire pit. Indoors, you'll find a luxurious bathroom, a gorgeous seating area, and a cozy bedroom. Perfect; inside and out!
Currumbin Valley Rainforest Eco Retreat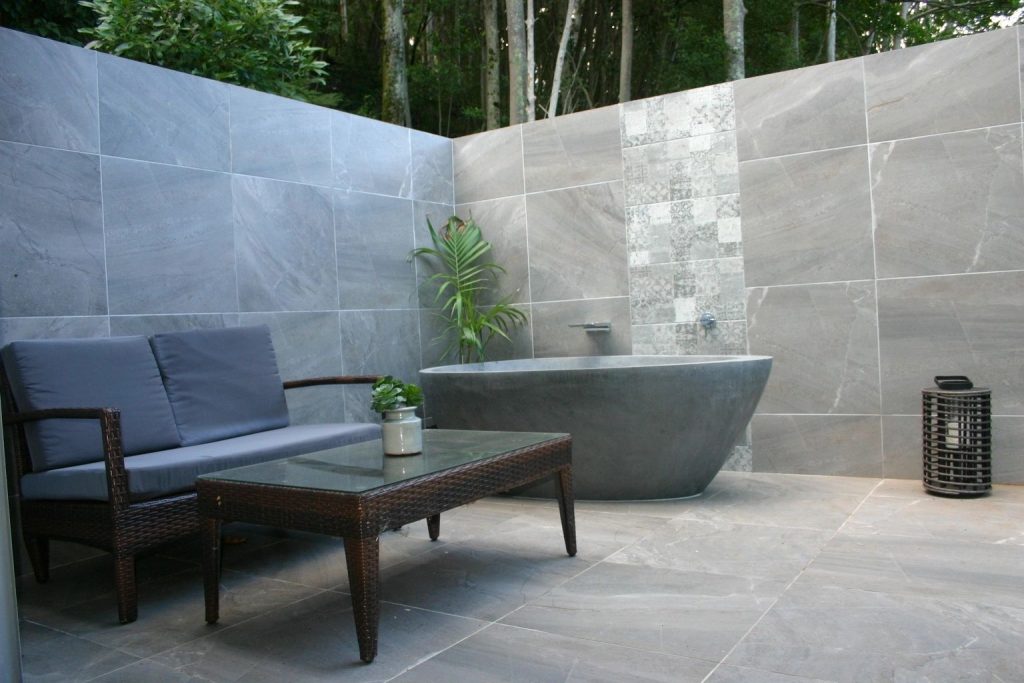 The Currumbin Valley Rainforest Eco Retreat is a sure way to befriend mother nature. It is nestled within dense trees and at a convenient distance from the beach and Currumbin rock pools. This luxury lodge is an adventure waiting to happen.
From heading over to the local bars and pubs for a drink to taking the indoor jet spa, it surprisingly has it all. The retreat is sustainable and luxurious. The bedroom features a red gum timber bed and eco-friendly bamboo sheets. The bathroom has a large jet spa, a shower, and a toilet. There's an outdoor stone bath as well. It also has a fully-equipped kitchenette with laundry, fridge, and microwave. It is powered through a photovoltaic cell system and harvests water from collected rainwater.
Bombah Point Eco Cottages
It would be an absolute shame to visit Australia and not stay at Bombah, an eco-retreat where guests can stay at luxury treehouses. The cottages feature a private master bedroom and an adjacent bathroom. Both are furnished and constructed with timber and wood. It even has a rainwater spa bath. The cottage comes equipped with a fully-functional kitchen that utilizes gas and wood fire to run.
Bombah features a sustainable, open-spaced design to minimize the use of electricity and powers itself through renewable sources. It is family and kid-friendly, as well as being an all-inclusive facility.
The Shed at Broger's End
The Shed at Broger's End is an eco-eclectic family accommodation, which is perfect for your next family vacation. The Shed has been built using sustainable building materials and features an ecological design. It includes 3 bedrooms, 2 bathrooms, a shower, a tub, a fully-functional kitchen, and an outdoor pizza oven. It is also pet-friendly and even has a dog enclosure to keep your buddies safe if you're off to explore without them.
The Shed has electricity but produces it sustainably, making sure that it reduces its carbon footprint. Apart from using solar energy, it has a rainwater catchment system and its own composting system.
Yondah Beach House
If you love the beach but hate the crowd, we might have found your dream place at Yondah, an eco-friendly beach house. Overlooking turquoise hues of water and rustic cliffs, Yondah is so beautiful that it's even the perfect place for a romantic proposal. You can spend your time surfing the waves or making sandcastles at the beach, but at the end of the day, you get to relax in a luxurious bedroom at this exquisite beach house.
It is family and pet-friendly, and it also welcomes assistance dogs! The beach house has three bedrooms, three ensuite bathrooms, a kitchen, a living area, and five decks. It is completely secluded and perfect for introverts or private people to enjoy its picture-perfect sandy beach and iconic wildlife, including kangaroos, sea-eagles, fur seals, and whales. When it comes to sustainability, Yondah is doing its part by installing solar panels, collecting 100% of its water needs with gravity, using biodegradable products, and donating 50% of its profit to The Ocean Cleanup.
Boroka Downs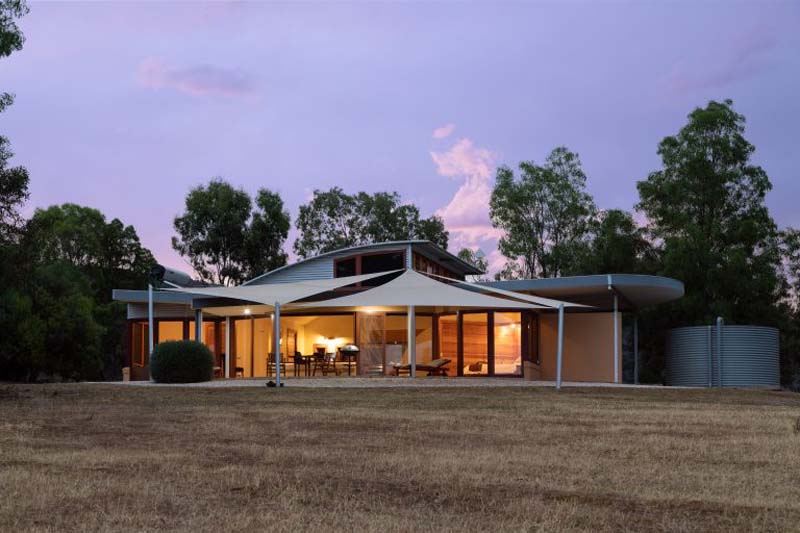 A luxury eco-lodge in the Grampians National Park, Boroka Downs is the perfect combination of haute and nature. For a completely private experience, you can relax at Boroka Downs and enjoy its BBQ and relax with a cold beer when the sun sets down. The resort has a strict no-visitor policy, so you'll truly be with the company you choose.
This Australian luxury eco-lodge, like many others on this list, has reverse air-conditioning, a heated, fully-functional bathroom, a complete kitchen, and great complimentary packages. It runs on solar power, uses grey water for laundry and gardening, sources its food locally and organically, as well as uses biodegradable, allergy-free products.
Canopy Treehouses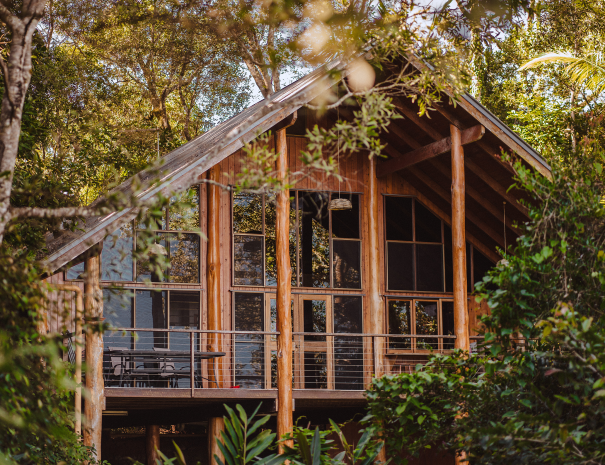 Spend time at Canopy Treehouses, a boutique accommodation securely settled in the Australian rainforest. You'll love to spend time here, listening to the gurgling of tropical waterfalls, singing birds, and the occasional rustling of leaves.
Although the treehouses are completely camouflaged in the woods, you'll find them surprisingly intimate and luxurious inside. With a full kitchen, balconies with hammocks, a private spa-bath, and a relaxing bedroom, Canopy Treehouses are equipped to provide satisfaction.
Of course, these treehouses are eco-friendly and sustainable as they run on renewable power sources, collect rainwater, and produce organic food. An ideal luxury eco-lodge in Australia.
Aquila Eco Lodges
For a luxury nature retreat that's impossible to find unless you're looking for it, head over to Aquila Eco Lodges, deep into the heart of the Grampians National Park. An average stay at these Australian luxury eco-lodges involves waking up to the chirping of birds and the sight of thick, green trees and then heading off for some frothy organic smoothies. Indeed, Aquila is like those fancy places on Instagram at your service.
It offers four lodges for the guests to stay at, each featuring a unique, sustainable design and sporting comfortable indoors. This is one of those luxury eco-lodges in Australia that is even wheelchair-friendly! Whether exploring the park or snapping some roos, Aquila has your back.
And it does so with sustainability! Each lodge uses solar power, reduces greenhouse gas emission, recycle water, and composts, and has its own waste management system. Perfect for eco-tourists who care for the environment!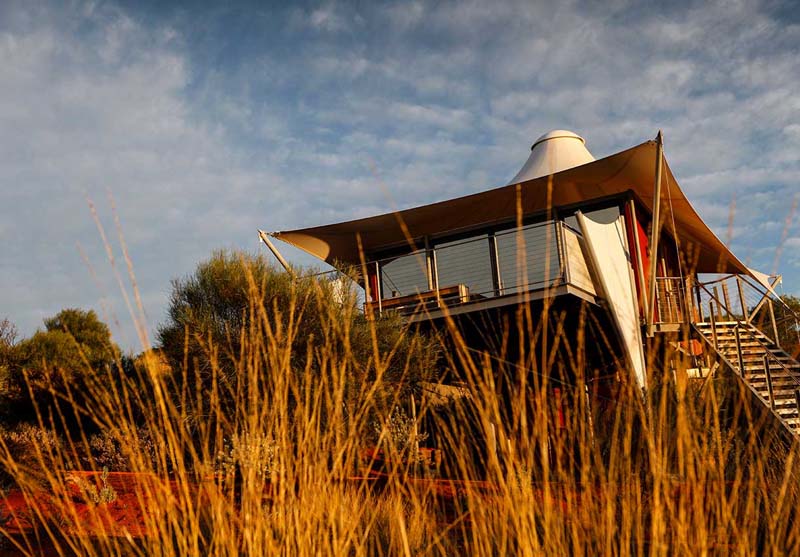 If you're thinking, "but are there luxury eco-lodges in Australia that are not in the rainforest?" take a look at Longitude 131. It sits near the Australian Red Centre, a classic outback featuring sand dunes and cacti. The lodges feature an ecological but marvelously luxurious design. You'll find a pool, a bar, a restaurant, and a spa kinara.
Longitude 131 also commits to the environment by featuring an energy-efficient design and running sustainably. The tents have thermal and acoustic insulation and are covered in natural stone for natural cooling in the summer and insulation in the winter. Interestingly, the tents at the lodging are designed to "float" above the desert floor to avoid environmental disruption.
Map of these 15 Australian luxury eco-lodges
As you can see, there are plenty of unique and beautiful eco-lodges in Australia, and you will be spoilt for choice if you are searching for a sustainable holiday.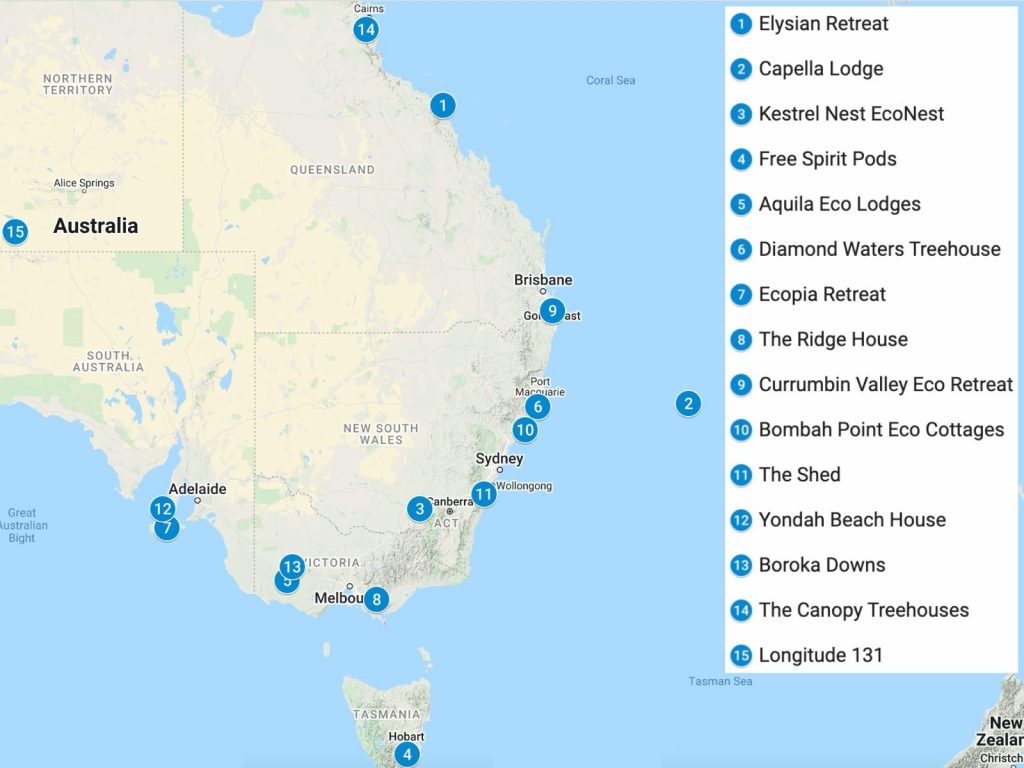 BROWSE THROUGH our directory for the most sustainable eco-lodges around the world if you want to experience something unique, authentic, and exciting.
Explore the best eco-lodges in other regions