13 Most Sustainable Eco-Lodges in Cornwall
With its stunning coastlines, warm weather, and variety of wildlife, Cornwall is the perfect destination to visit for a sustainable holiday. This part of England has a wide variety of eco-friendly accommodation available ranging from lodges, shepherd huts, eco-pods, converted railway carriages, and even a quirky horsebox! Every accommodation on this list has been hand-picked, to find you the best eco-lodges in Cornwall. Each one is environmentally friendly and offers something unique.
What are eco-lodges?
Eco-lodges are accommodations in undisturbed, remote natural areas where both construction and operation have the lowest impact possible on the environment. They are not only part of the local community, but they are active participants in protecting nature and culturally sensitive areas.
Cotna Eco Retreat
Cotna's ethos is to maintain natural beauty, avoid pollution through recycling and reusing everything they can, and manage their waste responsibly. As well as providing eco-products such as shampoo and washing up liquid, Cotna also provides sufficient food for everyone who stays here in their gardens.
If you're looking for a variety of eco-lodges in Cornwall, then this site will have what you need. You can choose to stay in one of their stylish yurts, a shepherd's hut, or a strawbale studio. Cotna also has several experiences available for guests including "a walk on the wide side", "no-dig gardening", and a variety of cooking/baking lessons.
Rosehill Lodges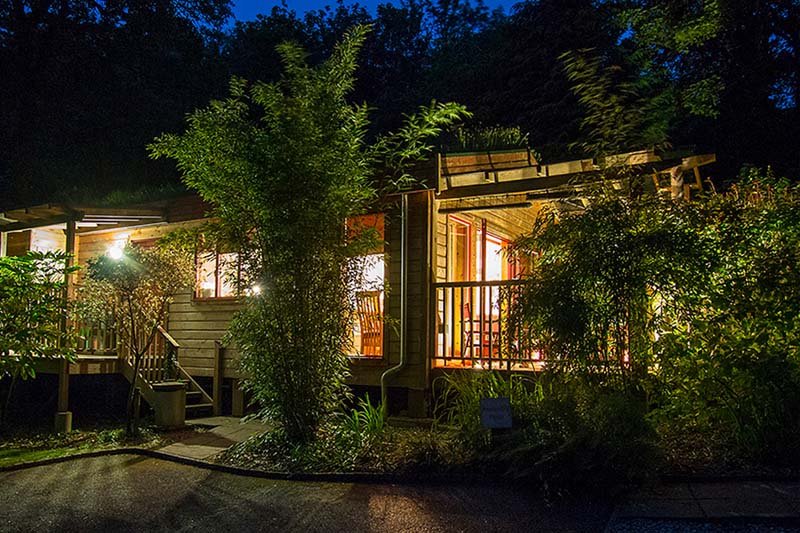 If you're looking for luxury lodges in Cornwall that are eco-friendly then Rosehill may be the place for you! They pride themselves on protecting the environment and creating a haven for wildlife by creating ponds, and small waterfalls and installing bird boxes.
Each lodge is also made with reclaimed materials where possible, with a grass roof, solar panels, and a log burner for biomass space heating. Situated in a beautiful wooded setting, just minutes from the Atlantic Ocean these stunning lodges are in the perfect location. With large hot tubs and a decking area that faces directly into the woodland, it allows you to search for local wildlife and relax in nature.
Kudhva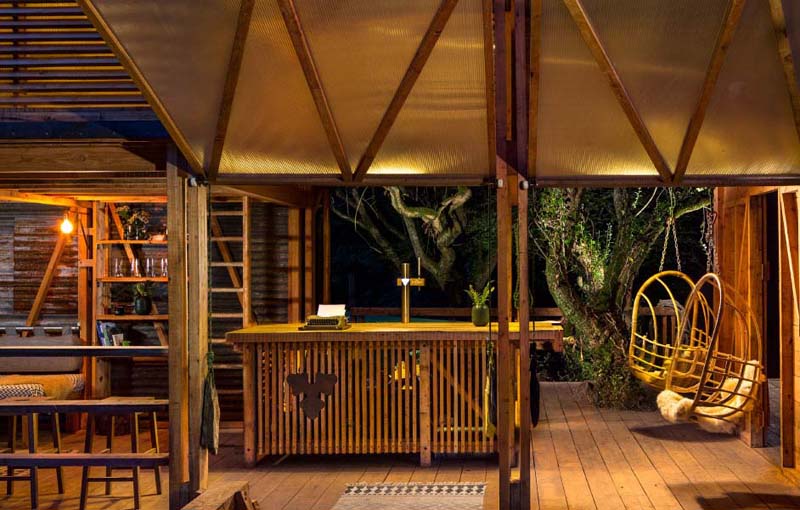 Kudhva is completely off-grid. Solar power and their own natural water supply feed the site, meaning they don't rely on mains gas, electricity, or water. Kudhva tries to source products responsibly as much as possible, and consider the life cycle of everything they purchase. It's also their aim to reduce the amount of waste sent to landfills.
When it comes to unique eco-lodges in Cornwall, Kudhva stands out from the rest. Their unique cabins are raised high above the ground on wooden legs and give beautiful views of the coast. They also have other accommodation to stay at including their Danish Cabin, Tentsile tree tents, and Shanti tipis.
Atlantic View Lodges
Atlantic View Lodges aims to reduce the environmental impact of their buildings by measuring their carbon footprint at every stage. There is no oil or gas on-site, as all energy is used from renewable sources, and local, sustainable wood is used for the log burners. A percentage of their profit is also donated to 'Surfers against Sewage' to support the fight against climate change, water quality, and marine litter.
These award-winning eco-lodges have some of the most breathtaking views in the country, and if you're an ocean lover you don't want to miss out on this one. It's less than a minute walk to the beach, and there is a large private terrace outside each lodge. Each comes with a barbeque and recliners, so you can sit and admire the beautiful views.
Gwelan Mor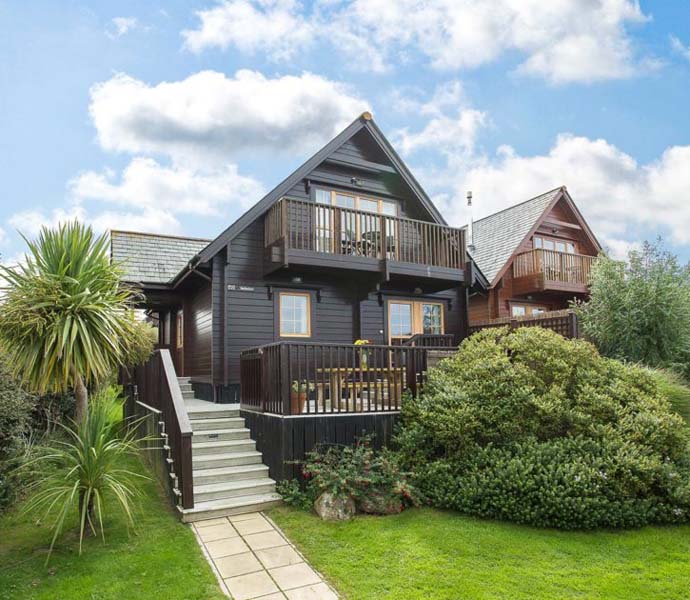 Gwelan Mor works to reduce their footprint on the environment by looking at their waste production, water and energy use, and the protection of local wildlife. Recycling opportunities are provided for guests, and each lodge has water reduction equipment to reduce water wastage. The lodges have also been built with environmentally friendly materials.
Aside from the beautiful lodges, Gwelan Mor also offers something incredibly special. They have a wildlife center full of rescued animals that couldn't be released back into the wild. The animals located at the center include foxes, owls, emus, pygmy goats, and reindeers among others. The center aims to educate guests about the environment and wildlife, and what they can do to protect them.
Merlin Farm Holiday Cottages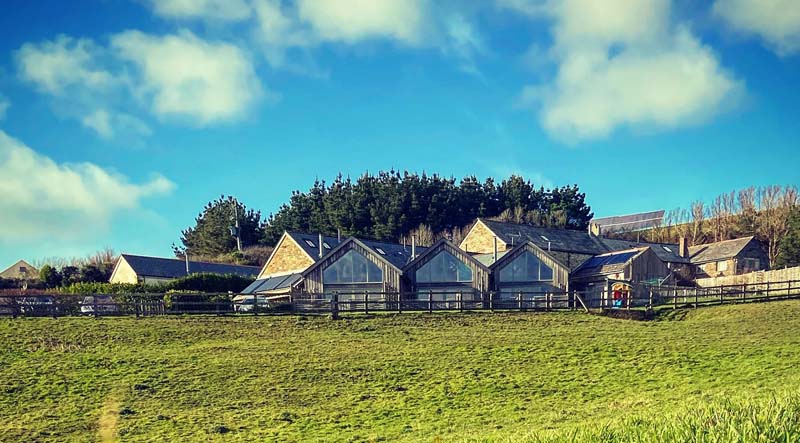 Merlin Farm Holiday Cottages is committed to being environmentally friendly by reducing waste, conserving water, reducing energy consumption, and using eco-friendly products. The site is dog friendly, and they have even created a dog poo composter to reduce waste even further.
Merlin Farm also works hard to encourage wildlife by fitting specialist boxes around the site for barn owls and bats. There are four eco-friendly converted barns located on-site. Each comes equipped with a log burner, underfloor heating, and a large outside area making them the definition of comfort. Aside from the stunning lodges, Merlin Farm offers a 'Glo-Pamper' package where you can experience spa treatments in your own cottage.
Ekopod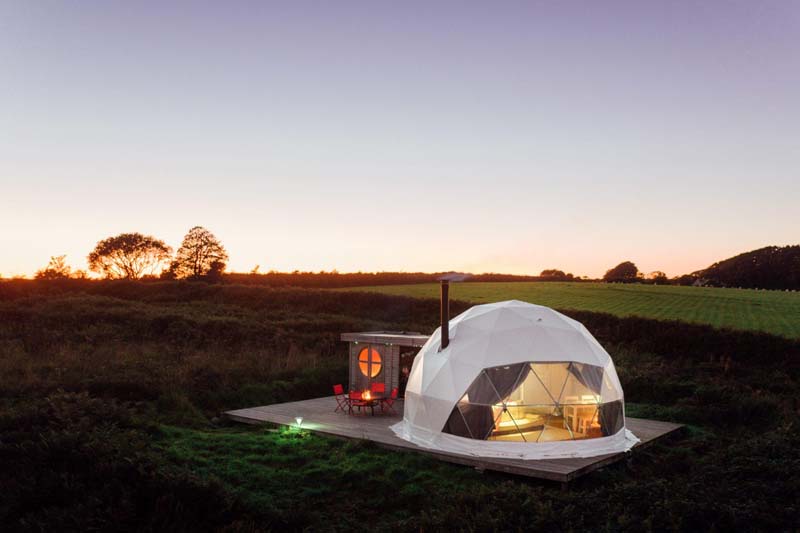 Ekopod is an off-grid site, so there is no wifi or electricity in the pods which gives you the perfect opportunity to disconnect. Water is provided by their onsite spring, and there is also a biodigester for waste. They are also currently working with a local ecologist to survey their site, and draw up a plan to help create more biodiversity.
Ekopod currently has a variety of accommodation available including their geodomes, glamping pods, and large safari tents to make your trip truly unique. With a super king-size bed, sofa, and hammock chair these pods are incredibly cozy. However, the best seller has to be the bathtubs within the geodomes. They are heated by a wood-burning stove and have a skylight above so you can stargaze from your bath.
Mount Pleasant Eco Park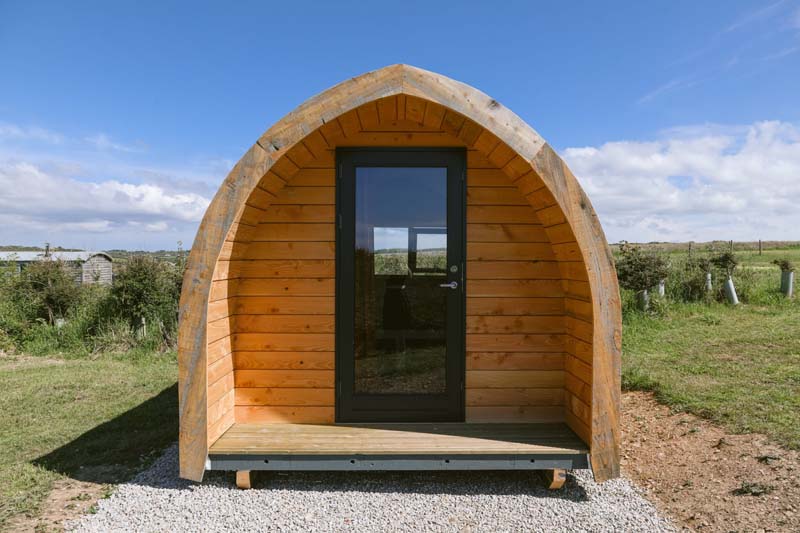 Mount Pleasant Eco Park has a wind turbine located on-site to produce energy and solar-powered showers. Not only are they sustainable, but they also have their own not-for-profit charity called the 'Down to Earth Foundation. It's dedicated to creating natural habitat at the site and increasing biodiversity and corridors for wildlife.
If you're looking for unique wooden eco-lodges in Cornwall, then Mount Pleasant Eco Park is a great choice. There are either shepherd's hurts or eco pods to choose from, and each accommodation is fully insulated, with USB charging points and beautiful views of the Atlantic Ocean.
Wooda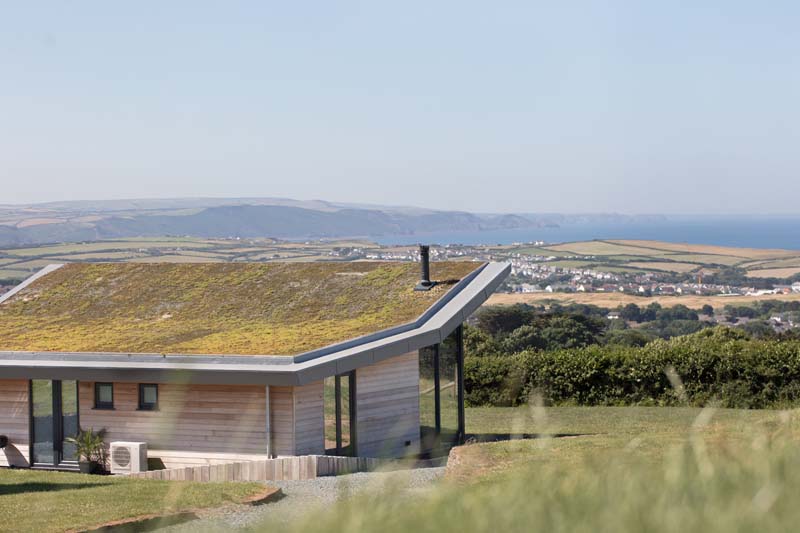 Wooda is dedicated to making a difference in climate change through its sustainable tourism practices. These include using water-saving devices and using groundwater to feed the toilet and shower systems. As well as this, the site uses solar panels to provide electricity and buys locally sourced produce to reduce its carbon footprint.
The highlight of the holiday park is Gwelva Hills – a collection of luxury eco-lodges that overlook the coast. With a spacious open plan setting, log burner, and beautiful reflective glass windows, this spot is perfect for a relaxing getaway. If you're looking for stunning holiday lodges in Cornwall with a great view, this may be the palace for you!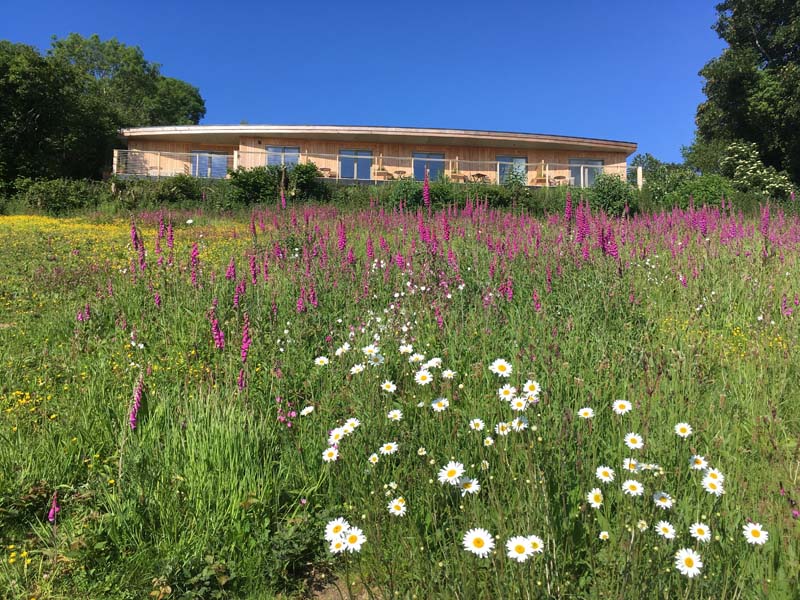 The Sanctuary offers sustainable zero-carbon living at its accommodation. They have chosen to be completely off the grid by using solar power for electricity and heating and supplying water via a borehole. All their cleaning products are eco-friendly and they provide a recycling bin, and a composting caddy to reduce the site's waste.
Primarily a bed and breakfast, the Sanctuary has four en-suite bedrooms plus the Barn Owl Suite which all have panoramic views over the river. In 2022, they are also welcoming guests to stay in their new eco pods to get even closer to nature. As well as their stunning accommodation options, the site is situated in an area of outstanding beauty, and there are 12 acres of mixed woodland and pasture to explore.
Tree of Life Horsebox Holidays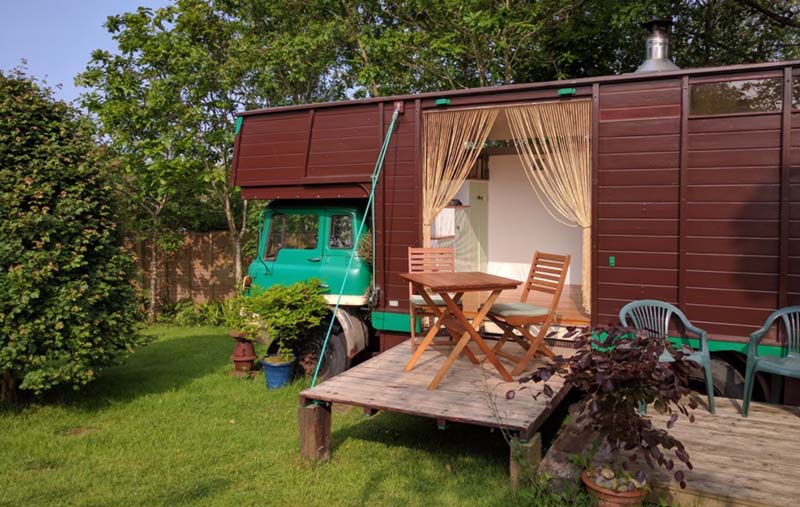 The Tree of Life Horsebox Holidays is located on an organic, smallholding in Cornwall. This place is truly off the grid with solar electricity, a composting toilet, and reed bed filtration for wastewater. Guests also have access to any seasonal vegetable that is growing at the time and will be welcomed with locally sourced Cornish cream tea.
When it comes to eco-lodges in Cornwall, there is a wide variety across the country. However, this place is truly unique as they have converted a traditional wooden horsebox into spacious accommodation. It's situated in a small wooded area with a secure private garden making it perfect for pets.
At Windsworth you have the opportunity to stay in the beautiful Old Coach House. The lighting within the house is sourced from solar energy, and the hot water and heating are fuelled by the wood burner range. There is no mains electricity or gas, making this property completely off-grid.
With its beautiful interior, king-sized bed, and a large private garden, this property has everything you could need. There are even musical instruments located within the property if you know how to play! However, the highlight of this place is the hand-built hot tub where you can relax and stargaze. Aside from this, you will have plenty of privacy as there is no other house in sight.
Railholiday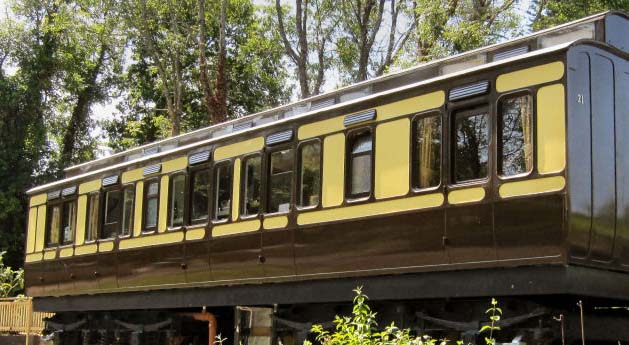 Sustainability is incredibly important to Railholiday, with all of their accommodation being run on national renewable energy schemes. Depending on which accommodation you choose the heating is either fulled by a biomass boiler or by wood burners, and they even offer a £50 discount if you arrive at Railholiday via public transport.
If you are looking for unique Cornwall Lodges, and aren't after a normal lodge experience then Railholiday may be the one for you! Each accommodation is a converted train carriage, and they are located throughout different areas of Cornwall. Many of the carriages even come with an outdoor area, and bbq so you can truly make the most out of your visit.
Map of the most sustainable Eco-Lodges in Cornwall
As you can see there are plenty of beautiful and unique eco-lodges in Cornwall. Whether you're looking for a romantic getaway for two or a family retreat, you will be spoilt for choice if you're searching for a sustainable holiday.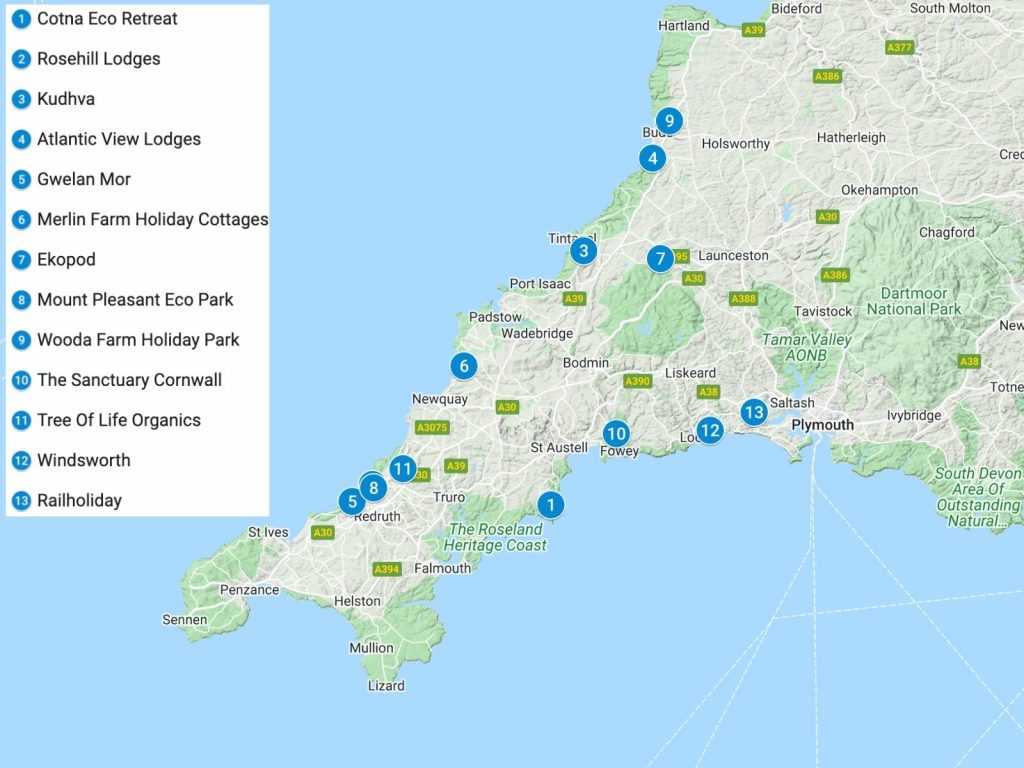 BROWSE THROUGH our directory for the most sustainable eco-lodges around the world if you want to experience something unique, authentic, and exciting.
Explore the best eco-lodges in other regions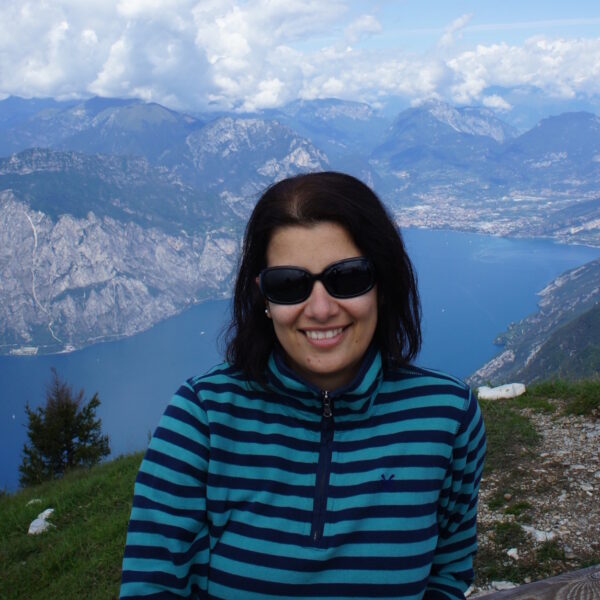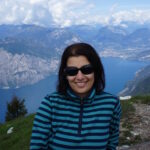 Emese Maczko is a travel blogger behind Eco Lodges Anywhere. Having explored several destinations around Europe, the US, Indonesia, and Australia, and resided in Germany, the United Kingdom, and Luxembourg, Emese possesses a keen understanding of diverse cultures and an appreciation for the beauty of each destination she visits. She advocates for sustainable travel and ecotourism.