7 Most Sustainable Eco-Lodges in Sri Lanka
Sri Lanka is brimming with diversity, culture and enriched with traditions. This South-Asian country is a rare beauty. It is one of the most diverse places on earth and comes with elusive natural blessings. From wild animals that inhabit the country to gorgeous lakes and mighty mountains, Sri Lanka is blessed by mother nature.
What makes it truly magnificent is its continuous dedication to protecting its nature and heritage. You'll be pleasantly surprised to find that most eco-lodges in Sri Lanka are starting sustainable initiatives to go green. So, if you're an eco-tourist or someone who would love to explore the wild and beautiful side of Sri Lanka but also want to keep your carbon footprint to a minimum, you have to check out these unique eco-lodges in Sri Lanka:
What are eco-lodges?
Eco-lodges are accommodations in undisturbed, remote natural areas where both construction and operation have the lowest impact possible on the environment. They are not only part of the local community, but they are active participants in protecting nature and culturally sensitive areas.
BROWSE THROUGH our directory for the most sustainable eco-lodges worldwide to experience something unique, authentic, and exciting.
Rainforest Ecolodge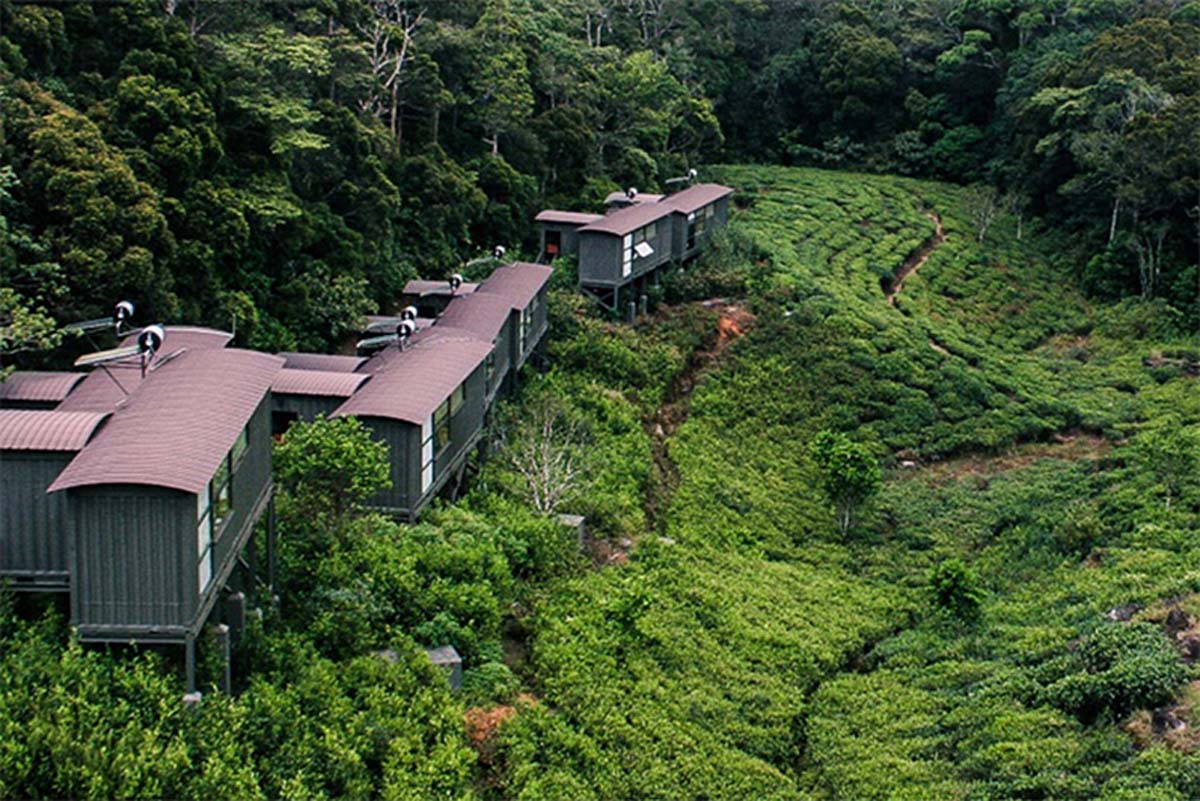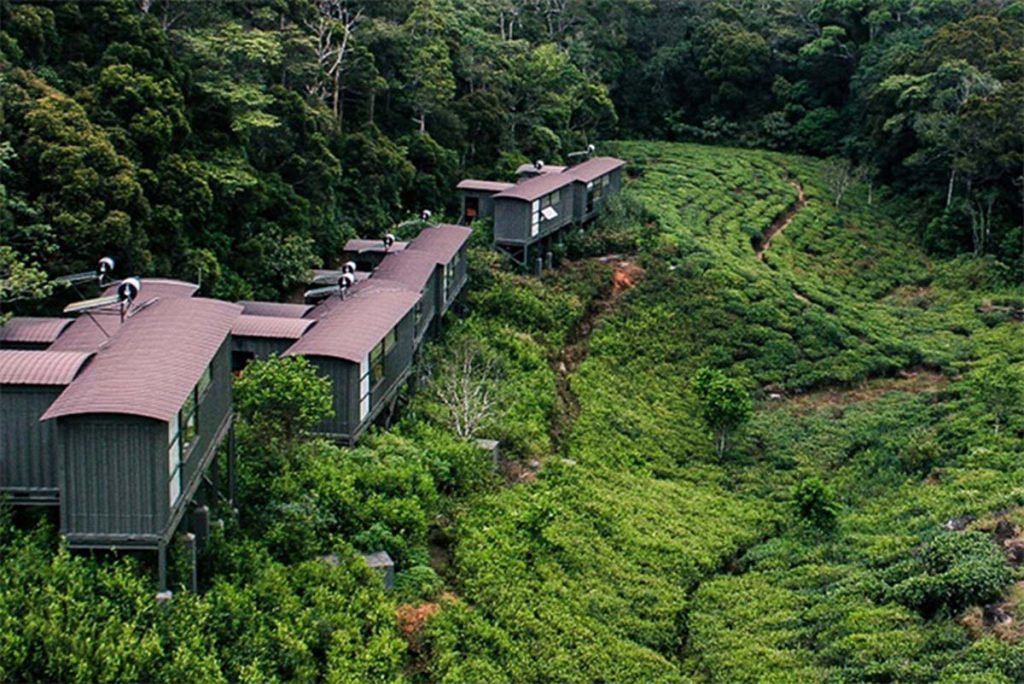 Near Sinharaja, you'll find the Rainforest Ecolodge completely embedded within the rainforest. This eco-lodge sits in a sectioned portion of the rainforest between lush green trees, which is why it's the ideal place to go for anyone who wants to immerse themselves in nature truly. It provides a sensational forest experience through open-design spacious chalets giving you breathtaking views.
The eco-lodge offers 16 chalets decorated with bamboo interiors and consists of a bedroom, a bathroom, a living area, and a private deck. Guests find themselves in heaven after waking up to the birds chirping and squirrels running here and there.
There is no disruption to wildlife or the rainforest because it is completely sustainable, taking several eco-friendly and green measures. For example, they chose sustainable building materials to build this eco-lodge. The deck of the chalets is built with rejected railway sleepers, and the chalets are constructed from bamboo and timber.
Because the area catches a lot of rain and frequent sun, it powers on renewable sources and collects rainwater for usage. In addition, it encourages a healthy lifestyle by providing organic food.
Polwaththa Eco Lodges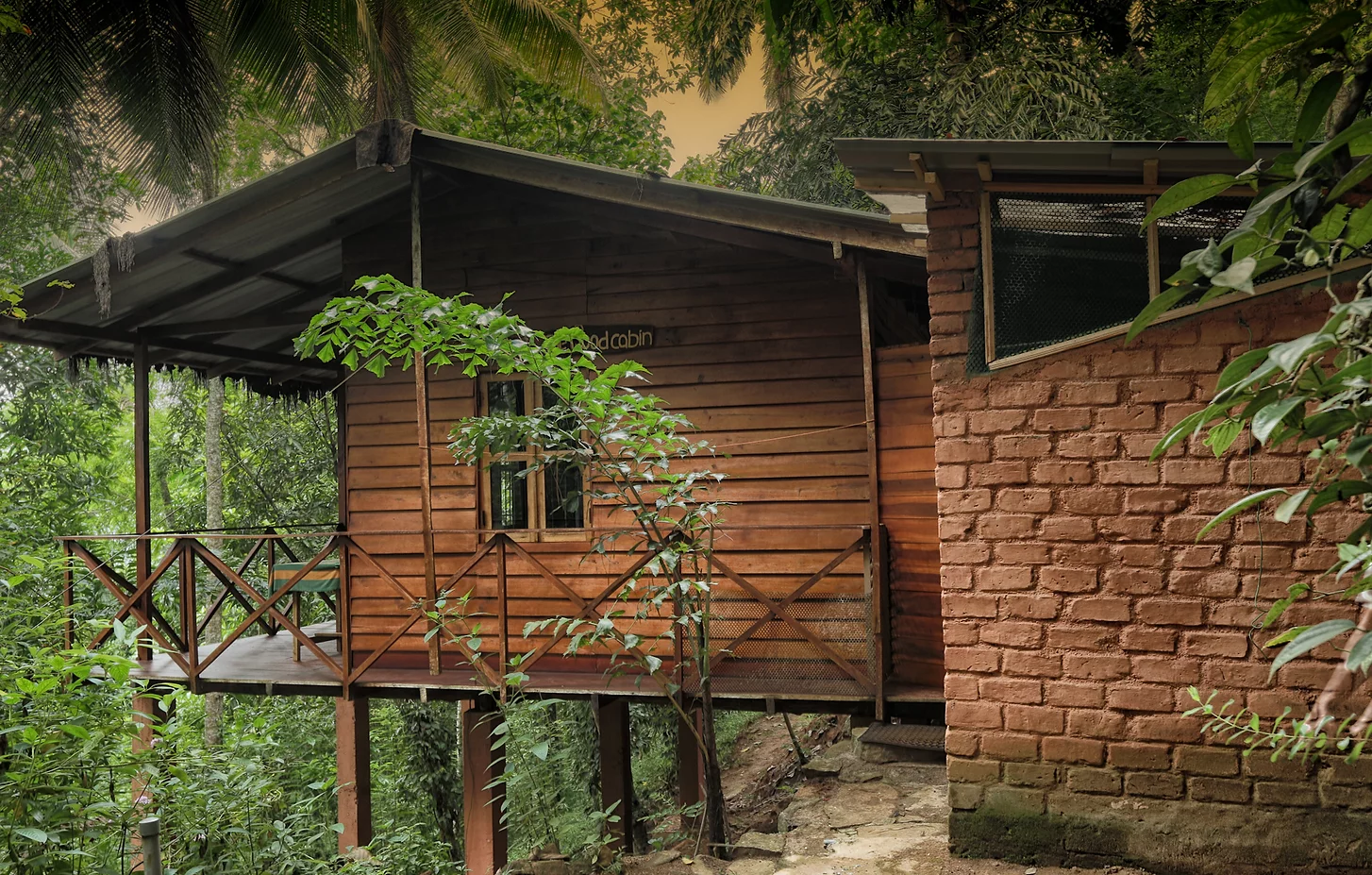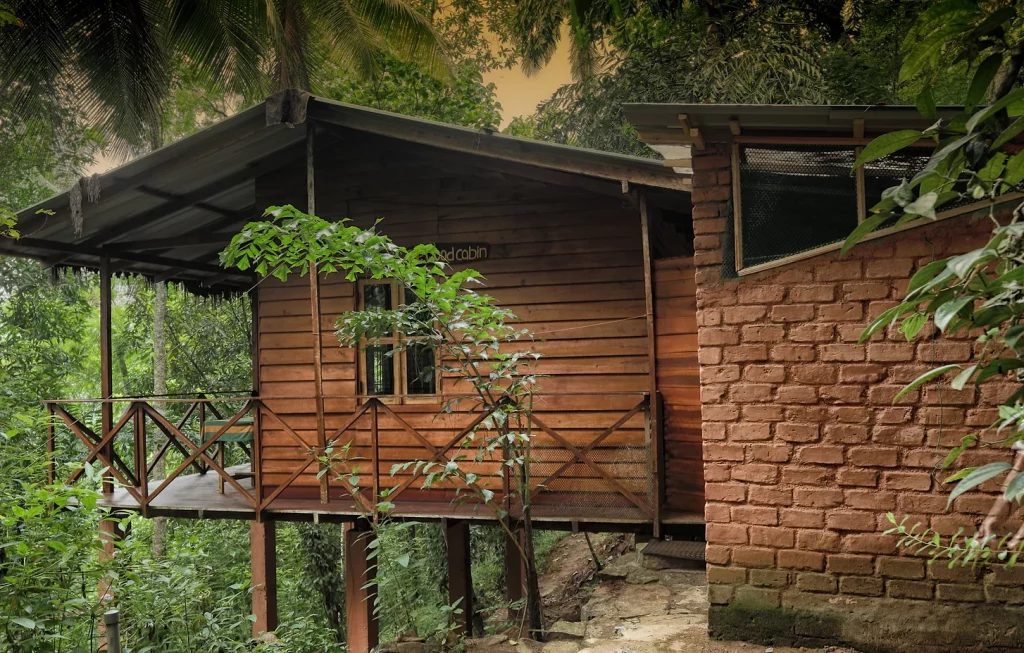 Imagine spending your time trekking through the thick trees of a jungle, doing peaceful yoga against the dramatic backdrop of mountains, and frequently visiting a nearby waterfall for picnics. Imagine getting tired at the end of the day and being able to relax in a natural but regal hut. If you're done imagining and would like to turn this imagination into reality, all you have to do is head to Polwaththa Eco Lodge.
Polwaththa Eco Lodge is surrounded by a Sri Lankan jungle, rice fields, and tea plantations and overlooks the infamous Knuckles Mountains. If you're hoping for a place that ticks all the boxes not only on the outside but also on the inside, then Polwaththa is the ideal place for you.
It encourages local and rural life by inviting you to its nature retreat. The eco-lodge lacks air-conditioning, televisions, or tiled floors but it is an experience that's truly down-to-earth. All lodges feature comfortable beds, hot showers, clean bathrooms, a large balcony, and an airy seating area.
Polwaththa is completely off-the-grid. All power is generated through solar panels, and the lodges utilize low-energy LED bulbs for lighting. It also frequently partakes in environment and forest conservation projects and looks to the local community for all endeavors.
Back of Beyond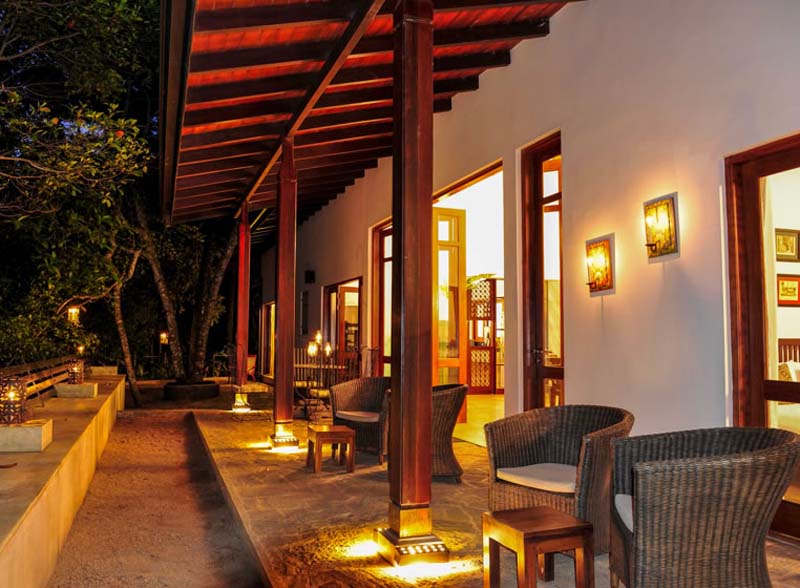 Back of Beyond is one of the most popular eco-lodges in Sri Lanka, and a visit there will tell you why. It is not just one place; it's a collection of landmarks situated all over Sri Lanka, giving travelers the comfort of a home in rugged terrains and bushy plains. Whether lounging on a deck chair, soaking in the glistening Sri Lankan sun, or spending a day in Sri Lankan nature and coming back for a soothing cup of tea, Back of Beyond has your back.
Back of Beyond offers romantic and ecological hideaways in various shapes and sizes; whether you choose to stay in its Jungle Hideaway Lodge near Pidurangala or the Weir House in Kandy, you're bound to find an authentic experience.
Back of Beyond is completely off-the-grid. It also runs through sustainable means and practices and encourages eco-friendly tourism.
Backwaters Lodge
Rustic, serene, and luxurious. Backwaters Lodge is the perfect place for a sojourn in Sri Lanka. It offers luxurious rooms tucked away in the middle of the jungle in New Eluwankanawa, Puttalam.
At the lodge, you'll find yourself in treehouse-like lodges which completely blend in with nature. Inside, the bedroom will feature a cozy double bed, A/C, electric kettle, and complimentary toiletries. The lodges are screened from wild animals with a sliding mesh door and a thick structure, so you can sleep without having to keep an eye open.
Backwaters Lodge is remarkably responsible when it comes to the local community and environment. It has recorded almost zero carbon emissions and has installed a solar system to power itself. The lodge has a strict no-plastics policy and uses only recyclable/biodegradable products. It sources its food locally and organically.
Backwaters Lodge also frequently uses recycled or sustainable building materials for construction. For example, shipping containers were used to construct the lodges, and smaller drums were recycled into comfortable benches. The local community is also well-adjusted at Backwaters Lodge, as it supports local businesses and encourages women professionals.
Kalundewa Retreat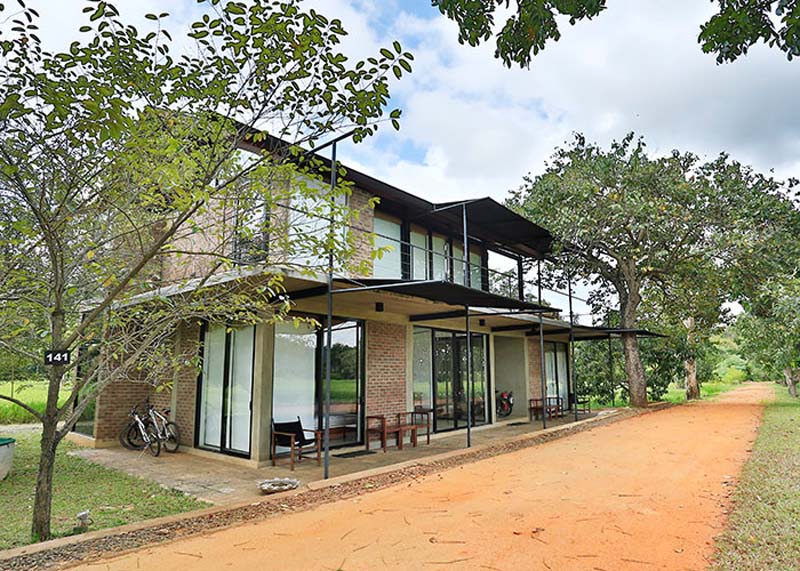 You'll find the Kalundewa Retreat in Dambulu Oya, a cloudy area with lush green mountains and refreshing grasslands. It features 9 eco-friendly lodges, which they call chalets for guests to stay in. Each chalet is furnished exquisitely with the finest furniture and is dressed in luxury. The chalets have their own deck and a fully-functional indoor bathroom.
This eco-lodge is also completely sustainable. The chalets have an open-air design to minimize the need for air-conditioning. Even if you do end up needing it, you can rely on its own solar farm to power you up. Kalundewa Retreat takes pride in agriculture and produces organic food from its own organic gardens, where you'll find plants, vegetables, and even honey.
Kodev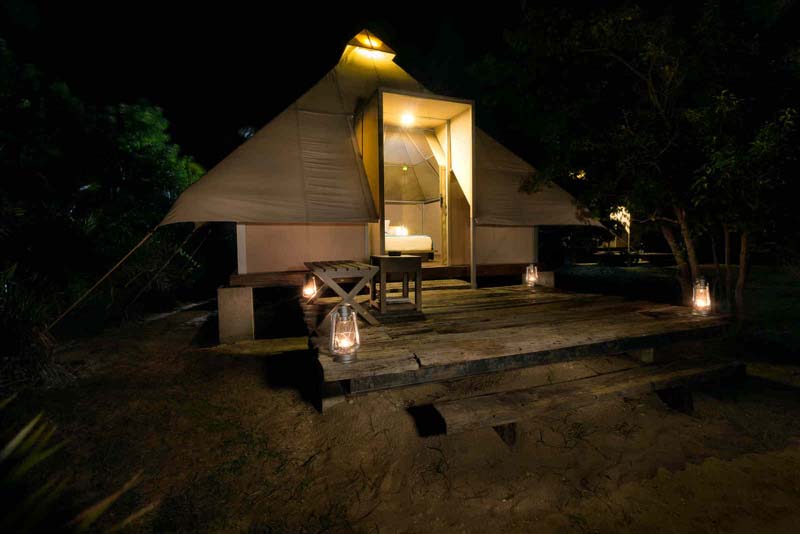 Situated in the serene and diverse town of Kalpitiya, Kodev is an adventurous, luxurious, and close-to-nature resort that offers guests the rare chance to stretch their legs and connect with nature at the same time.
Kodev is a stunning eco-lodge that hosts its guests in luxurious eco-tents in its own glamping site and ensures that each guest is having the time of their lifetime. Its wilderness tents were constructed with the environment in mind, so they're completely safe and well-protected. The tents also complement the natural tones of the sandy beach they're located on, which is why the animals are friendly and frequently cross the area.
All power to the eco-lodge is generated through solar panels. The same solar system provides heat to the water on the lodge. The water itself is brought in via water browsers, which is why the eco-lodge stresses keeping water consumption to a minimum. It also looks toward a refreshing lagoon and has a spacious design that permits soothing ventilation year-round, reducing the need for A/C.
Lastly, this Sri Lankan eco-lodge also empowers the local communities by sourcing all its food and produce from local farms and hiring locals for work when needed.
Yala Safari Glamping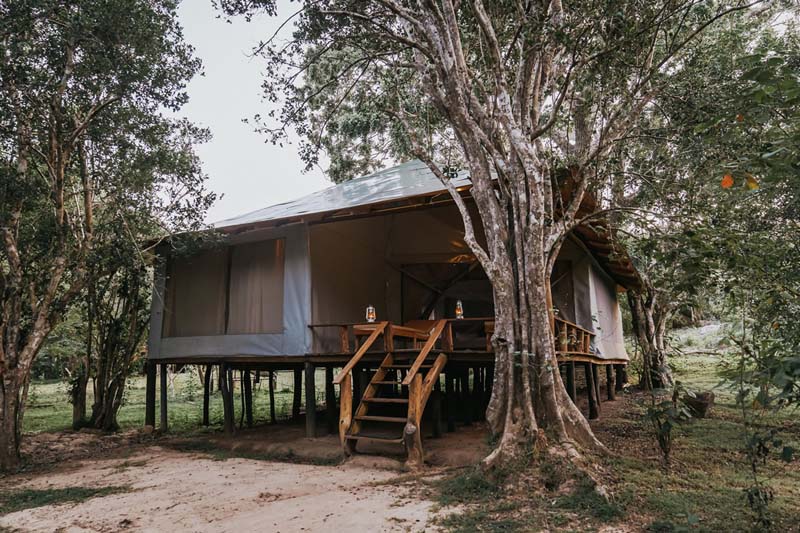 Yala Safari promises an exquisite glamping experience through its several campsites, each featuring a green and serene design. Yala Safari's campsite is located in the Yala National Park and acts as a gateway to mother nature. Surrounded by lush green vegetation and overlooking the gorgeous park, this glamping site is perfectly equipped to handle all your nature-loving demands.
The campsite is eco-friendly and sustainable. It runs completely on solar power, and to reduce the need for air-conditioning or excessive electricity use, it has been lined with Palmyra leaves, a natural temperature controller.
The campsite features king-size beds constructed out of local wood and has its own ensuite, fully functional bathroom (that even has a bathtub). There is an open dining area and an outdoor fire pit for all your BBQ experiments.
Although the Glamping site is within the national park, it is completely screened off and safe for stays. A professional chef delivers you mouth-watering food prepared from fresh, locally-grown, and organic ingredients. The campsite is family-friendly and allows you to celebrate birthdays and other family gatherings!
Map of these 7 eco-lodges in Sri Lanka
As you can see, there are plenty of unique and beautiful eco-lodges in Sri Lanka, and you will be spoiled for choice if you are searching for a sustainable holiday.
BROWSE THROUGH our directory for the most sustainable eco-lodges around the world if you want to experience something unique, authentic, and exciting.