6 Most Sustainable Eco-Lodges in Puerto Rico
You'll find Puerto Rico rich in culture, traditions, and beauty. Vastly spreading over the Caribbean Sea, this island is endowed with magnificent mountains, numerous mystical waterfalls, several bioluminescent bays, and an extensive rainforest that makes Puerto Rico one of the most beautiful places on earth.
And, as blessed it is by mother nature, with great power comes great responsibility, which is exactly why Puerto Rico has started investing in eco-lodges and eco-hotels. Because after all, isn't nature all about giving to others? The island has only recently initiated a greener, eco-friendly living system, which is why the number of eco-friendly lodges is still a little low. But, if you're looking for the best eco-lodges in Puerto Rico, here's where to find them.
What are eco-lodges?
Eco-lodges are accommodations in undisturbed, remote natural areas where both construction and operation have the lowest impact possible on the environment. They are not only part of the local community, but they are active participants in protecting nature and culturally sensitive areas.
BROWSE THROUGH our directory for the most sustainable eco-lodges worldwide to experience something unique, authentic, and exciting.
Puerto Rican Eco-Lodges
Here is a map to see where these six eco-lodges are located:
Hix Island House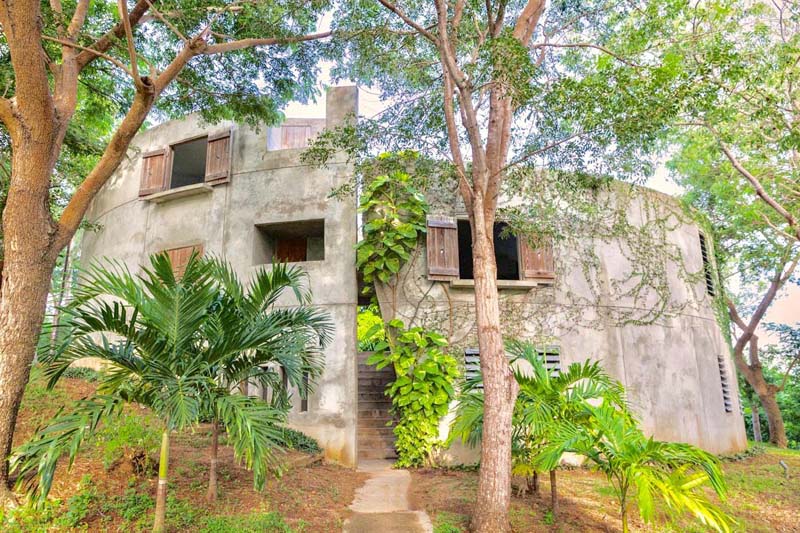 Imagine you, staring across a vividly beautiful landscape featuring an insane sunset amidst green trees while eating a bowl of organic fruit as you breathe in the refreshing air. Does it sound like heaven? Because that's exactly what the Hix Island House is like, and if you're looking for an astonishingly pleasant stay, there's nowhere better than here.
The Hix Island House was one of the first Puerto Rican eco-lodges, and this is why it takes the top of the list. Rustically built to match its beautiful environment, the Hix Island House comes across as the perfect combination of simplicity and sophistication. Located in Spanish Virgin Island, Vieques, the Hix Island House was designed to be sustainable; its building caters to the region's climate, topography, and weather, so the use of power is kept to a minimum.
The outdoor showers use the sun's natural heat to warm the water and irrigate the island. The retreat uses solar panels to run electricity. The natural garden was built on previous overgrowths and is secluded to protect its various residents, which include mango, cacti, papaya, banana, and guava.
The Hix Island House is determined to provide you with a stay of absolute bliss and grandeur. So, stop muddling over other options and make your booking now!
Finca Victoria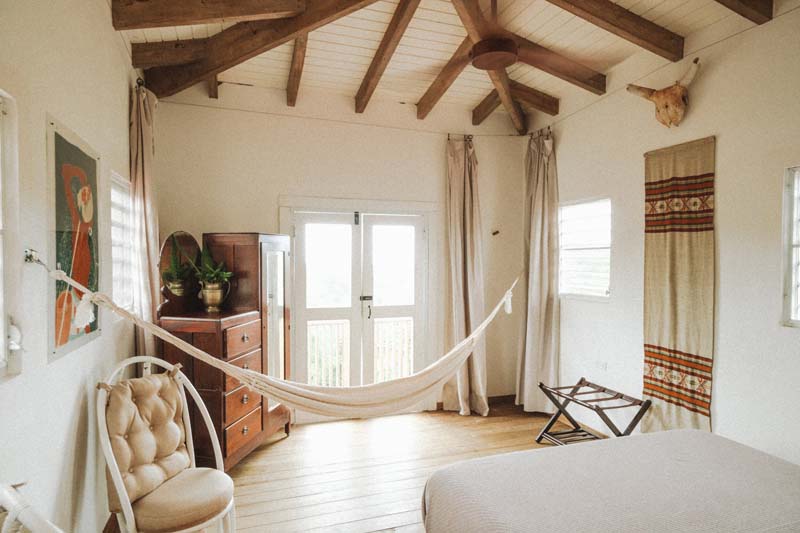 The Finca Victoria Hotel is a hidden retreat in Vieques, Puerto Rico, and is thankfully completely eco-friendly. The farmhouse-style bed and breakfast resort offers visitors the chance of staying in an eco-friendly vintage setting and is surprisingly upbeat.
All rooms are decorated in vintage local woodworks and art and are so air, you will not need air-conditioning because of the local climate. Finca Victoria has designated herb, medicine, and edible gardens from which it provides its guests mouth-watering organic food. An ayurvedic kitchen complements an apothecary where guests can enjoy numerous services. The resort does use electricity but keeps the usage minimum in order to keep true to its cause. The electricity used at the resort comes from renewable energy, so you won't have to worry about anything.
Finca Victoria is the ideal place for anyone who wants an experience that's not too fancy or too close to nature; this eco-friendly farmhouse is the best place to enjoy a casual stay. In addition, Finca Victoria is also family-friendly; the staff is always ready to come out and help in case you're struggling to handle the kids, which makes the eco farmhouse an even better choice for accommodation.
The Rainforest Inn B&B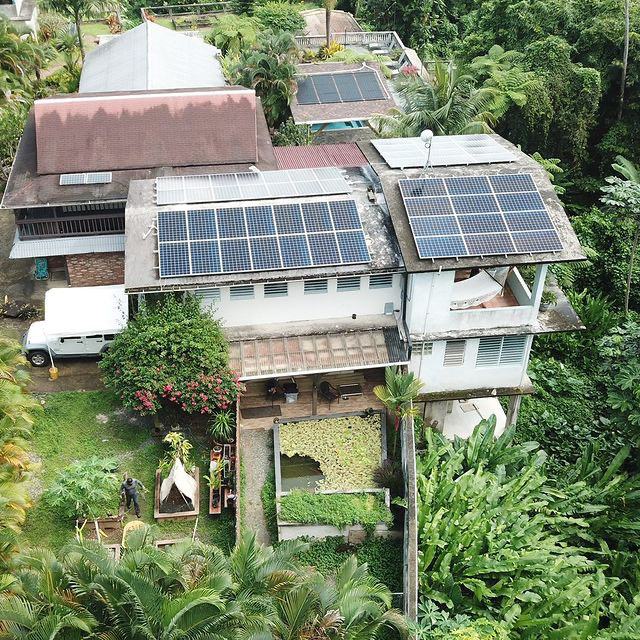 Just a little distance from El Yunque National Forest lies the Rainforest Inn B&B. Completely surrounded by lush green trees, this B&B goes beyond expectations to ensure that its visitors are staying in seclusion. Featuring an all-natural koi pond crowded by manicured grounds, the Rainforest Inn B&B brings you closer to nature.
It only uses warm LED lights to reduce electricity, and any electricity used comes from renewable sources. They use photovoltaic systems, which you can see on the roof in the above picture.
The Rainforest Inn B&B has a spacious open-air design that features high roofs, allowing natural air to ventilate at all times, so it does not need to invest in air-conditioning. The Inn also refrains from using any chemicals and pesticides and encourages guests to use biodegradable products obtained from the local markets. In addition, the inn uses composting to prevent waste and collects rainwater for its water needs.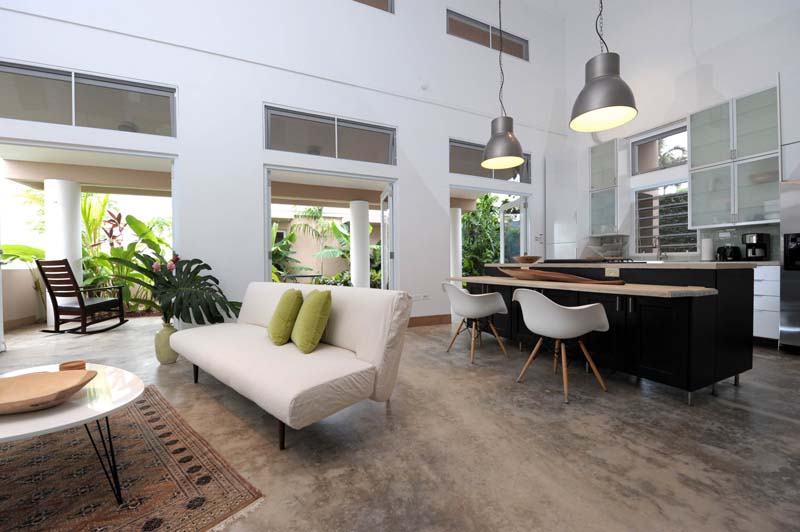 4 Casitas in Cabo Rojo is not your average eco-friendly lodge; just a step in, and you'll realize how magnificent and luxurious it is. 4 Casitas is extremely popular in Puerto Rico, and you're about to find out why. Not only does it offer a stay of extreme luxury but does so without compromising on nature.
Guests can stay in three types of Casitas, each furnished with the finest furniture and equipped with a fully functional bathroom. The casitas also have a soaking pool, a full kitchen, and a shared courtyard. 4 Casitas produce organic food from ingredients obtained from local farms that practice ecological farming methods.
The casitas were designed sustainably, specifically keeping in mind the farming community; all casitas have a spacious design with heightened ceilings and strategic window placements, perfect for natural ventilation and reducing the need for air-conditioning. 4 Casitas runs on renewable energy and has its own rainwater harvesting system which provides the casitas with water. The same water is re-purified and used to irrigate the local farms, so the eco-lodge has a stronghold on sustainability.
Coqui's Hideaway Rainforest Villa is an El Yunque lodging in the Rio Grande and is one of the most beautiful ways to experience life in a rainforest. Coqui's Hideaway Rainforest Villa lies in an isolated section of the El Yunque National Forest, completely surrounded by tropical trees, providing the perfect camouflage for anyone who wants to blend in with nature.
The lodges are furnished with comfortable furniture, which makes you feel right at home. Coqui's Hideaway Rainforest Villa uses a photovoltaic (PV) solar system, which powers 94% of the eco-lodge. The rainforest villa also uses white roofing to prevent heat gain, which efficiently reduces the need for air-conditioning, but if you do happen to need it, the same PV solar system provides power to split air-conditioning in the rooms. To prevent an electrical overload, the eco-lodge also utilizes low-energy LED bulbs and CFL lighting, and even the electronics like television and computers are low-energy consumers.
The greywater technique is used to recycle water for the kitchen and laundry, and a natural water filtering system allows the same water to irrigate the landscape. Because the rainforest villa is so close to nature, it takes extra care to ensure no harm comes to the rainforest.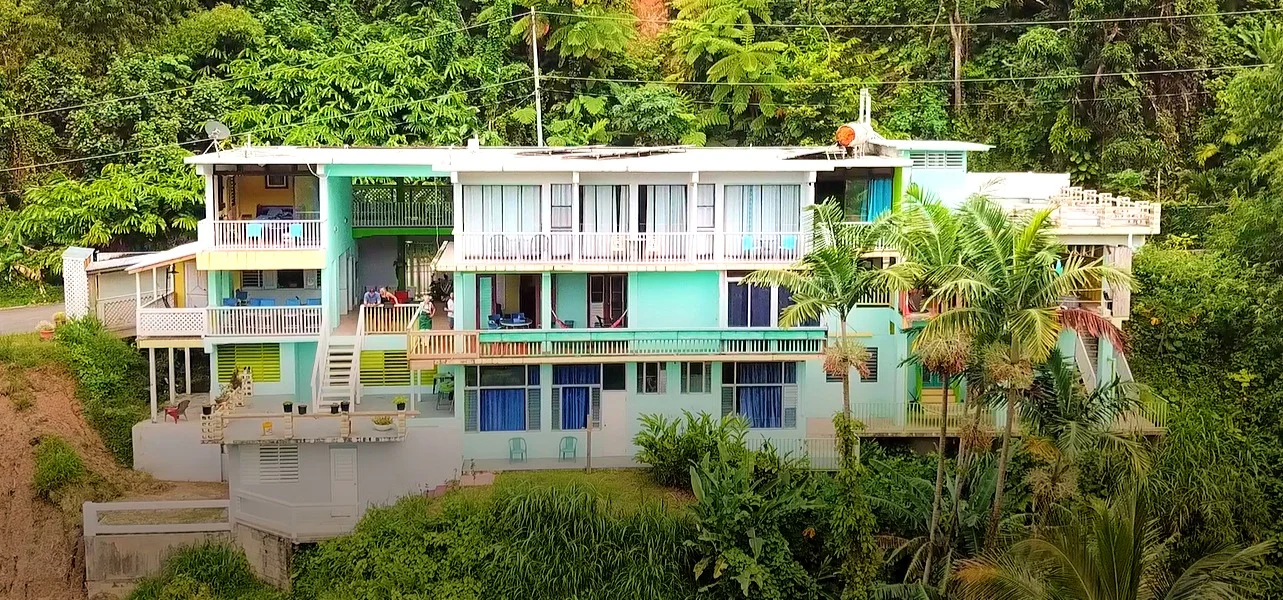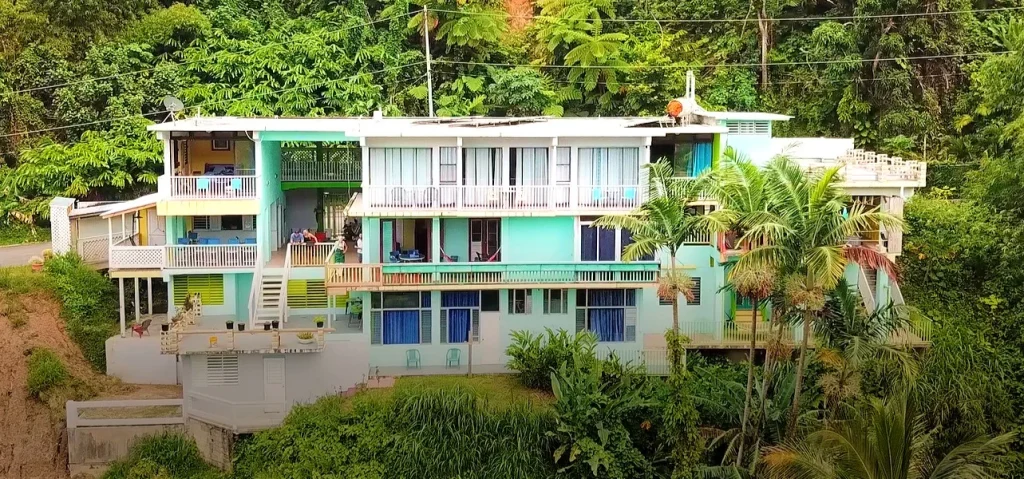 Casa Cubuy is one of Puerto Rico's most popular eco-lodges, and you're about to find out why. Family-operated, it is perched on a serene hilltop just above Naguabo, Eastern Puerto Rico. This eco-lodge is the perfect place to unwind; the lodge has natural granite slabs to soak the sun and a completely natural jacuzzi.
With a small footprint, the Casa Cubuy Eco Lodge generates electricity using solar panels and introduces water-saving methods to recycle wastewater. They recycle and compost everything and brief their guests on the best way to preserve the ecological heritage.
And when you're hoping for mind-blowing views, Casa Cubuy delivers. It is situated right in the midst of Naguabo's rainforest, so you're really experiencing life in a rainforest as it is.
BROWSE THROUGH our directory for the most sustainable eco-lodges around the world if you want to experience something unique, authentic, and exciting.
Explore the best eco-lodges in other regions