20 Costa Rica Birds You Must See
Costa Rica is nothing short of paradise. With its mangrove-lined waterways and mountain jungles enveloped in ethereal fog, the entire nation has a new animal or plant to be appreciated at every step. Costa Rica is a one-of-a-kind destination for birdwatching. For those looking to add birding trips to their itinerary, there is no better place and no better time than in Costa Rica.
*This post may contain affiliate links. We may receive a commission if you make a purchase through those links. Please read our disclosure.
The 20 Most Beautiful Birds to See in Costa Rica
Richard Garrigues, author of the 440-page long Birds of Costa Rica Field Guide* counted more than 900 species of birds in Costa Rica. So out of these, we chose 20 of the most unique, rare, or beautiful ones. This list includes parrots, hummingbirds, tanagers, toucans, trogons, birds of prey, and waterfowl. Are you ready for some bird watching? I ensure you at the end of this article, you will grab our downloadable birding checklist and your binoculars and head to Costa Rica as soon as possible.
Jabiru Stork
While not as well known as the parrots or brightly colored birds of the list the Jabiru stork is one worth seeing. Standing nearly 4 feet tall with a black featherless head the Jibaru is an unmistakable bird. These birds are well known for building nests up to 6 feet in diameter. Sadly it is estimated there are less than 100 individuals in costa Rica, seeing one should be cherished. With hard work and conservation, we can all hope their numbers rebound.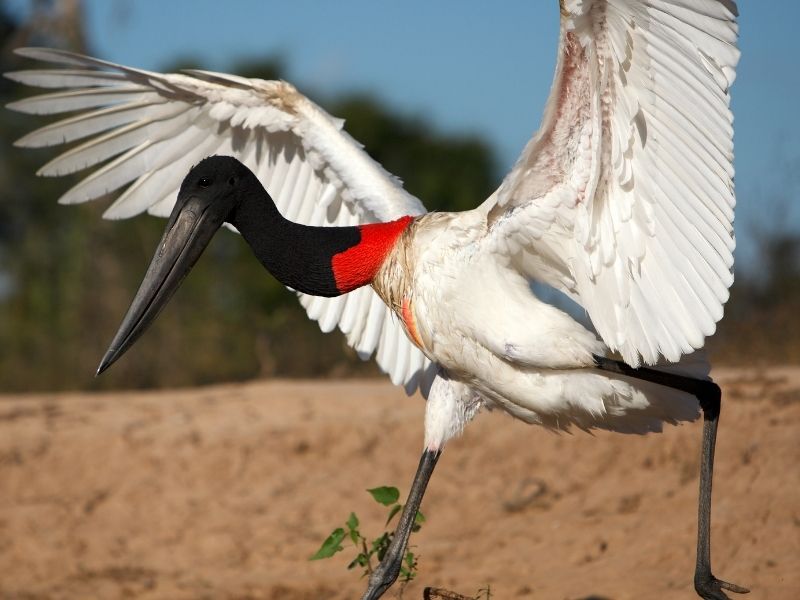 Scarlett Macaw
Nesting and living in colonies of 300 or more, the scarlet macaw makes for incredible bird watching. These highly social parrots are evenly distributed through the central region. Species conservation work has extended its range into the Caribbean and northern regions too.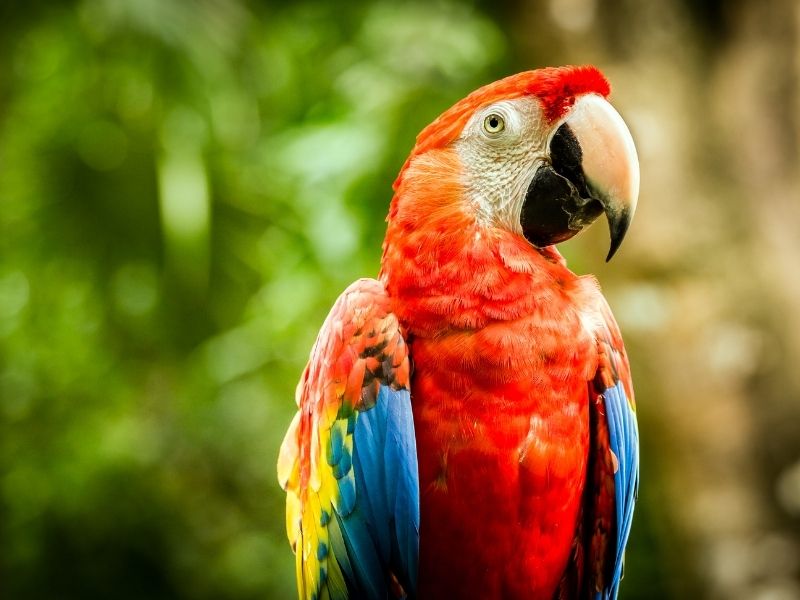 Resplendent Quetzal
Without a doubt, the quetzal is the bird to come to Costa Rica for. With their iridescent green plumage and tail feathers growing to 30 inches, these photogenic birds are found mainly in the cloud forests of the country.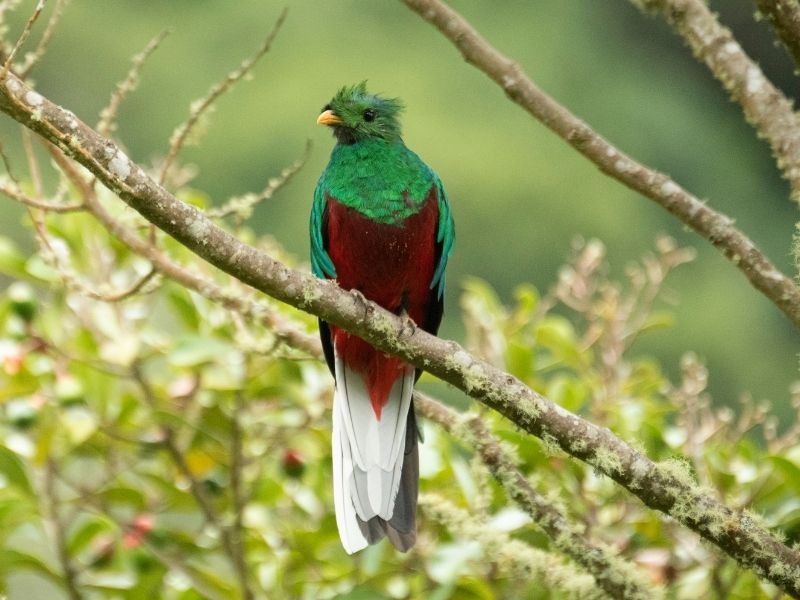 Lesson's Motmot
One of the larger motmots of this species was once called the blue-crowned motmot for its electric blue ring on its crest. These birds prefer to sit still so spotting them can be difficult; however, they are frequent visitors to gardens for easy meals of fruit and insects.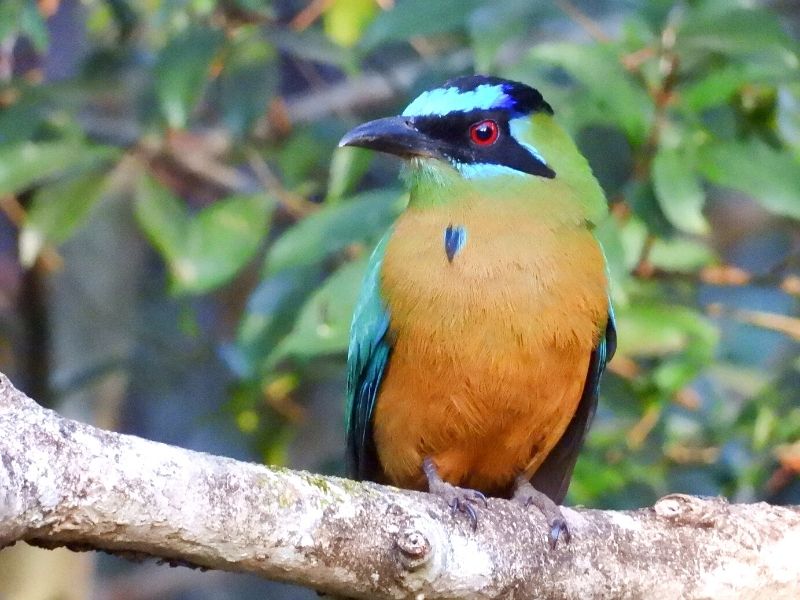 Keel-billed Toucan
The Keel-billed toucan needs no introduction. With its brightly colored bill, this toucan is always worth looking for. Keel-billed toucans are fairly common existing across the country in jungles and inhabited areas.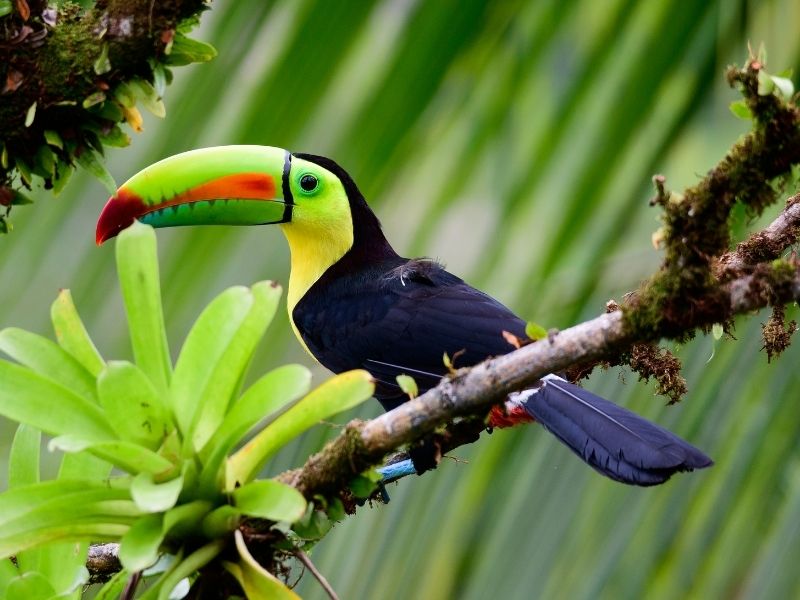 Black­crested Coquette
At just 3 inches the coquette is a small hummingbird with a smaller distribution. Located only in the northern Caribbean foothills this hummingbird sports a crest that makes them unmistakable.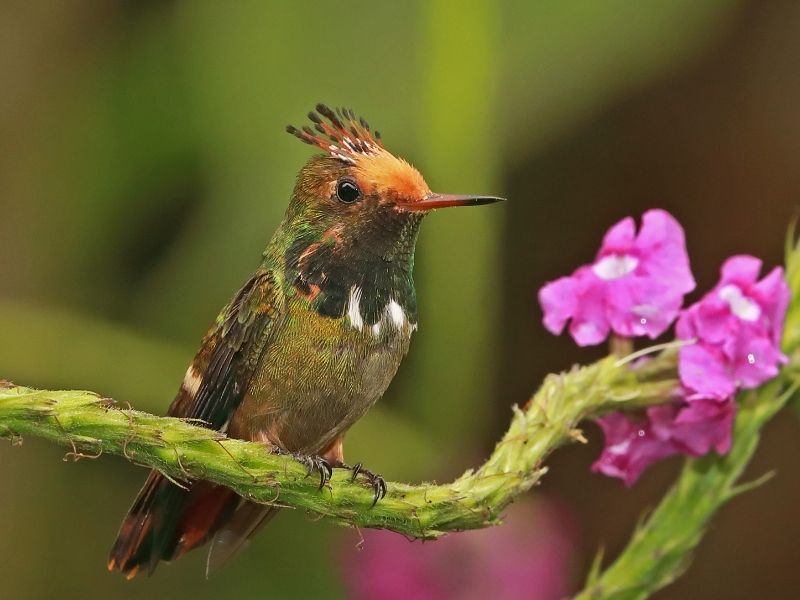 Green Violet-ear Hummingbird
These small hummingbirds have been described as flying jewels. With their iridescent green plumage, these hummingbirds make the reward of photographing them well worth the challenge. Violet ears are common in the middle and higher elevations where flowering plants are found. They will also swarm feeders making them common porch guests.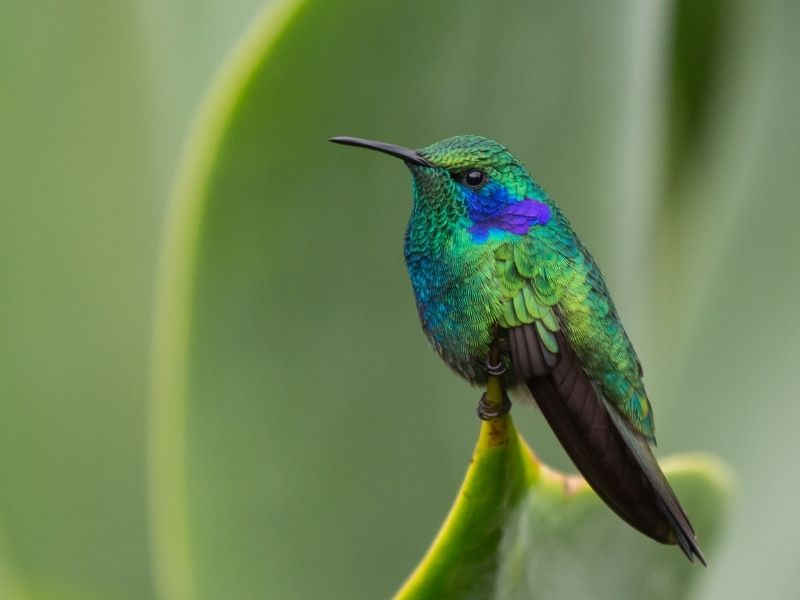 Orange­bellied Trogon
One of the species of trogon you will encounter in Costa Rica the orange-bellied sports an emerald head and back with the easy to distinguish orange belly, hence the name. the orange belly is common in wet mountain forests of the northern part of the country.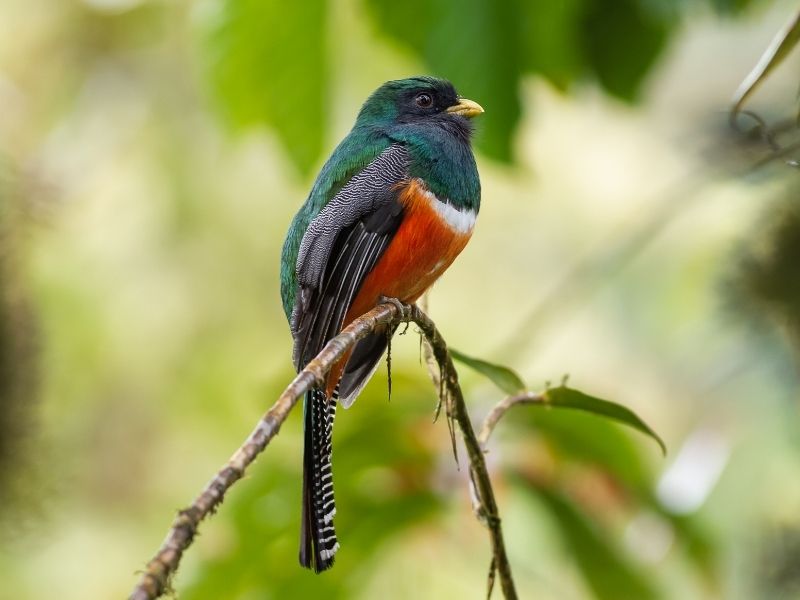 White­-Throated Magpie-Jays
These large jays are a common sight in the more arid Pacific region of Costa Rica. Traveling in flocks these blue-backed birds are identifiable by their white throat and breast patch and long steel-blue tail feathers. Males feature more striking coloration with longer tail feathers and a crest of usually black feathers.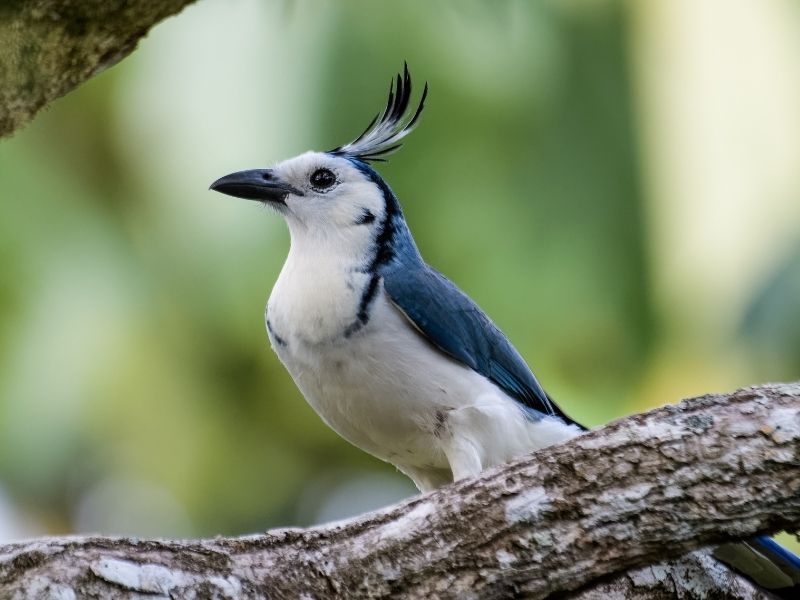 Broad-billed Motmot
Unlike the Lesson's Motmot, the broadbill features much more natural colors. With a cinnamon head and black eye band, this bird appears almost stumpy from its thicker beak or bill, giving the impression of a larger head. Almost like it's trying to draw attention away, the broadbill has a gorgeous teal-colored tail that ends in a spade shape. These birds are often found in the lower elevations of the Caribbean coast.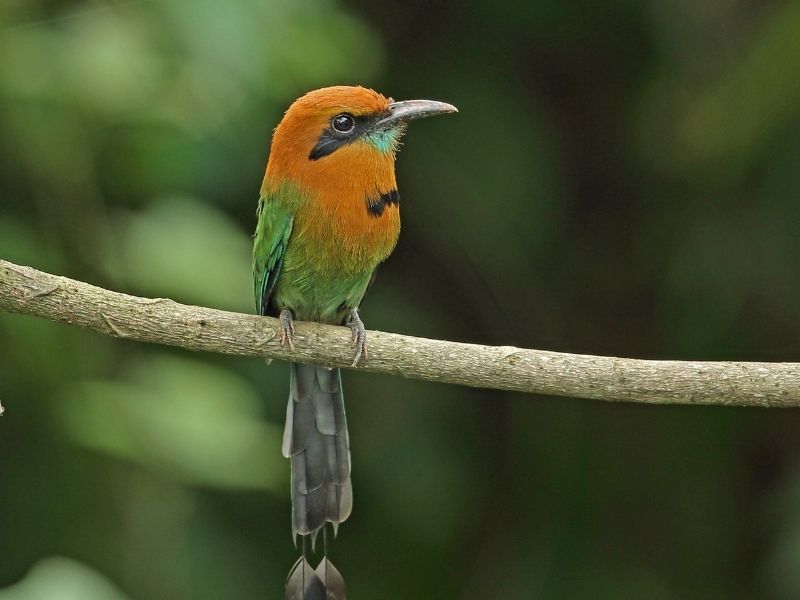 Blue­gray Tanager
The most common of the tanagers seen throughout the country. Depending on conditions these birds can look pale gray or almost pure blue. With this shifting color, no two pictures are ever alike.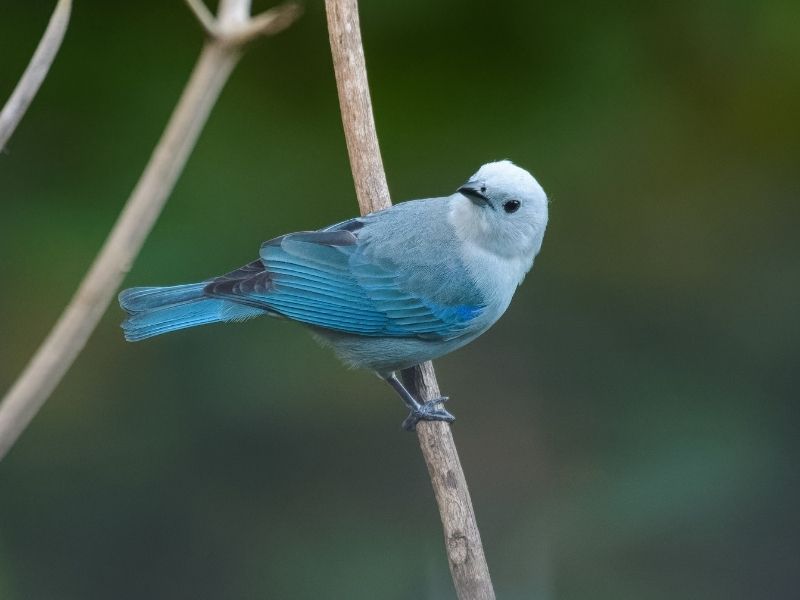 Snowcap Hummingbird
One of 50 species of Costa Rican hummingbirds, the snowcap gets its name from its white head. This short-billed hummingbird is a favorite for birders and can be found near flowering plants on the forest edge.
Roseate Spoonbill
At first glance, the spoonbill could be mistaken for a flamingo. These wading birds turn pink in adulthood from a diet high in carotene from the shellfish they eat. Spoonbills can be found along most of the shallow coastal waterways and mangroves of Costa Rica.
Fiery-billed Aracari
The aracari is a breathtaking toucan with an orange-red bill and jet-black head. While not as common as the other toucans this smaller relative travels in highly social flocks so where there's one there's more.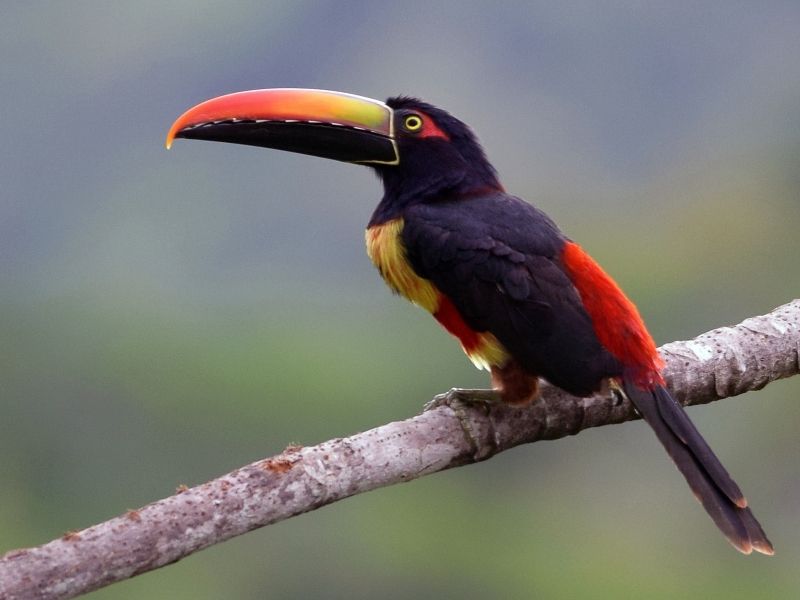 Bare-necked Umbrellabird
A rare sight even in the verdant northern region the umbrella bird is unmistakable from any other. Jet black this crow-sized bird sports a large pompadour style crest and a red throat sack that the males inflate during displays of courtship.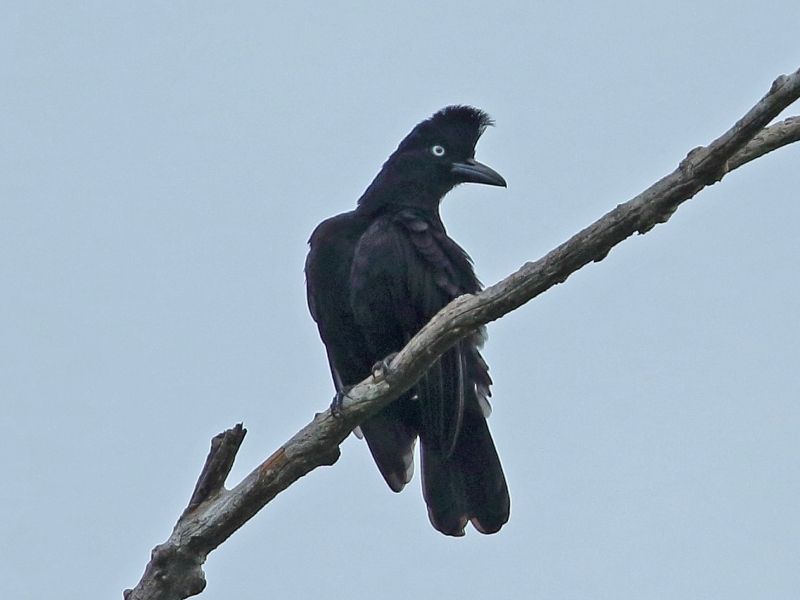 Crested Caracara
This addition to the list may seem out of place but for the birder who is looking for a raptor (not the dinosaur, the bird of prey) built for a purpose they should look no further than the caracara. This large member of the falcon family prefers to forage for carrion but will use its long legs to snatch reptiles too. Keep an eye on the sky while in open fields and marshland for a gliding caracara.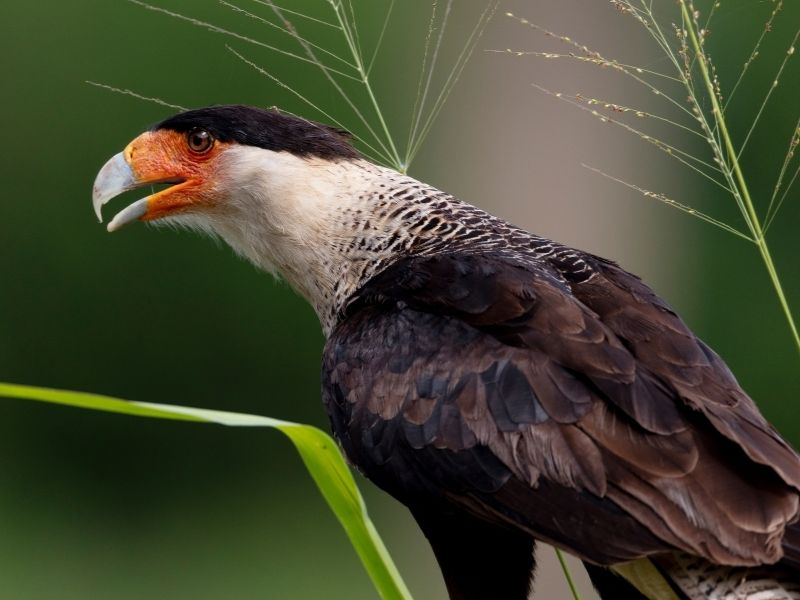 Green Macaw
Green macaw is the largest in the macaw family. These fast-flying parrots are a wonder to photograph in flight. Commonly seen in the Caribbean lowlands, these big birds can often be heard before they are seen.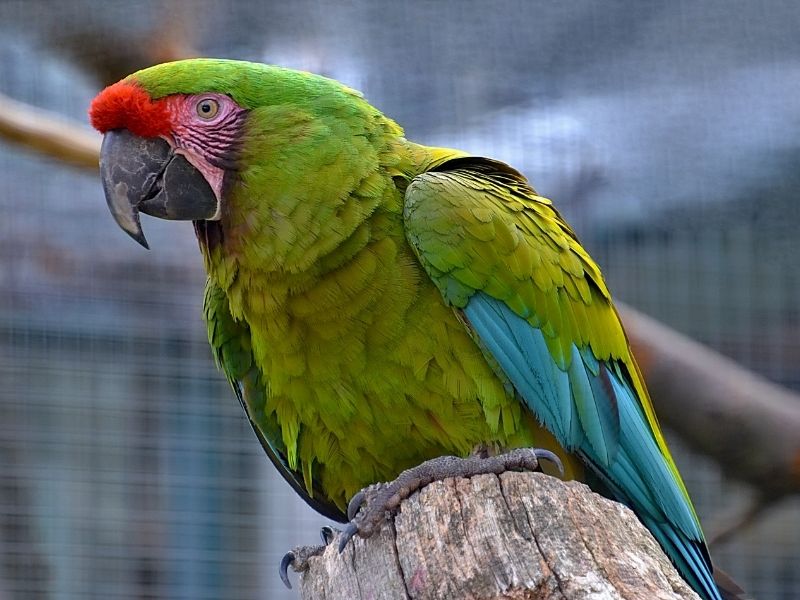 Speckled Tanagers
Featuring a mix of blue and yellow the speckled tanager is an easily identifiable bird. They tend to flock with other species found in the wet foothills of Costa Rica. They are both easy to find and easy to spot.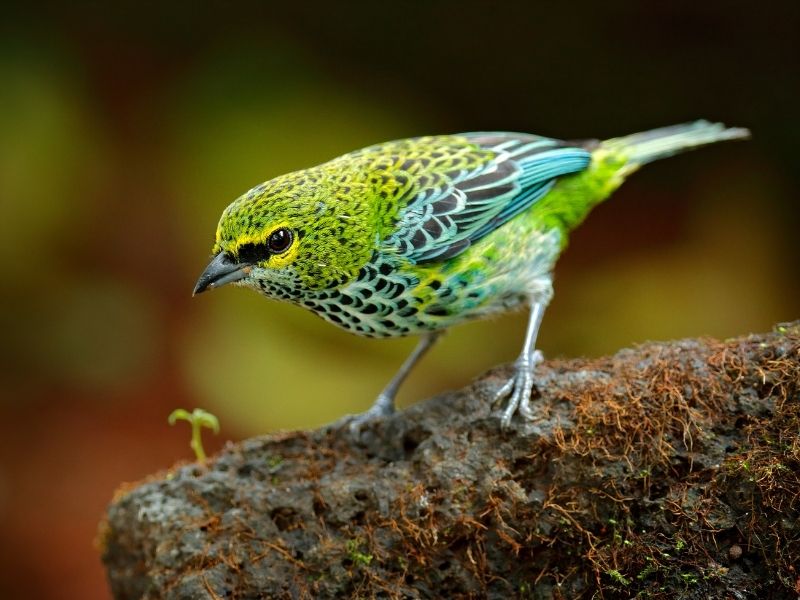 Turquoise Cotinga
These birds are bright blue with males sporting a purple patch on their chest and throat, females are pale with black speckling in their breasts. Sightings of the turquoise continua are uncommon to its and limited habitat of the forested lowlands. looking for fruit trees is the easiest way to locate them.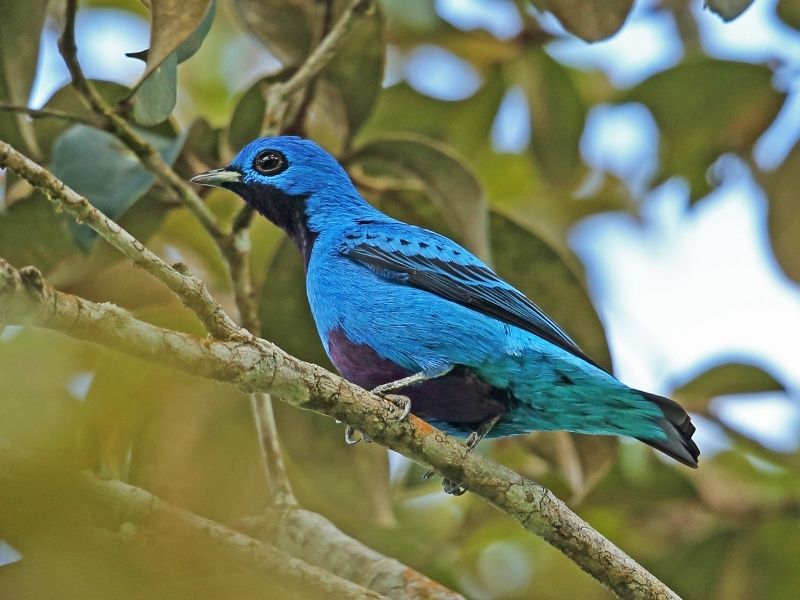 Clay-colored Thrush
It would be unacceptable on a list of birds of costa Rica to not include the national bird of Costa Rica. Found throughout the county and close to people this dusky-colored thrush was made the national symbol in 1977. The males begin their mating calls at the same time as the rainy season; sign farmers have long taken as good luck.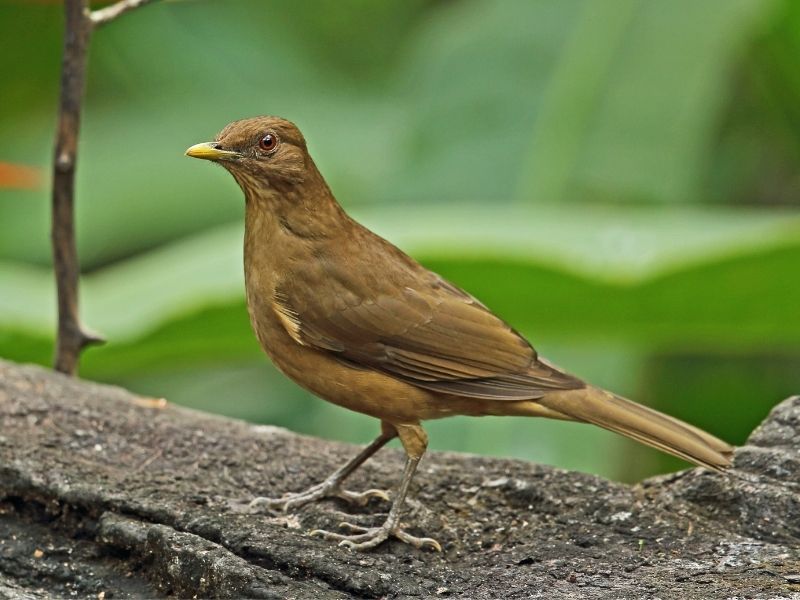 Sunbittern
These small wading birds can be found near the shallows of most waterways. From the profile, the sunbittern's plumage is rather bland but when they spread their wings they reveal a pattern of oranges and reds that are bested only by the butterflies.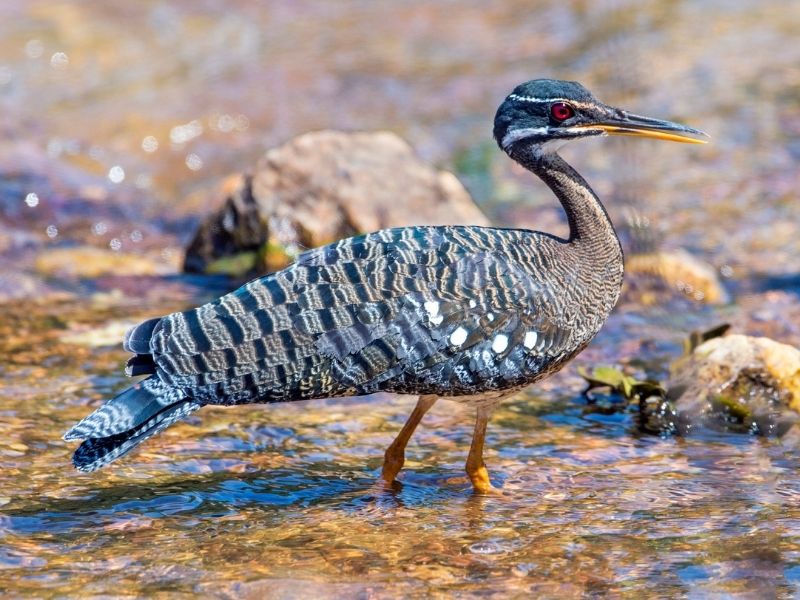 Best places to go birding
With so many lush and well-protected lands in Costa Rica, the options for birdwatching are limitless! Here are some of our recommendations, but there are many other places you can go birding in Costa Rica.
Cano Negro Wetlands
This wetland system is vital to many species of birds native to Costa Rica. Cano Negro is situated in the Northern part of the province Alajuela, right off the border with Nicaragua. This area is also the wintering ground for many Northern visitors like warblers and waterfowl. Spoonbills, jacanas, and storks can be seen here with the greatest abundance in the wet months from May to November.
WHERE TO STAY – Click here to find the most sustainable eco-lodges in Alajuela.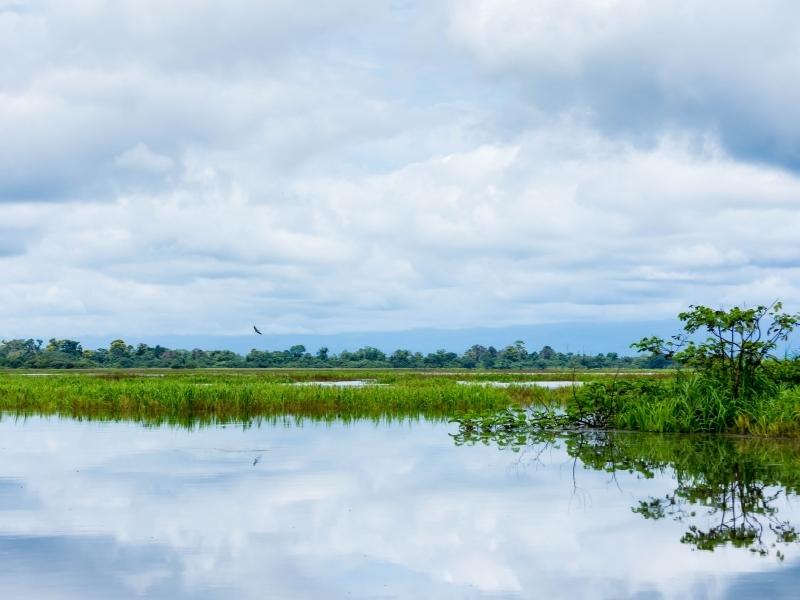 Monteverde Cloud Forest
In the Northwest region of Costa Rica lies Monteverde Cloud Forest. This high-altitude forest is packed with orchids, plants, and of course birds. From the resplendent quetzal to any of the 30 species of hummingbird the chances of seeing the same thing twice are nearly zero.
WHERE TO STAY – The closest eco-lodge is Monteverde Lodge (check availability). Click here to find the most sustainable eco-lodges in Puntarenas.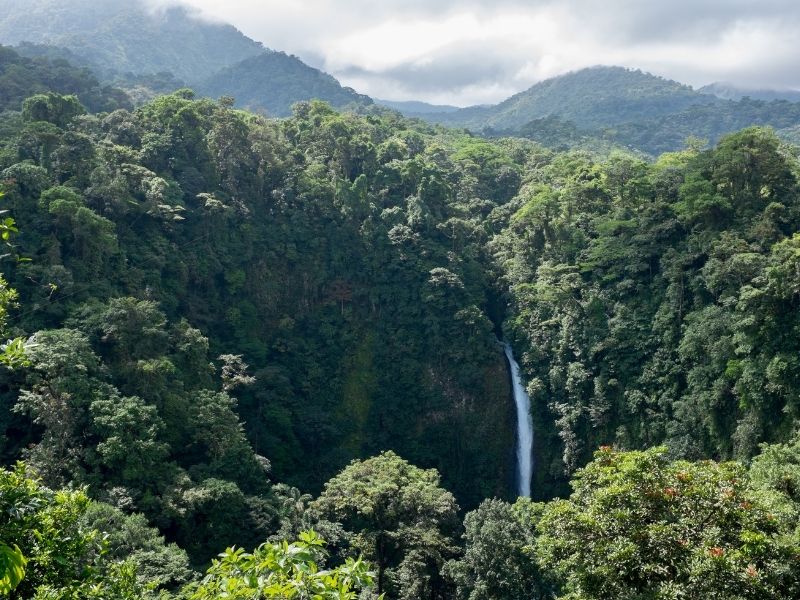 Palao Verde National Park
This varied landscape provides birders with a chance to see a wide variety of birds. Along the river wading birds are most common but parrots like toucans and macaws will make an appearance frequently.
WHERE TO STAY – The closest eco-lodge is Cala Lodge (check availability). Click here to find the most sustainable eco-lodges in Guanacaste.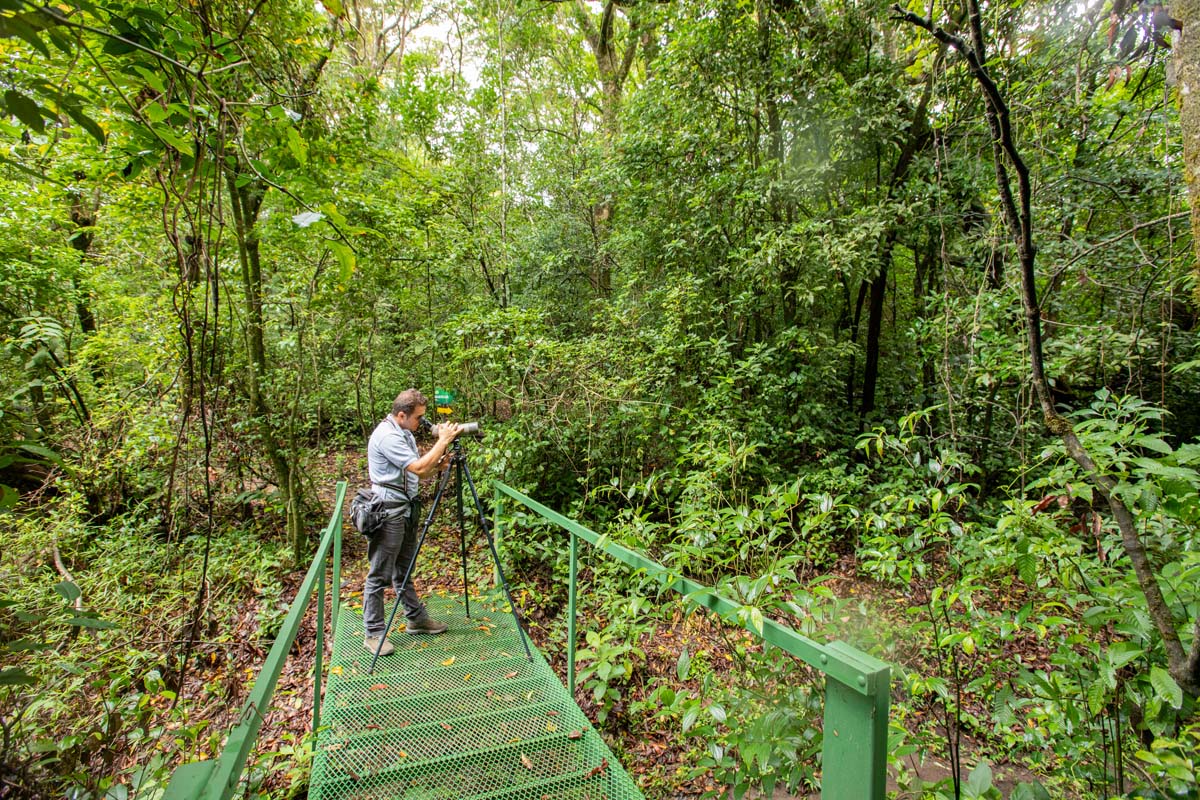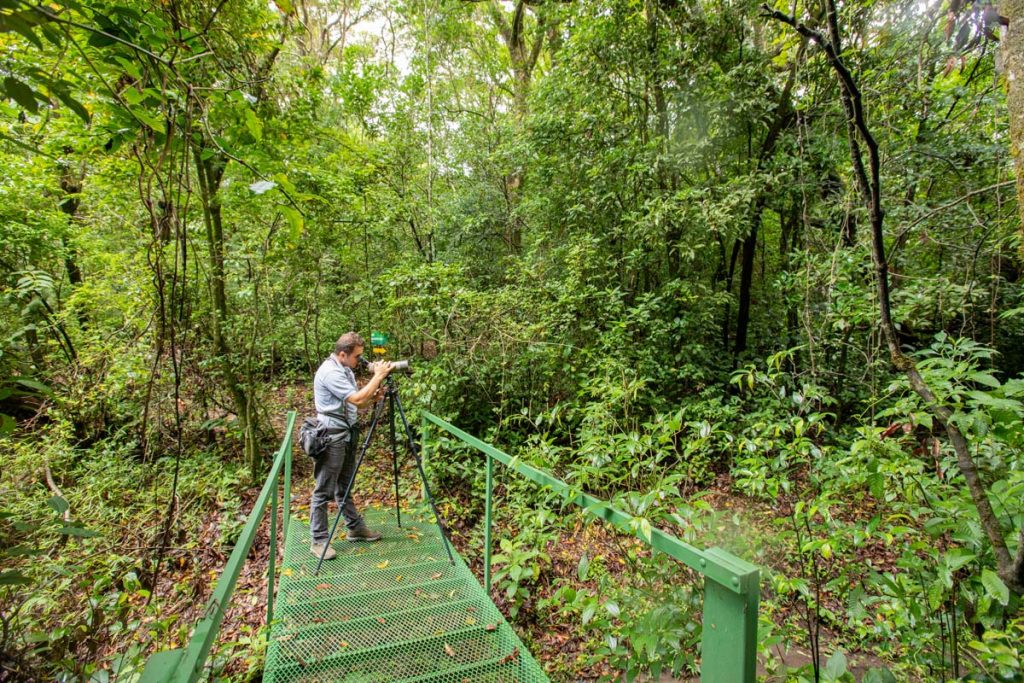 Carara National Park
Home to the largest colony of scarlet macaws. In the country, Carara National Park is one of the most Northern rainforests on the Pacific Coast. Easily accessible from San Jose the park features walking trails and will host a good number of tourists all hoping to catch a glimpse of a toucan or parrot.
WHERE TO STAY – The closest eco-lodge is Macaw Lodge (check availability) which is actually in the province of San Jose. Click here to find the most sustainable eco-lodges in Puntarenas.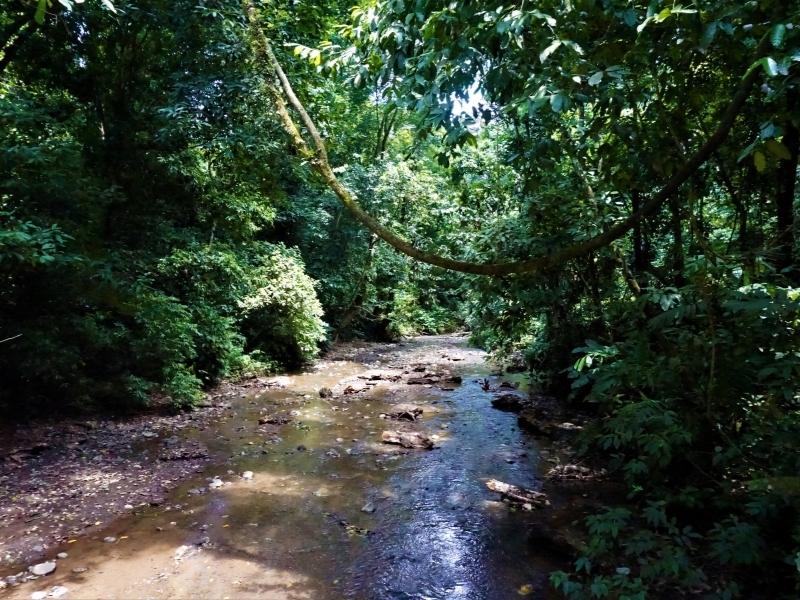 Osa Peninsula
Corcovado National Park in the Osa Peninsula is also a bird watcher's paradise. There are said to be more than 300 bird species inhabiting this part of Costa Rica, including scarlet macaws and toucans. There are many opportunities from avid to novice enthusiasts.
WHERE TO STAY – There are many eco-lodges in the Osa Peninsula. Click here to find the most sustainable eco-lodges in Puntarenas.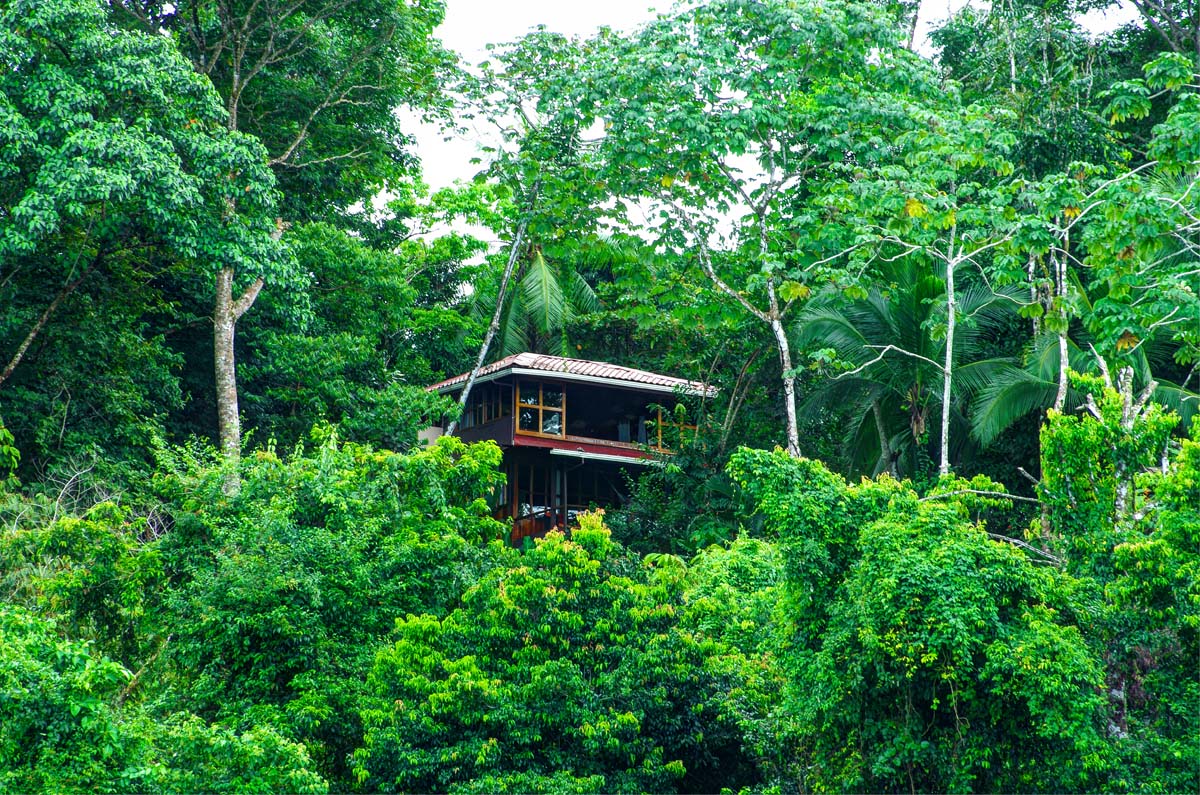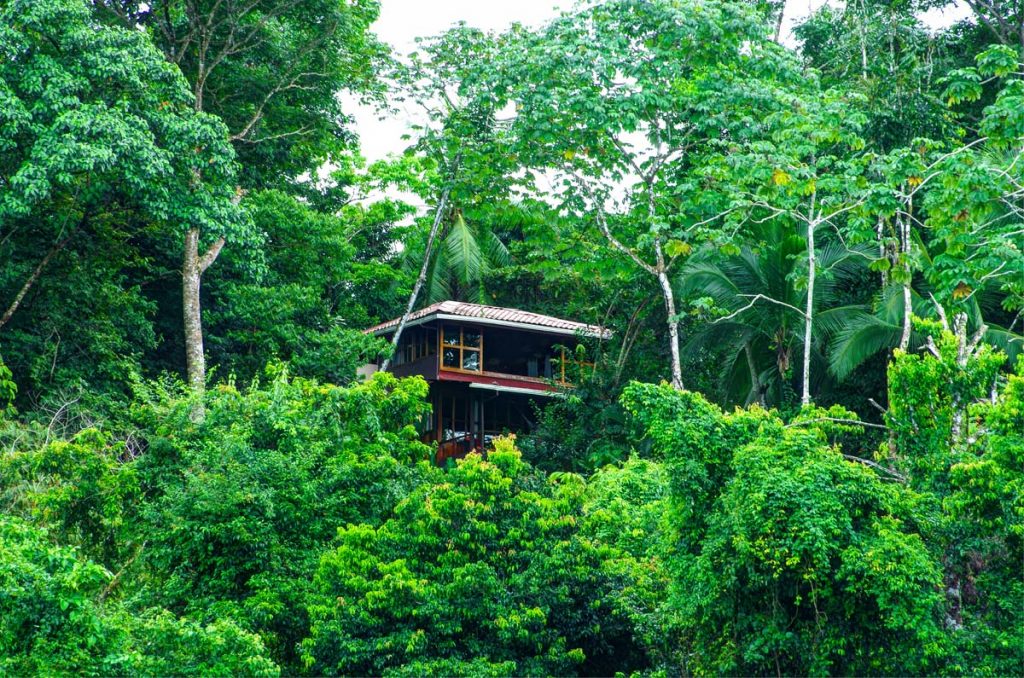 Best time to go bird watching
Costa Rica yet again delivers the best answer for travelers but, perhaps the most challenging answer for those who like definitive answers. With a large population of resident Costa Rican birds, there are always opportunities for incredible bird watching. Below we will break down the two options so you can make your birdwatching expedition work for you.
During the dry season
The dry season in Costa Rica runs from December to April. During this time you will have the greatest variety of birds since many species of Northern American birds also winter in Costa Rica. If you are looking to escape the cold like these warblers do there is no better time to enjoy the sun and double up on species for your bird list.
During the rainy or green season
The rainy season typically starts in May and extends to November. One advantage of Costa Rican bird watching in the rainy season is there will be more active wading birds. For flocks of ibis or spoonbill, this is a great time of year. Typically the period after a rainstorm has higher bird calling and activity so you will be rewarded for hiding under the umbrella for a while. For bird watchers specifically looking for native birds the rainy season is the best choice as the northern species have already headed back to their summer homes.
READ MORE – Best Times to Visit Costa Rica
Bird watching equipment you need
For bird-watching equipment, your gear can be as detailed or simple as you wish. However, there are a few basics that everybody is going to need to have a successful trip out.
Binoculars

– For watching birds in Costa Rica or anywhere you are going to be needing a pair of binoculars. Tempting as it may be to buy the highest magnification possible a 7x or 8x magnification is the best blend of power and field of view. Something like the Action Extreme from Nikon is both budget-friendly and feature-packed.

Binocular Harness

– Unless you opted for compact binoculars, hanging your pair around your neck all day will become a literal pain in the neck. By using a binocular harness you more evenly spread the weight across your shoulders and keep your binoculars in one place better. For a compact lightweight harness, this binocular harness strap is hard to beat. After a day of hiking, it will be the best $17 you've ever spent.

Good shoes

. While some birding can be done from the beach or balcony, if you want to knock off your birds of Costa Rica checklist you are going to need to do some hiking. All-terrain footwear with good ankle support will be worth its weight in gold on a hike through the cloud forest. While we won't point to a specific brand we do remind you as an eager adventurer to break in your shoes before travel.

Sun protection

. Nobody wants to spend a vacation day covered in aloe trying to avoid moving. Wearing proper sun protection doesn't just mean applying sunscreen (though it's a good idea). "Fishing shirts" have a high SPF rating and are lightweight keeping you feeling as cool as you look. A bonus is if they have plenty of pockets for keys, snacks, or your bird journal and pens. A wide-brimmed hat not only protects your face from the sun's rays but also aids in seeing more by reducing the sun's glare. A boonie, bucket, or safari-style hat will all do the job while not sacrificing much room in your luggage.

Field guide

. A field guide or "bird book" is invaluable while out birding. Field guides show habitat range, size and color information, and even the history of the birds you are reading about. Richard Garrigues's Birds of Costa Rica Field Guide is an excellent resource you can carry with you.
Printable Costa Rica birding checklist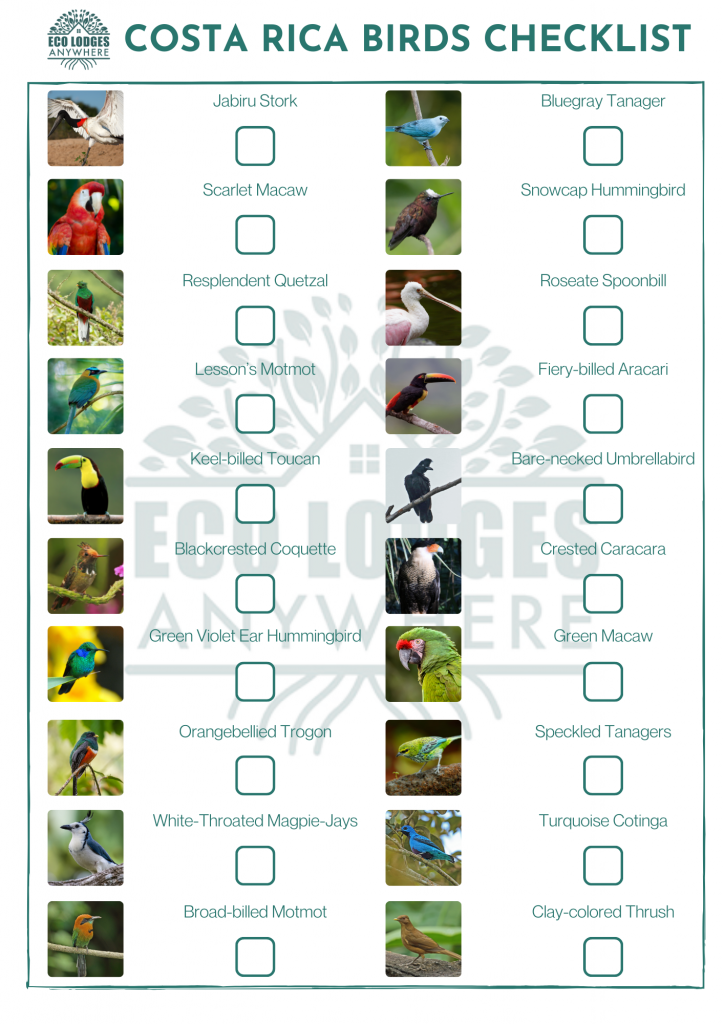 What to expect on a birdwatching tour
Birdwatching tours can vary greatly depending on your desires and focus.
"Birding" tour

is designed for guests to see as many species as possible, this can be a fast-paced trip stretching across the country to check off as much of the list as possible.

"Photography" tour

is focused on getting pictures of one or a select number of species. The speed may not be as fast but the focus will be more intense on everyone in the group getting the photographs they want.
For the most casual of bird watchers a trip can be self-guided or a short one-day trip with a guide. For those looking to get as many shots as possible, some trips can be scheduled out for 14 days. These adventures are not for the faint of heart but, for birders that love what they do, it's the adventure of a lifetime. Multi-day trips involve hiking, driving, sitting at blinds and feeders, and sometimes even boating. If you are unsure of what level or style of tour you wish to go on, just ask. Tour operators would much rather set you up for success with a tour for your level of equipment and enthusiasm than risk anyone having a bad trip.
Other eco-friendly activities in Costa Rica