Best Time to Visit Costa Rica
If you are planning to travel to Costa Rica, you might be interested in knowing what to expect during certain seasons and months. We have collected all information so you can decide what is the best time of year to visit Costa Rica for you. This guide will explain the pros and cons of staying during the rainy season compared to the dry season. It will give examples of activities you can do during those times. And it will also introduce you to why you should consider going to Costa Rica during the shoulder season or even "veranillo" if there is one.
Costa Rica Weather and Climate
Costa Rica is situated in Central America in between the Caribbean Sea and the Pacific Ocean. You might know its climate to be tropical thanks to being so close to the Equator. However, there are subtle differences depending on the region you are visiting.
According to the Köppen-Geiger classification, you can expect the following climate per region:
Tropical rainforest

is along the Caribbean Coast as well as Southern Costa Rica around the Osa Pennisula and Golfo Dulce. It is the typical tropical climate with a rainy season and a dry season taking turns.

Tropical monsoon

is along the Pacific Coast and the Northern of the border with Nicaragua. You can expect a bit longer rainy season or heavier rainfall compared to the tropical rainforest climate. Read more about it here.

Tropical savannah

is along the Northwestern areas especially in Guanacaste. It usually receives less rainfall and has a longer dry season compared to the previous two. Read more about it here.

Temperate or (subtropical highlands)

is along the mountains like Cerro Chirripo in the middle of Costa Rica. It is usually closer to a four season climate but with a higher altitude temperates can drop easily. Read more about it here.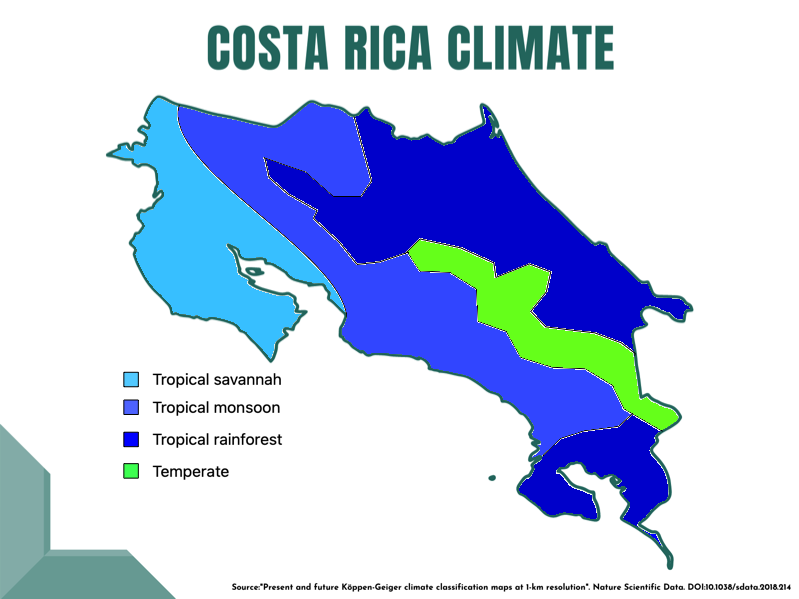 Average Temperature
As the climate is tropical throughout most of Costa Rica, you can see there is not much deviation during the year. The average temperatures vary between 75-79 Fahrenheit (24-26 Celsius) with maximum temperatures between 83-90 Fahrenheit (28-32 Celsius) and minimum temperatures between 65-69 Fahrenheit (18-20 Celsius).
The difference between the dry and rainy seasons is not temperature but humidity and precipitation. The below graph was drawn up using the historical data collected between 1991-2020 by the WorldBank database.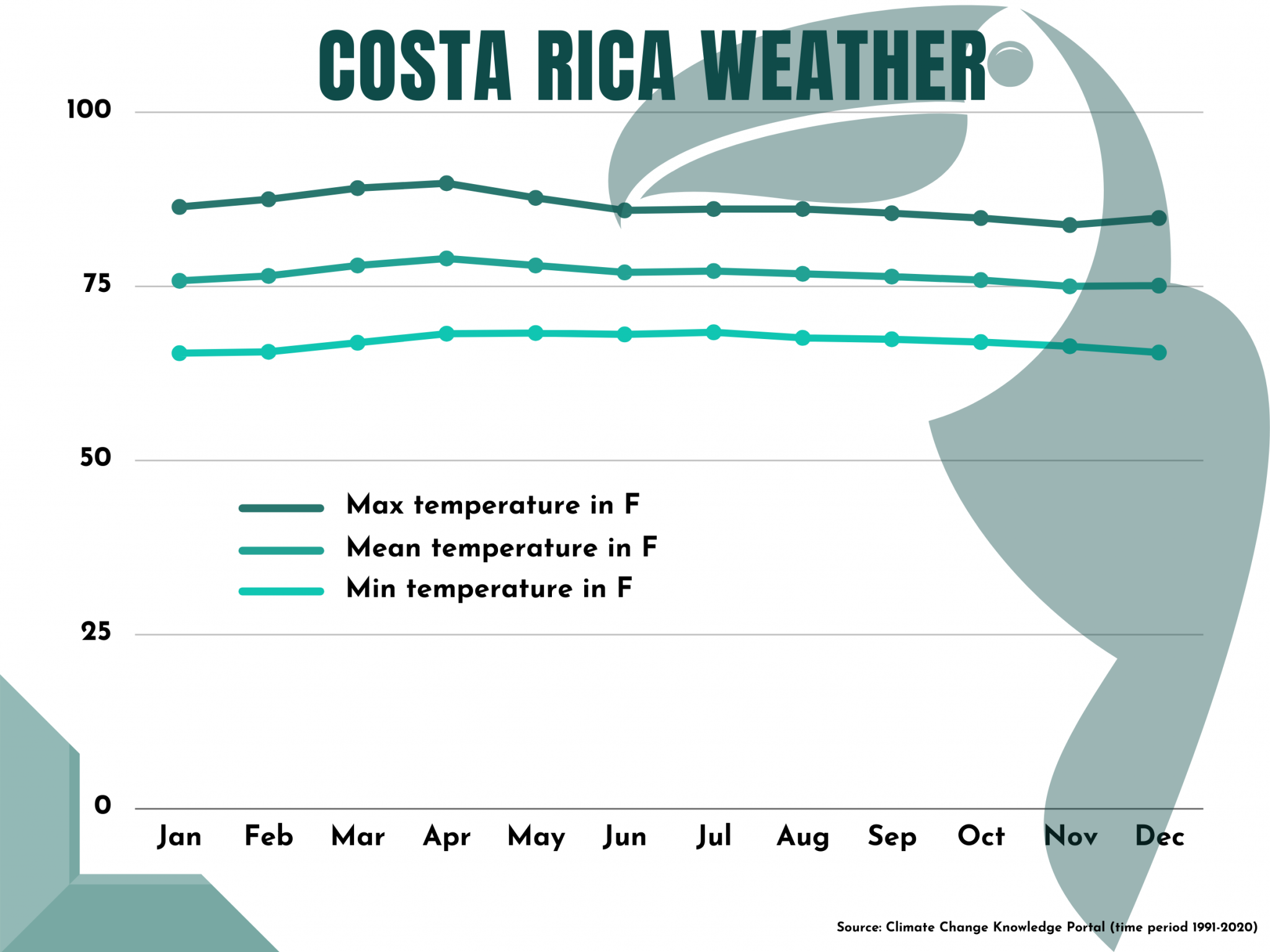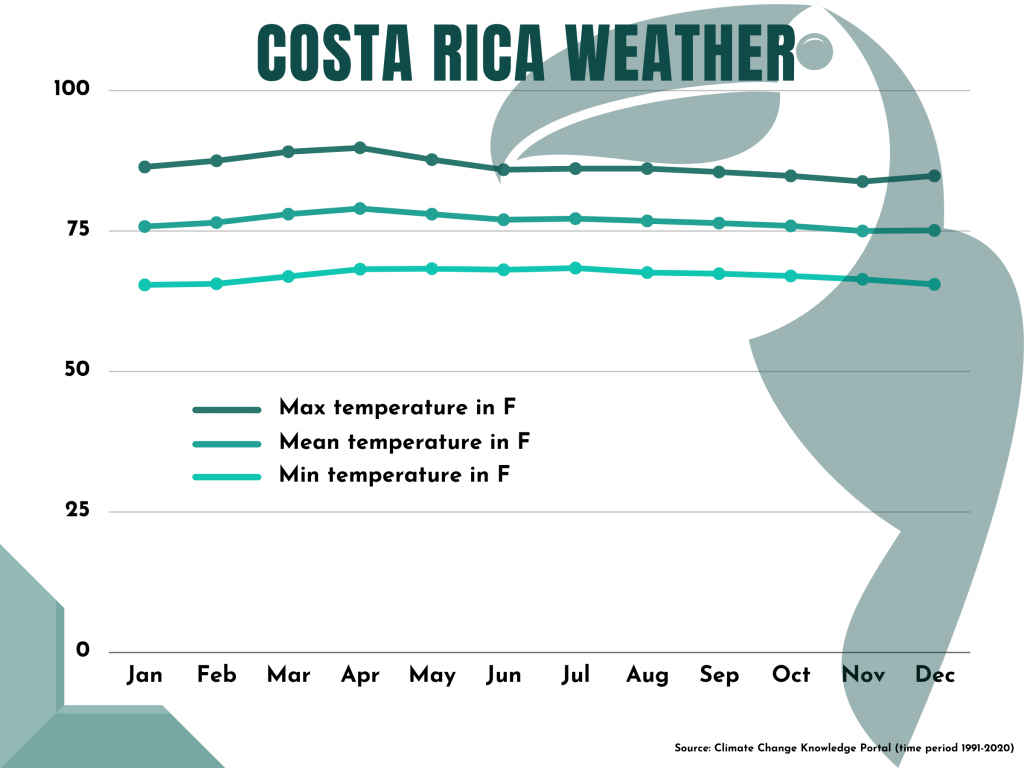 Average Precipitation
Most people would like to know during which month the most rain will fall. It is natural as you would think that when there is rainfall you don't get to do anything so you want to avoid it.
According to the historical data collected between 1991-2020 by the WorldBank database in Costa Rica, the rainy season usually starts in May and lasts until November.
April is called the shoulder season which is kind of a transitional period between the dry and the rainy season. There is gradually more and more rain, but not so much yet. While the previous barren landscapes start to be reborn.
There is also a special time called "veranillo" or mini-summer in July, where there is a temporary decline in precipitation. So visitors can enjoy a green season with less rainfall.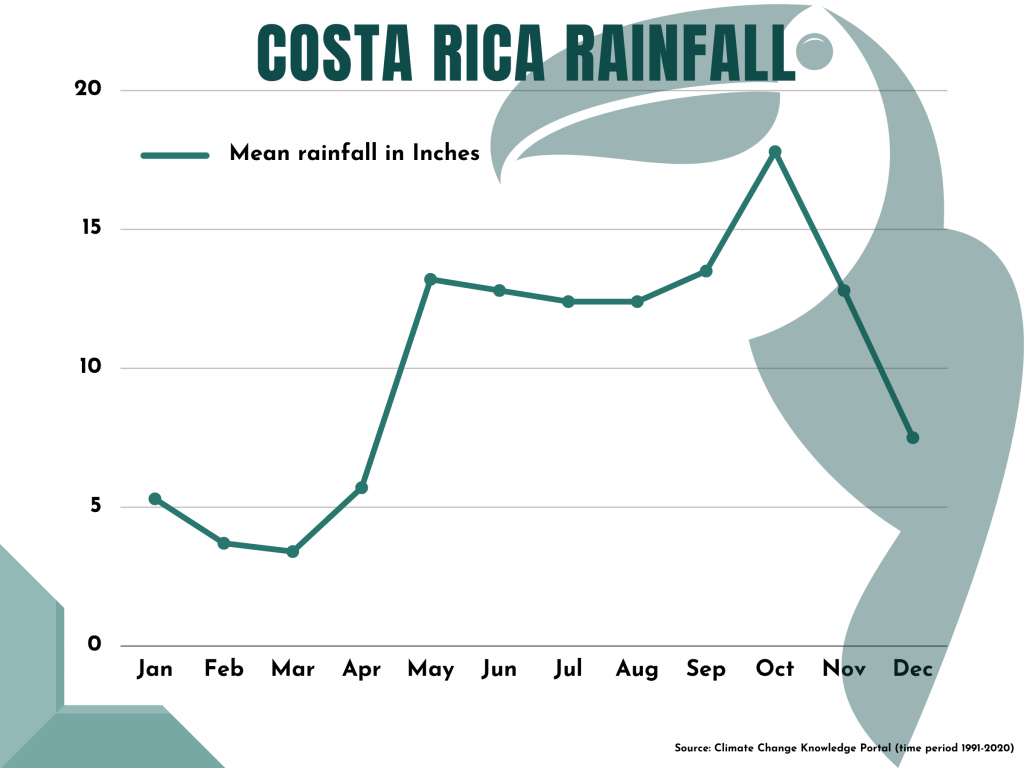 Dry season – expensive, crowded
Most of the tourists would prefer hot summer days with less rainfall, which means the peak season in Costa Rica is in fact between November and April. Furthermore, several major holidays fall during this period like Christmas, New Year's Eve, and even Easter, which means people have free time to travel.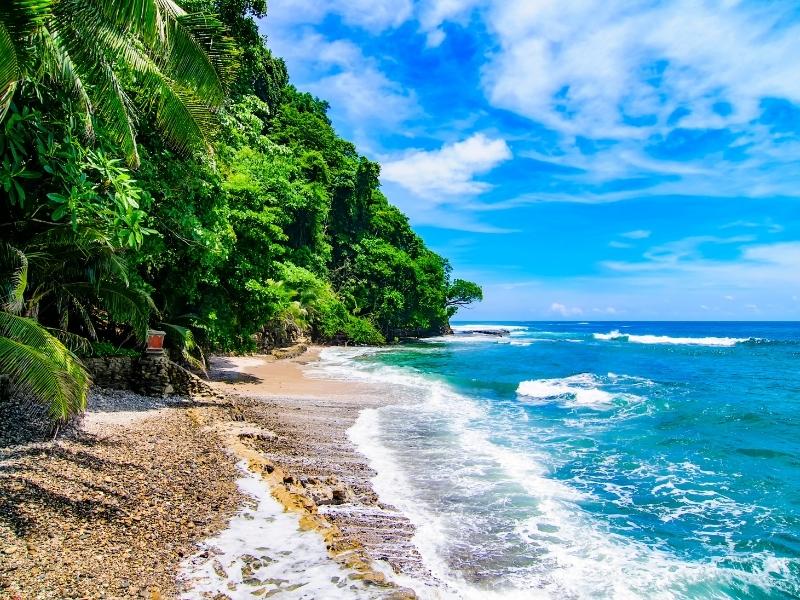 What to expect during this season?
Peak season, high prices

– These are the hottest months in Costa Rica, especially between January and March. Most of the tourists book their stay for the dry season. Which means accommodations are offered at the highest prices.

Hot and dry

– Just as its name suggests, this season is the hottest and driest. You should expect high temperatures, barren landscape, smaller waterfalls and rivers, dried up dirt roads BUT blue sky and the sun is shining all day long (mostly). Guanacaste can be especially dry since its climate is rather tropical savanna than rainforest.
Costa Rica has a distinct wet and dry season and I would highly recommend choosing the dry season to visit if you can. Your chances of having good weather will be far more likely during November to April although prices can be higher. However, in my opinion, the investment is worth it and you'll be able to do a lot more than in rainy season. You just need to book a bit further in advance to make sure you can get the best prices. You'll also meet a lot more other travellers along the way if you go to Costa Rica in dry season especially if you're a backpacker.

Recommended by Victoria from Guide Your Travel
Activities you can do
Bird watching

– Dry season is ideal for bird watching as you can hide within the shades of the rainforest. You may get to see several of the 20 Costa Rica Birds You Must See. Read our guide for best places to go bird-watching.

Surfing and swimming in the sea

– No storms, no El Nino or other meteorogical phenomena to spoil your time on the beach. Swim, surf or dive or just sunbathe.

Volcano tours and hiking

– If you want to escape the hot weather, join a volcano tour or hike a mountain trail. As you go higher, temperatures are bound to drop a couple of degrees.
Nature walks – Discover one or more of Costa Rica's National Parks and Reserves. You can also visit one of the Best 20 Ziplining Parks in Costa Rica where you can find not only zip-lines, but hanging bridges, cabel cars and treetop walkways. (see below photo)

Humpback whale migration

(Uvita) – They reach the shores of Costa Rica first around September, but their migration season can last for several months. So you may be able to catch the end.

Fishing

– Especially for freshwater fishing dry season is the best time as lakes and rivers shrink making the fish congregate in more accessible areas. Read more in our Guide to Fishing in Costa Rica.
WHERE TO STAY – Click here to find the most sustainable eco-lodges in Costa Rica.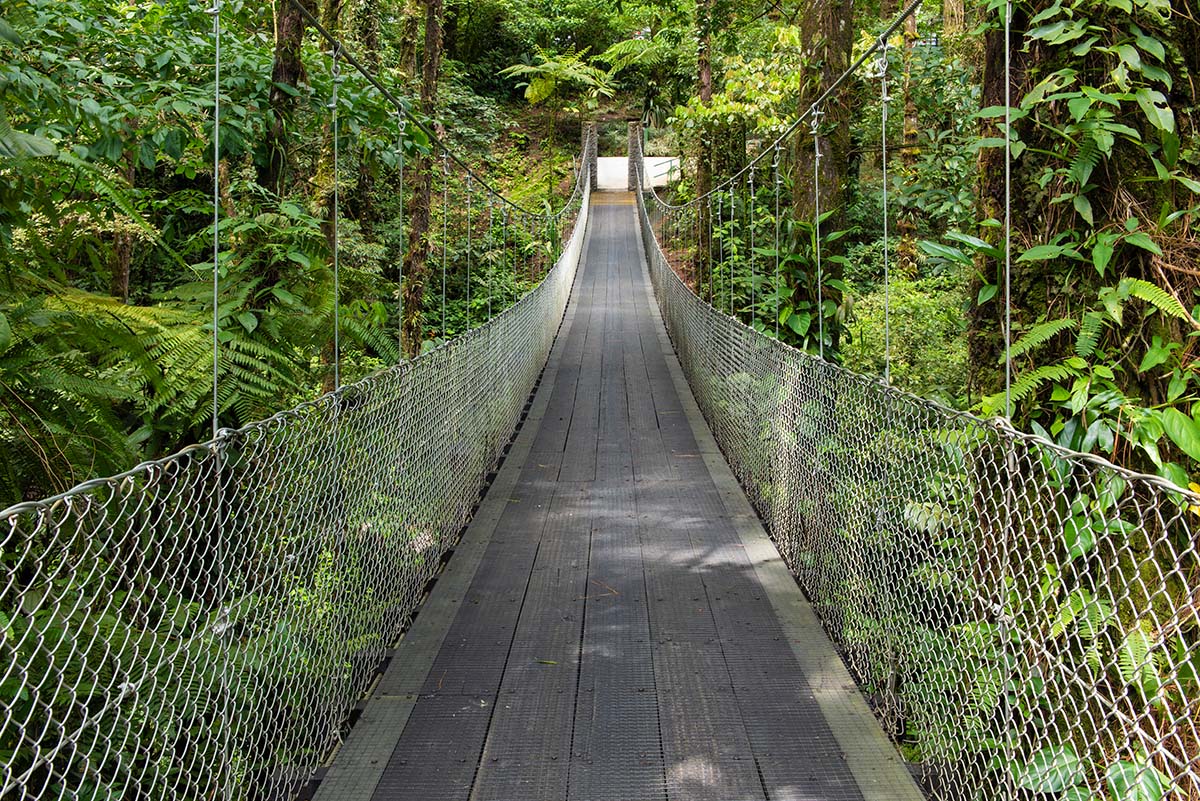 Rainy season – low prices, less tourists
The rainy season in Costa Rica starts in May and lasts until November. According to this Biological Weather Station, during this season the rainfall gradually increases up to about 400 mm on average per month, being October statistically the wettest.
What to expect during this season?
High humidity

– While the average temperature is not changing that much during the year, the humidity increases significantly.

Mosquitoes love this season

– They are most active during dusk and dawn as well as near lakes and swampy areas like wetlands. According to Christa from Pura Vida Moms, the worst place to go if you want to avoid mosquitoes in Costa Rica is the Caribbean Coast (around Tortuguero National Park), Osa Penninsula (around Corcovado National Park) and the Southern Pacific area (around Pavones). So get your bug repellent and choose an accommodation with a mosquito net.

Problematic road conditions

– Due to heavy rainfall and the fact that paved roads may not have good drainage, water can remain on the road rendering the potholes or even the line of the road not visible. If the road is unpaved, the mud can turn so thick that even 4x4s can get stuck.

Lower prices, smaller crowds

– Tourists in general prefer dry season, therefore you can find more affordable prices and fewer people if you choose this season.
If you're planning on road tripping in Costa Rica, the dry season offers much greater accessibility to drive in more remote parts of the country, particularly in areas along the Caribbean coast, and on the southern Nicoya and Osa peninsulas. The back roads of Costa Rica that are normally hard-packed dirt in the dry season can easily become impassible when the summer rains create mud so thick it can even bog down a 4×4. However, the green season in Costa Rica can be a much better option if you're staying for a longer holiday and want to save your hard-earned dollars. Traveling in the summer offers much lower prices and smaller crowds, two of the biggest perks for slow travelers.

Recommended by Lori from Travlinmad Slow Travel
Activities you can do
Waterfall rappelling

– More rains mean the waterfalls are the largest during this season. You can get close to lots of them and even swim in some of them. You will get yourself wet no matter what when you are visiting one of the Best 25 Costa Rica Waterfalls (see photo below)

Whitewater rafting

– Same goes here, you may get yourself wet even if you don't want to.

Ziplining and canopy tours

– Check out the Best 20 Ziplining Parks in Costa Rica.

Turtle watching

(Ostional) – The best time to catch them is between August and November.

Humpback whale migration

(Uvita) – They reach the shores of Costa Rica first around September, but their migration season can last for several months.

Fishing

– Marlin and sailfish action is best in May through October in the Northern regions of the Pacific Coast. Read more in our Guide to Fishing in Costa Rica.

Scuba diving

(Bat Islands aka Islas Murciélagos) – Large population of bull sharks and manta rays can only be sighted during the rainy season for experienced divers*.

Coffee tours

– The coffee harvest season starts in September.
WHERE TO STAY – Click here to find the most sustainable eco-lodges in Costa Rica.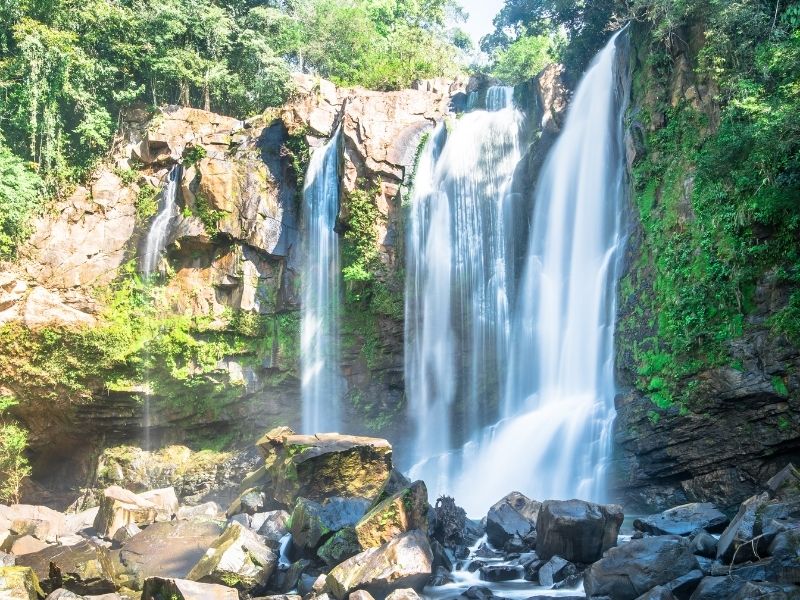 What is Veranillo? – mini summer in July
There is a special time of the year in Costa Rica when they should be in the middle of the rainy season, but still, they experience I decline in rainfall. Veranillo de San Juan is also known as Indian Summer is a meteorological phenomenon where you get to experience the lush and green scenery without the heavy rainfalls and whirlwinds.
It sounds amazing, right? Can it be that veranillo is the best month to go to Costa Rica? Hold your horses before booking. Veranillo can be quite limited to certain areas as well as in time. For example, in 2013 it was only in Guanacaste, or in 2018 it only lasted for 5 days in the Central Valley and along the Pacific Coast. Be sure to get information on the yearly forecast before deciding as it can happen that you travel to a region where veranillo will not even appear.
What to expect during this season?
One of the best times to visit Costa Rica is in mid-July during what is referred to as "veranillo." This mini summer usually lasts for two to three weeks and is a period of dry weather right in the middle of the rainy season. During veranillo you can enjoy sunny and warm weather with lush green surroundings. Prices are lower than during high season and the country isn't usually too overrun with tourists.

For the absolute best weather, head to the Pacific Coast. Specifically, the Guanacaste Province in the northwest corner of the country will have excellent weather. Here you can experience surfing in Tamarindo for all skill levels, scuba diving along marine filled reefs in Playas del Coco, hiking at an active volcano in Rincon de La Vieja National Park, and absolute relaxation at a resort on the Papagayo Peninsula.

Recommended by Sarah from Costa Rica Vibes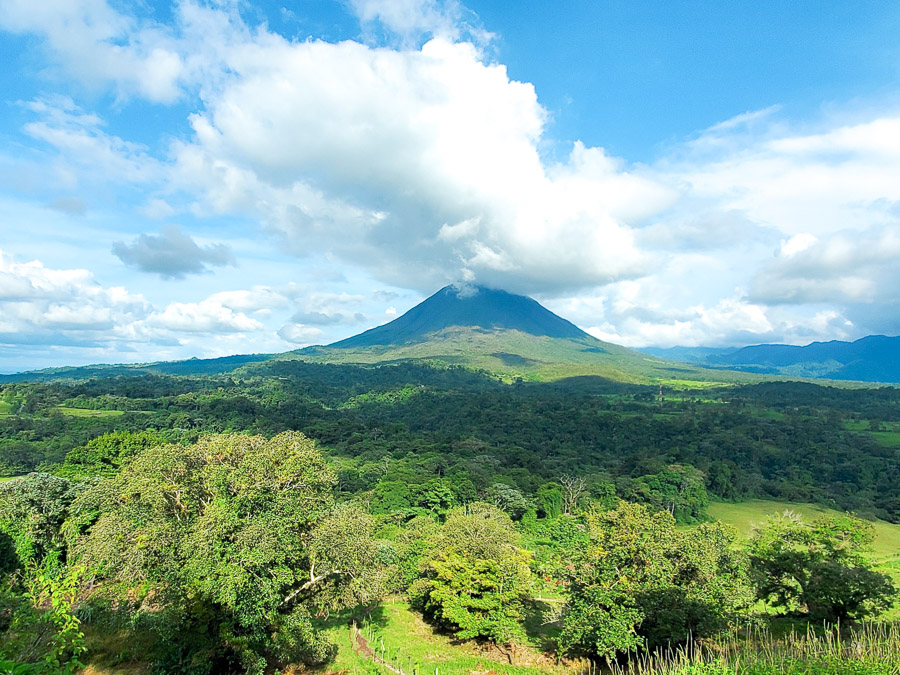 A trip to Costa Rica at the end of June-beginning of July is a great time to experience what Costa Rica has to offer. By the end of June, the vegetation has recovered from the lack of rain during the dry season and is absolutely lush and green, but hasn't gotten too deep into the rainy season yet. You can count on sunrise being clear and bright, with late afternoon rain showers being fairly regular, though not occurring every day. This early in the rainy season, it hasn't gotten too muddy yet, and the bugs are not nearly as thick as they get later in the season.

Recommended by Stephanie from The Unknown Enthusiast
WHERE TO STAY – Click here to find the most sustainable eco-lodges in Costa Rica.
Is shoulder season the best time to visit Costa Rica?
Can it be that the shoulder season is really the best time to travel to Costa Rica? It may as well. Rainfall is expected to start around April and May, but it will only increase gradually in time. It means there may only be 1-2 hours of rain and then the sky is all clear to do any activities you want. Considering that October is the wettest month, the end of spring is quite far from it.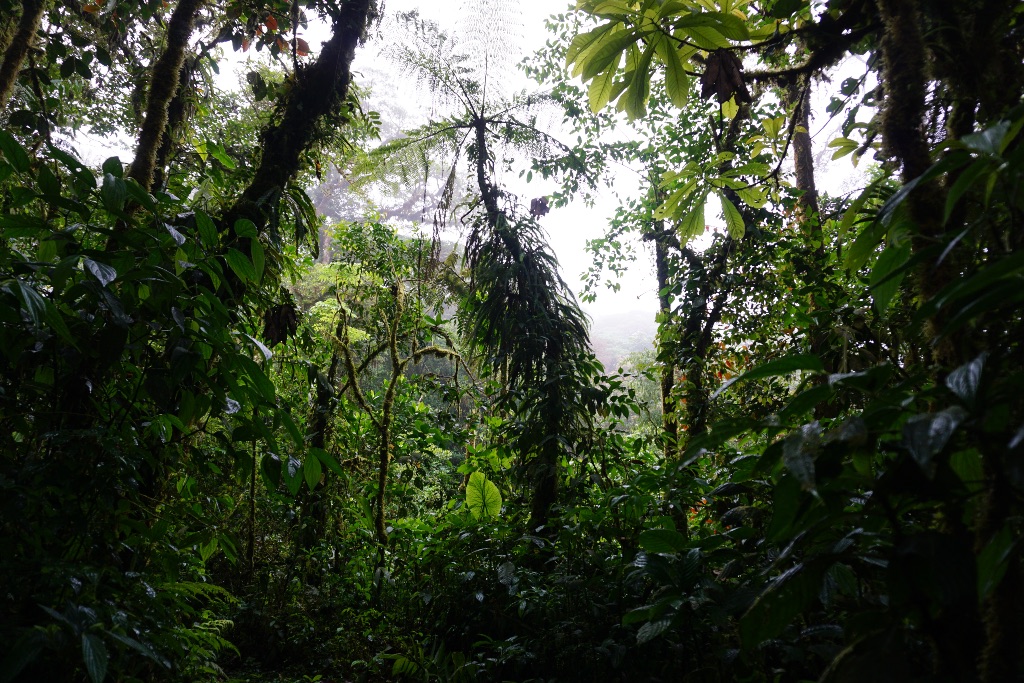 What to expect during this season?
Outside peak season

– It may fall outside peak season in the calendar of several eco-lodges, be sure to check that. There is also less tourists so even the popular locations will not feel too crowded. You get to enjoy the activities as a true eco-tourist.

Mild showers

– The climate is just going into the rainy season, so you can expect mild rainfall.

Green nature

– Especially in May and especially in areas which can get really dry (like Guanacaste), you get to experience how the flora and the fauna wake up due to the wetter weather.
From my own personal travel experience, the shoulder season is the best time to visit Costa Rica. I spent the first half of this year living in Nosara, Costa Rica so I experienced the height of both the dry and the rainy seasons.

April and May were by far the best! During the shoulder season, there were a fraction of the tourists. The rains in the shoulder season are also not too bad. Typically, it will be warm and sunny in the mornings and early afternoons, and storm in the evenings and at night. The rain in the evenings was well worth the lack of tourists. And, with a little more rain, Costa Rica becomes much less dry and far more green and lush, making it all the more beautiful.

For someone who has never been to Costa Rica, I highly recommend visiting in the shoulder season, as you get the benefits of both the dry, and rainy season all in one trip!

Recommended by Haley from Gathering Waves
Activities you can do
WHERE TO STAY – Click here to find the most sustainable eco-lodges in Costa Rica.
Other eco-friendly activities in Costa Rica