9 Eco Yoga Retreats in Costa Rica
Welcome to the list of eco-friendly yoga retreats in Costa Rica. The country's abundant and diverse nature attracts visitors from around the globe, seeking to immerse themselves in the breathtaking beauty and wildlife of this tropical paradise. Dense rainforests, stunning beaches, and majestic volcanoes offer a captivating backdrop for those seeking to connect with nature via yoga.
There are at least 36 eco-friendly things you can do in Costa Rica, and yoga has certainly become a popular one. You can choose to stay at one of the eco-lodges, which offers daily classes as part of a wide selection of activities. Or, if you are seeking a more immersive yoga experience, specialized eco-retreats are available where yoga takes center stage. These retreats provide a dedicated space for individuals to delve deeper into their yoga practice, guided by experienced instructors.
Costa Rica is one of the leading countries in renewable energy, but the yoga retreats we selected are renowned for their commitment to sustainability.
*This post may contain affiliate links. We may receive a commission if you make a purchase through those links. Please read our disclosure.
QUICK GUIDE
What are eco-retreats?
An eco-retreat is a facility that's committed to sustainability and often offers a wide range of activities and longer-term stays. Rather than simply booking a stay, retreats can involve group events and classes such as yoga, meditation, and mindfulness.
BROWSE THROUGH our directory for eco-retreats.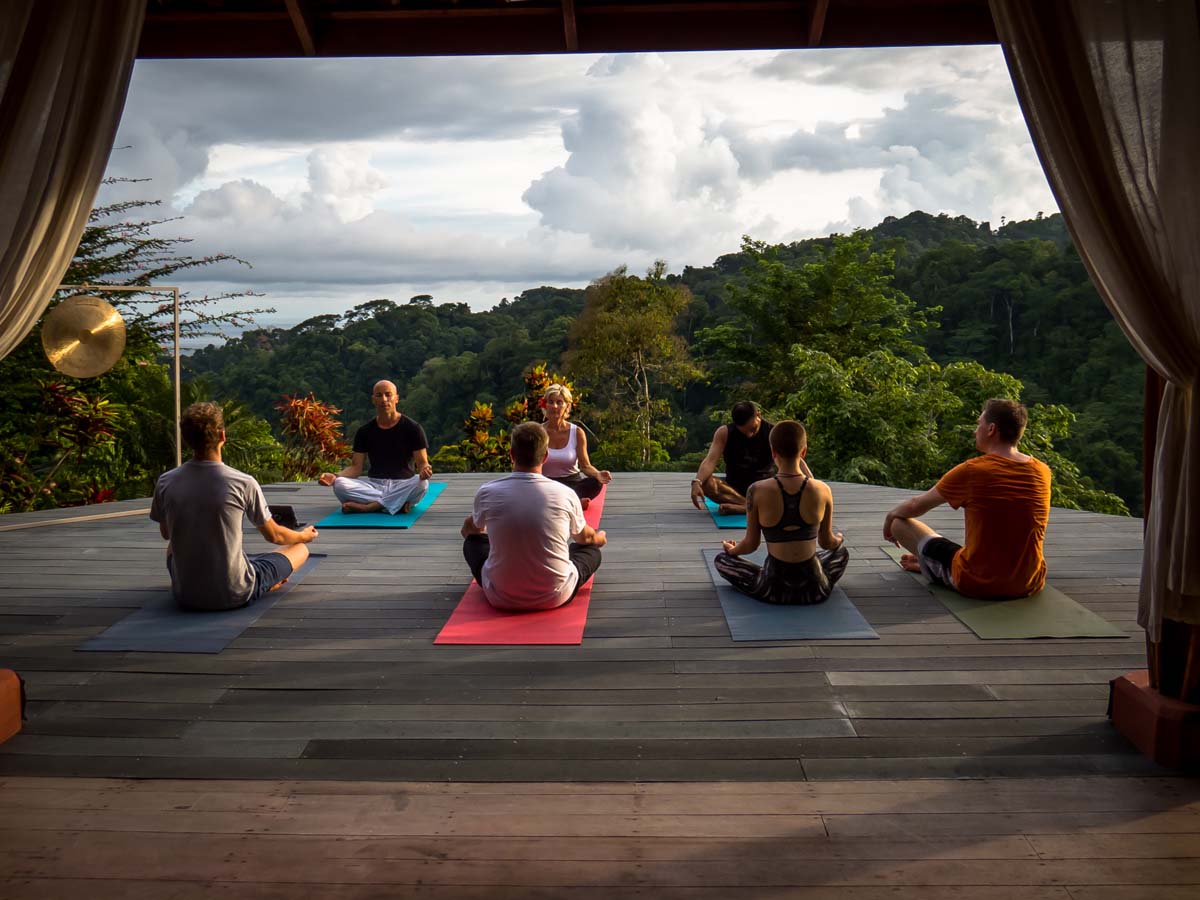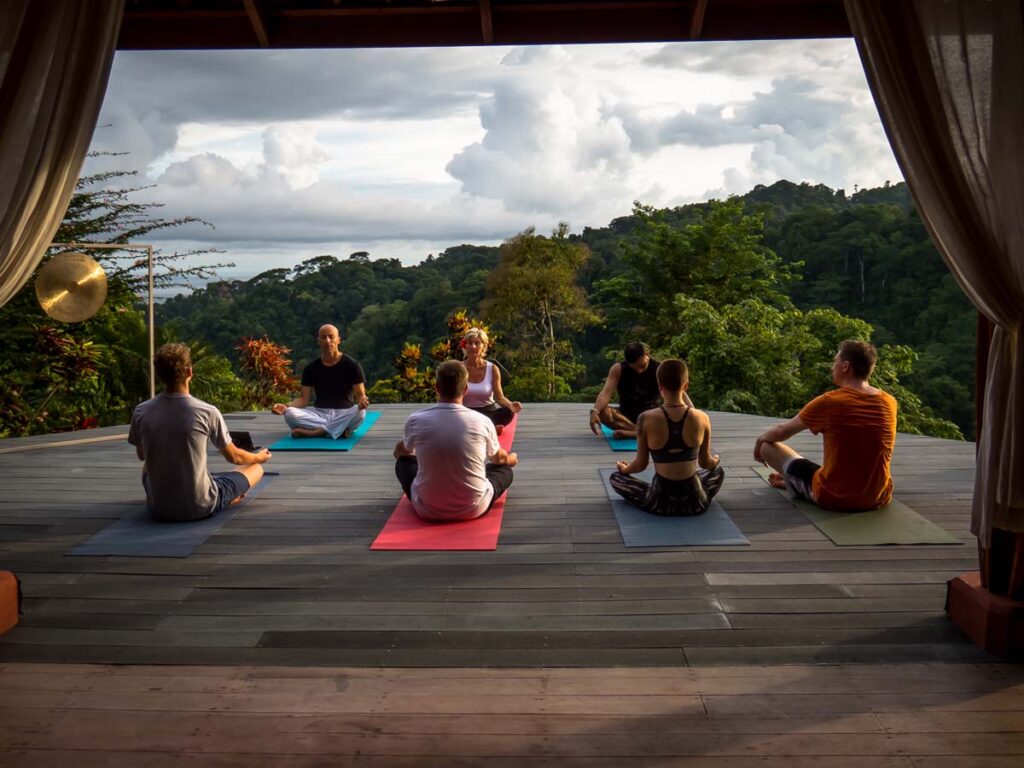 Luna Lodge, an eco-friendly yoga retreat in Costa Rica, immerses guests in a secluded and enchanting rainforest experience on the Osa Peninsula. Founded by Lana Wedmore, this eco-lodge prioritizes wellness and sustainability. It offers many activities while being one of the most sustainable eco-lodges in the Osa Peninsula. The yoga platform, overlooking a mesmerizing vista, provides a serene and inspiring space for guests to connect with their inner selves amidst the natural splendor. Luna Lodge truly embodies the harmony between nature, well-being, and environmental stewardship.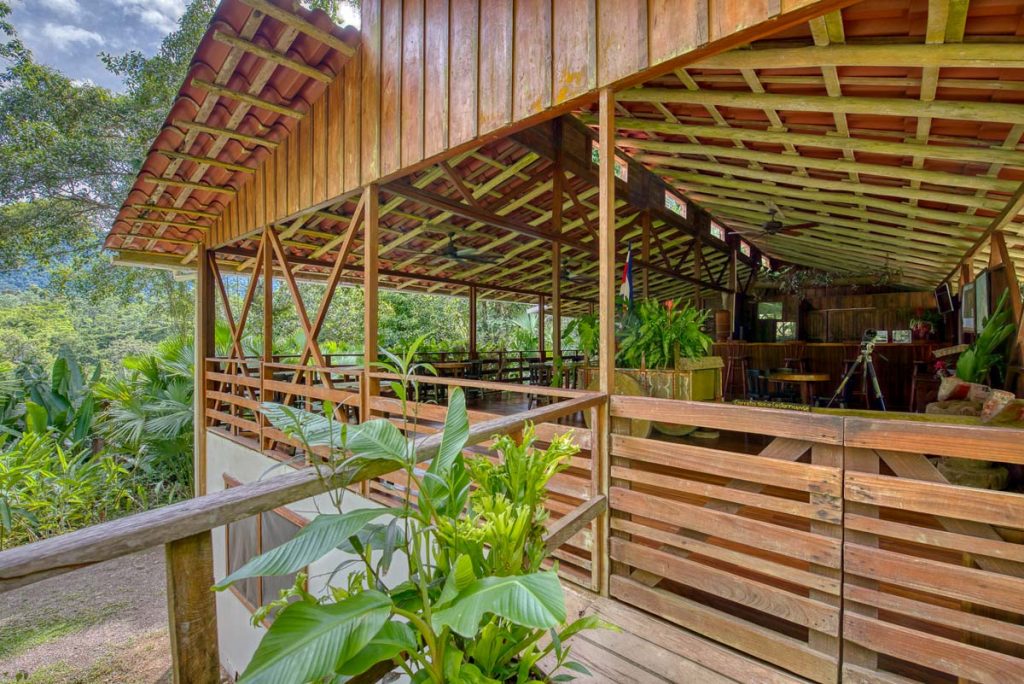 Rancho Margot is one of the most sustainable eco-lodges in Costa Rica, located near the Arenal Volcano. It is much more than a simple yoga retreat in Costa Rica. It offers a harmonious blend of wellness, agricultural experiences, and outdoor activities, all while preserving the pristine beauty of its surroundings. Twice-daily yoga classes cater to all levels amidst the breathtaking rainforest backdrop. Guests can also explore the working farm, gaining insights into organic agriculture and participating in sustainable practices. Adventure awaits with horseback riding and hiking excursions, allowing visitors to connect with nature's wonders.
Playa Nicuesa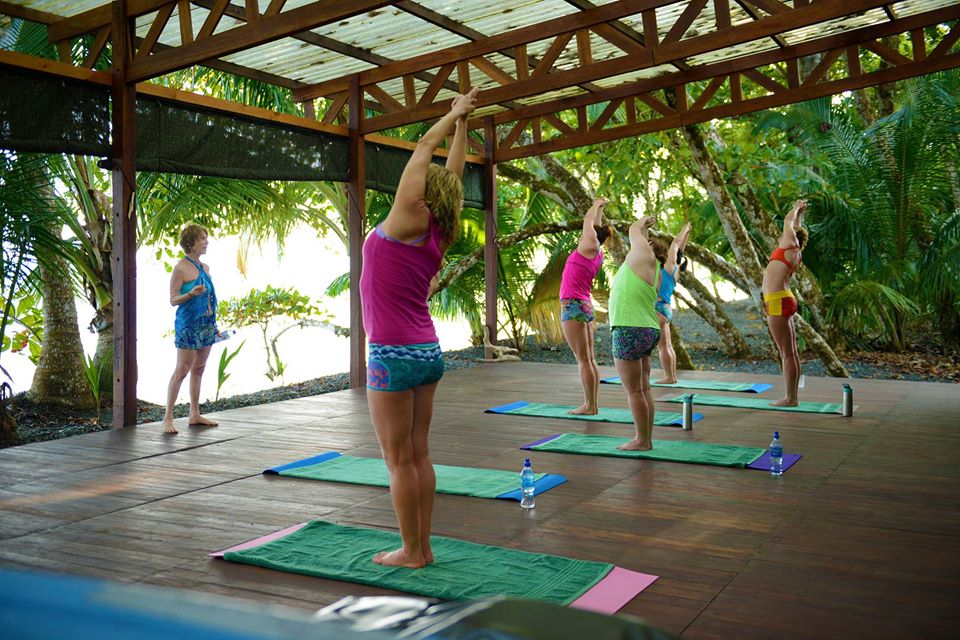 Playa Nicuesa Rainforest Lodge, located on the pristine shores of the Golfo Dulce in Costa Rica, is a charming eco-retreat. It offers rejuvenating yoga classes, providing a serene sanctuary hugged by the rainforest. Guests can partake in daily yoga sessions, guided by experienced instructors, while being surrounded by the sights and sounds of nature. Beyond yoga, guests can go kayaking, hiking, and wildlife spotting in this coastal paradise. Playa Nicuesa also goes above and beyond to minimize its environmental impact, employing renewable energy, composting systems, and responsible waste management practices.
Pacuare Lodge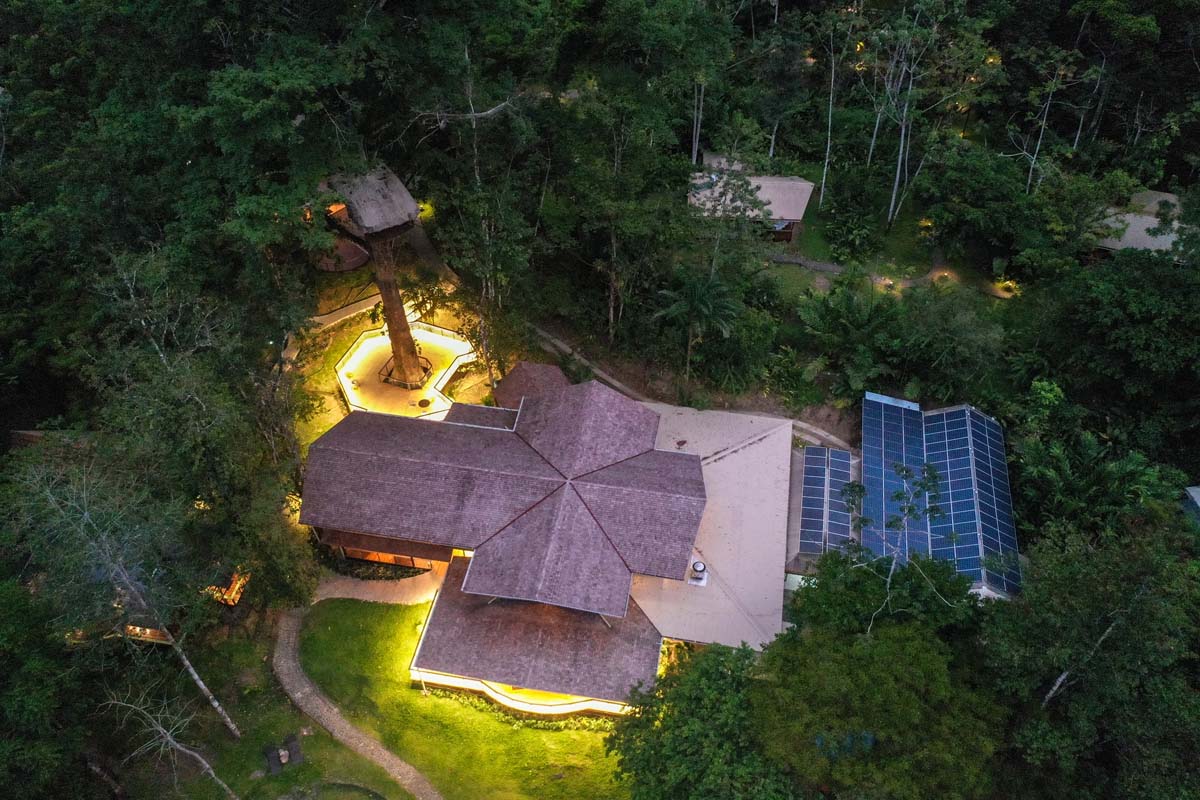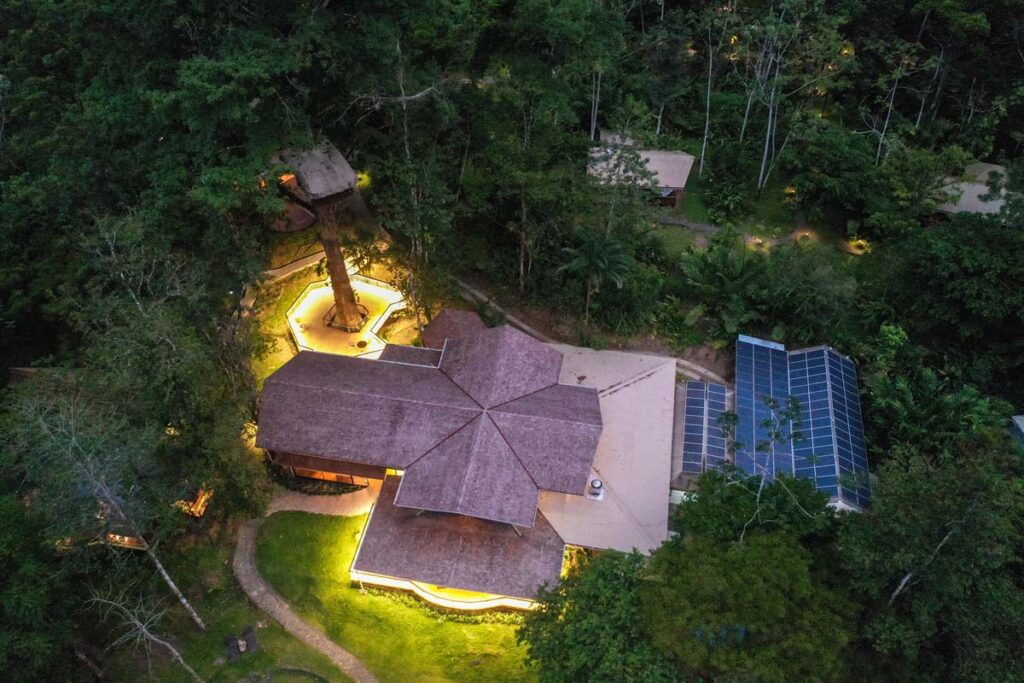 Pacuare Lodge is located in the Talamanca Mountains, in the province of Limón. It got its name from the Pacuare River flowing right next to it. Private bungalows and spacious suites are waiting for nature and yoga lovers. Whether in a group setting or a private session, guests can join these rejuvenating classes led by expert yoga teachers who cater to all skill levels. Weather permitting, classes take place three days a week on the grass lawn overlooking the river. In case of rain, the classes are moved to the second floor of the main lodge, offering stunning views of the river and the rainforest.
Bodhi Tree Yoga Retreat

Bodhi Tree Yoga Retreat not only offers a dedicated space for a week-long immersion in yoga, but also prioritizes sustainability. This eco-retreat is committed to minimizing its environmental footprint. Bodhi is powered by solar energy, embracing a plastic-free philosophy, and has its own wastewater treatment plant to manage and recycle all types of water on-site responsibly. These eco-friendly practices align with the retreat's holistic approach, fostering a deep connection with nature while nurturing personal well-being.
Samasati
Samasati, a sanctuary nestled in Costa Rica. This eco-retreat ensures environmental preservation by designating 80% of its property as a legally declared Private Biological Reserve. Amidst this untouched paradise, guests can fully immerse themselves in yoga practices while basking in the serenity of the natural surroundings. Samasati has offered weekly yoga retreats since 1997, when passionate yoga and meditation students founded it. At that time, it was one of the first to offer yoga teacher training and retreats in the region.
Essence Arenal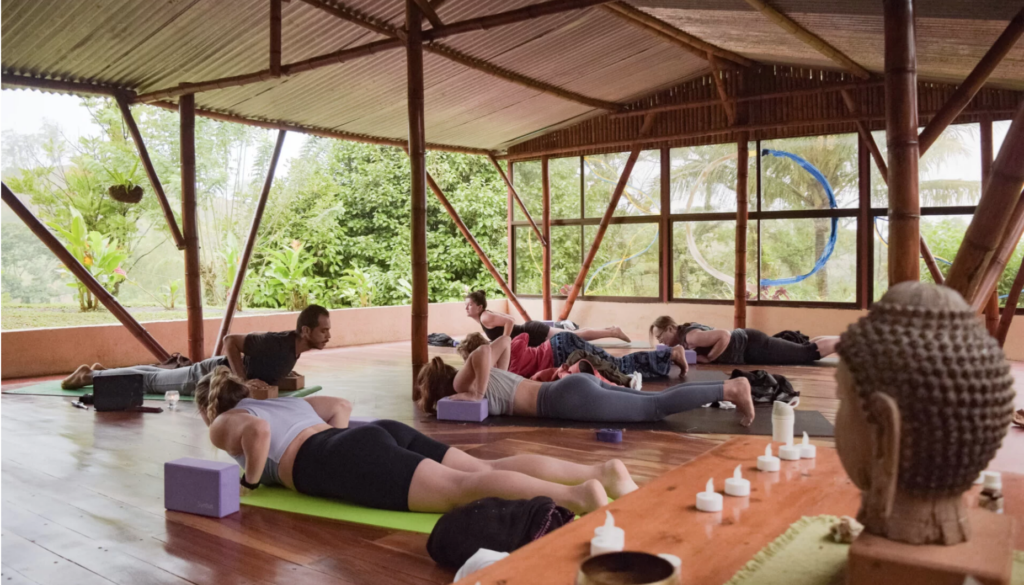 Essence Arenal, nestled on a hilltop within the lush jungle of Costa Rica, offers a captivating 22-hectare prime location with breathtaking views of the Arenal Volcano, Lake Arenal, and El Castillo Valley. It is more than just an eco-lodge since it aims to offer a holistic experience as a hotel, restaurant, permaculture farm, spa, wellness retreat, and eco-residential community. Essence Arenal utilizes 90% solar energy, locally-sourced natural spring water and has operated chemical-free for over 14 years. The yoga retreat offers a variety of health-focused sessions, including yoga, mental wellness, and weight loss, allowing guests to choose their desired duration.
Blue Osa Yoga Retreat & Spa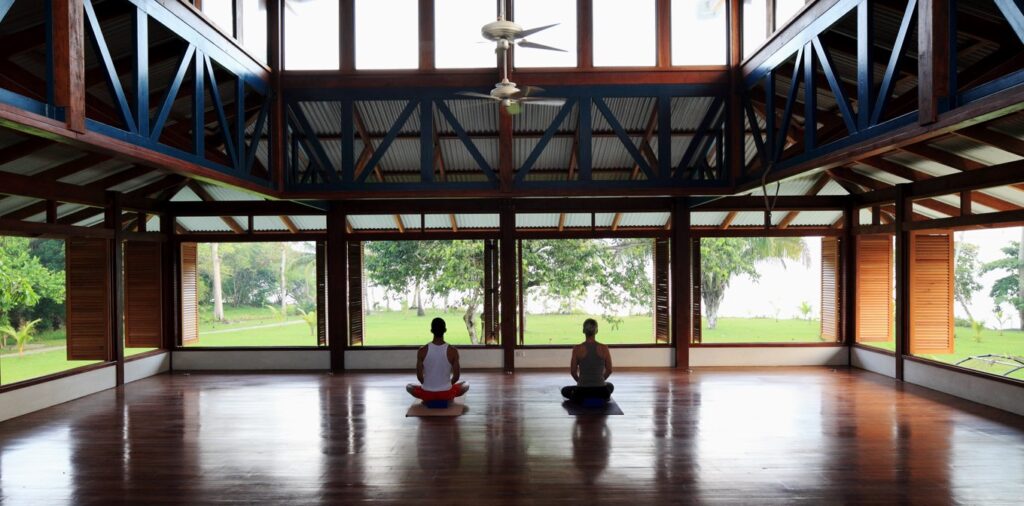 Blue Osa Yoga Retreat takes pride in its commitment to minimizing its carbon footprint and operating sustainably. This yoga retreat in Costa Rica has a bright, open-air studio with panoramic views of a private beach and lush tropical gardens, offering the ideal environment for relaxation. After yoga, guests can indulge in rejuvenating spa treatments or take part in a range of eco-adventures, including birdwatching, kayaking, or zip-lining. They also offer longer yoga teacher training that you need to book in advance.
Macaw Lodge
Macaw Lodge is nestled in the Central Pacific region, close to the capital, San Jose. Surrounded by nature, this tranquil eco-lodge offers two spacious platforms accommodating up to 30 individuals each for yoga practice. Yoga Lento (Slow Flow), Yoga Vinyasa, or Yoga Nidra are three techniques offered there. It also takes pride in being completely off the grid, utilizing solar power to meet part of its energy needs. The lodge sources water from natural springs on the property and treats it without harmful chemicals, ensuring a sustainable water supply for the lodge and cabins. It also operates a sustainable farm, cultivating a variety of fruits, vegetables, herbs, and cocoa for meals served to guests and staff.
Playa Cativo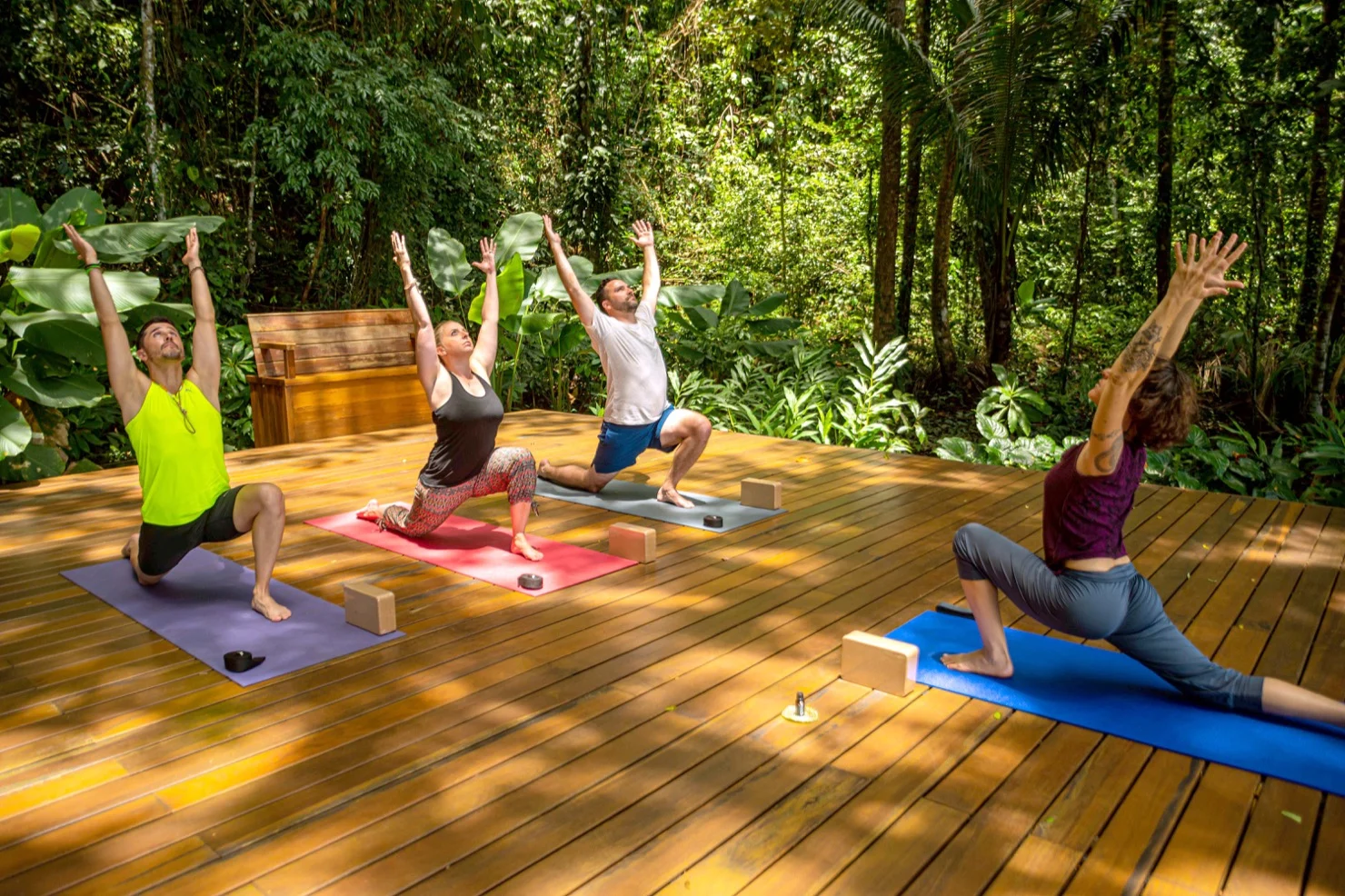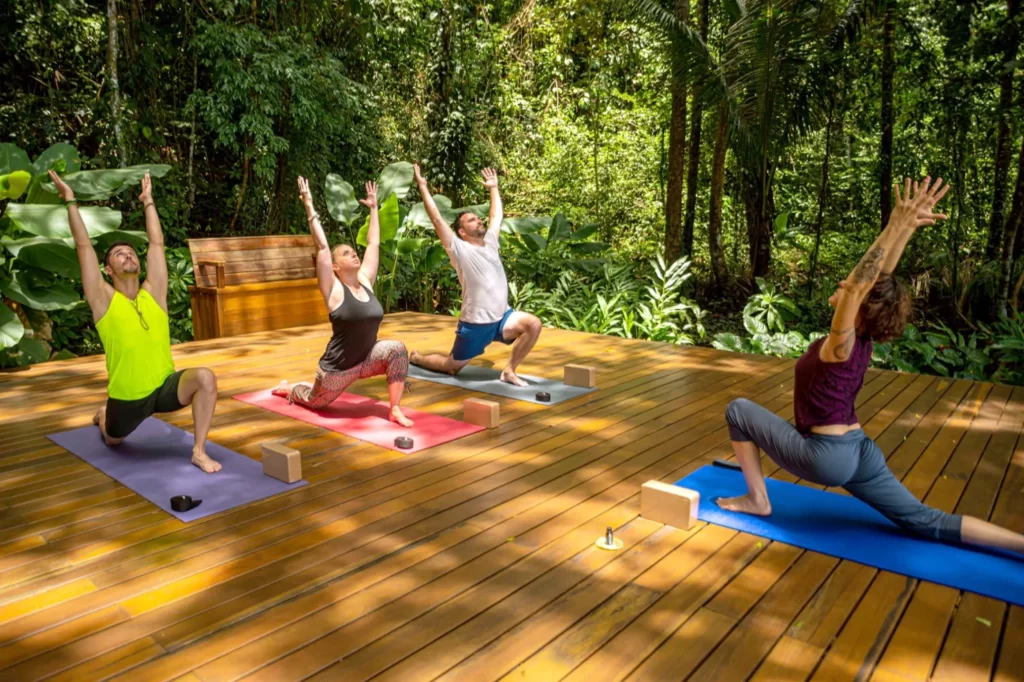 Playa Cativo Lodge is a 100% sustainable eco-lodge in Piedras Blancas National Park. The lodge is deeply committed to being environmentally friendly and invites guests to join them in mindful practices. It generates 100% clean electric energy through hydropower and solar panels and operates a flourishing farm that produces a diverse range of fruits, vegetables, and herbs, which are thoughtfully incorporated into the farm-to-table cuisine served there. Playa Cativo Lodge also offers yoga experiences that allow guests to connect with the natural surroundings. From tranquil sessions on the beach to serene practices amidst the rainforest, yoga enthusiasts can find inner peace and rejuvenation in this idyllic setting.
More from Costa Rica