36 Eco-Friendly Things To Do In Costa Rica (A-Z)
There are plenty of things to do in Costa Rica, but this list will give you environmentally conscious options. We have done the research for you, so you don't have to. These eco-friendly activities are designed to be mindful of natural resources and preserve local culture. They focus on protecting nature and using resources wisely, from enjoying outdoor activities to learning about local culture. Ecotourism in Costa Rica can help ensure the country stays beautiful and healthy for future generations.
If you travel to Costa Rica, will you also stay in eco-friendly accommodations? There are a plethora of sustainable eco-lodges in Costa Rica you can choose from. Eco-lodges are accommodations in undisturbed, remote natural areas where both construction and operation have the lowest impact possible on the environment. They are not only part of the local community, but they are active participants in protecting nature and culturally sensitive areas.
*This post may contain affiliate links. We may receive a commission if you make a purchase through those links. Please read our disclosure.
Birdwatching
Chocolate tours
Coffee tours
Horseback riding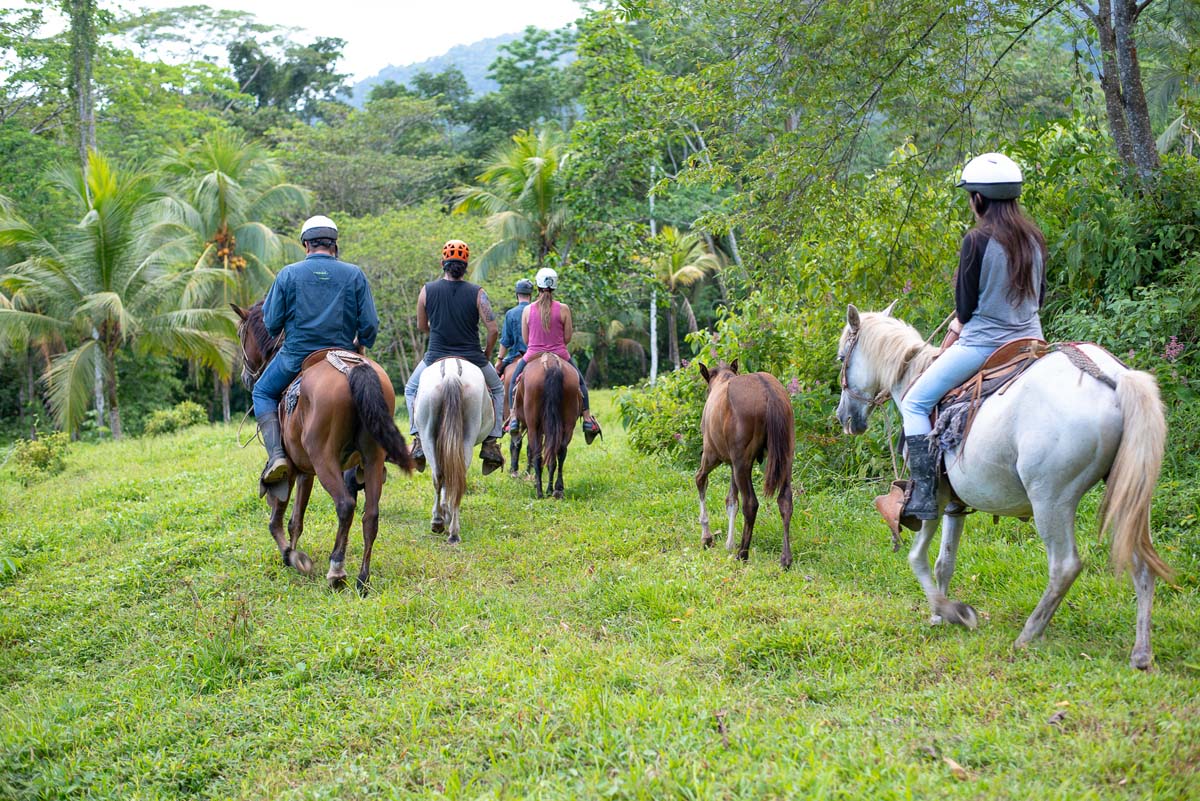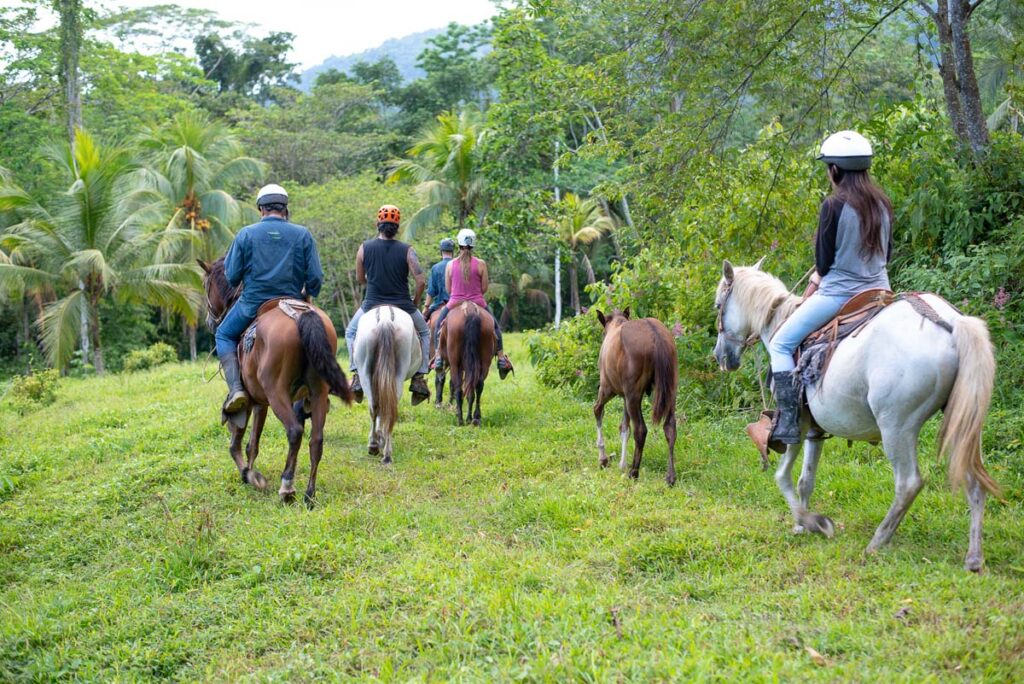 From lush rainforests and mountains to pristine beaches and picturesque waterfalls, exploring these on horseback will give you a unique perspective. During horseback riding in Mistico Park, you can enjoy the view of Arenal Volcano and Lake from a hilltop. Or go horseback riding in Jaco Beach, which guides you through rice plantations, river crossings, and finally, to enjoy the sunset at the beach. Horseback riding is an eco-friendly and sustainable way to explore Costa Rica's natural wonders by supporting local tour operators and minimizing your impact on the environment.
"Horseback riding in Costa Rica is one of the best ways to see the dramatic and diverse landscapes! We chose to do a tour in Guanacaste province, where we experienced mountainous trails and jungle paths followed by an ending on the beach. It was perfect!" – says Marisa Mercanti-Gagnon, a travel blogger behind Daydream Diaries.
Hot springs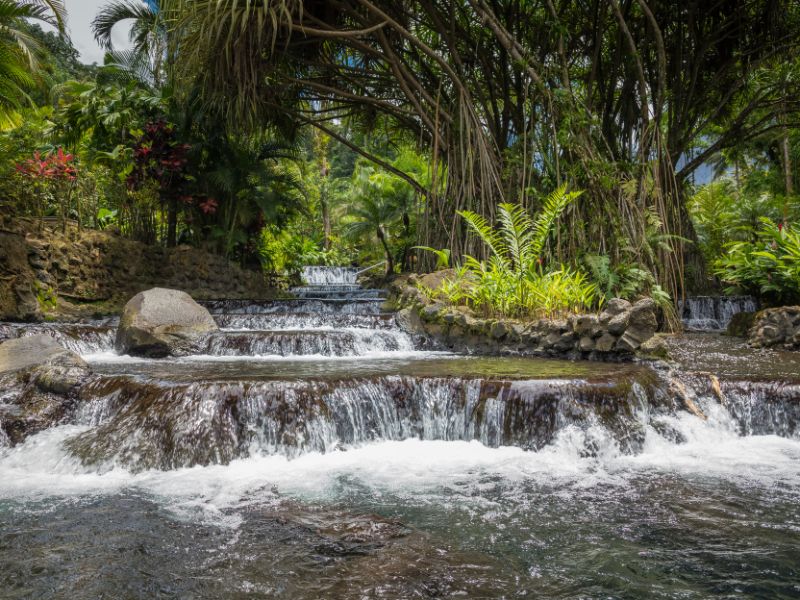 Many hot springs in Costa Rica are usually attached to large resorts, like Baldi Hot Springs or Tabacon Hot Springs. While you can get a day pass, you may still want somewhere more secluded and closer to nature.
Rio Perdido Hot Springs is an eco-hotel with significant sustainability practices. It offers a natural hot springs experience in a beautiful canyon setting, where only 1% of the land is occupied, and the rest is left to nature.
EcoTermales Hot Springs is a family-owned and operated natural hot spring. It stands out as the sole hot spring in La Fortuna, where the water emerges naturally from the ground on the premises.
Sensoria is a family-owned, off-grid rainforest experience operating 100% on solar and hydropower near Rincon de la Vieja National Park. They offer tours to hike to and then dip into natural thermal pools in the middle of the rainforest.
Indigenous culture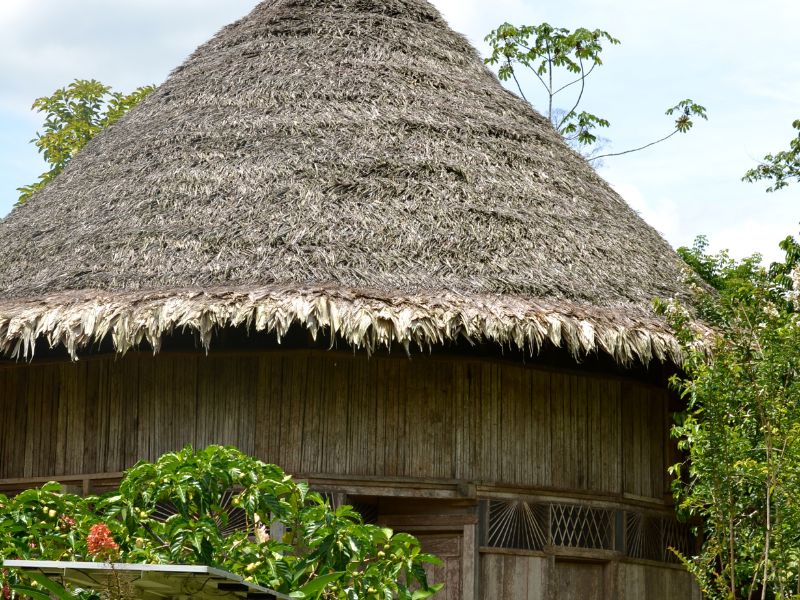 Eight indigenous tribes are living in Costa Rica: the Huetar, Maleku, Bribri, Cabécar, Brunka, Ngäbe, Bröran, and Chorotega, accounting for 2.4% of the country's population. IWGIA, the International Group for Indigenous Affairs, reported that between 35% and 94% (depending on which tribe) are living below the poverty line. If you are looking for ways to travel more sustainably, besides preserving the environment, support local culture and engage in responsible cultural tourism. How to do that? One of the ways tribes earn their income is by welcoming guests to learn about their culture via village tours.
"Learning about the Bribri people, speaking with a shaman, and supporting their livelihood is an unforgettable experience that will certainly stick with you after you leave Costa Rica." – say travel bloggers, Katie and Ben, while they are recollecting their experience in a Bribri village.
Mangrove tour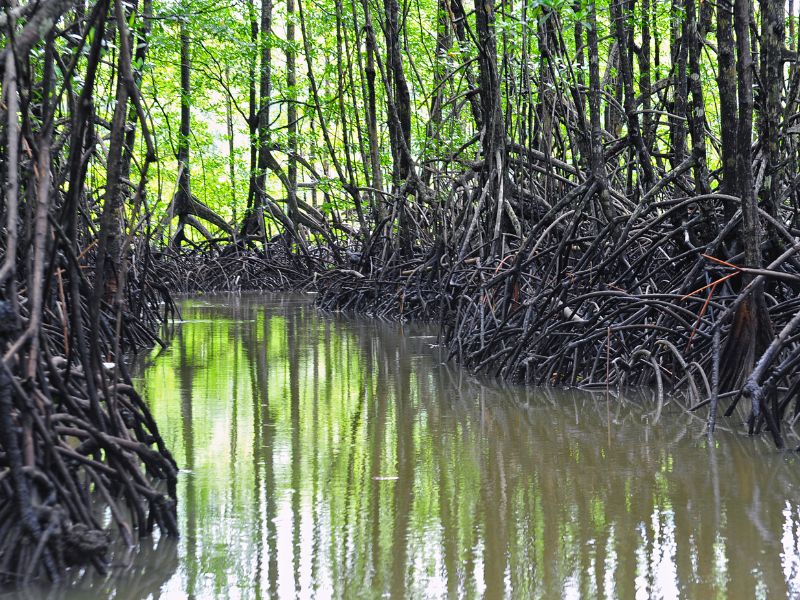 Mangroves are all around the coasts of Costa Rica like the Térraba-Sierpe National Wetlands, being the largest, Tortuguero National Park, the destination for turtle watching, or Palo Verde National Park, a true paradise for birds.
However, there is a smaller mangrove called Damas Island Estuary, which is famous for Capuchin monkeys. The convergence of three rivers forms the estuary: the Paquita River, the Damas River, and the Barú River creating a complex network of mangroves, canals, and lagoons. Many tour operators offer guided boat tours, but if you want to enjoy the calm waters and the serene atmosphere, opt for guided kayak tours.
Manatees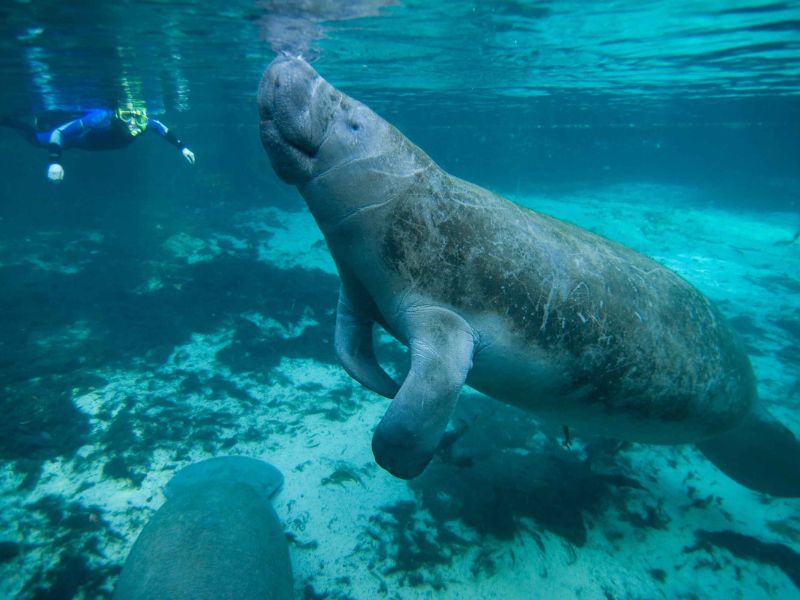 There are not a lot of places in the world where manatees live. Besides the coastal areas of the Caribbean Sea, you can only spot them in the Amazonas basin and the shallow, warm waters of West Africa. Scientists have only confirmed a permanent population in 2022 in Tortuguero National Park. Manatees are an endangered species, and Costa Rica Wildlife Foundation focuses on their conservation. Since the number one reason for the declining number is "collision with boats", choose kayaking, instead of boat rides to catch a glimpse of them. There are many guided kayak or canoe tours that will help you discover the canals and their wildlife.
National parks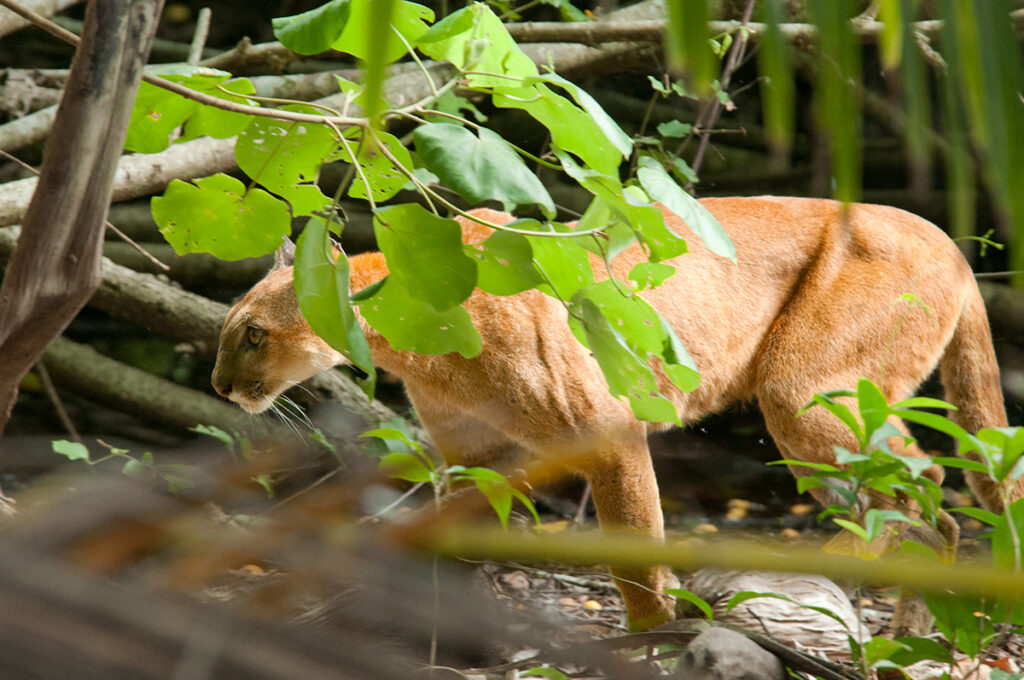 Costa Rica's official website for SINAC (National System of Conservation Areas) lists 20 national parks, but there are many more preserves and other protected areas. In total, 25% of its territory is protected in one way or another. The spectacular biodiversity is one of the things Costa Rica is famous for. Visiting national parks should be your top thing to do in Costa Rica. Here is a full list with a map.
"There's no better way to explore the wildlife of Costa Rica than by hiking at Manuel Antonio National Park. Taking a guided tour means you'll be able to spot the infamous sloths hiding high above you and learn about the wildlife here." – says Sarah Carter, who has been traveling around the world since 2014.
"Wild and remote Corcovado National Park is by far the best place to see wildlife in Costa Rica. You can only visit the park with a certified nature guide to minimize your impact on the ecosystem. And if you are lucky, you may even spot a puma, like we did." said Margarita Steinhardt, member of the Australia Society of Travel Writers.
Night tours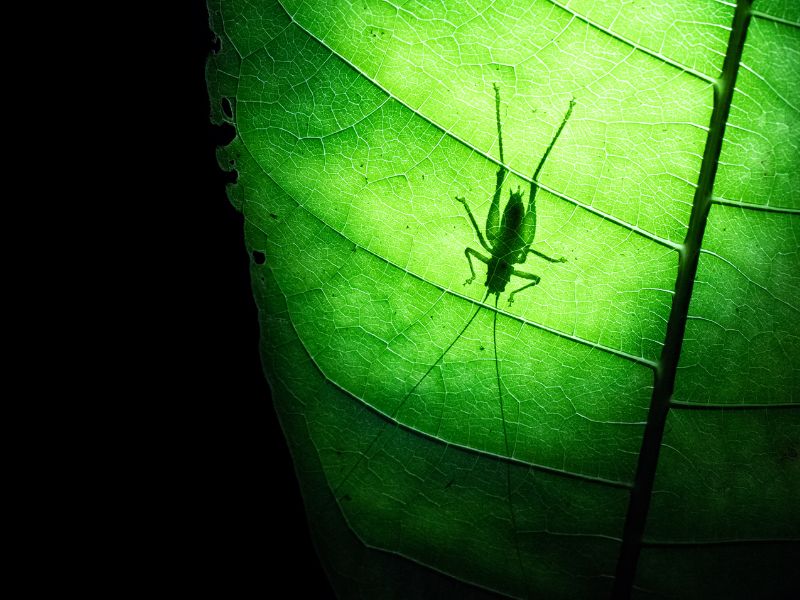 Night walks in Costa Rica offer an extraordinary opportunity to witness the captivating wonders of the nocturnal world. Several species can be elusive during the day. Owl monkeys, kinkajous, small wild cats like ocelots and margays, frogs, toads, bats, snakes, and many insects can be spotted during the night.
"Since 80% of Monteverde's wildlife comes out at night, trekking at night into the unknown of what the lush Costa Rican rainforest had to offer was exhilarating." – said Haley Blackall, a full-time world traveler, about her night walk in Monteverde. "With the canopy of stars above us, we admired the incredible plethora of wildlife, including a camouflage Moss Mantis and got up close and personal with an electric green slithering snake. My husband, of course, obsessed over all the multi-legged creepy crawlers."
Safari float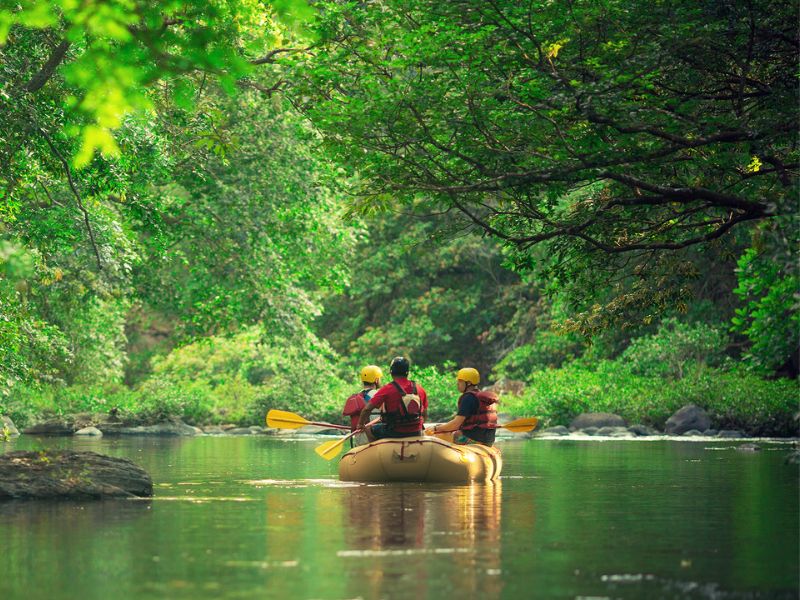 Safari floats are an eco-friendly alternative to boat tours. Imagine large inflatable rafts floating down a calm river. The pace of the float is slow, allowing for a relaxed atmosphere. There is no engine noise, no pollution, and no disruption to wildlife. The calm and quiet nature of this activity allows for a closer encounter with wildlife, as animals tend to be undisturbed by the presence of floating rafts. There are certainly many safari float tours near La Fortuna and for good reason.
"A great half-day activity from La Fortuna is floating down the Peñas Blancas on a raft. We loved that the tour was suitable for our young kids as well. We loved seeing sloths, monkeys, crocodiles, and other cool animals right off the river." – says Megan, a mom of 4 and travel blogger behind Let's Jet, Kids!
Sailing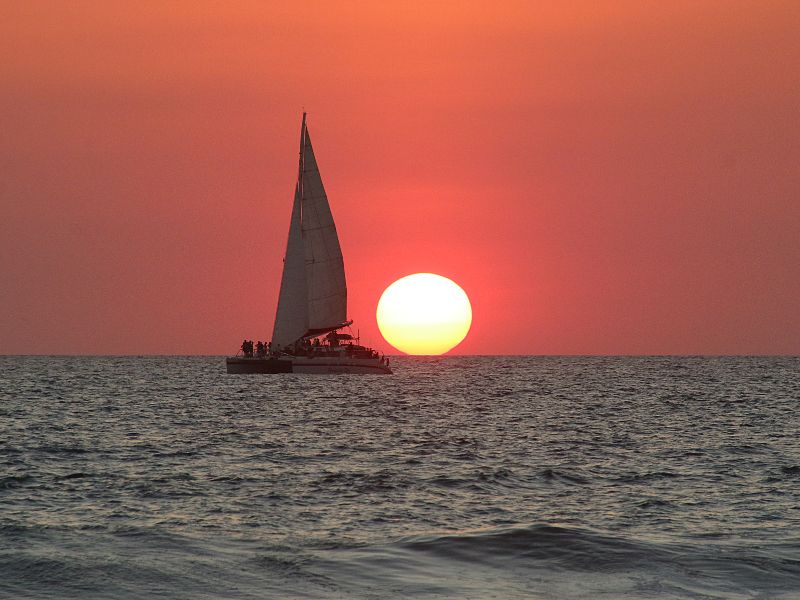 Feeling the wind fill the sails, the warmth of the sun on your skin, and the spray of the water can foster a deep appreciation for the beauty of the natural world. Sailing can offer a relaxed experience, particularly if you have an experienced captain with you. Sailing has a very small carbon footprint and environmental impact compared to motorized boats. There are many sailing tours you can choose from, often paired with snorkeling and scuba diving or dolphin and whale watching.
Sky Fisher, a travel blogger who has been living in Costa Rica for the past 6 years, recommends sailing in Playas del Coco. "I've been sailing out of Coco more times than I can count – at least 20 – and each time is special. The most memorable was on a private sailing trip with my friends for my birthday, when a pod of dolphins swam alongside our boat right at sunset."
Scuba diving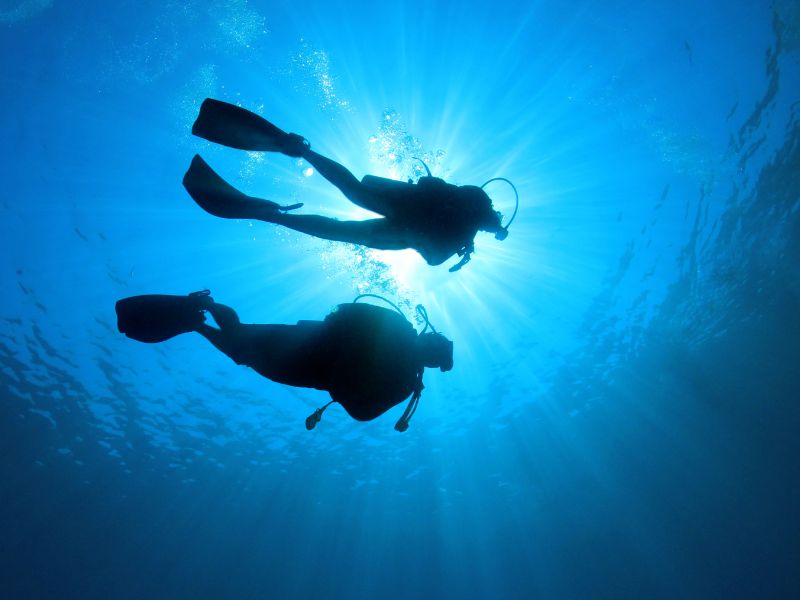 Do you want to dive at one of the UNESCO's Wold Heritage site? Technically, you can, but before that, you must take a 36-hour boat ride to Cocos Island. If you are looking for something closer, there are plenty of beautiful places right next to the shore. Caño Island near Osa Peninsula, Cahuita National Park, the home of the largest coral reef in Costa Rica, or Santa Catalina Islands in Guanacaste just to name a few. The really brave divers can go to Bat Islands to swim with a large population of bull sharks.
"Las Catalinas Islands has some of the best diving waters in Costa Rica. Scuba diving at these islands allows you to see hundreds of types of fish, turtles, manta rays, whales, and even sharks. It allows you to get in the water and see these incredible animals up close in their natural habitat. " – says travel blogger Pamel Drager, who has been traveling around the world for 10 years.
Sea kayaking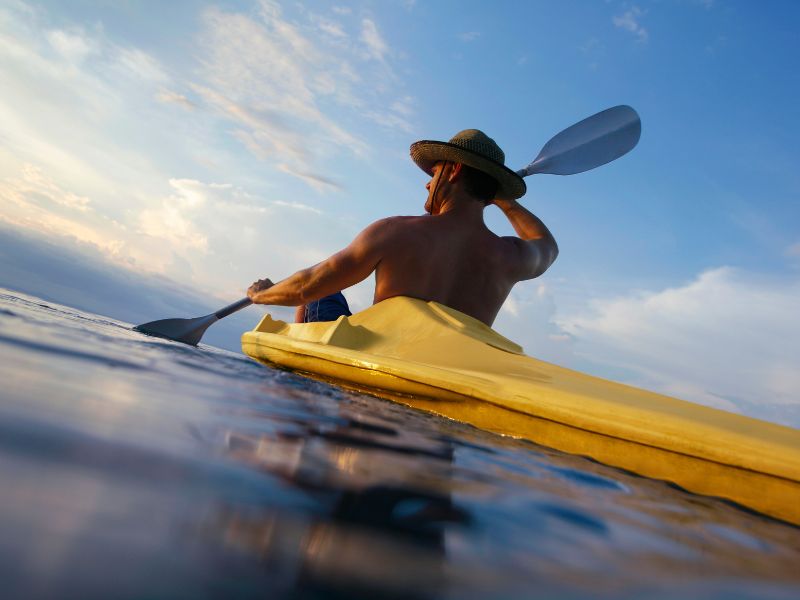 While there are many guided kayak or canoe tours that will help you discover the mangroves, the rivers, and the canals, Costa Rica offers numerous breathtaking kayaking opportunities in the sea as well.
Nicoya Peninsula, on Costa Rica's northwestern Pacific coast, offers a diverse range of kayaking opportunities. From tranquil bays to rugged coastlines, you can paddle along the peninsula's pristine beaches, explore hidden coves, and discover secluded islands. The area is known for its stunning sunsets and abundant marine life, making it a captivating destination for sea kayaking enthusiasts.
There is also a special night kayak tour in its bioluminescence bay called, Paquera Bay. There are at least 35 bioluminescence bays around the world, and Costa Rica is not the most famous one. Still, it is a sparkling opportunity in nature not to be missed.
Snorkeling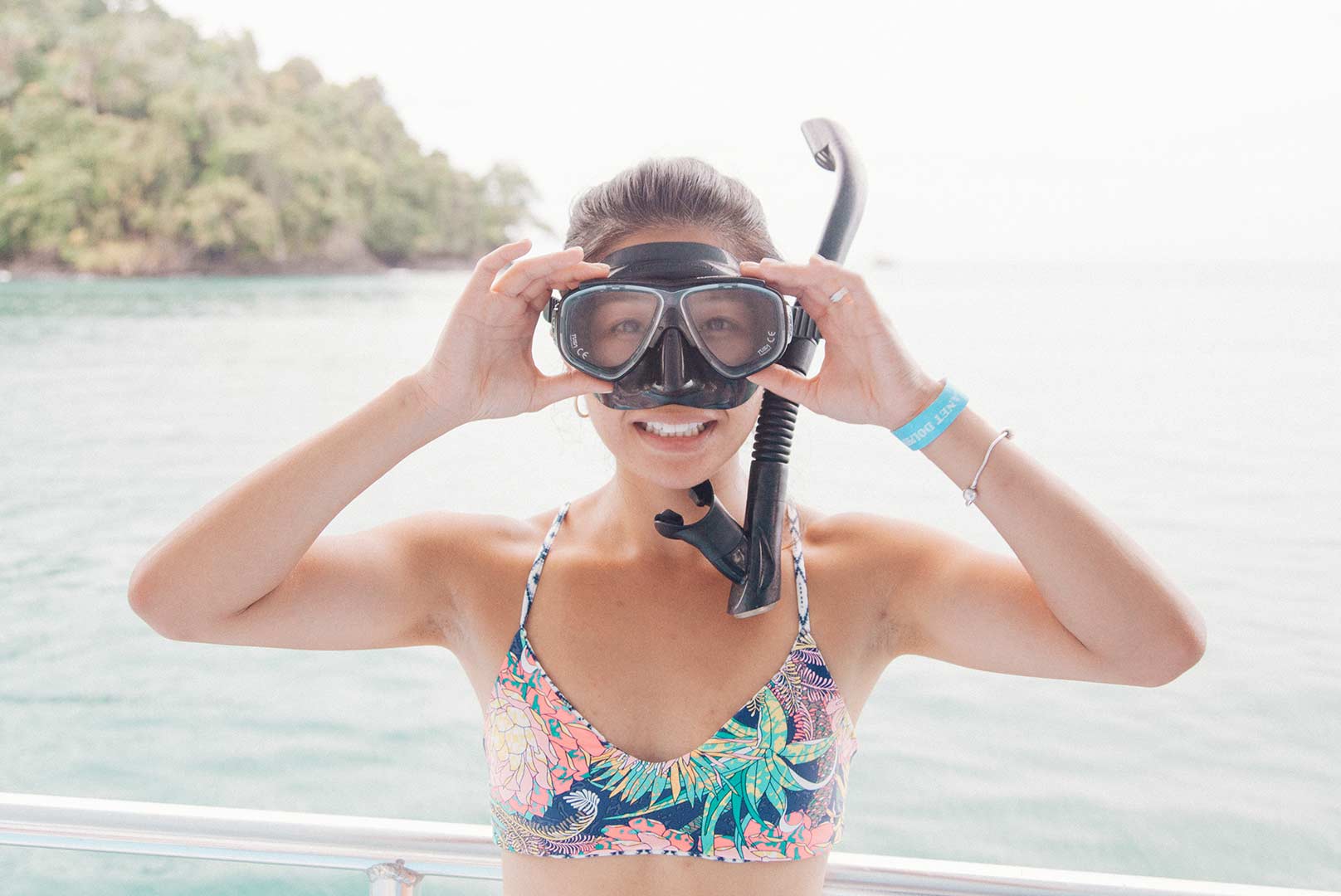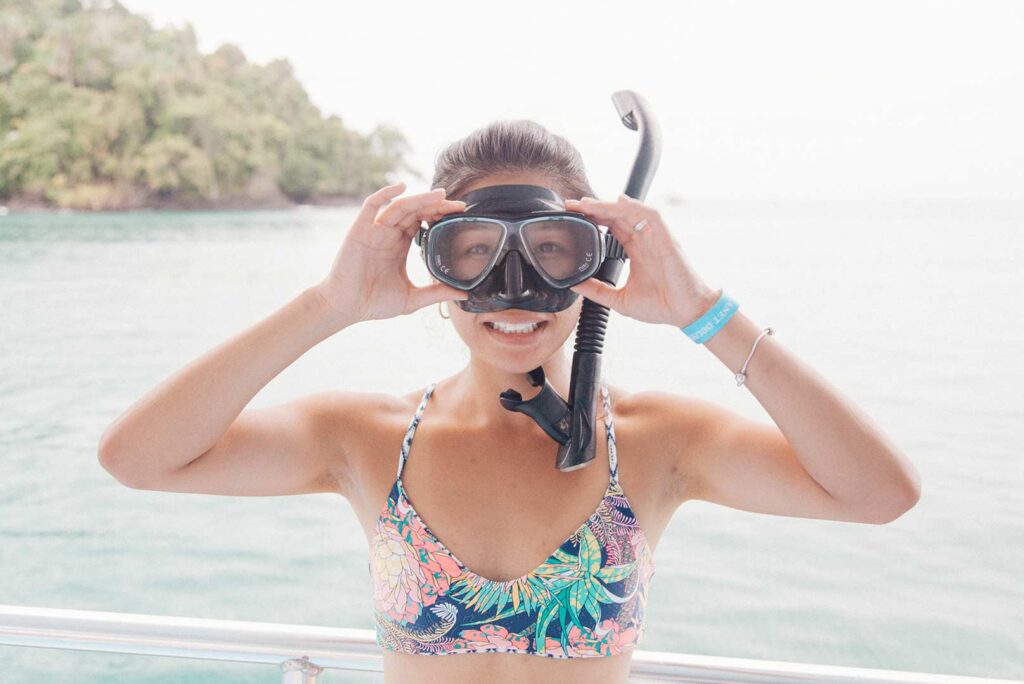 Scuba diving and snorkeling often come hand in hand. Caño Island (Osa Peninsula), Cahuita National Park, and Santa Catalina Islands can also be a destination for snorkeling. There are also many tour operators who use motorized boats, but you should opt for a more eco-friendly catamaran tour where the wind is the only power you need.
Surfing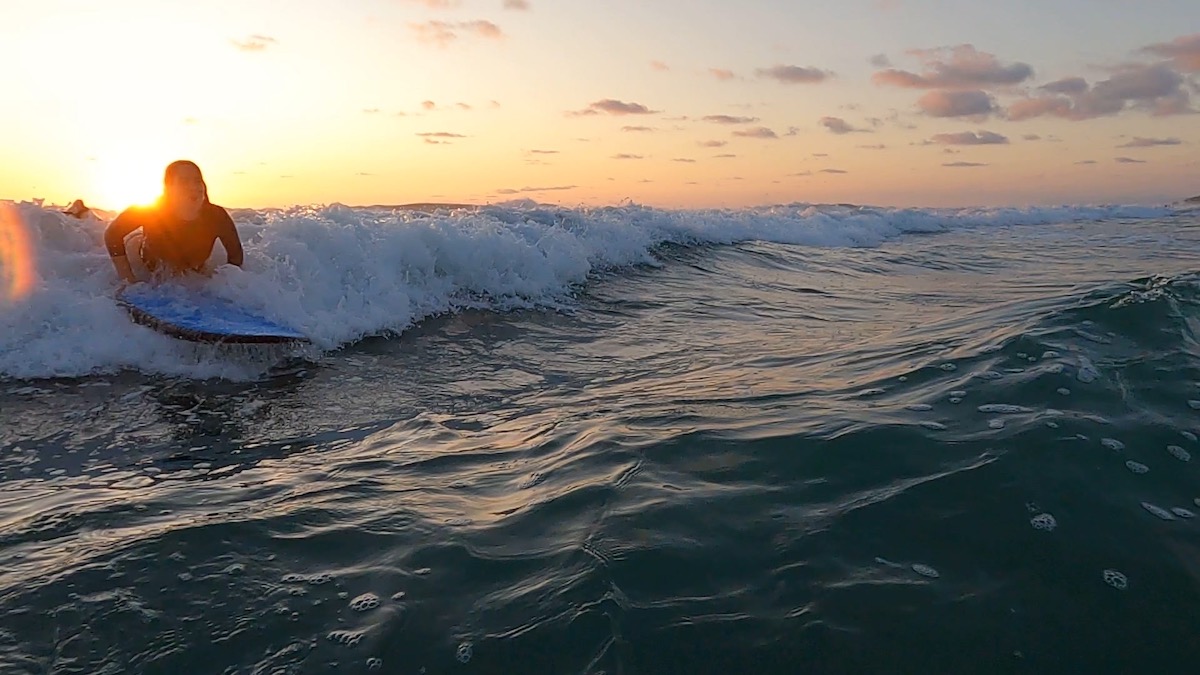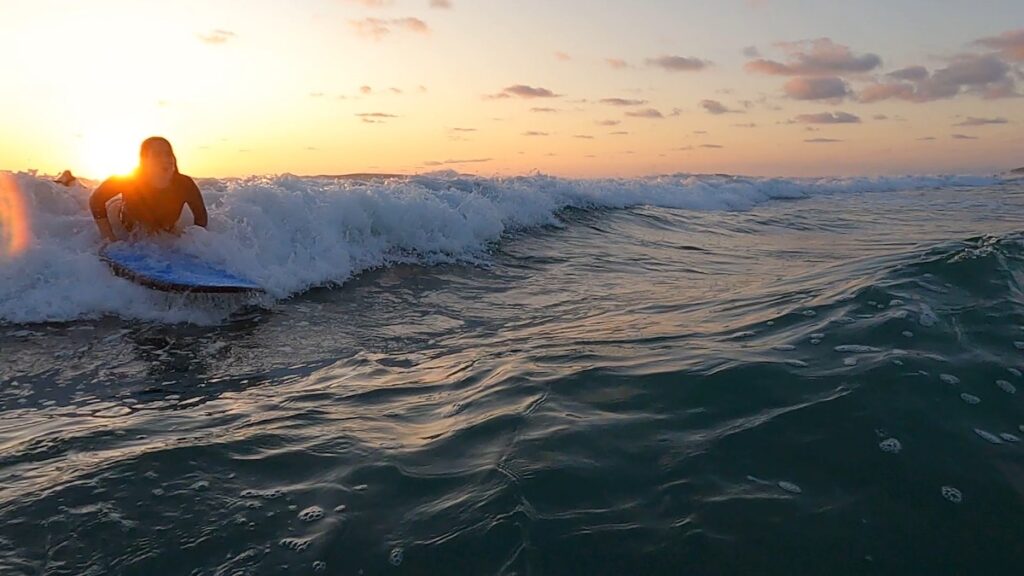 The Pacific Coast is longer, spanning around 631 miles, while the Caribbean Coast is shorter, measuring about 170 miles. Still, there are ample opportunities to go surfing. Witch's Rock (Playa Naranjo), Playa Grande, Tamarindo, Jaco, and Playa Negra are perfect spots. There are many eco-lodges in Costa Rica offering surf camps and promoting the protection of the coastal ecosystems.
"Surfing in Costa Rica is a fun eco-friendly activity that combines the thrill of catching waves with the stunning natural scenery of the palm tree-lined coastline. I enjoyed surfing at Santa Teresa on the Nicoya Peninsula, which tends to have reliable and powerful waves year-round that suit a variety of levels, from beginners like me to the more advanced." – says Melanie Ferguson, a travel blogger at Postcards & Places.
Tubing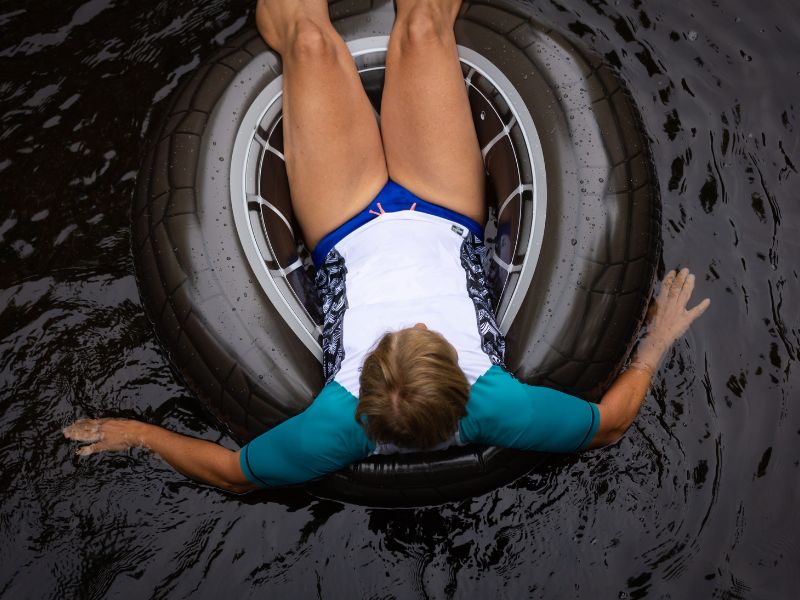 Tubing is like canyoning but on a float. It is a popular activity for adventure seekers and families looking for a fun and memorable experience. It requires minimal skill or experience, making it accessible to people of various ages and fitness levels. You get a helmet, a life jacket, and an inflatable tube to navigate yourself down calm rivers and occasional small rapids. It offers a unique perspective to enjoy the sights and sounds of nature. Rio Celeste, Rio Negro, and Rio Colorado are popular rivers for this activity.
Turtle watching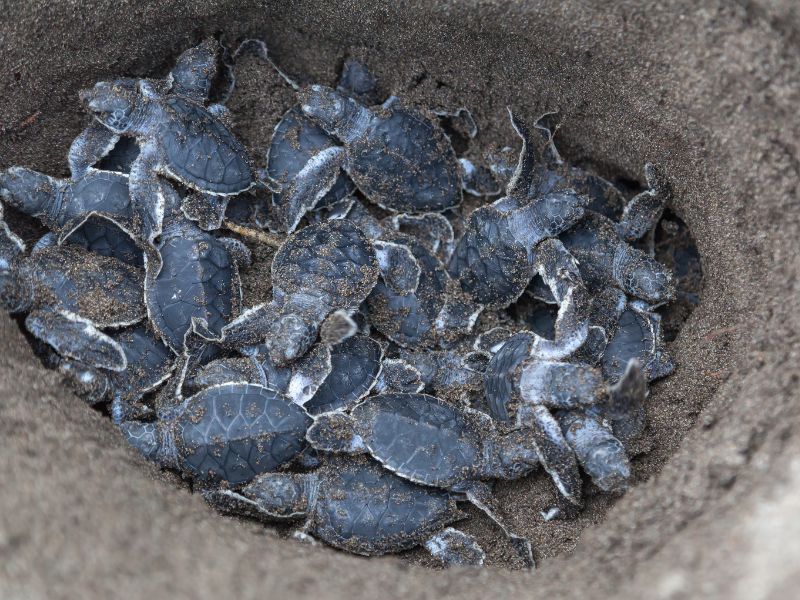 Costa Rica beaches host the nesting of 5 turtle species: Letherback, Hawksbill, Green, Loggerhead, and Olive Ridley. Did you know that Tortuguero means home of the turtles in Spanish? No wonder, 4 out of these 5 lay eggs here. The nesting season starts in March and goes until October, as the different species arrive after each other and not at the same time. The eggs hatch in 1-2 months.
Turtle watching in Costa Rica allows you to witness the nesting rituals of these majestic creatures as well as the hatching of the little ones. This activity is only eco-friendly if you can respect the turtles by maintaining a respectful distance and avoiding using flash photography or excessive lights since it is at night. Choose responsible tour operators with the same ethos.
Volcano hiking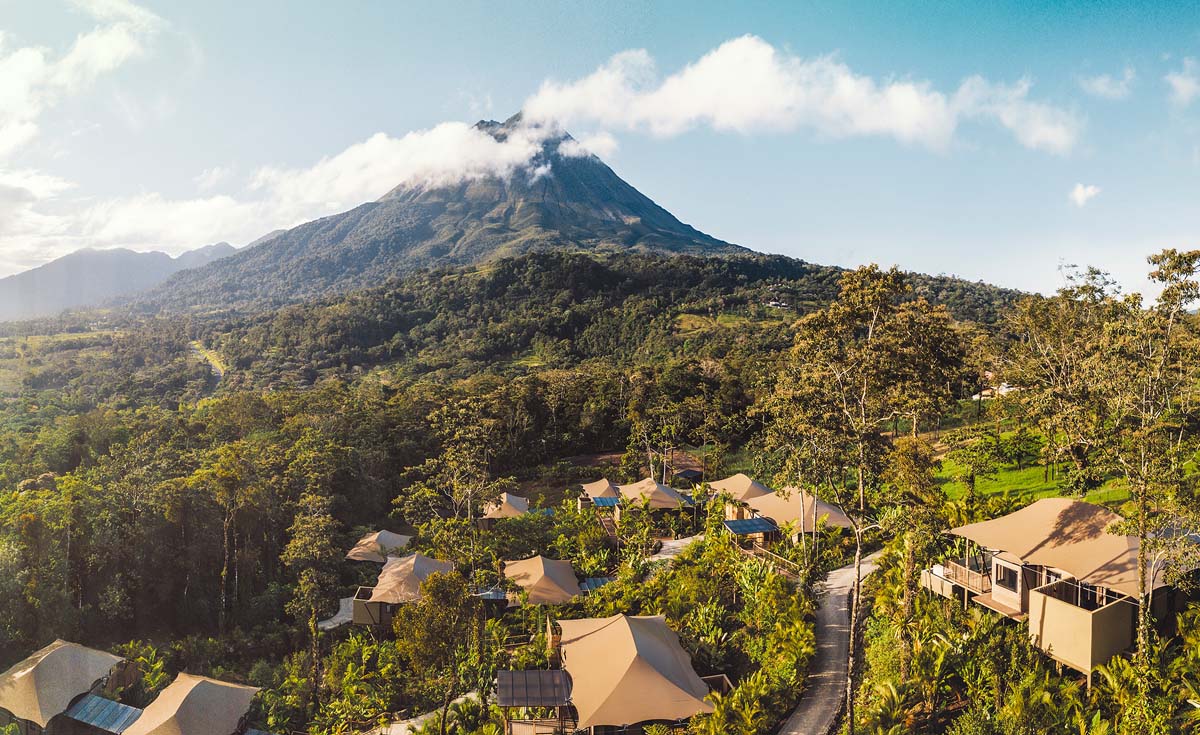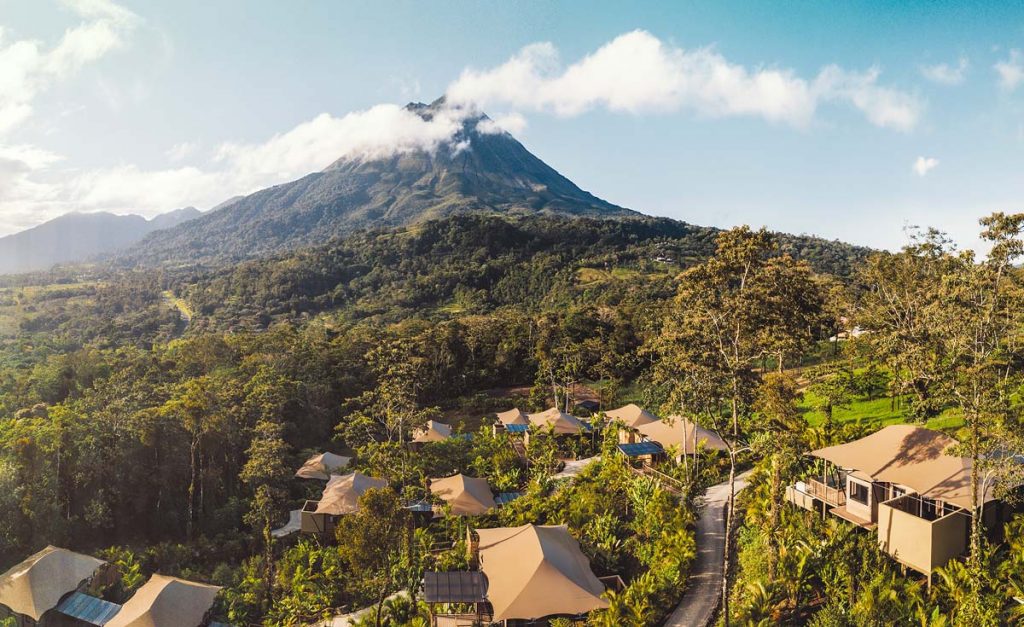 Costa Rica has 6 active and 61 dormant volcanoes. The Arenal Volcano is the most famous one, but it is resting since 2010. Poas Volcano is the most active, but its last major eruption was in 1910. The others are Rincón de la Vieja, Irazu, Tenorio, and Turrialba. Active volcanoes exhibit fascinating geothermal features such as steam vents, hot springs, and bubbling mud pots. Volcanic activity can be unpredictable, and conditions may change rapidly. We recommend visiting them with guided tours.
"Hiking at the Irazu Volcano National Park is one of the best places to visit in Costa Rica if you want to enjoy an inexpensive eco-friendly activity without spending a lot of money. Irazu is the highest and the largest active volcano in Costa Rica, at 11,260 feet tall and 500 square kilometers at its base. You can get to this national park from the most popular places in Costa Rica, like La Fortuna, Manuel Antonio, or the Caribbean side of Costa Rica." – says Daria, travel blogger form The Discovery Nut.
Volunteering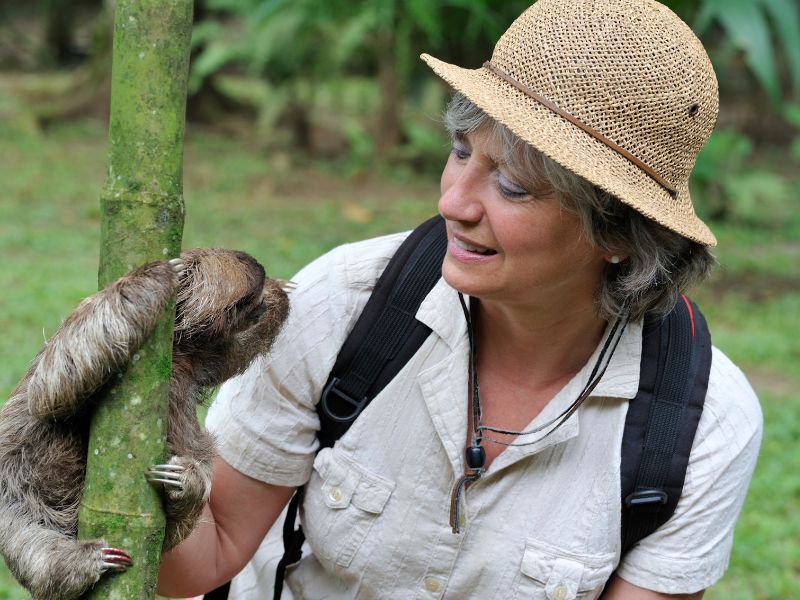 There are various volunteer opportunities available in Costa Rica, ranging from environmental conservation projects to community care initiatives. Volunteering while traveling is a great way to contribute your time and skills to meaningful causes while gaining a deeper understanding of the country and its people. Volunteer opportunities vary from half-day to long-term, but in any event, do your research and contact them in advance.
According to Volunteerworld, Costa Rica is one of the top destinations for 2023, with more than 160 programs to get involved with. Lots of them are available starting from a minimum of one week's commitment. From working with animals and participating in beach cleanups to teaching English and help in community construction projects.
GoEco is an ecotourism company, connecting volunteers with more than 150 projects all around the world. They offer 7 projects in Costa Rica, usually with a minimum of 2 weeks' commitment. For example, working with sloths and other Costa Rican animals at the Wildlife Rescue Center, supporting the Montezuma Sea Turtle Program, or the See Turtle Conservation in Ostional Beach.
Waterfalls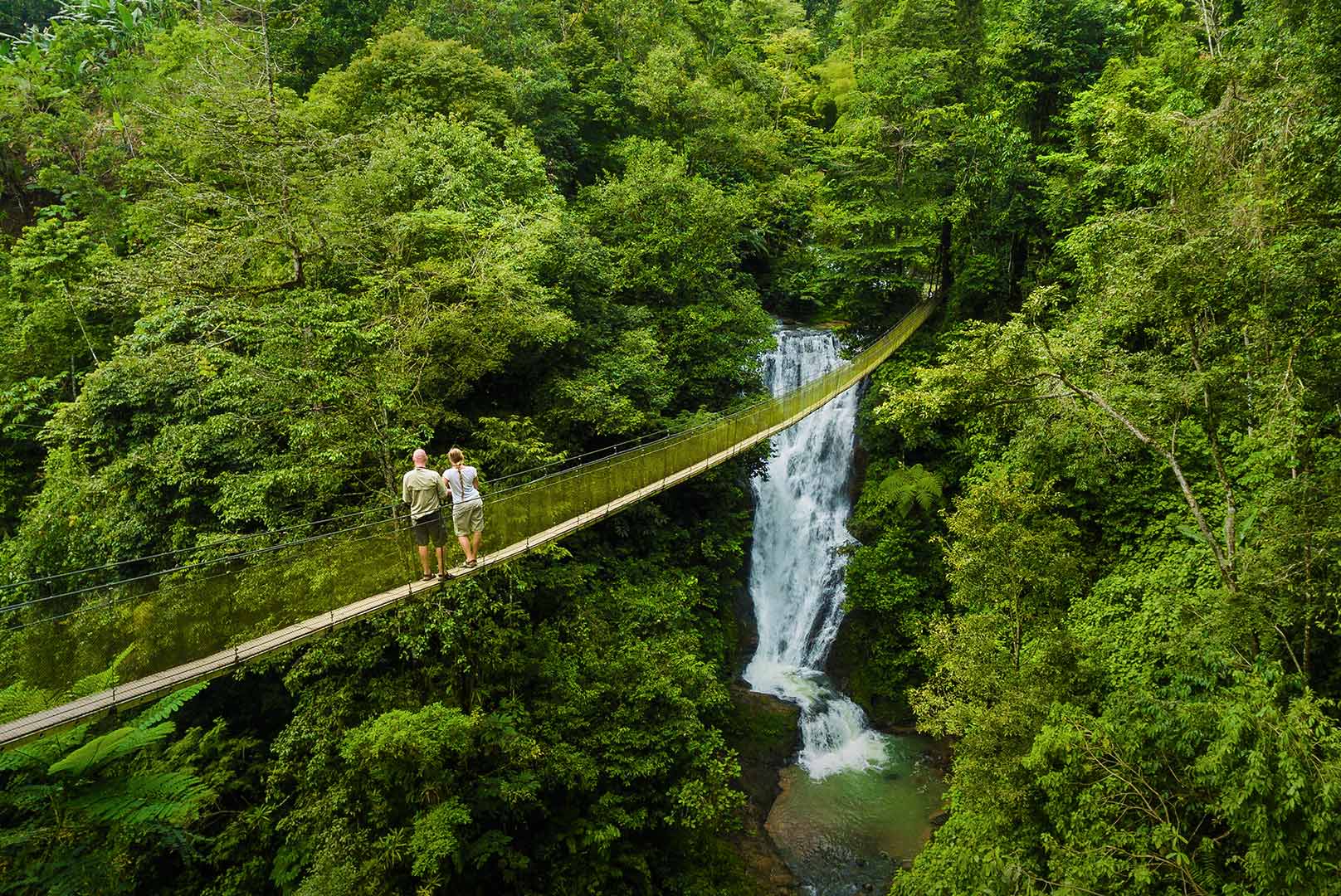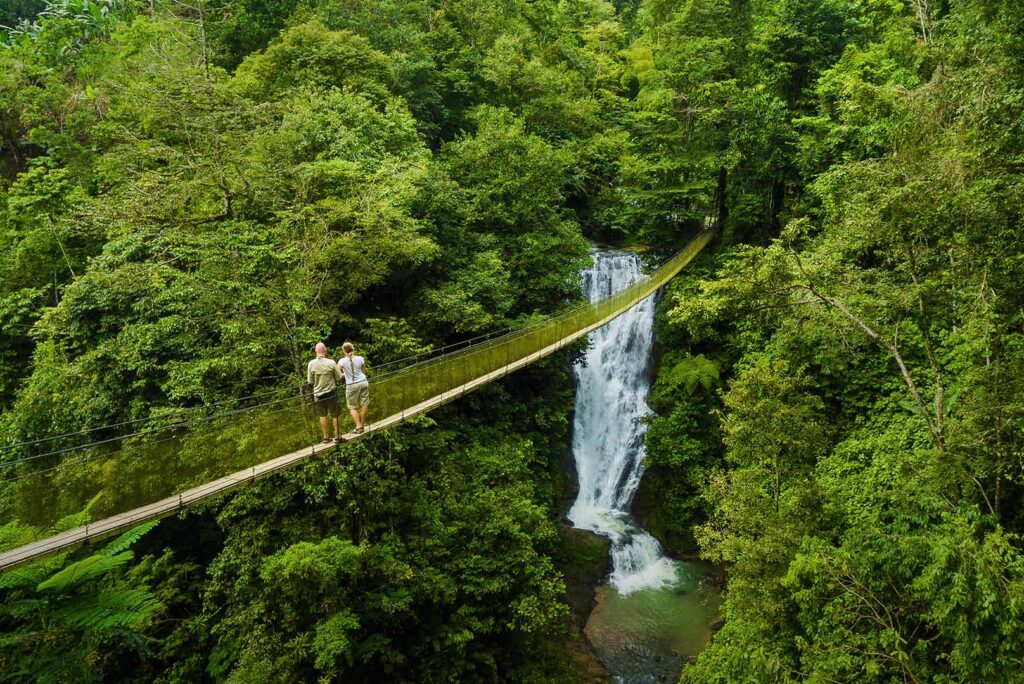 Costa Rica is blessed with an abundance of waterfalls due to numerous factors related to its geographical features and climate. It has a rugged, mountainous terrain, with numerous volcanic mountain ranges and highland areas. These steep slopes provide ideal conditions for the formation of beautiful waterfalls. Its climate is tropical, which receives high levels of rainfall throughout the year. Costa Rica also focuses on environmental protection, leaving the waterfalls and their surroundings undisturbed. Counting how many are there is challenging, but here are the 25 most beautiful waterfalls in Costa Rica. Take your pick.
The highest is Diamante Waterfalls (in San Jose), with a 300-meter drop.
Blue Falls (in Alajuela) has such a vibrant blue color, which makes it one of the best to go swimming.
For good reasons, La Fortuna Waterfall (in Alajuela) is among the most popular. Buy your early admission ticket to skip the line.
Whale watching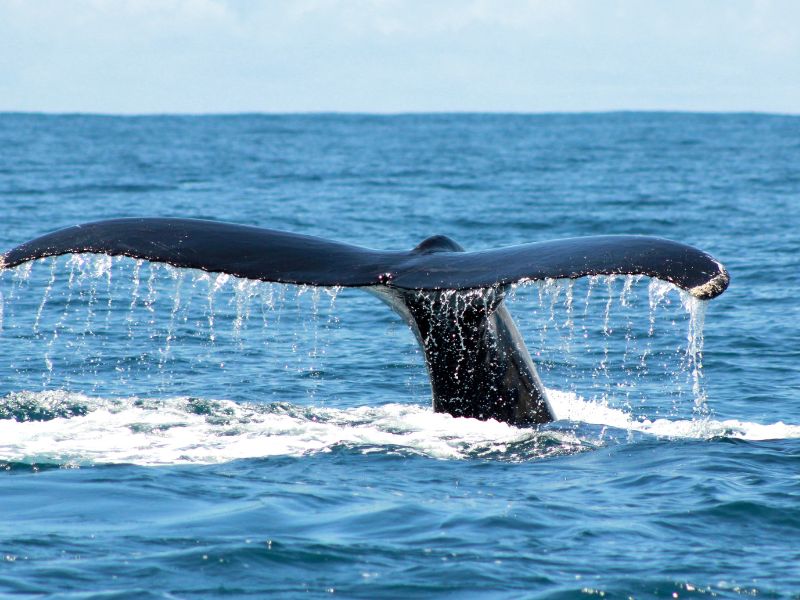 From July to October and December to March, humpback whales migrate in the Pacific Ocean near Costa Rica. And visitors have a high chance of spotting these majestic creatures. It's important to note that whale-watching experiences are seasonal, and the timing can vary even during the aforementioned months. Even if you are there at the "right time", you may not see any. But that is wildlife for you.
"Costa Rica offers some of the best whale watching in the world. The humpback whales roam the waters of the Southern Pacific Coast and I was very fortunate to spot them along the Osa Peninsula. Each year, these magnificent creatures make their way to the warm waters off the coast of Costa Rica to give birth. Witnessing these gentle giants in their natural element, while living in Costa Rica, was one of the best experiences of my life. It makes you realize the significance of nature and the importance of protecting the environment and its inhabitants." – says Ray, a travel blogger, who has traveled to more than 61 countries.
White water rafting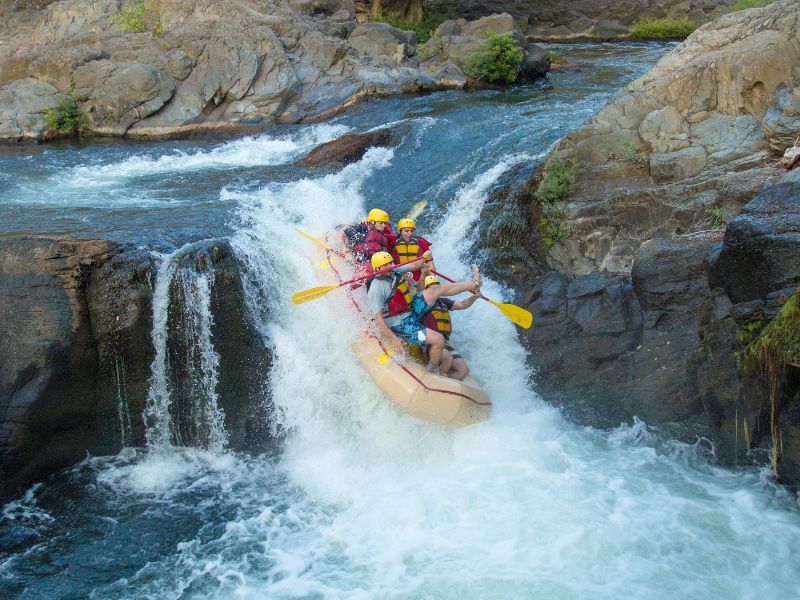 Costa Rica rivers are suitable for rafting classes II-IV, where II means for beginners and IV for experienced rafters. The most popular rivers are the Sarapiqui River (in Heredia), the Pacuare River (in Limon), and the Balsa River (in Alajuela). Navigating through fast-flowing rivers, turbulent rapids, and challenging obstacles creates a sense of excitement and adventure. Not to mention it takes place in the rainforest going through canyons, gorges, and scenic river valleys, which may not be accessible in any other ways.
Yoga
Yoga seems like an activity you can do anywhere in the world. Why would it be one of the things you do in Costa Rica? One of the main reasons people turn to yoga is its ability to reduce stress and relax. Joining a yoga retreat or taking yoga classes in stunning places will stimulate the senses in unique ways. A gentle breeze, the warmth of the sun, the sound of birds chirping, or the scent of flowers can enhance your yoga experience.
Zip-lining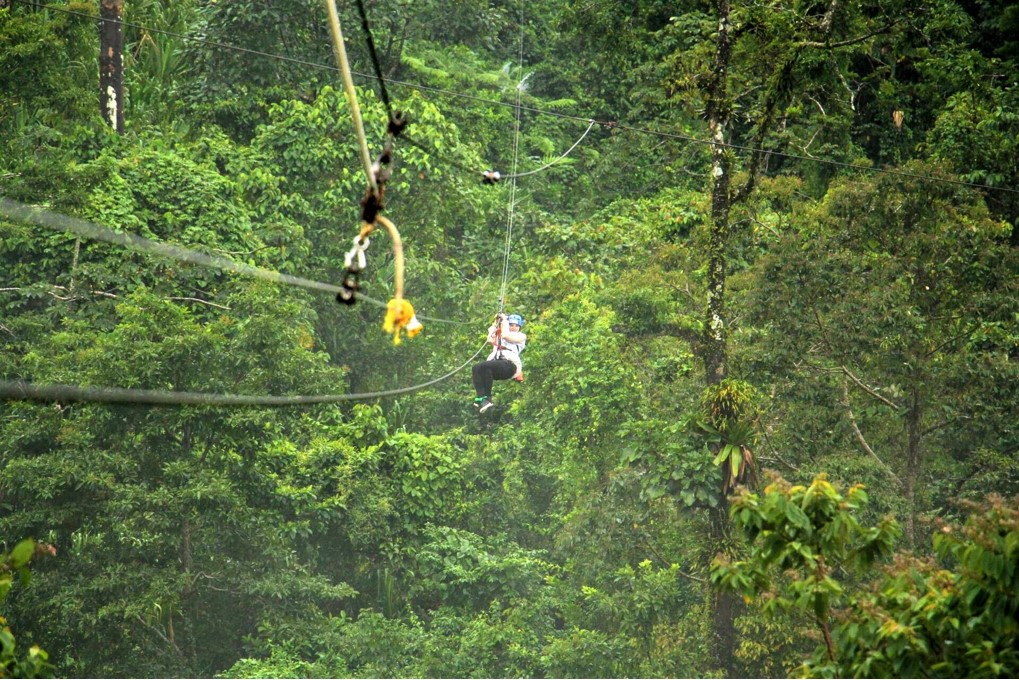 Zip-lining has become a beloved activity worldwide, captivating adventure enthusiasts with the exhilarating experience of soaring through stunning landscapes while suspended in midair. However, it is important to recognize that Costa Rica holds its origin back to the 1970s. If you happen to be visiting Costa Rica, seize the opportunity to try zip-lining. We collected the best 20 zip-lining parks in Costa Rica in our comprehensive guide, which provides all the details you need.