35 Bioluminescent Bays + World Map
Seeing a bioluminescent bay in person is a truly magical experience. The striking colors paired with the nighttime adventure make it something that should be on everyone's bucket list. Here is a list of the best bioluminescent bays in the world so that you can include a visit to one during your next trip!
What is a bioluminescent bay? What is glowing?
A bioluminescent bay is a natural phenomenon that's caused by tiny organisms called dinoflagellates.
These dinoflagellates make their own food by photosynthesis, and this is how they glow. The process involves catching light in their chlorophyll, which is a bluish-green color.
If these organisms become agitated, they often group together, causing a colored glow in the water.
Map of bioluminescent bays around the world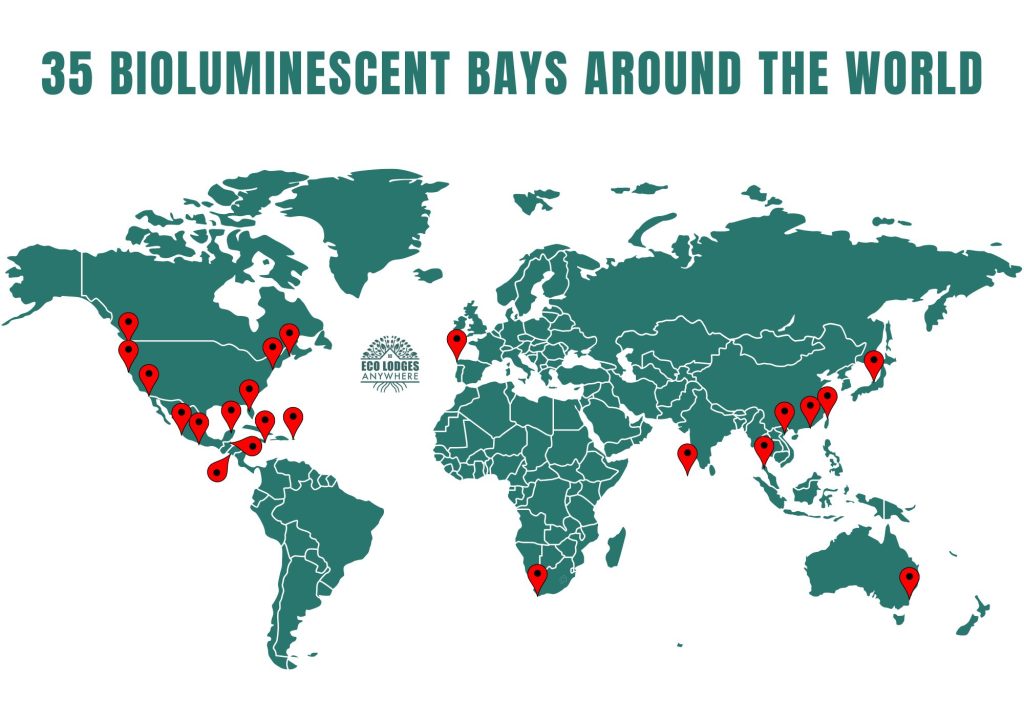 Mosquito Bay, Vieques, Puerto Rico
Mosquito Bay is the brightest bioluminescent bay in the world and is truly a beautiful sight. It contains up to 700,000 microscopic organisms per gallon of water, so it creates a stunning display of light.
This kayak tour offers one of the best ways to see Mosquito Bay, as you'll be heading out into the bay in a clear-bottomed kayak.
Jervis Bay, Australia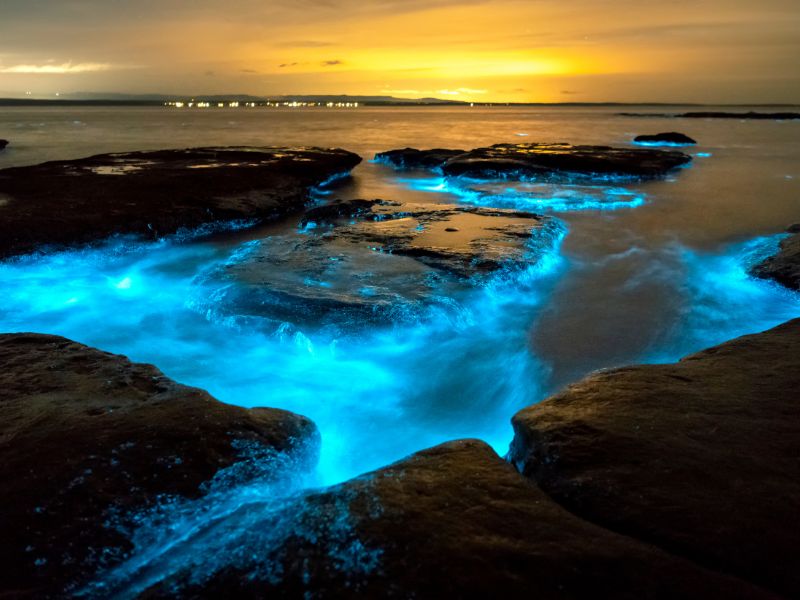 Jervis Bay has been home to some stunning bioluminescent displays over the past couple of years. So, if you're looking to spot bioluminescent waves here, you have a few options.
Although seeing this natural phenomenon is widely unpredictable and never guaranteed, there are a couple of beaches in this area that are known for sightings. These include Barfleur Beach, Blenheim Beach, and Callala Bay!
Isla Holbox, Quintana Roo, Mexico
Isla Holbox is one of the best places in the world to see a bioluminescent bay. This phenomenon occurs nearly all year round here, although the best time to spot it is between April to November.
There are plenty of tour options to see this incredible sight, including a bioluminescent kayaking tour, and a snorkeling tour.
Luminous Lagoon, Falmouth, Jamaica
The Luminous Lagoon is one of the best places in the world to see this natural phenomenon due to the water conditions. It's home to millions of dinoflagellates, who thrive on the combination of saltwater and freshwater.
If you want to see this beautiful sight at its best, then you can head out on a bioluminescent lagoon boat cruise.
Vaadhoo Island, the Maldives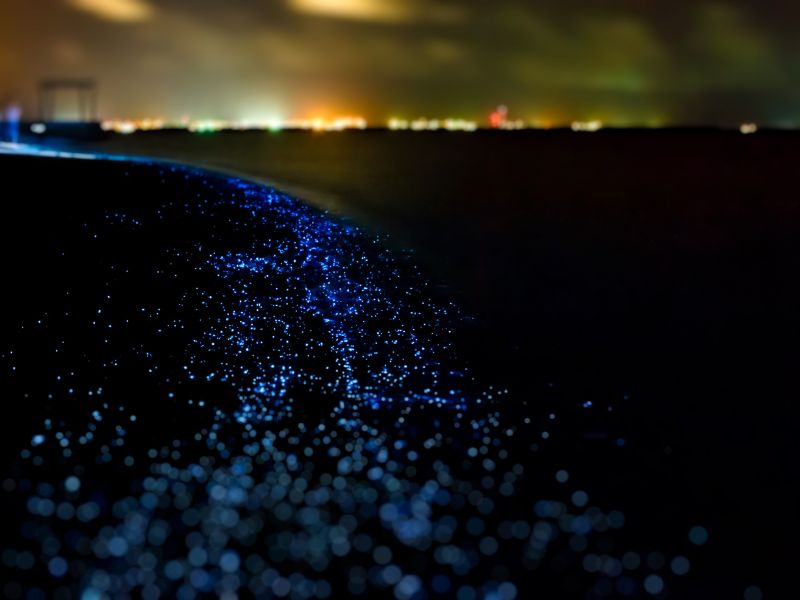 Vaadhoo Island is home to a glowing beach that's also known as the 'Sea of Stars'. The glowing was originally thought to be caused by bioluminescent plankton, but this is a common misconception.
The best time to see this natural wonder is through the summer months into winter. Although you aren't guaranteed to see it, the Maldives is home to some of the best ocean conditions for it.
Toyama Bay, Japan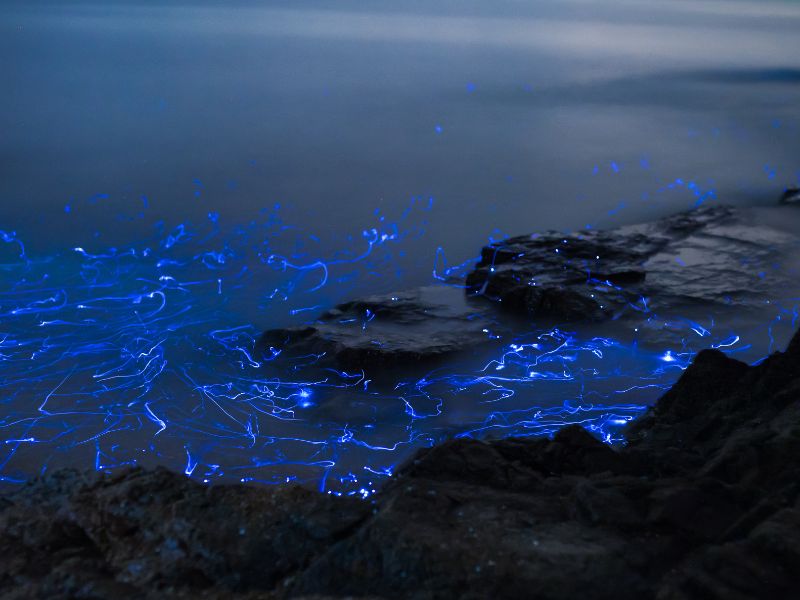 So you've heard of bioluminescent jellyfish, but have you heard of bioluminescent firefly squids? Well, that's what causes the colorful display down at Toyama Bay.
These creatures usually live over 1000ft (0.3 km) below sea level, but the unique V-shaped canyon under the waves pushes the squid up to the surface. This creates a blue light display that can be found for dozens of kilometers along the bay.
Laguna de Manialtepec, Oaxaca, Mexico
Laguna de Manialtepec is one of the most popular spots in Mexico to spot bioluminescent plankton. They've evolved to ward off predators by emitting ultraviolet light when startled.
If you head into the water, you'll be able to see them glow a beautiful color as they react to disturbances. Just make sure there is no light pollution when you visit.
Playa de Bucerías, Bahía de Banderas, Nayarit, Mexico
Playa de Bucerías is the perfect place to visit if you're looking for a bioluminescent beach. You can also go diving and experience this phenomenon under the waves.
The phytoplankton here light up at the slightest movement and color the ocean a beautiful neon-blue color. As the waves roll onto the beach, the sand also glitters a sparkling blue.
Tomales Bay, California, US
Tomales Bay is one of the few places in California where you can see this rare occurrence. It's a seasonal phenomenon, and the best time to spot it is between spring and fall.
The best way to see this crazy sight is to head out on a kayaking tour to see the ocean light up below you.
Mission Bay, San Diego, California, US
Mission Bay is also known as 'red bay' due to the color of the dinoflagellates. It makes them appear red color in the daytime until the sun sets, of course. Then, they turn the ocean into a beautiful electric blue color.
If you're lucky, you might even get to spot dolphins swimming and playing in the glowing waves!
La Parguera, Lajas, Puerto Rico
La Parguera is one of three bio-bays found in Puerto Rico. However, what's special about this one is that it's the only one out of the three that you're allowed to swim in.
You can go on an exclusive boat tour to La Parguera Bio Bay if you want to get up close and swim in the stunning blue waters.
Laguna Grande, Fajardo, Puerto Rico
Laguna Grande is another of Puerto Rico's bioluminescent bays and is one of the best places in the United States to see the dramatic blue colors.
This bio bay kayak tour will take you to Laguna Grande and allow you to see this phenomenon up close, and ask the guide any questions about it.
Cies Islands, Spain
The Cies Islands are a stunning archipelago located off the coast of Galicia, Spain. They are known for their pristine beaches, crystal-clear waters, and unique bioluminescent activities that occur at night. Visitors to the islands can witness the mesmerizing blue glow of the ocean caused by the presence of tiny organisms known as dinoflagellates.
Xpicob, Campeche, Mexico
Xpicob is one of Mexico's many natural wonders. It's an ecotourism beach that's home to a turtle camp and colorful light displays produced by dinoflagellates.
You can see bioluminescent activity throughout the year. However, the best months to visit are between October and December. This is when weather conditions are optimal, so will give you the best and brightest display.
Puerto Jimenez, Golfo Dulce Bay, Costa Rica
Puerto Jimenez is one of the places in this region of Costa Rica to see bioluminescent displays.
There are several great tour operators in the local area that run kayak tours departing from Puerto Jimenez Beach. Not only will you get to glowing water with every stroke of your paddle, but you might even get to spot the local dolphins.
Between Rum Point and Starfish Point, Grand Cayman
Grand Cayman is the largest of the Cayman Islands, and you'll find a bio bay here which is one of the most popular attractions on the island. It's just a short kayak or boat ride from Rum Point and Starfish Point.
If you're looking for bioluminescent bay tours on Grand Cayman Island, this snorkeling tour is a great choice.
Bangaram Island, Lakshadweep, India
There are very few places in India where you can see bioluminescence on an occurring basis, but Bangaram Island is one of them!
It's caused by bioluminescent algae and phytoplankton that inhabit some of the beaches on the island. As the island is so quiet and undisturbed, this is a great place to appreciate the true beauty of bio bays.
Railay Beach, Krabi, Thailand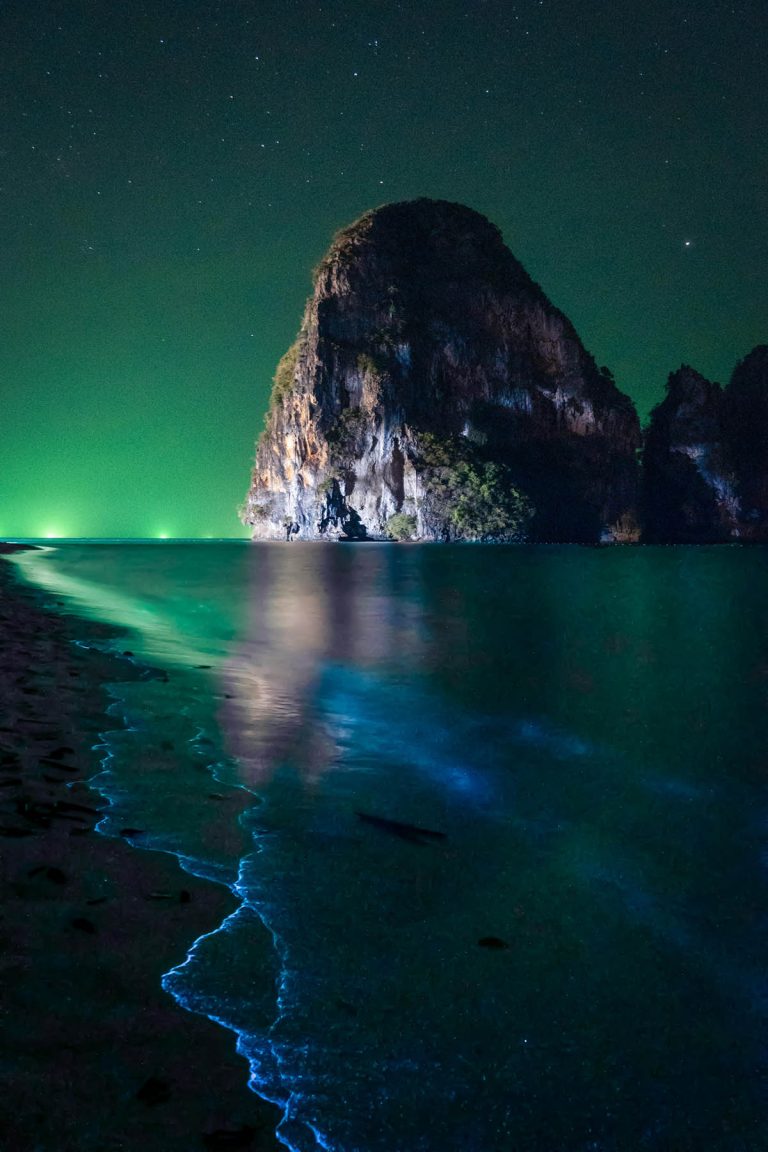 Railay Beach, located in Krabi province, Thailand, is a popular destination known for its stunning limestone cliffs and pristine beaches. Visitors to the area can also witness bioluminescent activities in the water, particularly during the rainy season. The phenomenon is caused by bioluminescent plankton that emit a blue-green light when they are disturbed by movement in the water, creating a stunning display that is best observed at night.
Indian River Lagoon, Titusville, Florida, US
Indian River Lagoon is Florida's largest lagoon, and you'll get to see bioluminescent activity during both the summer and winter months.
In the summer, the beautiful blue glow is created by dinoflagellates, whilst bioluminescent jellyfish light up the lagoon during the winter months.
Kiwanis Island, Cocoa Beach, Florida, US
Kiwanis Island is another great spot in the United States to see this natural wonder. The best time to see the unique glow is between May to September, when the weather conditions are optimal.
BK Adventures run clear-bottom kayak tours in this area so that you can make the most out of this awesome phenomenon. This is an experience not to miss if you're in the area.
Banana River is situated right by Kiwanis Island, and there is a high amount of bioluminescent activity in this area.
The river is located within Merritt Island Wildlife Refuge, and if you're lucky, you might even get to spot dolphins and manatees along the way. This kayaking tour will take you along Banana River and give you the ultimate experience.
Kogel Bay, Western Cape, South Africa
If you're heading to South Africa, then Kogel Bay is one of the best places to spot bioluminescent colors.
The colors will light up against the shore, as the caves come crashing in against the beach. If you have no luck here, you can always try Fish Hoek or Gordon's Bay.
Parque Nacional Lagunas de Chacahua, Oaxaca, Mexico
There are a couple of locations in Oaxaca where you can see dinoflagellates emit their beautiful colors.
Lagunas de Chacahua is one of the best spots and should be visited between August and March for the best experience. This is when the weather and water conditions are most favorable.
Sam Mun Tsai Beach, Hong Kong
Sam Mun Tsai Beach experiences two stark color contrasts when it comes to bioluminescent activity.
During the day, the microorganism turns the water red, giving it the nickname 'red tide'. Then under the moonlight, you'll see the familiar striking blue colors of a bio bay. Either way, the colors are pretty astonishing.
Punta Cuchillos, Nicoya Peninsula in Guanacaste, Costa Rica
Bioluminescent activity can be seen all year round at Punta Cuchillos, so you won't have to worry about timing your visit.
This bioluminescent kayak tour will take you on tour from Punta Cuchillos, where you'll get to see the colorful algae boom. The guide will take you to all the best spots, and you'll get to see blue swirls as your paddle hits the water.
Salt River Bay National Historical Park and Ecological Preserve, St. Croix, US Virgin Islands
Salt River Bay is one of two bio-bays that can be found on Saint Croix Island. Although many conditions are necessary to create this phenomenon, it's thought that the red mangrove trees which surround Salt River Bay play an important part.
Manasquan, New Jersey, US
Manasquan Beach offers another great opportunity to see this natural wonder. The best time to visit is between July and September when the striking colors are at their brightest.
The colors are particularly dazzling when the waves crash against the shoreline. Sometimes you might even get to see red colors come from the algae.
Monterey Bay, California, US
Monterey Bay is another bio bay in the United States, where you'll get to see glowing blue waves break against the shore. The colors are beautiful and can be seen across the whole of the bay.
However, sightings at Monterey Bay seem to be a bit more sporadic than in other areas of North America.
The San Juan Islands, Washington, US
The San Juan Islands are home to nutrient-rich waters, swift currents, and ocean upwellings, which are all perfect conditions for dinoflagellates.
The best time to see this natural wonder here is during the summer months, after a sunny day, or during the new moon cycle. You'll find plenty of operators in the area that do kayak tours.
Port Gamble Bay, Washington, US
Port Gamble Bay is a great place for bioluminescent viewing, and the best months tend to be June, July, and August.
Although you're never guaranteed to see this phenomenon, sightings are pretty common here during this time of year. You'll also be able to enjoy a beautiful sunset on your kayak if you head out on a tour.
The Matsu Islands, Taiwan
The Matsu Islands are extraordinary, and every summer, you can see glowing algae line the shores.
This area has been nicknamed 'the blue tears' due to the shape and color of the bioluminescent activity. The best time to visit is from April to August, as this is when the colors are at their brightest.
Halong Bay, Vietnam
Halong Bay is famous across the world for its limestone mountains, emerald waters, and luxury boat cruises.
However, this beautiful bay is also home to bioluminescent displays that will take your breath away. This area is actually one of the best places in the world to see this unique wonder.
Anderson Lagoon, Sittee River, Hopkins, Belize
Anderson Lagoon in Belize is another great place to see this beautiful sight, although conditions have to be just right.
The best time to see the glowing colors here is during the dry season, which falls between December to May. This is when the lagoon is full of dinoflagellates, so the colors will pop whenever you disturb the water.
Penobscot Bay, Castine, Maine, US
Penobscot Bay is another of the United State's bio bays and is the perfect place to go on a kayaking tour.
You can see this natural phenomenon as early as June in this bay, and you'll get to see the beautiful colors of dinoflagellates as they swirl around your paddle.
Altona Lagoon, St. Croix, US Virgin Islands
Altona Lagoon is the second bioluminescent bay found on Saint Croix, along with Salt River Bay.
The vividness of the colors depends on the moon cycle, the weather, and light pollution, so the conditions have to be just right. You won't be able to see this natural wonder every night, but the unknown is part of the excitement. 
More articles about nature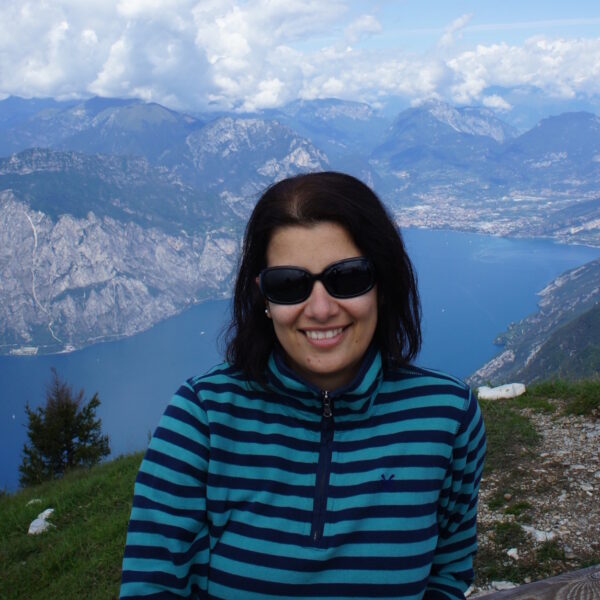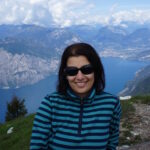 Emese Maczko is a travel blogger behind Eco Lodges Anywhere. Having explored several destinations around Europe, the US, Indonesia, and Australia, and resided in Germany, the United Kingdom, and Luxembourg, Emese possesses a keen understanding of diverse cultures and an appreciation for the beauty of each destination she visits. She advocates for sustainable travel and ecotourism.