10 Most Sustainable Eco-Lodges in Scotland
Scotland is a beautiful part of the United Kingdom and is known for its wilderness, tranquillity, scenery, and of course its wildlife. It is the perfect place for a relaxing, environmentally friendly holiday with lots of scenic hikes, lakes, and wildlife watching opportunities.
Whether you decide to visit the Scottish Highlands, the stunning coastline, or the Scottish Islands there are plenty of scenic destinations for you to choose from. In the past few years, nature-based tourism has made up nearly 40% of Scotland's total tourism, and the country is more dedicated than ever to lowering its impact on the environment.
The country has a wide variety of eco-friendly accommodations available ranging from cabins, bunkhouses, glamping tents, and even hobbit houses. Many of these go above and beyond when it comes to your welfare and comfort levels. Every accommodation on this list has been hand-picked to find you the most sustainable eco-lodges in Scotland and the fact that each one offers something different and unique to eco-tourists.
What are eco-lodges?
Eco-lodges are accommodations in undisturbed, remote natural areas where both construction and operation have the lowest impact possible on the environment. They are not only part of the local community, but they are active participants in protecting nature and culturally sensitive areas.
BROWSE THROUGH our directory for the most sustainable eco-lodges worldwide to experience something unique, authentic, and exciting.
The Lazy Duck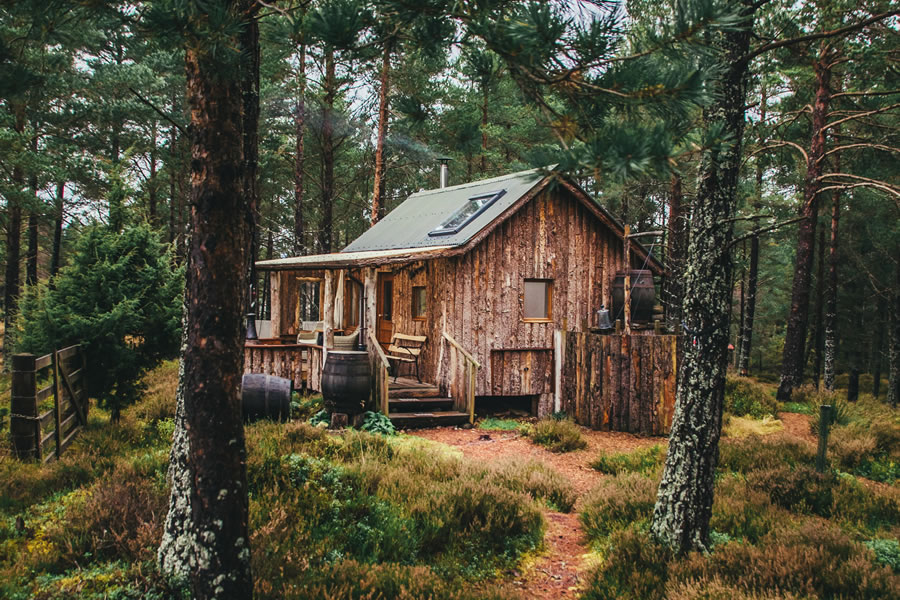 The Lazy Duck is described as an eco holiday destination that prioritizes the well-being of guests. Visitors have the option to stay in a variety of eco-friendly accommodation including the Duck's Nest, the Woodman's Hut, the Bunkhouse, Homestead, and Basecamp which is a pre-pitched safari tent.
The owners of The Lazy Duck work to promote their local community and take responsibility for the local environment. Aside from sustainability, the Lazy Duck also focuses on wellbeing. There is a wood-fired hot tub available to book, a sauna, yoga and relaxation classes, and the opportunity for massage treatments.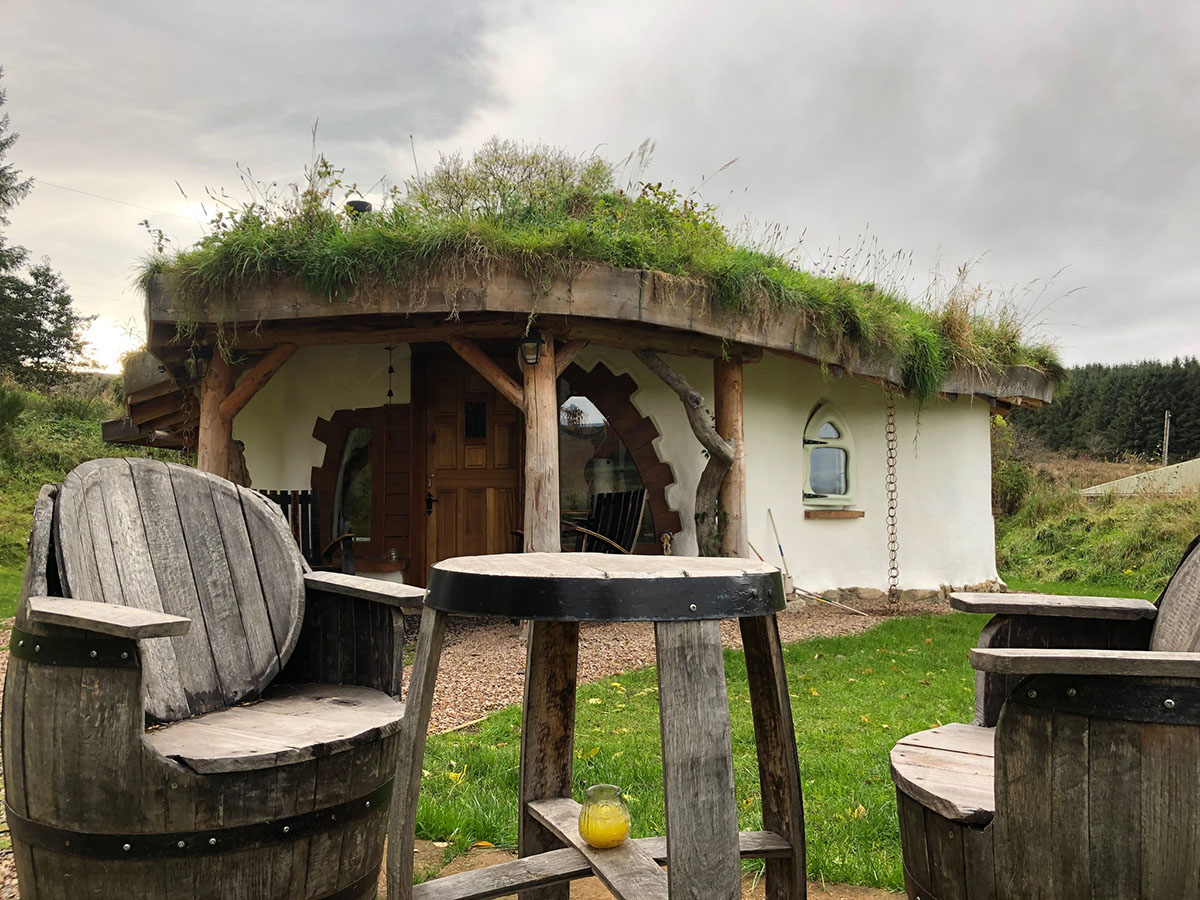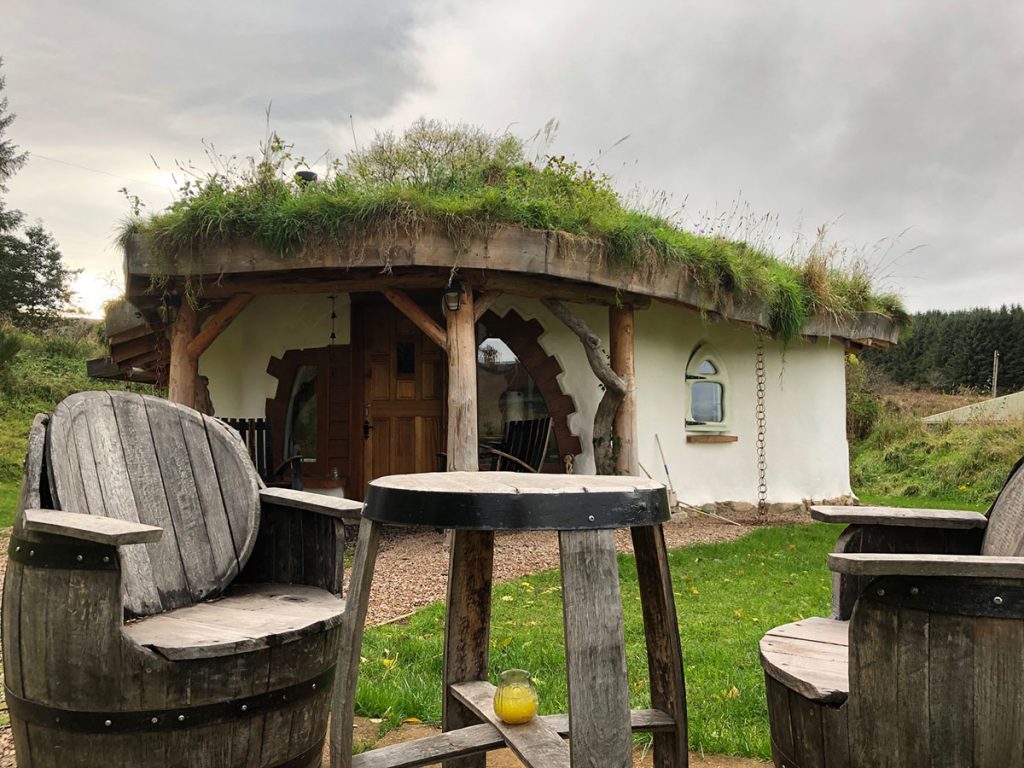 Hideaway under the stars is a unique handcrafted house located near the town of Aberlour. This holiday home was built using all-natural materials and is run by 100% renewable energy.
Aside from the design of the property, which is, of course, beautiful, the interior and facilities of this accommodation are incredibly unique. You can help yourself to free-range eggs and seasonal produce when cooking, and there is a fire pit located outside if you want to roast some marshmallows for dessert. You also have access to your own private fairy glen to relax, and this eco-lodge comes with a clear roof dome that allows you to stargaze to your heart's content.
Burnhead Bothy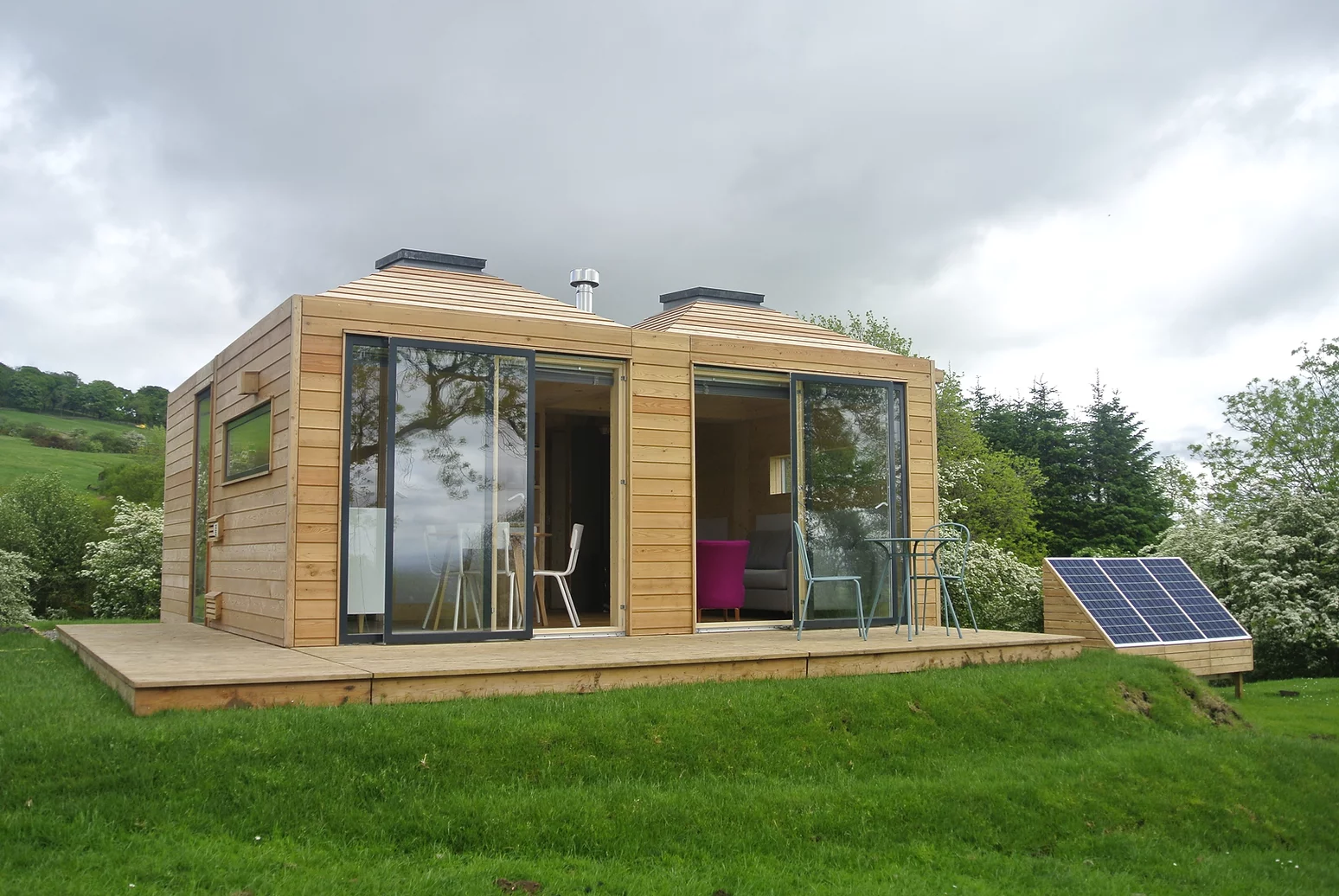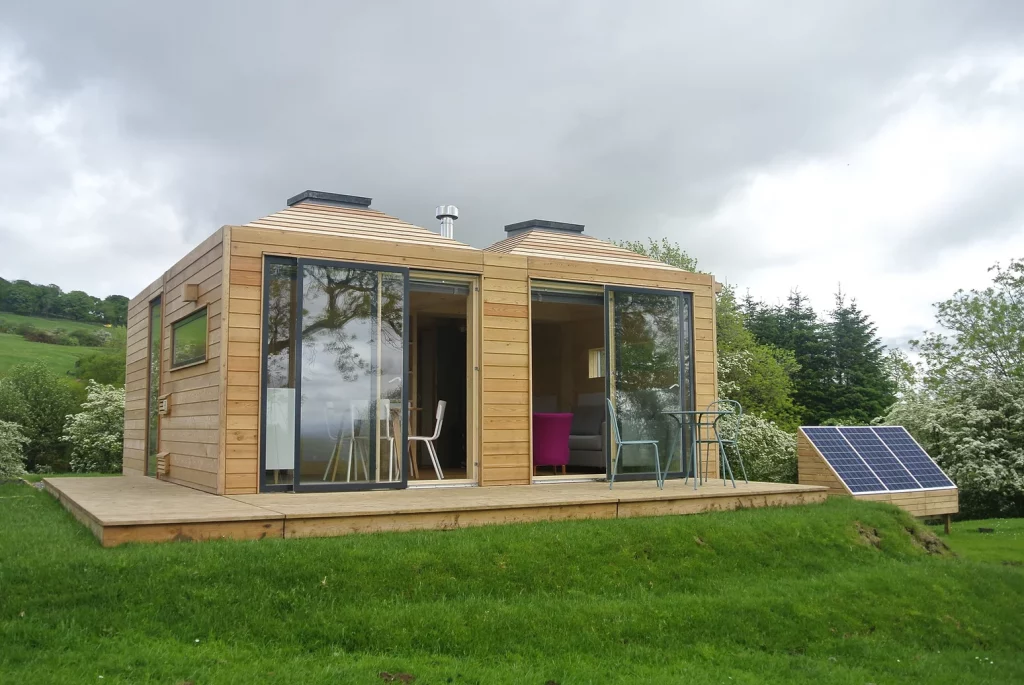 Burnhead Bothy is based on a working farm in a rural setting that offers beautiful views. The cabin was built with sustainable timber and is 'off the grid' meaning its solar panels are used to power low voltage lighting and charge appliances.
The cabin is situated in a stunning spot with glass front windows, and a decking area where you can relax and take in the views. With livestock located nearby, don't be surprised if you get a cheeky visit from one of the sheep. There is a double swing situated just outside along with a firepit to keep you warm on those cool Scottish evenings.
Callie Bothy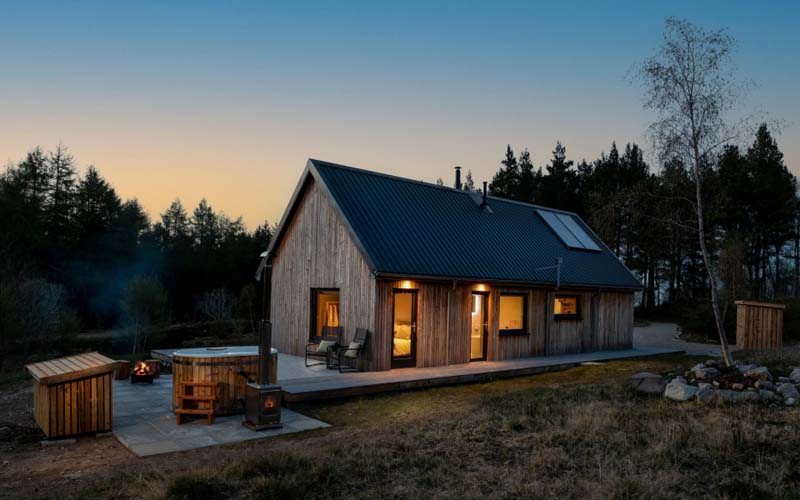 Callie Bothy is located in the scenic Pluscarden Valley. This stunning cabin was designed and hand-built by its owners using sustainable and natural materials. Set in a secluded woodland setting, this eco-lodge in Scotland offers plenty of privacy and nature spotting opportunities.
Aside from its unique Scandinavian design, Callie Bothy also has a cozy interior with underfloor heating, a wood-burning stove, and a handmade king-size bed. However, one of its most unique features is the outdoor cooking area which comes equipped with a Morso Forno Pizza oven and Tuscan grill. Add that to the wood-fired hot tub and fire pit located outside, and you have the perfect romantic evening.
Larch Green Lodges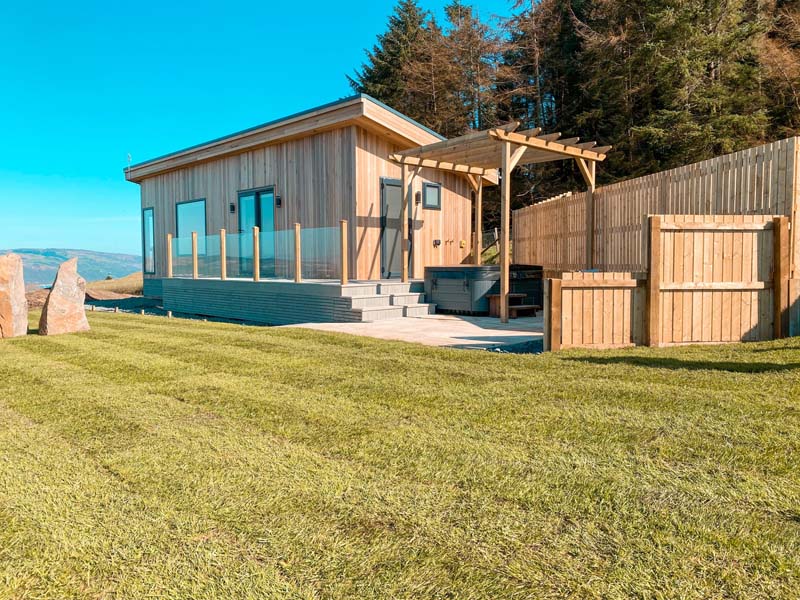 Larch Green Lodges overlook the River Clyde estuary and Ben Lomond Mountain, so naturally off scenic views. Aside from the views, these eco-lodges are incredibly eco-friendly with thermal panels on the roof to heat water, air-source heat pumps that reduce electricity consumption, and a rainwater harvesting tank. Not only that but Sedum is grown on the roof which provides a home for birds, bees, and butterflies.
If you are looking for a unique natural retreat in Scotland, then this is a great choice. These eco-lodges each have their own private hot tub, a fire pit, and BBQ so you can enjoy those Scottish evenings. This spot also has 7 adorable alpacas located on-site. It is possible to book a trek with them or a 'meet and feed' session which is perfect for animal lovers and families.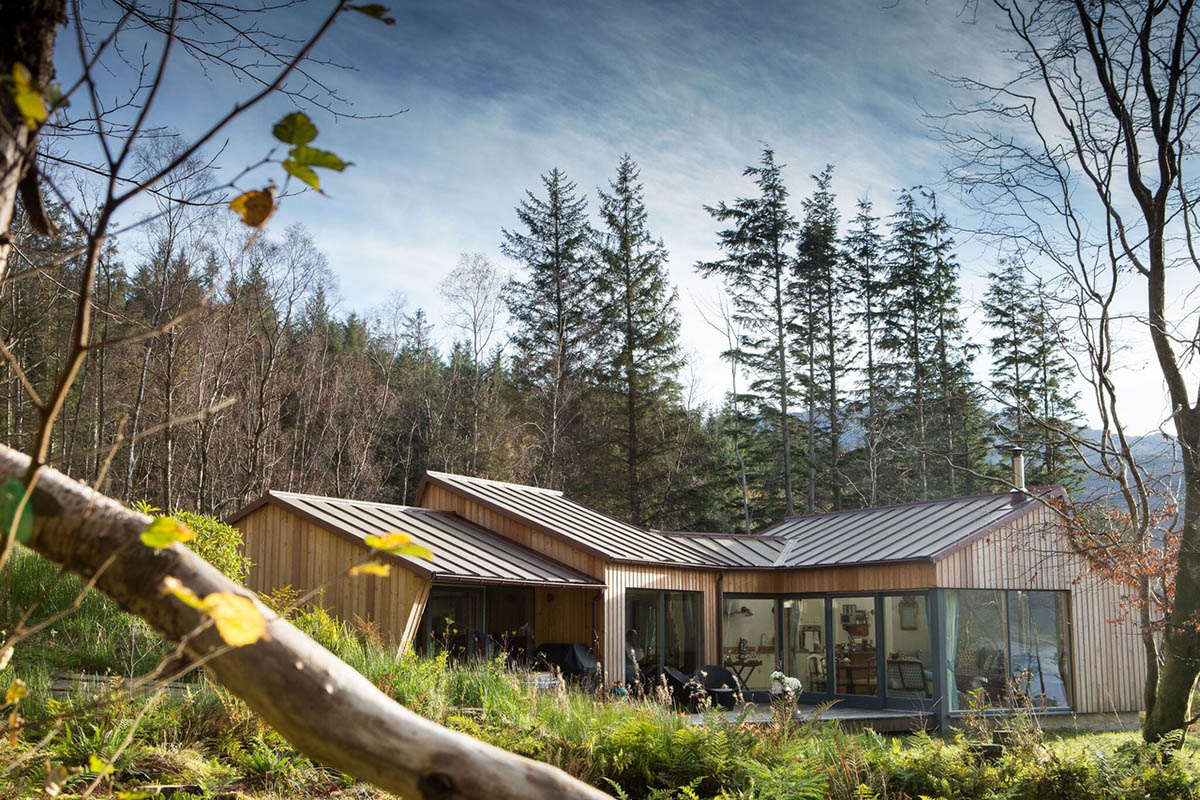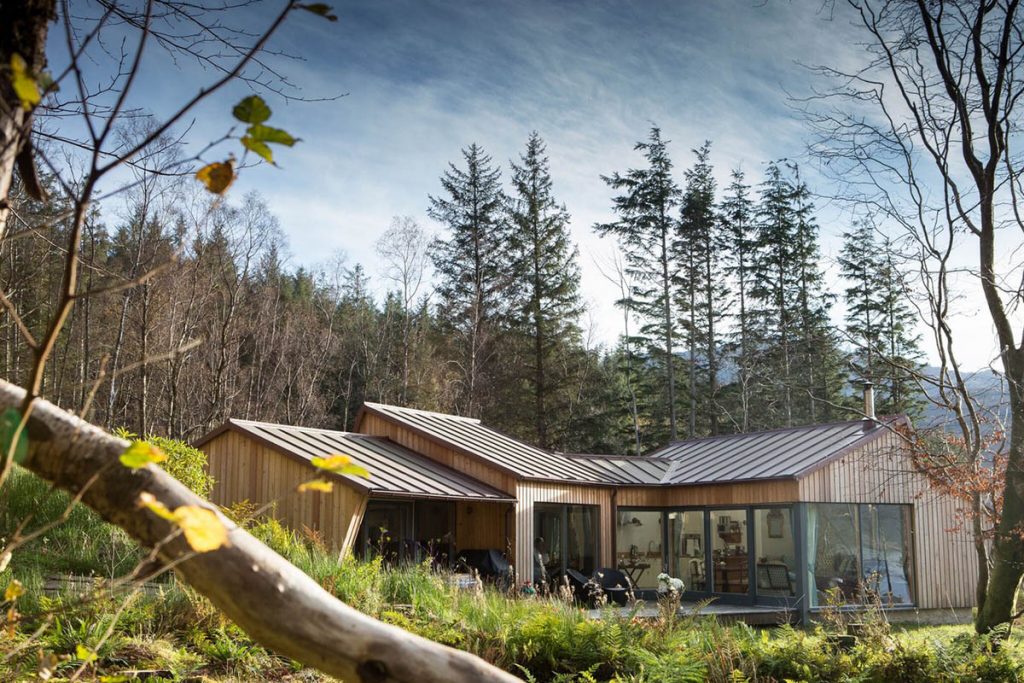 Knoydart House and Knoydart Hide are both located in the village of Inverie in the Scottish Highlands. Both houses are running on solar PV with inverter generator back up when they are not running on green electricity generated by their hydro scheme. The drinking water is fresh from the hills and is completely unchlorinated allowing you to get a true taste of Highland spring water. Both houses were built using sustainable building materials.
Not only are Knoydart House & Hide possibly one of the most beautiful eco-cottages in Scotland, but they have plenty of other advantages too. Aside from the cozy interior, there is also a hot tub outside, that offers your own private view of the beautiful Loch Nevis. However, the best part is that there is no light pollution located here. That means you can stargaze and enjoy the panoramic views of the milky way, without any light sources.
Croft 103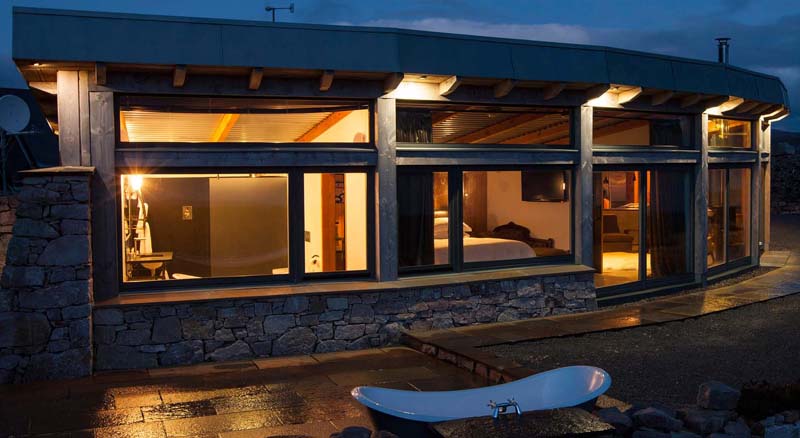 Croft 103 focuses on eco-friendly properties, where people can enjoy uninterrupted views of the sea loch and mountains. Each property was built using local materials and is powered largely by a small on-site wind turbine. The rest of the energy required to run each building is derived from renewable sources including solar collectors.
There are two properties located on-site; the Hill Cottage and the Shore Cottage. Each building is incredibly unique with a croft design, a wood-burning stove, and an outside bath for you to enjoy the views. Croft 2013 is recognized for its ecotourism in Scotland with a gold award for 'the green tourism business scheme' and is the perfect place to visit if you are looking for a sustainable and peaceful getaway.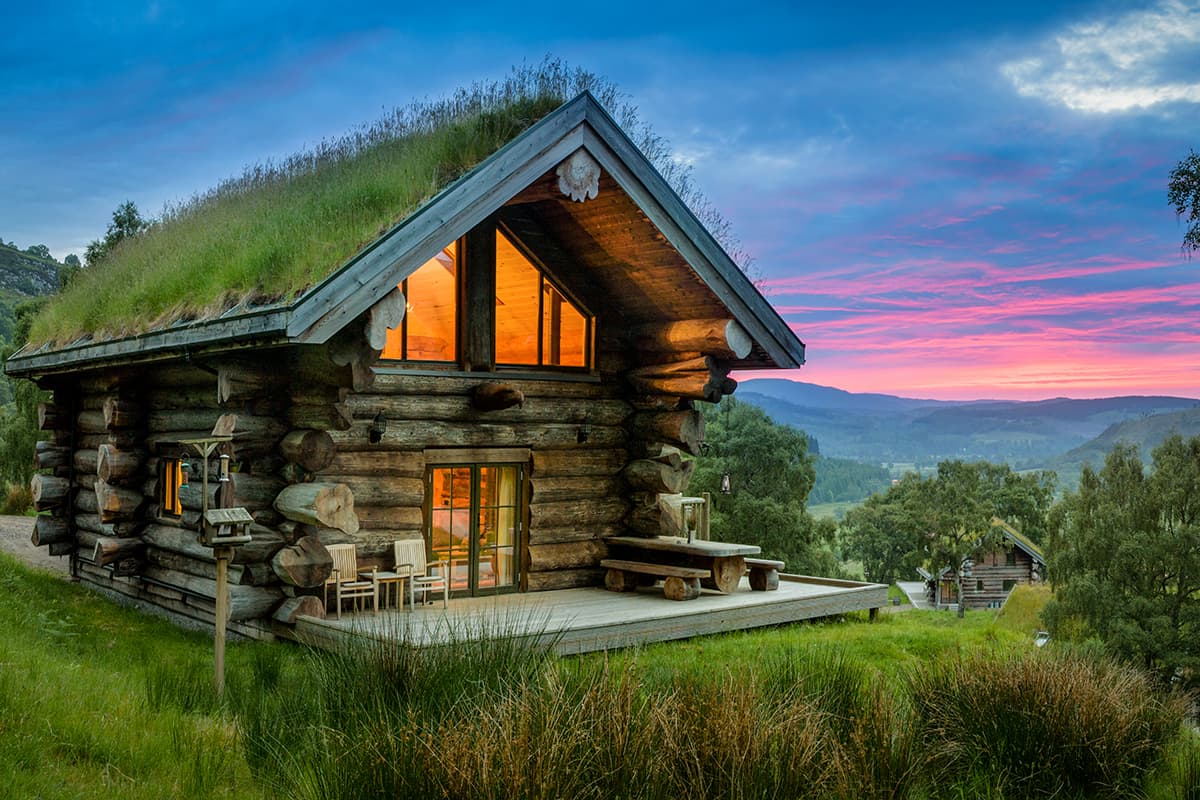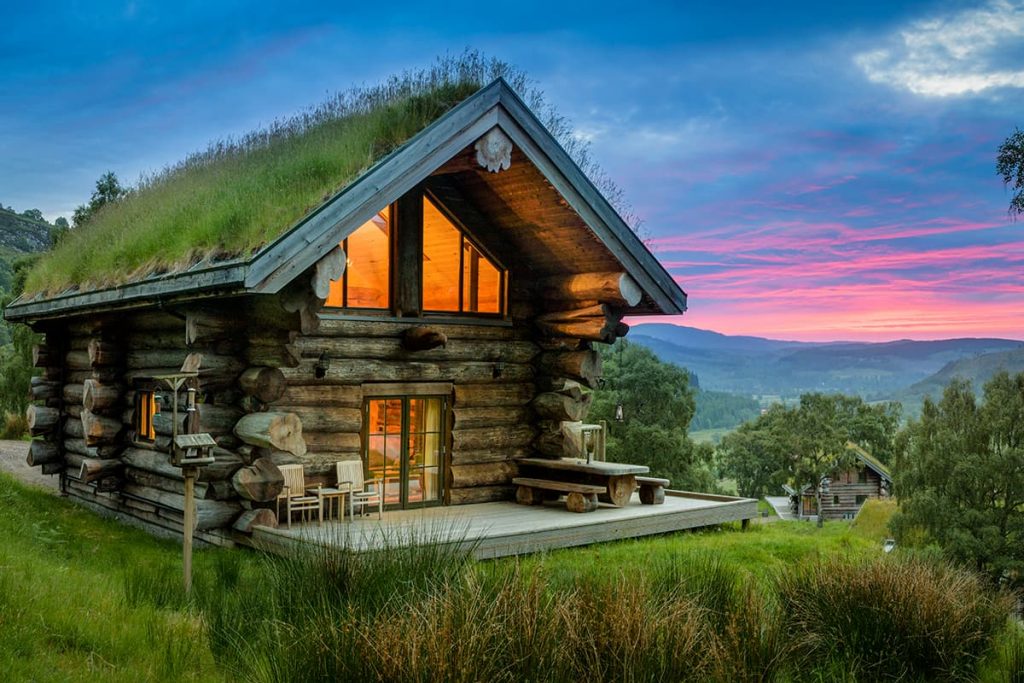 Not only is Eagle Brae located in the heart of the highlands, and aims to offer carbon-neutral holidays. Each cabin is entirely self-sufficient with a micro-hydro scheme that provides electricity and hot water, whilst biomass wood-pellet burners provide underfloor heating. The water here is also sourced from a natural and sustainable ground supply, that is treated on-site and then supplied to each cabin.
Eaglebrae has 10 cabins to choose from sleeping 2-6 people, and they all offer comfort, relaxation, and a peaceful getaway from daily life. With a log-burning stove, an authentic cabin feels and an outside decking area, this eco-lodge offers everything you could want. Deer also graze in this area daily and often comes right up to the cabins making you feel like you are truly relaxing in the wilderness. If you are looking for sustainable eco-cabins in Scotland with a touch of wildlife, then this is a great choice.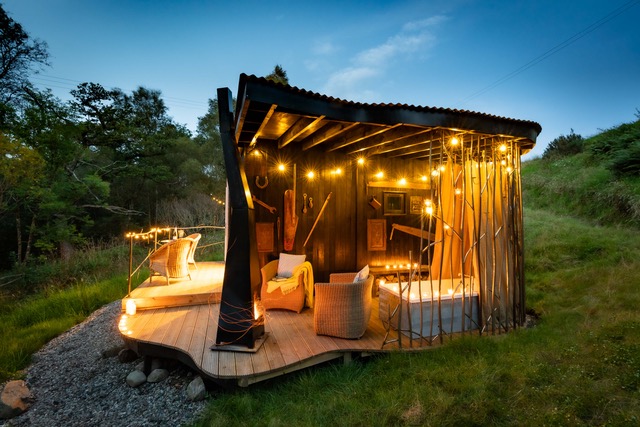 Arcadiaglamping is located near Loch Lomond and is a great example of luxury eco-lodges in Scotland. 100% sustainable and green energy is used to light and heats the cabins, as well as a dry composting toilet and products, which are sourced locally. Many of the furniture and fittings are also handmade, upcycled, or recycled if possible.
With an outdoor chiminea, bathrobes, and an outdoor bath, these cabins make for the ultimate cozy evening – whether that's indoors or outdoors. Situated in a very secluded setting, this is the perfect spot for a relaxing eco-friendly holiday. Arcadiaglamping is also working to incorporate bug hotels and nesting boxes for owls and other birds making this the perfect place to spot wildlife.
The Brochs of CoiGach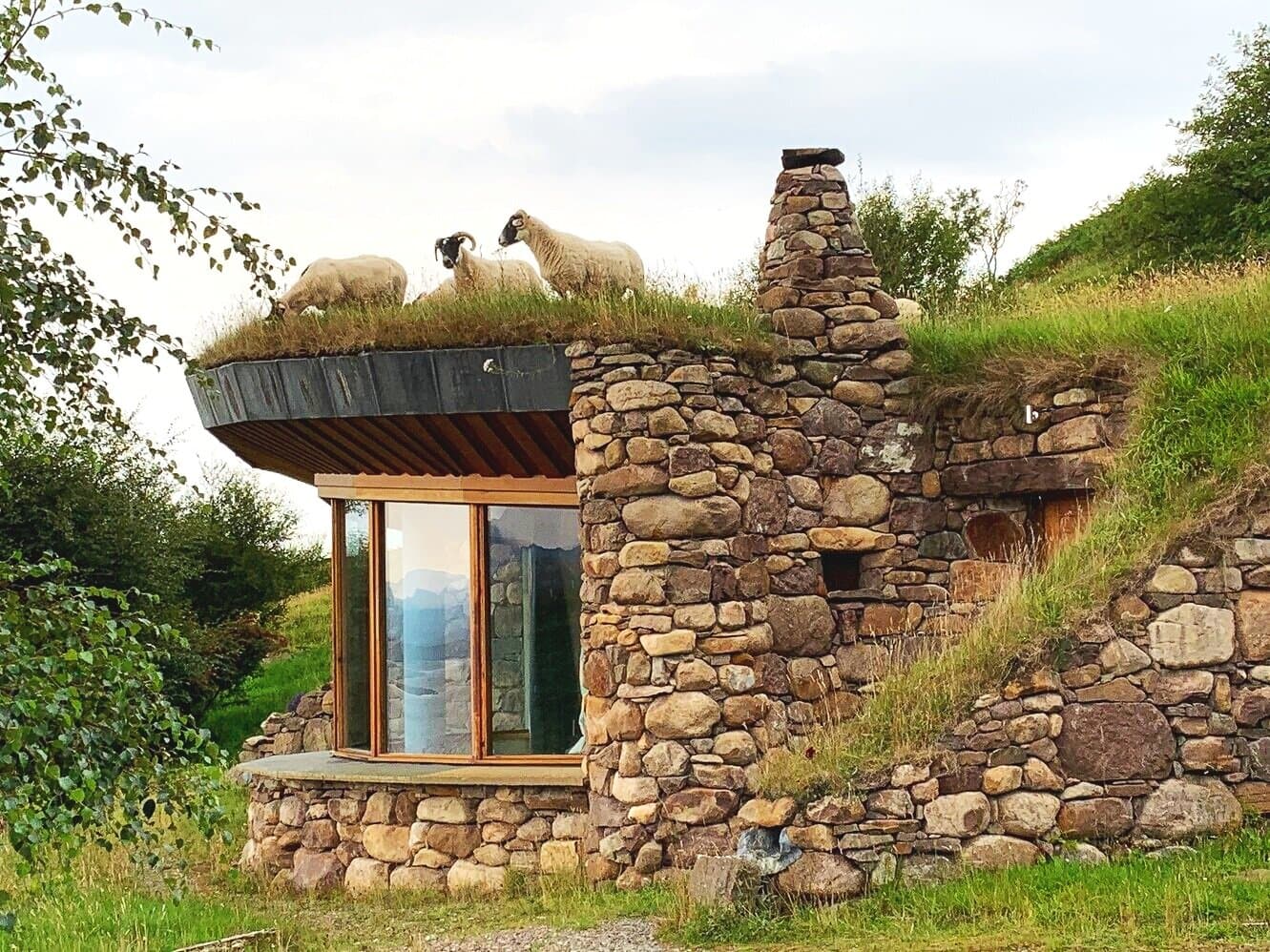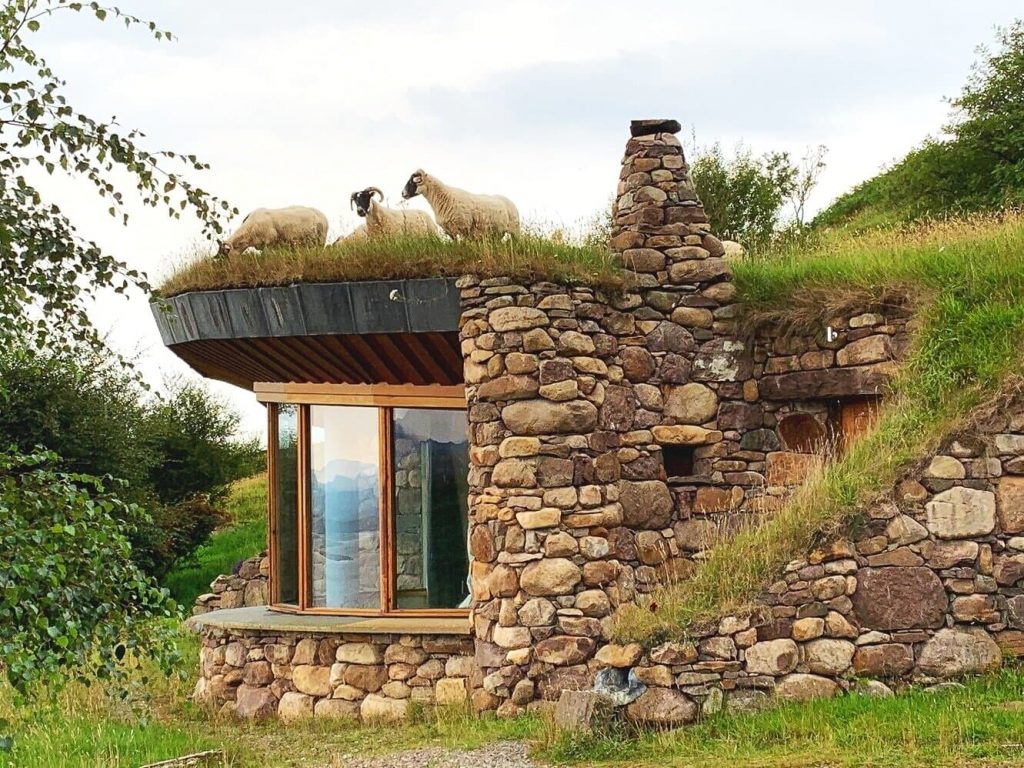 The Brochs of CoiGach have been built into the landscape like they've been there all the time. Made with many recycled materials, and built with wildlife in mind the Borchs offer the perfect chance to relax. With grassed roofs and an opening within the cabin to a void area at the back, birds and bats are free to fly in and out. As the Brochs have grass-covered roofs, don't be surprised if you hear some sheep grazing above your head (just like in the above photo).
There are two brochs to choose from; Gille Buidhe's Broch and Scàl's Broch. With underfloor heating, a fire, and a sauna the brochs are the definitions of comfort. There is also a panoramic viewing area that looks out into the bay giving you the opportunity to spot dolphins, eagles, and deer.
Map of 10 Scottish eco-lodges
As you can see there are plenty of unique and beautiful eco-lodges in Scotland, and you will be spoilt for choice if you are searching for a sustainable holiday. There are 3 eco-lodges near Glasgow, while the other ones are in the Scottish Highlands.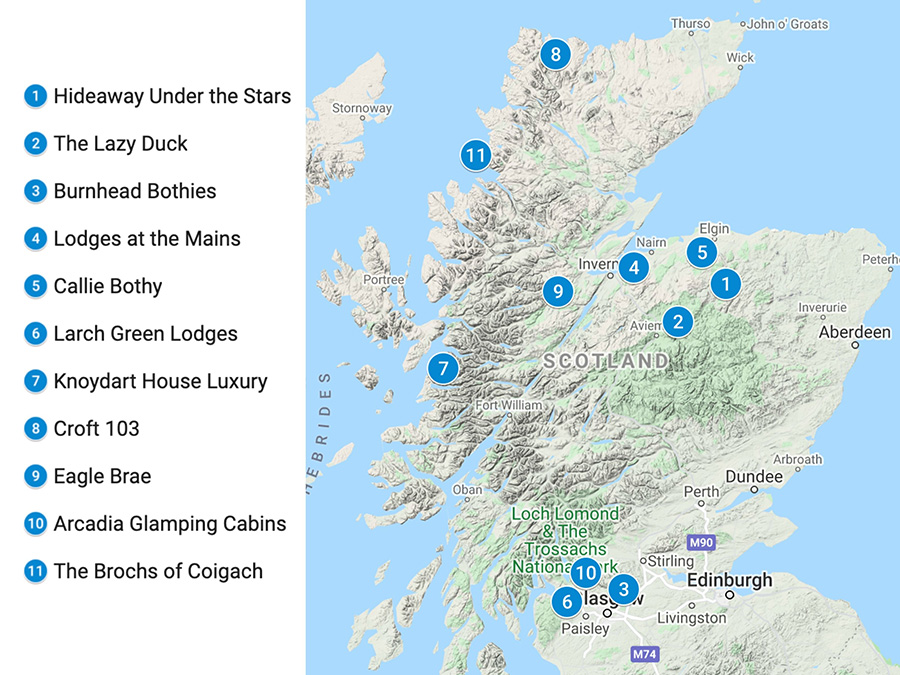 BROWSE THROUGH our directory for the most sustainable eco-lodges around the world if you want to experience something unique, authentic, and exciting.
Explore the best eco-lodges in other regions