10 Most Sustainable Eco-Lodges in Belize
Belize, one of the underrated Central American countries, is a true sight to behold. With lush green mountains, thick jungles, several islands, and the extensive Belize Barrier Reef, any naturalist will find Belize an unforgettable gem. But when there's so much to gain from nature, it's every bit important to be as generous, which is why Belize is going green (and we don't mean just its landscape!). You can see that in many ways through the expanding ecotourism offers, as well as in the growing number of eco-lodges. So, if you wish to join the community of eco-tourists who care about the environment and wish to stay somewhere that's environment-friendly, head to these eco-lodges in Belize:
What are eco-lodges?
Eco-lodges are accommodations in undisturbed, remote natural areas where both construction and operation have the lowest impact possible on the environment. They are not only part of the local community, but they are active participants in protecting nature and culturally sensitive areas.
BROWSE THROUGH our directory for the most sustainable eco-lodges worldwide to experience something unique, authentic, and exciting.
Cotton Tree Lodge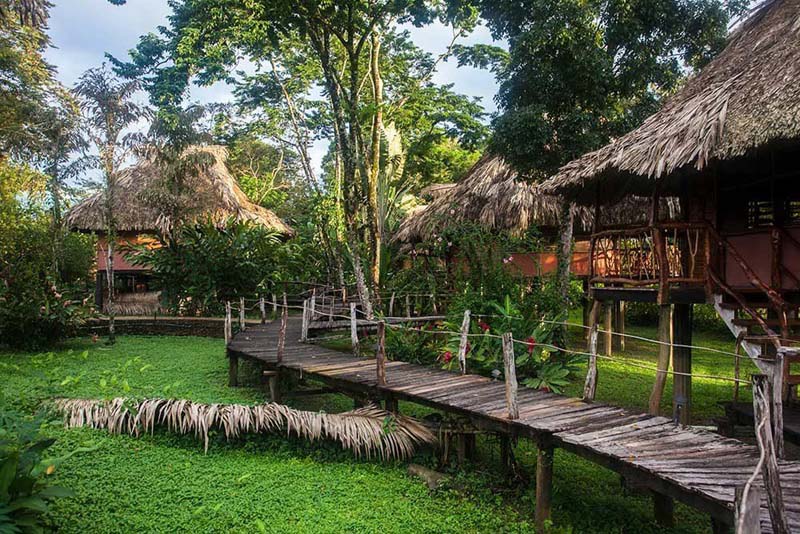 The Cotton Tree Lodge comes across as a dreamy accommodation where wooden furniture, bamboo huts, and the close proximity of the jungle are making everything look like an adventure. One of Belize's most famous eco-lodges, the Cotton Tree Lodge is completely environment friendly. It runs on solar power and does not have air conditioning to minimize wastage. It also uses water conservation techniques.
What makes the Cotton Tree Lodge unique is that guests can actually make their own organic chocolate and enjoy various scenic jungle activities like horseback riding and hiking. There is also a nearby river to go kayaking at.
Bocawina Rainforest Lodge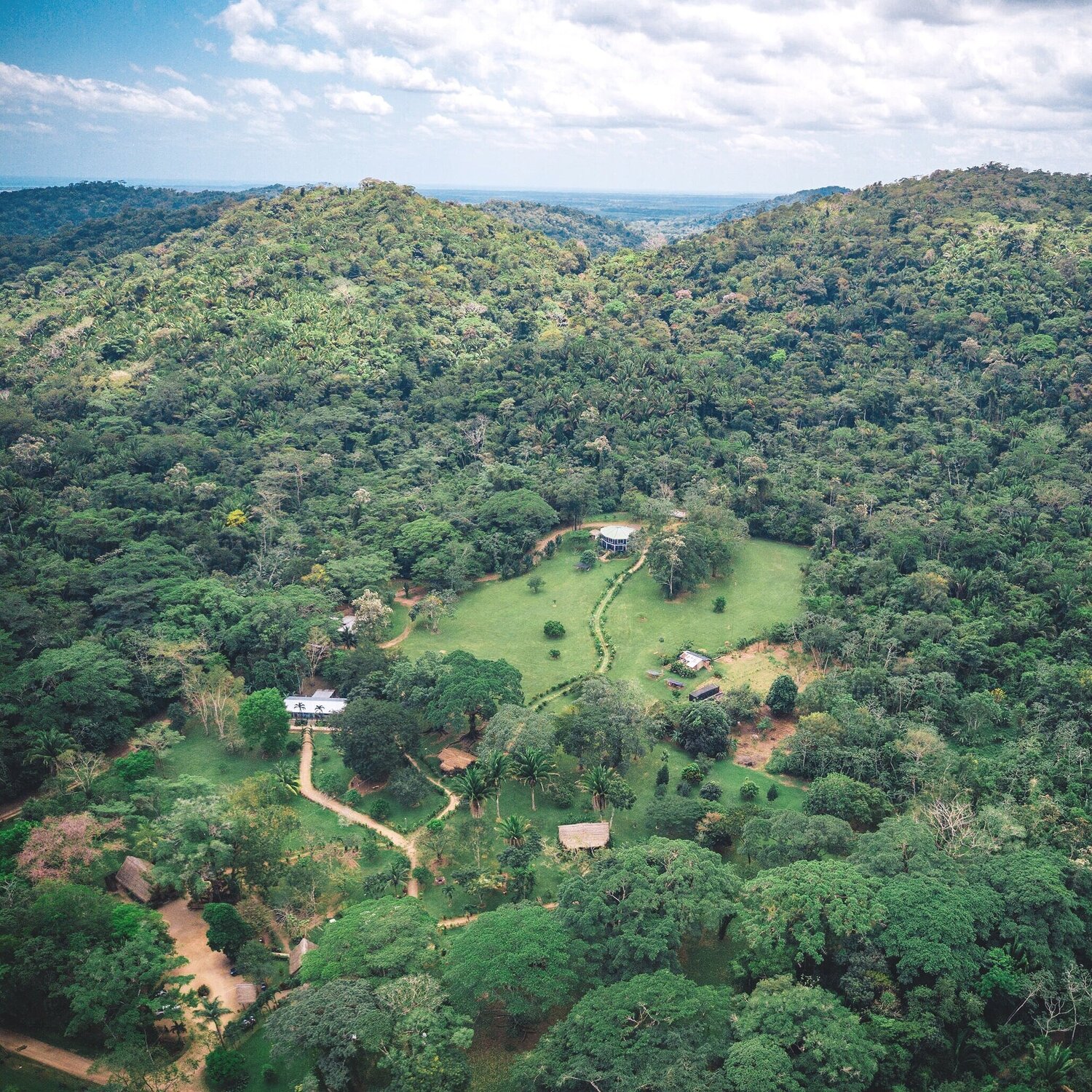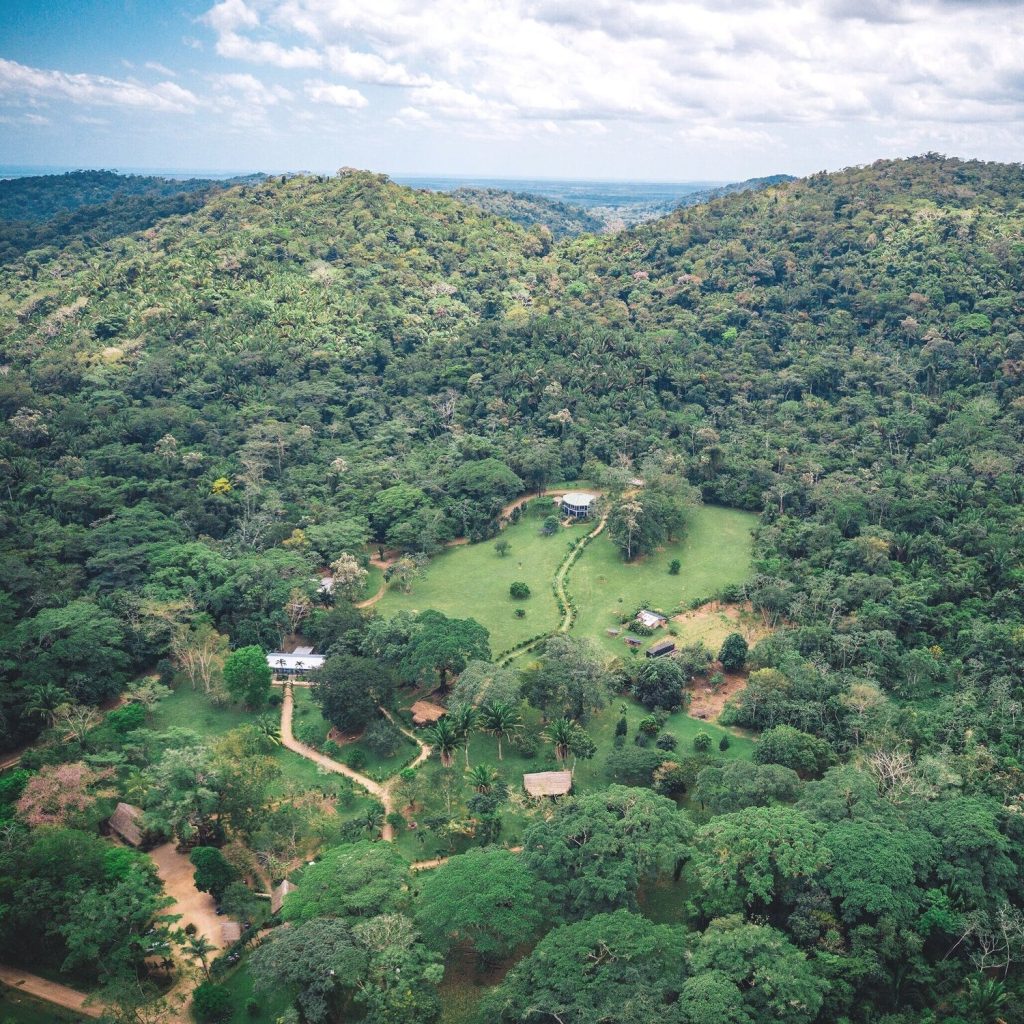 Walking to the Bocawina Rainforest Lodge will have you feeling as if you're traveling in some magical land. With huts surrounded by beautiful paths and lush, green trees, you'll be enchanted the moment you step foot there. So, what makes the Bocawina Rainforest Lodge even special? Its dedication to sustainability. Because you'd be living deep in the rainforest, the Lodge has taken special steps to ensure there comes no harm to the rainforest.
The Lodge is completely off the grid and is built at a location where you won't need air-conditioning. All food is prepared using tropical fruits and organic ingredients to make sure that each and every guest is given an eco-friendly service. The lodges themselves are surrounded by thick trees to keep them well-hidden, which make them not only extremely safe for visitors but animals too.
Blancaneaux Lodge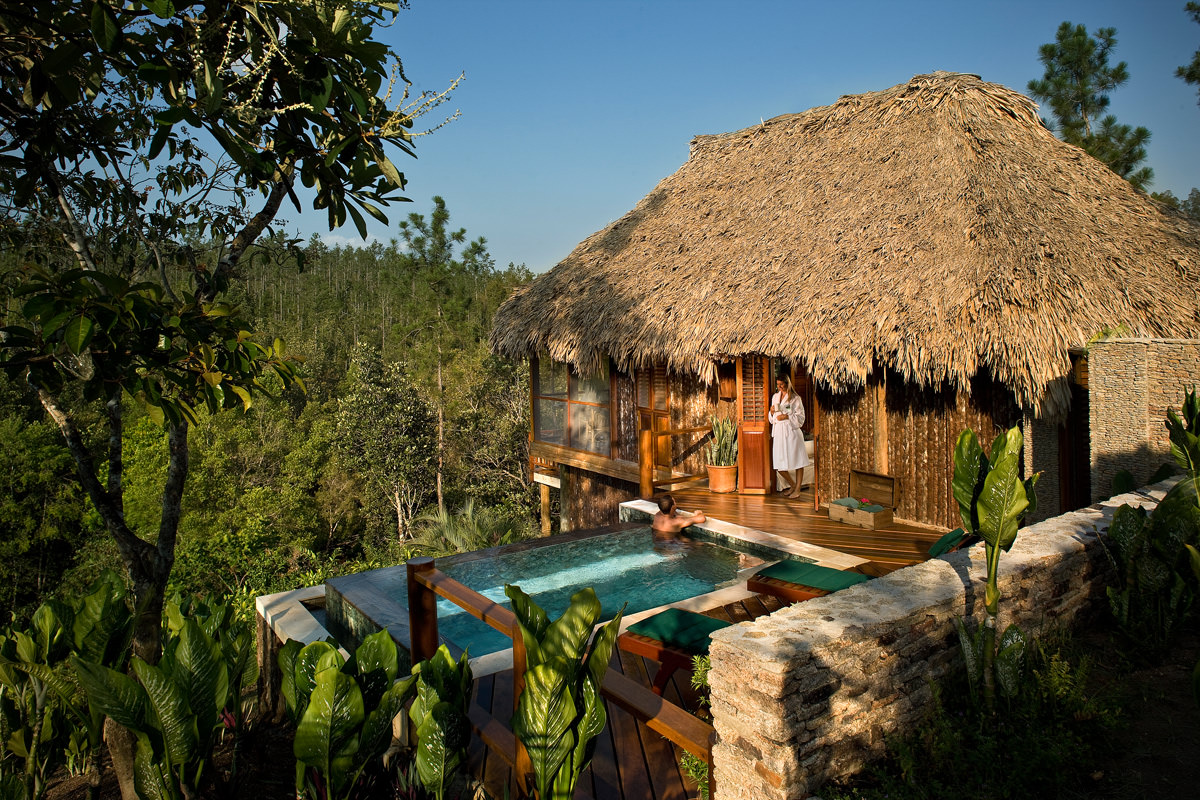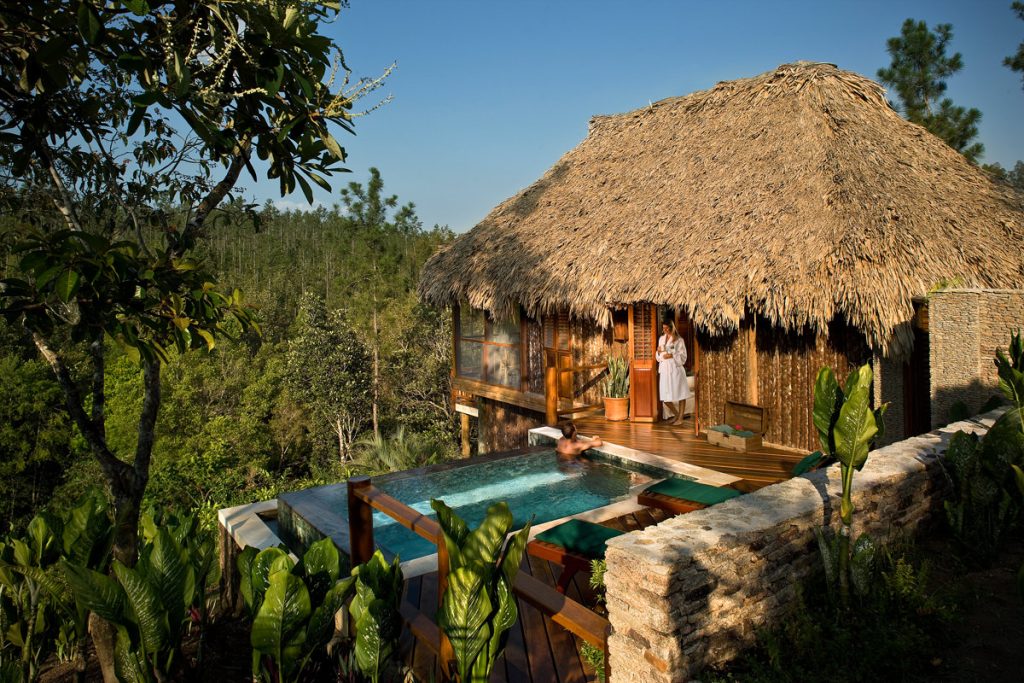 Do you ever look at a cottage in a fairy-tale book and think, I wish I could go there? Well, you can, because the Blancaneaux Lodge at the Mountain Pine Ridge Reserve is the picture-perfect place to be. With dreamy huts and a romantic pool, the Blancaneaux Lodges are just what you're looking for.
They have different types of lodges, each built with natural wood and sporting wooden furniture with biodegradable bedding. So rest assured, Blancaneaux is definitely eco-friendly even in using sustainable building materials. The eco-lodge is designed on a low profile so as not to alarm the animals. All pools are set up with natural saline systems. It powers itself with its own hydroelectric system which draws energy from the nearby Privassion Creek. It supports local artists too.
Black Rock Lodge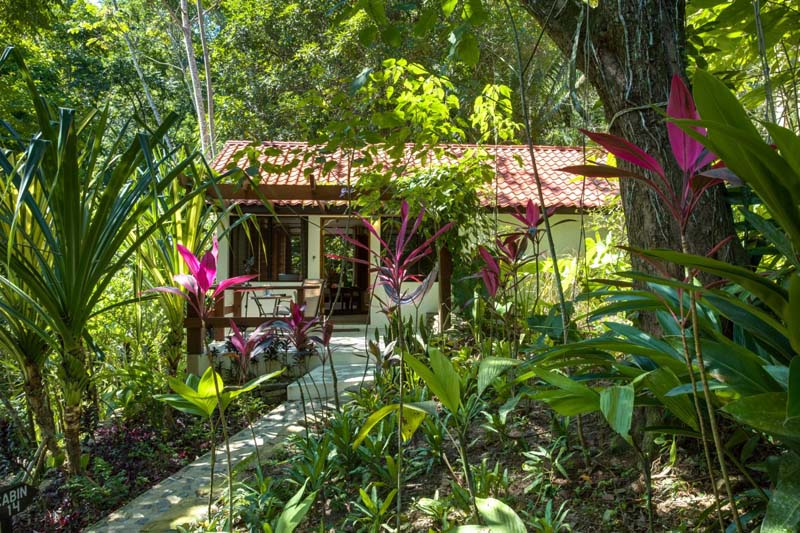 The Black Rock Lodge and its cabins come across a little modern and classic in comparison to a few other Belize eco-lodges. Don't worry because they're completely sustainable. The hotel is built in a low-key area, so the presence of guests does not disrupt wildlife and the environment.
When it comes to powering up, the lodge encourages the use of low-energy bulbs, which get electricity from a sustainable electricity generator. The lodge also has its own wastewater treatment and waste reduction system, so no waste would hurt mother nature. Lastly, the lodge actively participates in recycling and encourages its guests to do the same.
Macaw Bank Jungle Resort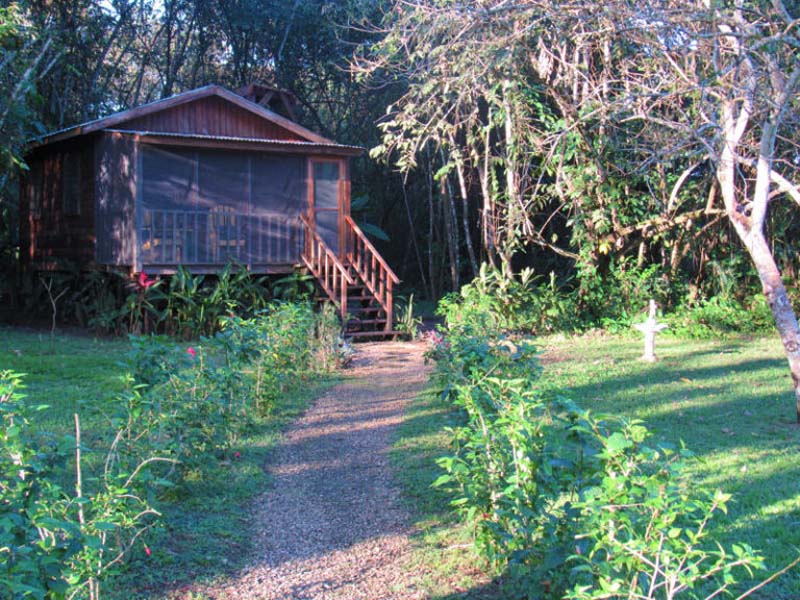 The Macaw Bank Jungle Resort is in San Ignacio on the Mystic River road and is yet another of Belize's successful sustainable lodges. The lodges are made of wood and feature wooden but vibrantly colored furniture. So while you're blended in with nature on the outside, you can still count on a little color inside.
The resort is located quite near the Mystic River, so you bet they're taking extreme care when it comes to sustainability. Solar panels power 85% of the resort, and it restricts its use of electricity by discouraging microwave ovens, coffee makers, and hair dryers. It uses fluorescent bulbs, which not only consume low energy but also don't startle any animals. They produce organic food and compost any organic waste.
The Lodge at Chaa Creek
One of the most romantic and fancy eco-lodges in Belize is the Lodge at Chaa Creek. It is the ideal place for anyone who's looking for natural luxury. Offering different villas with different but lush styles in San Ignacio, The Lodge at Chaa Creek strikes as something that comes out of a fairy tale.
You'll be surprised to see luxurious swimming pools, fancy furniture, and a romantic ambiance. But what makes the Lodge at Chaa Creek so great is also being eco-friendly. The eco-lodge reserves energy through sustainable alternatives. When it comes to an inclusive community, the lodge offers various educational programs to ensure that everyone does their part in contributing to the environment.
The lodge produces water through state-of-the-art high-filtration systems. It runs its Macal River Camp on solar power. The lodge also composts its kitchen wastes as fertilizers and grows its own organic food. It even uses crushed metals as recycled building materials in construction! It's the perfect place for a romantic naturalist.
Table Rock Jungle Lodge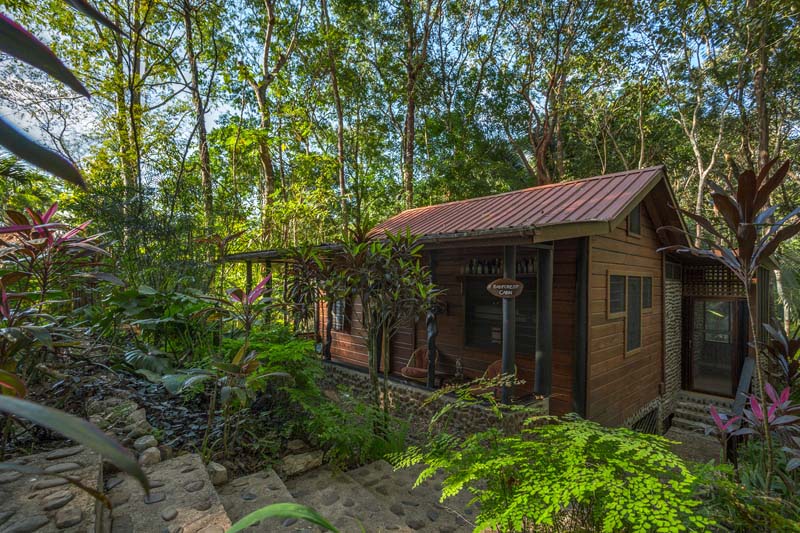 Another one of San Ignacio's gems, the Table Rock Jungle Lodge is located on the river at Jungle Mile 5 Cristo Rey Road. Once there, you'll feel like you've gone back in time. The lodges carry the happy vibes of fun and adventurous summer camp.
The lodge was built on an abandoned farm, which means no additional land was used to construct it. It has been running off the grid since 2002. The lodge revived the farm, where it now grows seasonal herbs and tropical fruits, all used to produce organic food. The water supplied is collected rainwater. Solar panels power the only electricity there. If you're looking for an inclusive Belize experience, you know where to go!
GAIA Riverlodge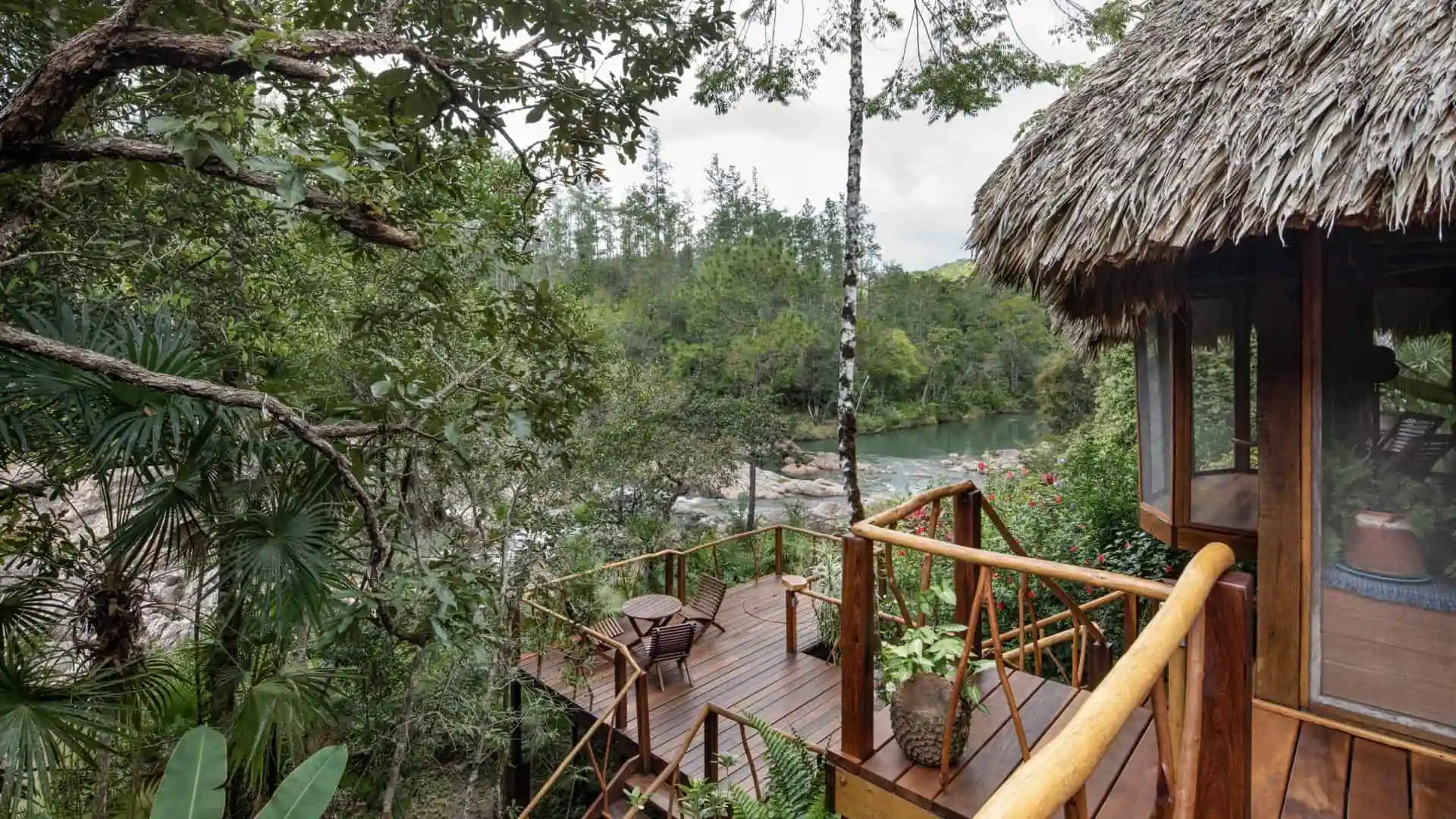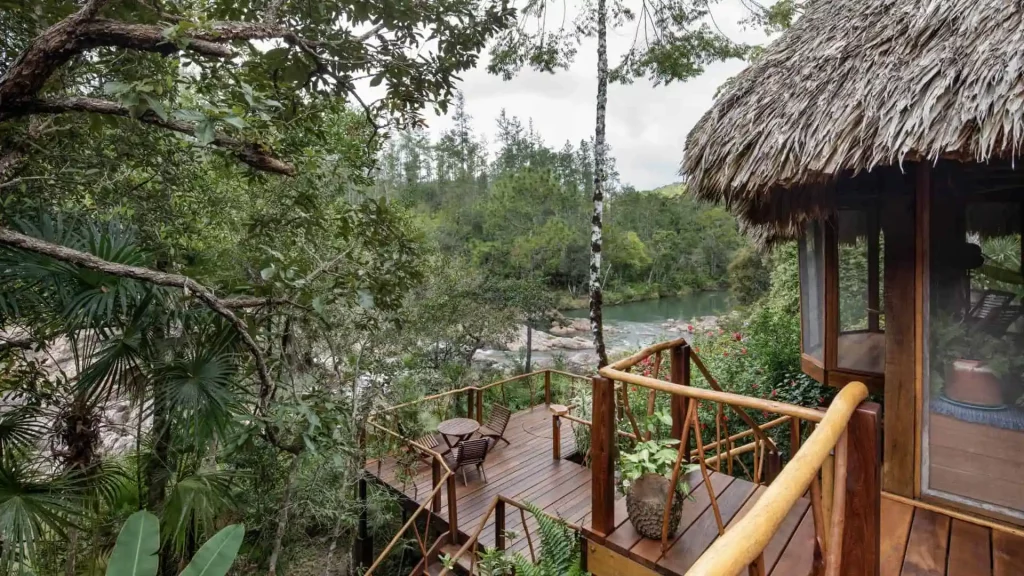 The GAIA Riverlodge gives you a chance to stay at personal cabanas that are completely blended with nature. Seriously, it will take some effort to spot these cabanas, which are constructed out of sustainable building materials. They are covered in hay and bamboo to complete their disguise. The lodge has been so immersed in sustainability that it has won certification through the Green Globe Award.
The Riverlodge offers magnificent views of the river, nearby waterfalls, or the Mountain Pine Ridge Forest. So you'll be witnessing dazzling beauty throughout your stay. The Riverlodge powers on hydropower, which also fuels their electric tram, which transports visitors to the river. And, of course, the lodge has its own organic garden, which produces the tastiest dishes you'll ever eat.
La Milpa Eco Lodge
In Tres Leguas, the La Milpa Eco Lodge nestles among one of Belize's thickest forests. If you're enamored by archaeology, then you must stay here as it is just three miles away from the La Milpa Archaeological Site.
The lodge itself is constructed with light wood and thatched roofs and even has an optional "green" dormitory for guests to stay at. All cabanas feature green technology, which means that only sustainable energy is used for light and power. All waste is composted back into the forest.
Because the lodge is in close proximity to the archaeological site and is situated in the forest itself, it maintains a low profile so as not to disturb any local wildlife. For avid bird lovers, the lodge is the perfect place to go as there are more than 150 wildlife bird species to spot. Additionally, it is also family-friendly, in case you're hoping for a fun family vacation.
Martz Farm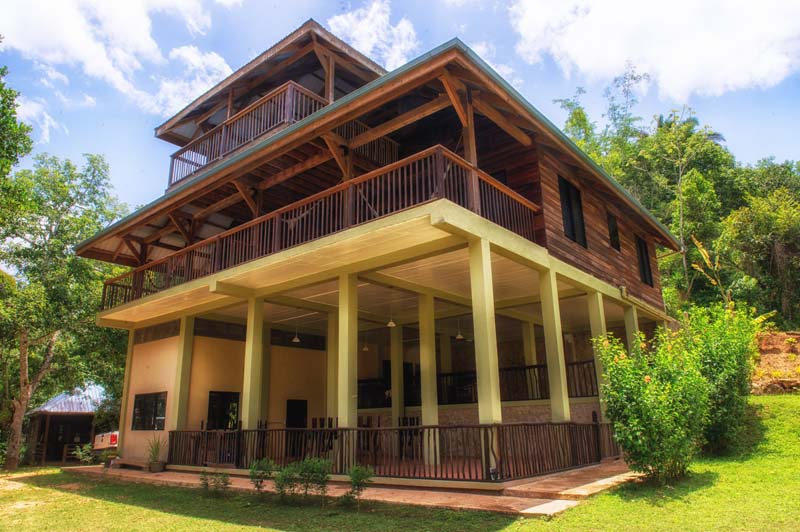 The Martz Farm Treehouses and Cabanas are located in Benque Viejo Del Carmen and are a classic way to enjoy the romantic culture of Belize. They offer different accommodations, from treehouses to cabins and garden rooms, each spacious and offering a rustic luxury.
Martz Farm participates in the Green Iguana Conservation Project and actively supports the Tropical Wings Eco Center Butterfly Farm. When it comes to self-sustainability, the farm is completely eco-friendly. The farm sources its water from the property stream and rainwater collection. All electricity is generated from on-site solar panels. If you love Mayan history and would like to check out the nearby Mayan ruins, Martz Farm has great packages you can avail of.
Map of these 10 Belize eco-lodges
As you can see, there are plenty of unique and beautiful eco-lodges in Belize, and you will be spoiled for choice if you are searching for a sustainable holiday.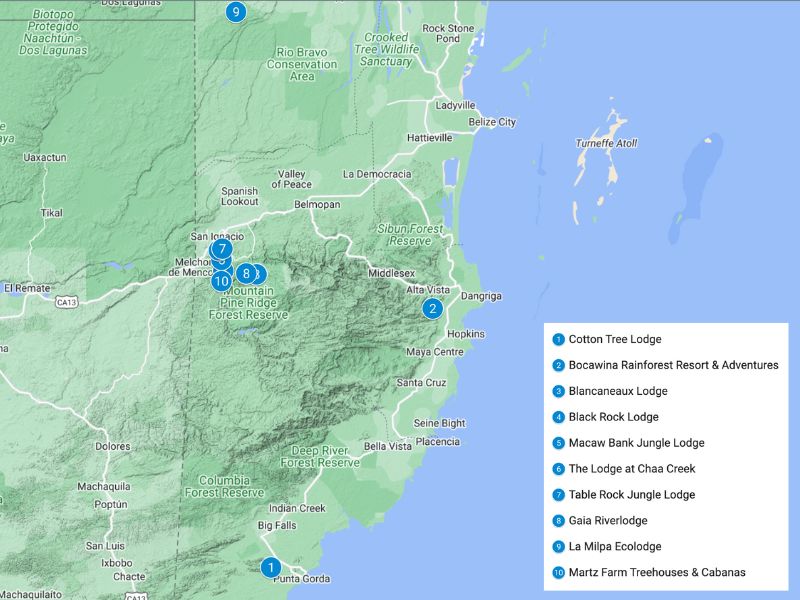 BROWSE THROUGH our directory for the most sustainable eco-lodges around the world if you want to experience something unique, authentic, and exciting.
Explore the best eco-lodges in other regions