Guide to Fishing in Costa Rica
Costa Rica, with its breathtaking scenery and tropical climate, is a dream destination for anglers. From freshwater fishing on massive lakes and waterways to targeting some of the fastest, largest marine fishes on the planet, Costa Rica has opportunities for skill levels and all passions. Below we will take you through species, techniques, and seasons in our complete guide to Costa Rica fishing.
*This post may contain affiliate links. We may receive a commission if you make a purchase through those links. Please read our disclosure.
Trolling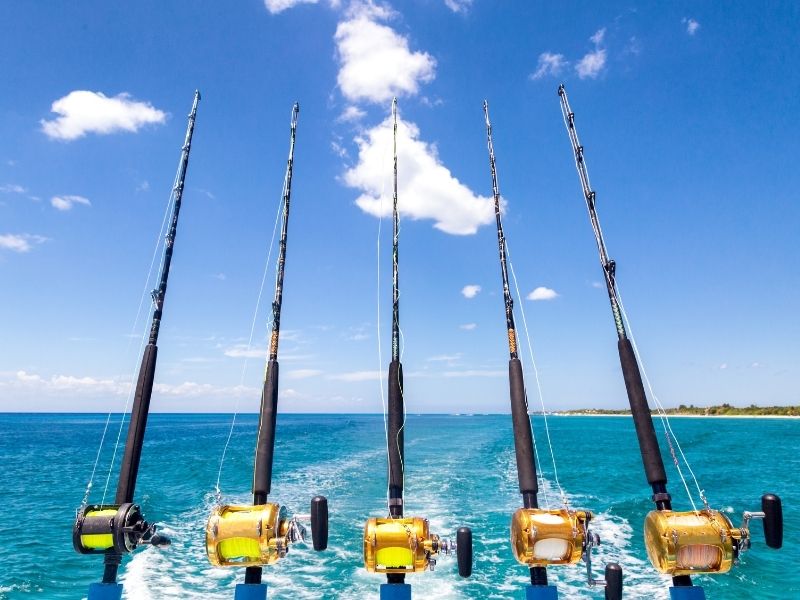 Deep sea fishing in Costa Rica can be as varied in approach as the species that you target. Trolling (see in the above photo) has long been considered one of the classic methods of sportfishing.
Trolling blue water for predators like tuna, marlin, and wahoo is always exciting. With Costa Rica's fast access to the deep waters of the Pacific Ocean, anglers can enjoy big game fishing from much smaller boats if they want.
The variation in watercraft means anglers of all budgets and levels of enthusiasm from multi-day trips on cabin cruisers to half-day trips on pangas (pangas are smaller outboard motor-powered fishing boats popular with South and Central American fisherman).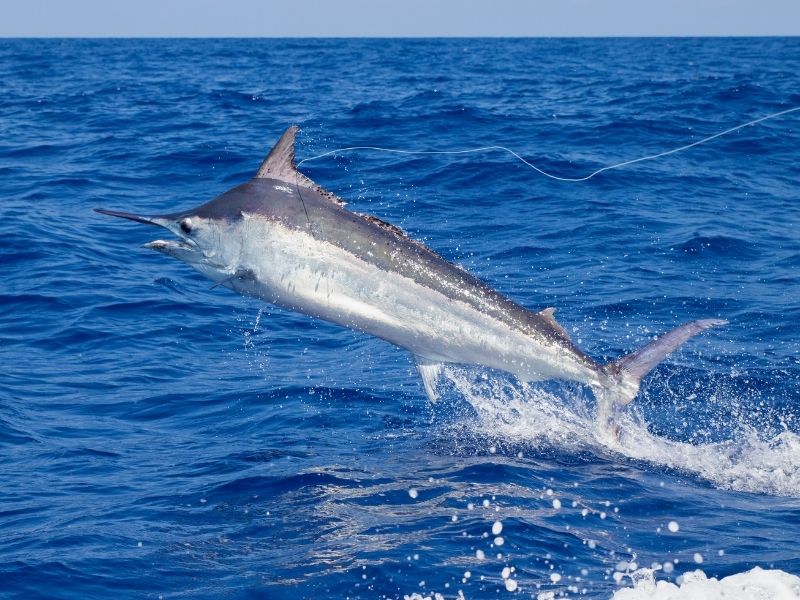 Three species of marlin can be caught regularly in the deep blue waters off Costa Rica's Pacific coast. The most prevalent is the blue marlin. The blue marlin is world-renowned for its tenacity. It leaps when hooked and is capable of speeds up to 60 miles an hour. They are commonly found around 500 lbs, giants up to 1000 lbs are caught, but these leviathans didn't grow to that size by being pushovers.
Black marlins, while less common than blues, are even larger, with the world record tipping the scales at 1560 lbs! These fish are only found in the waters of the Pacific and Indian Oceans, making a chance to catch one even more sought after than the blue.
The striped marlin is the smallest Pacific marlin, topping out the record books at 440 pounds. It is acrobatic and blistering fast, it is a worthy catch for any angler. Internationally, all types should be handled with care and need to be released alive.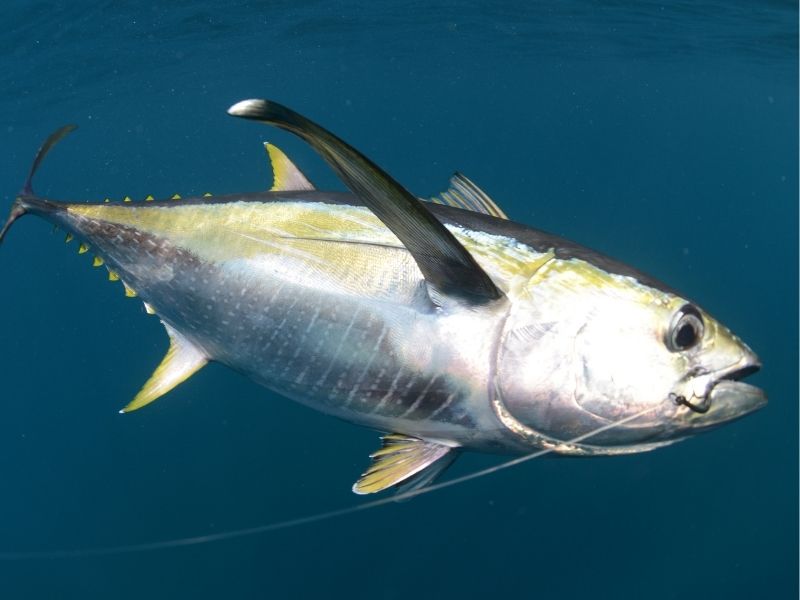 Yellowfin tuna is a big game angler's dream. The most common method of catching tunas is trolling at speed with rigged ballyhoo and lures like chrome jets and chugging lures. Dropping cut or live baits into feeding schools of yellowfin can also be a heart-pounding tactic. When tuna are feeding or "blitzing" they create a cloud of turbulent water that can be acres in size. An angler getting to witness a blitz of tuna will have a story to tell for years to come.
Reef or bottom fishing
If blue water trolling is not what you are after, then perhaps fishing the reefs and ledges for a mixed bag of grouper, snapper, and other jaw-dropping reef fish. While reef or bottom fishing is less targeted than trolling, it often provides non-stop action, from kid-friendly grunts and snapper to hard-fighting grouper and amberjack. An angler who ties into amberjack will soon realize why they have the nickname "reef donkey". These brutes use every ounce of muscle they have to best you and your fishing gear.
Freshwater fishing in lakes
While not as well known for its freshwater sportfish, Costa Rica offers world-class freshwater fishing. From the massive Lake Arenal to the mangrove rivers of either coast, a laundry list of fish can be found.
In the lakes of Costa Rica, several species of cichlids can be caught. The most sought-after is the rainbow bass, known locally as guapote. Guapote is Spanish for "handsome one", and with its iridescent blues and purples, it's a fitting name for the feisty ambush predator. Guapote is only found in the regions of Costa Rica and Nicaragua, so catch and release is preferred.
Freshwater fishing in rivers and swamps
For those who are drifting in the jungle rivers and mangrove swamps, both snook and tarpon can be caught there. They give memorable fights on light tackle and fly-fishing gear, not unlike their northern cousins in the Everglades, these fish can be sight fished and will use their acrobatics to free themselves from the hook.
Fly-fishing
Fly-fishing in Costa Rica may not be what many imagine when they think of places for great fly-fishing, but Costa Rica has incredible places to go. Many freshwater species can be targeted with fly gear.
Guapote and machaca are both excellent light tackle fun that will give any fly fisherman a run for their money. As listed above, tarpon and big snook are prized catches the world over; both require skill and no small amount of luck to best.
Tarpon is one of the most sought-after marine sport fishes in the Americas. They can live in fresh or saltwater, primarily living in the shallow waters near the coast. Juvenile tarpon average 5-50 lbs and offer acrobatic performances when hooked. Larger adult tarpon can grow to 200 lbs and are capable of launching clear out of the water. To land any tarpon is considered a treat and is the fly fishermen dream.
Fishing the mouths of rivers and shallow reefs, saltwater fly-fishermen can target jacks and roosterfish for adrenaline-pumping fights that will be talked about for years to come.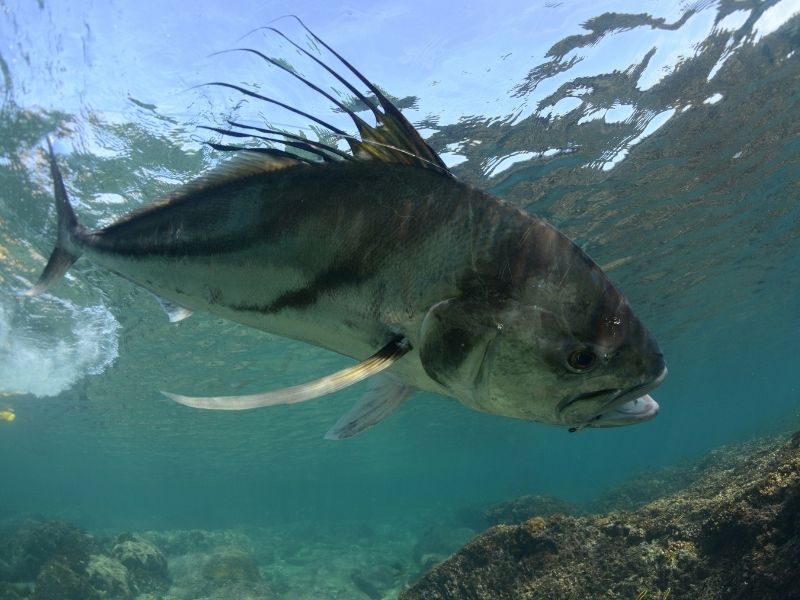 Roosterfish are considered trophy fish in Costa Rica and are required to be released. These fish are magnificent fighters, capable of drag-singing runs when hooked. On average, they weigh around 20 lbs, but the current world record is 114 lbs.
Best time to go fishing in Costa Rica
With the diverse waters off Costa Rica's coasts, there is always good fishing. However, there are certain months out of the year when the fish show up in greater abundance.
For marlin and sailfish, action is best in May through October in the Northern regions of the Pacific Coast. These fish head south and will be most accessible to central coast anglers from November to January.
Tuna and wahoo, another streamlined ocean gamefish, are most often caught in April through July. Regardless of the time of year, when one heads out to the waters of the Pacific, there is a chance they can tie into one of them.
Freshwater fishing is possible all year, but the dry season that runs from November to April is the best time. During the dry season, lakes and rivers shrink, making the fish congregate in more accessible areas. During the rainy season, the banks of the jungle rivers flood, and the fish swim where ever they want, making targeting them more difficult.
Best places to go fishing in Costa Rica
Lake Arenal
For freshwater fishing in Costa Rica, there isn't a body of water more well-known or accessible than Lake Arenal in the province of Alajuela. Lake Arenal, at approximately 33 square miles, holds rainbow bass, machaca, cichlids, and ever garfish. There are many guide services that fish the lake, and charters can be booked for anywhere between 3 and 9 hours, depending on your level of commitment.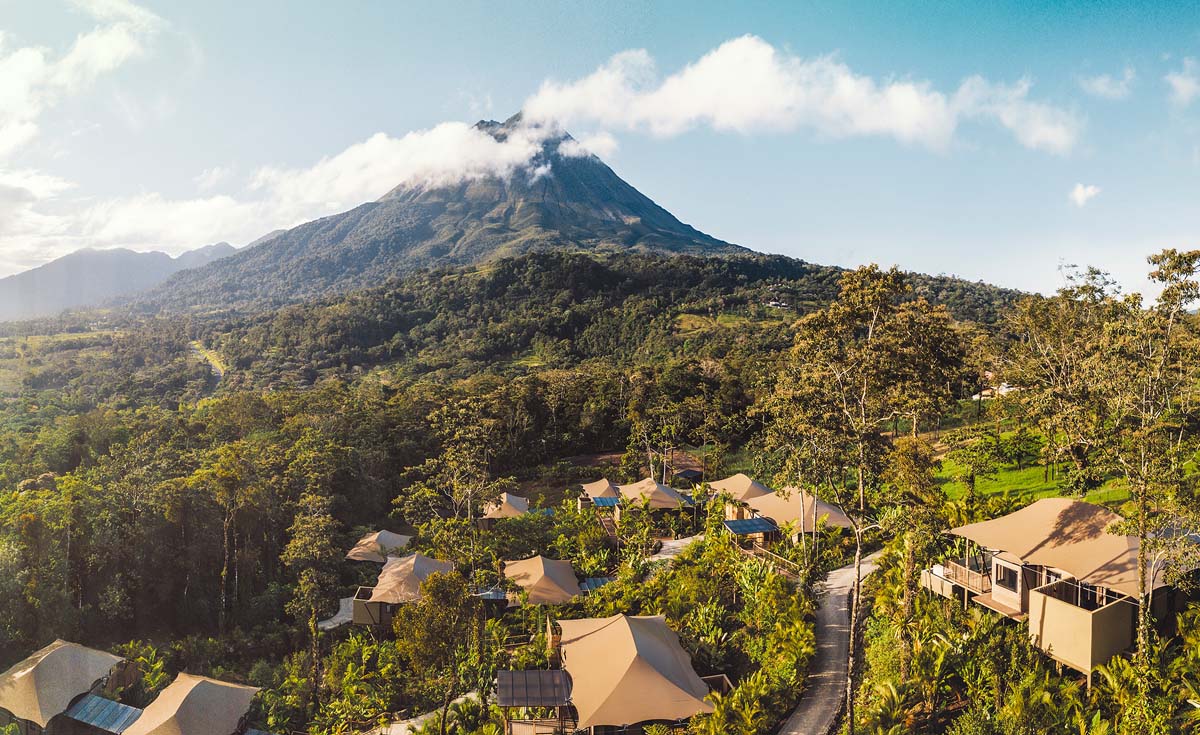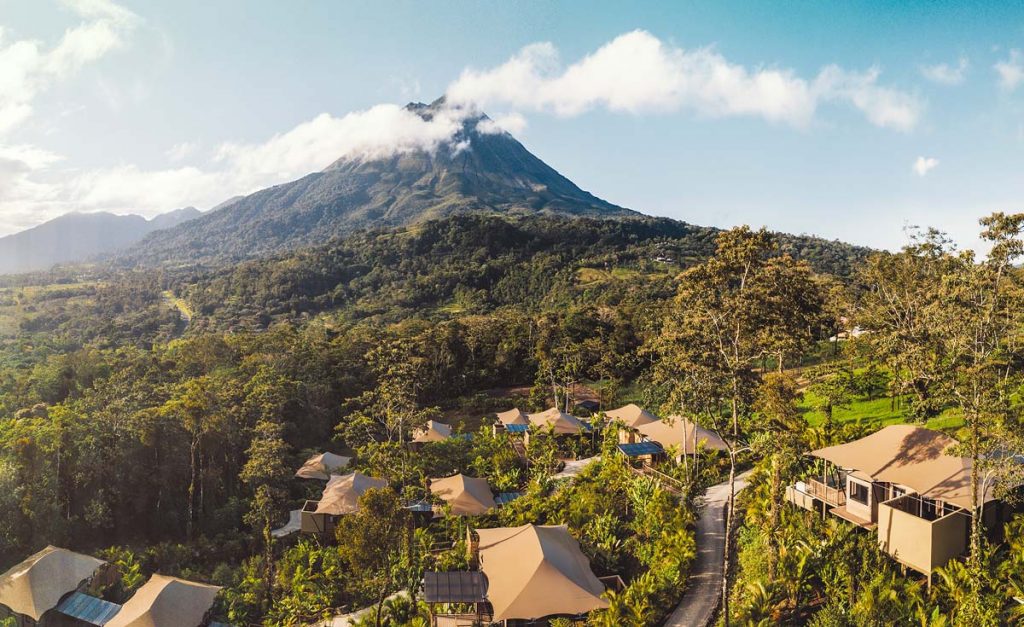 Tortuguero
Tortuguero is located on the Caribbean side of Costa Rica in the province of Limón. While the Pacific coast is known for its sport fishing, the Caribbean coast and especially Tortuguero, provides some of the best tarpon fishing in the world. Not only will you enjoy fishing for "silver kings" as tarpons are often called, but Tortuguero is also a national park that hosts a major nesting colony of green sea turtles.
Los Suenos
No list of fishing locations in Costa Rica would be complete without Los Suenos. Los Suenos, located in the Central Pacific in the province of Puntarenas is a region that boasts incredible marlin and bluewater fishing all year, with the peak season bringing bill fishing tournaments to the region. Playa Herradura and Herradura Bay offer fishing opportunities for jacks, rooster fish, and snapper for those who want a shorter trip than offshore.
Crocodile Bay
Crocodile Bay, like many others on the list of Costa Rican big game fishing, offers chances at legendary fights with world-class fish. One thing that makes Crocodile Bay in the province of Puntarenas unique is its focus on kayak fishing. Those who want to ditch the motor and enjoy the serenity of paddling will quickly find the thrill of fishing so close to the water.
Is fishing sustainable?
Eco-tourists and travelers who love nature are often faced with the question of whether or not the activities that they do are sustainable for the environment. Fishing is no different. If you want to be a responsible angler, keep the below in mind:
Focus on catch and release.
Keep only what you plan to eat.
Catch with a placard.
Choose a local captain.
Sportfishing is as much about communing with the water as it is about landing a fish. If you want to be a responsible angler, try and safely release your fish, and in the case of keeping one for the dinner table, you should only keep what you plan on eating. It is important to discuss your desires with the captain and crew before booking so that everyone is on the same page as to what types of fish you want to catch and how to catch them.
For anglers who want to have a memory of the fish, not only are photographs worth a thousand words. The International Game Fish Association (IGFA) sells catch certificates with your name, date, and approximate size of your catch, so you can commemorate the catch with a placard.
An added comfort for the sustainably-minded is that the sportfishing industry is made up of small business owners. Choosing a local captain means your money stays in the area employing crew, boat mechanics, and tackle shops.
What's more, fishing equipment has an excise tax that goes directly to funding conservation. Couple the taxes on equipment with the license fees and membership to various game fish organizations, and you can see these dollars add up to real impacts across the globe.
While sport fishing may have a poor image from bad apples, it is apparent that sportsmen as a whole can be a tremendous force of good for the environment.
Other eco-friendly activities in Costa Rica