7 Ways to Make Your Air Travel More Sustainable
The world is waking up about carbon emissions and their impact on the world around us. Flying is one of the biggest sources of consumer emissions, being as they are fossil fuel dependent and high consumption. It is estimated that a quarter of the world's total emissions will come from flying by 2050. This is sparking curiosity on how eco-friendly flights can be achieved and how to make air travel more sustainable. Is there a way to lower the environmental impact of travel in total?
What is the environmental impact of air travel?
To give you an example according to the MyClimate carbon emission calculator, the carbon footprint for an economy round-trip flight from New York to London, United Kingdom would be 1.6 t CO2, while the carbon footprint from Los Angeles to New York would be 1.4 t CO2.
It is interesting to note that this calculator also compares it to the recommended carbon footprint of 0.6 t CO2 to be generated by a single person in a year to stop climate change. However, the average person in the European Union has an average emission of 8.4 t CO2 per year!
The impact is shocking: avoiding just one flight would have the same impact as choosing to go (gasoline) car-free for an entire year! That doesn't mean you can always have alternatives to flying. If you don't, this article will give you some examples for you to do to practice sustainable air travel.
1) Short haul vs long haul
When people think about going away for vacation, they often think of flying to a faraway land. However, long-distance air travel has a large environmental impact. Atmosfair has created an index for Airlines to report on all things emissions.
The study found that a long flight creates more emissions than an entire year of a single person's food, energy, and basic transportation output.
However, in terms of fuel efficiency, as every plane has to take off, climb to a certain altitude, and land, medium-haul flights are more efficient than short-haul and long-haul. This study also shows that there are two factors that have the largest effect on reducing carbon dioxide emissions. These are the type of aircraft and the passenger occupancy.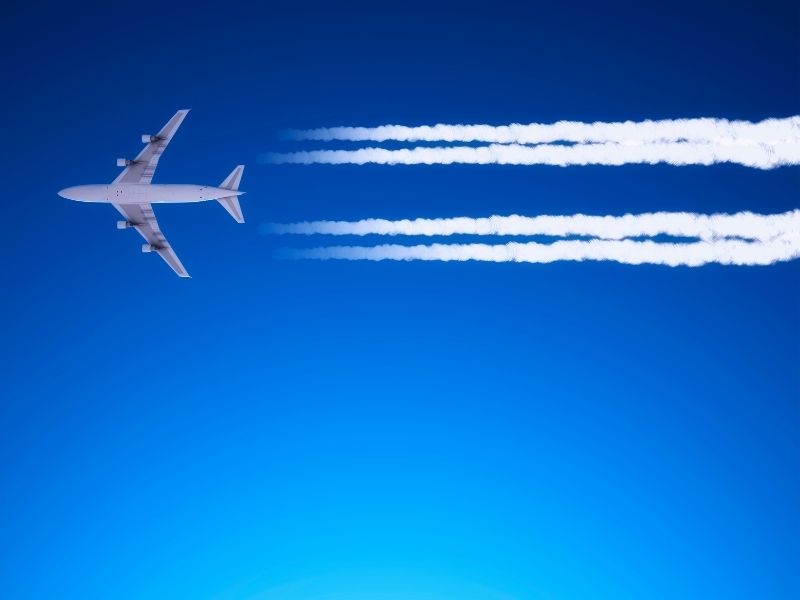 2) Carbon offset your trip
Before you start to explore sustainable flying, it is important to establish a baseline for what you currently consume. You can then look at how you can use carbon offsetting, which means that you will do other activities that have a positive impact on the environment to compensate for your emissions.
READ MORE -> Is Carbon Offsetting Travel Better Than Nothing? Pros and Cons
3) Choose green flights that use biofuels
A great way to make your air travel more sustainable is to research who you chose to fly with and choose an airline that operates using biofuels, such as United Airlines, Alaska Airlines, KLM, and SAS.
United has been a global leader in leading the aviation industry to reduce carbon footprints: being the first airline in 2016 to use sustainable aviation fuel mixed with regular jet fuel. In December of 2021, United became the first airline in history to operate a passenger flight with 100% petroleum-free, green fuel! This puts them near the top of the list of the most sustainable airlines in 2021.
Alaska Airlines is said to be operating some of its commercial flights with ATJ biofuel, which uses corn and forest residue feedstocks.
KLM is reported to be the only European airline that uses SFA (Sustainable Aviation Fuel) for intercontinental routes.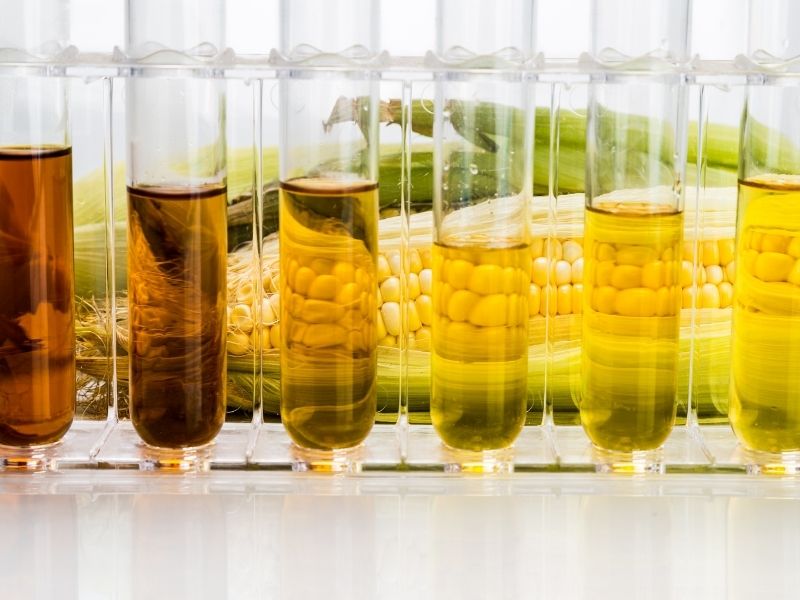 4) Support airlines that tackles single-use plastics
We all know how bad single-use plastics are for the planet, and the more you can reduce those you will also be reducing your carbon footprint.
Portuguese airline TAKE OFF is the world's first single-use-plastic free flight provider. They have been working since 2019 to achieve this and are pleased to say they have been offering these eco-friendly flights since January 1, 2020. Plastic cutlery has been replaced with bamboo, and recyclable and compostable alternatives have been sourced to replace plastic wrap were needed for sanitary reasons. They estimate that each long-haul sustainable flight saves 350kg of plastic waste from entering our environment.
5) Support airlines with Farm-to-Table initiatives
Some airlines are going to great lengths to ensure their guests are flying as green as possible in other ways. Singapore Airlines has the longest flight in the world (at 19 hours from New Jersey to Singapore) and has partnered with a vertical farm company, AeroFarms which grows fresh greens just 5 miles from the airport, as opposed to being flown in from thousands of miles away making greens days old by the time they hit your plate.
This farm-to-table approach can provide fresh greens that are harvested within 24 hours of being served to you. AeroFarms facility is eco-friendly, as they grow what would take traditionally 390 acres in just 40,000 square feet. The plants are grown hydroponic, so they do not require washing before packing since there are no pesticides used.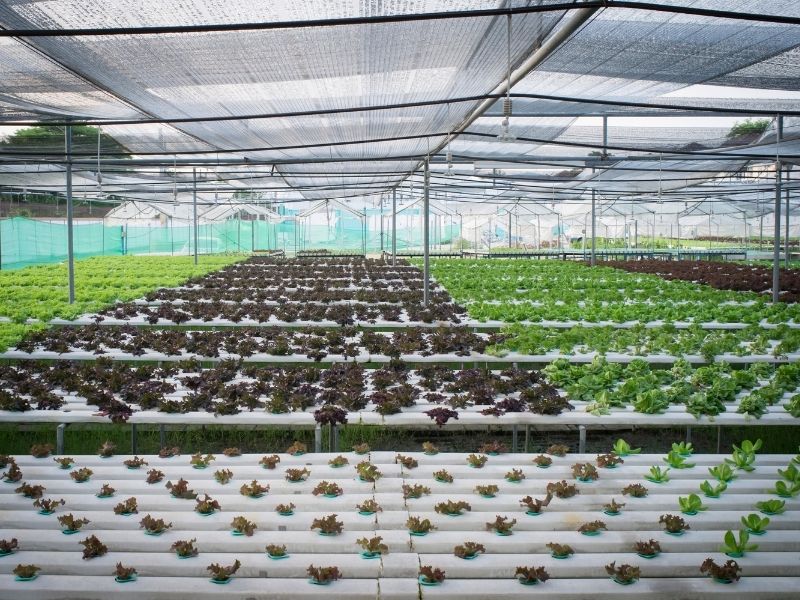 6) Minimize luggage weight
When you are traveling, less is always more. Weight has an impact on your emissions in more ways than one. Fuel consumption goes up with the weight of an aircraft, and even the power needed while your luggage spins on the baggage carousel will add up for multiple travelers with overweight bags. These small changes of packing lighter on your trips, taking photos rather than souvenirs home, will gradually add up to making a trip more eco-friendly.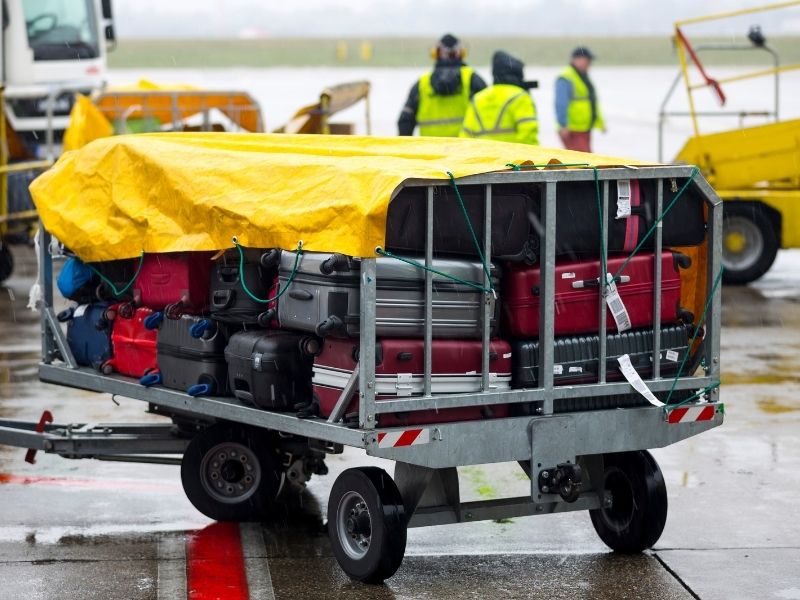 7) Bring your reusables
Eco-tourists bring their own water bottle/coffee cup with them whenever they travel. Some coffee shops offer a small discount when you bring your cup but regardless you will feel good about reducing your waste. Think not only of metal water bottles but reusable cutlery, metal straws, packaging-free toiletries (shampoo bar, soap, deodorant, plastic-free toothpaste, bamboo toothbrush, etc.)
READ ON – Who is an Eco-tourist? How to Become One?
What does the future hold for sustainable flying?
Stay on top of new aviation technologies that are coming in the future. With the global goal of net-neutral emissions by 2050, airlines are feeling the pressure to become more eco-friendly.
Most recently, a company called ZeroAvia based in the UK/US-made plans to focus on an engine that runs on green hydrogen as sustainable aviation fuel. This would allow engines to emit water vapor, rather than jet fuel exhaust. The company plans to first target short flights of 800km for 10-20 seat aircraft.
In 2021, United Airlines also partnered with Archer Aviation and Heart Aerospace to develop electric airplanes as well as with Boom to invest in the development of zero-emission supersonic jets.
NASA is also hard at work on how to build an effective electric airplane. They have been working on developing a system to power the aircraft, as the traditional battery would need to be the size of the airplane itself. With the world's best working on the issue, they hope to have electric airplanes a reality for Americans within the next 15 years