20 Unique Cenotes From Cancun to Tulum (along Riviera Maya)
Among all the popular things to do in the gorgeous towns of Tulum, Playa del Carmen, Puerto Morelos, or Cancun that comprise the Riviera Maya, taking a dip in the local cenotes consistently ranks among the best. Don't forget about the ones around Valladolid they are just a stone's throw away. What waterfalls are for Costa Rica, cenotes are for Mexico, a must-see nature attraction for eco-tourists. So, how to choose the best cenotes to visit? It depends on what you're looking for: colorful fish, snorkeling, diving, or simply floating in a tranquil body of water for hours on end. Check out our list to determine which of these unique cenotes are the right choice for you!
What are cenotes?
Cenotes are underground chambers or caves that contain groundwater. Basically, it's a natural sinkhole where the cave's ceiling collapsed.
In Spanish, cenote is pronounced as "seh-no-tay", a translation of the Yucatec Maya word "D'zonot" or "Ts'onot".
There are a number of different types of cenotes. The most common kinds of cenotes are cave, semi-open (young), and open (mature) cenotes. There are also dry cenotes, but they aren't half as breathtaking!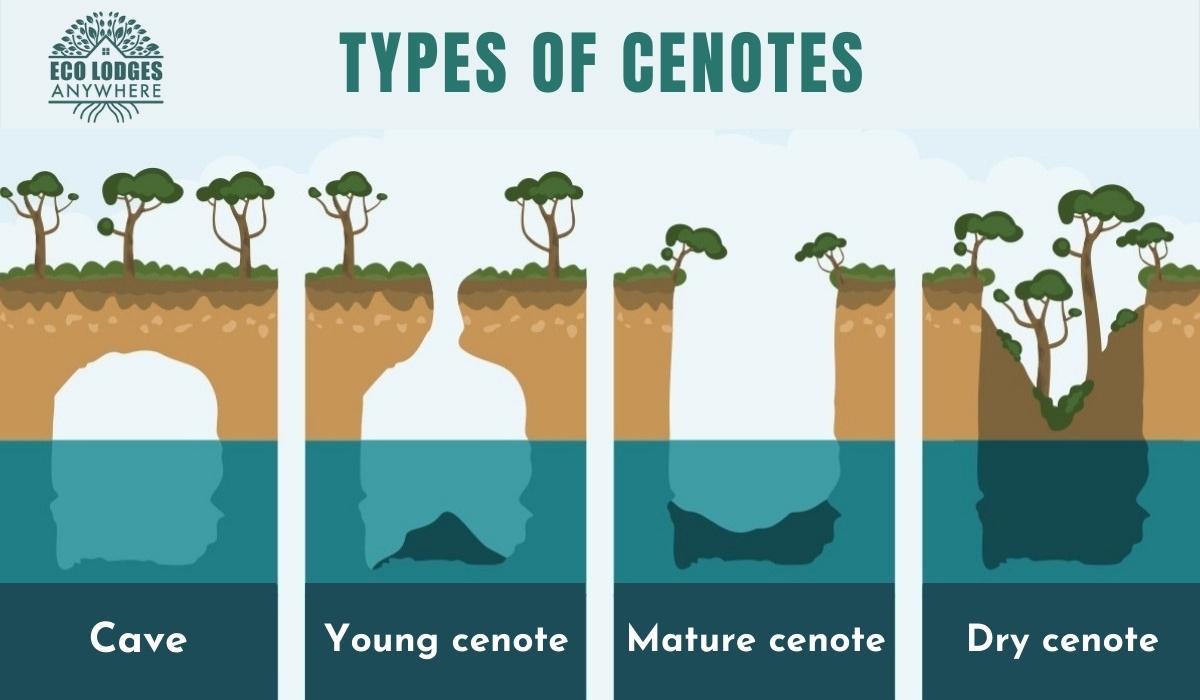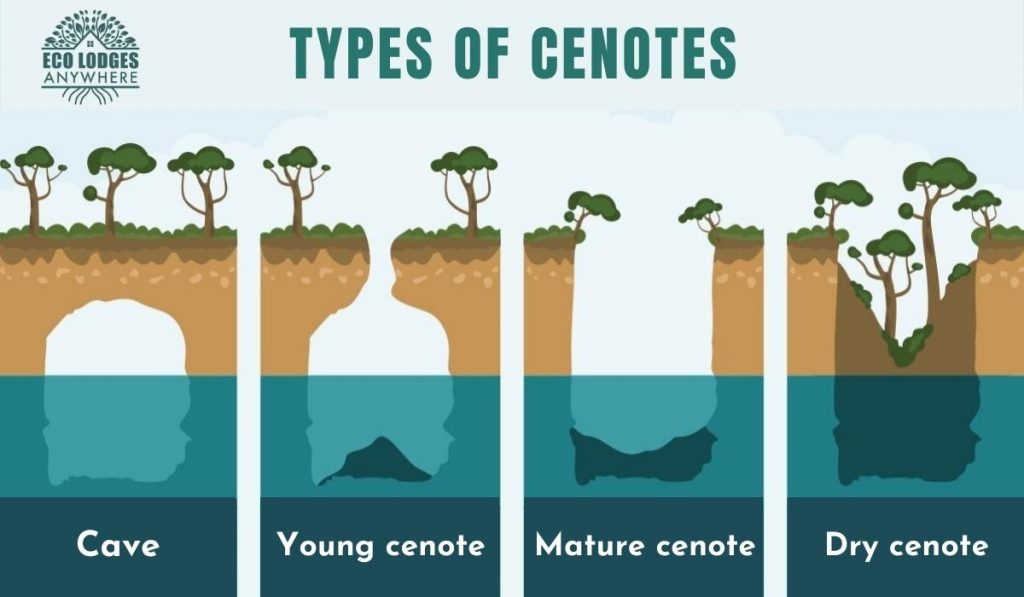 These incredible sinkholes and caves are created when limestone bedrock collapses and reveals the groundwater below, creating the perfect swimming hole! Some have roof openings like fish mouths, while others have wide, open lakes.
The Mayans considered cenotes to be very significant. While cenotes were their main source of water, they were also considered an entrance into the underworld and a place where Mayan gods would visit. The importance of cenotes was so great, that many temples and villages were built near them or on top of them, such as Chichen Itza.
Are there cenotes all over Mexico?
Not really. There is an influx of cenotes in Mexico's Yucatan Peninsula as the world's longest underground river runs deep there, connecting all the cenotes. The 95-mile long Sistema Sac Actun was discovered in 2007, but in 2018 they discovered that it is connected to Sistema Dos Ojos making it a more than 200-mile cave system. Not all are accessible, but you can find plenty of beautiful cenotes you can dip in in the province of Quintana Roo along Riviera Maya and in the province of Yucatan around Valladolid.
In Quintana Roo there are cenotes near Tulum, near Coba, near Playa del Carmen and near Puerto Morelos which are the closest ones to Cancun.
In Yucatan most of them can be found around Valladolid, which is still a quite close to Riviera Maya.
Click on the below map or here if you want to zoom in and out.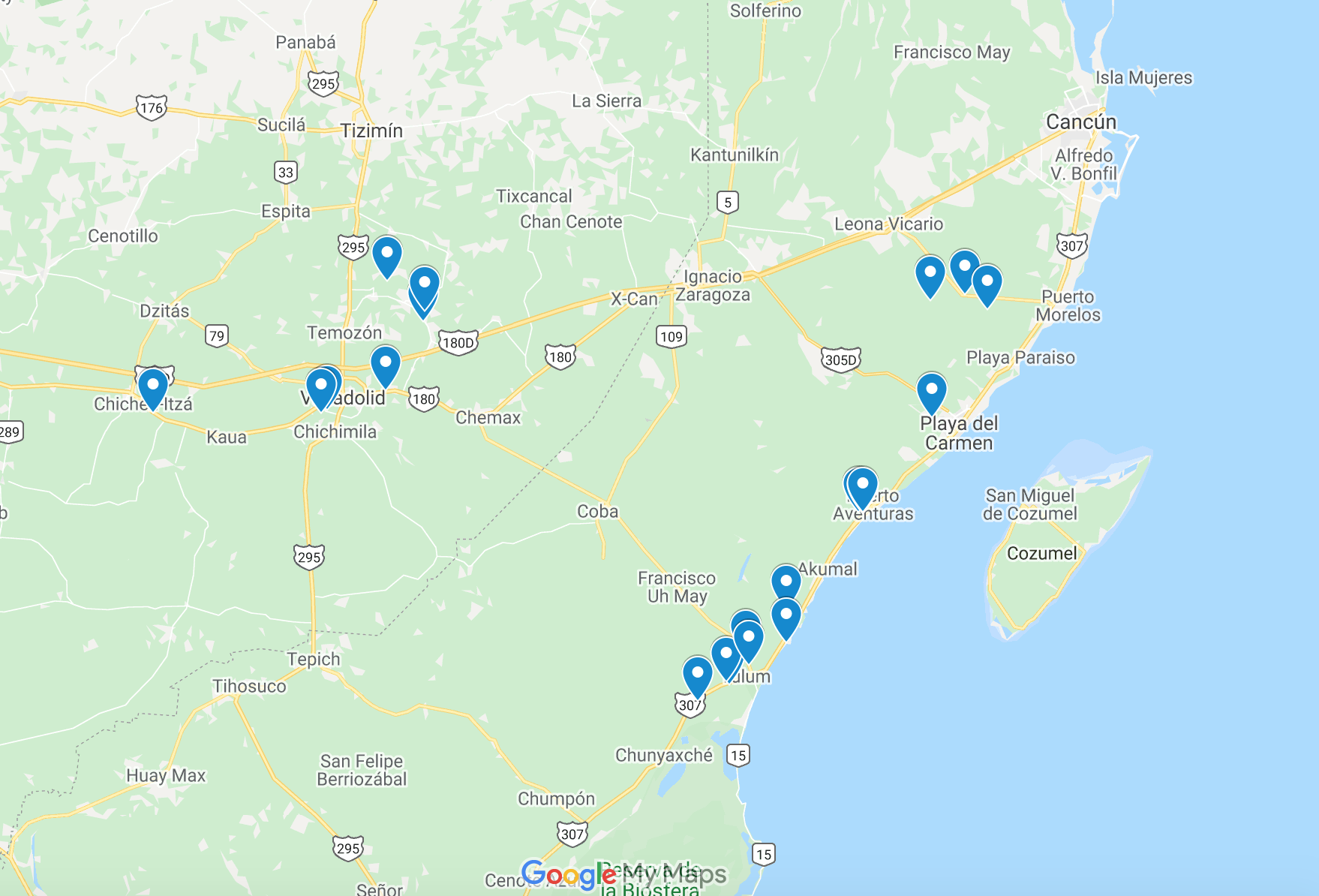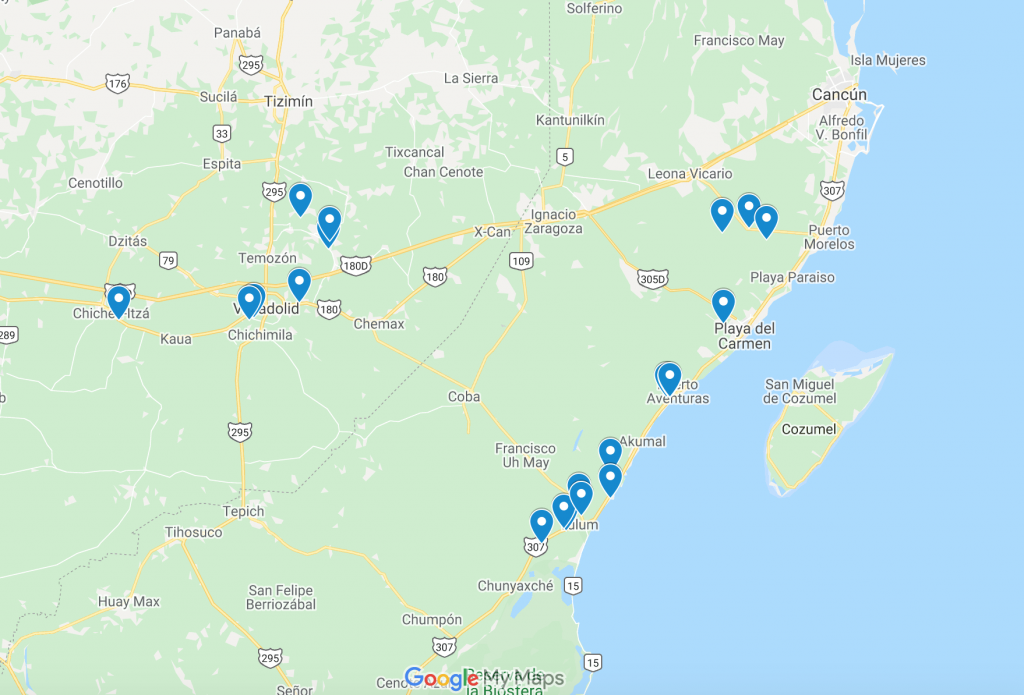 Best cenotes near Tulum
Tulum is the southern end of Riviera Maya and a popular tourist destination. It is famous for the several magnificent cenotes that are open to visit around there besides Tulum Archeological Site and Playa Paraíso. Here is our list of the 5 most unique ones you should add to your travel itinerary.
Cenote Dos Ojos – The deepest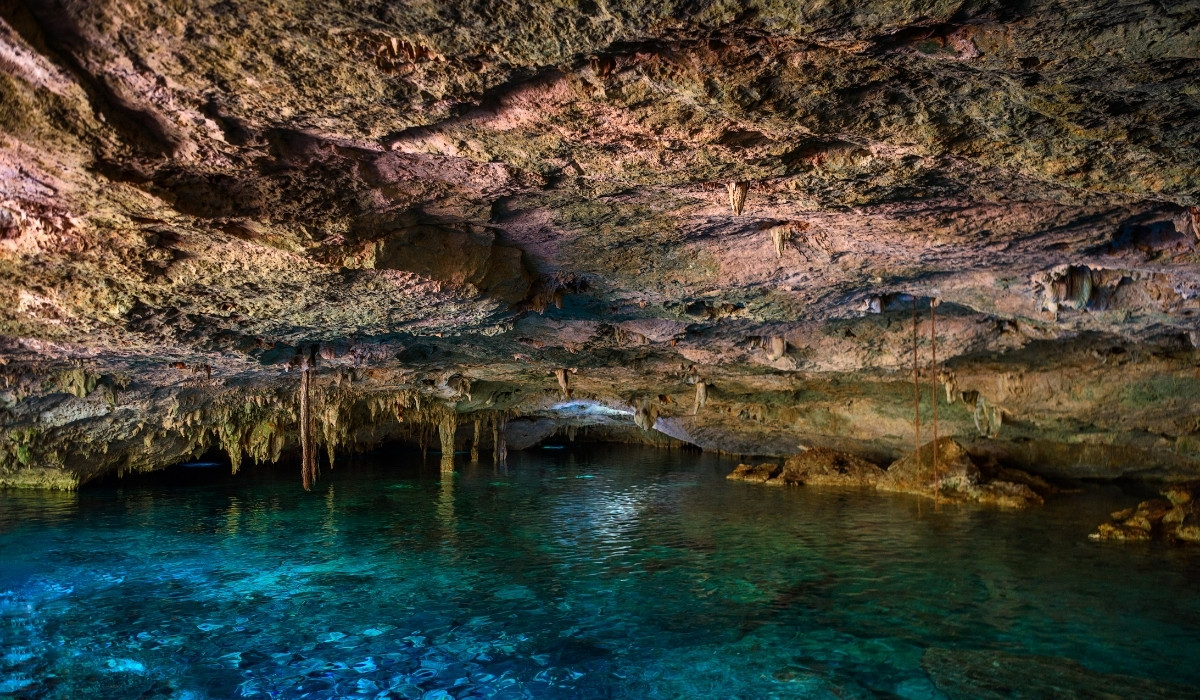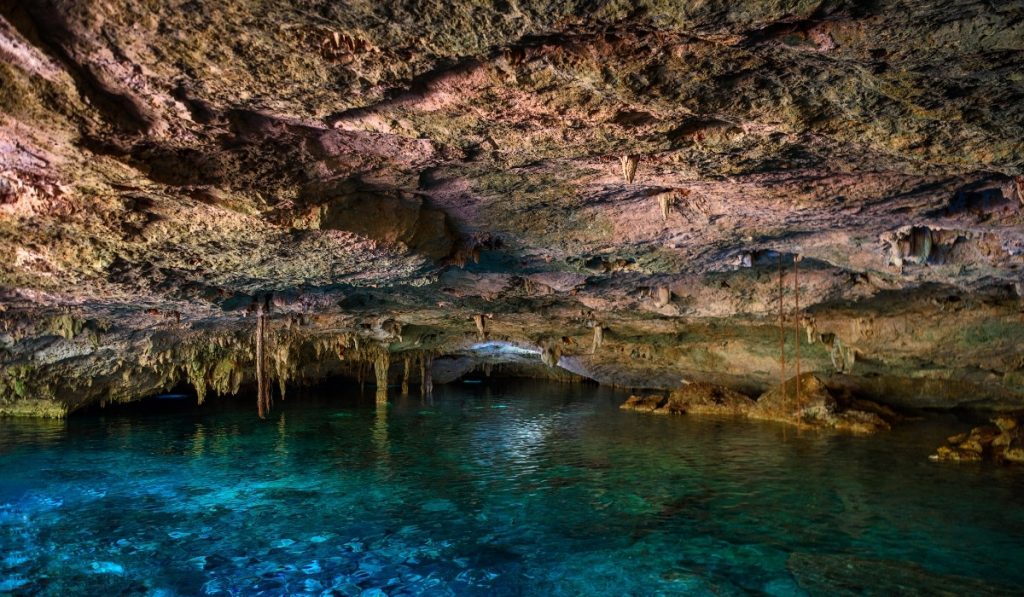 Dos Ojos Cenote is a pair of connected cenotes (dos ojos translates to 'two eyes' in Spanish) that is one of the most popular and hence most crowded with scuba divers and snorkelers. It is also safe to swim there as comfortable 25 degrees keeps the water constantly clear and refreshing.
Insider Tip: Use the lighter colored 'eye' for snorkeling and swimming, which is not as deep, and the other 'eye' for diving, a much deeper blue.
Dos Ojos offers some of the most unique snorkeling and diving in the area. Cenote Dos Ojos is located just 15 minutes from Tulum inside Parque Dos Ojos together with Cenote Jaguar, Cenote Nichte-Ha, Cenote El Pit (deepest, with a depth of 120 meters!) and Cenote Los Monos (The Monkeys).
As this is an extremely popular cenote, the earlier you arrive the better.
Gran Cenote – Very popular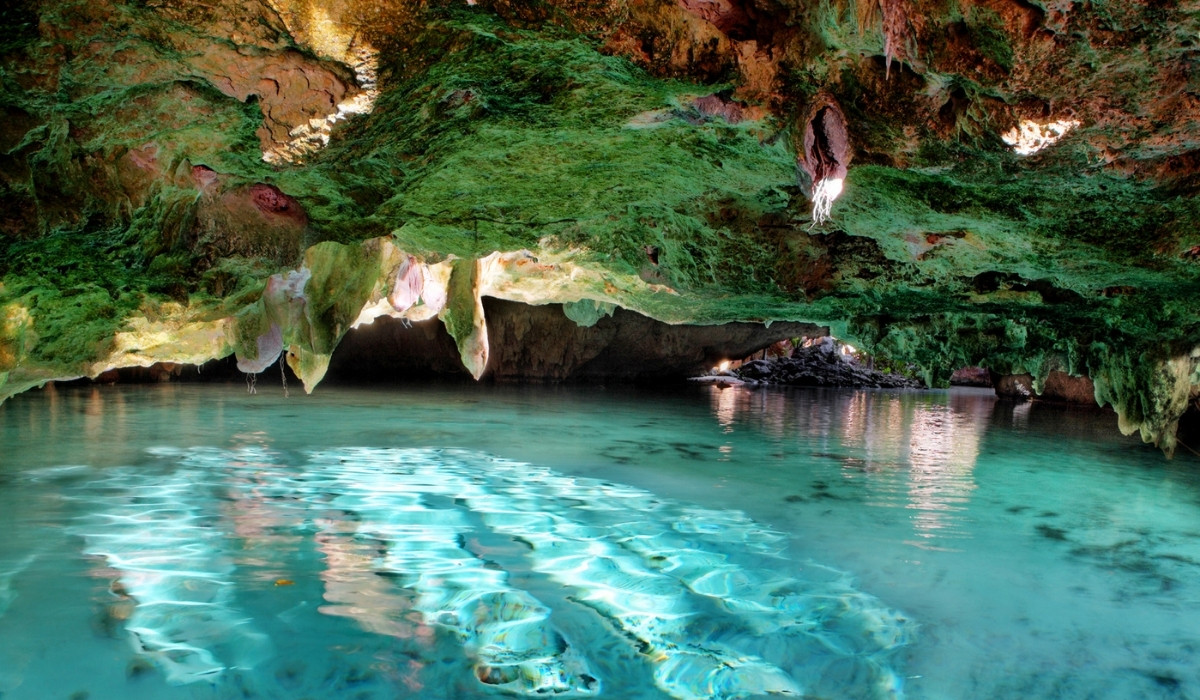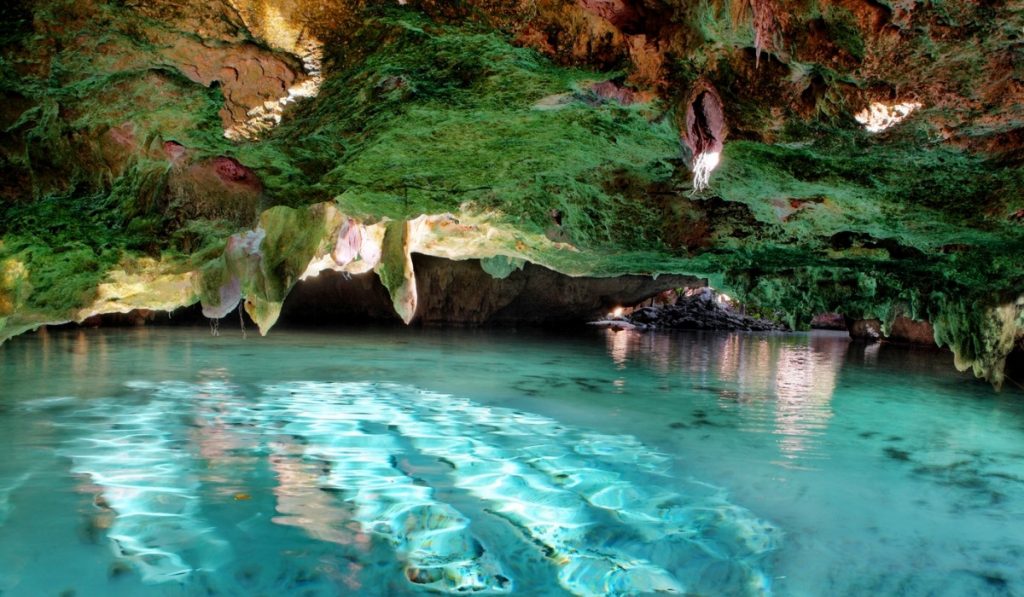 One of the best cenotes in Riviera Maya, the Gran Cenote is only four kilometers from Tulum's town center and accessible on foot. At Gran Cenote, you can snorkel, dive, sea turtles, bats that flit through the caves, see tiny fish, palm trees, and water lilies. In January or February, it's not unusual to see toucans popping their bright yellow beaks out of the surrounding jungle!
Aquatic life can be seen even when you aren't in the water! Divers and snorkelers will find the Gran Cenote to be an otherworldly experience.
On either side of the water are caverns that have epic stalagmites and stalactite formations for photographing.
It can also be quite crowded, be sure to avoid early if you want to enjoy it in peace.
Cenote Calavera – Off the beaten path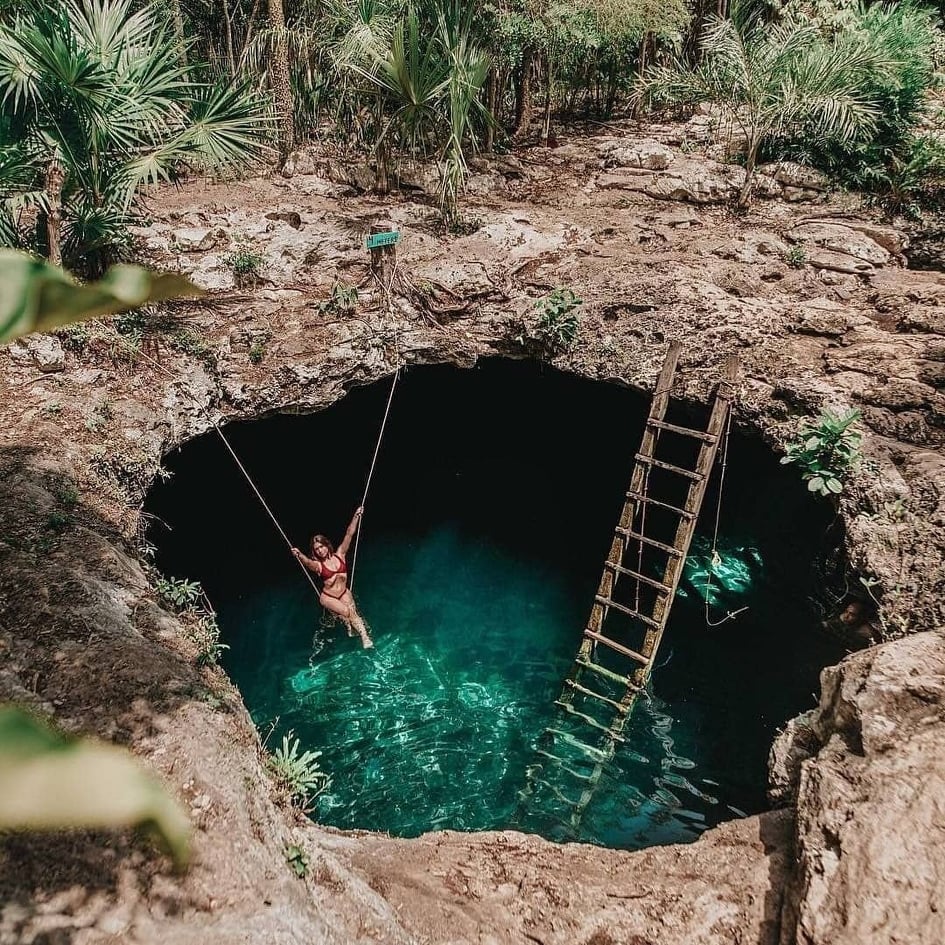 Cenote Calavera is among the most dramatic cenotes in Riviera Maya. Calavera means 'skull' in English, but don't worry, you won't find any skulls here. This water feature was named after the arrangement of two small pools and one large pool that resemble the eyes and mouth of a skull.
In just five minutes, you can reach Calavera, located only three kilometers from downtown Tulum. It's easy to get there by taxi, bicycle, or walk! It is a bit isolated so not as popular and crowded, more like a hidden gem off the beaten path.
It is possible for visitors to enter the cenote by climbing the wooden ladder or by jumping right in. Cenote Calavera is actually one of the most popular places to go rock jumping.
Cenote Calavera has it all, whether you want a picturesque location for your Instagram photo, a place to swim, or swing, rock jump, or just sunbathe! Facilities are very basic, so bring with you anything you might need like a life vest or snorkeling gear.
Cenote Escondido y Cristal – Open-air "swimming pool"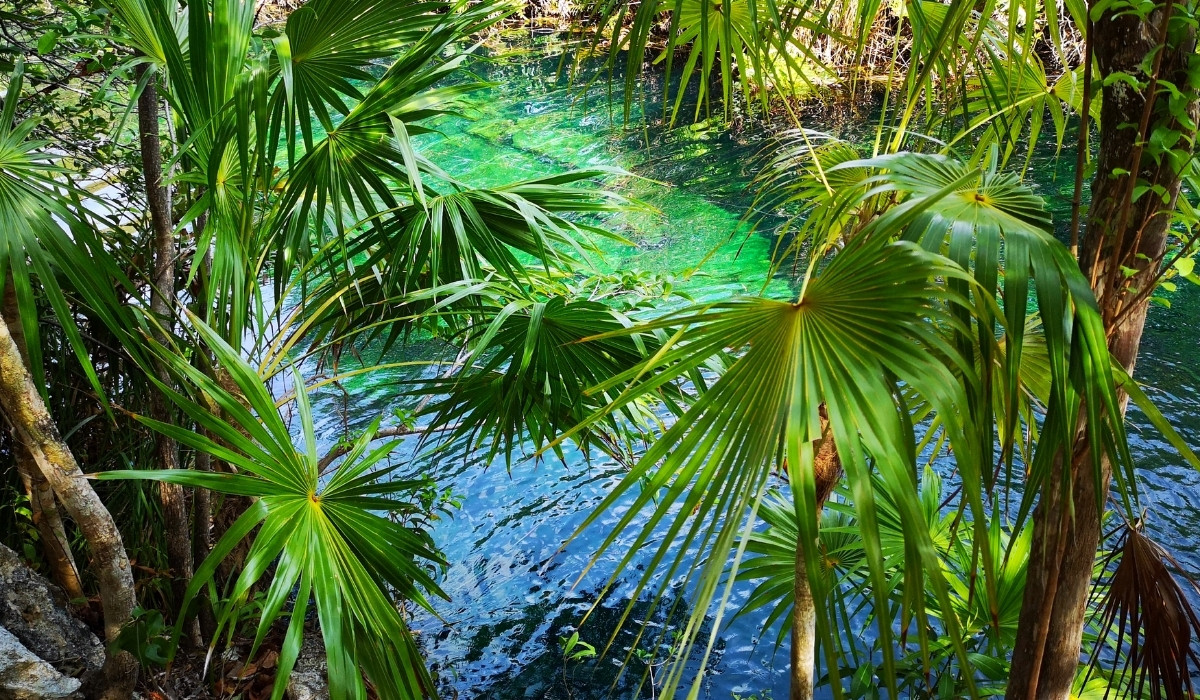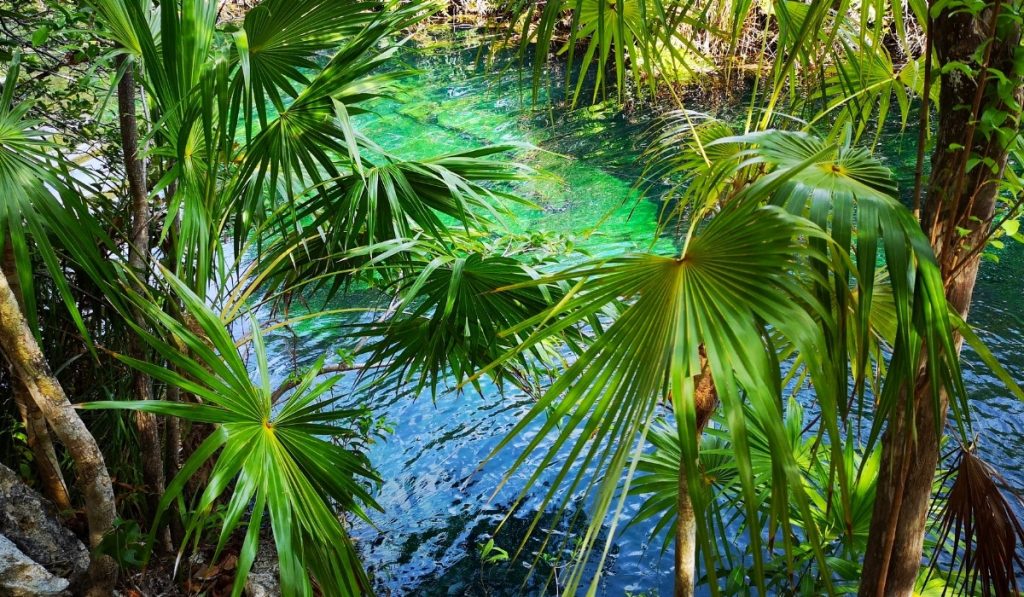 Another great cenote in the Riviera Maya is Escondido. Cenote Escondido translates as "Hidden Cenote," which makes sense considering it has far fewer visitors than some of its neighbors.
Located practically adjacent to it, Cenote Cristal offers visitors a peaceful soaking experience in its refreshing waters. In addition to swimming in the cenote, there is a popular diving platform where adventurous visitors can jump into the sparkling waters below.
Visit in the early hours and you are all but guaranteed to have this swoon-worthy tropical haven all to yourself. Many of the small fishes can be seen under the water without a snorkel being used, making the waters perfect for swimming. The lush, tropical vegetation of Riviera Maya is idyllic for those who wish to relax and enjoy the picture-perfect landscape. You will also find a number of picnic tables to take in the natural beauty of the area and enjoy some refreshments (bring your own).
You can enjoy a rope swing at the cenote's edge if you're looking for a taste of adrenaline. Located only a few meters high, it does not swing too far, making it the perfect place to bring kids when visiting Riviera Maya.
Mosquitoes are very common here, but make sure your repellant is biodegradable if you plan on going in the water – otherwise, skip the repellant until after you are done swimming.
Laguna Kaan Luum – Actually a massive lagoon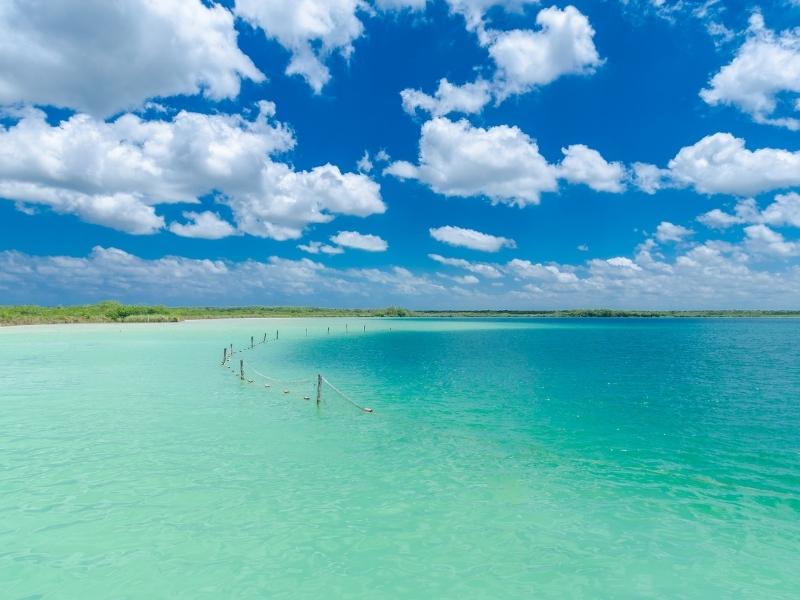 They say Kaan Luum Lagoon is one of the best-kept secrets around Tulum. It is a massive open-air cenote that looks more like a lake, hence they call it lagoon rather than cenote. Standing at the end of the pier with turquoise green water behind you is definitely an Instagram-worthy view.
Due to its size, the deepest part is closed. There can be unexpected currents that can be dangerous to encounter. The shallow waters on the other hand are calm and clean.
As always get there early to avoid the crowd.
Best cenotes near Playa del Carmen
Playa del Carmen is located in the middle of Riviera Maya. It is famous for its beaches, vivid night life and many resorts. However, you can experience its natural attractions as well, as there is no shortage of cenotes in this area as well.
Cenote Jardin del Eden – Trully a Garden of Eden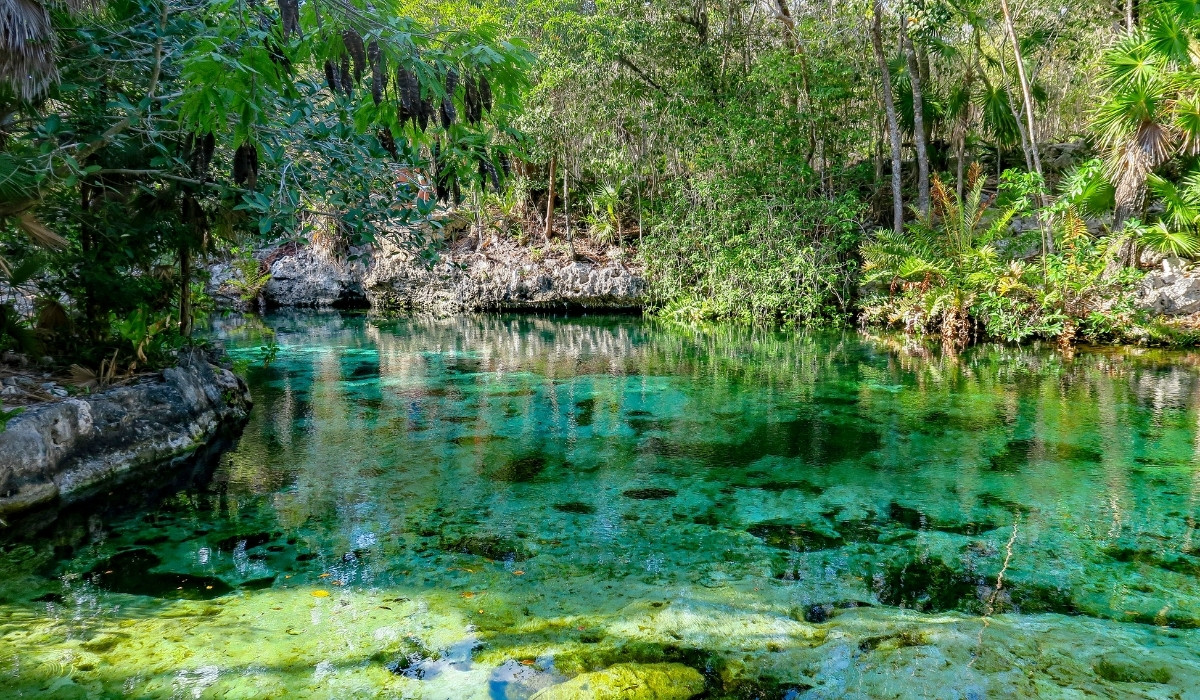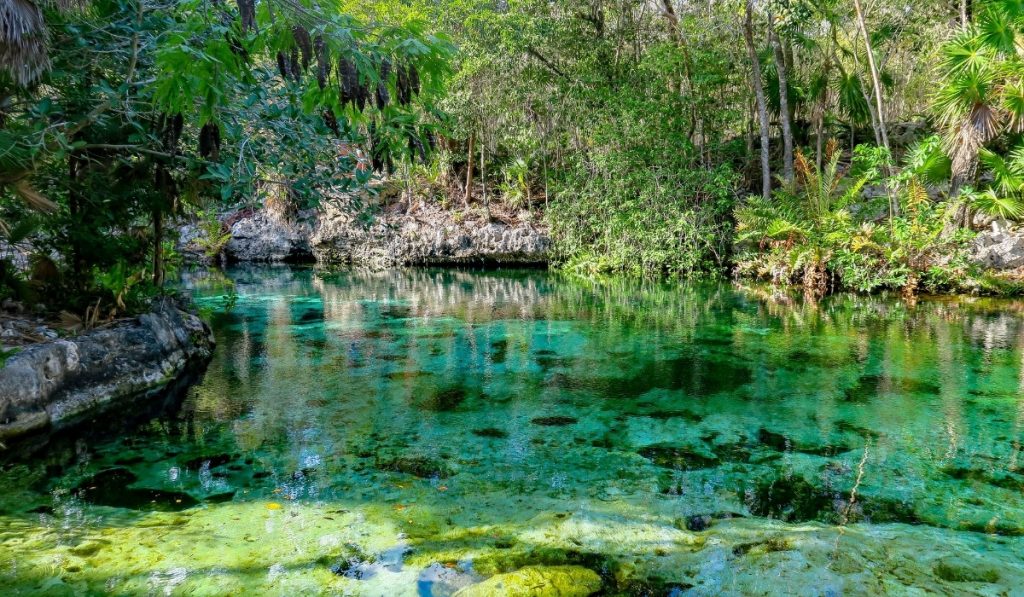 A beautiful cenote set in the jungle, Jardin del Eden is surrounded by lush vegetation and wildlife.
The depths of these waters have been the home of many species of tropical fish, eels, and even turtles. There are submerged rocks in the middle of the cenote that you can stand on to rest – be forewarned, keep moving if you don't want your feet nibbled on by tiny fish! They don't hurt, just tickle really, but can be unnerving if you're not expecting it!
Cenote Jardin del Eden is the best cenote for people who enjoy jumping into cool, clear water. Locals often climb trees to jump into cenotes and you shouldn't be surprised if you see them doing so, oftentimes very young children!
The park offers bathrooms, snorkel, and life vest rentals, as well as small palapas where you can enjoy a picnic. There is no food or drink available on site, so be sure to pack some snacks.
Cenote Chaak Tun – Eerie vibes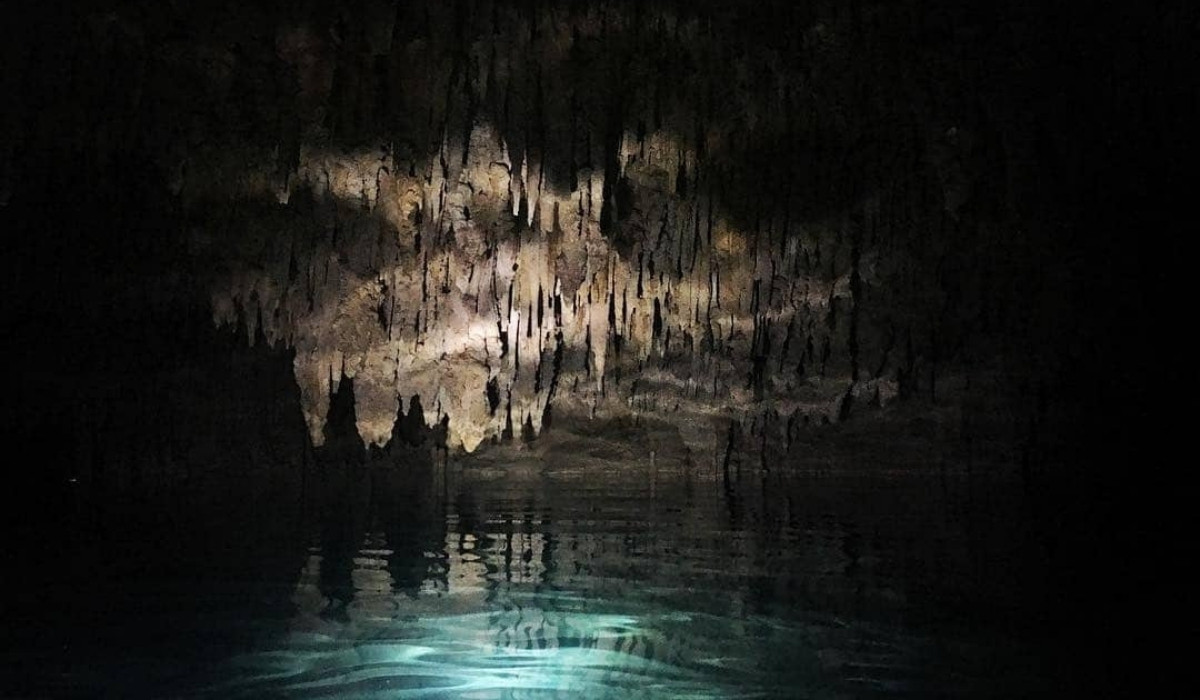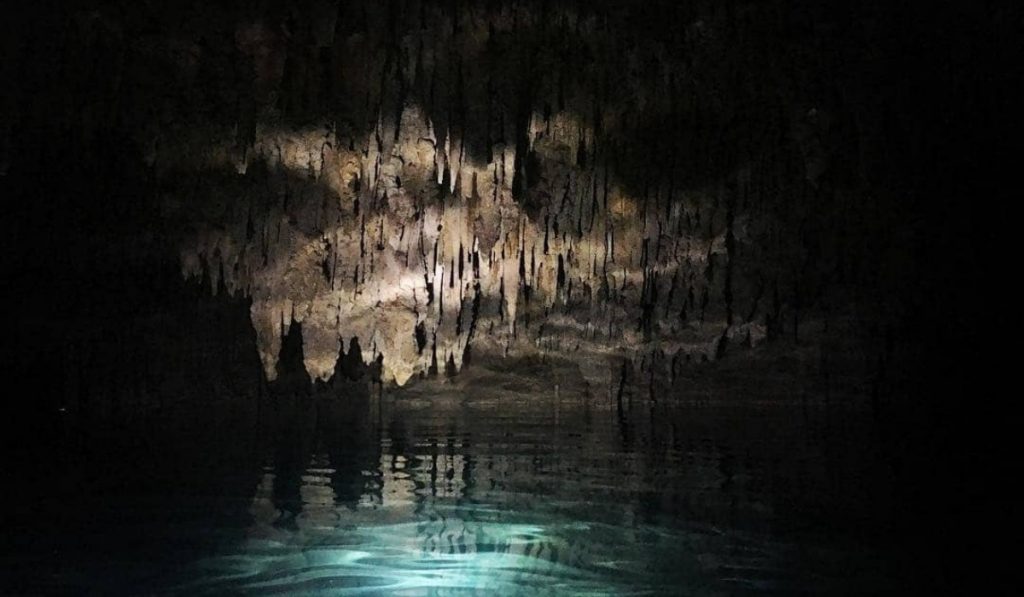 You should definitely take some time to visit Cenote Chaak Tun if you are visiting the beautiful town of Playa del Carmen. Warning: this is not a cenote for the faint-hearted. As it is almost completely covered (with only a slight opening), you're likely to see bats lurking – and not much else, given how dark it is!
A 15-minute drive from Playa del Carmen, Cenote Chaak Tun is the closest cenote to the popular resort town. The cenote can only be accessed via guided tours due to safety concerns – the tours last approximately two hours.
Cenote tours provide visitors with valuable information about cenote formations and their history, as well-trained tour guides take them through some of the most stunning caves.
Safety helmets and life jackets are included with the admission price. Despite its (relatively) eerie vibes, Cenote Chaak Tun is still super popular.
Cenote Azul – Family-friendly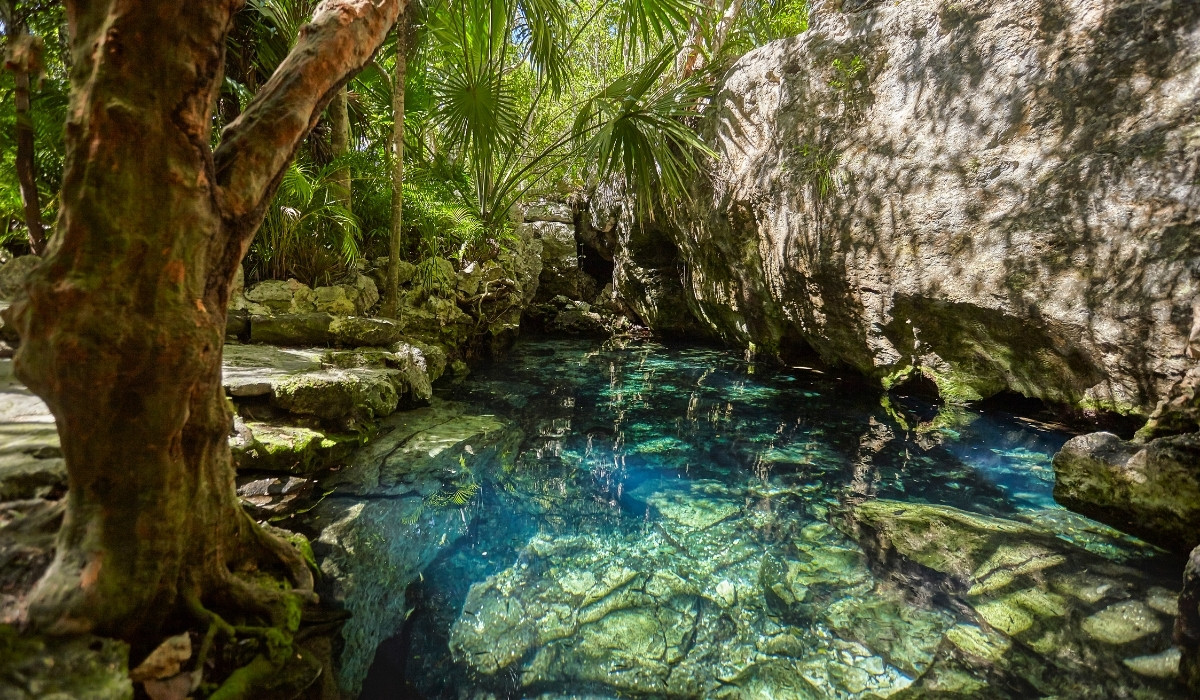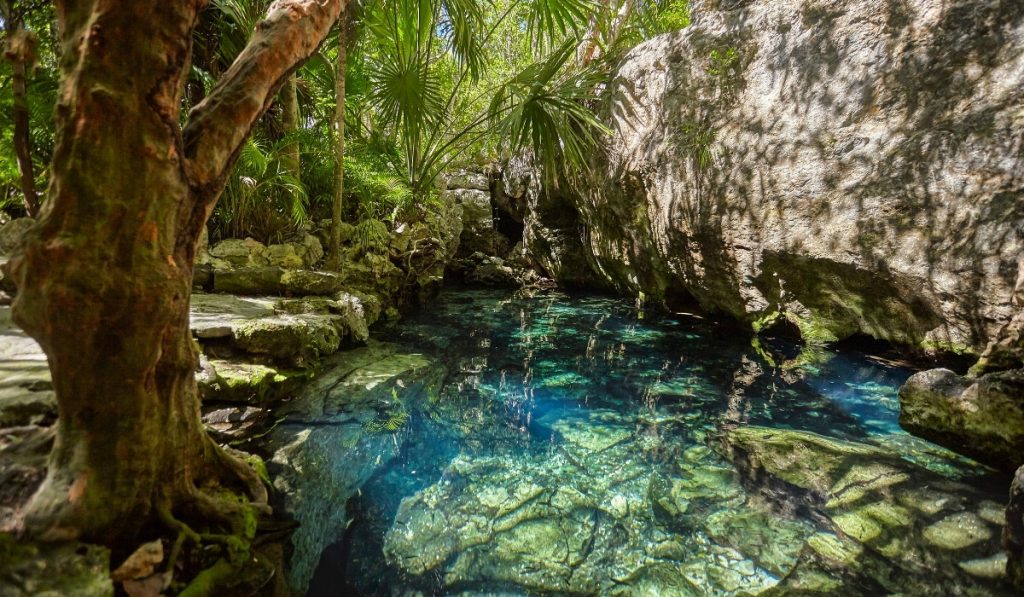 The beautiful open Cenote Azul lies approximately halfway between Playa Del Carmen and Tulum. Cenote Azul is renowned for its clear blue water (hence its name), which makes it perfect for swimming.
Given its natural beauty and close proximity to both Playa del Carmen and Tulum, you can imagine how busy it can get. However, its stunning clear blue waters and the mix of dark and white rock formations underwater make it a worthy contender on the list of best cenotes in Riviera Maya.
Cenote Manatee – Close encounters with manatees
If you want to meet with manatees, an endangered species in Mexico, and observe them in their natural habitat, then you should add Cenote Manatee to your wish list. No wonder the cenote is named after them.
It is an open-air large cenote that looks like a river and is surrounded by lush green mangrove forest. Choose a tour with. local manatee expert to discover this cenote to its fullest.
Cenote Kantun Chi – It is a complete Eco Park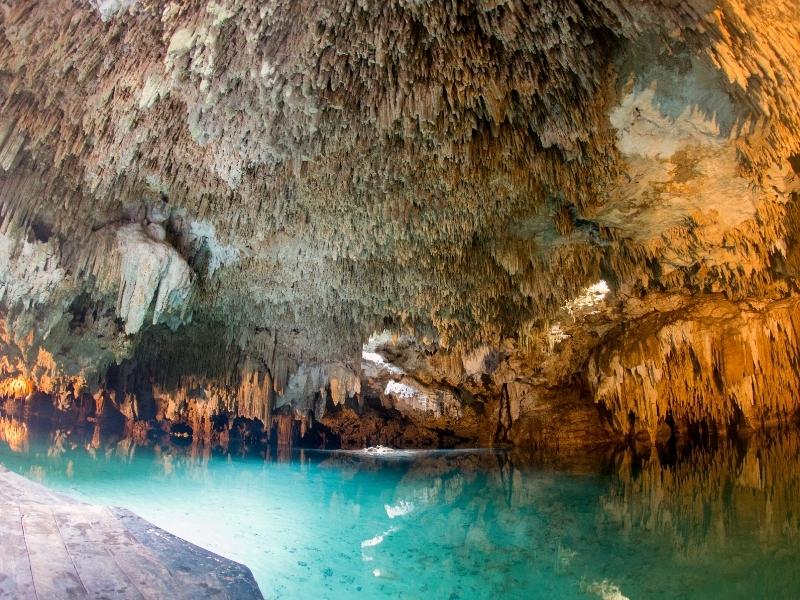 Visiting Kantun Chi Eco Park is a massive experience with 5 cenotes to visit and a subterranean river with stalagmites and stalactites everywhere you see. It is located right off the coast of Playa del Carmen.
Kantun-Chi ("Yellow Stone Mouth"), Saskaleen Ha ("Transparent Water"), Uchben Ha ("Old Water") Zacil Ha ("Clear Water"), and Zihil Ha ("Reborn from the Water") are all gorgeous places to visit. I bet you it will take you a whole day to explore this Eco Park.
Lush flora and fauna, awe-inspiring grotto, swimming, snorkeling, and even bird watching are on the table if you go there.
Best cenotes near Cancun (Puerto Morelos)
If you are looking for cenotes in the surroundings of Cancun, you might need to venture a bit further. Especially if you want to find gorgeous ones. There are hundreds of not thousands of cenotes scattered around Yucatan, but that doesn't mean all of them is worth-visiting. Here is our top 3 which is near Puerto Morelas, the closest possible to Cancun.
Cenote Verde Lucero – Relatively quite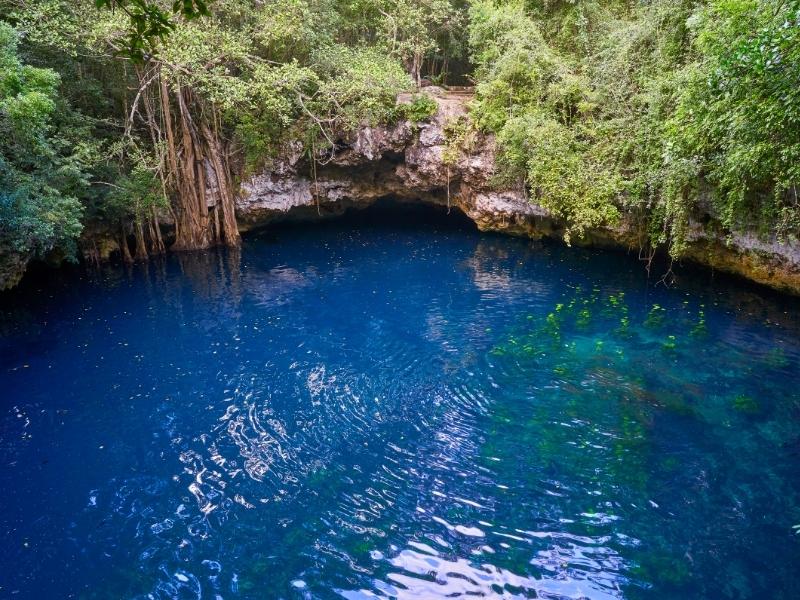 Verde Lucero means "green light" and well this one is various shades of green and blue that is true. It is located near the town of Vallarta equal distance from Playa del Carmen and Cancun.
It is a large open-air cenote with high cliffs around it. You can swim, dip, jump, or even kayak as it is quite sizeable. You can get in via steps or try the aquatic zipline which is right above it and just jump in.
As in most cases, arrive early to enjoy this cenote in relative quite. The price is relatively high compared to other cenotes since it is a lesser known one.
Cenote Las Morajjas – One of the largest and least crowded
Cave-like cenotes seems like more popular than open-air ones, but you should take a look at Cenote Las Morajjas. It is one of the largest cenotes in the Yucatan Peninsula, with its 65-meters. It is also one of the cheapest, with less of an eerie vibe and more like a quite family-friendly lake feeling.
If you need a bit of an adrenalin rush, try one of the two ziplines right above the sinkhole.
Cenote Zapote – Dive with Hell's Bells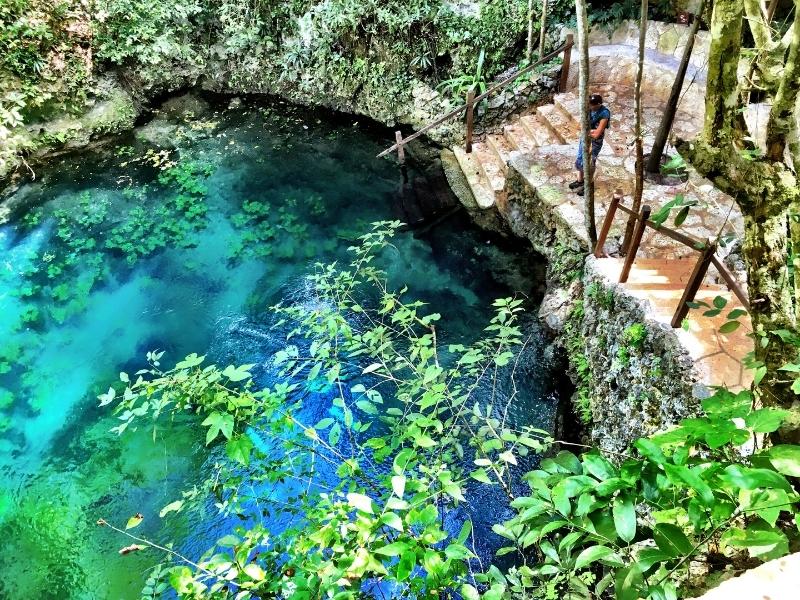 This EcoPark is similar to Kantun Chi, where you can visit 4 cenotes (2 open and 2 underground) at the same time. Cenote Zapote is the most famous cave with this kind of unusual geological formations called Hell's Bells. These are unique stalactites that got their name after their bell-like shapes. They can be quite small or they can reach a height of 20-30 meters. It is only for expert divers though as you need more than a snorkel gear to get close to them at approx. 50 meters deep.
Best cenotes near Valladolid
In addition to the cenotes that line the shore of the Riviera Maya, we've also included some really breathtaking cenotes around Valladolid, given their close proximity and ease of travel.
Cenote Ik Kil – Awe-inspiring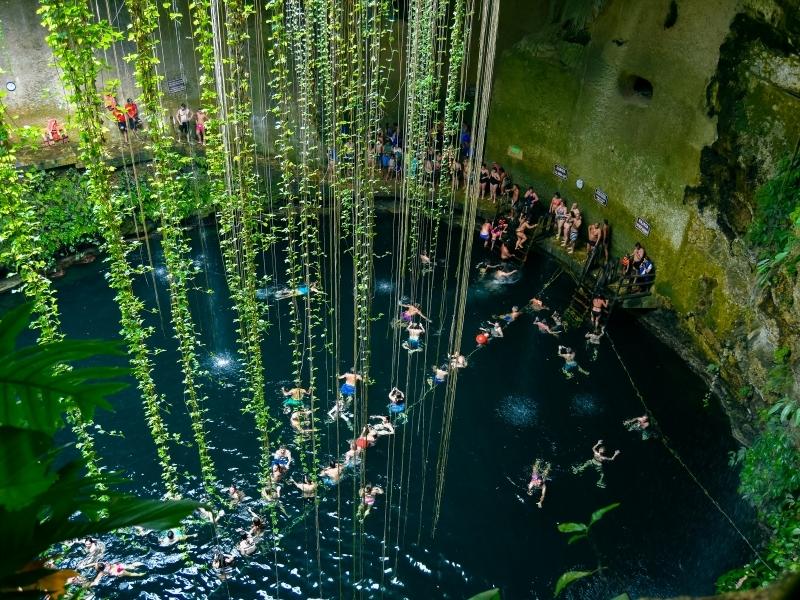 As it is close to the amazing ruins of Chichen Itza, this is one of the best cenotes in Riviera Maya and among the most beautiful in the area. Given its awe-inspiring natural beauty, you'll typically have a lot of other guests sharing the space, so it's not the best choice if you want to escape the crowds.
Leaves and vines hang from the top of the cenote and cover the walls until they reach the water.
This structure is almost perfectly circular and has an interior concrete staircase, making access very convenient. Several viewpoints are worth stopping at while you're walking down the steps.
Take a swim to the middle of the natural pool, float on your back, and marvel at the open-air circle above! It's the perfect opportunity for you to sit back, relax, and take it all in.
It is quite cool in this Riviera Maya Cenote, but once you start swimming around, you will soon warm up. A wooden ladder built into Ik Kil Cenote makes entering and exiting easier.
Cenote X'Canche – With a zip-line above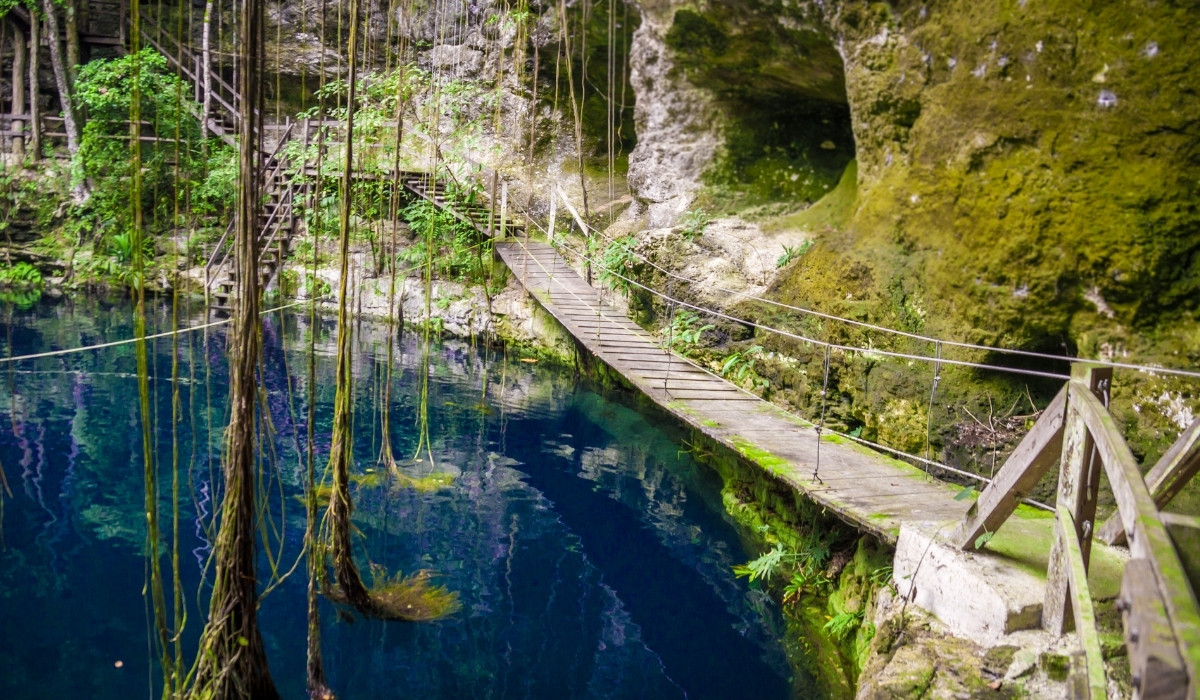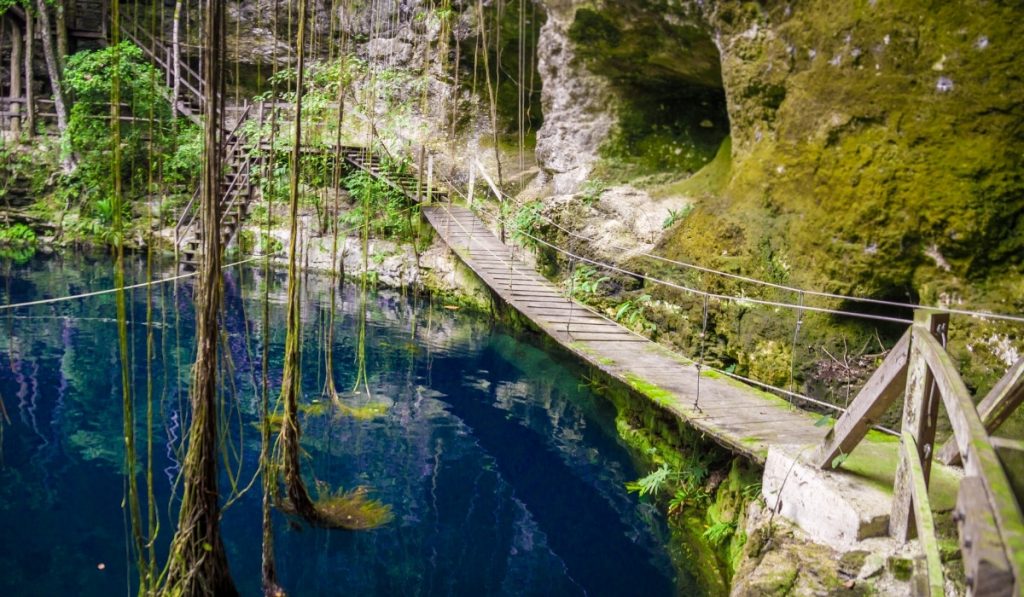 A magnificent and wild cenote, Cenote X'canche – sometimes called the Ek Balam Cenote because of its proximity to the famed ruins – is a must-see when visiting Riviera Maya.
This magnificent cenote, built in ancient times by the Mayans, has crystal blue water, tree roots that snake down deep into the earth, stone walls, wood staircases, a swing bridge, a zip line, and iguanas that scurry along the walls.
There are showers right next door to the cenote, so it's very easy to pop in before going swimming. Be sure to rinse off any non-biodegradable lotions, creams, or sprays you may be wearing.
The entrance area to both Ek Balam and Cenote X'Canche is the same. You can get a combined ticket or pay for each separately.
Cenote Suytun – Huge cave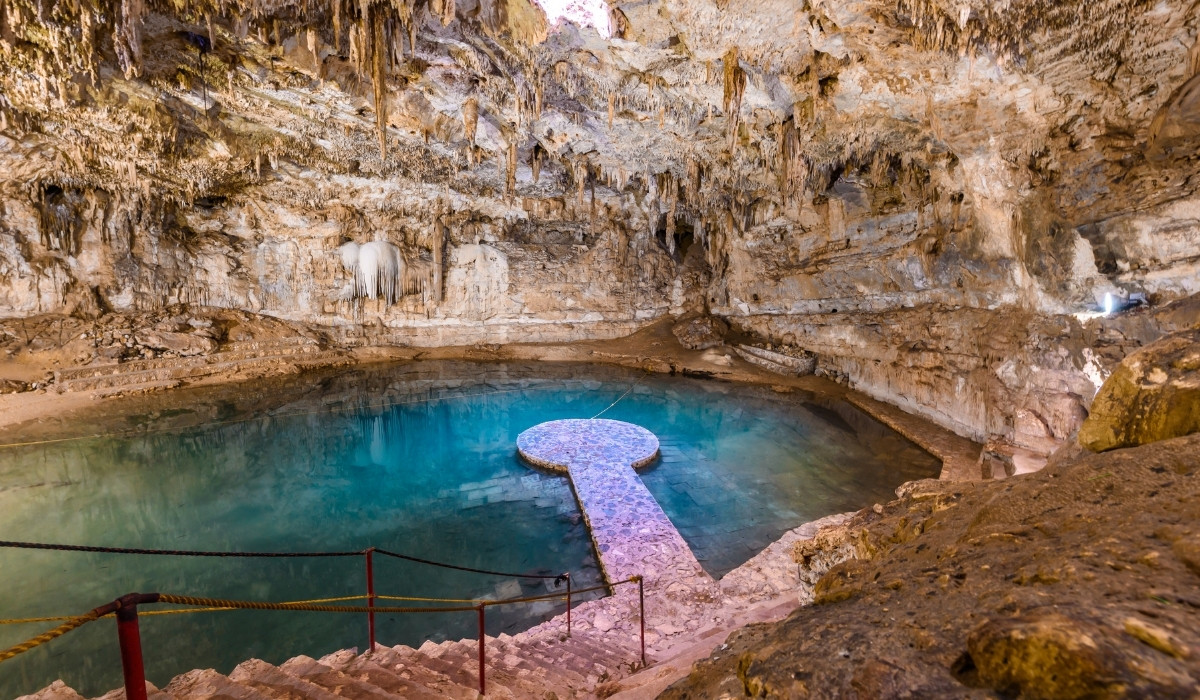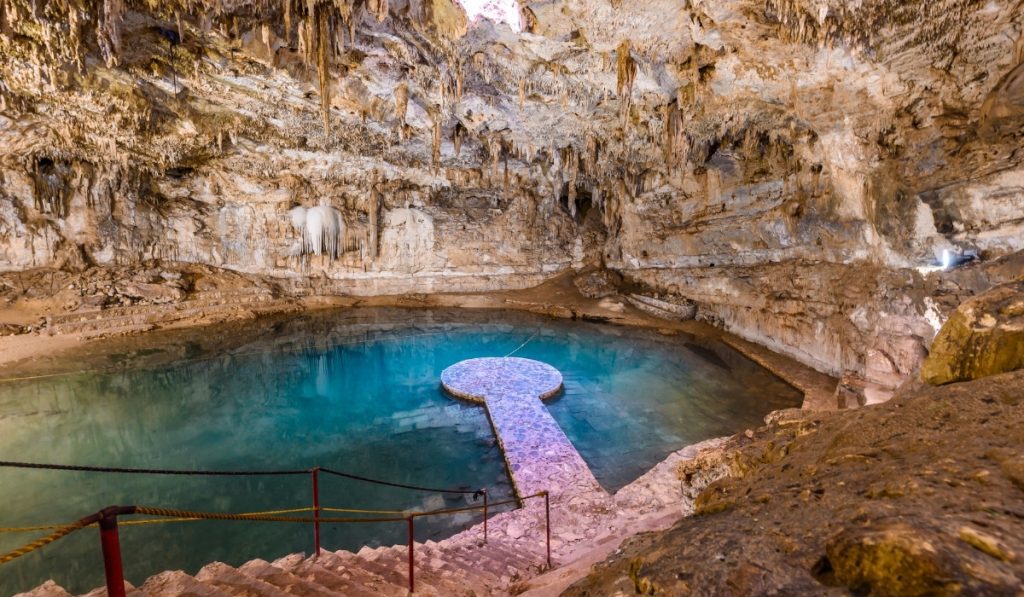 Cenote Suytun is arguably the best cenote in Riviera Maya, and perhaps even in all of Mexico's Yucatán Peninsula! Its most notable features include a monolithic cave filled with turquoise water and an idyllic stone pathway that leads out to the middle of this fascinating cenote.
A cave cenote like Cenote Suytun is unique since it has a hole in the roof which allows natural light to enter the cave. Although a few hanging lights illuminate the cave's interior, the steps themselves are quite dark.
On the stone path extending out into the turquoise waters, you can walk and take some amazing photos. From various angles, it is possible to view Cenote Suytun, but the most popular view is from the top of the staircase.
Cenote Suytun is best visited early in the morning, starting at 9:00 – try to be first in line if you want the Instagram-perfect photo with no one else in the picture. Tourists swim in the water and everyone wants to take photos on the platform in the middle, so it can get very crowded.
Cenote Oxmán – Epic rope swing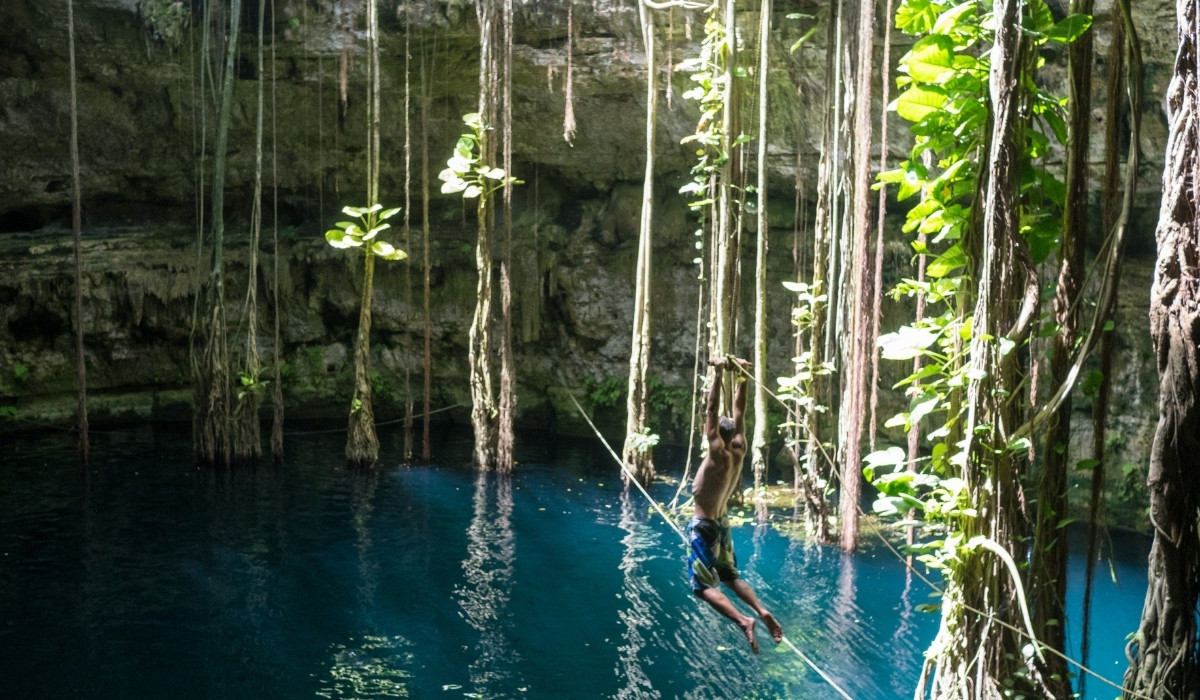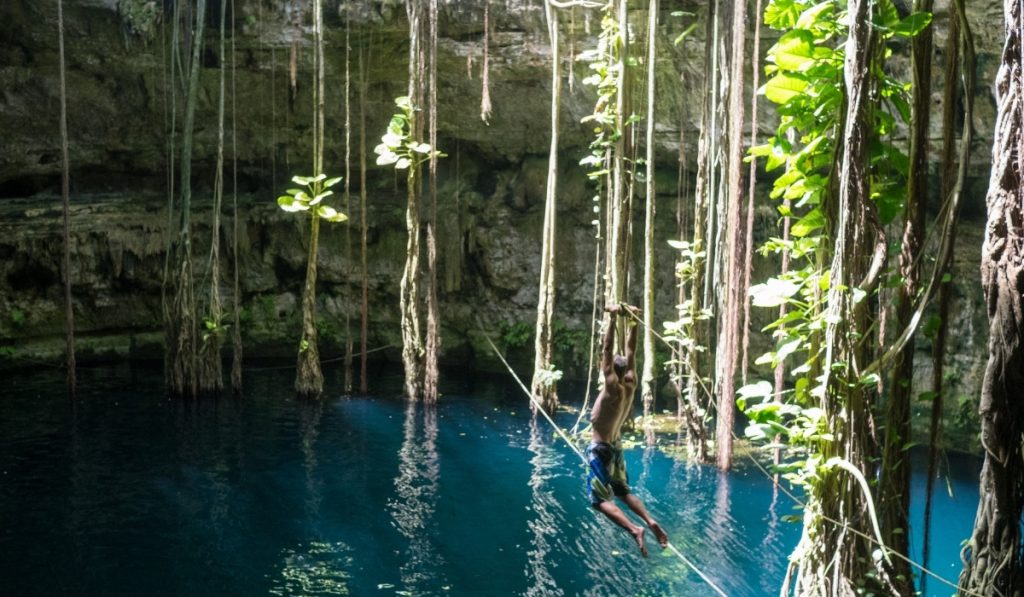 Another favorite cenote in Riviera Maya is Cenote Oxmán, which you should not miss while in town! The Oxmán Cenote offers an epic half-day adventure from Valladolid. It features an enormous sinkhole with hanging vines, an epic rope swing, and a natural freshwater pool.
The best time to visit Cenote Oxmán is early in the morning to avoid crowds. Taking the best photos will also be easier early in the morning. Try taking photos before the sun hits the water, which inevitably causes a glare.
Cenote Oxmán's rope swing is a definite highlight. Both adults and children can enjoy the rope swing, although smaller children need to be hoisted to be able to reach.
It is approximately three meters below the top of the wall before you drop into the Oxmán Cenote. There are a few different options to enter the water. You can jump off the edge of the platform, use the rope swing, or use the staircase.
I highly recommend bringing goggles to Oxmán Cenote if you want to explore below the surface of the water. The water is about 45 meters deep, and there is great visibility.
Cenote X'Keken (Dzitnup) – The bluest of them all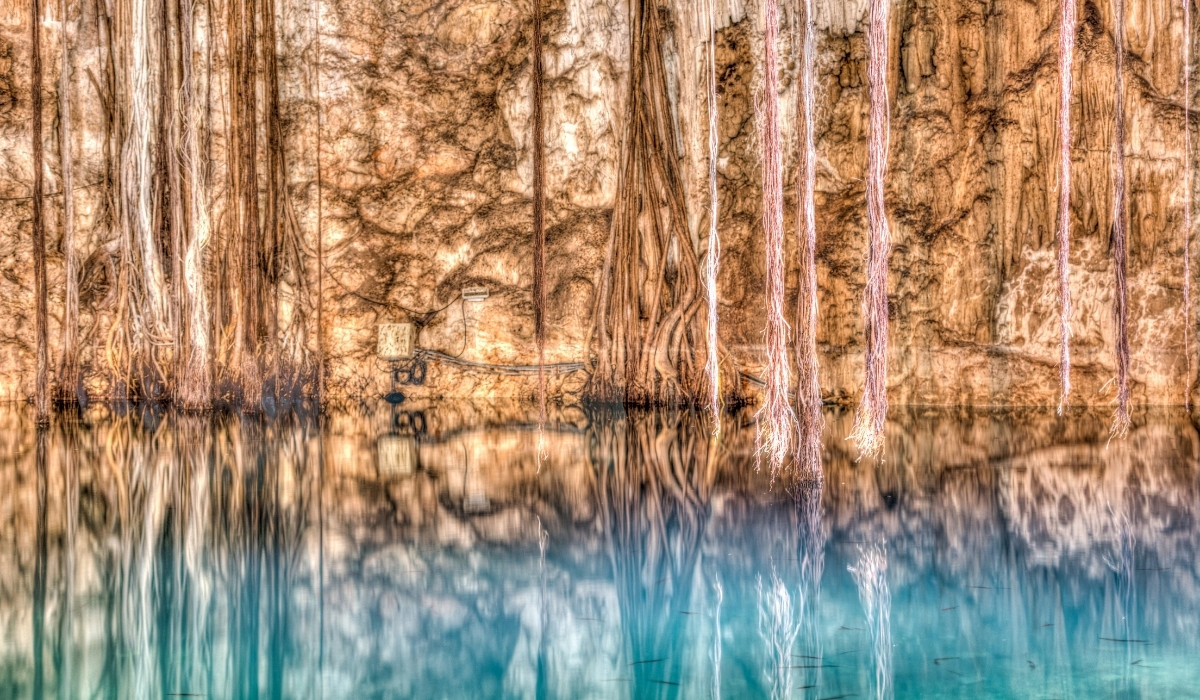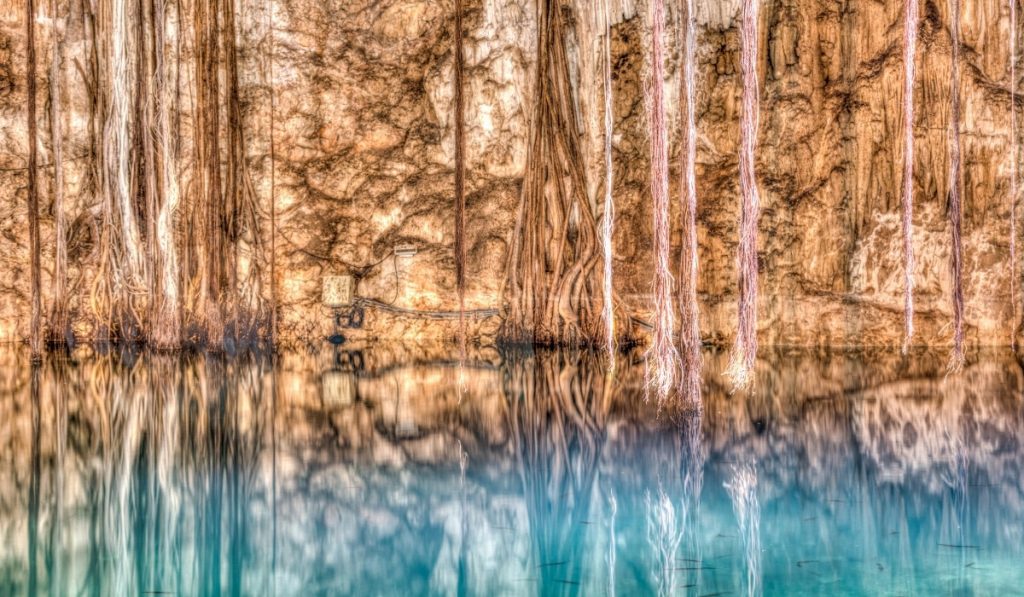 Local legend has it that the X'keken cenote was discovered when a farmer's pig fell into it while walking. X'keken is the Mayan word for 'pig'. During the day, the top of this cenote is bathed in a stream of light that creates some swoon-worthy photo opportunities.
With its limestone cave and only one opening, Cenote X'Keken provides the perfect spot for rays of sunlight to penetrate the water, displaying its natural beauty.
The water itself is cool and refreshing, even though there is a lot of heat and humidity in the cavern. It is a unique and atmospheric place to cool off from Yucatán's heat, complete with small black fish swimming in the water and limestone formations hanging over the water.
If you look at the photos, the colors look artificial or filtered. The truth is, they really aren't. The reflection of sunlight through the ceiling hole causes the water to actually appear that blue. There are some artificial lights inside to enable visibility, but they don't have color to create a dramatic effect.
The swimming hole at Cenote X'Keken is truly unique. There is an extension of ropes across the water for those who aren't confident swimmers, and a wooden walkway spans one side of the water.
Cenote Palomitas (Popcorn) – Hidden gem
Despite the fact that Cenota Palomitas also known as Cenote Popcorn is a truly exquisite place, it is lesser known than the other ones mentioned above around Valladolid. You can find it in the nature reserve of El Rancho de Agua Dulce.
This cenote is inside a large cave with clear blue cold water. It has a depth of approx. 45 meters which make it an indoor natural swimming pool with stalactites hanging from the ceiling. You can even rent a kayak to enjoy it that way.
Cenote SAC-AUA – With an island inside
Can you imagine a cenote with high rocky walls around but a perfect round island in the middle? Cenote SAC-AUA is also known as El Cenote de las Doncellas. It is located near a small town called Dzalbay.
This cenote is not only gorgeous but it is quite shallow as well with a depth of only 8 meters (compared to other cenotes with depth suitable for diving). It is ideal for visiting it with the whole family.
You can descend through a multi-story wooden staircase that reaches the rocky sides. You can swim to the island or rent a kayak to go around and about. It looks like a true paradise with lush green trees growing on the island and the beautiful blue sky up.
How to get there
Cenotes can be difficult to reach. Traveling in a group, your leader may be able to help you with transportation. Colectivos, small buses, are available in some areas. Otherwise, take a taxi. They aren't expensive and they save you quite a bit of time as well!
Of course, organized tours are always available if you want all of the dirty work done for you or plan on visiting multiple cenotes.
Best time to visit
Riviera Maya's best months to visit are March and April when temperatures are warm and rainfall is low. The second-best options are May and July. There will be warmer temperatures, but more rainfall.
The worst time to visit the cenotes in Riviera Maya is the months of September and October, followed by August and November. You can still enjoy the natural wonders during these months, however, you'll be in the high rain and hurricane season – make sure you purchase travel insurance!
Important things to know before you go
It is common to find opening hours and an entry fee at cenotes that are more popular with tourists. While secluded cenotes sound perfect in theory, avoiding entrance fees and restricted hours, they often include situations where you must swim at your own risk.
Not all places offer the possibility to pay via card, so be sure to bring cash with you.
Some cenotes require you to take a shower before you enter, and you cannot swim with lotions on your skin since they poison fish and sea plants. If you wear sunscreen daily, invest in a reef-safe sunscreen, a must-have for eco-friendly travel product.
In many places you may need a life vest which you can rent at your own cost or bring your own with you.
Depending on the popularity of the cenote, the facilities can be quite varied. Plan ahead and check what do they have. Is there a restaurant on site? Or should you bring your own snacks? Are their toilets or showers?
Where to stay
We encourage you to stay in eco-lodges. They are secluded accommodations nested deep in nature, and causes the lowest impact possible for the environment by using renewable energy. They take several actions towards sustainability. If you want to learn more, read about eco-lodges here.
The closest eco-lodge to cenotes in the Yucatan Peninsula is Olas Tulum (see picture below). If you need more recommendation, browse through our website to find the most sustainable eco-lodges in Mexico.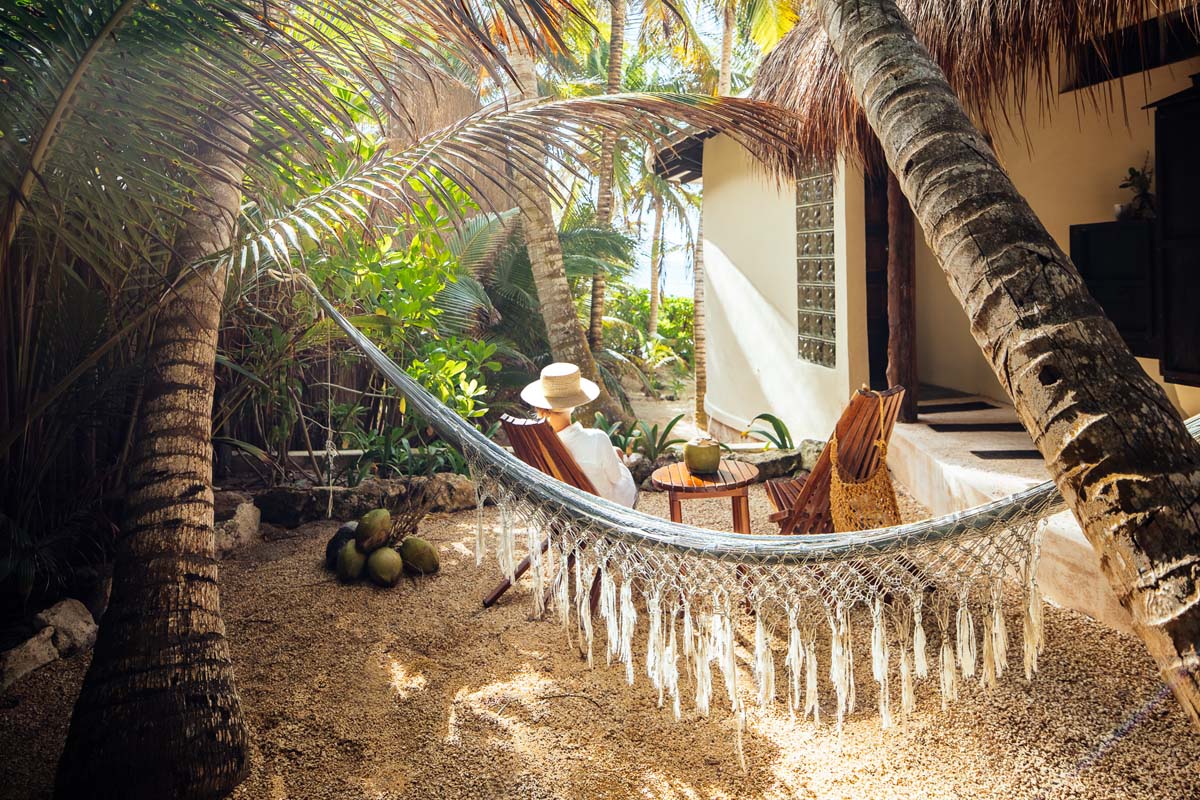 More articles about nature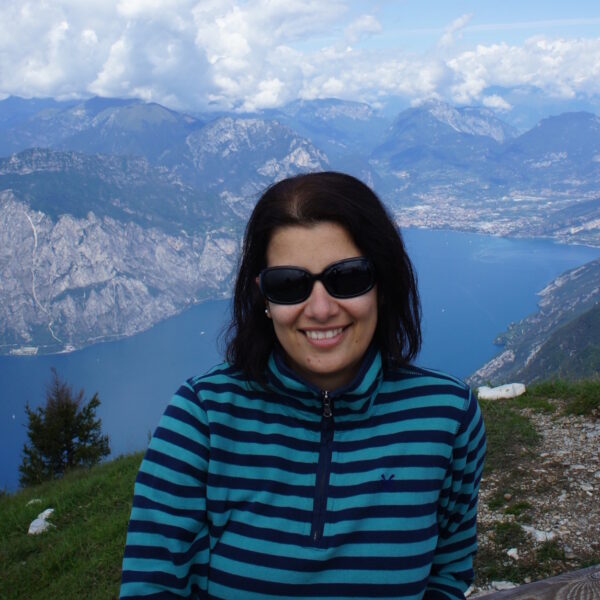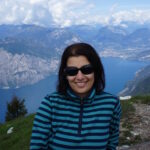 Emese Maczko is a travel blogger behind Eco Lodges Anywhere. Having explored several destinations around Europe, the US, Indonesia, and Australia, and resided in Germany, the United Kingdom, and Luxembourg, Emese possesses a keen understanding of diverse cultures and an appreciation for the beauty of each destination she visits. She advocates for sustainable travel and ecotourism.