7 Most Sustainable Eco Lodges in Vietnam
Vietnam is a beautiful country full of world heritage sites, scenic tea plantations, pristine beaches, and lush rainforests.
It's also a popular holiday destination, and for this reason, you'll find a variety of eco-lodges scattered throughout the country. This ranges from small jungle lodges in the rainforest to large eco-lodges situated on the coastline. Whatever you're after, you're guaranteed to find it in this incredible country.
If you're looking for unique places to stay in Vietnam, then here are the eco-lodges you need to check out!
What are eco-lodges?
Eco-lodges are accommodations in undisturbed, remote natural areas where both construction and operation have the lowest impact possible on the environment. They are not only part of the local community, but they are active participants in protecting nature and culturally sensitive areas.
BROWSE THROUGH our directory for the most sustainable eco-lodges worldwide to experience something unique, authentic, and exciting.
Topas Lodge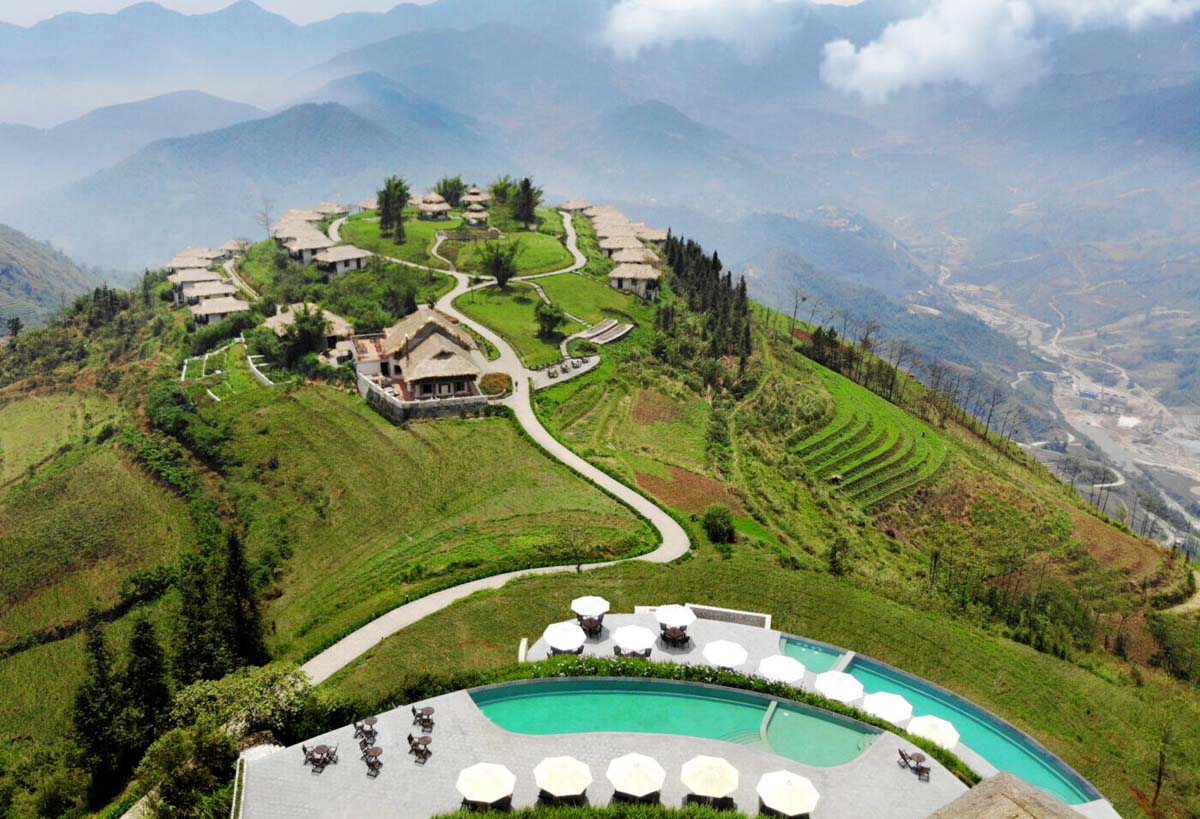 Topas Lodge is located within Hoang Lien National Park, and sustainability is at the forefront of its policies. The lodge relies primarily on hydropower to operate and uses energy-efficient lightbulbs. Food leftovers are outsourced to the local community and farmers to use, and they have a glass crushing machine to recycle all their glass bottles into sand. This can then later be used in construction.
Topas Lodge is situated on top of a hilltop, so naturally boasts spectacular views of the nearby area. It's the perfect place to stay if you love nature and are looking for a relaxing getaway. There are also plenty of great facilities at the eco-lodge, including an infinity pool with a pool bar, the Stilt House Restaurant, and the Pavilion BBQ.
Mai Chau Eco Lodge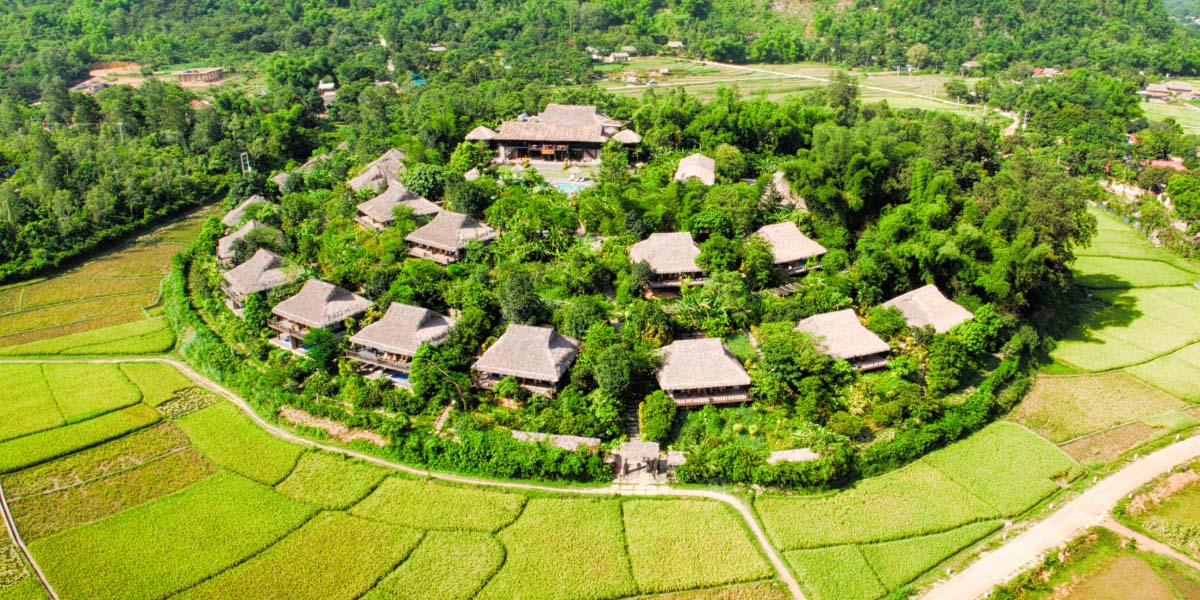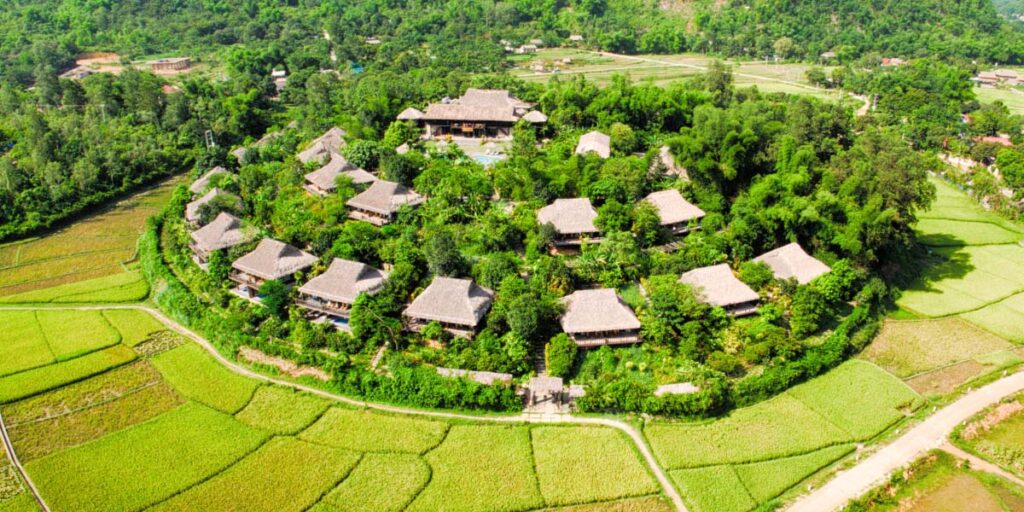 Mai Chau Ecolodge prioritizes sustainability and responsible tourism. Over 80% of the land at the property is open space, and many of the building materials used were local and sustainable. The eco-lodge also focuses on clean energy, harmless wastewater disposal, and eco-friendly cleaning products. Not only that, but the eco-lodge also plays a big part in the community, as 90% of the staff are from local villages, and local businesses are used to source materials.
Mai Chau Lodge is located in the scenic village of Na Phon and is made up of 43 rooms. There are plenty of facilities on-site, including a restaurant, a spa, a swimming pool, and the Panorama bar, which offers scenic views of the surrounding mountains. The eco-lodge also offers a variety of activities, including traditional dances, hiking, and cycling.
Can Tho Eco Lodge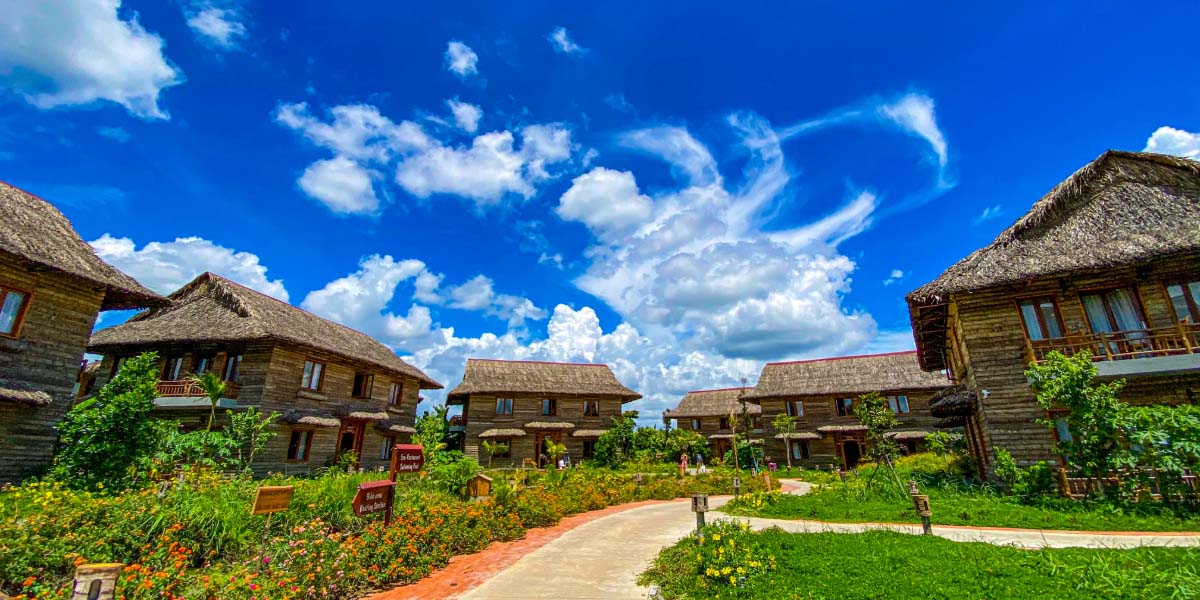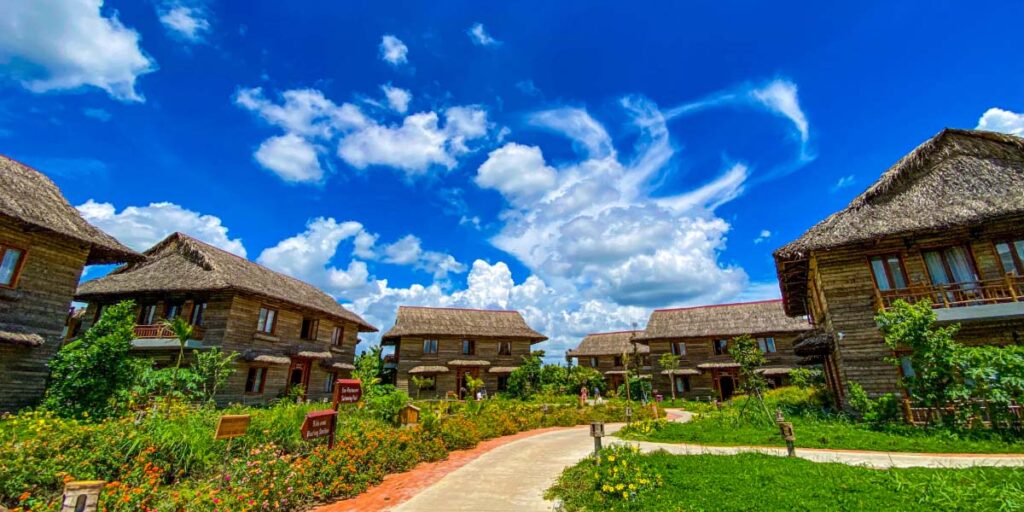 Can Tho Eco Lodge is located within the city of Can Tho; right along the Mekong River.
The lodge is run on solar energy, natural water, biomass energy, and then any by-products are recycled. Not only are sustainable materials used in construction, but this eco-lodge also supports local businesses and hires local people whenever possible. Can Tho Eco Lodge has a big focus on responsible tourism and cultural preservation, and shows this by focusing on local cuisine, and traditions of the Mekong Delta.
Can Tho Eco Lodge has three types of rooms available, and many of them offer panoramic views of the river. You'll also find lots of facilities at the eco-lodge, including an on-site restaurant, a pool, and a luxurious spa. They also host private workshops, cooking classes, and a tour of the floating market.
Mango Bay Resort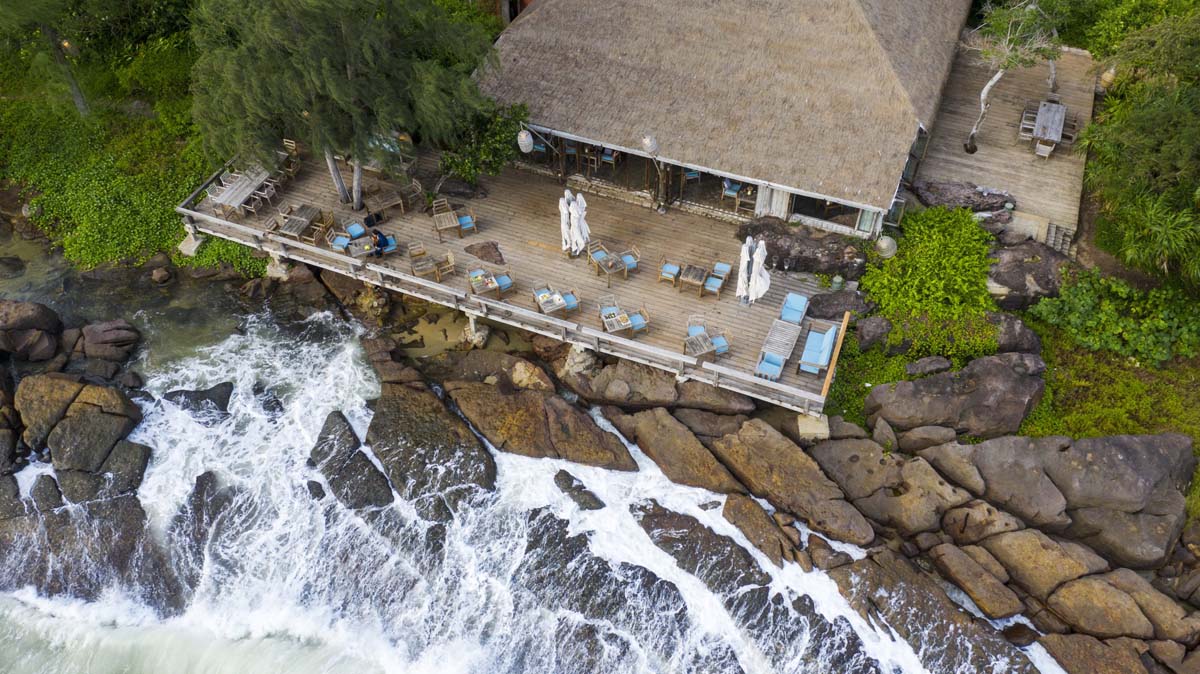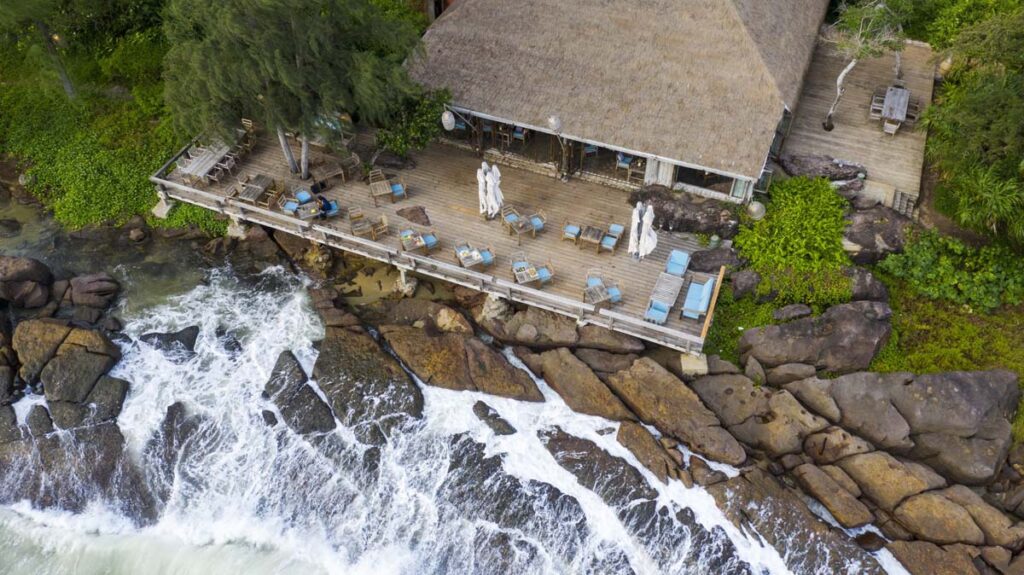 Mango Bay Resort works incredibly hard to be sustainable and has plenty of great measures in place. Over 80% of its staff are from the local community, and they use local suppliers for over 85% of its supplies. They also use energy-efficient appliances, natural air circulation instead of air conditioning, and solar power to heat the water. Not only that, but the toilets are low water use, and the resort works to restore the environment by planting trees and working on reef rehabilitation.
Mango Bay Resort is situated on the beautiful island of Phu Quoc. There are plenty of accommodation options on-site, including veranda rooms, bungalows, villas, and the reef house. However, that's not the best part about this place! This eco-resort has a wide variety of activities available, including yoga, cooking classes, beach activities, and island tours.
Six Senses Ninh Van Bay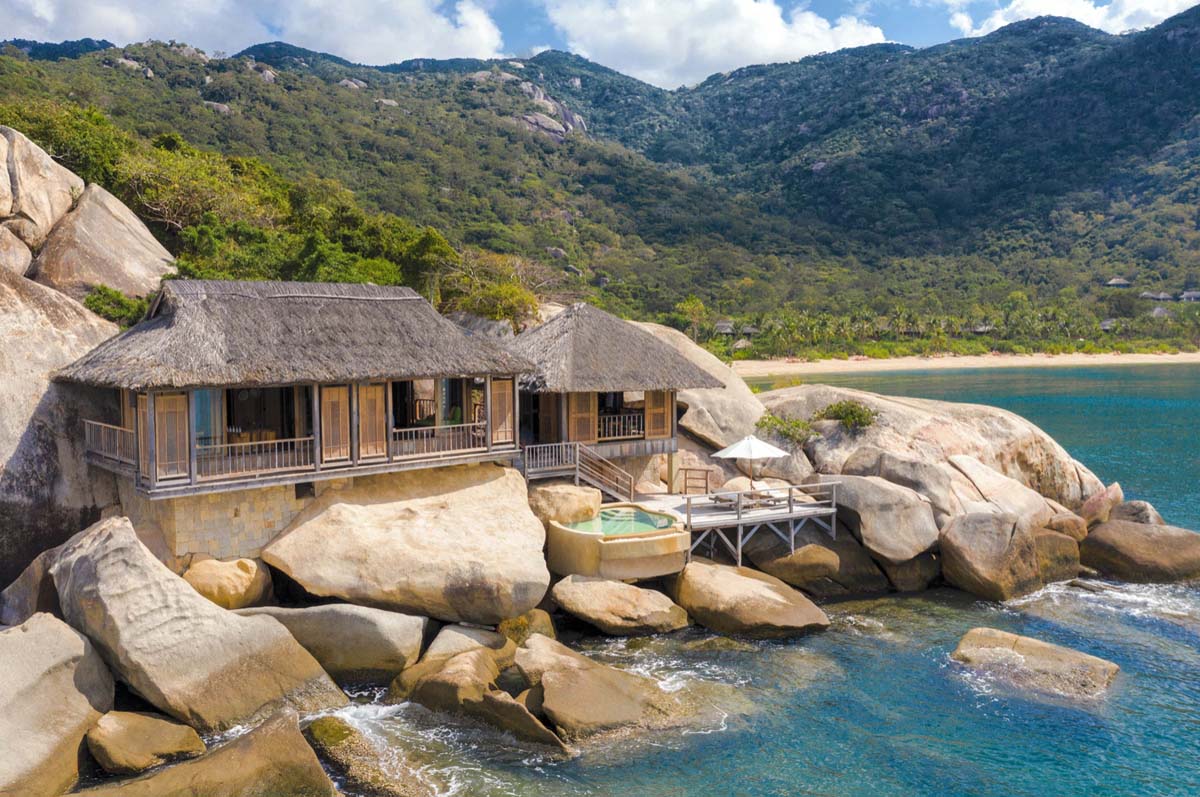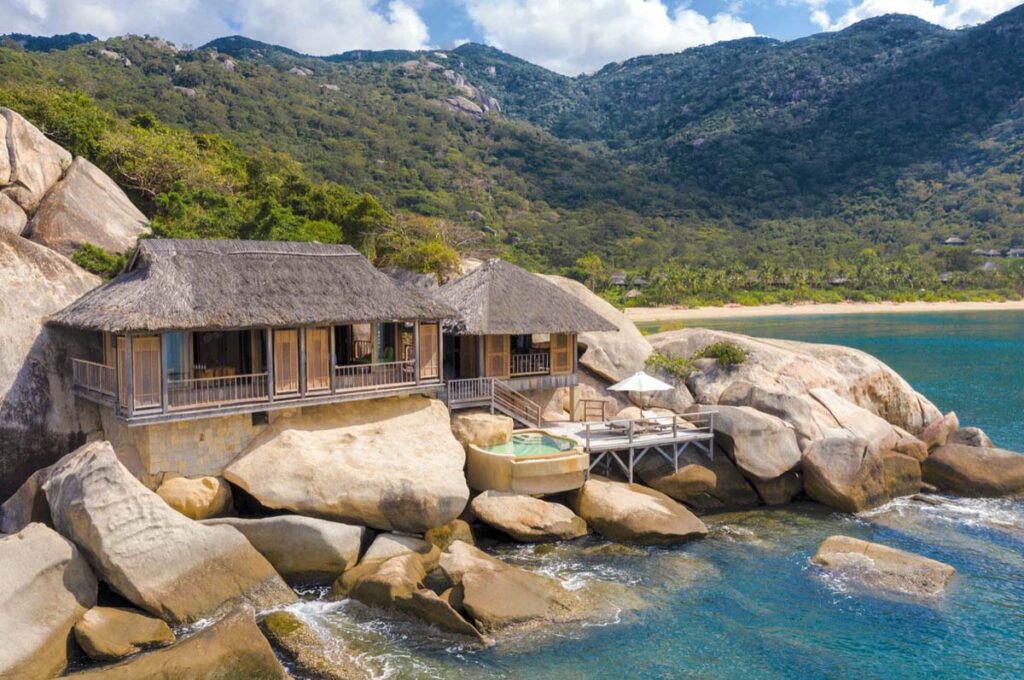 Six Senses Ninh Van Bay is fully committed to reducing its carbon footprint and the impact it has on the local environment. In recent years, the resort has collected over 4,000 kg of rubbish from local beaches and given away over 500 reusable bags to the local community. They also have an organic garden, and the ingredients are used in the on-site restaurant. Not only that, but the resort produces renewable energy through its solar hot water system.
It is located on Vietnam's Ninh Van Bay and offers scenic views of the East Vietnam Sea. The eco-resort offers a variety of private villas, and many of them come with a private pool, a sun terrace, and a guest experience maker who's there to help you make the most out of your stay.
Ninila Fruit Farm Bungalow
All the bungalows at Ninila are designed in a traditional style so that they fit into the environment and don't require many building resources. The water on-site is heated by solar power, and there are organic farmhouse dishes available for guests when it comes to dining.
If you're looking for an eco-friendly escape, then Ninila Fruit Farm Bungalow is a perfect choice. Located in the forest, it's in a great area as it's just a 15-minute walk to one of Phu Quoc's beautiful beaches. There is also a spa on-site, and the eco-lodge is partnered with companies that can take you on cruises and tours around the island. Bicycles are also free to hire, and you'll find other facilities on-site including, a swimming pool, BBQ, and hammocks.
Cat Tien Jungle Lodge
Cat Tien Jungle Lodge is located right next to Cat Tien National Park. Not only is Cat Tien Jungle Lodge in the perfect location for nature lovers, but it's a great place to stay for an adventure. They offer trekking tours through the national park for a great price, where you've got a good chance of spotting local wildlife.
Map of these 7 eco-lodges in Vietnam
As you can see, there are plenty of incredible eco-lodges in Vietnam. Whether you're looking to explore the rainforest or relax on the beach – you'll be spoiled for choice!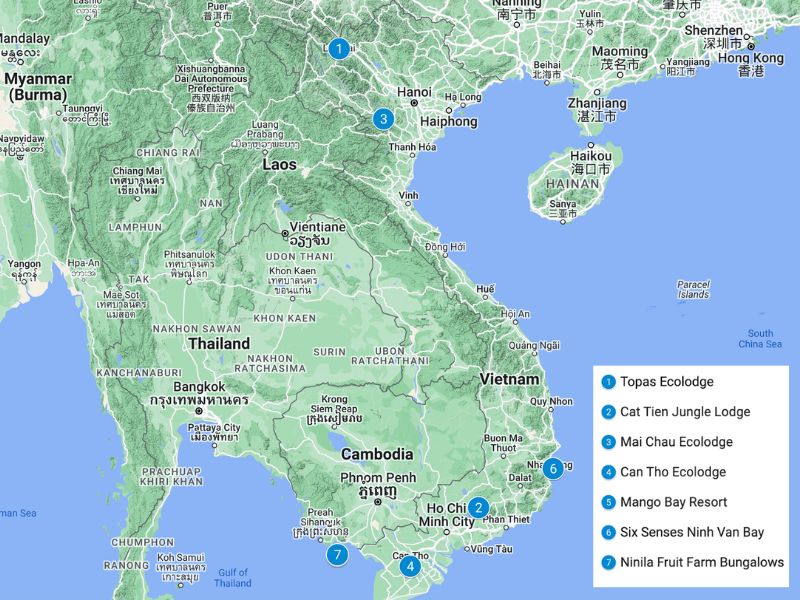 BROWSE THROUGH our directory for the most sustainable eco-lodges around the world if you want to experience something unique, authentic, and exciting.