8 Most Sustainable Eco Lodges in New York
New York's eco-lodges exemplify innovative hospitality in harmony with nature, from solar-powered cabins overlooking lakes to lodges seamlessly integrated into lush forests. They prioritize sustainability while situated near iconic natural wonders like the Adirondack Mountains and the Finger Lakes.
In this article, you will see the best green initiatives and unique features around New York. Whether you are an outdoor enthusiast seeking thrilling adventures or a nature lover longing for tranquility, these eco-lodges provide a gateway to experience New York's natural beauty while leaving a minimal ecological footprint.
What are eco-lodges?
Eco-lodges are accommodations in undisturbed, remote natural areas where both construction and operation have the lowest impact possible on the environment. They are not only part of the local community, but they are active participants in protecting nature and culturally sensitive areas.
New York Eco-lodges
Here is a map to see where these eight eco-lodges are located:
Scribner's Catskill Lodge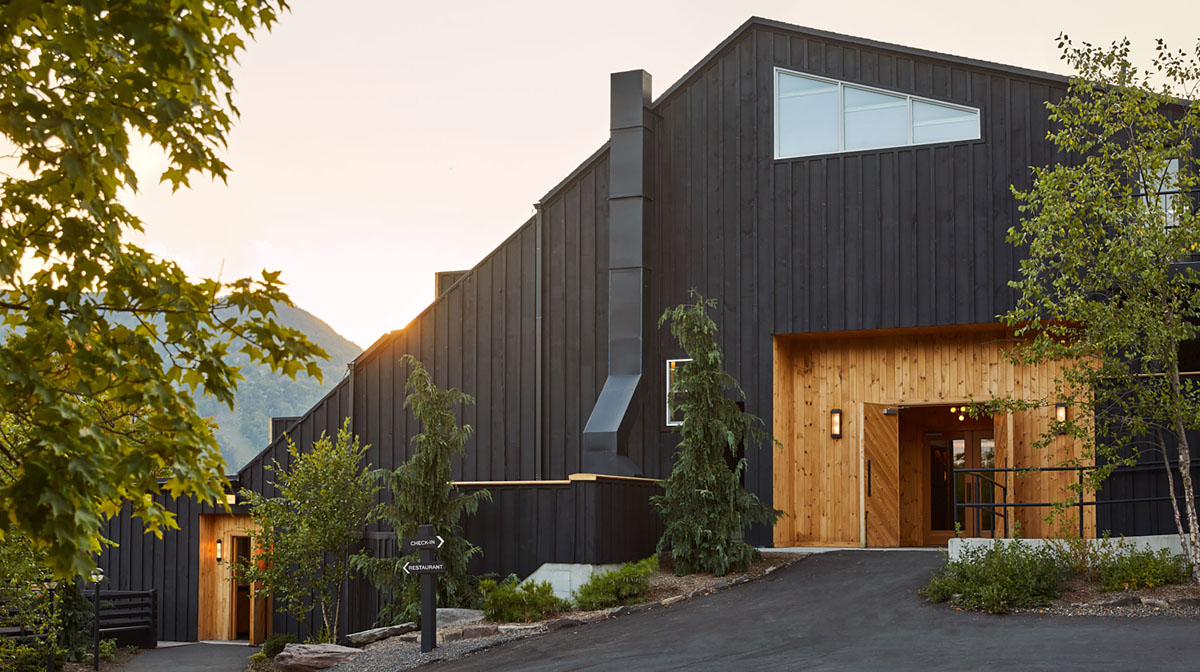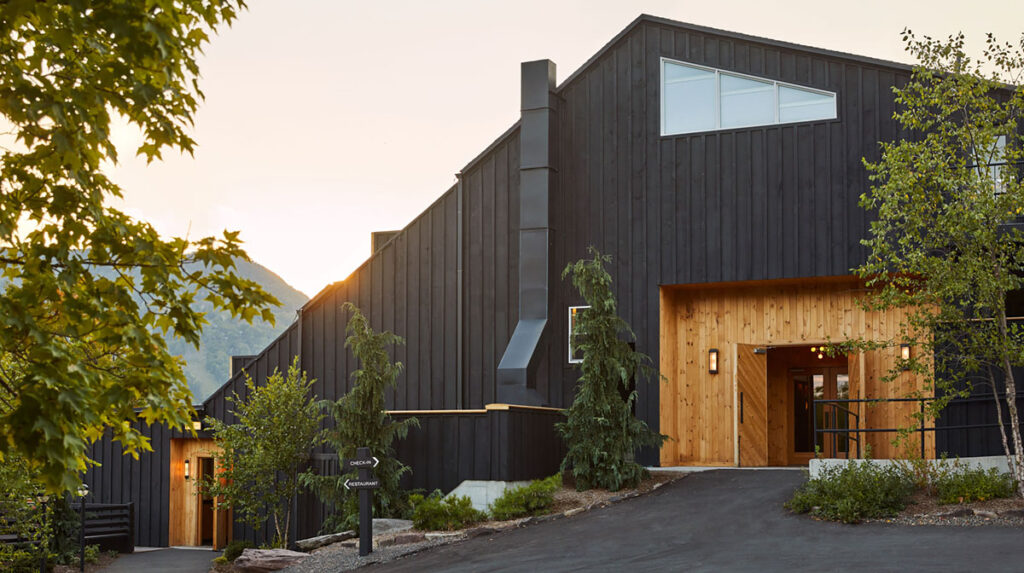 Overlooking the breathtaking New Yorkian Catskill Mountains, Scribner's Lodge allows visitors to get close to Mother Nature and enjoy a luxurious stay. The lodge offers luxurious suites featuring private terraces or bungalows with more reserved space. Each room offers a stunning view of the mountainous backdrop, while others overlook the green property.
A well-maintained pool, a flowery meadow, and a lawn lined with maple trees welcome tourists to a serene stay. Winters reveal an ice rink and a barrel sauna, while an onsite library and art studio are open year-round. A fine dining experience awaits visitors at Scribner's private restaurant, but guests are welcome to explore surrounding eateries. The lodge runs on renewable energy and utilizes an amazing water-saving system.
Tenwood Lodge
The Tenwood Lodge is a one-way ticket to harmony near Ithaca, New York. It is a 6-bedroom vacation rental built to handle the stress and chaos of multigenerational family gatherings. Some suites have a loft sitting area and a common den, while others offer a more private area. When the lodge isn't booked, it opens up as a bed and breakfast for exhausted travelers to take refuge in. The lodge is located quite close to popular New York bars and restaurants, so visitors are welcome to dine as they please.
Tenwood Lodge provides an off-the-grid experience and is intentionally remote. It is also eco-friendly, runs on solar power, and minimizes waste by introducing healthier practices.
Gore Mountain Lodge
An amalgamation of contemporary comfort and homely ambiance, Gore Mountain Lodge is located in North Creek, New York, and serves as a popular choice among tourists.
Gore Mountain Lodge offers a homely experience with queen and king-sized beds and bunk beds. The cabin house can accommodate 38 people and is constantly undergoing home improvements to enhance guests' experience.
Gore Mountain Lodge is just 2 minutes from the ski lifts of Gore Mountain and Hudson River, so it's a convenient spot for adventures. It offers white river rafting, skiing, and other seasonal activities. The lodge entirely runs on solar power.
Enfield Manor B&B
A few short miles from Ithaca, Enfield Manor is a homely vacation rental with a 360° view of the luscious greenery that surrounds Finger Lakes. The manor provides a traditional bed and breakfast experience, including homemade breakfast, but it's also a front for luxury. A 5-acre butterfly garden is open to naturalists to admire the beauties of mother nature, and those seeking to explore Ithaca are guided to local programs and touring groups.
The Enfield Manor is powered by a line of 92 solar panels and commits to a simplistic experience to enhance sustainability. The owners are currently working to improve their carbon footprint and introduce newer, healthier initiatives.
Camp Earth Connection
Camp Earth Connection matches its namesake by offering a rustic and retrograde stay. The campground features wooden cabins and out-in-the-open camping grounds for nature lovers and promises a raw experience where guests can abandon everything and get in touch with spirituality.
The cabins are equipped with basic amenities but are designed to mimic the natural background. The camp offers a communal greenhouse and an open-air pavilion dining area where guests can enjoy food made from organic and freshly foraged ingredients.
The campground has compost toilets and repurposes shower water. It uses a rainwater collection system to avoid wastage and completely runs on solar power.
Rockabye Ridge Farm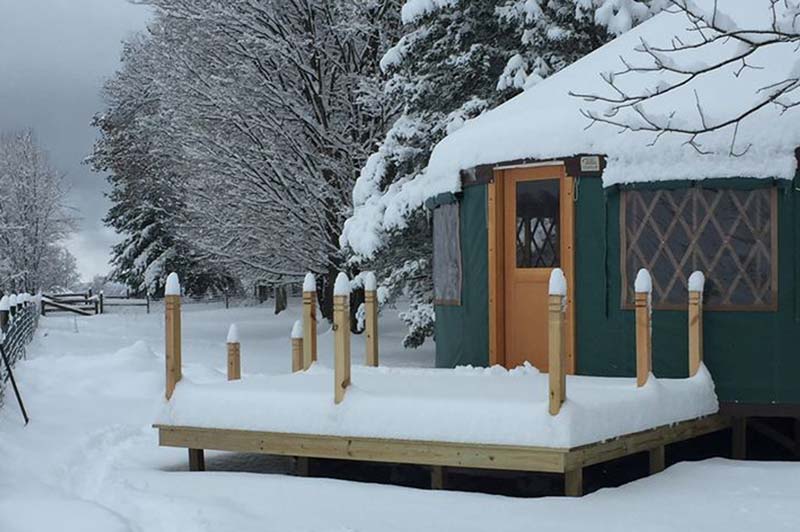 Located on a small farm sanctuary and surrounded by towering trees, Rockabye Ridge Farm is an idyllic setting in Finger Lakes that gives guests a stress-free environment.
The serene farm hosts a small but elegant yurt that is available for booking around the year and is equipped with a fully functional kitchen, private bathroom, and luxurious double beds. The farm is located a short distance from the Black Diamond Trail and Taughannock State Park, so it's the perfect spot for explorers.
A solar-powered pump warms the yurt during winter and provides cooling in the summer. The yurt sources all its food from farm-grown vegetables and produce, so guests can enjoy a healthy meal.
Stone Quarry House
A star-studded lodging isolated on the hills just east of Ithaca, Stone Quarry House is the perfect spot for those with wanderlust.
The lodge sprawls across a stunning self-contained area where three cottages offer guests a secluded living space. Each cottage is decorated with snug Nordic-style furniture, hand-knotted carpets, and organic linen. Stone Quarry House is close to Ithaca College and Cornell University, so it's a great spot for parents visiting their college-going children. The house is self-catering, so people who love to cook and rely on organic sources can enjoy their trip to the fullest.
Stone Quarry House is solar-powered and practices green initiatives, including heat-pump heating and cooling, low-flow and compost toilets, and water-saving systems.
Frog's Way B&B
Nestled between the lush plains of Ithaca, Frog's Way is an eco-village B&B that serves as a relaxing expanse for guests.
Summers at Frog's Way B&B consist of outdoor activities, including exploring the suburbs and swimming in the pond, where frogs occasionally pop out to float on the water lilies. Winter takes an icier route with a snowy cove and nurturing indoor activities. The lodge offers luxurious guest rooms with connected kitchens and living rooms. Amenities like stove tops, microwaves, coffee machines, and toasters are also available.
The eco-lodge runs primarily on solar panels and has energy-efficient thermostats to avoid resource loss. It also uses water-saving systems and locally sourced food.
More eco-lodges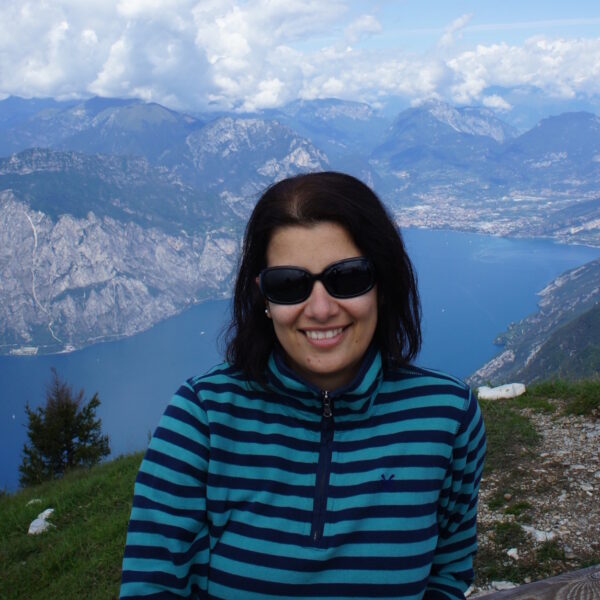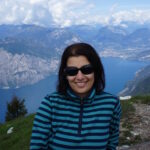 Emese Maczko is a travel blogger behind Eco Lodges Anywhere. Having explored several destinations around Europe, the US, Indonesia, and Australia, and resided in Germany, the United Kingdom, and Luxembourg, Emese possesses a keen understanding of diverse cultures and an appreciation for the beauty of each destination she visits. She advocates for sustainable travel and ecotourism.