Eco-Friendly Things To Do In Hawaii (A-Z)
Hawaii is one of the most beautiful and ethereal places in the world. Often called a tropical paradise, this state is home to hundreds of gorgeous flowers, lush greenery, and pristine blue waves that come crashing down to the golden sand. If this picturesque description was not enough, Hawaii also owns volcanic cliffs and rocky slopes, adding a contrasting touch to the gorgeous scenery.
Although Hawaii is one of the most visited locations in the world, it has maintained its natural and cultural heritage. Ecotourism in Hawaii offers many eco-friendly activities to choose from. While you can do many things in Hawaii, if you are a conscious eco-tourist, you will find this list helpful.
*This post may contain affiliate links. We may receive a commission if you make a purchase through those links. Please read our disclosure.
Bird watching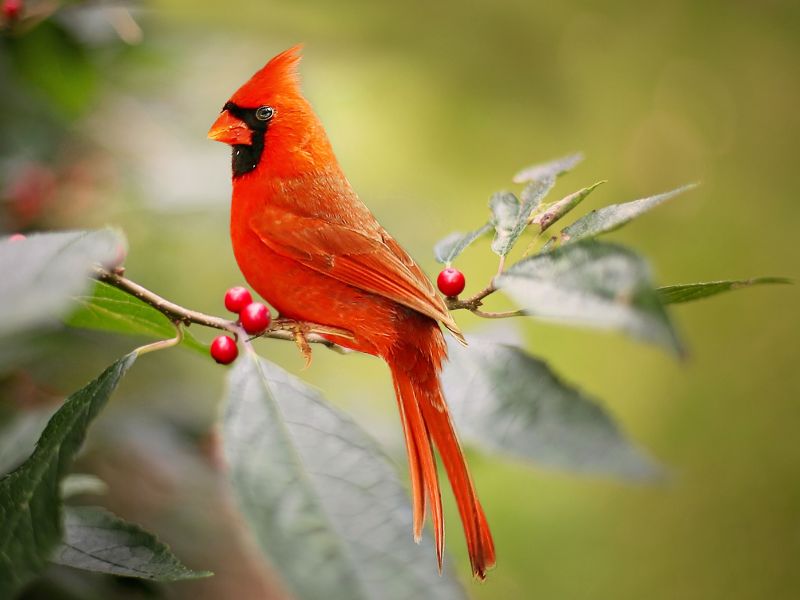 This one is for bird lovers and naturalists alike; bird-watching tours are one of the most mesmerizing ways to explore Hawaii's diverse natural aviary and learn about how the rainforest works.
Most bird-watching tours span 1-2 hours because birds do not really come out from the shadows unless they feel safe. It is best to listen to the tour guide and embrace a calm demeanor.
Bird-watching tours like this one in the Hakalau Forest Reserve take a lot of patience, so they might not work for tourists on a tight schedule, but if you have the time, you will love every bit of this tour.
Beaches
It is impossible to visit Hawaii and not succumb to the beauty of its beaches. The sandy shores, crashing waves, and gorgeous sunsets/sunrises make Hawaiian beaches a dream come true.
"Every Big Island Hawaii itinerary should include time spent relaxing on and swimming in one of the island's stunning black sand beaches. One of the more popular black sand beaches is Kehena Black Sand Beach on the east side of the island, loved by locals for its laidback vibe", says Sumeeta, a travel blogger from Sumeeta Seeks. 
You do not have to book any tours to explore Hawaii's beaches. A day of self-guided exploration is enough to bewitch you. Most tourists love unearthing seashells and combing through Hawaii's beaches for trinkets. It is the perfect activity when you have too much time on your hands and want to do something relaxing.
You may even catch a glimpse of wildlife as Samantha Bearman, a travel blogger from Continuous Roamer did. "One of the best things I experienced in Poipu on the island of Kauai was watching a Hawaiian monk seal on Shipwreck Beach at sunrise. When a seal is spotted, signs are placed on the beach to caution against people approaching the seals for everyone's comfort and safety."
Tourists can also book a photography tour to explore multiple destinations and take high-quality pictures. The perfect eco-friendly memorabilia.
Botanic gardens
Hawaii's botanic gardens showcase a diverse range of flora, including native species, and exotic plants from around the world. Home to around 30 botanical gardens, they include Allerton Garden, Foster Botanical Garden, and Ho'omaluhia Botanical Garden, each offering tranquil landscapes and unique ecosystems of Hawaii.
"The Garden of Eden Arboretum & Botanical Garden in Maui was my favorite stop along the Hana Highway. We saw colorful tropical plants, exotic flowers, and a few birds, and enjoyed the peaceful view of the ocean over the well-landscaped garden. It made the 4 a.m. wake-up time worth it!" says Eleanor Blaire a travel blogger from Elevate Your Escapes.
Canoeing
Outrigger canoeing in Hawaii is more than a sport; it's a cultural tradition, deeply rooted in the islands' history. These sleek, fast canoes feature lateral support floats known as outriggers, fastened to the sides of the main hull. The Outrigger canoeing is a unique way to experience the Hawaiian breathtaking blue waters.
"During my outrigger canoe adventure on Maui, I was struck by how peaceful and environmentally friendly the experience was. Paddling out over clear waters, I got to enjoy Hawaii's beautiful landscapes and marine life up close," says Rose Campau travel blogger.
Coffee farm tours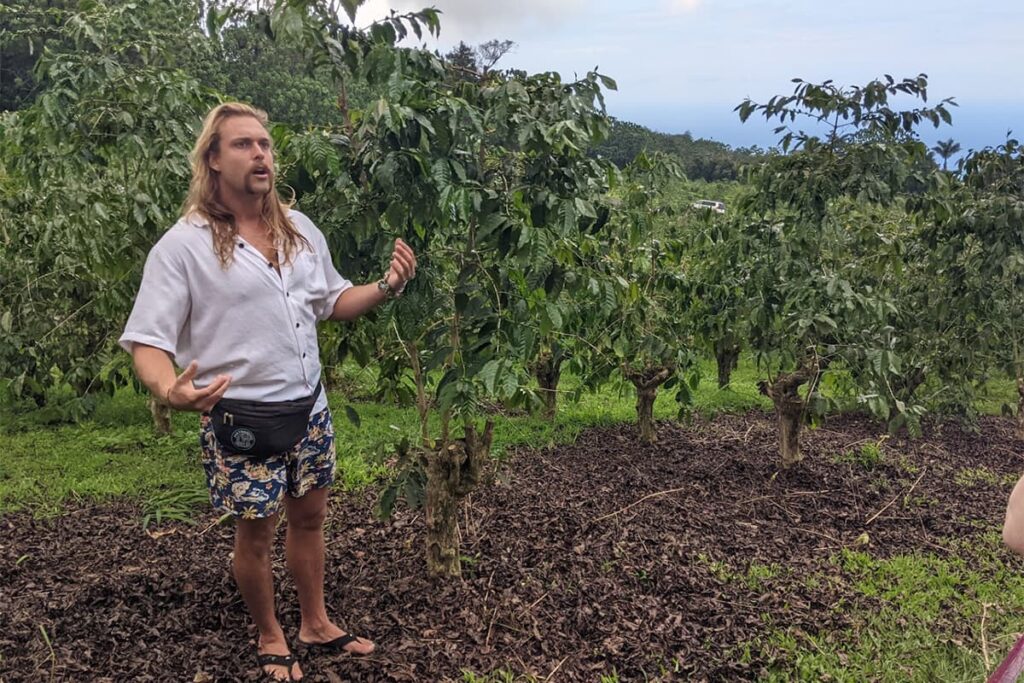 Many tourists claim Hawaiian coffee tastes the best. This owes to Hawaii's dedication to farm coffee beans and most eateries brewing the coffee fresh in the morning. Hawaiian coffee is an exciting treat for coffee lovers, but it gets better because tourists can indulge in various coffee farm tours.
"Taking a tour of a Kona coffee farm on the Big Island will give you a deeper appreciation for your next cup of joe. Taste samples of different roasts and learn about how coffee is processed, like how each bean has to be handpicked", says Tabitha Bailar, a travel blogger from Travel Compositions.
Tourists learn about the production of coffee from the ground up. These tours are purely educational, so they dive deep into how the coffee is planted and makes its way into your cups. It is an exciting way for nature lovers to embrace the bounties of Mother Nature and her works.
It is also the perfect activity for families because the calm nature of the tour makes for a relaxing day and allows children to learn about science. Artisanal coffee farm tours are usually more sustainable since they may indulge in sustainable farming.
Cultural heritage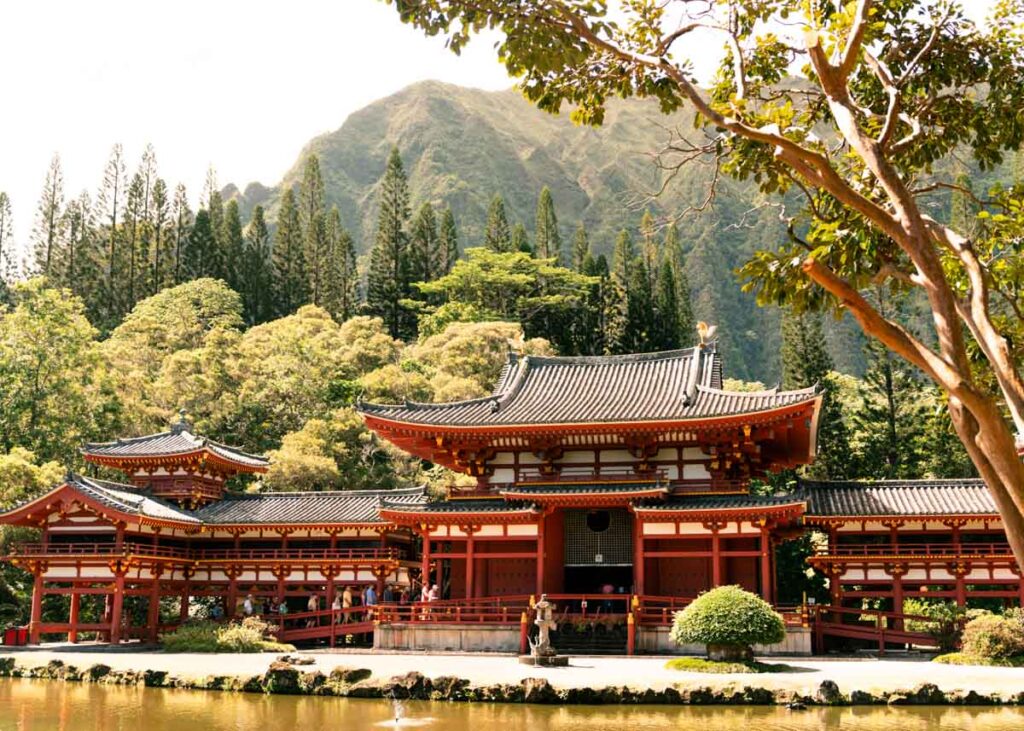 Cultural Heritage tour in Hawaii is an immersive journey through the island's rich history and traditions. One of the most notable experiences is the Circle Island Tour, which offers a route along the breathtaking sights of Oahu, including Dole Plantation, a historic symbol of the island's agricultural past. It also provides a unique insight into Hawaii's growing pineapple industry, which plays an important role in shaping its economy.
The Polynesian Cultural Center is also a great place to learn about the traditions of the Pacific through craft, music, and dancing. Another highlight of the Cultural Heritage Tour is the Oahu's Byodo-In Temple, which stands out as a tribute to honor the 100th anniversary of the arrival of the first Japanese immigrants to Hawaii. Last but not least is the Iolani Palace, the residence of the island's last reigning monarchs, which was built in 1882 by the last king of Hawaii.
"Nestled beneath the lush green Ko'olau Mountains, Oahu's Byodo In Temple is a stunning replica of the original Buddist temple with the same name in Kyoto, Japan. For only $5, you can visit this beautiful temple and wander the serene temple grounds," says Annie Blay, a travel blogger from Your Friend The Nomad.
Cycling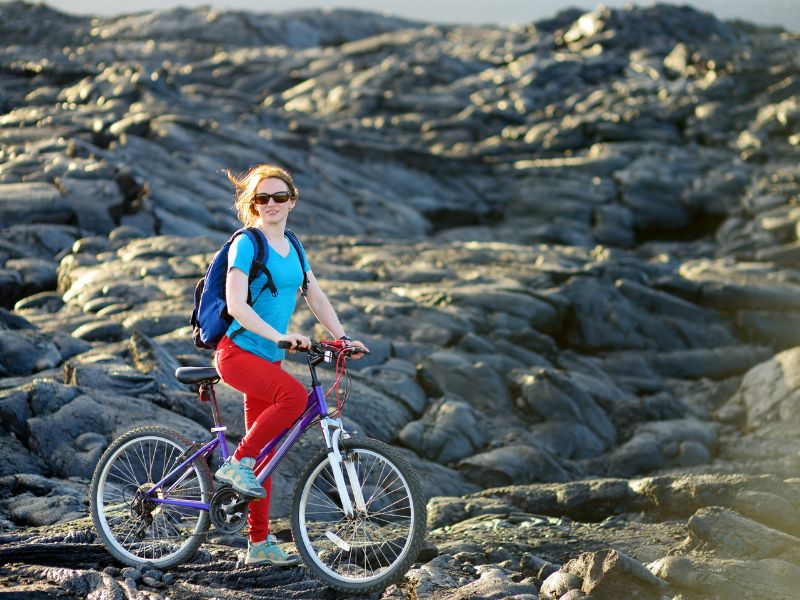 Head out to Hawaii's gorgeous landscapes and capture picturesque views while you zoom on wheels. Cycling is one of the easiest and least-impact activities one can do in Hawaii, and it comes with breathtaking views.
Most cycling tours are self-guided, so you only need to interact with a tour guide or download an app before you go. You are surely go home with stunning photos you will take during this downhill sunrise bike ride in Haleakala National Reserve. Other biking tours may include smaller groups like this e-bike tour in Volcanoes National Park.
Hiking active volcanoes
Hawaii is home to Mauna Loa, the world's most active volcano. The imposing volcano frequently erupts, leaving billows of smoke and ash in its wake. The volcano is named Mauna Loa or Long Mountain for its sheer size, which spans almost half the island.
While this might seem intimidating, exploration of Mauna Loa is considerably safer. Tour guides are instructed to guide tourists on a safe tour, and if the volcano is under threat of eruption, tours are paused until it is safe enough to explore.
A volcanic tour is one of the best ways to explore the Mauna Loa, which takes explorers through the rocky terrains of the volcano. During this private volcanic ecotour explorers can wander into the trees and capture the stunning bravado of the volcanoes without worrying about harming the environment.
Hiking inactive volcano craters
A surreal sight to behold, Diamond Head Crater is a volcanic cone, a remnant of one of the mightiest volcanoes that existed centuries ago. On Oahu, Diamond Head Crater attracts hundreds of tourists, so it may get crowded.
Luckily, tourists can book private tours to explore the crater at their own pace. Many tour guides are willing to plan around peak hours to accommodate tourists who want a more intimate and private experience. It is also a fantastic way to learn about Hawaii's history because most tour guides offer historical insights and a deeper exploration of Hawaiian culture.
Those seeking a more nuanced and private experience can go for a tour that ends at the beach.
Hiking everywhere else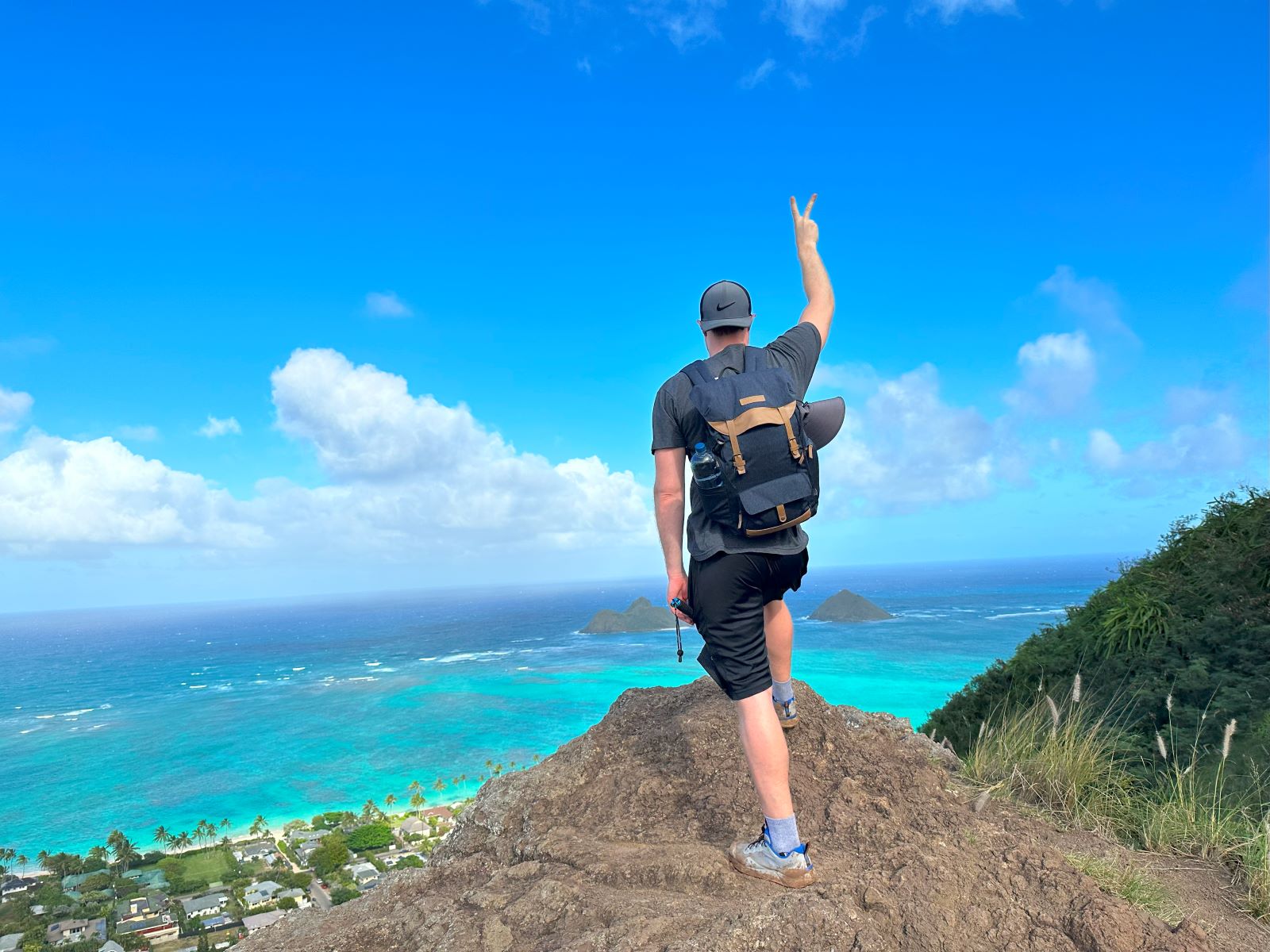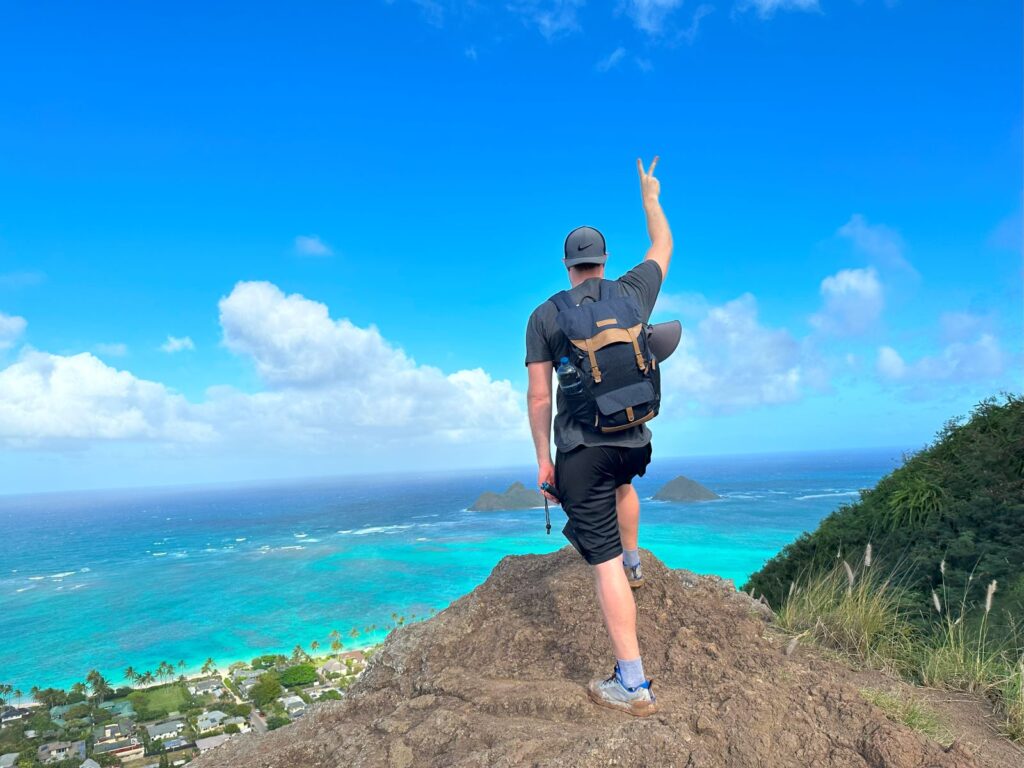 The best way to explore Hawaii is by hiking since the area has countless trails and hiking spots. The best hiking tours in Hawaii lead up to waterfalls, volcanoes, or to a breathtaking beach view.
"The Lanikai Pillbox Trail is one of Hawaii's most popular hikes, offering stunning views of the Mokulua Islands and Lanikai Beach. The trail takes you to two old army bunkers, or "pillboxes, " used during World War II. The hike is moderate and relatively short, with some steep sections, but the reward at the top is worth it", says Trysta Thocco, a travel blogger from This Travel Dream.
You either hike at your own pace or you can join hiking tours that are typically catered toward groups. However, if you don't want to do it either alone or in a larger group, contact a tour guide since they may be willing to extend their services for a more intimate and private experience.
What makes hiking tours great is their diversity. This hiking tour begins early in the morning to catch the sunrise at Hanauma Bay. Others focus on exploring the untouched and unexplored hidden gems of Hawaii like this private hike tour to Manoa Falls with a local guide. There is everything a tourist can hope for.
Kayaking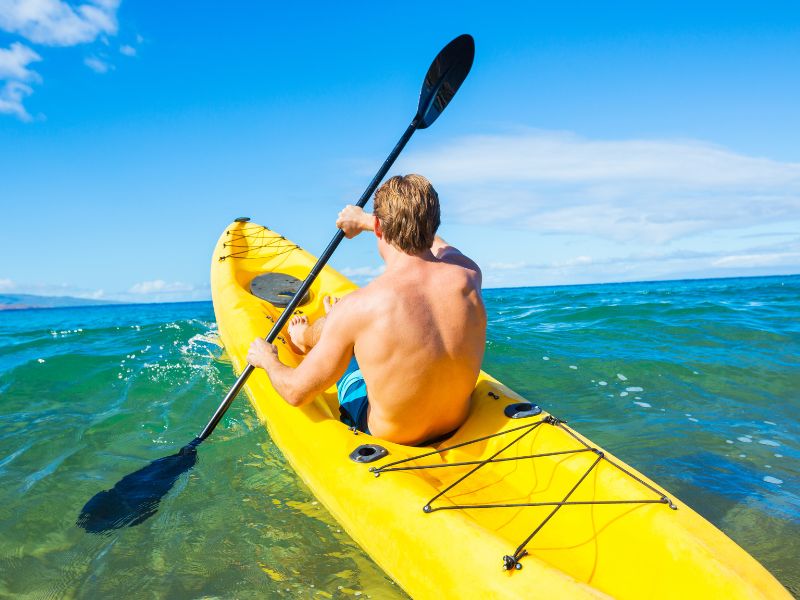 Imagine cruising along the water at a soothing pace, watching marine creatures casually swim underneath you. Kayaking is one of the best nature-exploration activities because it offers tourists a unique exploration angle.
There is something quite alluring about kayaking your way through Hawaii's gorgeous coves and marine destinations. It is one of the most popular activities in Hawaii for this exact reason.
"Kayaking to the Mokes is one of the most peaceful and eco-friendly activities to include in your Oahu itinerary. While you cruise through the stunning East Oahu Bay, you will appreciate the two most beautiful beaches in Oahu – Kailua and Lanikai – and may encounter turtles under the pristine turquoise water. Avoid the shallow water not to scrape the coral reef underneath," reminisces Chloe Koh, a travel blogger from Chloe's Travelogue.
It is the perfect activity for introverts because most kayaking tours are customizable. You can choose from kayaking and hiking to Secret Falls anything to kayaking around Kailua Bay or above Turtle Reef in Maui.
Scuba diving
Diving in Hawaii is one of the most surreal experiences because you see nature in a new light. Seeing schools of fish emerging from coral reefs, occasional sea turtles popping out, and even rare shark sightings is why diving is designed for nature lovers.
You will find countless diving tours. Most cater to groups, but you can easily customize them or book a private tour. Depending on the type of diving, you may encounter sharks, sea turtles, and other gorgeous marine creatures. Dive in a cage to see sharks in Oahu or join a beginner scuba diving tour in Honolulu, they will be precious memories nonetheless.
Snorkeling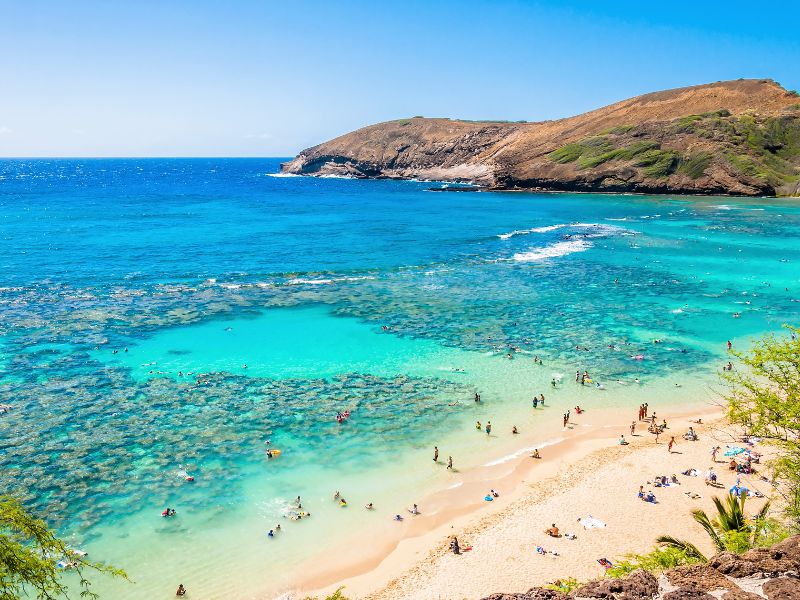 Grab your snorkeling gear and head to Hawaii's ocean side, where pristine blue waves and crystal clear water make everything a blissful experience. Snorkeling aims to explore marine life closer to the surface, so it's the perfect water activity for beginner swimmers and families.
"Shark's Cove on Oahu's North Shore is one of the best spots on the island for epic snorkeling. Located at Pupukea Beach Park, the cove is full of underwater hidey-holes for marine life to hide in, and that life is plentiful – this is Oahu at its best!" says Deborah Hendricks, a travel blogger from Explore Africa.
A marine biologist-guided snorkel tour is the best because you'll learn about aquatic creatures in detail and dive deeper into Hawaii's fragile marine ecosystem. It's also the best approach because your marine biologist tour guide will know how to react when approached by an unexpected marine visitor.
Another unique snorkeling tour in Hawaii is the sea scooter, an underwater propulsion device that takes off the load from you and lets you swim easily. While it may look like it is not eco-friendly, sea scooters are quiet and do not have harmful fuel or carbon emissions.
Stargazing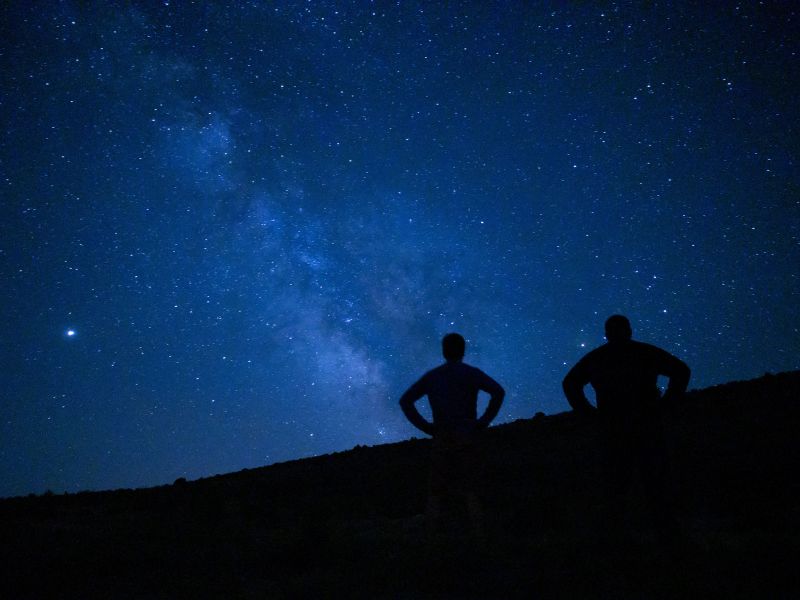 If Mauna Kea weren't submerged in water, it would break Mount Everest's record. This majestic dormant volcano is the tallest mountain in the world, although most hide underwater.
Mauna Kea is one of the most exhilarating and stunning destinations in Hawaii because it offers a unique insight into mother nature's bounties and provides a glimpse into prehistoric Hawaii. Although exploring the volcano is a popular activity, nothing beats spending a night camped out close to the volcano's dormant peaks and observing billions of stars.
Mauna Kea is one of the least polluted areas in the world, so it offers a rustic and untouched view of the stars that surround the Earth. Stargazing is an ethereal experience because it feels like the stars are coming down to the Earth, and it seems one can touch them. Many Mauna Kea stargazing trips start at exploring the area, watching the sunset, and looking at the starry night sky.
Surfing and SUP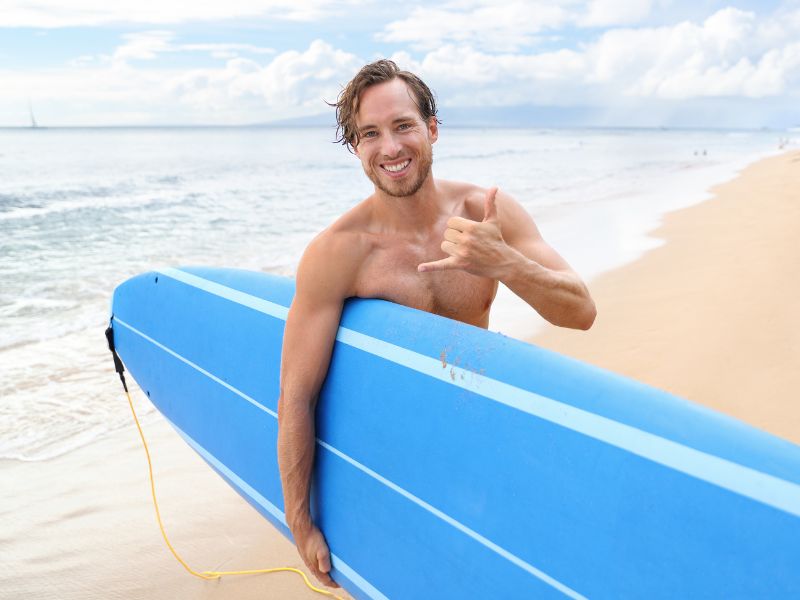 Hawaii is famous for surfing. Especially during winter when large winter storms in Alaska send waves to Hawaii. These waves only need to travel a shorter distance. And since there are also no islands between Hawaii and these storms, Hawaii gets all the big waves says meteorologist Shelly Lindblade.
An exciting way to explore Hawaii's water is surfing and stand-up paddle-boarding. Both activities begin with lessons so tourists can learn to cradle the waves before they head out to surf them.
Surfing and paddle boarding lessons typically happen in groups. But you can also book private surfing lessons as well as private stand-up paddle boarding to match your comfort. Once you have mastered standing up or running the waves, you can explore the ocean.
Swimming with animals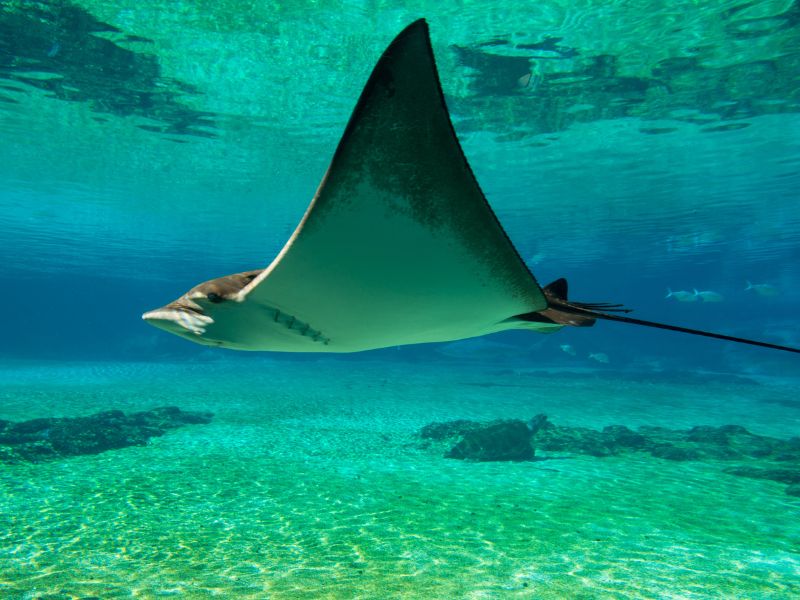 Among many eco-friendly activities, Hawaii offers tourists a chance to swim alongside animals while respecting their habitats and maintaining a safe distance. Participants can observe marine life, like dolphins and turtles while making sure their natural behaviors are not interrupted. They must follow strict guidelines set by the island to protect the ocean ecosystems.
"Swimming with Manta rays on Hawaii's Big Island was a bucket-list moment. We decided to book with Hawaiian-owned tour company My Kona Adventures, who ensure the Manta rays are not touched or fed during the excursion. Sustainable travel tip: always support locally owned businesses who conserve wildlife." says Michele Granera, a travel blogger from The Adventures Abound.
Tree planting excursions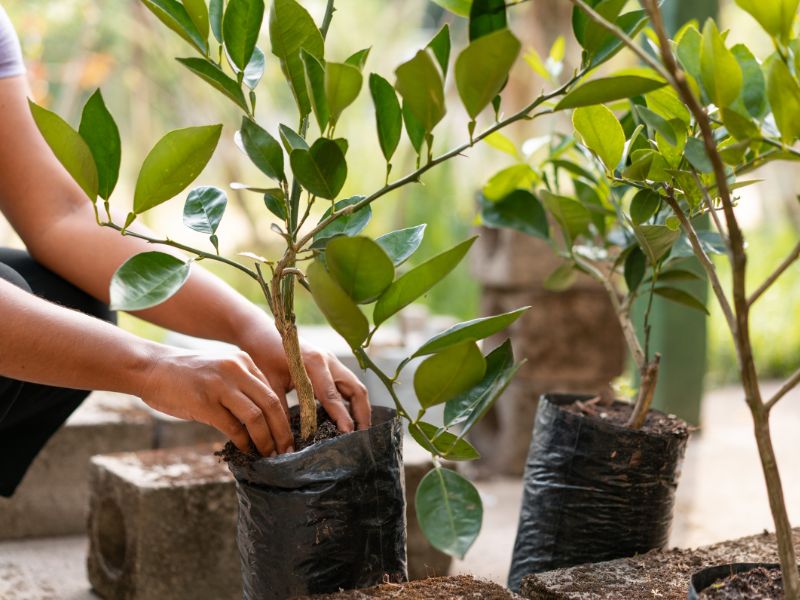 Naturists love Hawaii because the state is in touch with its heritage and as close to Mother Nature as possible. Still, those seeking a more nuanced and specific experience can approach local tour groups and ask for a tree-planting excursion. What better way to give back to Mother Nature than planting trees in her wake?
Many tree-planting excursions start with generic tours, giving you a rich insight into Hawaiian history and heritage. Some tree planting excursions include a Banyan drive, where tourists can gaze upon the majestic trees planet by celebrities.
Waterfalls
Hawaii is home to countless stunning waterfalls, and luckily, most exploration tours include them. Typical waterfall excursions involve hiking, so it is best for health enthusiasts and adventurers.
Most of these waterfall explorations are usually between 2-4 hours like this tour to Ko'olau waterfalls. It often includes waterfall-front breakfast or picnics, and the rest of the day is open for tourists.
"If you decide to adventure on the Road to Hana, make sure you visit Haleakala National Park. If you are looking for a long hike, this is your opportunity to venture up to Waimoku Falls (a 400-foot waterfall). This park also offers the beauty of the Ohe'o Gulch (also known as the Seven Sacred Pools). This is a sight to see with multiple falls and pools located a short distance from the main park entrance." says Monica Swannie a travel blogger from Maxed Out PTO.
Whale watching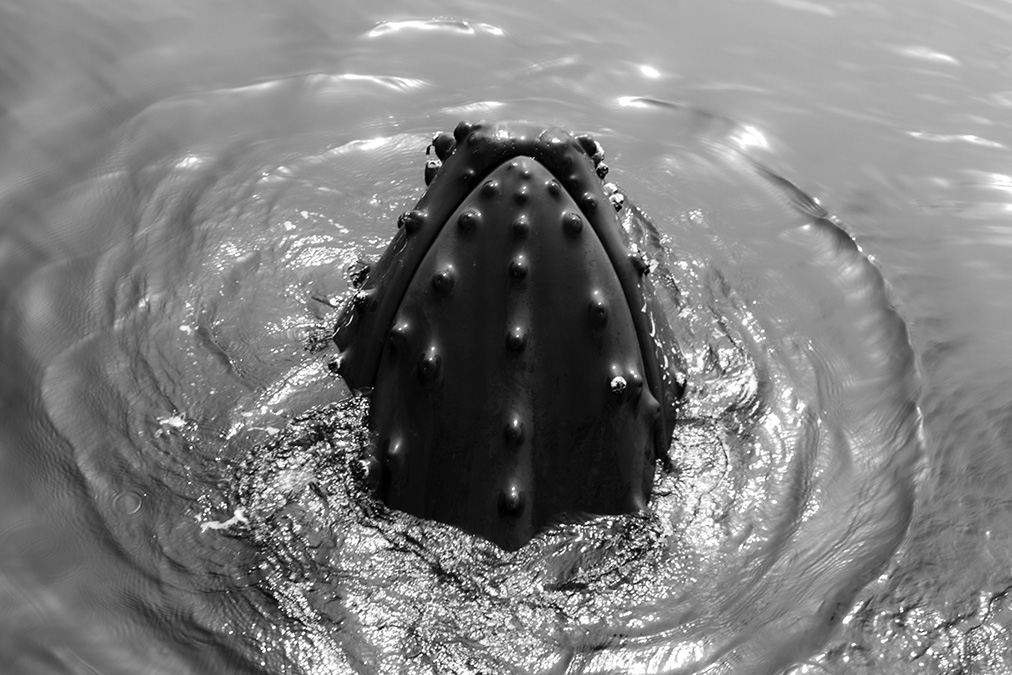 Ever wonder what it would be like to see the world's largest animal? Hawaii houses several whales, calmly cruising underwater and occasionally emerging from the depths to let out air.
"Whale watching is one of the best things someone can do in Maui. The ability to see more whales than ever before blew my mind and had me saying "oh my god" more times than I can count", says Alec Sills-Trausch, a travel blogger from Explore with Alec.
Whale-watching tours typically occur on a boat, but those hoping for an eco-friendly experience can head out on kayaks. The experience is much more upfront and raw, making everything even more impressive.
Yoga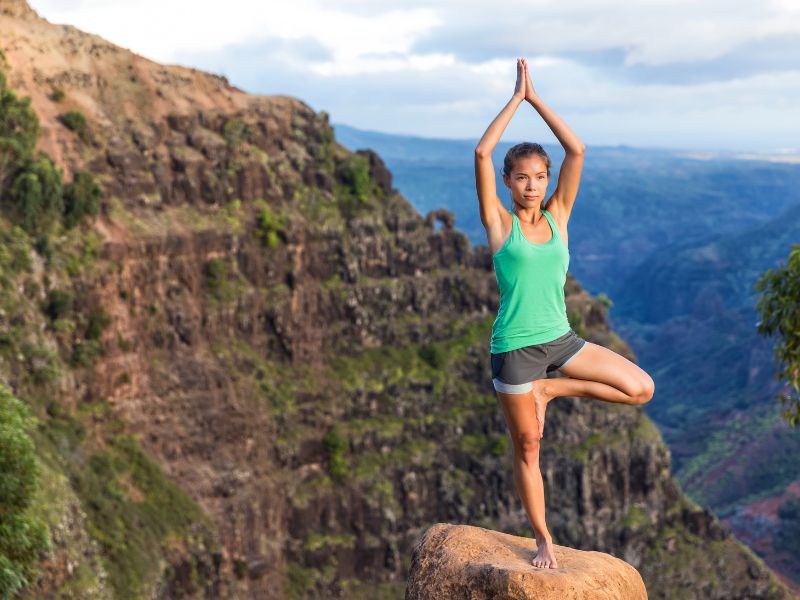 Let loose under the magnificent skies of Hawaii; meditation and yoga aim to provide a relaxing and calm experience, so they are perfect for tourists who want to catch a breath.
Most yoga retreats are directed toward a broader group of tourists, so they are open to the public. However, you can easily find private eco-retreats in Hawaii offering yoga to smaller groups.
Or for unique experiences, choose from sunset yoga, night yoga in SUP, or sound bowl meditation.
Zip-lining
If you are afraid of heights, you might want to skip the line for this eco-friendly activity. However, if you are open to speeding across the air, dangling from a thin rope, this might be the activity for you.
The best thing about ziplining in Hawaii is that you can do it from multiple places, so you are not restricted to a single itinerary. Depending on your chosen tour, you can explore the area in an hour or several more. Most zipline tours start with an exciting hike in Hawaii's jungles.
The chattering of birds and other animals invokes wonder and a sense of amazement. Ziplining tours are designed to explore every inch of the tropical rainforests without disturbing its habitat.
Where to Stay in Hawaii
If you are looking for eco-friendly things to do in Hawaii, you are probably open to staying in eco-friendly accommodations. You are at the right place. This website is all about the most sustainable eco-lodges in Hawaii, and all around the world.
WHERE TO STAY – Click here to find sustainable eco-lodges in Hawaii.
Agrotourism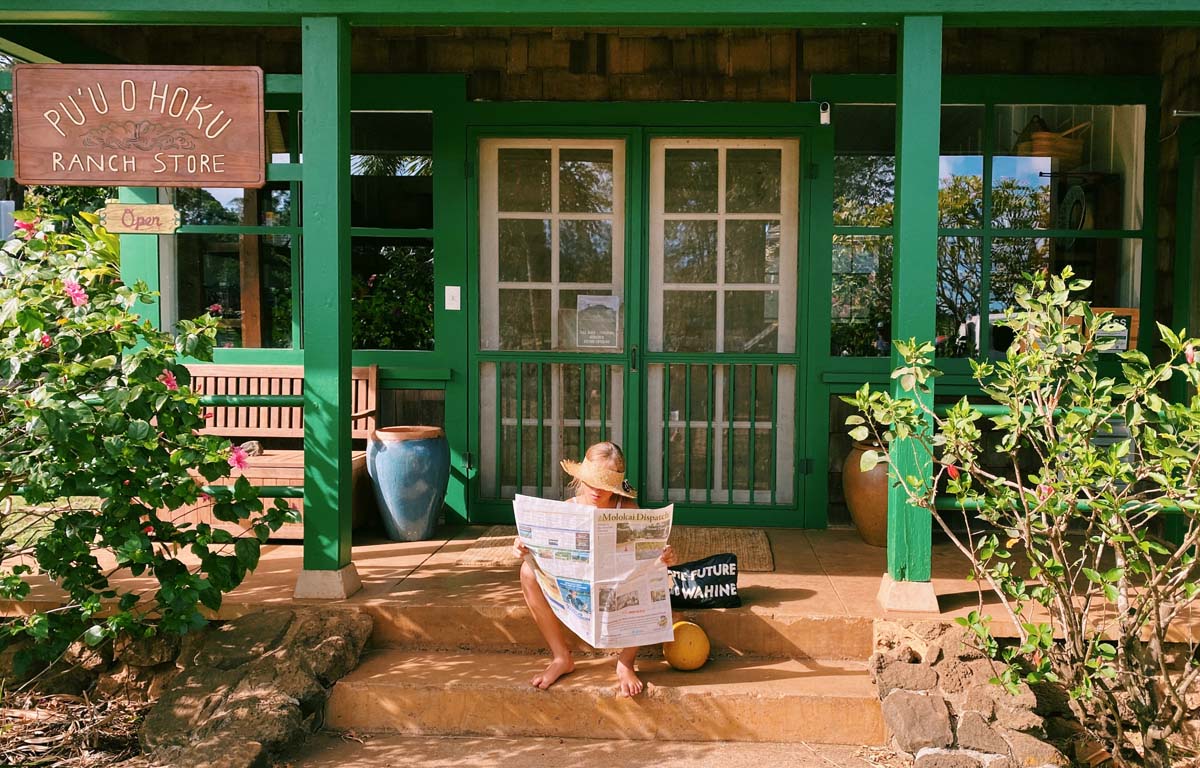 Budget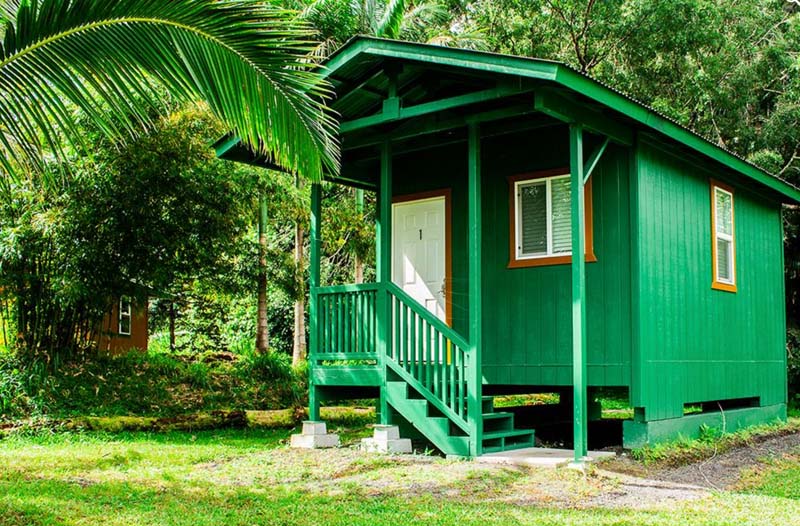 Eco B&B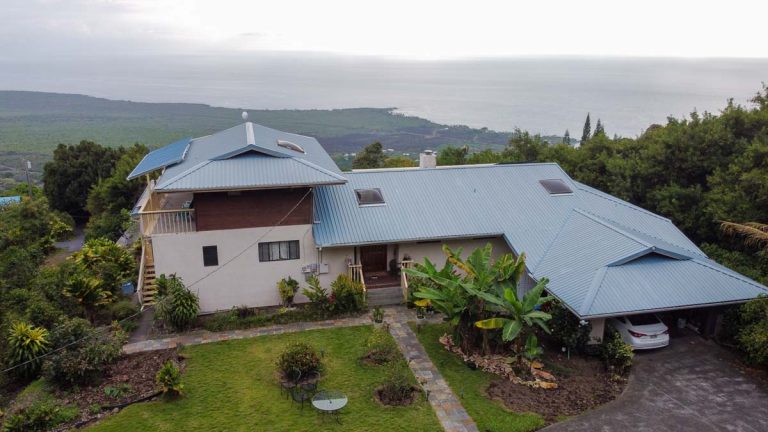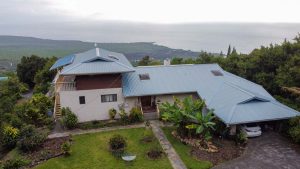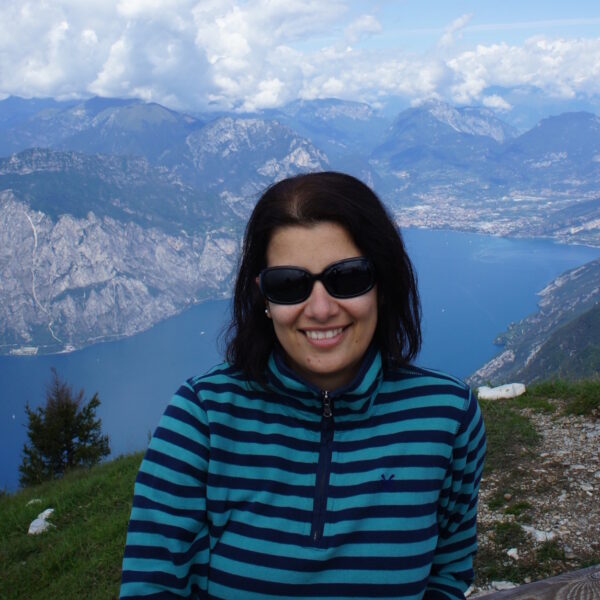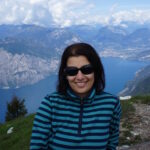 Emese Maczko is a travel blogger behind Eco Lodges Anywhere. Having explored several destinations around Europe, the US, Indonesia, and Australia, and resided in Germany, the United Kingdom, and Luxembourg, Emese possesses a keen understanding of diverse cultures and an appreciation for the beauty of each destination she visits. She advocates for sustainable travel and ecotourism.