9 Most Sustainable Eco Lodges in California
Eco-lodges have become popular for travelers seeking a harmonious blend of comfort, luxury, and responsible tourism practices. They prioritize minimizing their ecological footprint while maximizing the guest's connection with nature. From the towering redwoods of Northern California to the sun-kissed beaches of the Southern coast, these eco-lodges in California offer an immersive experience that fosters a deeper appreciation for the environment.
Often only constructed with sustainable building materials, these lodges employ eco-friendly technologies like solar panels and rainwater harvesting systems. They also encourage guests to participate in conservation efforts, offering educational programs, guided nature walks, and eco-conscious activities. Whether seeking an adventure in the wilderness or a tranquil retreat, eco-lodges in California present a compelling option for mindful travelers looking to embrace sustainability without compromising on comfort or luxury.
What are eco-lodges?
Eco-lodges are accommodations in undisturbed, remote natural areas where both construction and operation have the lowest impact possible on the environment. They are not only part of the local community, but they are active participants in protecting nature and culturally sensitive areas.
BROWSE THROUGH our directory for the most sustainable eco-lodges worldwide to experience something unique, authentic, and exciting.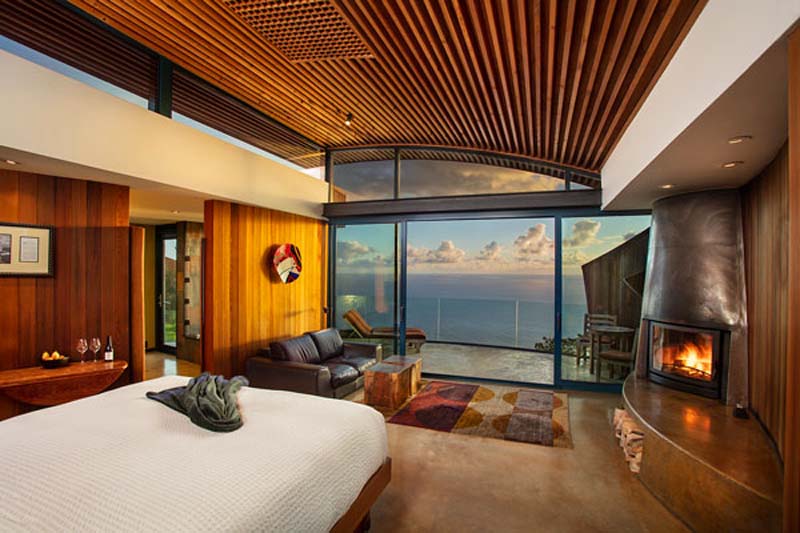 Perched dramatically on the cliffs of Big Sur, the Post Ranch Inn stands as a contemporary architectural wonder, designed to blend seamlessly with its breathtaking natural surroundings. Overlooking the Pacific Ocean, the inn offers a range of amenities, including pools, restaurants, and terraces, allowing guests to immerse themselves in the beauty of the landscape.
Originally a homestead, the property's rich history is intertwined with that of the Post family, who transformed it into a luxurious resort, upholding their commitment to environmental responsibility. The ranch has a 990-panel solar array that can generate 350,000 kWh of solar energy every year. That is the equivalent of 600,000 pounds of carbon dioxide emissions.
Bardessono Hotel and Spa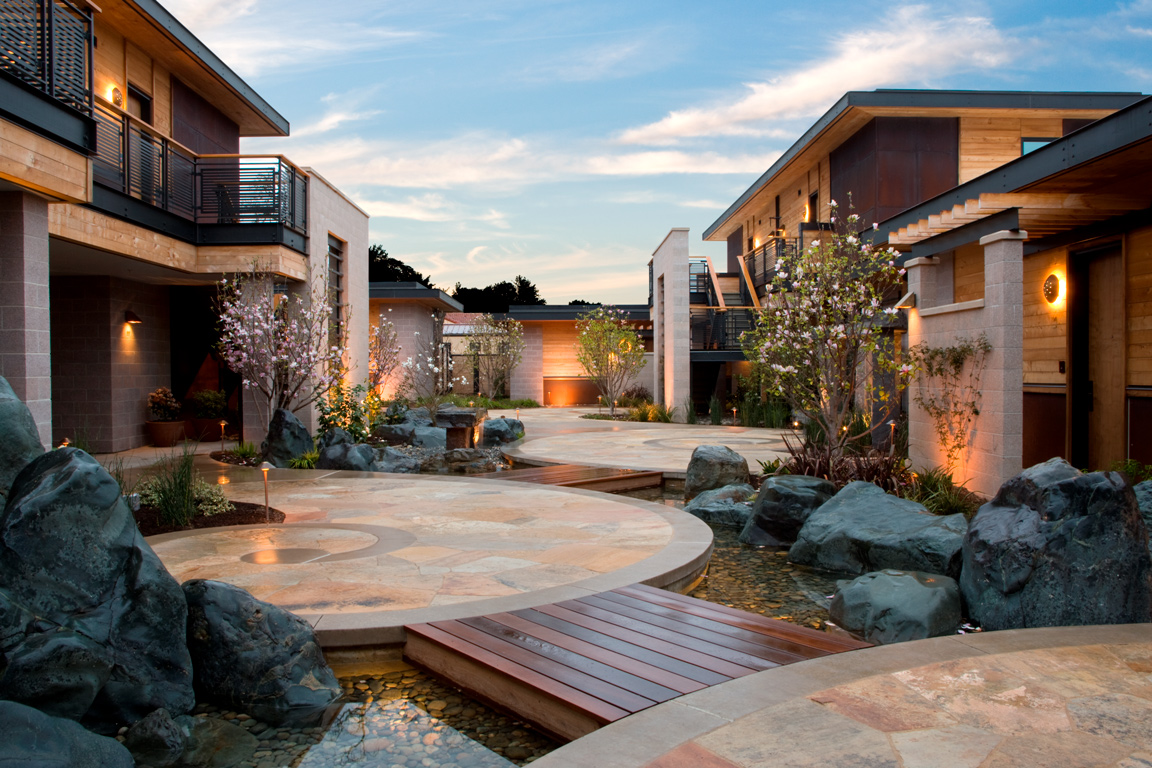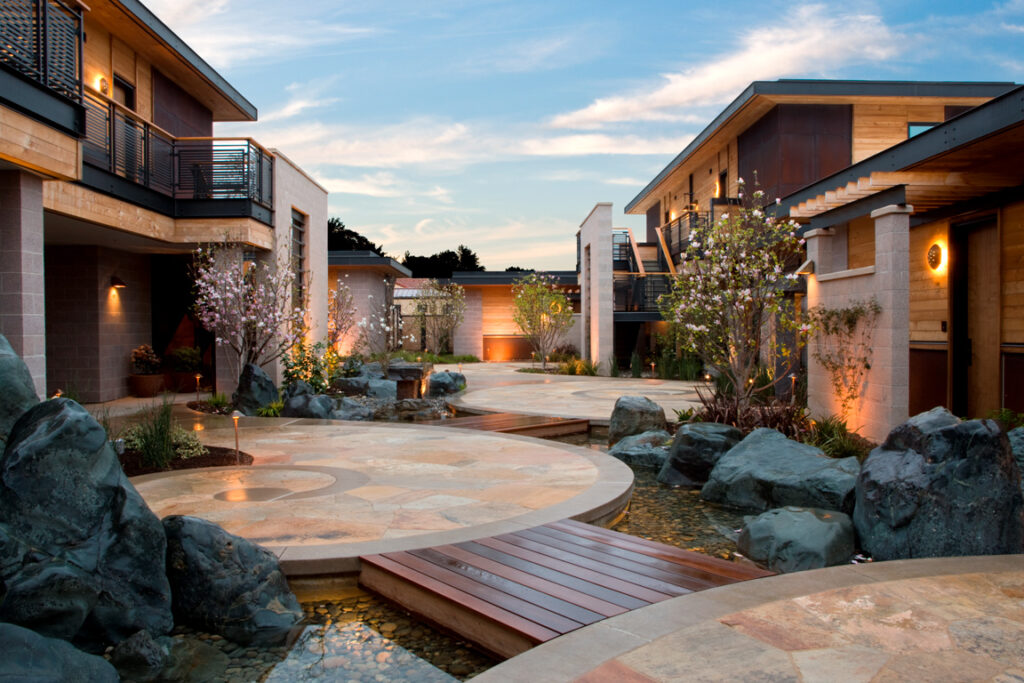 Located in the heart of Napa Valley, Bardessono Hotel & Spa is an artistic combination of high-end architecture and traditional hospitality.
The spa resort offers luxurious suites with grand amenities but also shares ground with private villas available for booking. The villas contain fully-functional and equipped kitchenettes, although guests are welcome to experience an intimate dinner at Lucy, its signature restaurant. To enhance the experience, Bardessono Hotel & Spa invites guests to a relaxing day at the spa and even has business and event-friendly venues and meeting rooms.
The hotel is solar-powered. It uses a low-water flow system and reuses materials when possible. It also actively engages with the local community and offers its support through purchasing and sharing local products.
Rush Creek Lodge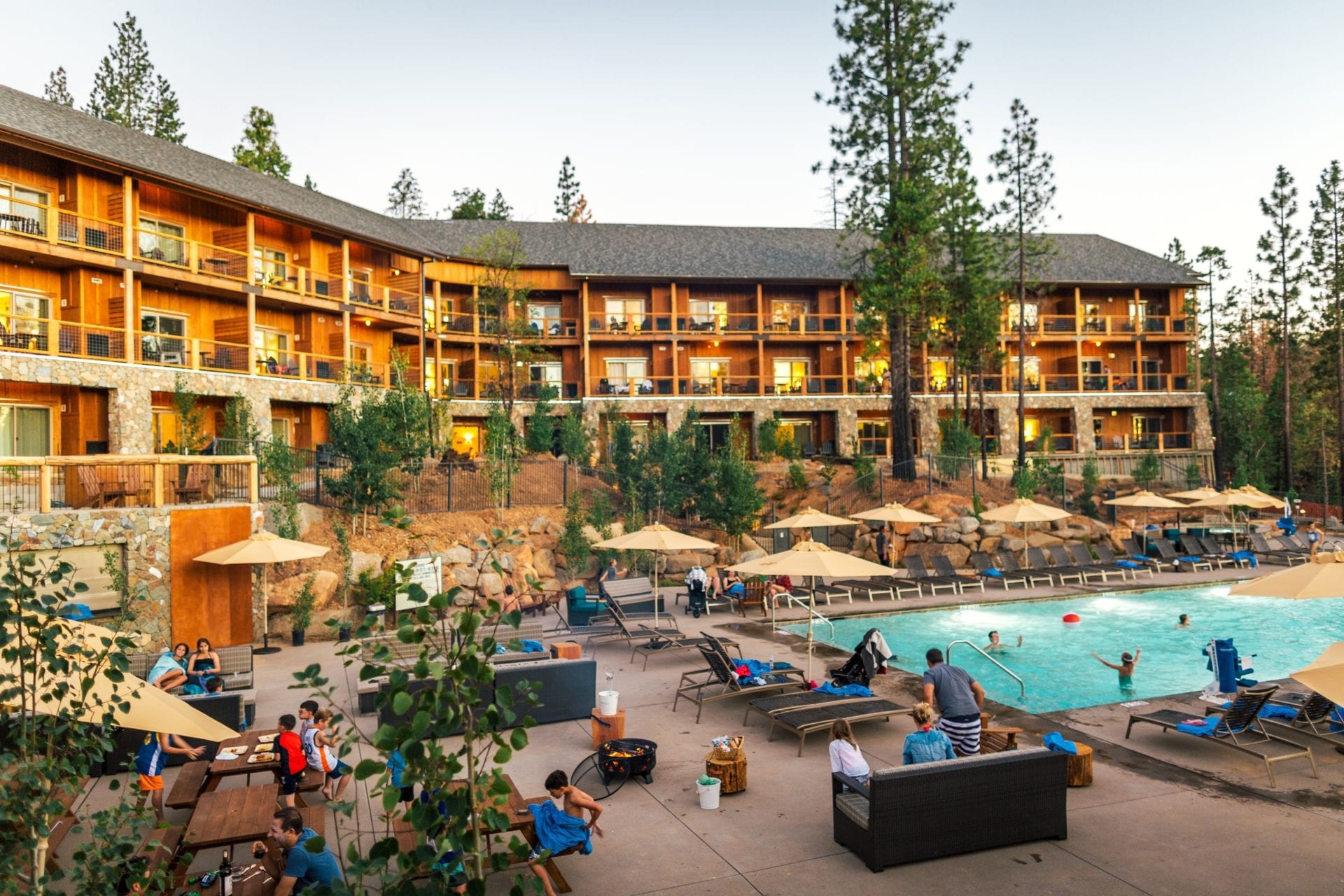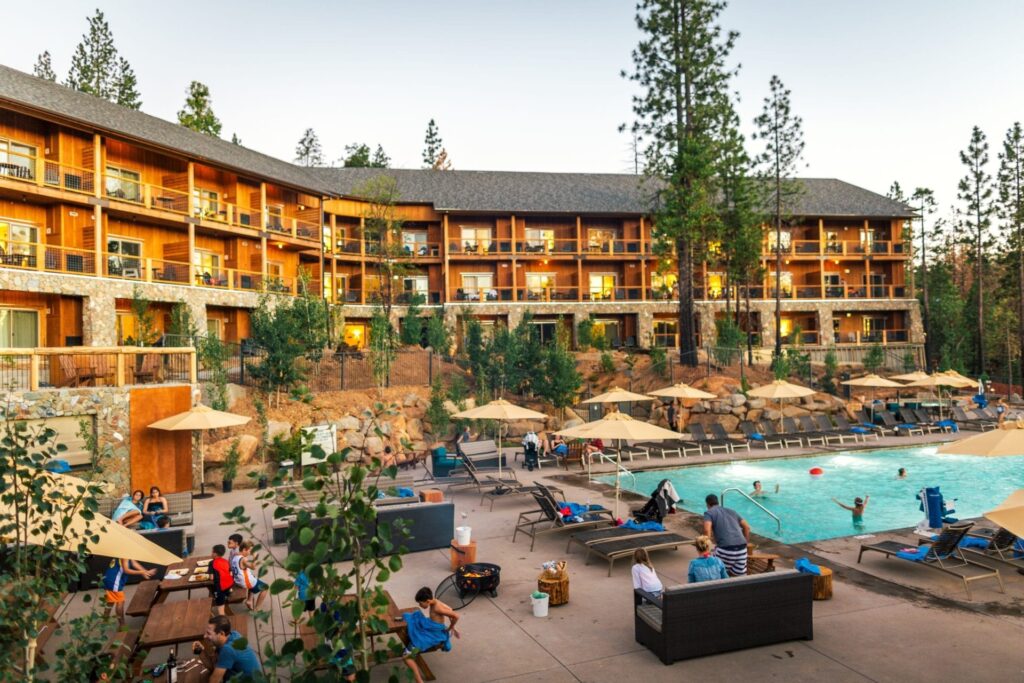 Rush Creek Lodge is an eco-resort immersed in nature and located at the base of Yosemite National Park, one of the most stunning national parks in the USA.
The lodge is a gorgeous expanse of wooden resorts, all looking over the magnificent forest. Despite being up and close to nature, Rush Creek Lodge provides its guests with modern amenities and impeccably designed rooms. A spa and wellness center and a communal swimming pool area are available for guests who want to blend in with nature while enjoying a modern experience. An onsite restaurant and tavern offer guests an appetizing menu prepared with freshly foraged fruits and vegetables and organic meat.
Rush Creek Lodge utilizes low-flow water fixtures and gray water recycling to protect the park. It also uses solar heating and low-energy lighting.
El Capitan Canyon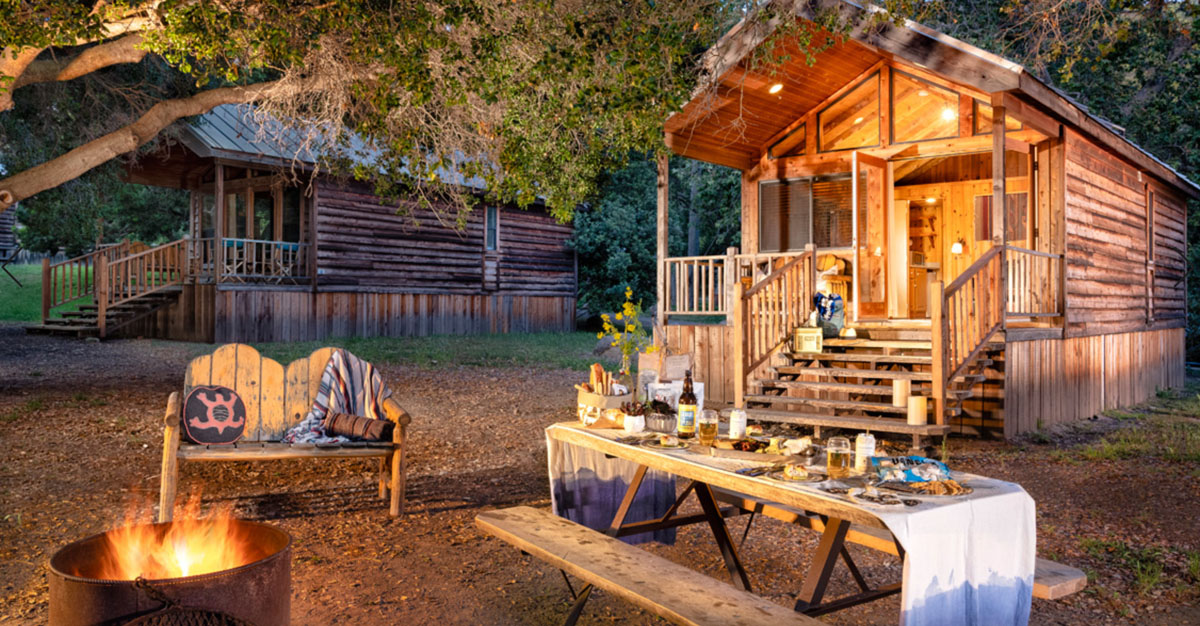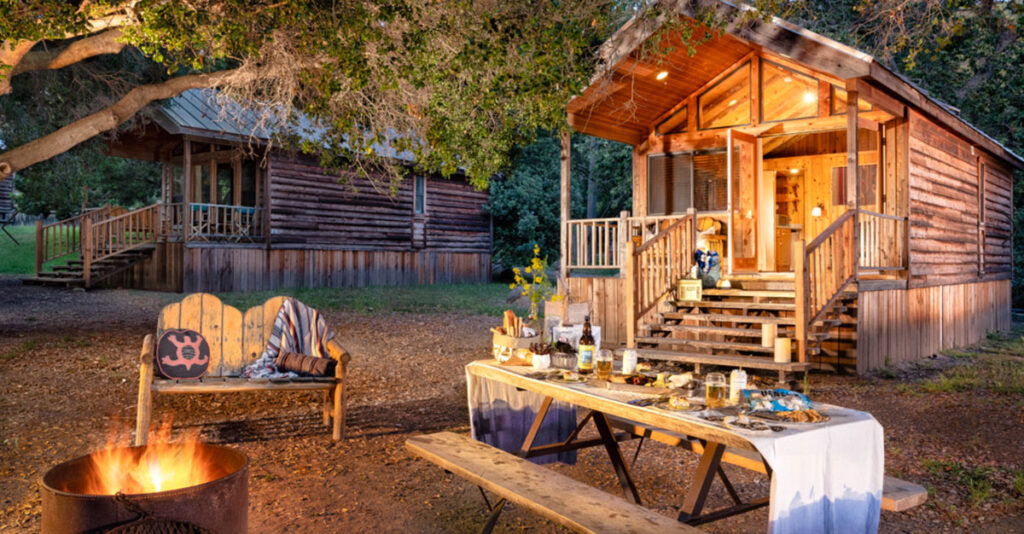 Situated just along the banks of the seasonal El Capitan Creek, El Capitan Canyon is an impressive refuge from the busy life. El Capitan Canyon offers a variety of cabins and yurts surrounded by trees, so guests can literally camp right at the creek's door.
El Capitan Canyon is an all-inclusive camping site, although it's out in the open, so those who wish to immerse themselves in nature will find it more comfortable. It frequently hosts activities to interact with nature and even offers guided tours.
A Native Vegetation Enhancement Project enables El Capitan Canyon to embrace a sustainable lifestyle. With solar heating systems and environment-friendly practices, El Capitan is moving to cut off its energy expenditure by 75%.
Treebones Resort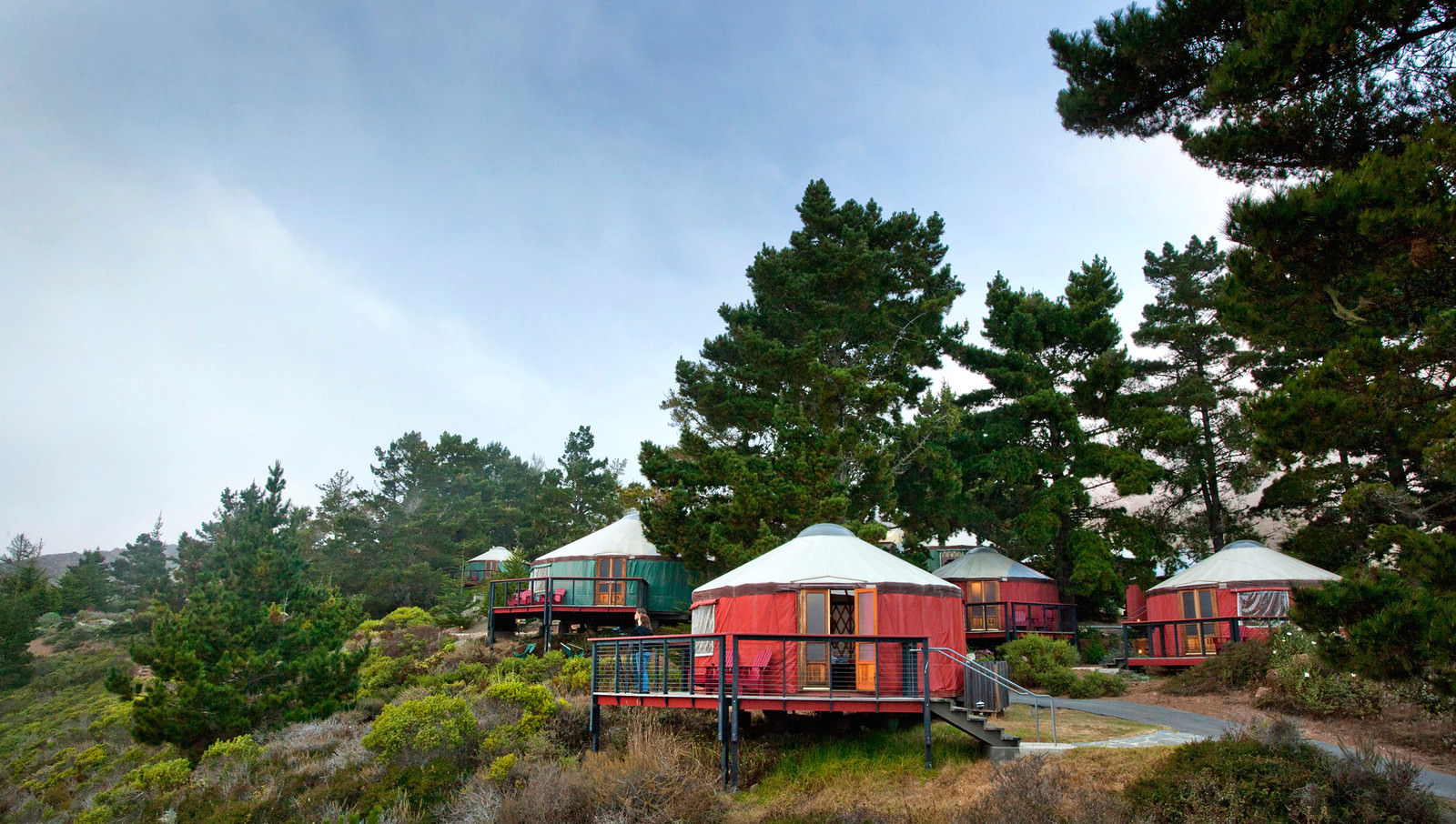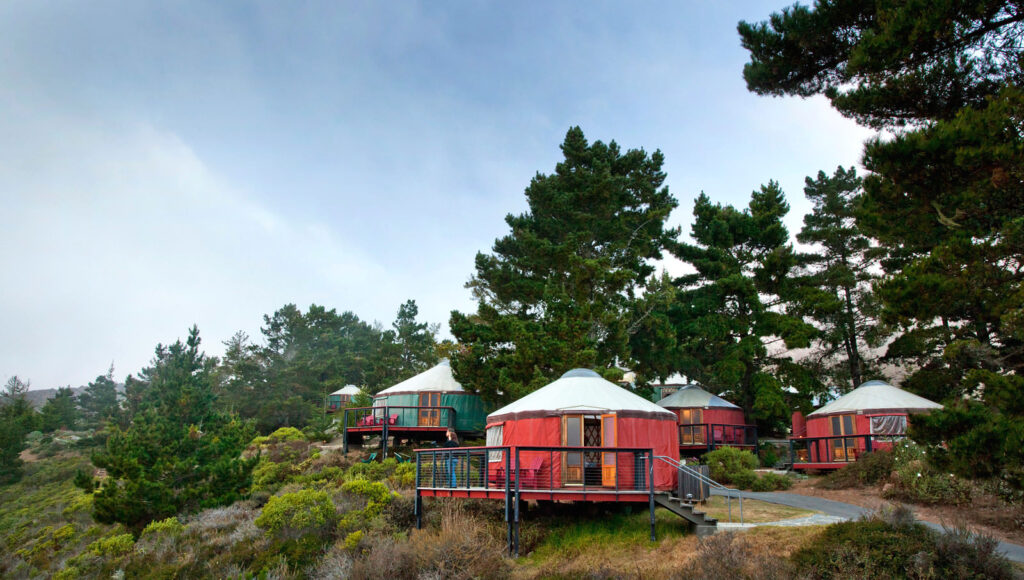 Sprawled against the backdrop of the Big Sur Coast, Treebones Resort is like a fresh breath of air for tired travelers. Overlooking the Pacific Ocean, the resort offers lavish yurts with panoramic views of the sparkling waves that come to greet the shore. It is an eco-retreat as well as a glamping site deep inside the forest.
The yurts provide an intimate environment for lovebirds, but bigger space is available for families and friend groups looking to hang out together. A common area a few minutes from the yurts offers shower and toilet facilities, but each yurt has a private sink vanity. Popular activities include stargazing, fireplace barbecues, and occasional group activities. Massage and spa facilities are also available at a short walking distance.
Treebones Resort is completely off-the-grid and runs on renewable energy. It is also a drone-free zone to avoid disrupting the environment.
Evergreen Lodge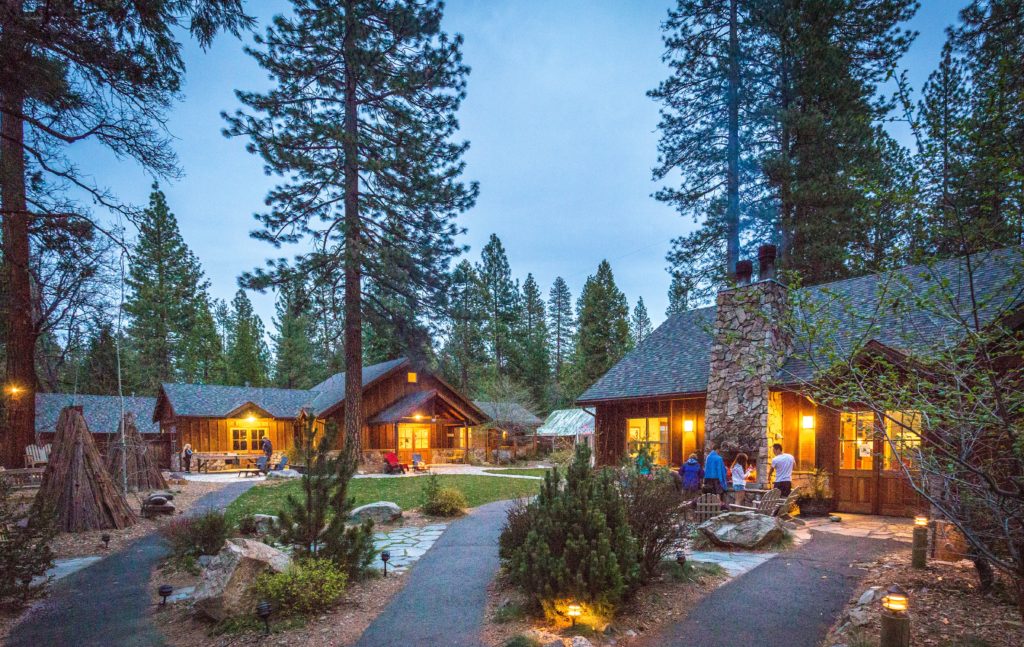 Well-hidden among the trees of Yosemite National Park, the Evergreen Lodge is a soulful getaway for naturalists.
The lodge offers family cabins with spacious seating areas, multiple rooms, and fireplaces. There are also one-bedroom cottages for lovebirds and solo travelers. The main lodge has a communal dining space offering a flexible menu. The lodge teaches tie-and-dye classes and holds kid-friendly activities to give tired parents a much-needed break. Of course, multiple touring activities for Yosemite Park await excited lodgers.
The property indulges in various environmental practices to conserve energy. It implements a grassroots recycling program and runs solely on solar power. The lodge also utilizes low-energy light and water fixtures and practices gray water recycling. All furniture and decorations are sourced from local artisans or repurposed.
Quiet Mind Mountain Lodge, Retreat & Spa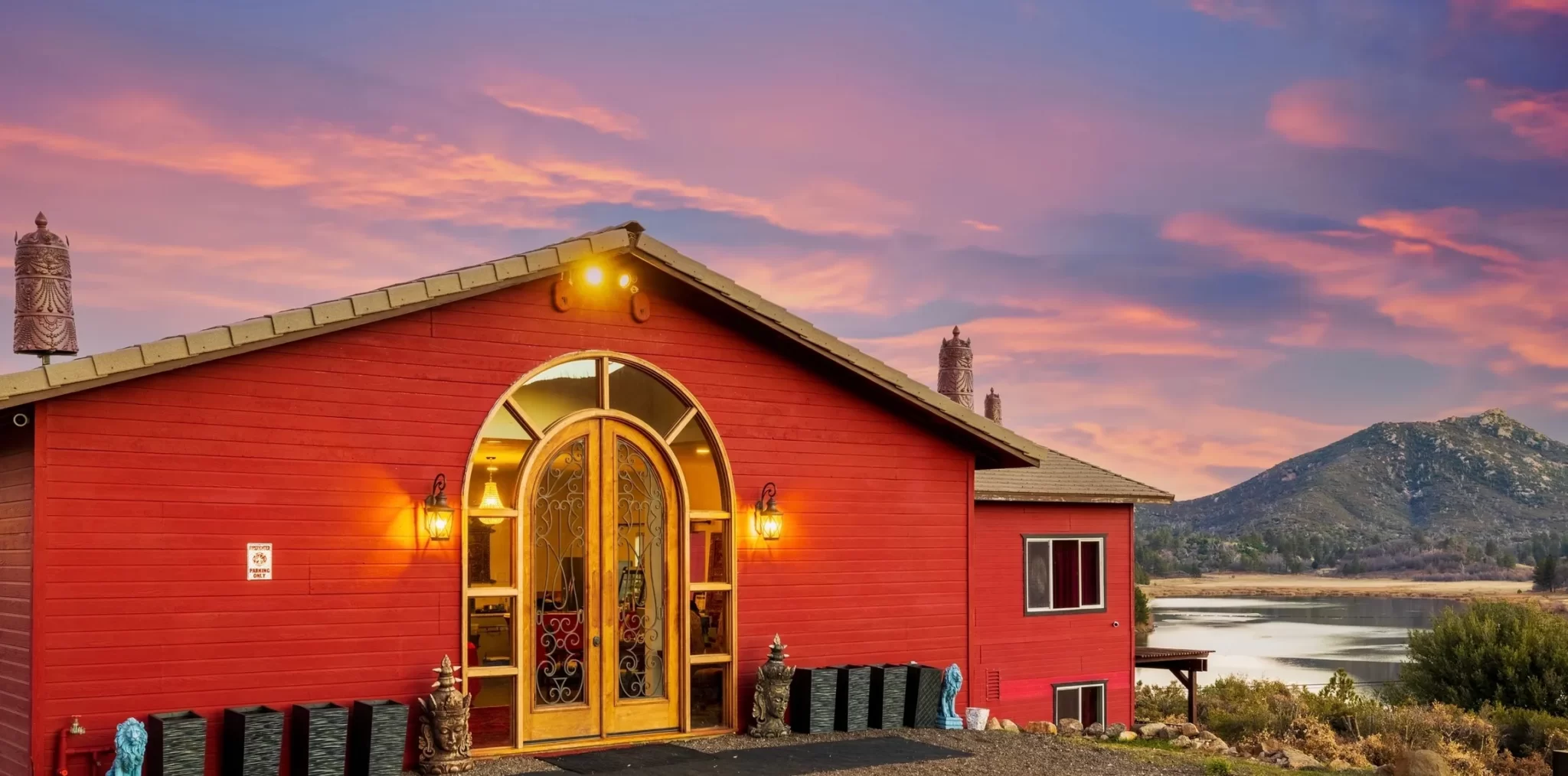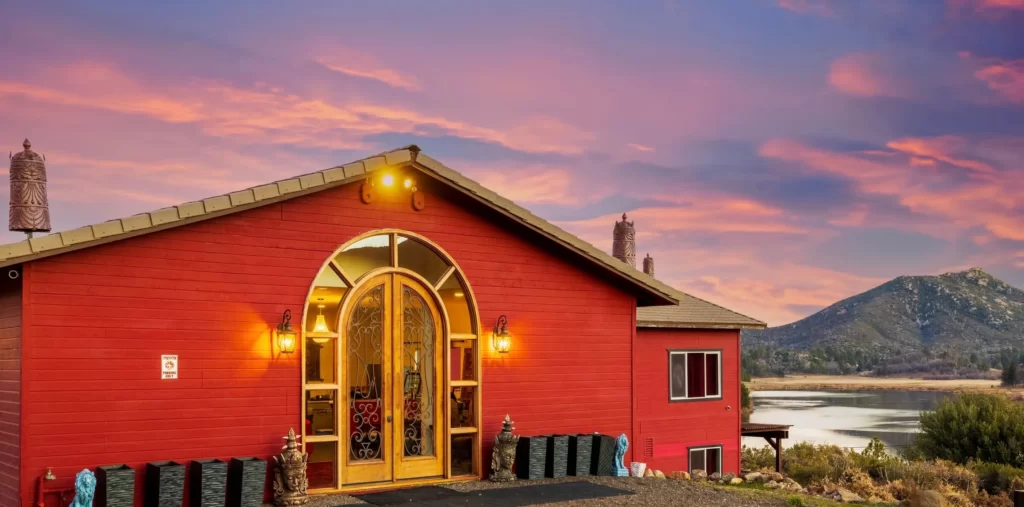 In the suburbs of California lies the Quiet Mind Mountain Lodge, a scenic barnstead home that promises guests a relaxing time. The lodge is located amidst the rolling hills of San Diego and serves as a panoramic getaway.
Quiet Mind Mountain Lodge offers spacious rooms dressed in contemporary styles but adorned with traditional flair to make visitors feel at home. Guests can avail a variety of services, including gourmet dining, spa packages, and specialized wellness services.
The resort uses solar energy and ensures guests respect its sustainable policies.
Cavallo Point Lodge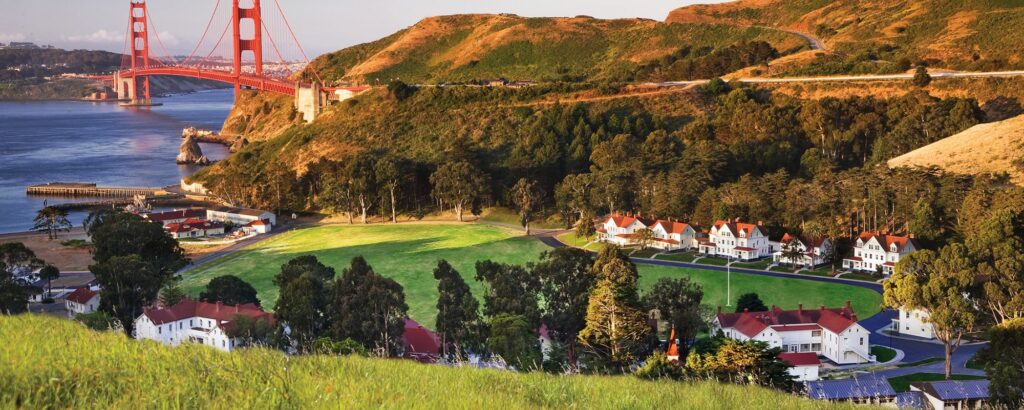 Cavallo Point Lodge is one of California's most stunning and inclusive eco-lodges. The hotel gives a delightful glimpse into a stress-free environment and is one of the most renowned lodges in Sausalito.
The lodge has an extensive spa and wellness retreat center with healing treatments and luxurious massages. For tourists eager to explore Sausalito's beauty, the lodge offers access points for Horseshoe Cave, Battery Yates, Yellow Buff, and Marin Headlands. It even offers hiking and biking tours.
The lodge has undertaken countless green initiatives, including energy-efficient appliances, lighting, and a water-saving system. Since its initiative, the lodge has rebuilt most of its property and replaced previous materials with recycled ones. It now boasts a sustainably-constructed property.
The Ranch at Laguna Beach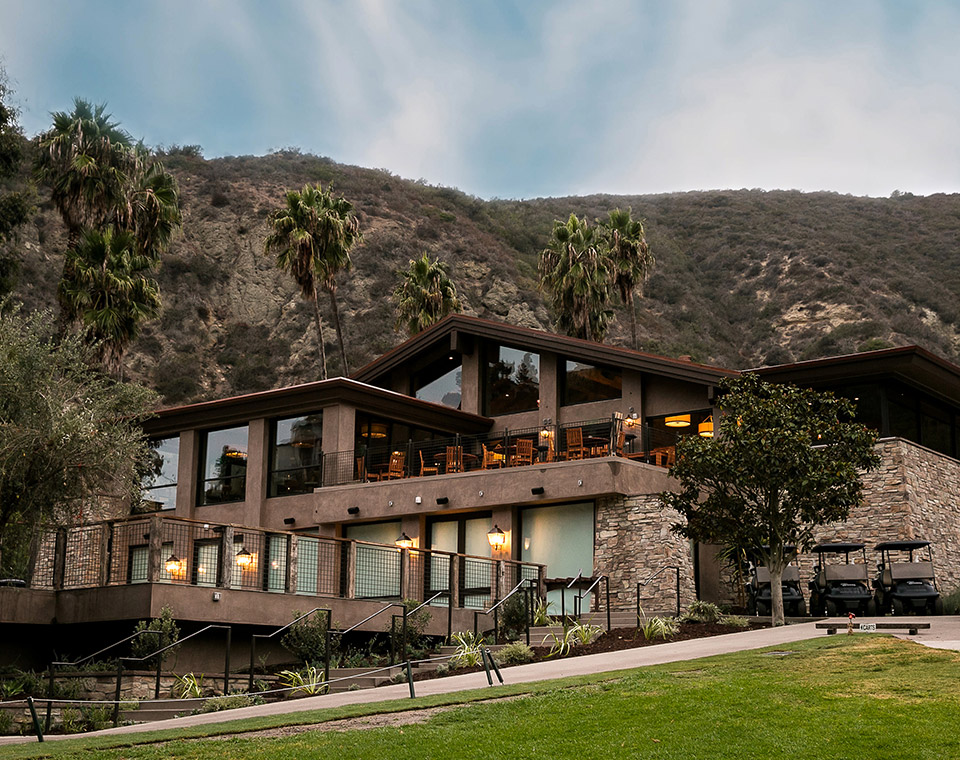 A gorgeous retreat close to the multiple shores at Laguna Beach, the Ranch reimagines luxury and offers a once-in-a-lifetime stay.
The Ranch offers 97 furnished rooms, each offering a wide set of room-specific features, including a patio and balcony. The Ranch is also ADA-accessible and tries to accommodate all needs. A farm-to-table cafe serves guests delectable dishes, while an onsite spa is available for those who want to rejuvenate. A golf course, pool, and palapa bar provide a relaxing break from the tense realities of life.
The Ranch is gradually moving toward a fully-sustainable experience; it practices the conservation of energy resources by saving water and low-energy LED fixtures. It also demonstrates sustainable tourism and even uses bamboo room keys.
Map of these eco-lodges in California
As you can see, there are plenty of unique and beautiful Californian eco-lodges, and you will be spoiled for choice if you are searching for a sustainable holiday.
BROWSE THROUGH our directory for the most sustainable eco-lodges around the world if you want to experience something unique, authentic, and exciting.